The Red Dead Redemption Revision was recent announced, and majority of the fans are understandably upset over what many are presuming to be one of the most disappointing releases of 2023 coming from one of the most beloved studios in the gaming world. Whatever your reservations might be, here is the Red Dead Redemption Nintendo Switch File Size if you do decide to buy the game on the console.
Red Dead Redemption Nintendo Switch File Size – "I Have A Plan John, I Just Need Space"
The Red Dead Redemption Revision is nothing short of disappointing for many fans for numerous reasons, but one of the reasons will not be the space. According to the Nintendo Store, the title will be a paltry 11.4GB.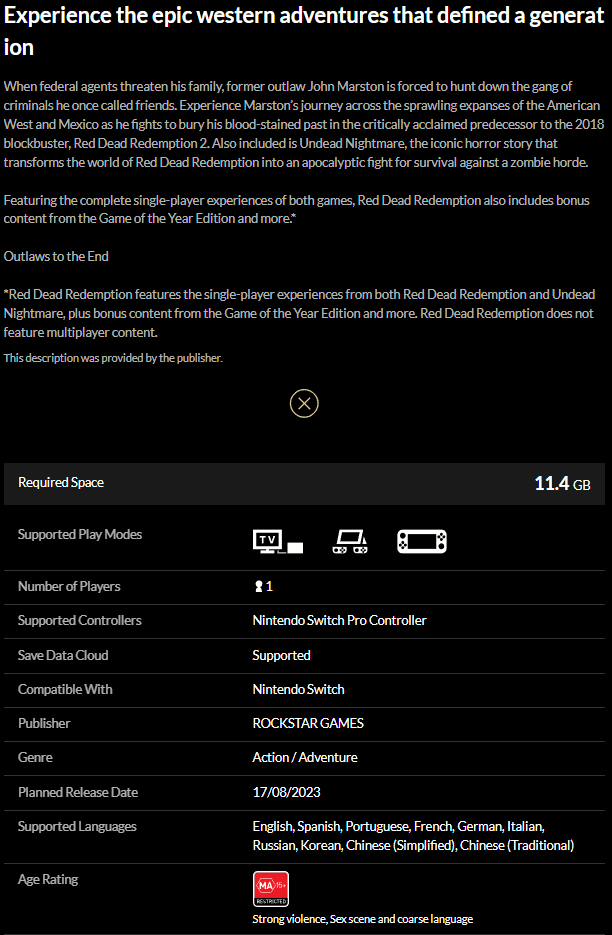 This is an impressive feat for a 13-year-old title that also includes the smash hit DLC "Undead Nightmare". While Rockstar is admittedly playing it very silently when talking about the performance details of the port, it's safe to assume that the best version of the game will undoubtedly be the Nintendo Switch version courtesy of PC emulation.
The title is coming to the PS4 and Nintendo Switch on August 17th.
What are your thoughts on the file size? Let us know in the comments section below!