Redfall is an upcoming open-world action FPS from Arkane Austin and Bethesda Softworks. The title finally has a release date now, which was revealed during Xbox's Developer_Direct. Now, additional details have been officially revealed as well, including its different editions. Here is the Redfall Pre-Order bonus content you'll get for an early purchase.
Redfall Pre-Order Bonus Content
If you pre-order Redfall, you'll receive the Vampire Hunter Pack.
Vampire Hunter Pack
The Vampire Hunter Pack includes the following content.
Level 2 Unrivaled Grim Tide Shotgun
Polar Vortex Multi-Weapon Skin
Blood Ravager Stake Weapon Attachment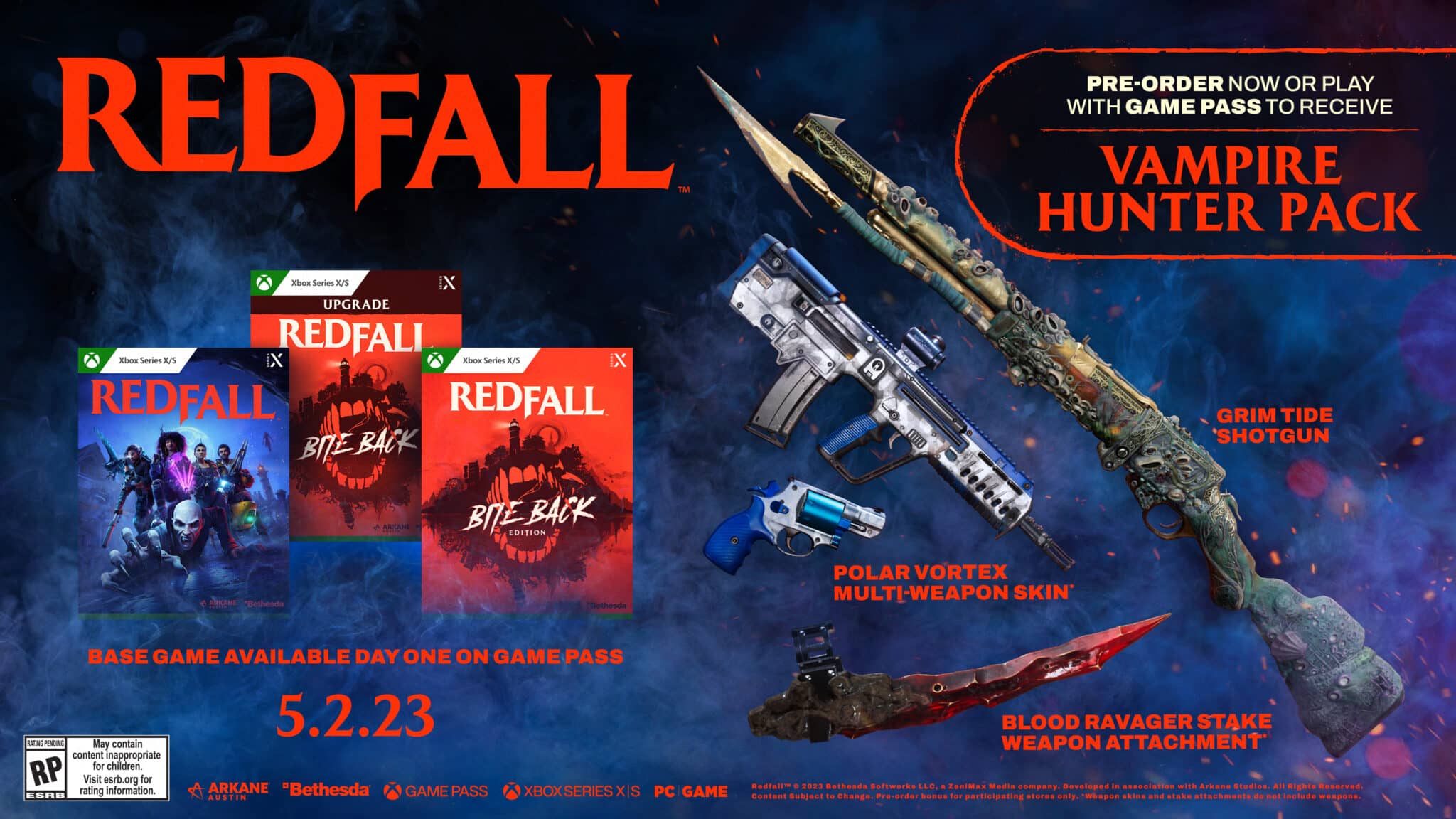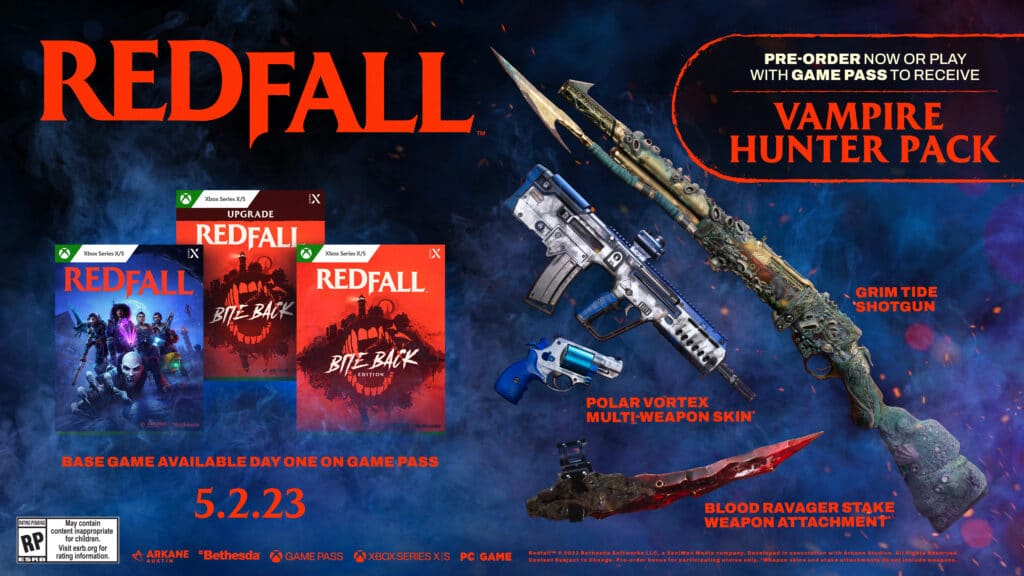 With this pre-order bonus, you're getting an additional Level 2 shotgun which grants 20% increased damage for eight seconds after killing an enemy, a multi-weapon skin that we assume can be applied on different weapons based on the image above, and a weapon attachment. All in all, these aren't that bad, and 2 of these items will actually give you a gameplay advantage at the start, at least.
Something to note here is that if you play the game through Xbox Game Pass, you'll also receive this bonus. So essentially, if you're looking to buy Redfall, then this additional incentive is available as a pre-order bonus.
The standard edition of Redfall costs $70, but it is also coming to Xbox Game Pass at launch.
Redfall Bite Back Edition
There's another edition available for Redall as well, called the Redfall Bite Back Edition. This costs $100 and contains the following additional content.
Redfall Base Game
Redfall Hero Pass with Two Future Heroes
Laser Beam Multi-Weapon Skin
Tactical Knife Stake Weapon Attachment
Northern Expedition Devinder Outfit
Eyes in the Dark Jacob Outfit
War Clothes Layla Outfit
Engineer Volunteer Remi Outfit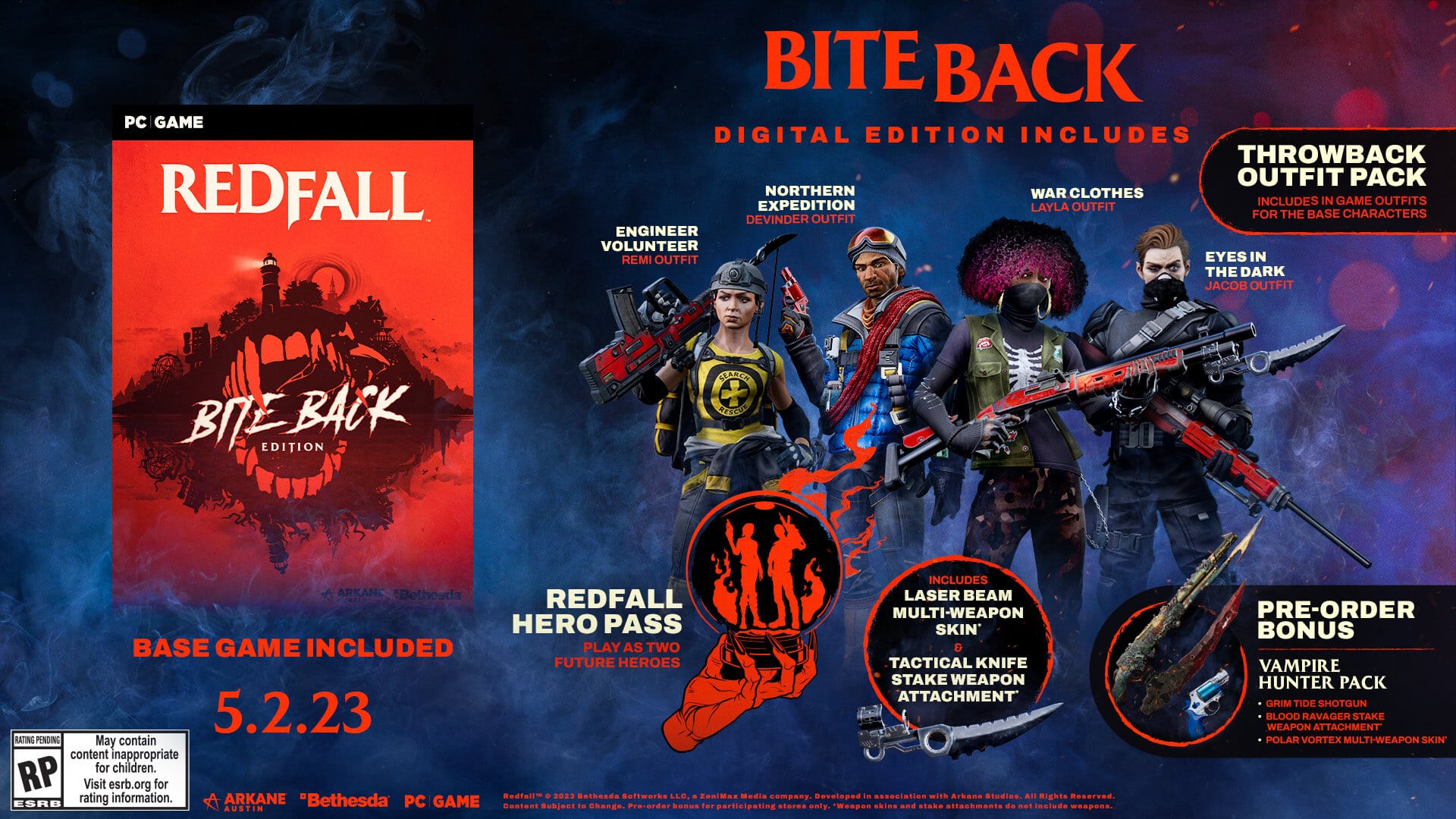 Pre-Order Redfall
You can now pre-order Redfall from the following links.
Redfall Release Date
Redfall is coming to PC and Xbox Series|X on May 2nd, 2023.
While you're here, make sure to check out our other pre-order guides for other upcoming releases, including Wild Hearts, Wo Long Fallen Dynasty, and Dead Island 2.
What do you think of the Redfall Pre-Order Bonus content? Do you think it warrants an early purchase? Share your thoughts in the comments below and let us know.