Arkane Austin's vampire-hunting first-person shooter, Redfall, is out now on PC through multiple clients including Steam, Game Pass, and Epic Games Launcher. The title features multiple playable characters, each with their own abilities, and unique perks. If you're on PC, and want to back up your data though, here is the Redfall save file location.
Redfall Save File Location
If you want to make a backup of your save data, you can easily do so on PC. Here is the complete address for the save file location.
Steam
You can get the save files from the following location if you've downloaded the game using Steam.
C:\Users\[YOUR USERNAME]\Saved Games\Saved Games\Arkane Studios\Redfall\Steam\SaveGames
This address is similar to their previous titles, and you'll likely fine the save files of other Arkane Studios titles in the same location.
Faster Navigation
To quickly navigate to these locations, I recommend using Windows Run.
Open Windows Run by either pressing Windows + R keys together or by searching for it in Windows Search
Enter the following address, and press OK
Steam
%USERPROFILE%\Saved Games\Arkane Studios\Redfall\Steam\SaveGames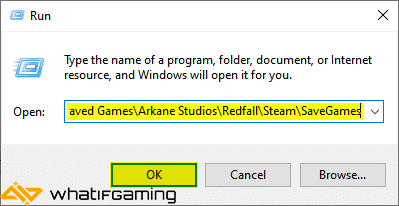 It isn't recommended to swap the Steam, and Game Pass version files, because these are technically different builds.
We hope this guide was helpful and you were able to access the Redfall save file location. If you have any questions, feel free to ask them in the comments below.