Among the plethora of Capcom leaks was a mystery project by the name of Resident Evil Re:Verse. Many people thought this was going to be an independent game project that will be a standalone game in the series, but it turns out to be like Resident Evil: Resistance in the Resident Evil 3 Remake.
Resident Evil Re:Verse – It takes a village
Resident Evil Re:Verse Has just been outed as the multiplayer component of Resident Evil Village. The showcase is less than a dozen hours away as of the writing of this, but it seems that some early pre-orders accidentally spilled the beans.
Here is a close up of the image: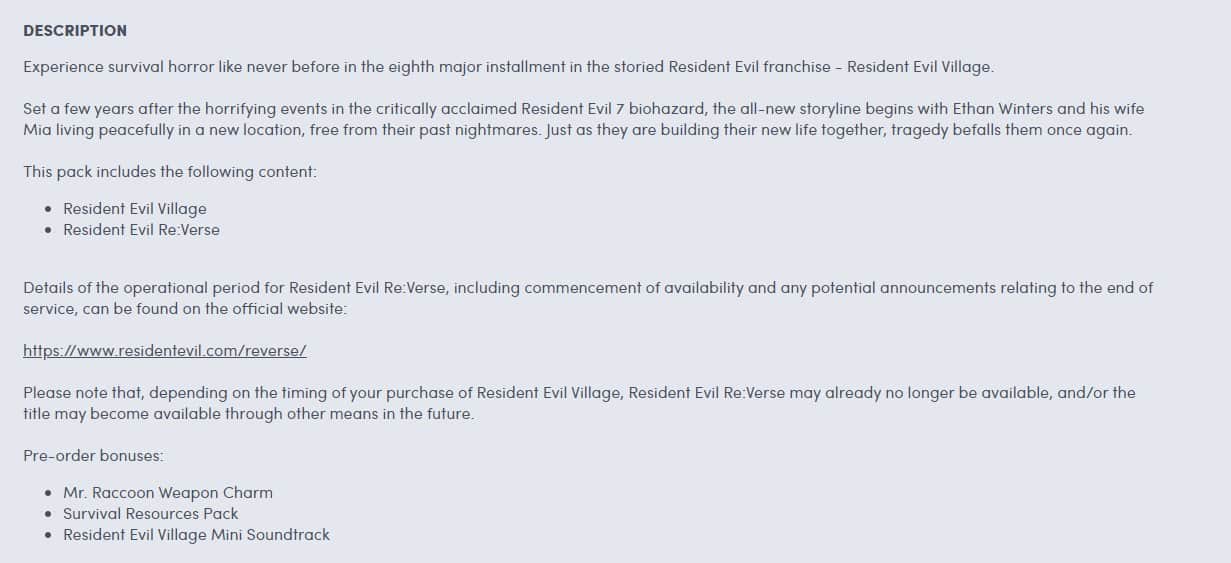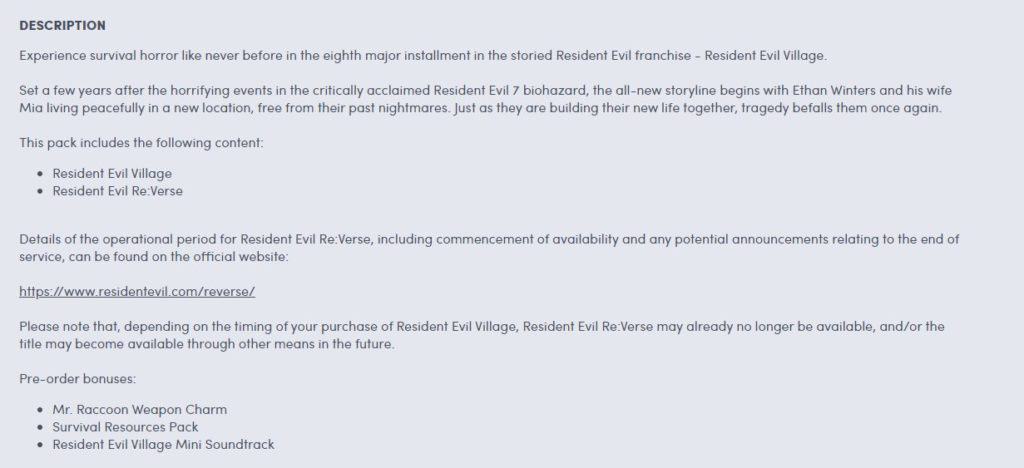 You can view the listing on the Humble Store and also for the Deluxe Version.
While Resident Evil: Resistance had a mixed reception when it launched with Resident Evil 3 Remake, pairing a combination of surviving a SAW like setting while setting the stage similar to a cross-over between Dead by Daylight and Five Nights at Freddy's, the game was an experiment for Capcom.
As it goes, it seems that further testing is indeed proceeding as we have now got official confirmation that Resident Evil Village is indeed packing a dedicated multiplayer mode that will be bundled with the release of the title.
While Resistance was a third-person game and Village is a first-person title, this also begs the question if Resident Evil Re:Verse will be a first-person multiplayer endeavor?
Resident Evil Village is the highly anticipated sequel to the 2017 mainline entry. Since then, the series has seen releases of remakes of the games that put the series on the map, namely Resident Evil 2 and 3 Remake.
While we still don't have a release date for the title, we can hope that today's showcase could change that and give us a date to look forward to, preferably one that takes place in 2021.
The Resident Evil Show case will also be the place where Capcom shares a plethora of new information regarding the 25th anniversary of the series, perhaps there will be more announcements? Let us know what you are hoping for in the comments section below!