As the release date of the next Resident Evil draws nearer, we are getting more and more details about the game. First, we learn of the upcoming demo which will feature gameplay from the finished game. And now, Capcom drops Resident Evil Village system requirements on PC.
Just earlier today on multiple outlets, Capcom released a few details about the upcoming entries in the Resident Evil franchise.
Resident Evil Village System Requirements
Resident Evil Village system requirements were revealed through the game's Japanese preorder page. It can also be seen on the game's Steam page.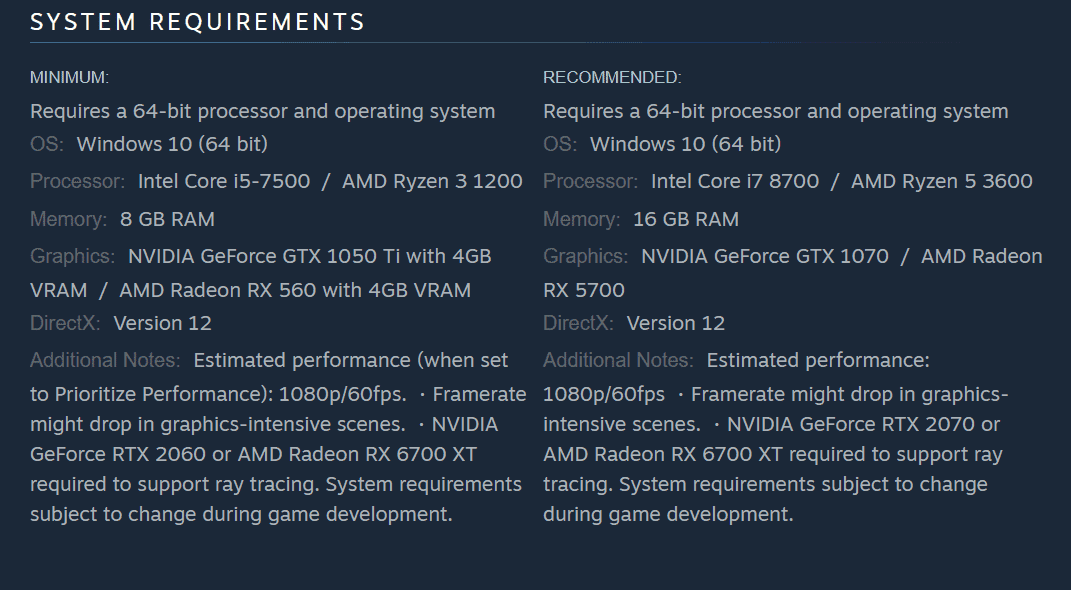 On the low end, you can have a good experience with just an Intel Core i5-7500 and a GTX 1050 Ti or similar. If you enjoy inspecting the every cornice on every window more than playing the game, however, you'll have to sport at least an RTX 2060 to enjoy raytracing.
With that said, the Resident Evil Village system requirements are quite impressive. The minimum and recommended specs are well below most other AAA games. It seems the RE engine is not overhyped after all.
One detail is missing, however. We still do not know the file size of the game on PC. The best we have got so far is the download size of the game on Xbox X|S. It won't be the same, obviously. But, the game size on a next-gen console is as close an indicator as we got now.
Re:Verse Open Beta Test Coming In April
The other piece of news Capcom also dropped today was concerning Re:Verse's open beta test. According to Capcom, the open beta test will take place between April 8 and April 11. A lot of people are skeptical about this release. But seeing we will be able to take it for a spin really soon, it is worth checking out.
Both Resident Evil Village and Re:Verse are planned for release May 7 on PlayStation 5, Xbox Series X|S, PS4, Xbox One, and PC. Seeing how Capcom managed to navigate the disaster of late last year, it will be exciting to see how they try to level up the Resident Evil franchise after a tremendously successful Resident Evil 7.