It has been a while since we saw a new Twitter account sprout up, but a recent appearance of a new Final Fantasy XVI Japan twitter account may start sparking rumors of a new entry in the series we might see much later.
Final Fantasy XVI Japan Twitter Account – Sooner or later
The twitter account was made in August 2020, so its a relatively new account.
In addition, it wouldn't be a mystery Twitter account if we didn't run it through the litmus test of the password reset trick.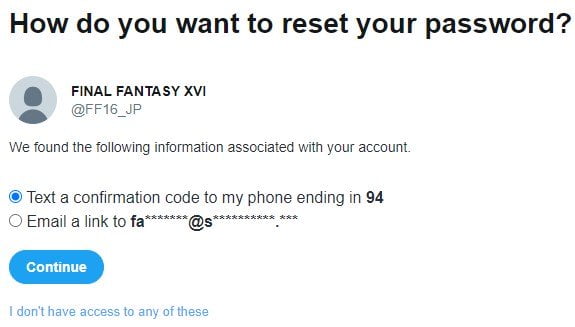 The first half of the email starting with Fa doesn't spark confidence in us, but the second half of the email looks like it fits Square Enix.
In the past, we have seen the Twitter account trick to be a hit or a miss. In the case of Fable, it proved to be true, but in the case of F-Zero…
As it stands, Final Fantasy XV lasted almost a decade in development, and went through numerous iterations before being released as the finished product.
Currently, The Final Fantasy team could be pre-occupied with making a sequel to the Final Fantasy 7 Remake, which has all the prominent members of the team working at full-throttle on the game.
Currently, it doesn't seem that Final Fantasy XVI is within the realm of possibility. Considering major talent like Tetsuya Nomura and more people of the team are working on Final Fantasy 7 Remake.
Many people speculate that the rumored Project Athia could be a Final Fantasy title, much like Agni's Philosophy tech demo.
For now, we are still a long way away from seeing Final Fantasy XVI, unless the team divides itself on workload.
The practice isn't unheard of. Naughty Dog did such an act on the PS3 when they divided the studio to work on Uncharted 3 and The Last of Us side-by-side.
However, considering the massive scope and size of an average Final Fantasy game, this would be much harder to pull off.
For now, take this news with a pinch of salt. It is unlikely we will see or hear anything about the game any time soon.