The Nintendo Switch Pro or an enhanced version of the current Nintendo Switch (no, we aren't talking about the SKU with a slightly bigger battery), has been long rumored to be in development. However with Nintendo's reluctance to ever talk about it openly or hint at the development of one, its up to the community to find out if one exsits.
The Nintendo Switch Pro is somewhat real
Rumors of a Nintendo Switch Pro have been circulating the internet since late 2018 and even to this date continue to circulate the internet. While many of them are from anonymous accounts on 4chan, this account is different as it comes from sciresm, the creator of Atmosphere, the homebrew OS for Nintendo Switch jailbroken consoles.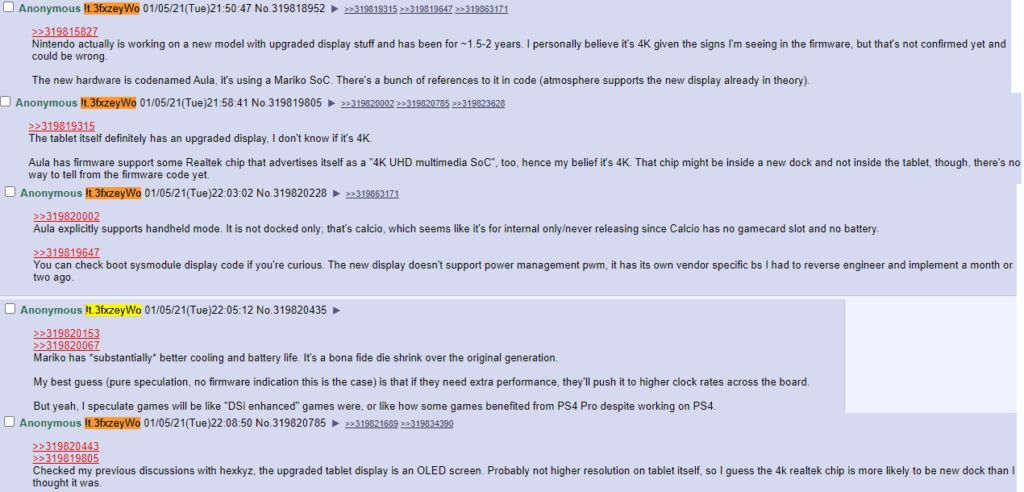 Normally, we would never take 4chan rumors at face value, but these are direct posts done by sciresm on the forum.
Here are the keypoints from the thread:
Nintendo has been developing a new Nintendo Switch model with the codename of Aula for the last 1.5-2 years.
The new model will utilize the Mariko SoC which is upgrade on the current Tegra structure used by the current Nintendo Switch models.
They say that the display currently looks like it is 4K OLED or Mini-LED display. Atmosphere is currently (in theory) capable of handling the new display.
There will be a Realtek SoC chip that will make 4K possible via the dock, but this is difficult to determine right now.
Mariko will offer better battery and cooling over the current Nintendo Switch models.
The newer Nintendo Switch will be comparable to DSi enhanced or games optimized for PS4 Pro. Most games will still work on both systems, but better on the newer model.
For now, this is the first most credible leak we have seen regarding any prospect of a new Nintendo Switch model entering the market.
As Sony and Microsoft have released the PS5, and Xbox Series X/S respectively, Nintendo's old hardware can't hope to compare as the current Nintendo Switch chip is the Tegra X1, developed in 2015, just can't keep up to future multi-platform releases.
Nintendo has yet to release a proper hardware revision of the popular home console that isn't the Nintendo Switch Lite, but until they do, fans will have to be used to their slightly slower Nintendo Switch systems for just a little longer.