According to some tweets by a Japanese reporter, Sony could be working on a new revision to the commercially successful accessory, the PSVR. With Sony being the only gaming console that embraced VR in the eighth console generation, the PS5 did confirm will work with the current PSVR used by PS4's. However, it seems that Sony Japan is working on a brand new PSVR headset for the PS5.
A new PSVR for the PS5 could be in development
According to a series of tweets by renka_schedule. It seems that Sony Japan is working on a new PSVR model.
Here is a Twitter translation of the above tweet: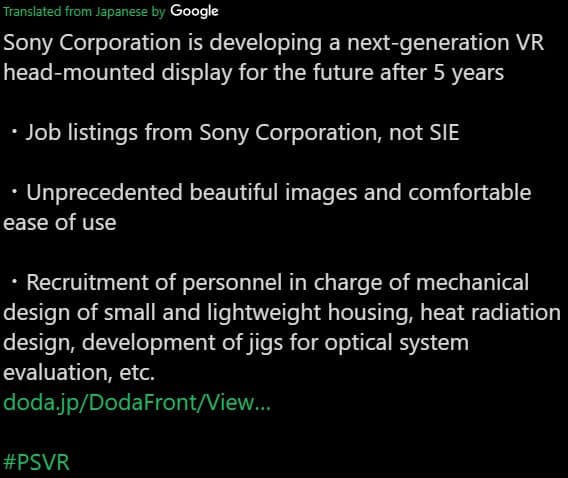 The tweet continues with them listing to the job listing page:
And here is a translation of the above tweet: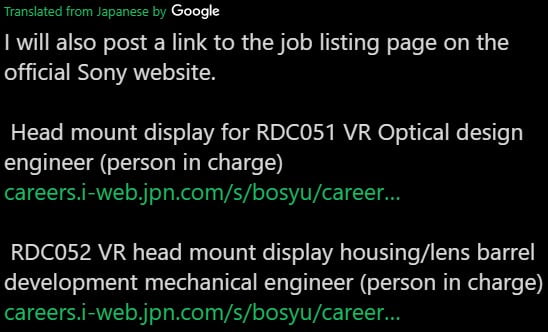 In their last tweet on the matter, renka states something very peculiar.

So perhaps Sony could be working on something similar to the Oculus Quest? A portable VR headset that will run Sony games without all the sensors and extra accessories?
For now, it seems to be in the early stages of development, and can potentially take years before it hits store shelves.
If you already own a PSVR, you're all set to enjoy VR on the PS5, but the possibility of something like the Oculus Quest for the PS5 is very tempting.
VR has recently picked up a lot of momentum, especially on the PC. In 2019, Sony confirmed to have sold 5 million PSVR units. The number of variants on the PC for VR outnumber that on console, with Nintendo briefly entering the VR space with the Nintendo Switch, followed by a swift exit.
The future of VR on consoles seems very fickle at the moment. Perhaps Microsoft and Nintendo enter the space better with their future consoles, but for now, Sony has already demoed a few PSVR games in their latest State of Play.
For now, the future of VR on consoles looks very tempting, but we will have to wait and see what is in the cards. Perhaps Sony will demo the tech at a future show.
What are your thoughts on the prospect of a new PSVR? Let us know in the comments section below.