In a curious sighting by xgp.pl, the publication made an observation that the current Capcom sale on the Xbox Store has a unique banner below it. One that could hint the arrival of Resident Evil Village for Xbox Game Pass. While this could also be a bug or glitch, it is still worth seeing if it comes to pass.
Is Resident Evil Village Coming to Game Pass?
Update: Major Nelson clears up that it was indeed a glitch
A new rumor has sparked thanks to the appearance of an image on the Polish store for Resident Evil Village. Amidst the current Capcom sale, A small text below the title hinted that the game could join the Xbox Game Pass subscription service.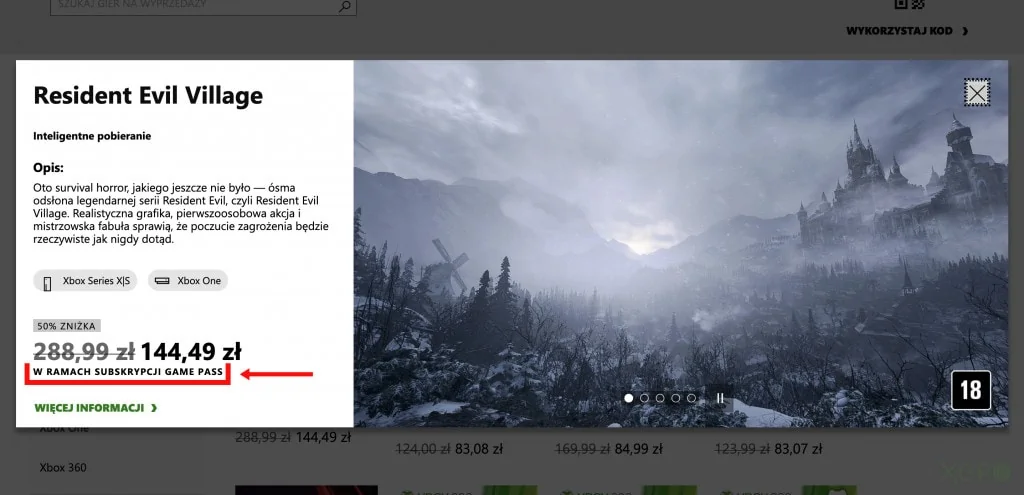 While there have been times where the rumors of a game coming to Game Pass have paid off, versus times where it is still speculated for certain games: Mass Effect Legendary Edition vs Cyberpunk 2077.
The difference here is that Mass Effect Legendary Edition was expected to hit EA Play, and as EA Play and Xbox Game Pass are interlinked, the title was only a question of When and not an If.
While the same argument can also be made for the absence of Battlefield 2042, we are now approaching the title being almost 6 months, and perhaps could join Game Pass soon via EA Play.
Conversely, Resident Evil 7 is also currently on Game Pass, which could give hope to the rumor being true.
Resident Evil Village was the latest entry into the Resident Evil storyline. The game continues the story of Ethan Winters, a newly introduced protagonist in Resident Evil 7 as he tackles a new menace that now threatens his family.
Capcom has yet to announce any new entry into the world of Resident Evil, but Village is still a strong entry into the series, and if you are adamant on buying the game right now on sale, you can always wait out to see if the rumor of it coming to Game Pass comes to pass or not.