The Dark Pictures Anthology is a popular story-based choose your adventure story series that is developed by Supermassive Games and published by Bandai Namco. The story is about to get its 4 title, House of Ashes, on October 21st, 2021. Normally, we would find out the next entry by beating the game, but it seems the next chapter has leaked prematurely, say hello to The Dark Pictures The Devil In Me.
The Dark Pictures The Devil In Me – An Exorcism?
The Dark Pictures series is a constant that fans of the adventure/story genre can rely on. Starting with Man of Medan in 2019 and releasing one game every year, the Dark Pictures Anthology is one that fans have grown to love.
House of Ashes is set to be the latest entry in the series and is set to drop for the PS4, PS5, Xbox One, Xbox Series, and PC on October 21st, 2021.
Normally, we would find the next entry in the series by beating the current entry, that gives fans a teaser trailer of the next episode.
However, this time it seems that the cat might be out of the bag.
According to RobotBrush, a user known for their work in delivering new Steam pages and other details, shared this image.
RobotBrush is not one to post false information, and when asked about the source of the image gave a shrug, however, they have said that this is the next title after House of Ashses.
Here is the full image: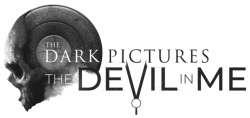 While it is difficult to confirm the authenticity of the image, we still recommend waiting for the next teaser until the release of House of Ashes.
The Dark Pictures The Devil in Me alludes to the potential of dealing with possession or an exorcism, which could set for an interesting premise in the Dark Pictures Anthology. While not being able speculate on whether or not it could be the case, we are better off waiting for the next teaser trailer to come.