What's the use of investing in top-of-the-line components if you're left stiff and in pain after each gaming session? While not as widely discussed as gaming CPUs and graphics cards, the right chair can mean the difference between hours of carefree immersion and stepping away after a few minutes with a creaky back.
In our in-depth Secretlab TITAN Evo 2022 review, we examine a high-quality, feature-rich gaming chair that will make hour-long work and play in front of the PC much more enjoyable.
Secretlab has been fighting the good fight since 2014, offering quality improvements and innovation with each new generation. Iconic models like the Omega and the TITAN Evo's 2020 version have allowed the company to reach a wider audience and reinvest much into developing even better seating.
The new generation comes with a small yet noticeable price hike. We can't fault Secretlab much for that one, given the current market and evident amount of effort poured into implementing meaningful changes.
Sizes & Specifications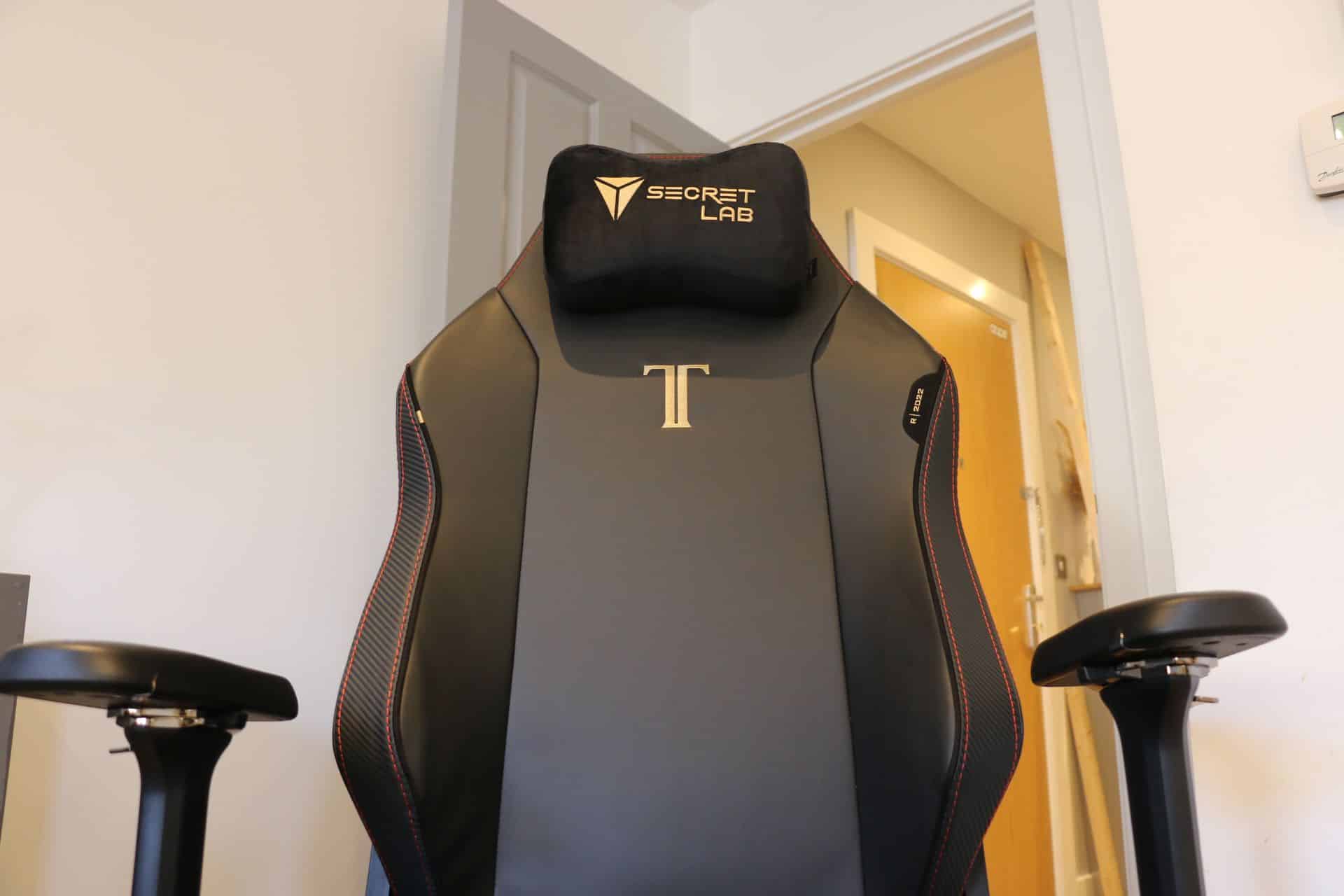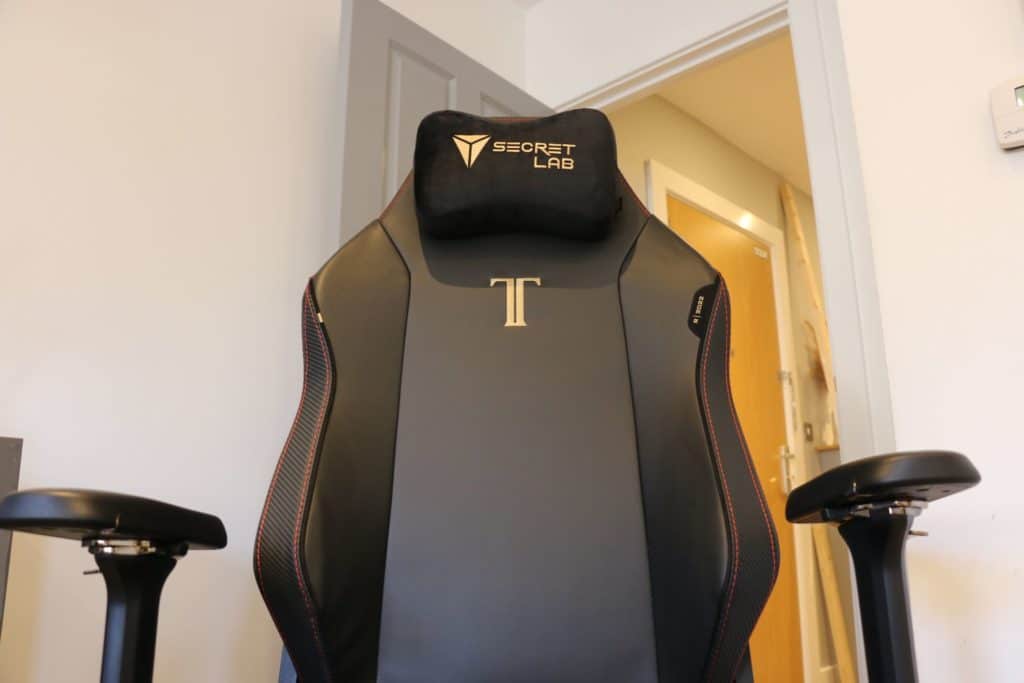 There's a TITAN Evo 2022 with your name on it regardless of body type. The chair is available in Small, Regular, and XL. Each accommodates a respectable range of adjustments and sizes. Consult the table below to find out which size works best for you.
| | | | |
| --- | --- | --- | --- |
| | Small | Regular | XL |
| Backrest length | 32.3" | 33.5" | 35" |
| Floor to seat height | 17.7" – 20.5" | 17.7" – 20.5" | 18.1" – 21.9" |
| Height adjustment | 3" | 3" | 3.7" |
| Seat width | 17.7" | 18.5" | 19.3" |
| Seat depth | 18.9" | 19.3" | 19.7" |
| Height range | <5'6" | 5'7" – 6'2" | 5'11 – 6'9" |
| Ideal load | <200lb | <225lb | 175 – 395lb |
| Max load | 285lb | 285lb | 395lb |
| Chair weight | 73.9lb | 76.1lb | 82.7lb |
Our Sample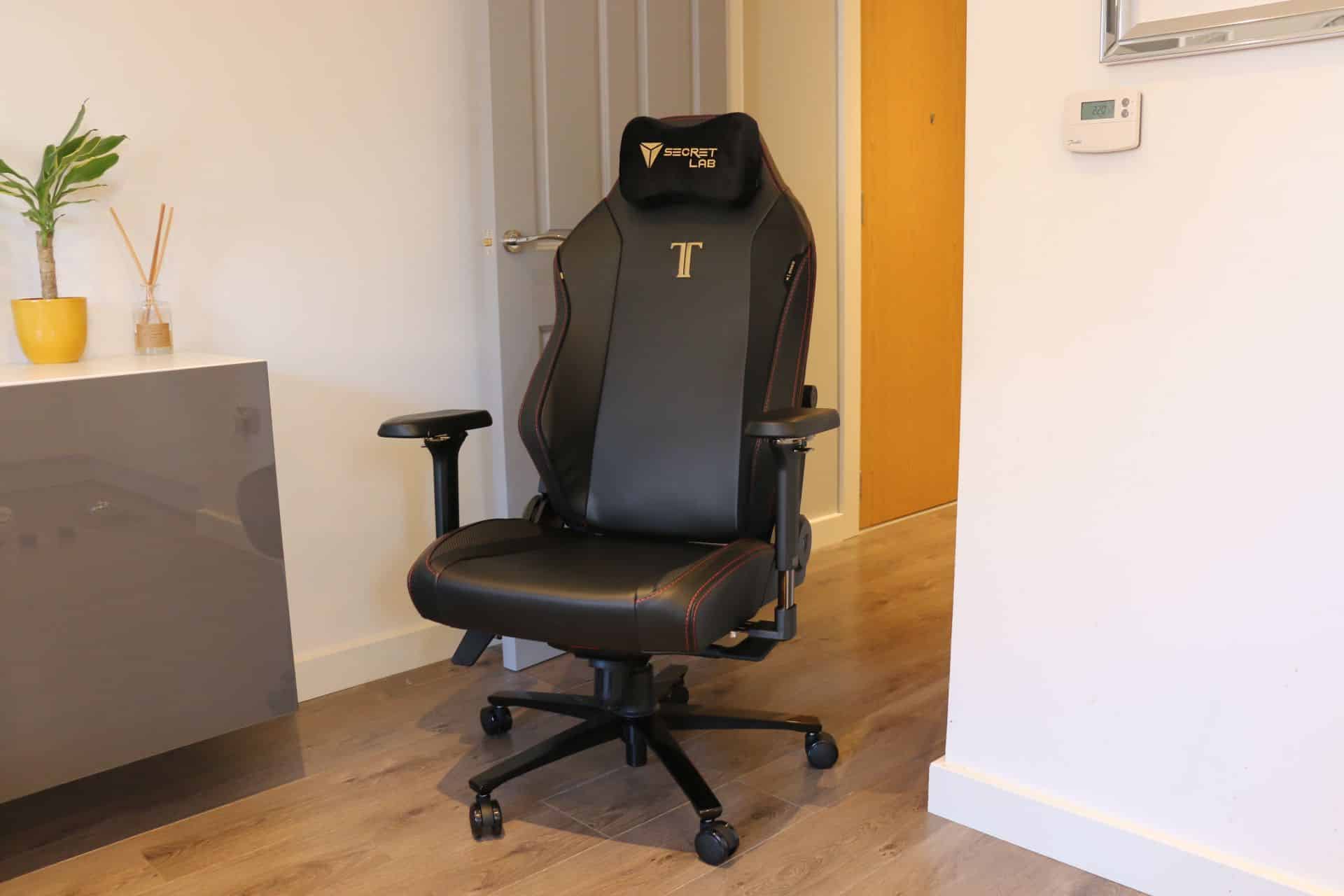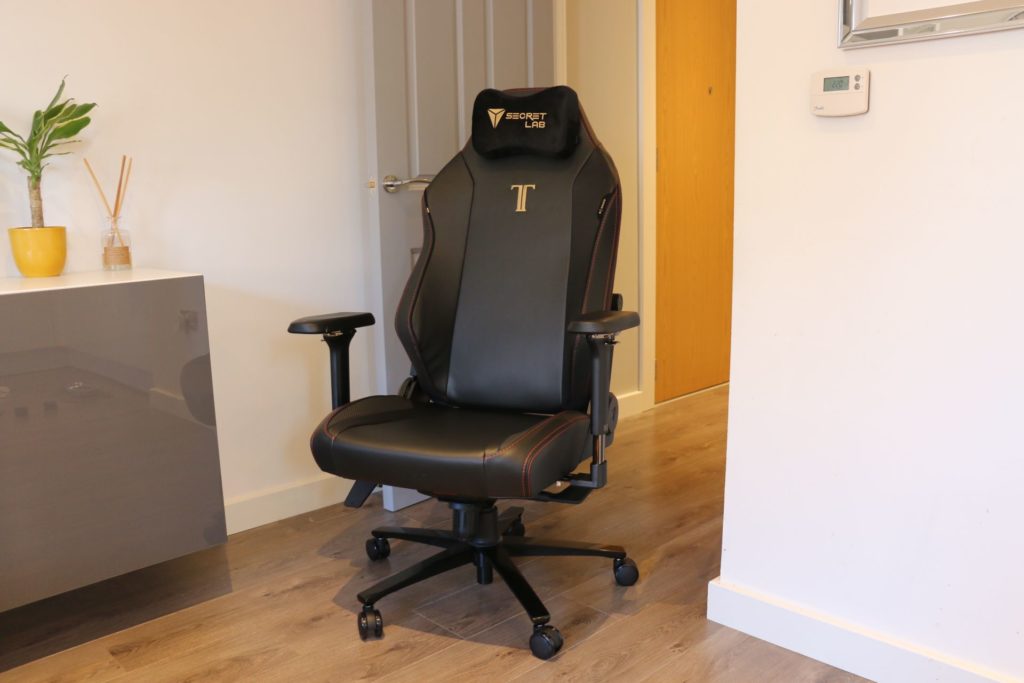 We went with the regular-sized Stealth option upholstered with the Neo Hybrid Leatherette material discussed below. For now, suffice to say that we're fond of the model's subdued colors, quality stitching, and form. Gaming chairs are often aggressively designed, so props for making this one recognizable yet dignified.
Some Assembly Required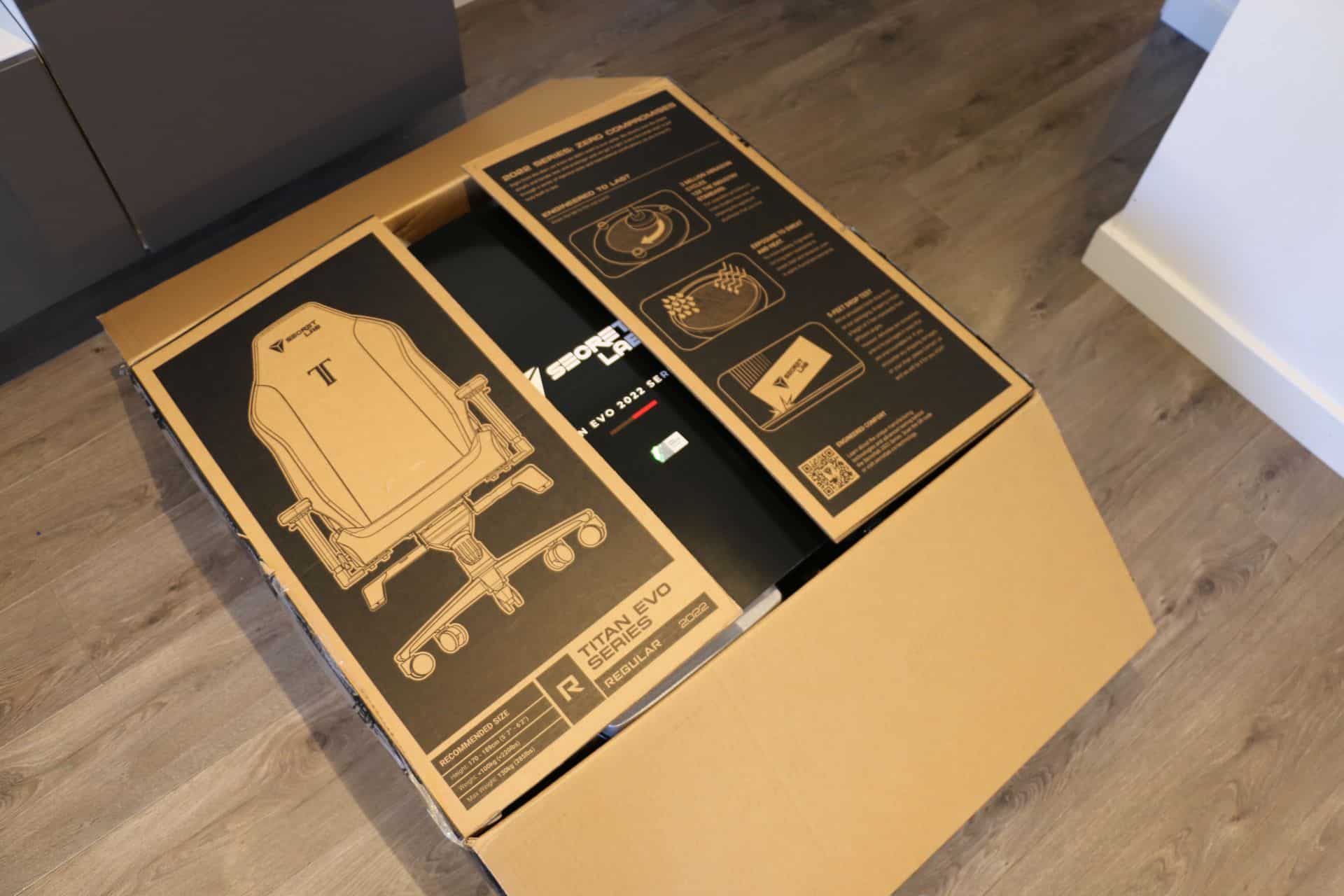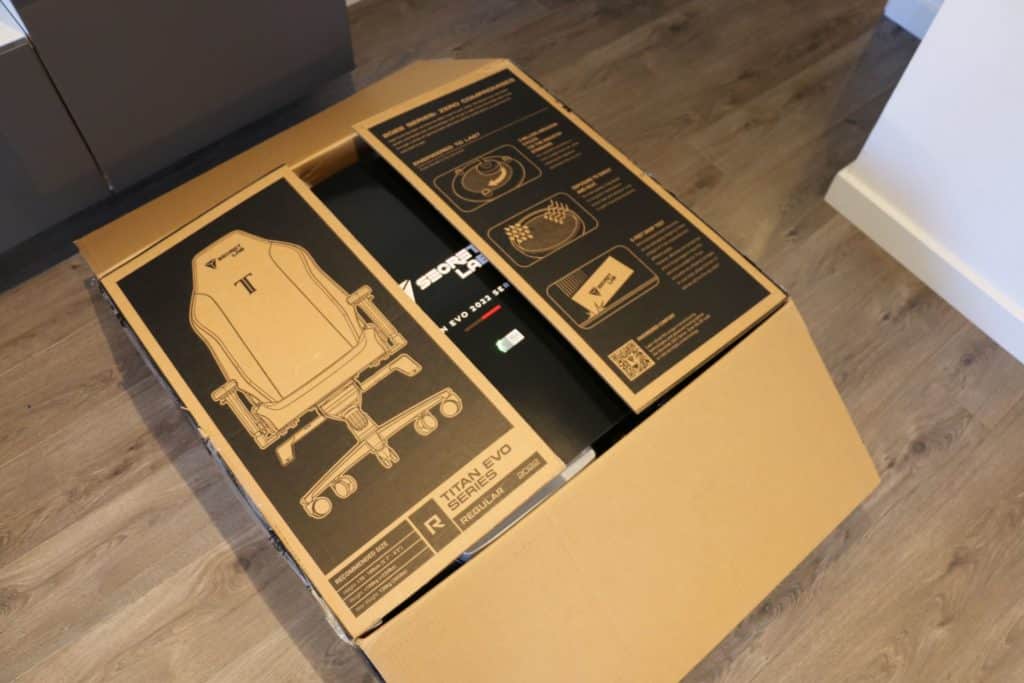 Even though you hopefully have to do so only once, assembling a gaming chair can be one of the most frustrating experiences in its use. Rejoice, for Secretlab has heard their users' pleas and made the process as straightforward and intuitive as possible.
The large box the chair arrives in is logically structured. The visual assembly guide is the first thing you'll see, followed by the backrest, seat base, and smaller components under them protected by foam and a separate box. Secretlab courteously included a large foam mat on which you can assemble the TITAN Evo (neat!), starting with the base and caster wheels.
Then comes the often dreaded part – attaching the backrest to the seat. This part of the process was made easier in two ways. First, you get a well-designed screwdriver with a broad handle that ensures a firm grip and easier turning. Better yet, it has interchangeable heads so that you can switch between a hex key and a Phillips head in seconds.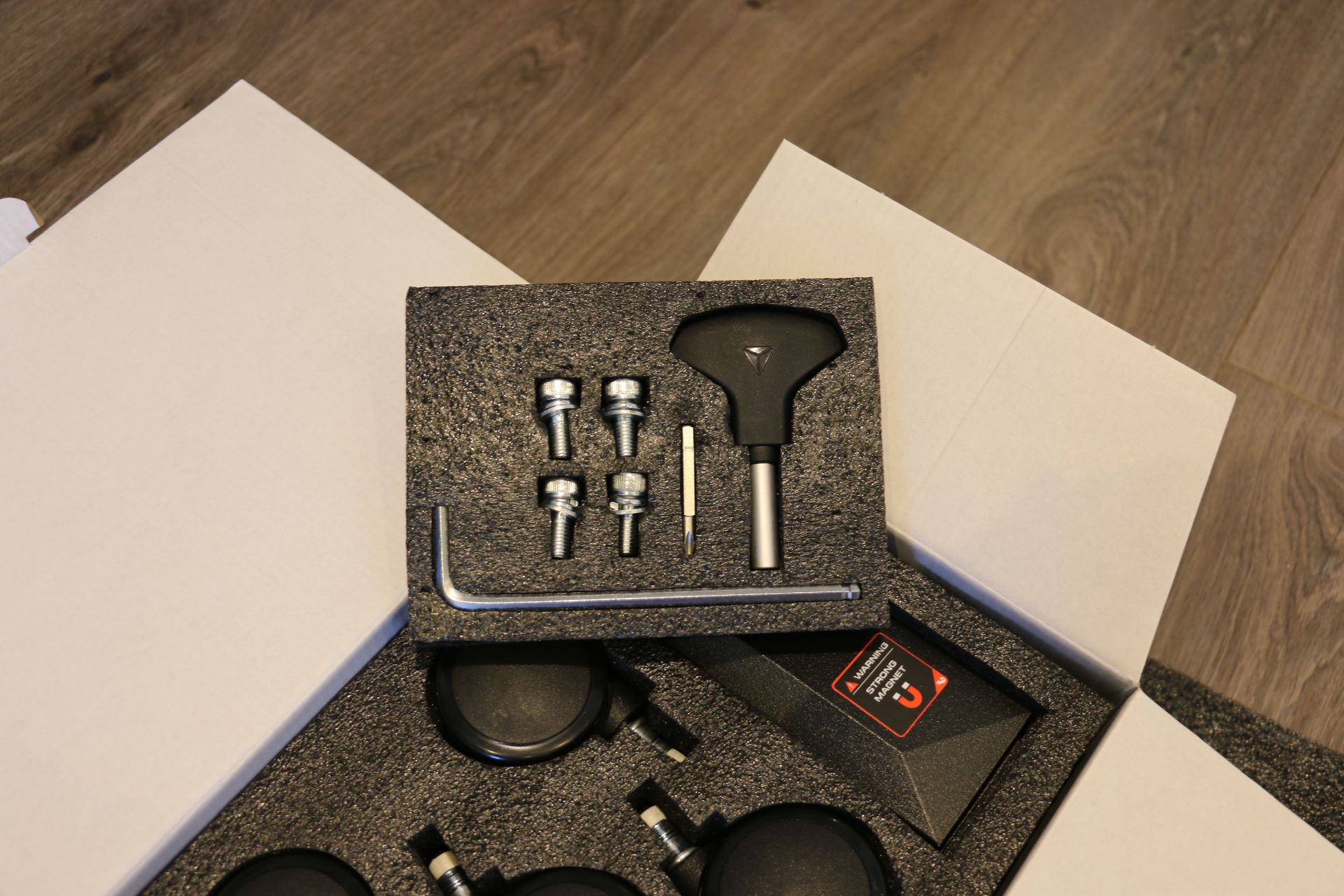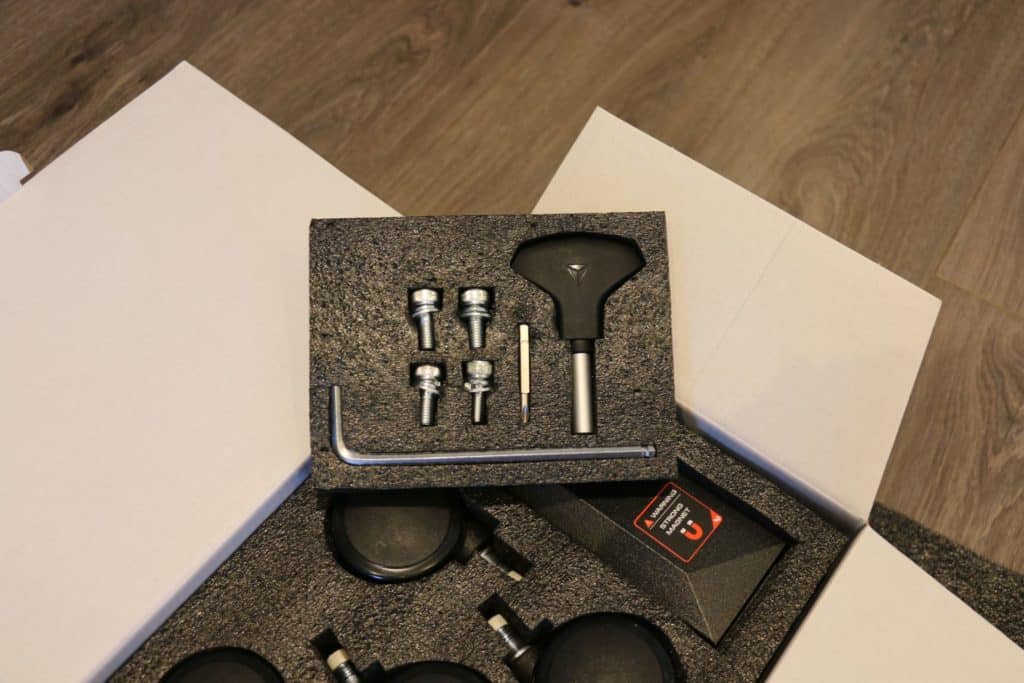 The second improvement has to do with the way the backrest and seat attach. Both components have brackets that slide into one another. They're held together from the sides via easily accessible screws. A magnetic cover for either side snaps into place for a clean look.
A Ten-Minute Job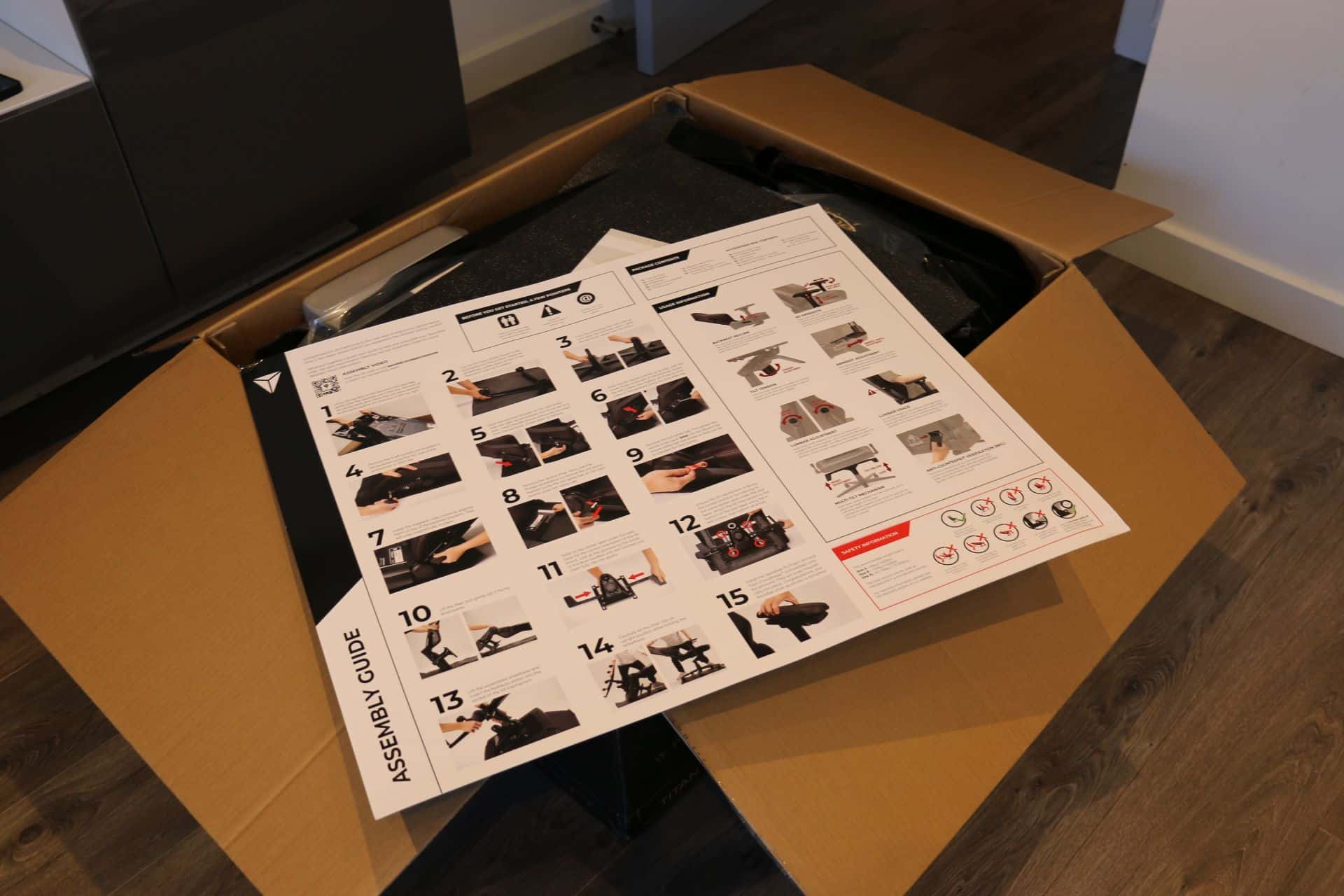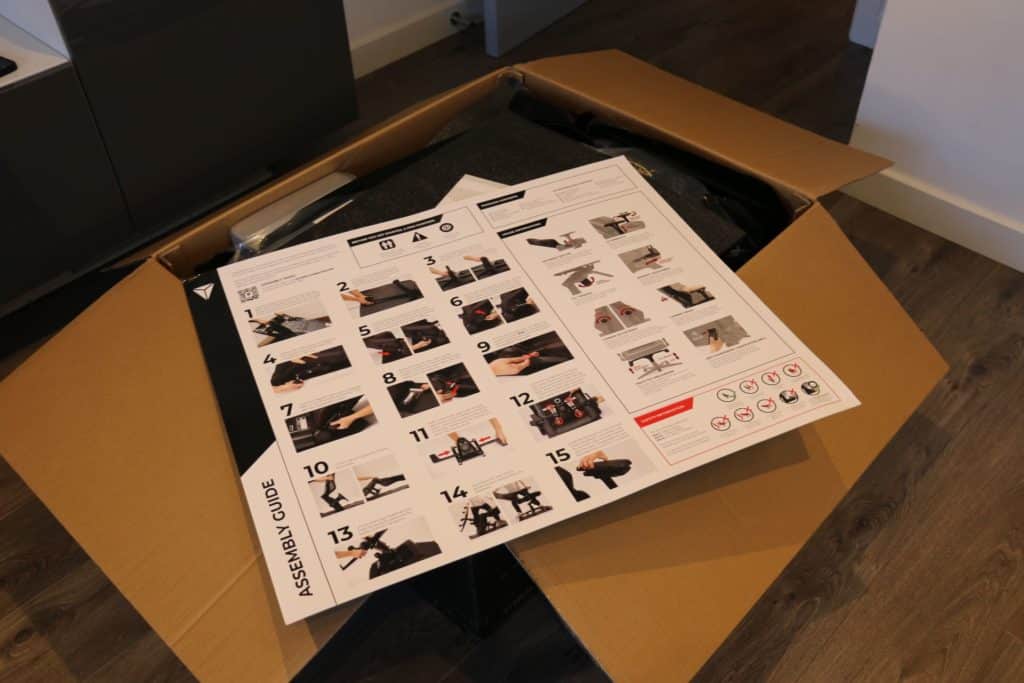 With the hard part over, it's time to remove the large red safety screw that keeps the tilt mechanism in place. That leaves attaching the tilt lock and height levers to the tilt mechanism and securing it to the seat and base.
It took ten minutes and zero tips for the swear jar from opening the box to marveling at a fully-assembled TITAN Evo 2022. Best of all, you can assemble the chair yourself.
Secretlab also went the extra mile in combating knockoffs by tucking an NFC tag inside the backrest. Scanning it reveals a message confirming the chair's authenticity and providing links to useful resources like a video with assembly instructions.
TITAN Evo 2022 Teardown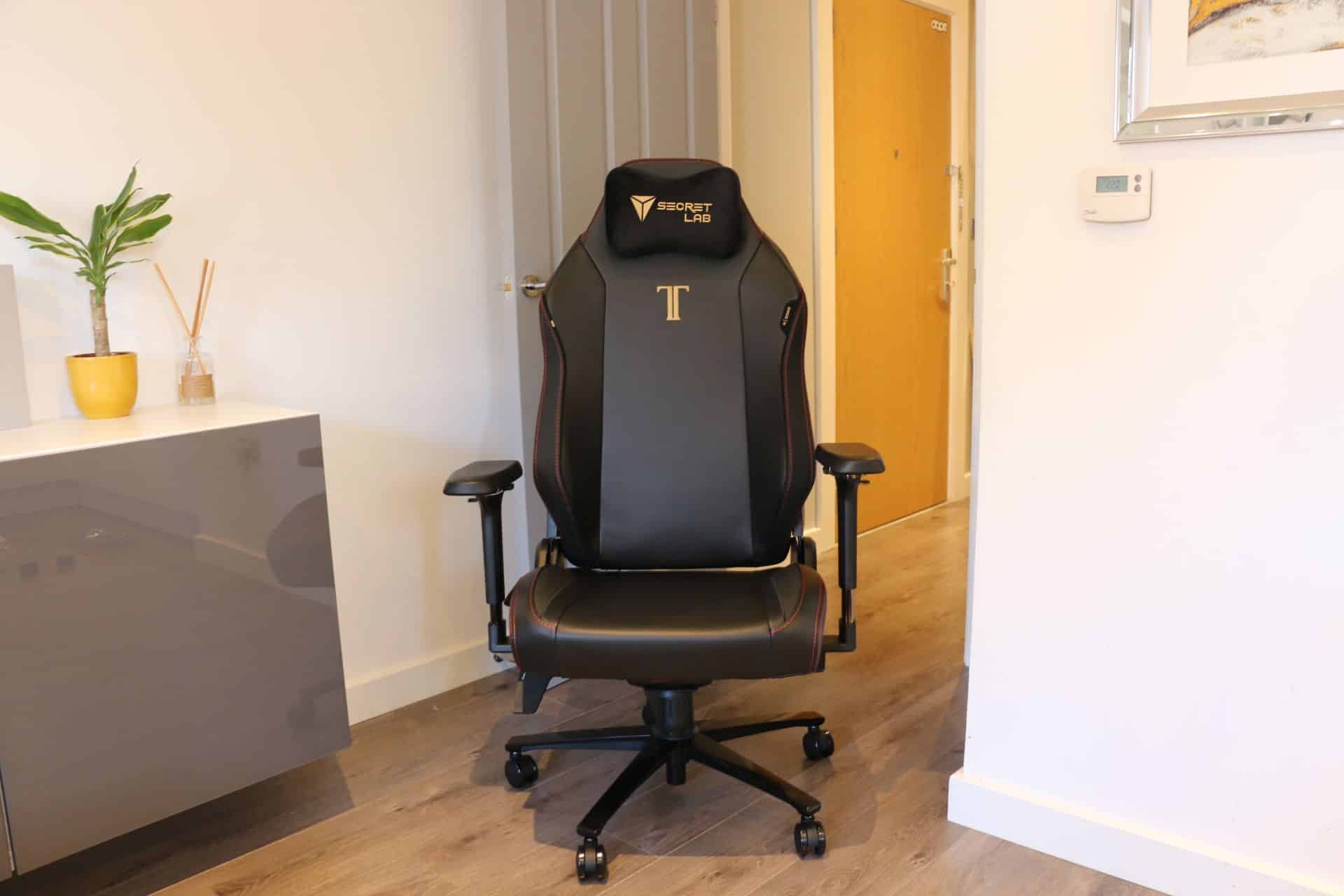 It's time to take a more thorough look at the TITAN Evo 2022's various components. We wouldn't bother with lesser chairs, but here almost every part is either exceptionally well made or shows off a proprietary bit of R&D that contributes to the well-rounded whole.
Wheelbase & Caster Wheels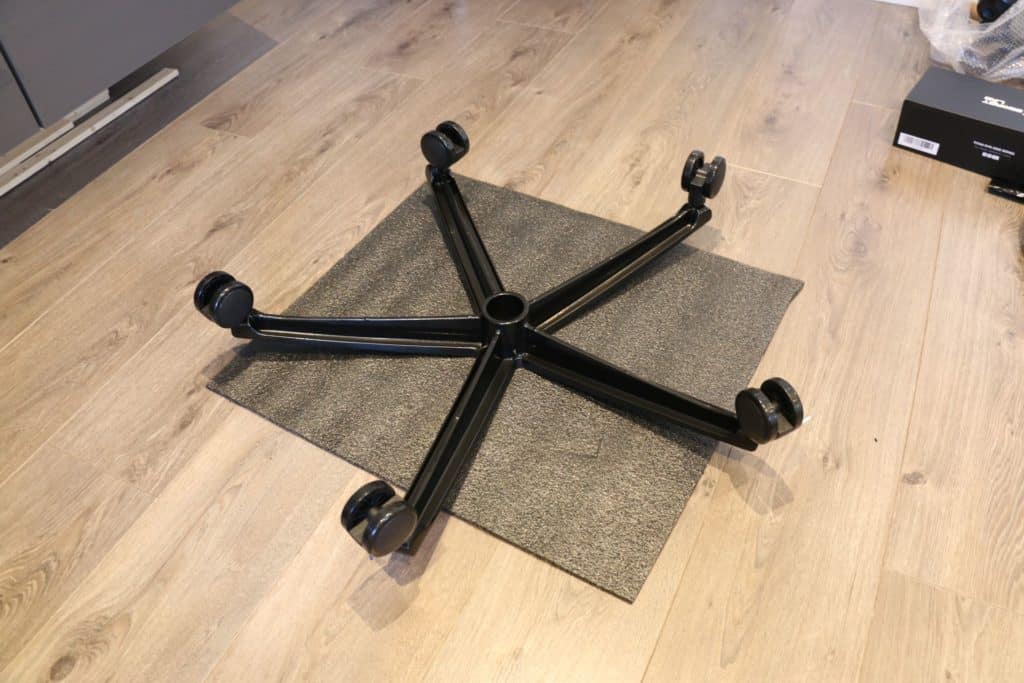 The wheelbase is made from solid aluminum and ribbed for better structural stability. The machining is excellent as there are no sharp edges to harm you during assembly or transport. The wheels are hefty and slot into it via small shafts. They're made from polyurethane plastic and shouldn't damage common floor surfaces.
Seat Base
The seat is the first significant innovation compared to the 2020 version or Omega models. It's called a pebble seat and is designed to subtly entice you to sit in its center. There's also a barely perceptible forward incline that eases the pressure on your legs. While the edges do slope upward, the seat is wide enough should you wish to cross your legs or spread them out.
Armrests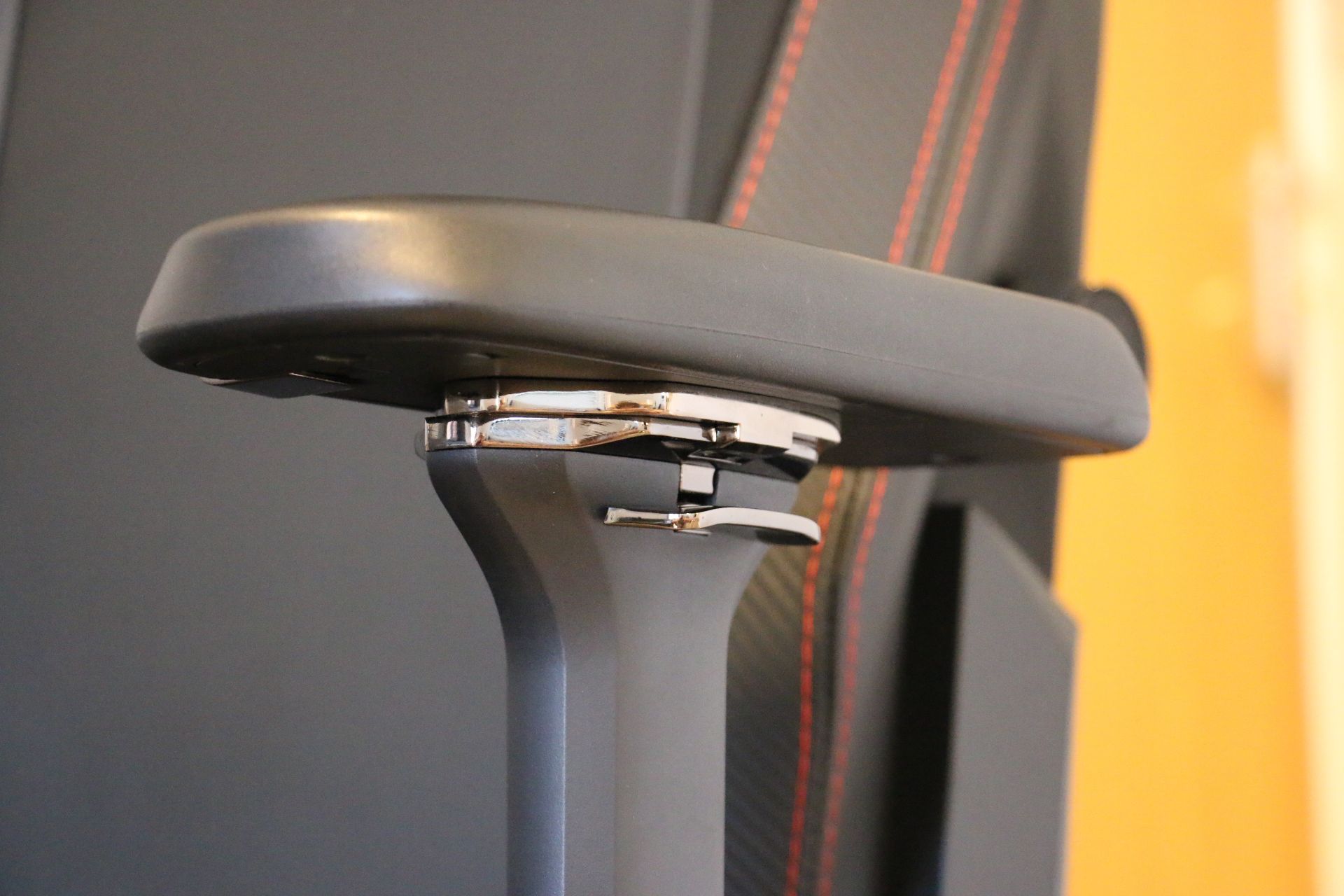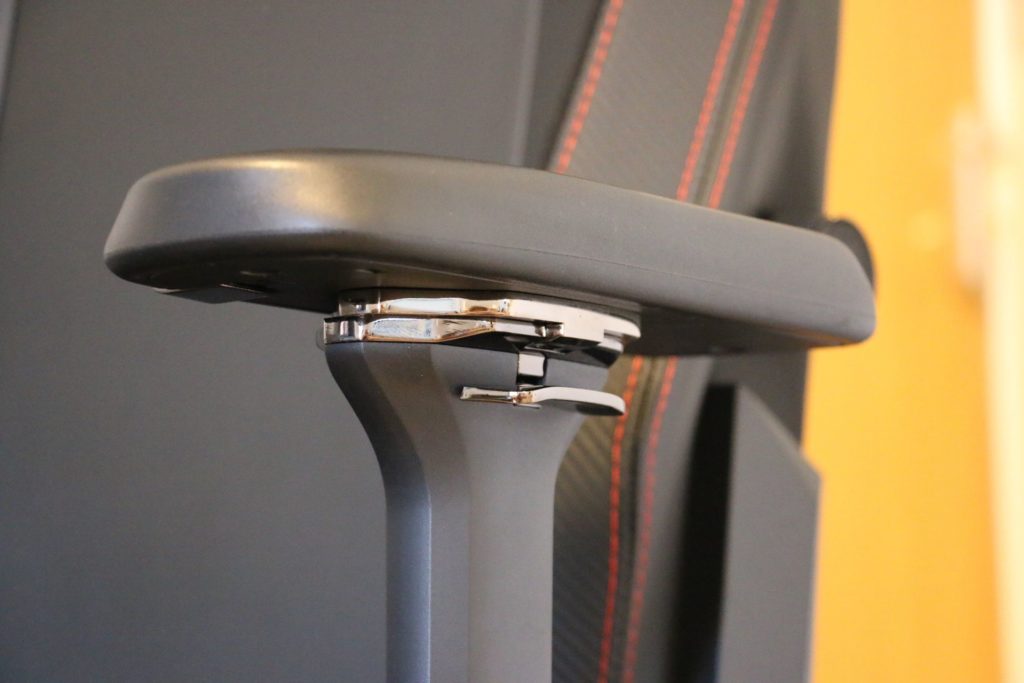 The chair as a whole places much emphasis on freedom of movement. Yet, its most elaborate interpretation is in the armrests. Labeled as 4D, they're surprisingly reactive and can move multiple ways. You may adjust their height and angle them either towards or away from yourself. It's also possible to move them to the front or back and regulate their width to take different arm sizes into account. You do all of this intuitively by pressing one of two buttons.
The bases are bolted firmly into the chair, not so with the tops. They have a quick-swap mechanism that uses magnets to attach the top foam part while letting you remove it with a deliberate motion. Armrests usually suffer more wear & tear than most other parts of a gaming chair, so having the ability to swap them out seamlessly is a real boon.
The existing tops are made of foam and sturdy enough for daily use. However, Secretlab also offers a more premium version made from a special gel that conforms to the shape of your arms, allowing for even better weight distribution.
Backrest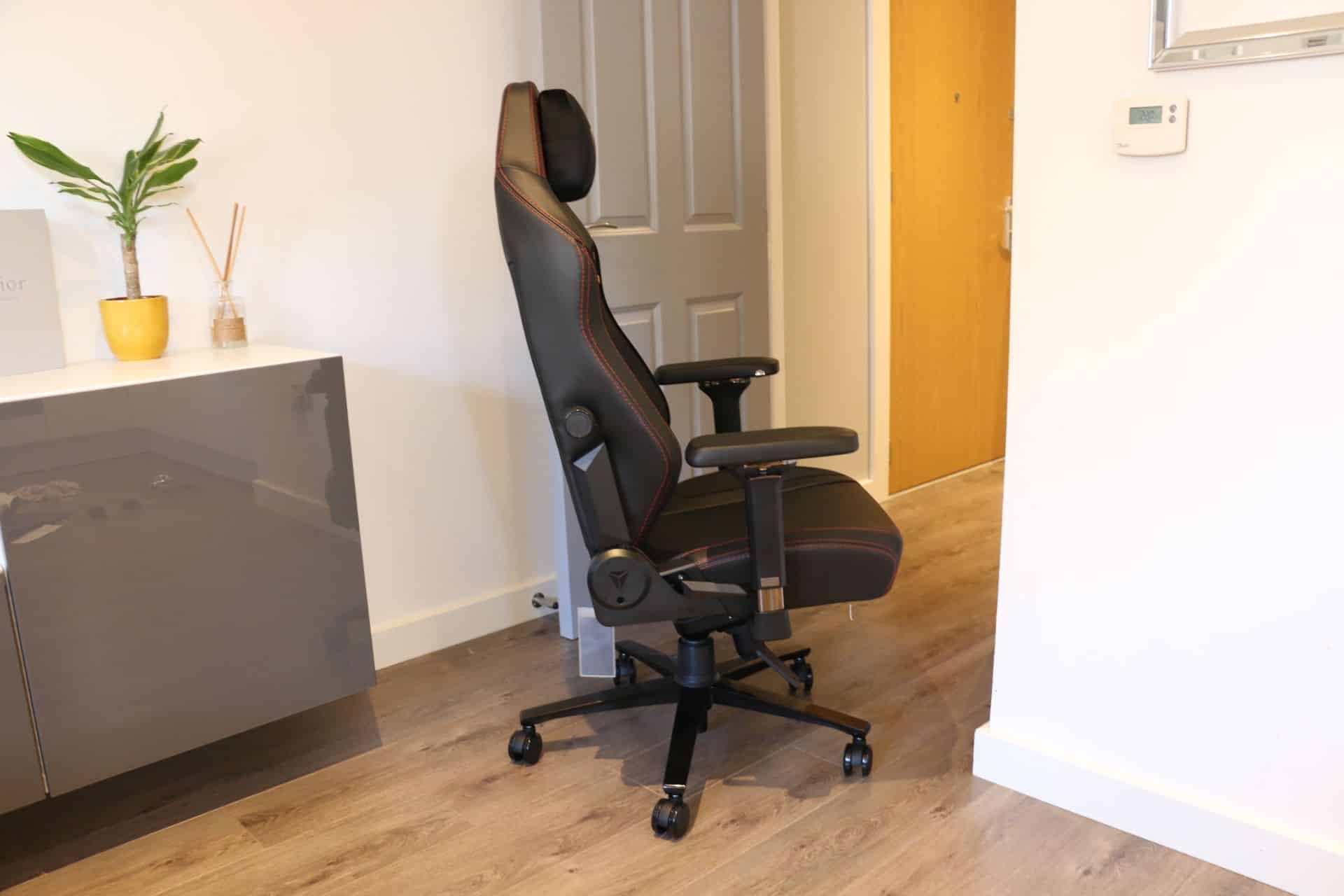 Sitting for long stretches can be harmful, so it's reassuring that much of the TITAN Evo 2022's advancements went towards better lumbar support. It uses a four-way system that conforms to your spine more naturally and ensures correct posture whether you sit still or squirm all the time.
You regulate the backrest by using dials on either side. The one on the right determines how pronounced the support is, while the left one raises or lowers it. Using both to dial in fine adjustments brings the kind of push that lets your spine take a breather.
Upholstery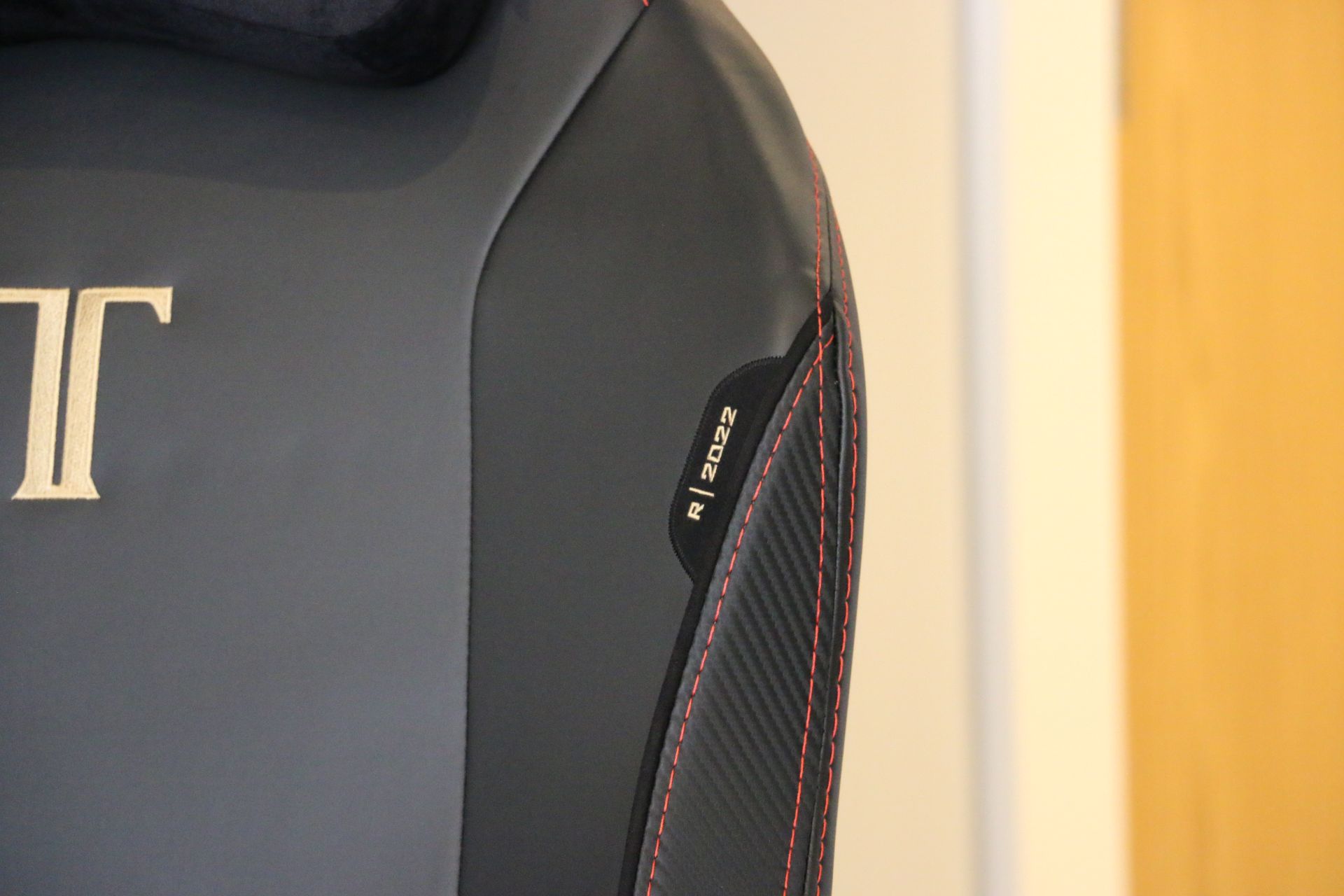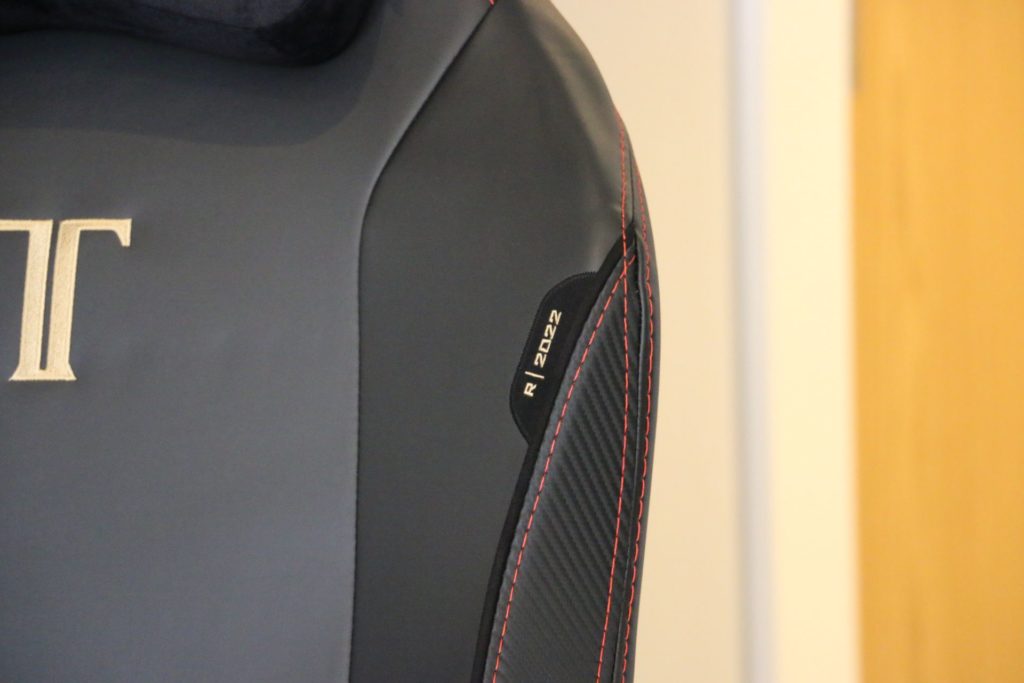 The TITAN Evo 2022 is available in three upholstery types. NAPA leather is the most premium one and brings the chair's price up considerably. It's also limited to an all-black design that's not as creative as some others.
Secretlab put considerable effort into upgrading the two other material choices. Our chair is upholstered with the Neo Hybrid Leatherette, a durable cover made from several layers.
The top one is a kind of resin that mimics the shine and supple nature of NAPA leather. A mesh of fibers underneath gives the leatherette structure and durability. Secretlab claims that this new material is twelve times more resilient than its TITAN Evo 2020 version.
Not a fan of leather, genuine or otherwise? Then you'll want to pay a small upgrade fee and get a chair clad in the new SoftWeave Plus fabric. This is the most advanced version of the material yet, sporting a more resistant weave with a new interlacing pattern that allows strands of different colors to mingle & produce a uniquely attractive surface. You'll want to go with this upholstery if you live in a warm climate since it has better breathability than the leatherette.
New materials also call for a color refresh. Owners of previous models may stick with old favorites like Stealth and Classic, while gamers with white PCs will love either the new Ash or Arctic White additions. SoftWeave Plus chairs, in particular, draw attention with their multi-shade patterns.
Foam Pillow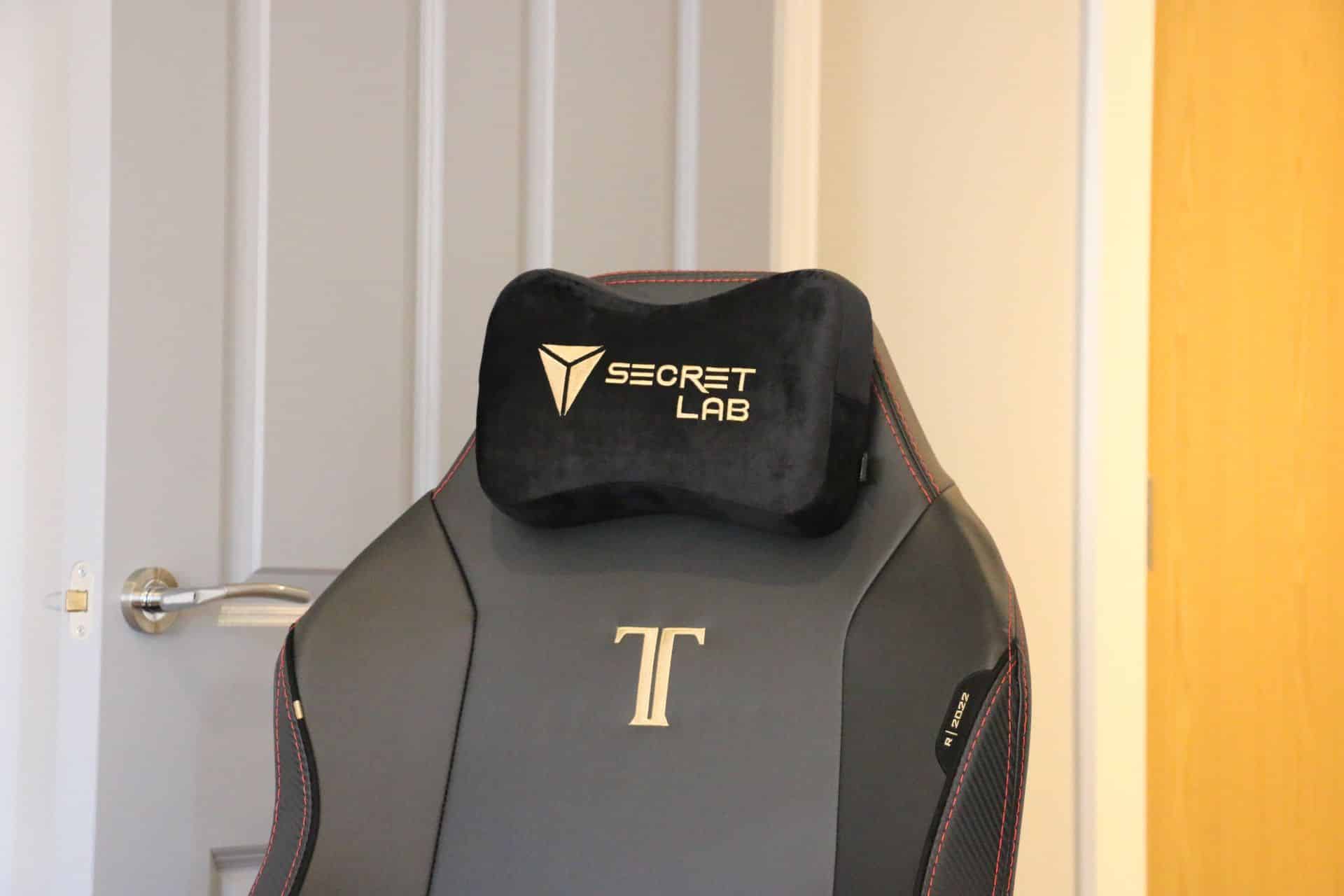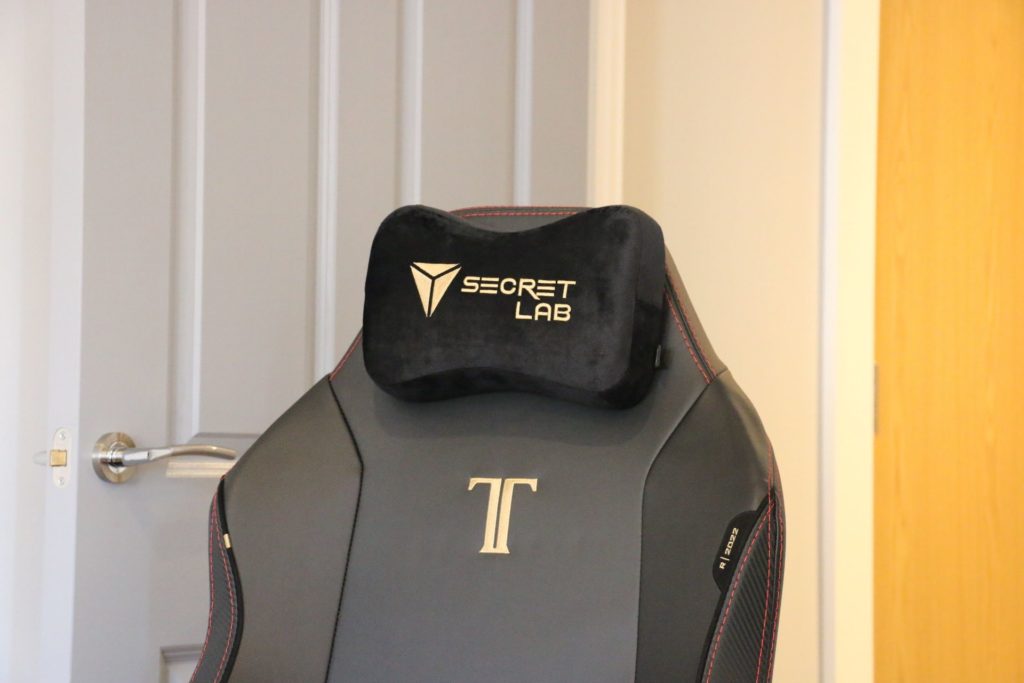 The included foam pillow is a welcome addition, but its design is the only thing in the Secretlab TITAN Evo 2022 review we feel needs improvement. The pillow itself is finished in felt and made from a mix of memory foam and gel that remains cool after lengthy resting.
We didn't use it that much while sitting up straight. However, it comes in handy when it's time to test the chair's reclining abilities and sneak in a power nap.
Kudos to Secretlab for ditching the fiddly straps that came with past iterations of the pillow. Magnets are the answer yet again, only this time, their implementation is lacking. A small magnet on the pillow's back attaches to the top center of the chair.
The receptive area on the backrest spans about five inches, giving you a fair bit of leeway with height. The contact area is small, so it's easy to nudge or knock the pillow off with a careless movement.
Accessories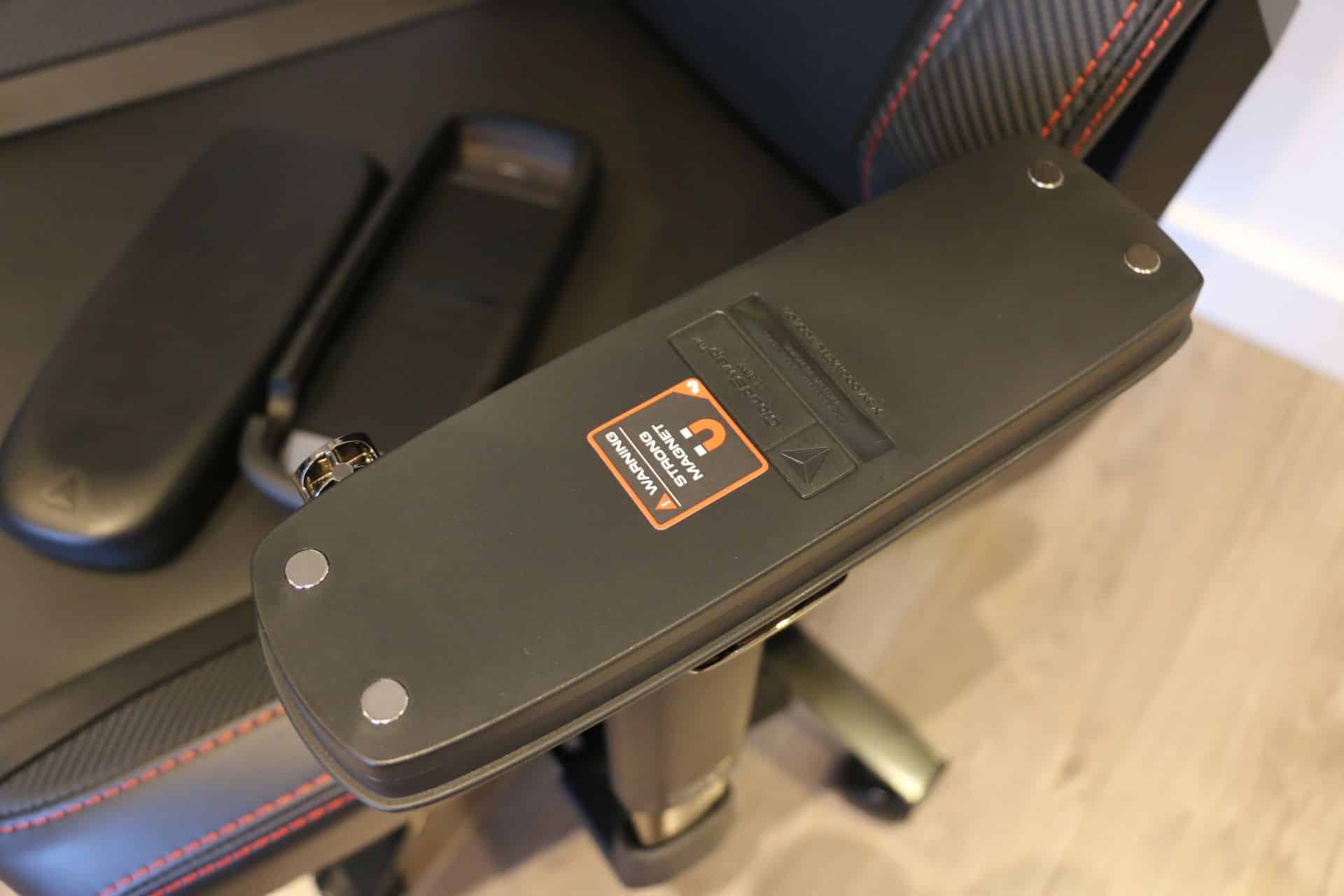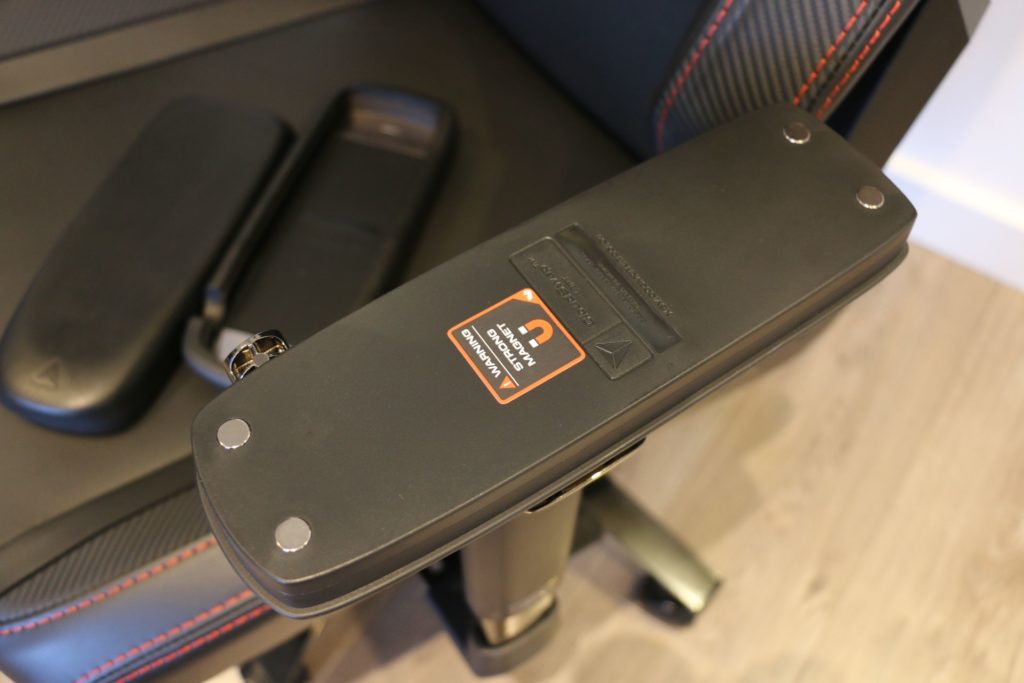 The most basic TITAN Evo 2022 is already an excellent chair. However, you can upgrade it further if you have the budget and inclination. We've already mentioned the special gel armrests and premium leather options.
Secretlab also offers a dedicated lumbar pillow for people with lower back pain problems the chair alone might be ill-equipped to deal with.
Our Hands-On Experience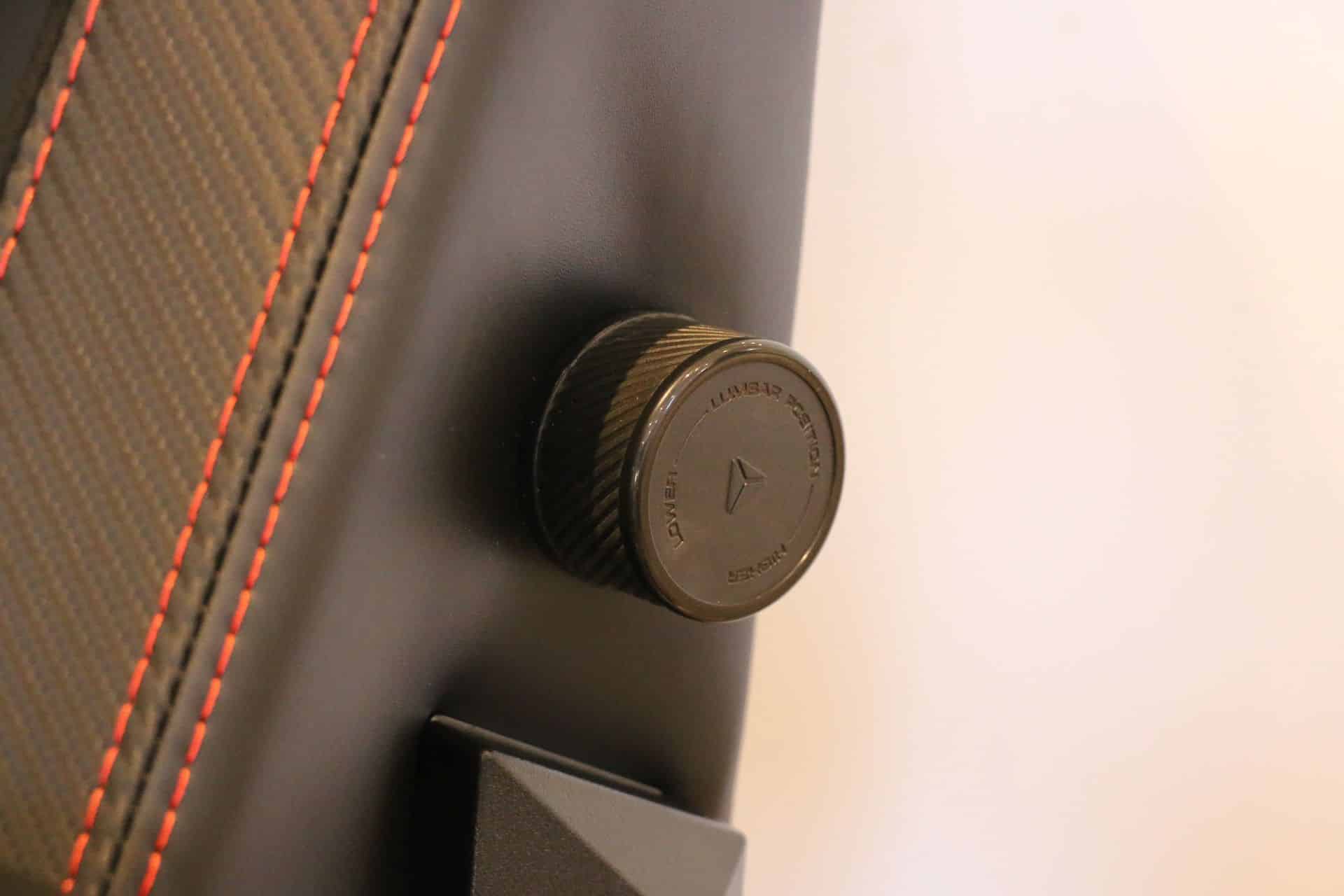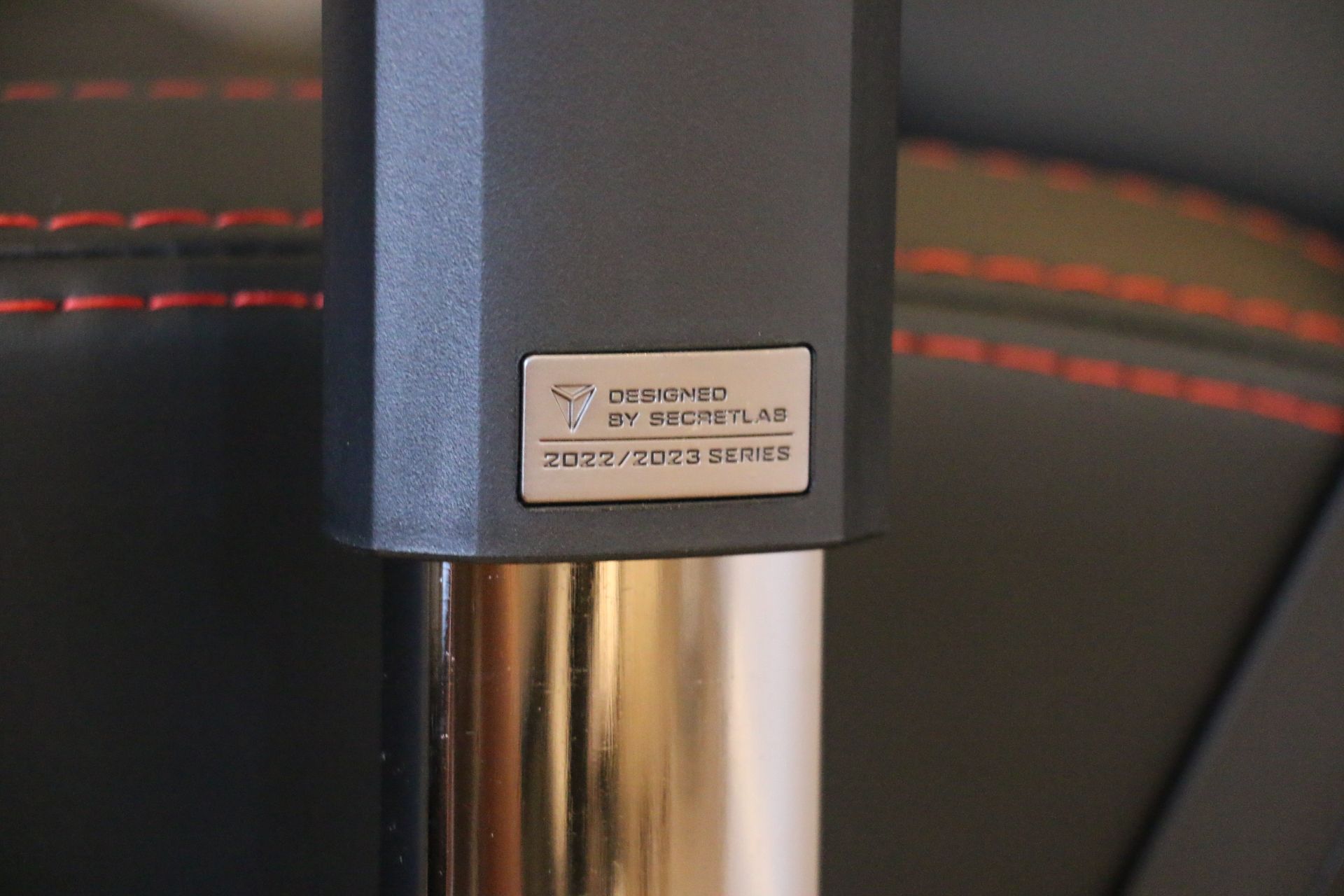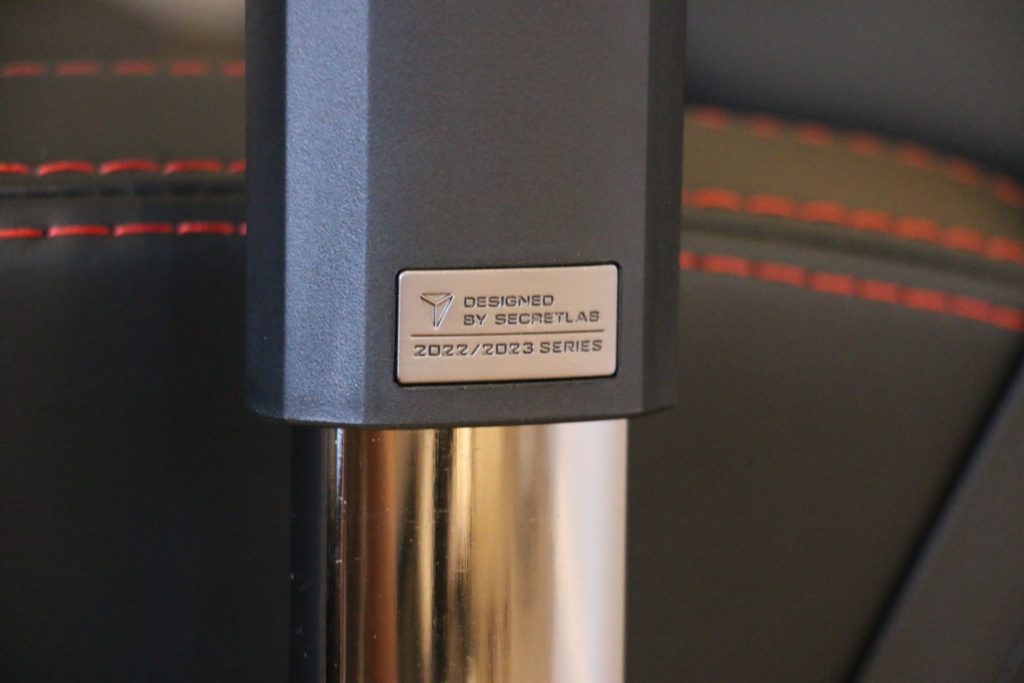 Testing the TITAN Evo 2022 has been an eye-opener. It's hard to imagine going back to a flimsier seat after immersing oneself in all a chair like this one.
The aesthetics feel just right. You can tell it's a racer-style gaming chair by the general shape and shoulder fins. Still, we love how everything is put together to emphasize quality over a pronounced gaming aesthetic. You could almost get away with using the chair in an office setting if you opt for the black leatherette variant, and that's something very few models can pull off.
Lumbar support on the TITAN Evo 2022 is top-notch. You're free to customize it to a great degree, and the backrest isn't rigid once you find your ideal position. The support adjusts as you do and stays glued to your spine without losing its form.
The seat takes some getting used to since it's among the firmer ones we've tested. There's a break-in period during which the seat adjusts itself to your body better, so stick with it if you feel that it's too stiff at first. Stiff or not, the padding is thick enough that the tilt mechanism underneath doesn't dig into your legs and behind.
The armrests are firm and have a wide enough range of motion to accommodate anyone the seat's general size is meant for. We haven't tried the premium gel top, but the regular one felt right.
Regardless of size, the backrest reclines to a max of 165°. A lever on the left also enables rocking and lets you lock the rock in place once you've found a good position. The rocking is a bit wobbly, but not to the point that we thought the TITAN Evo was unstable. Secretlab did a commendable job designing the chair's various levers and knobs to always be within arm's reach.
Is The Secretlab TITAN Evo 2022 Worth It?
Yes, the chair is definitely worth it! While it does sit on the costlier end of the spectrum, the TITAN Evo 2022 more than makes up for it with its comfort, build quality, and aesthetic!
The TITAN Evo easily triumphs most of its competitors due to the amount of versatility and comfort it provides.
Conclusion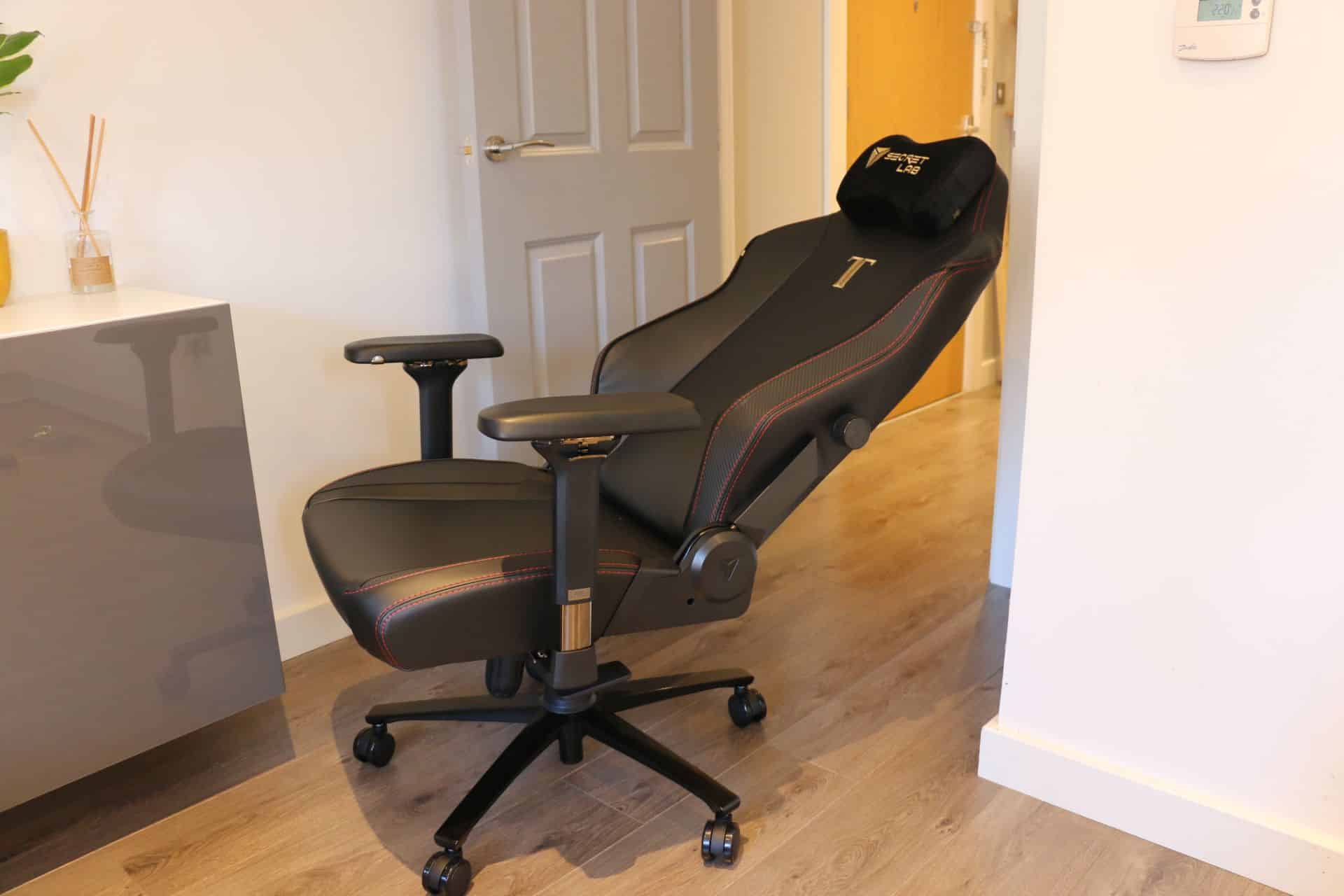 Gaming chairs rarely get the mix of sound ergonomics, individual customization, and aesthetics right. Hopefully, our TITAN Evo 2022 review has made it clear that this is not the case for Secretlab's excellent chair. It's comfortable, easy to put together, and keeps you supported whether you sit still or fidget subconsciously.
The TITAN Evo 2022 is currently Secretlab's crowning achievement – a balanced blend of tried & true design and several substantial improvements that make the already well-rounded original even better. Take the plunge, choose a color that fits well with your gaming PC, and give your back a long-deserved rest.