Sifu is a martial arts action game from Sloclap, and Microids. The title was originally revealed during a State of Play back in 2021 and has been out on PC, PS4, and PS5 for a few days now. Sifu is one of the best games of the year and has managed to please critics, and fans of challenging titles. We have been having a blast playing it, though it's certainly a niche title, especially because of its difficulty. If you are on the PC version though, there's a good chance you've already been using the excellent photo mode as well. If you want to access the Sifu Screenshots location, here is how you can do that.
Currently, the game is only available on PC through the Epic Games Store, though we expect it to make its way to other PC storefronts after a year, or 6 months. Sloclap's previous title Absolver came out on a variety of platforms, and Sifu builds on that foundation.
Sifu Screenshots location
Sifu has a Photo Mode that can be accessed on PC by holding down on the d-pad if you're using a controller. This allows players to use the camera tool, add filters, effects, and easily take beautiful screenshots. The screenshots can be accessed at the following location on PC.
C:\Users\YOUR USER NAME\AppData\Local\Sifu\Saved\Screenshots\WindowsNoEditor
You can visit the same location using Windows Run as well. To do that, follow the steps below.
Open Windows Run by either pressing Windows + R keys together, or by searching for it in Windows Search
Enter the following address, and press OK
%LOCALAPPDATA%\Sifu\Saved\Screenshots\WindowsNoEditor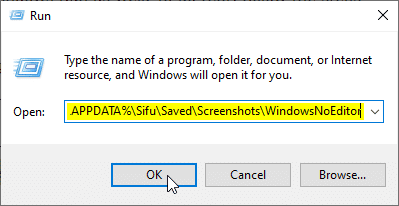 Here, all the screenshots that you took using the Photo Mode will be present.
Photo modes are getting fairly common in modern titles. It's nice to see that Sloclap has implemented something that can be used during combat, and traversal. Players can customize various poses of the main character as well, and even continue animations.
We hope this guide was helpful, and you were able to access the Sifu Screenshots location on PC. If you have any questions, feel free to ask them in the comments below.