We know that everyone is anxiously waiting for more news on the Sims 5, but that doesn't mean you have to stop improving your Sims 4 game. Whether you're trying to keep your Sim busy or desperately need some simoleons, joining a career in the sims 4 is a great way to improve your Sim's life.
While it may be a struggle at first to balance lifestyle, needs, and work, having income from a career is one of the best and most efficient ways to make money in the sims. From get-rich-quick careers to slow burners with more satisfaction, there's something for every Sim and every gameplay style.
Suppose you're deciding which career is best for your Sim or comparing careers to see which earns the most money. If so, this complete list of the Sims 4 careers is for you.
---
A Complete List of the Sims 4 Career Tracks
From actor to writer, there are various careers that your Sim could choose from. However, choosing a career for your Sim should align with their aspiration to reap the benefits of the career and climb the promotion ladder.
Here is our complete list of careers in the Sims 4.
---
Actor/Actress (The Sims 4 Get Famous Career)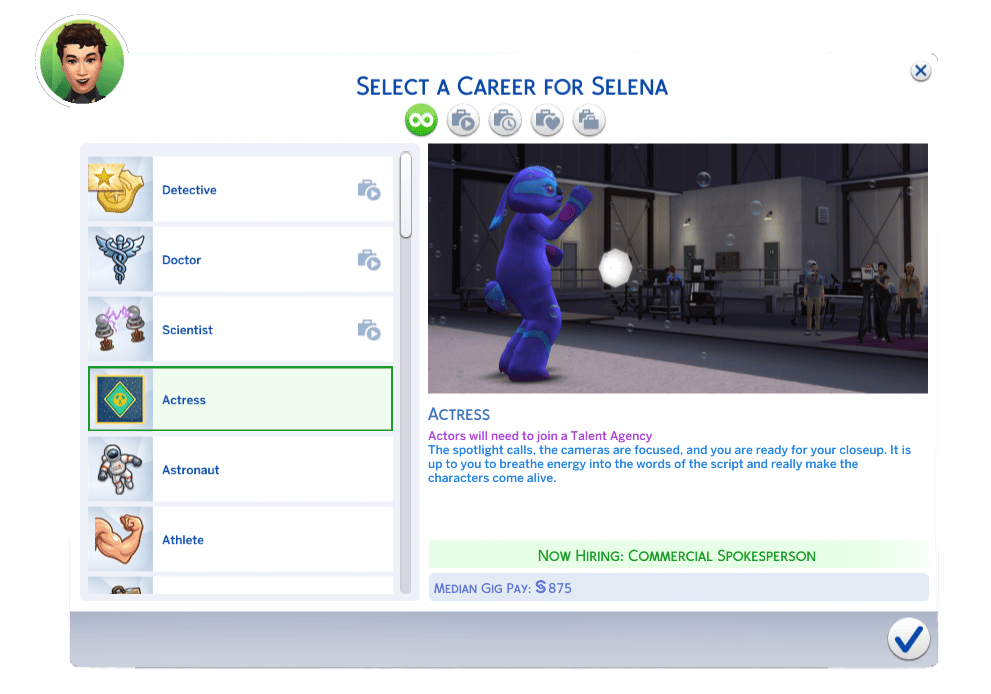 Are you ready for your closeup? The actor/actress career allows your Sims to step into the spotlight – picking up fame as they rise to stardom. However, it's not as easy as simply memorizing your script. It's up to your Sim to breathe life into the character to make the movie a blockbuster. Can you handle the pressure?
Career Branches (Actor Types)
Uncredited Extra (§640/Gig)
Background Actor (§640/Gig)
Commercial Spokesperson (§1,755/Gig)
Guest Star (§1,755/Gig)
Supporting Actor or Actress (§4,010/Gig)
Sitcom Star (§4,010/Gig)
Rising Star (§4,010/Gig)
Seasoned Thespian (§9,800/Gig)
Superstar (§9,800/Gig)
Silver Screen Icon (§9,800/Gig)
---
Astronaut (The Sims 4 Base Game Career)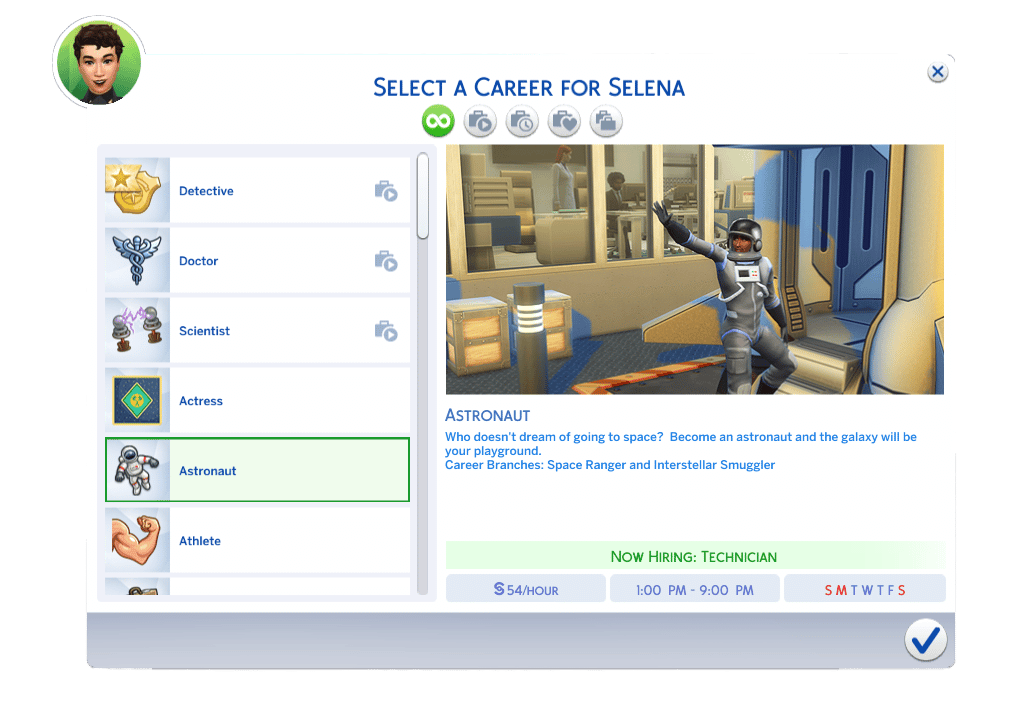 Why stick to your Sim's world when you can explore the galaxy? Instead of an old desk job, why not consider becoming an Astronaut? While the job is a rabbit hole, watching your Sims train and blast off into space is still fun.
Career Branches
Space Ranger (§11,816/week)
Interstellar Smuggler (§14,868/week)
---
Athlete (The Sims 4 Base Game Career)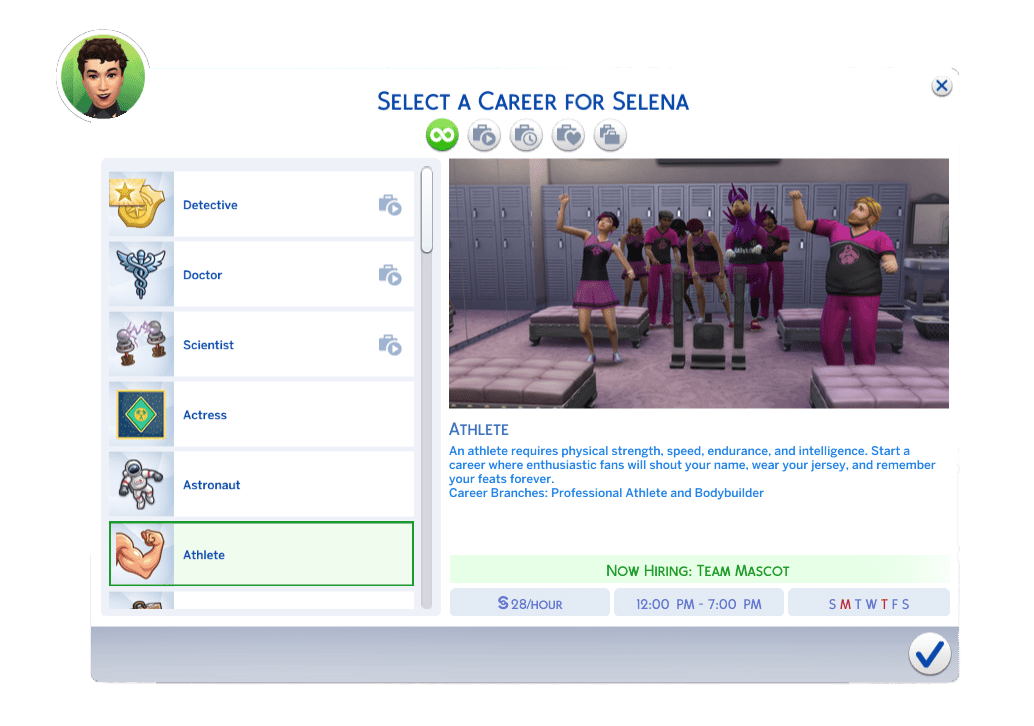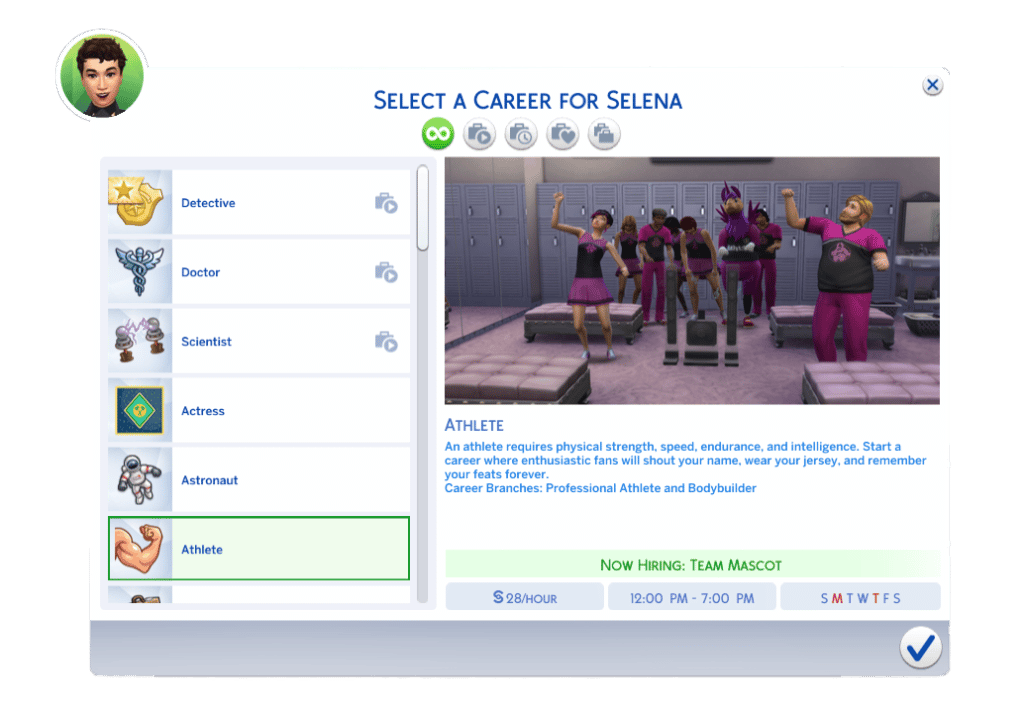 Dreaming of ruling the track or becoming a famous sports star? Why not start a career in athleticism where adoring fans will scream your name and remember you forever. However, not every Sim is cut out to be an athlete – strength, endurance, and the perfect physique is needed to become the best of the best.
Career Branches
Professional Athlete (§9,990/week)
Bodybuilder (§9,000/week)
---
Business (The Sims 4 Base Game Career)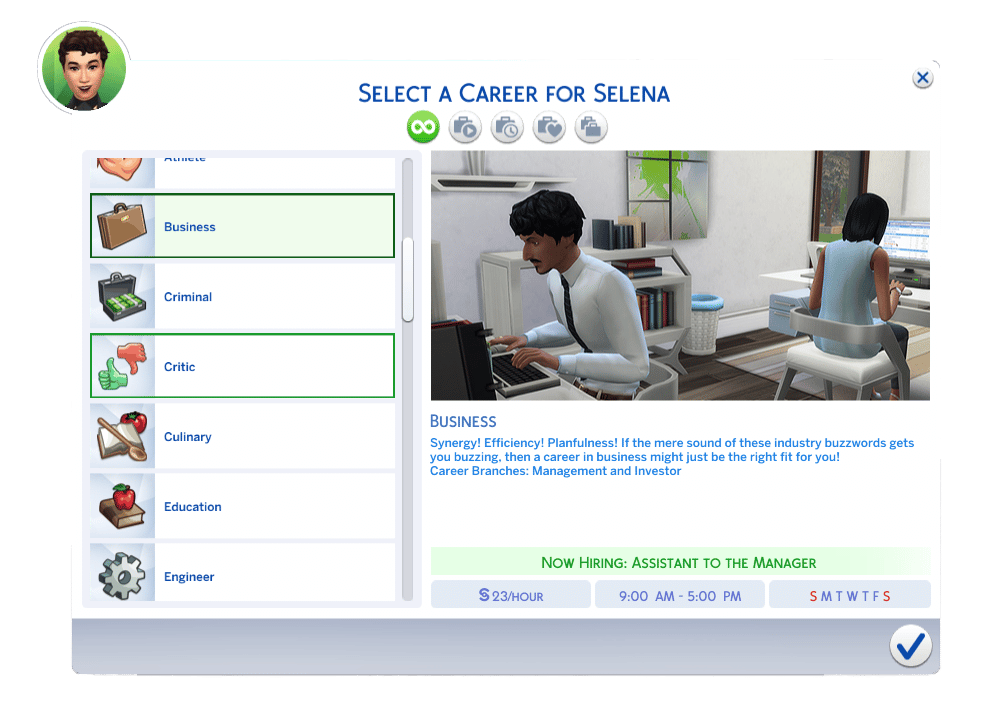 Does your Sim have what it takes to be a business person? Do they have the organizational skills necessary to take companies to new levels? The business career is perfect for ambitious sims with a perfectionist side.
Career Branches
Management (§12,000/week)
Investor (§12,992/week)
---
Civil Designer (The Sims 4 Eco Lifestyle Career)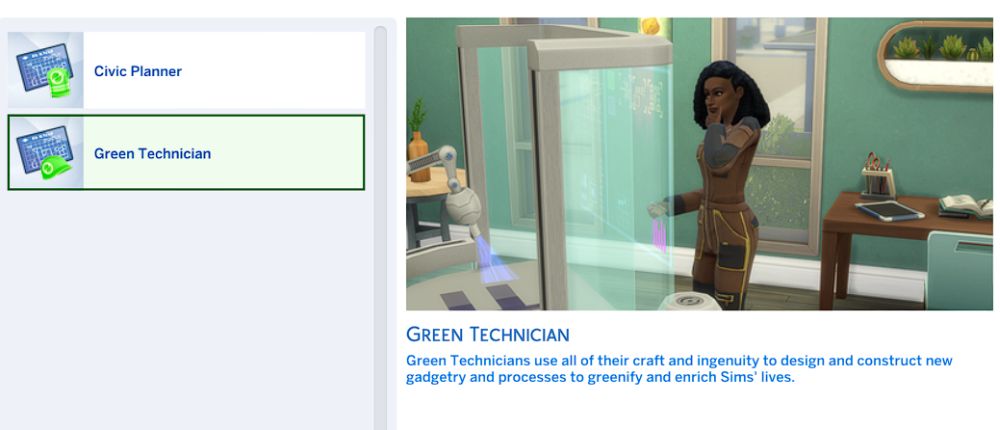 With the ability to change the environment in Eco Lifestyle comes a new career – the civil designer. Get your Sim involved in planning new community lots and inventing new green technology to tackle arising environmental issues.
Career Branches
Green Technician/Master Inventor (§5,688/week)
Civic Planner/City Master Planner (§12,600/week)
---
Conservationist (The Sims 4 Island Living Career)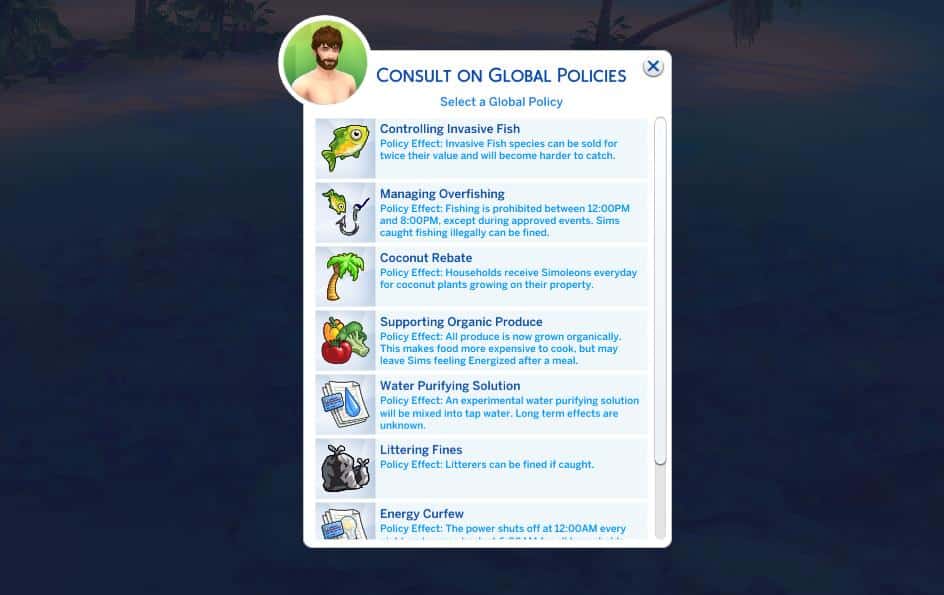 Protecting the Island of Sulani is one of the most critical missions for conservationists in the Sims 4 Island Living. From clearing trash to performing research expeditions – conserving the natural island landscape is vital. It's your Sim's job to work hard and nurture a thriving ecosystem.
Career Branches
Environmental Manager/Chief Sustainability Officer (§10,200/week)
Marine Biologist/Master of Marine Affairs (§9,100/week)
---
Criminal (The Sims 4 Base Game Career)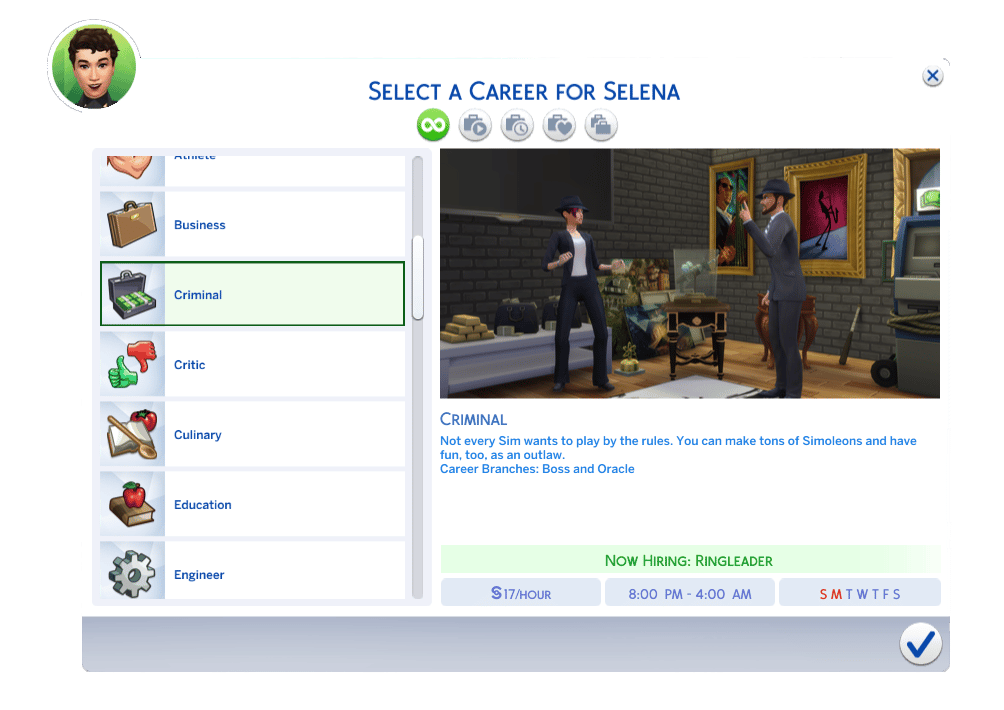 Does your Sim have a mean streak? Perhaps they enjoy stealing candy from babies or are pure evil at heart. If so, why have your Sim play by the same rules as everyone else? All you have to do is break a few laws and ensure you don't get caught. From running a syndicate to hacking banks, the Criminal career is perfect for all mischievous Sims.
Career Branches
Boss (§12,460/week)
Oracle (§8,848/week)
---
Critic (The Sims 4 City Living Career)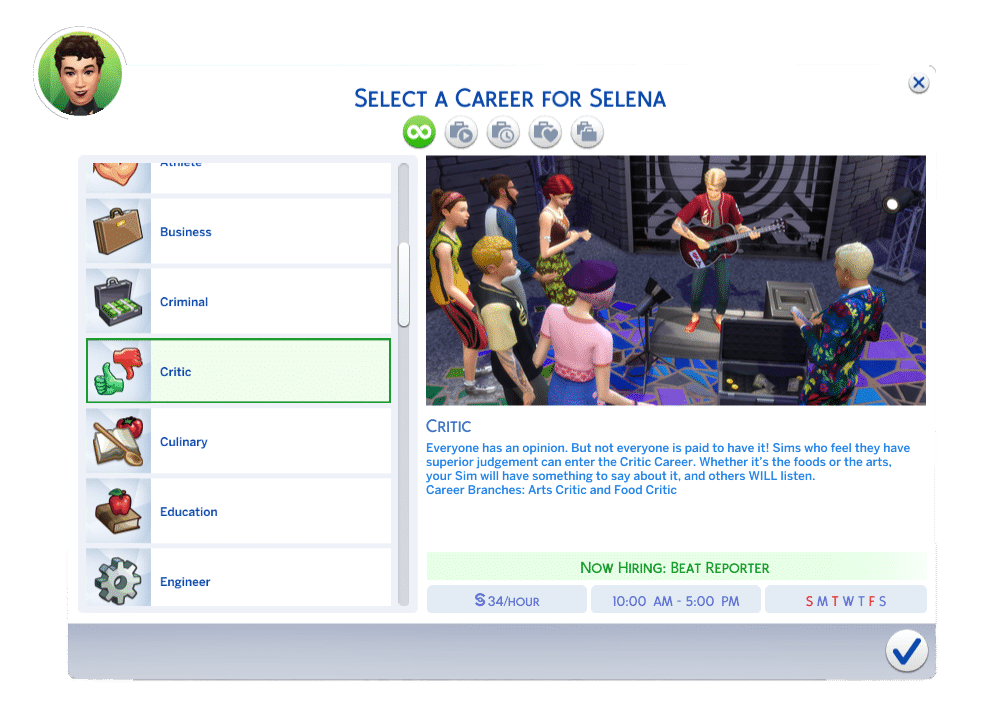 Who says being judgemental doesn't pay off? Of course, you'll need an impeccable sense of style, design, and food, but having an opinion can earn you extra Simoleons. Join the critic career, explore new arts and cuisine and write about your experience. Hopefully, others will listen, and you'll gain a positive reputation.
Career Branches
Arts Critic (§6,810/week)
Food Critic (§8,820/week)
---
Culinary (The Sims 4 Base Game Career)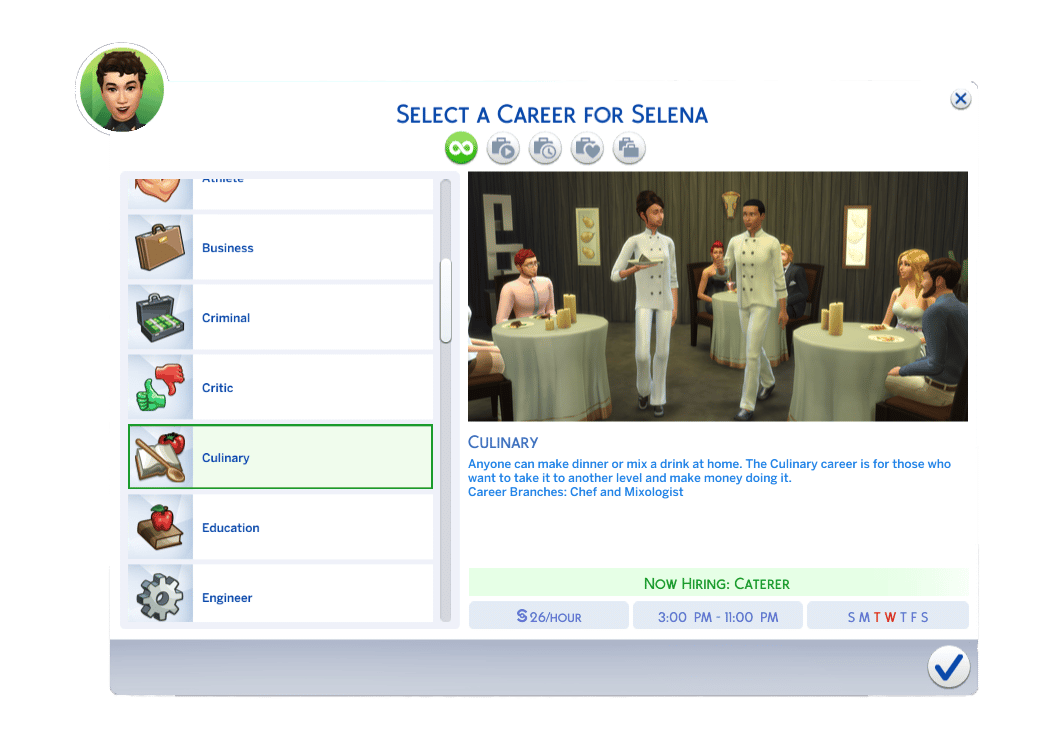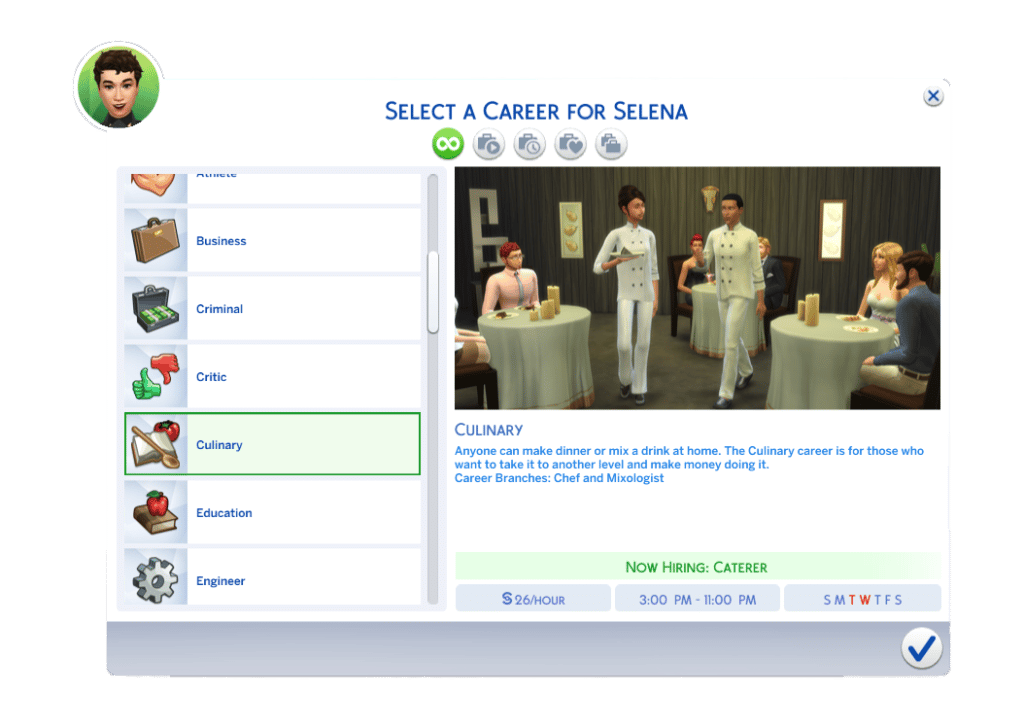 While dining in is one thing, cooking for a crowd can be challenging. However, if your Sim loves cooking or mixing drinks, try a culinary career. Choose between becoming a chef and catering for parties or a mixologist and running the bar. Either way, you can earn decent earnings from leveling up your skills.
Career Branches
Chef (§9,840/week)
Mixologist (§5,910/week)
---
Detective (The Sims 4 Get To Work Career)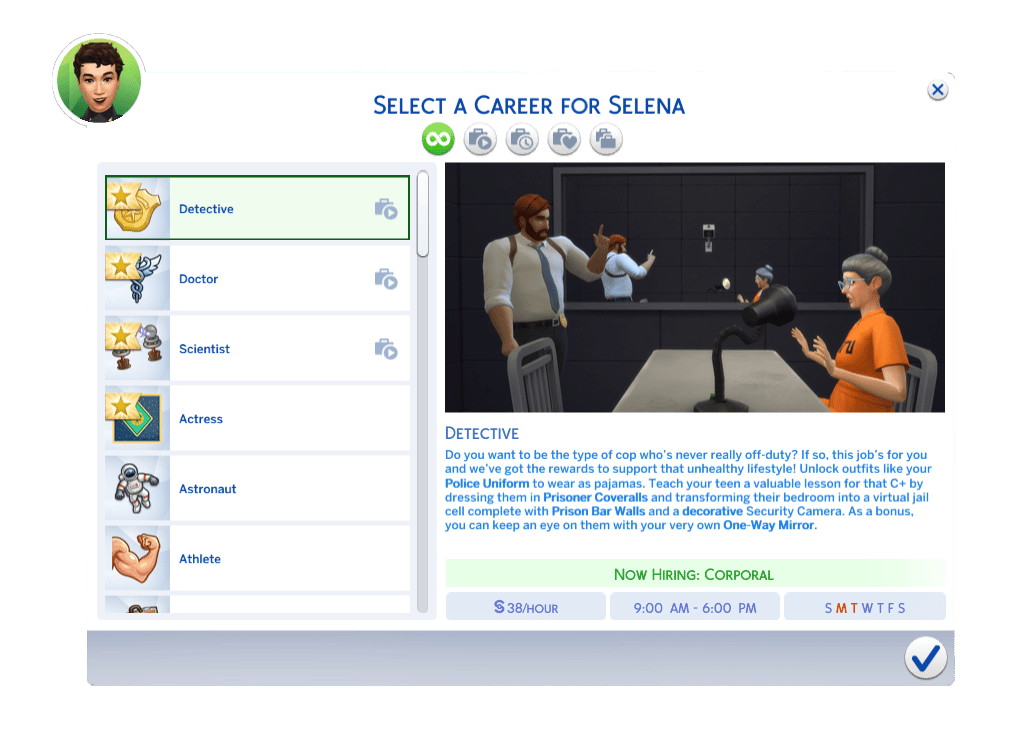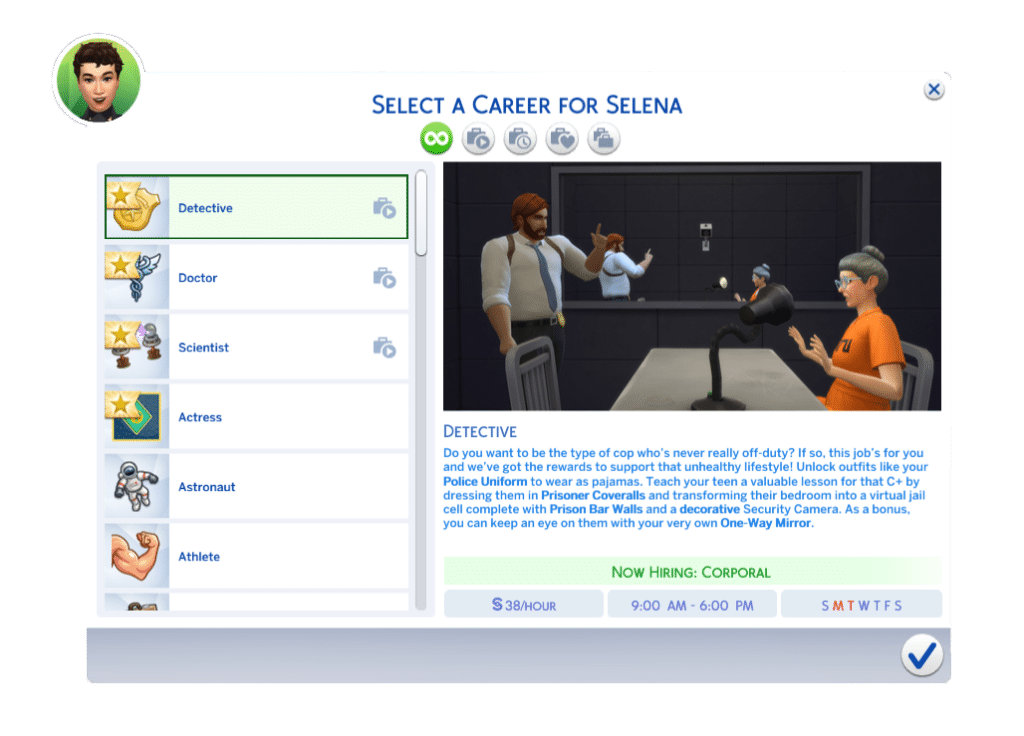 One step up from the police force is becoming a detective. Being a detective is one of the only jobs where your Sim doesn't disappear into a rabbit hole. As you progress through the ranks, you can unlock Police Uniforms and teach your teens valuable lessons by threatening them with jail time. So get to work and solve crimes that no other sim could dream of uncovering.
Career Branches
---
Doctor (The Sims 4 Get To Work Career)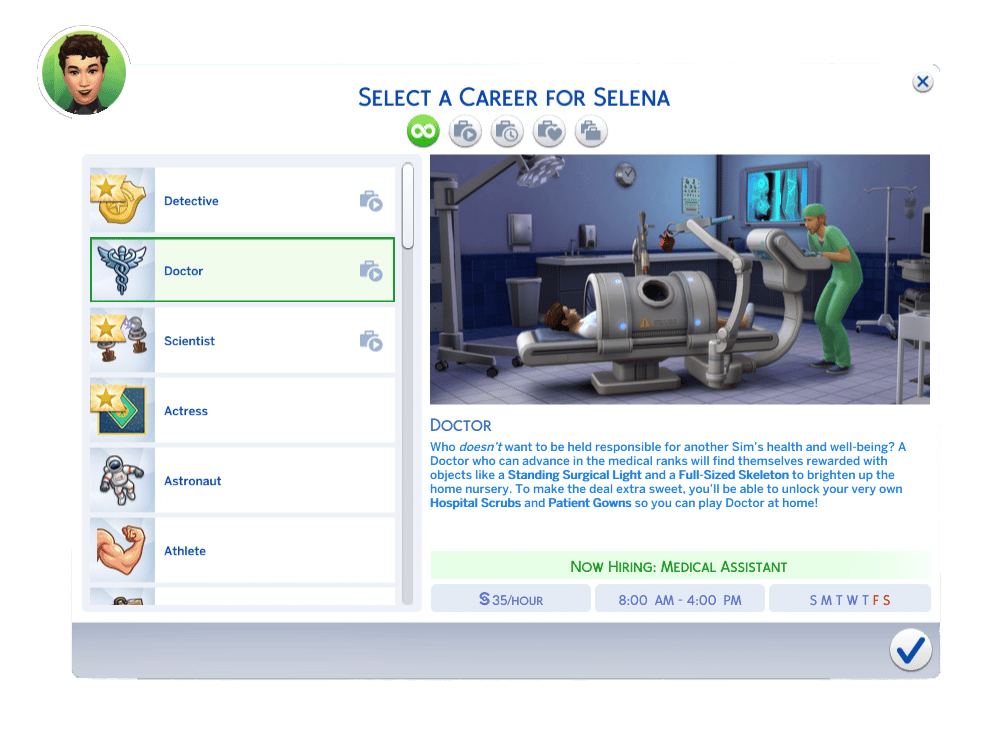 Clear! Get the Doctor stat! Your Sim can join the doctor career track and help NPC sims survive illnesses or birth babies. Work hard, and you might even be rewarded with medical-related objects such as skeletons or surgical lights. So pull on those hospital scrubs, lift your face mask and get to work saving lives.
Career Branches
---
Education (The Sims 4 Discover University Career)
Education is one of the newer career tracks that allows you to shape the future and guide students to success. Watch your students ace their tests or flunk – after all, some students just aren't made for education like you are.
Career Branches
Administrator/Head Chancellor (§5,850/week)
Professor/Master Educator (§4770/week)
---
Engineer (The Sims 4 Discover University Career)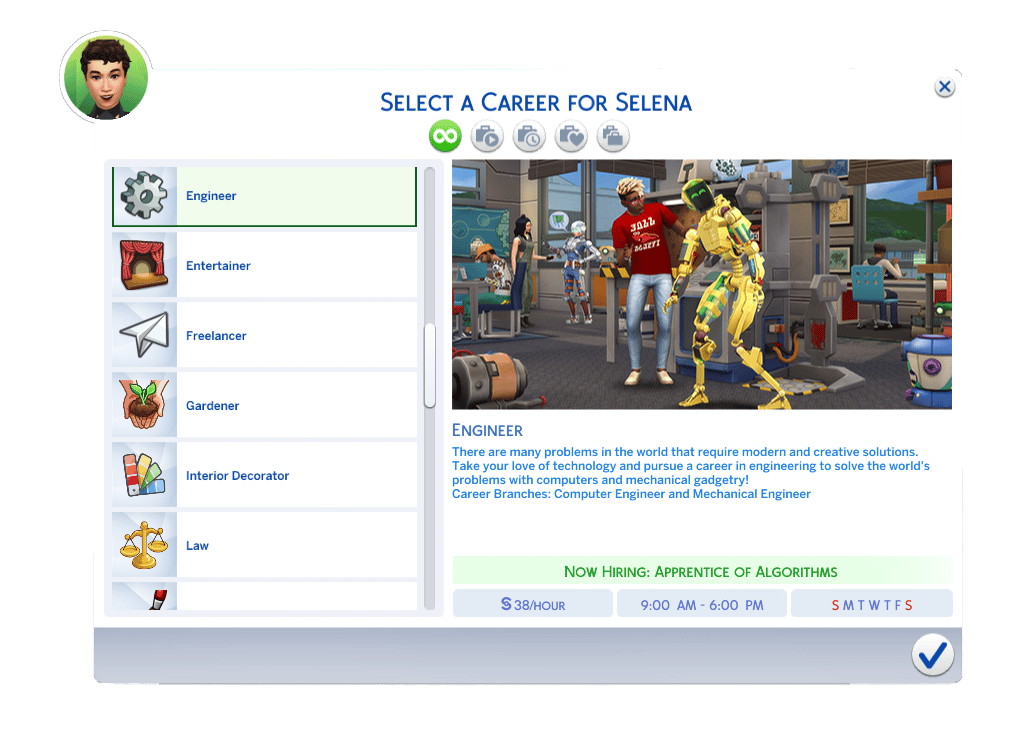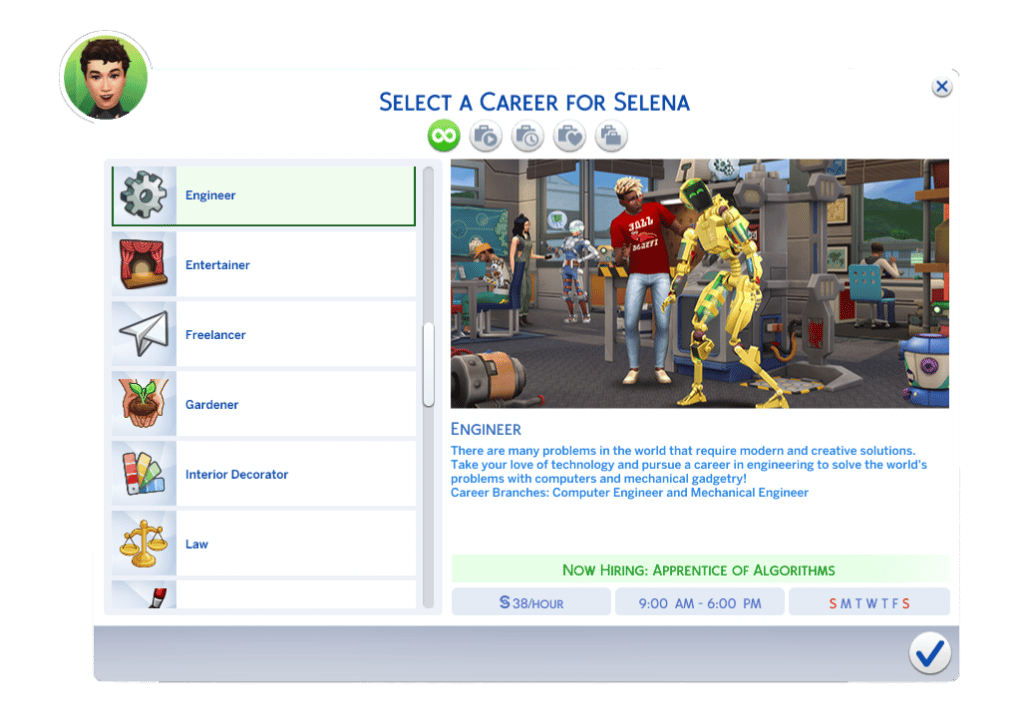 Finding spare parts and tinkering may be the best solution to today's problems. Use your Sim's creativity and technical skills to discover new gadgets and improve their computer skills. A career in engineering is perfect for Sims who are tech lovers and have perfectionist tendencies.
Career Branches
Computer Engineer/PC Prodigy (§9,000/week)
Mechanical Engineer/Master of Machines (§9,000/week)
---
Entertainer (The Sims 4 Base Game Career)
It's not easy gripping your audience's attention and keeping them engaged. However, for some, it comes naturally. If your Sim finds themself following the call to the game, try becoming a professional entertainer. Make your audience laugh with delights or capture their hearts with original songs your Sim wrote.
Career Branches
Musician (§9,520/week)
Comedian (§8,532/week)
---
Freelancer (The Sims 4 Base Game Career)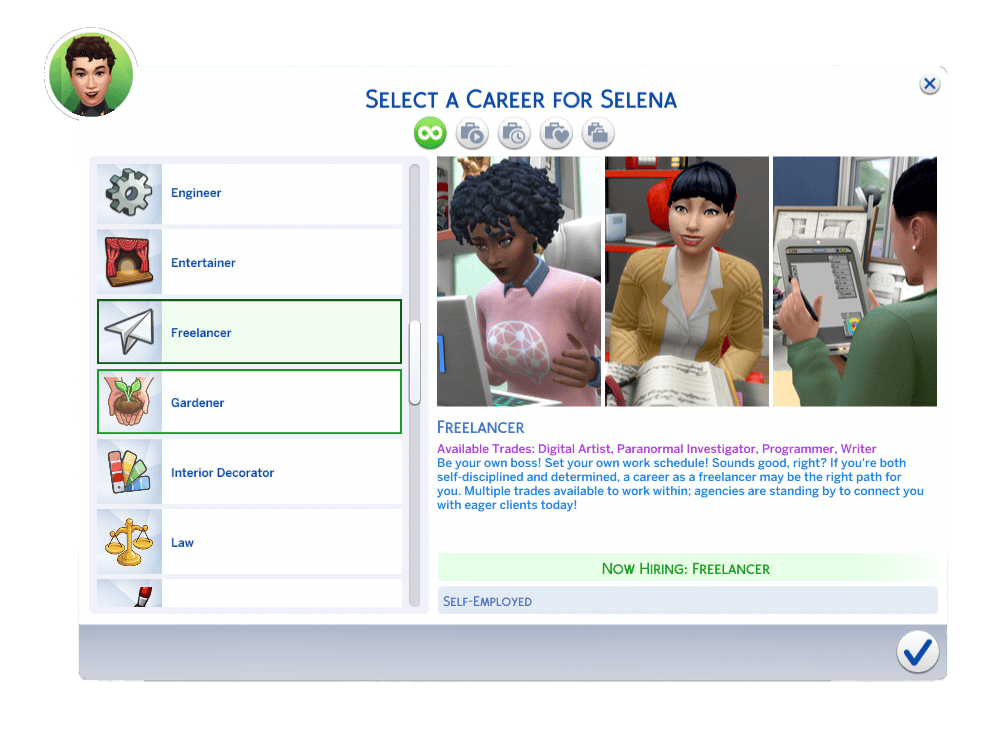 Tired of working for an overbearing boss? Try breaking free from the status quo and becoming a freelancer. Set your own work hours and show up to work in your pajamas. However, your Sim will need determination and self-discipline to advance in this career. Work hard and keep your clients happy, and you'll reap the rewards.
Career Branches
Writer (Paid per gig)
Paranormal Investigator (Paid per gig)
Programmer (Paid per gig)
Artist (Paid per gig)
---
Gardener (The Sims 4 Seasons Career)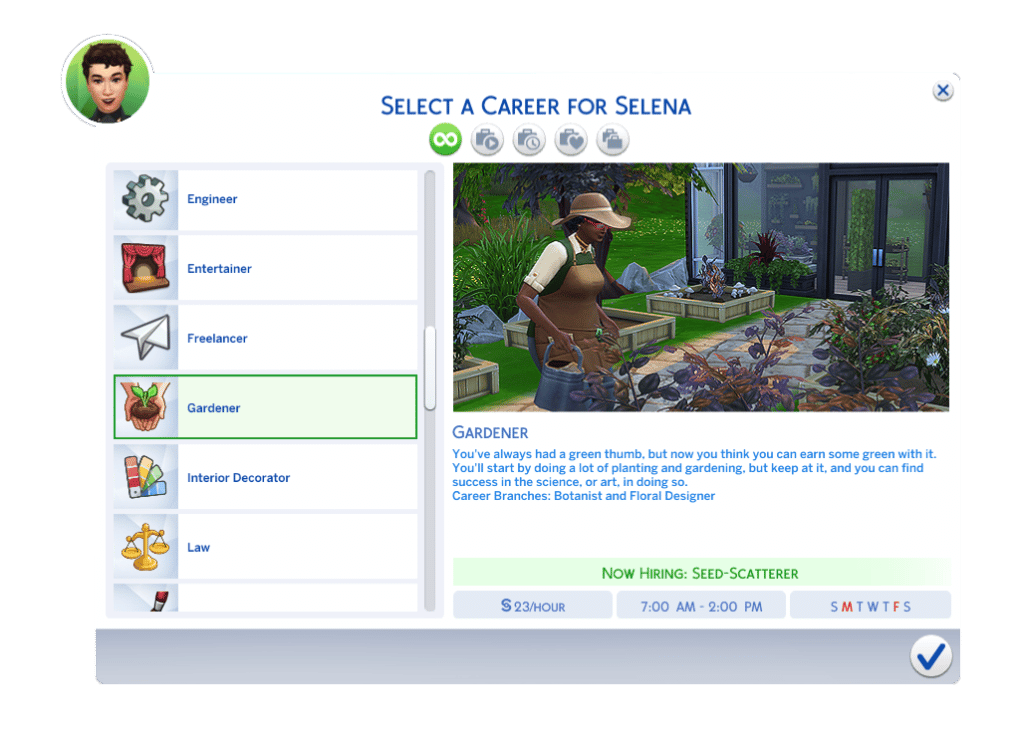 They say money doesn't grow on trees, but that doesn't mean you can't earn money from growing them. In the Sims 4 Seasons, you can now become a gardener – traveling to work or working from home.
This career is especially fun in the Sims 4 Cottage Living. Something about living off the land and becoming a botanist while surrounded by nature is so satisfying.
From planting simple herbs to mass selling produce and arranging flowers, gardeners have many opportunities in the Sims 4.
Career Branches
Botanist (§14,700/week)
Floral Designer (§10,500/week)
---
Interior Designer
Do you have a create eye for design and a knack for human interaction? Perhaps starting a career in Interior Design is exactly what your Sim needs. From simple room redecorating to home renovations, Interior Design Sims get to do it all as they progress through the career.
Career Branches
---
Law (The Sims 4 Discover University Career)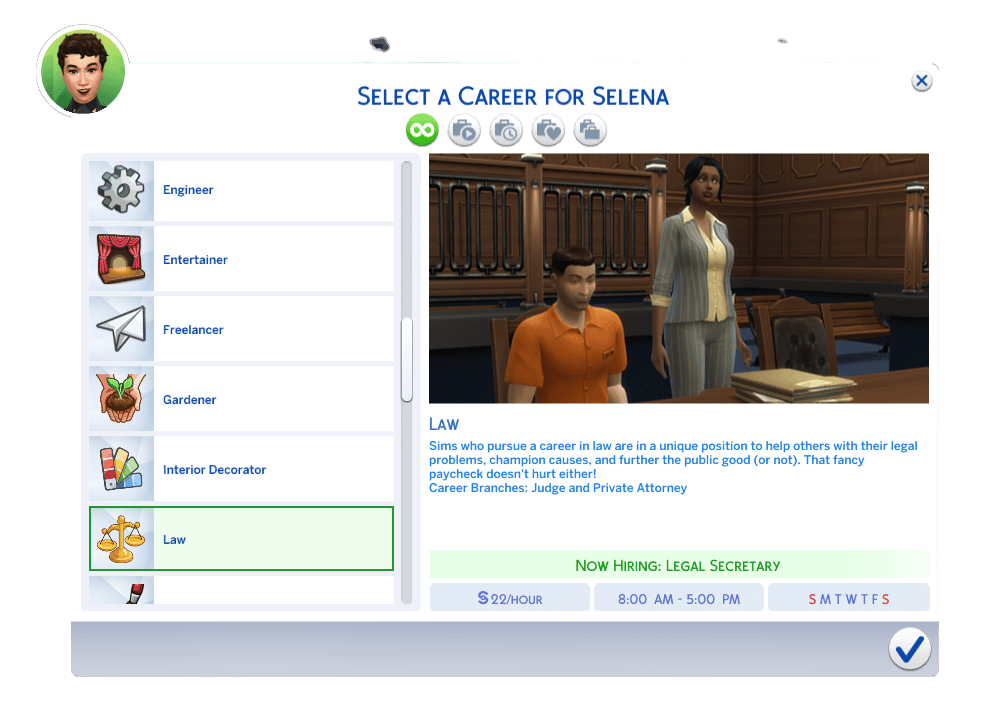 Put on that neatly pressed suit and walk into that courtroom like you own the place. Start your career in law and gain the unique opportunity to help others with all their legal problems. While helping sims should be your primary objective, the paycheck does make living life a lot easier.
Career Branches
Judge/Chief of Justice (§4,305/week)
Private Attorney/Preeminent Partner (§12,600/week)
---
Military (The Sims 4 StrangerVille Career)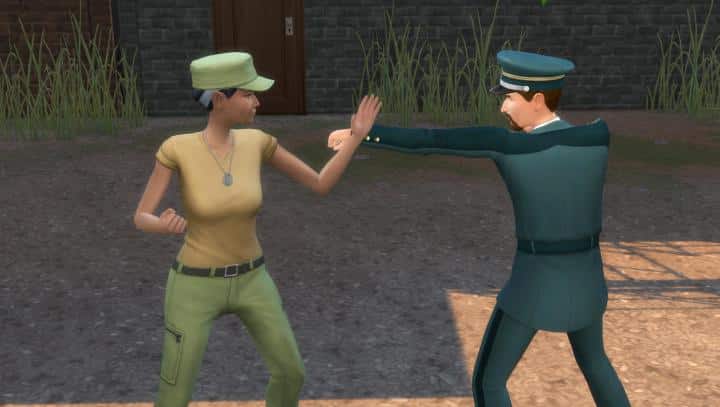 The military career track is another occultation with the Sims 4 StrangerVille game pack. To summarise, it's a blend of the athlete and detective career – testing your Sim's fitness and discipline. With dedication, your Sim can rise through the ranks and become a Grand Marshal or even a Covert Operator.
Career Branches
Officer (§16,880/week)
Covert Operator (§16,880/week)
---
Painter (The Sims 4 Base Game Career)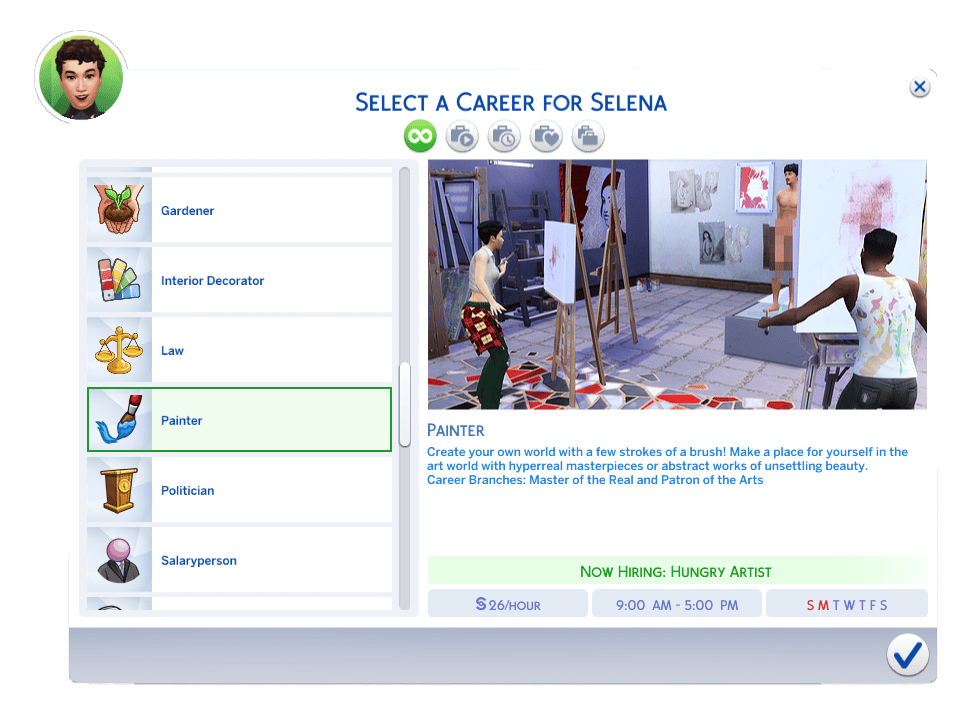 Place the easel, gather your brushes, and put paint to paper – the painter career is perfect for all artistic Sims. First, create stunning works of realism or abstract artworks that will make the best of critics turn their heads in confusion. Then, with practice, your Sim can paint their path into the art world and make money off their favorite hobby.
Career Branches
Master of the Real (§4,920/week)
Patron of the Arts (§6,560/week)
---
Politician (The Sims 4 City Living Career)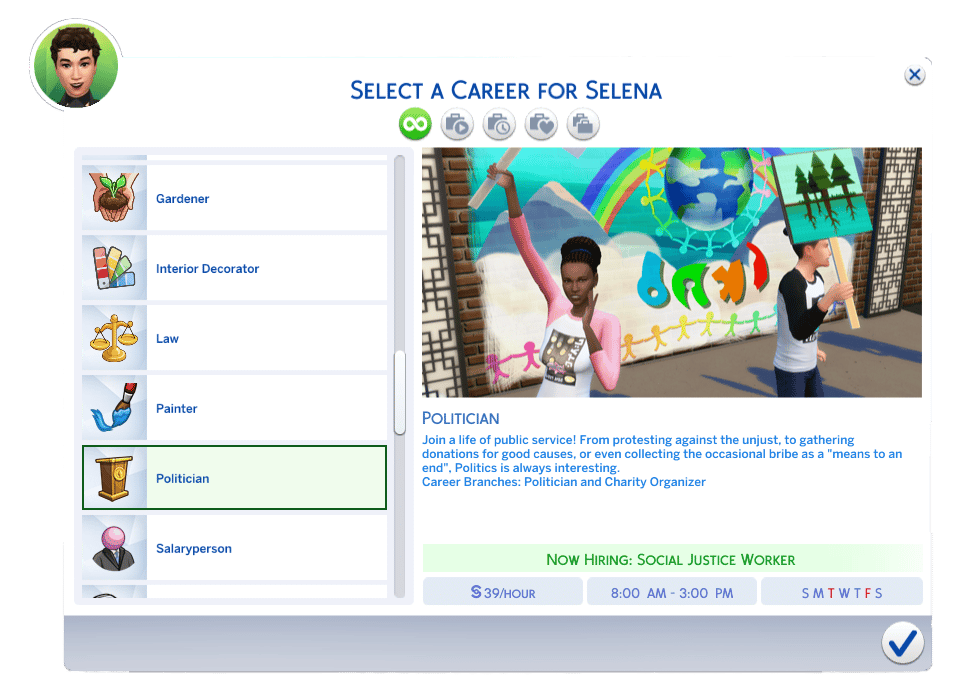 If your Sim is interested in Politics, you may want to improve their charisma skill in the mirror immediately. Being a politician isn't for the meek; from collecting donations to accepting bribes to "get things done," your Sim will need to make impactful decisions. So get ready for a life of public service – for the greater good or your own wealthy ambitions.
Career Branches
Politician (§9,520/week)
Charity Organizer (§6,156/week)
---
Scientist (The Sims 4 Get to Work Career)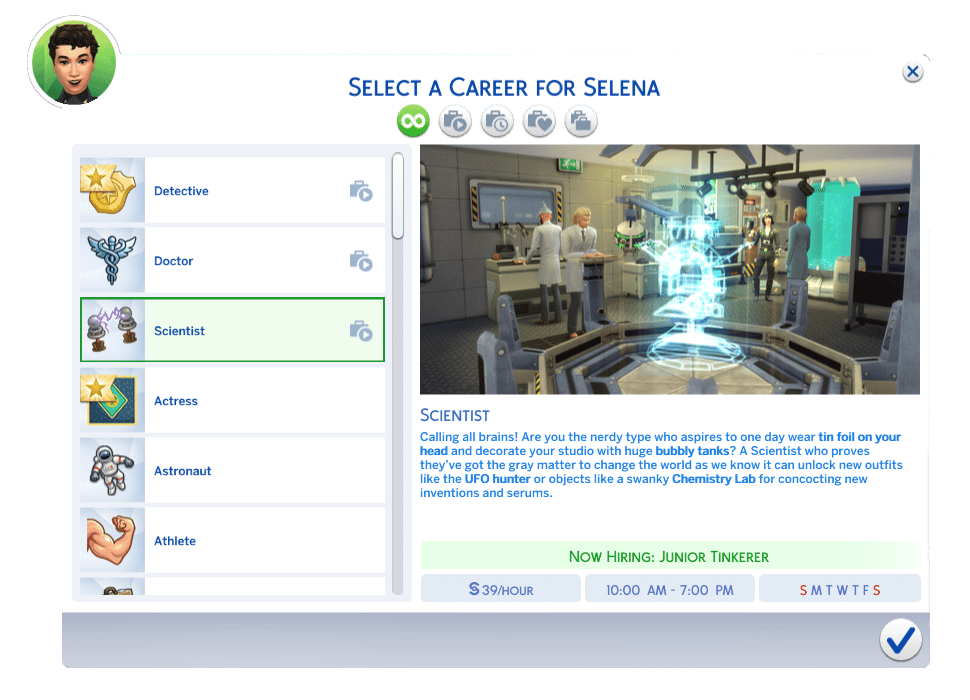 Another Get to Work career path, the scientist, allows you to create new inventions and serums. If your Sim has the brain and the nerdy-ness to fall in love with science, then perhaps working in a chemistry lab is the perfect occupation. As you move through the ranks, your Sim can unlock new outfits and objects exclusive to the scientist career.
Career Branches
---
Social Media (The Sims 4 City Living Career)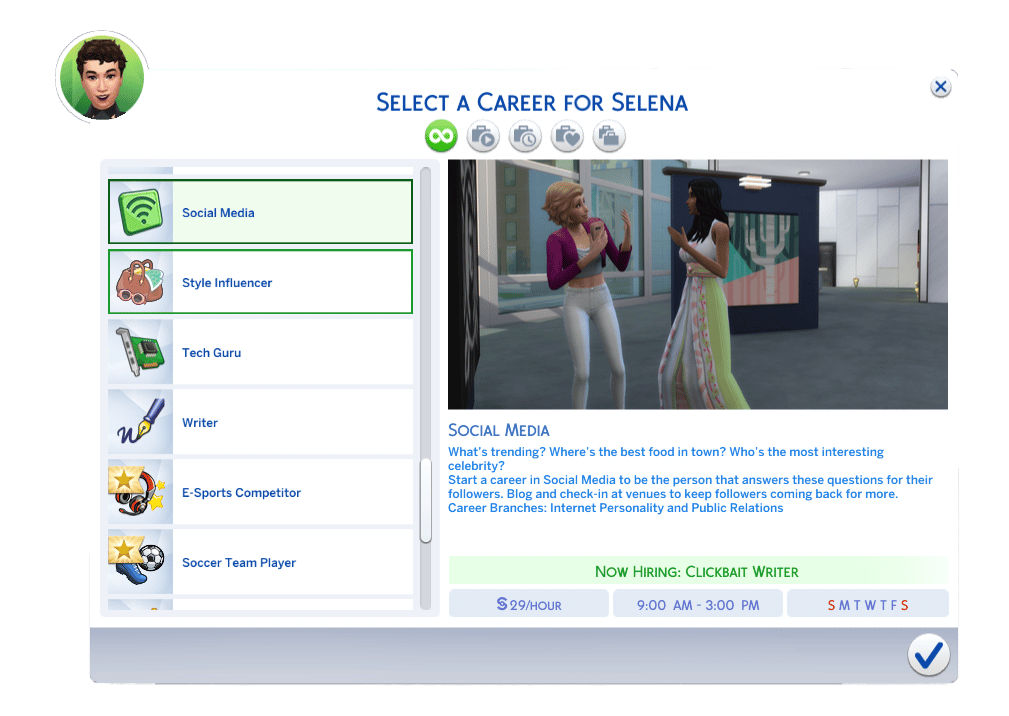 Ready to start a blog and amass a fan base followers? The social media career path allows you to write blogs and check into venues to keep followers updated with your latest adventures. If your life is interesting enough, you can keep them returning for more. Try answering questions like 'who's the best celebrity and 'where to eat in town?' To gain followers and grow your social media presence.
Career Branches
Internet Personality (§6,480/week)
Public Relations (§9,513/week)
---
Secret Agent (The Sims 4 Base Game Career)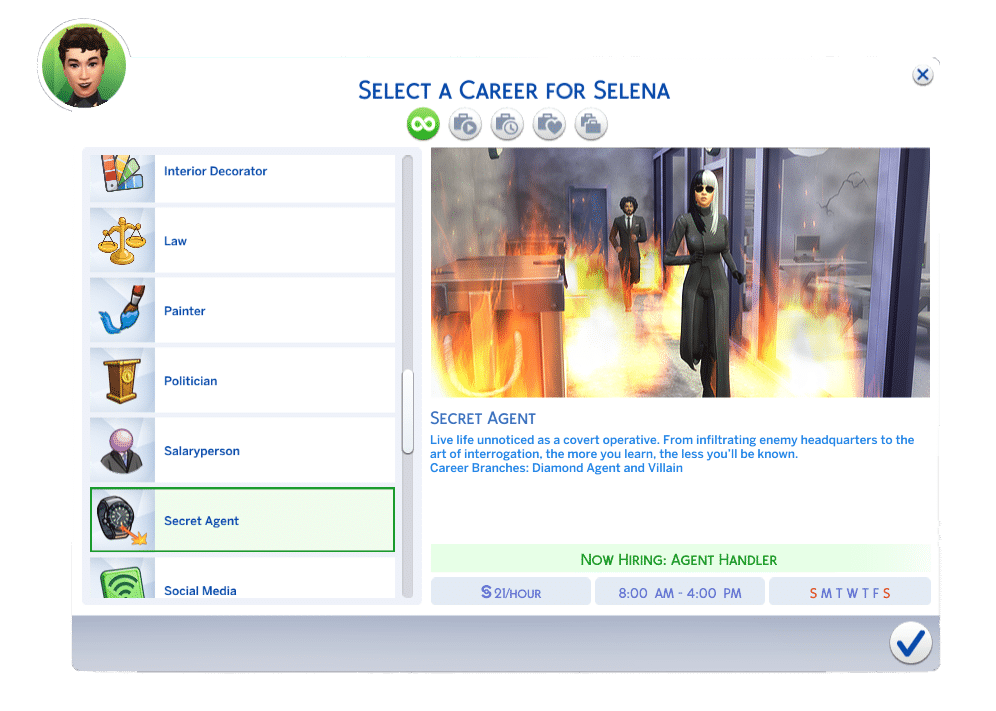 Similar to the detective career (but a rabbit hole instead), the secret agent career path lets you become an agent of good or a nasty villain. Live life as an undercover operative who infiltrates enemy bases or aims to take over the world.
Career Branches
Diamond Agent (§12,780/week)
Villain (§12,875/week)
---
Style Influencer (The Sims 4 Base Game Career)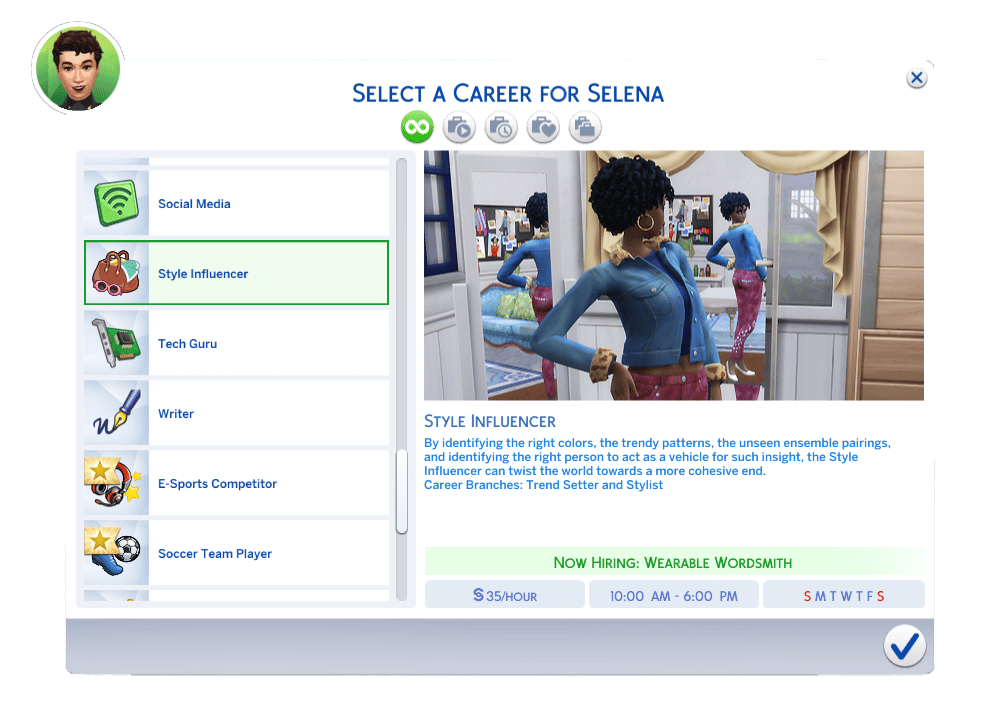 Does your Sim have an artistic flair when it comes to fashion? Do they know which colors go with the suitable patterns? Can they create ensembles that crowds will remember? Then perhaps they should consider making money as a style influencer.
Career Branches
Stylist (§15,000/week)
Trend Setter (§13,530/week)
---
Tech Guru (The Sims 4 Base Game Career)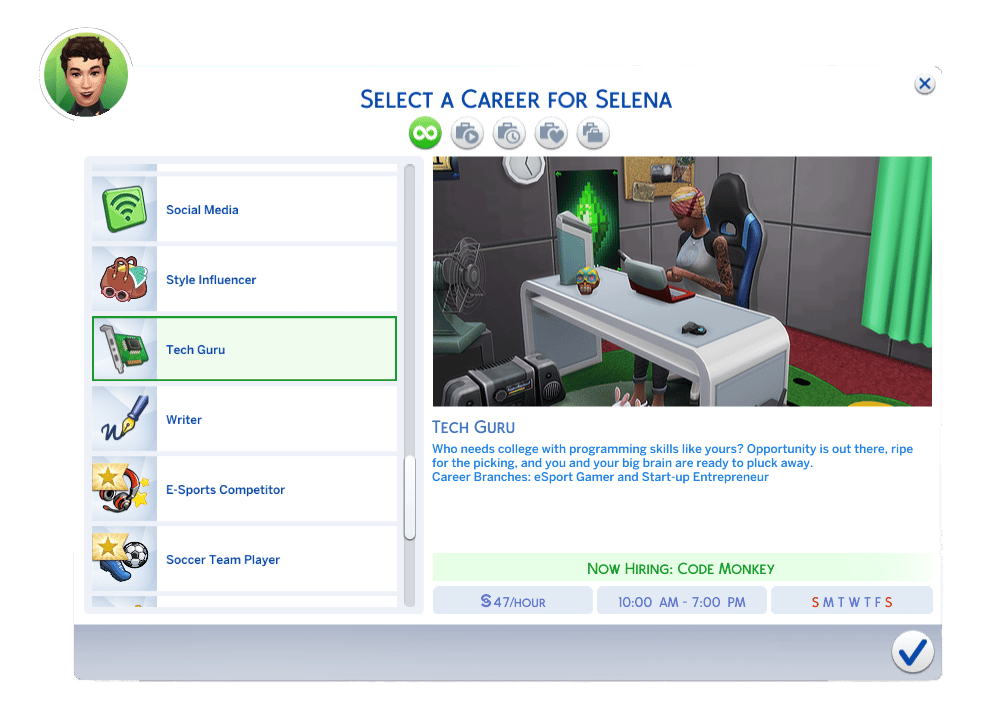 If your Sim spends enough time on a computer, they might pick up some skills perfect for them to start the tech guru career. Learn some coding and perhaps even practice eSports, and you'll fly to the top.
Career Branches
eSport Gamer (§7,872/week)
Start-Up Entrepreneur (§7,740/week)
---
Writer (The Sims 4 Base Game Career)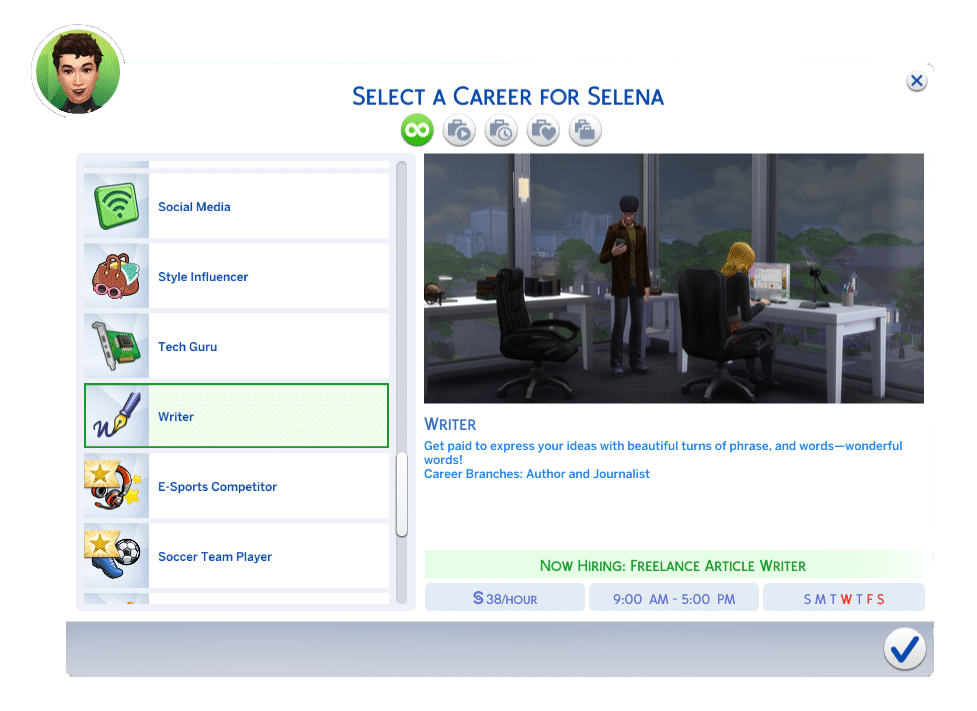 For some, writing comes naturally; for others, not so much. But, if your Sim can put words onto paper and craft ideas with beautiful turns of phrase, then perhaps becoming a writer is the perfect career for them.
Career Branches
Author Branch (§5,580/week)
Journalist Branch (§6,888/week)
---
How to Get a Job in the Sims 4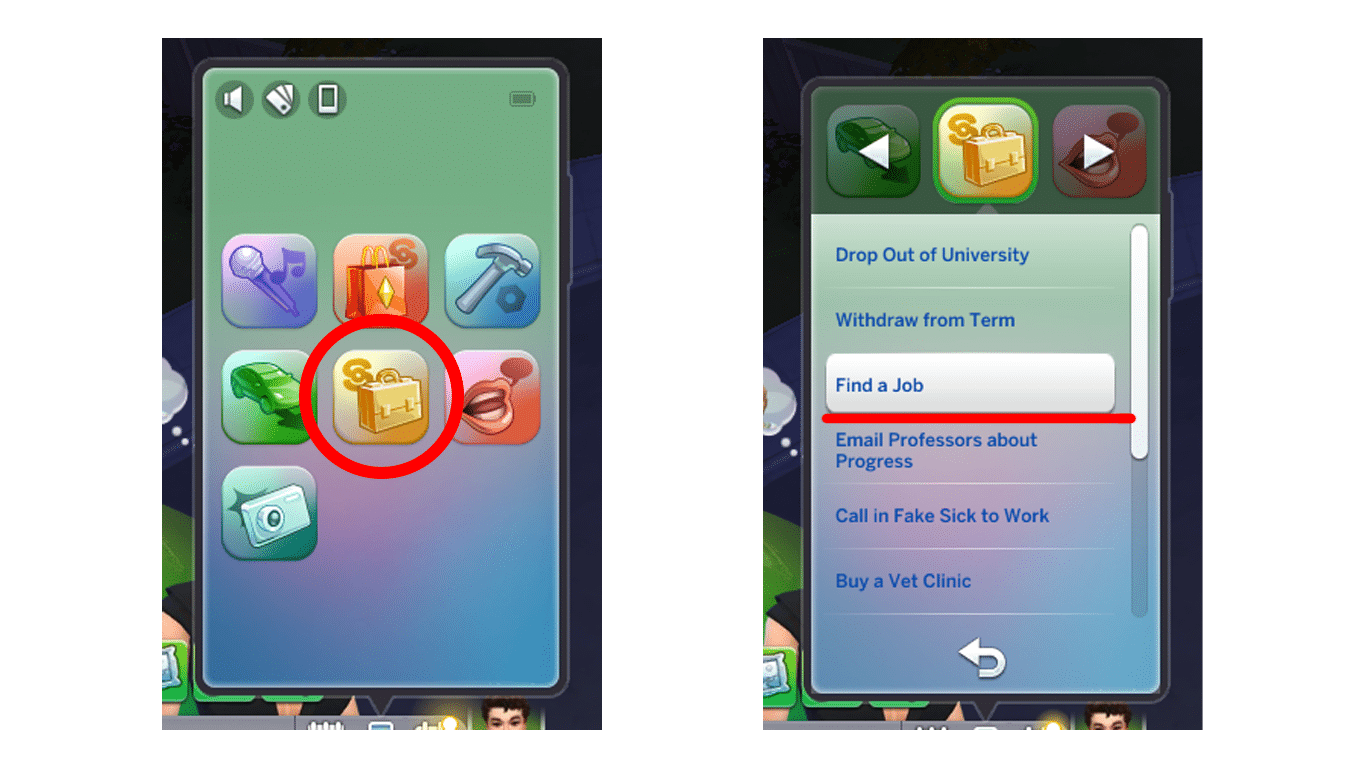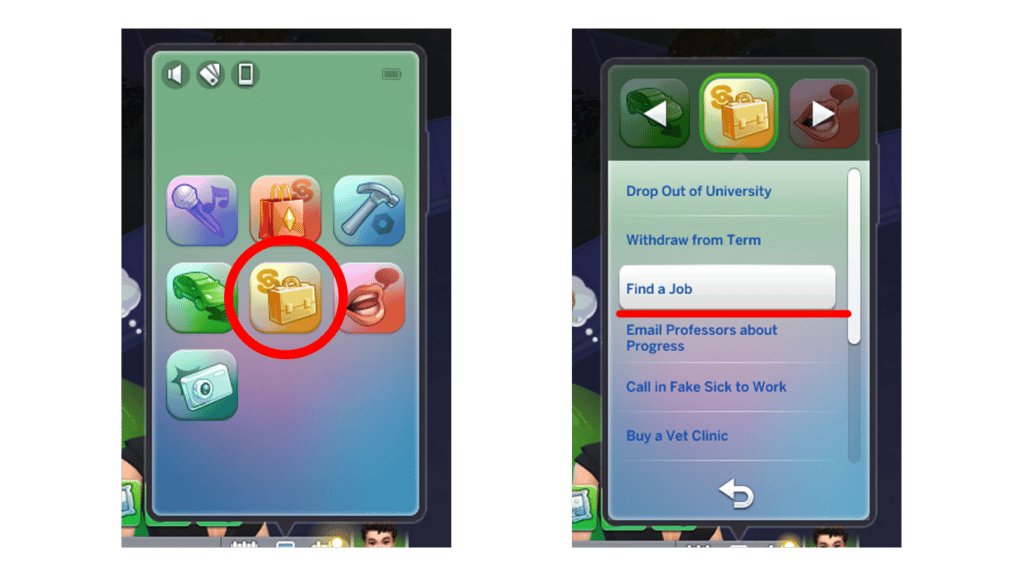 Getting a job in the Sims 4 is as easy as picking up the phone (or computer) and heading to the business tab. From there, select find a job, and the careers panel will open.
On the left will be the different career tracks you can choose. Next, you'll see a header image and a short career description on the right. Underneath, you'll see important details such as how much the entry job pays per day and what days your Sim will work.
Lastly, select the career and then tick at the bottom right.
Congratulations, your Sim is no longer unemployed!
---
Types of Careers in the Sims 4
While there are a variety of career tracks to follow in the Sims 4, there are three subcategories of careers. These are passive careers, active careers, and teen careers.
---
Passive Careers
A passive career is simply when your Sim disappears into a rabbit hole during work hours – they'll walk to the front of your plot and vanish into thin air. During work, you can't follow your Sim, see what actions they follow out, or control them.
Most careers in expansion packs and the base game are rabbit holes. However, there are exceptions, such as actors, detectives, doctors, and scientists.
There are also freelance and work-from-home careers where you have more control over your Sim. For example, the botanist career means you can work from home or go to work; the choice is yours.
---
Active Careers
Active careers give you the option of following your Sim to work or allowing them to disappear through a rabbit hole. When you control your Sim, you will need to follow daily tasks while on the job to have a successful day at work. Simply put, the more tasks you complete, your performance rating will be higher for the day.
Active careers include:
Doctor
Scientist
Detective
Interior Designer
Work From Home Careers
As mentioned, some careers allow your Sim to work from home. Here, you get to choose what actions your Sim follows and their work hours. WFH careers include:
Botanist (Gardener Career Track)
Floral Designer (Gardener Career Track)
Politician (Politician Career Track)
Public Relations (Public Relations Career Track_
Food Critic (Critic Career Track)
Arts Critic (Critic Career Track)
Internet Personality (Social Media Career Track)
Charity Organizer (Politician Career Track)
Freelance Careers
Lastly, we have three freelance careers: Writer, Programmer, and Artist. These careers allow your Sim to work from home on a computer or digital tablet.
Use a computer to find gigs and ensure that you meet the deadlines. To complete a job, you need to complete the specific tasks given to you, such as talking to the client, completing the job, and submitting it for review.
Freelance gigs can bring you anywhere between ±§100 and ±§6,000 depending on your skill level.
---
Teen Careers
If your household is struggling financially, sending your teen Sims to work might be a good idea. There are five different career options for teens. While they aren't as complex as a typical career, they can overcome financial stress.
These include:
Manual Labour (§45 – §70 per hour)
Retail Employee (§33 – §38 per hour)
Barista (§28 – §62 per hour)
Fast Food Employee (§16 – §20 per hour)
Baby Sitter (§33 – §48 per hour)
Teen careers can be promoted but only have three tiers to climb. It's also important to note that the pay scale isn't massive, so there's not much incentive for promotions as a teen. However, they do teach your sims some skill levels that will come in handy in their adulthood.
---
How to Get a Promotion in the Sims 4
Depending on whether you're controlling one Sim or a family of sims, getting a promotion can be as easy as making mac 'n cheese. Meet your daily tasks and ensure your work performance rises to excellent is how your Sim gets a promotion in their career.
To do so, managing your Sim's needs and emotions is essential. If your Sim is focused or inspired, they will most likely achieve their tasks. However, daily tasks will likely be set aside if your Sim struggles to meet its needs.
Next, your Sim must have the means to increase the corresponding skill level at home. For example, positions need to work on their charisma in the mirror, while authors need to boost their writing skills.
To view your Sim's progress towards promotion in their career track, press 'J' or navigate to the career panel. The progress bar indicates how far your Sim is moving toward promotion – the tick indicates when a promotion is achieved.
Under the progress bar, you'll find the daily tasks your Sim needs to complete. For example, an author needs to write a book daily, while sims in the education career need to grade papers and tutor students.
Lastly, to ensure your Sim is working hard, click on your sims portrait at the bottom-left area of the screen while they're at work. A menu will pop up showing different actions they can do during work. Selecting 'work hard' is the fastest way to achieve promotion.
However, watch out, as working harder will decrease their fun need and cause your Sim to become frustrated and overworked.
---
Which Is The Highest Paying Career
If you have the StrangerVille pack installed, joining the military is the quickest way to make money. With weekly payments of §16,880, your Sim can rake up the cash in no time.
However, the second highest-paying career is a Stylist for those without the pack. Luckily, this career is in the base game and thus available to everyone. A stylist brings in §15,000 per week, not including bonuses for promotions.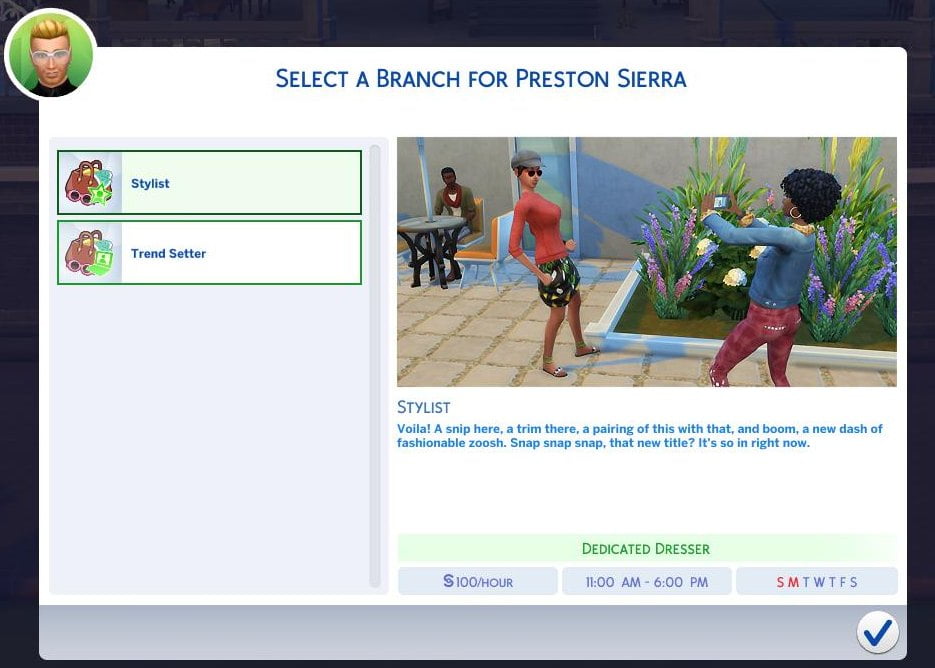 That said, it's important to note that while these are the highest-paying careers, there are other ways to make more money. For example, if your Sim is an author, the more books they sell to a publisher, the more royalties they'll make daily. For example, my Sim published enough books to make §4,000 daily – that's §20,000 a week.
The same can be said for artists selling paintings, musicians selling songs, and other unconventional jobs.
---
Final Thoughts
Choosing a career can be financially based or story based. For example, if you want your Sim to be a teacher, just follow the daily tasks and work hard to get a promotion. On the other hand, if you want to get rich fast, consider giving your Sim the creative trait and choosing the stylist career.
Whatever you decide, careers are a great way to make money and pass the time. So let us know what career your Sim has chosen or how many careers they've flown through during gameplay.