If you can't get enough of Sonic Frontiers, the developers have a lot of content planned for 2023, and all of it will be free to players. This includes new modes, photo mode, playable characters, and more. While there are no specific dates mentioned for the release of each, it is still a good roadmap for fans who are eagerly waiting for Sonic Frontiers DLC.
Brand new Sonic Frontiers DLC coming in 2023
Sonic Frontiers is easily one of the more underrated games of 2022. It started off as a game that was met with a lot of skepticism at its reveal, but turned out to be a pleasant surprise for everyone where majority of the players genuinely enjoyed the experience.
Now it seems that the developers have outlined an extensive plan for content for the game throughout 2023, which means that you will have reasons to dive back in the game.
In their tweet, they outline the following: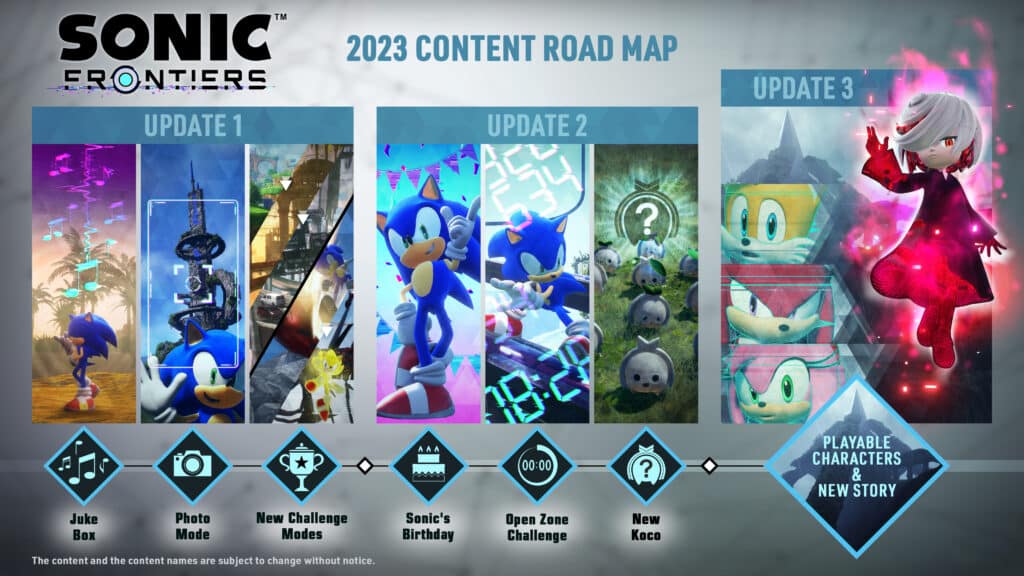 While there are no specific dates mentioned, this is still a lot of content that players will be getting for free, considering the game never even came with a Season Pass so there are no surprises behind paywalls for players.
Sonic Frontiers is easily the biggest and most relevant success that the series has seen to date, with many fans applauding the accomplishment of the title after lesser successful attempts, the likes of Sonic Forces.
The game is still being heavily enjoyed by players and with the new content coming for the game, you will have more reason to spin back to the title, especially when brand new story and characters are brought into the mix.
What are your thoughts on the news? Let us know in the comments section below.
Sonic Frontiers is out right now for the PS4, PS5, Xbox One, Xbox Series, Nintendo Switch, and PC.