There are reportedly six Square Enix games coming to Xbox Game Pass. A Twitter leaker recently hinted at the title of one of those games.
Xbox and Square Enix are working closely for the past few months. Square Enix is home to Final Fantasy, one of the biggest game franchises in the world. But the Final Fantasy lineup has been revealed to come to Xbox Game Pass, outside of the 6 games.
Octopath Traveler is another Square Enix game released and added on the Xbox Series X and the Xbox Game Pass earlier this year. This also reportedly is not included with the 6 additional games.
Outriders is a looter shooter game released by Square Enix earlier this year. It was available on the Xbox Game Pass from day one, excluding it from the list as well.
Square Enix Games to Xbox Game Pass
Dragon Quest
On March 17, 2021, Shpeshal Ed, a known Twitter leaker and journalist, teased Dragon Quest coming to Xbox. At that time, people started speculating what games or ports Game Pass was going to get.
The game was initially named Dragon Warrior when it was published in North America until it was changed to Dragon Quest in 2005. Dragon Warrior is a single-player RPG where you play as a hero who is on a quest to defeat Dragonlord.
Fans thought Dragon Quest HD remakes were coming to Game Pass, while others felt that it would be Dragon Quest Builders 1 and 2.
Thanks to a leak in the Microsoft Store earlier today, they finally got an answer.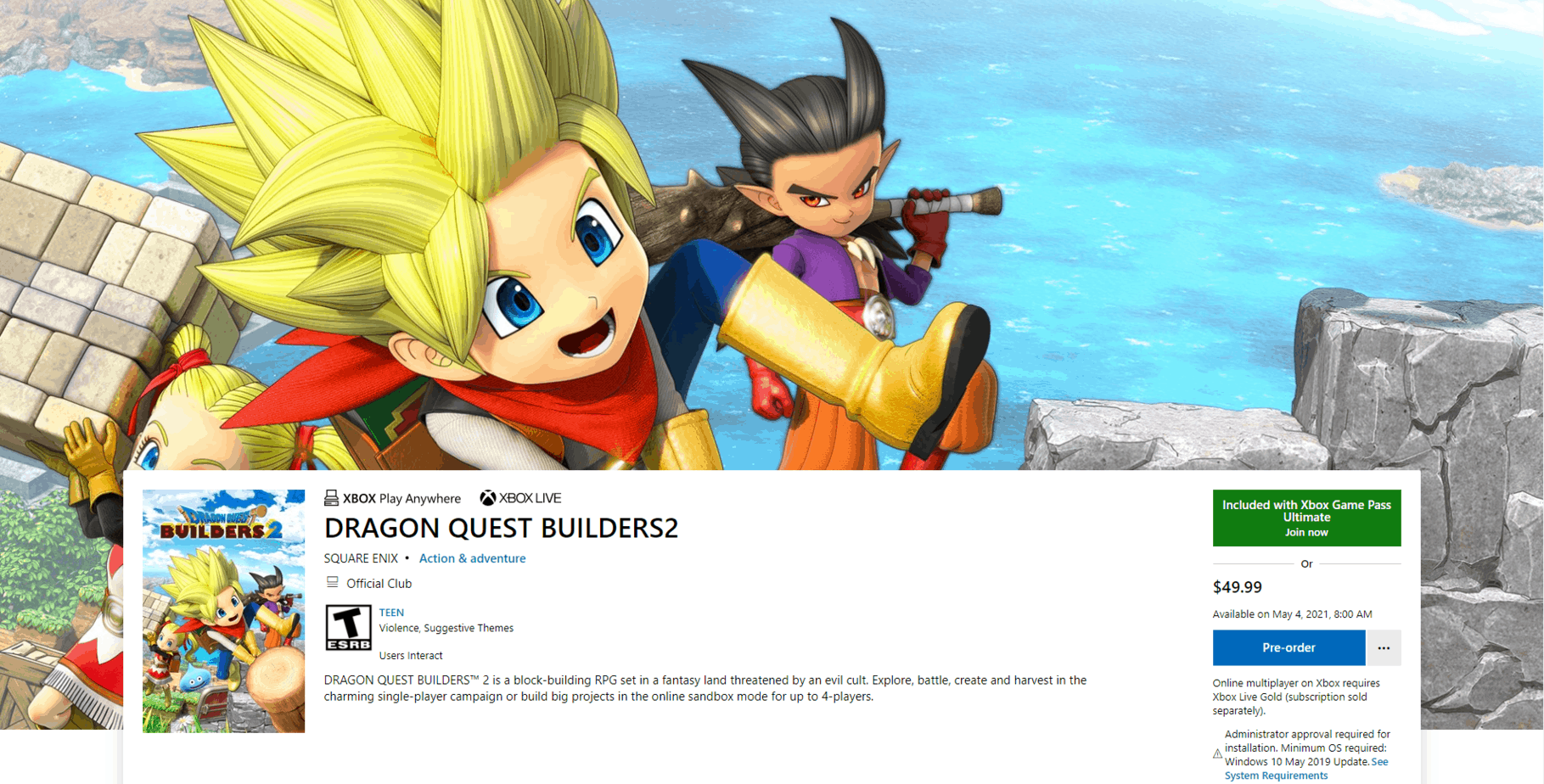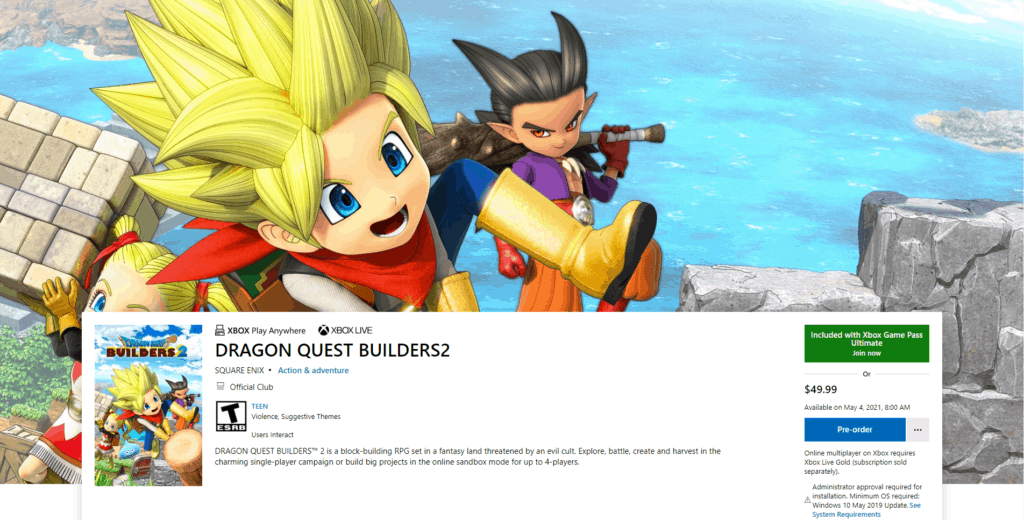 According to the new Dragon Quest Builder 2 page, the game is releasing on Xbox Game Pass on May 4, 2021.
Dragon Quest Builders is a spin-off of the main Dragon Quest series. It is a sandbox role-playing game released in 2016. It is pretty similar to Minecraft thanks to its block-like aesthetics and its building elements.
The game also featured monsters that also appear in the original Dragon Quest games. It was a successful game that critics rated well. It offered a great mix between the RPG elements of Dragon Quest and the sandbox gameplay of Minecraft.
Thanks to the success of the first one, Square Enix released Dragon Quest Builders 2 worldwide in 2019. It shared similar success to its predecessor and was even nominated for the Nintendo Game of the Year.
Bravely Default
After the reveal of Dragon Quest Builders 2 in the Microsoft Store, Shpeshal Ed tweeted another possible Square Enix game hint.
Initially, a few fans were thinking that it was related to Dragon Quest Builders 2. But it was mainly just due to the timing of the tweet. He already hinted at DQ Builders 2, so it wouldn't make much sense to tweet it again.
The tweet likely refers to Bravely Default, a role-playing game developed by Silicon Studio for the Nintendo 3DS. It was published by Square Enix in Japan and by Nintendo in other parts of the world.
Silicon Studio developed a total of three Bravely Default games. Both Bravely Default in 2012 and Bravely Second: End Layer in 2015 were released for the Nintendo 3DS. While Bravely Default: Fairy's Effect was released on iOS devices in 2017.
The Bravely Default II game released for the Nintendo Switch earlier this year was developed by Claytechworks. It isn't a direct sequel to the 3DS games and features a new story, new characters, and a new world.
I think that one of the Square Enix games coming to Xbox would probably be the original Bravely Default. Possibly an HD version for PC and Xbox.
I doubt that Nintendo will share the newly released Bravely Default II game. However, it still isn't entirely out of the picture, thanks to a potential partnership between Xbox and Nintendo. But I do think that it's pretty unlikely.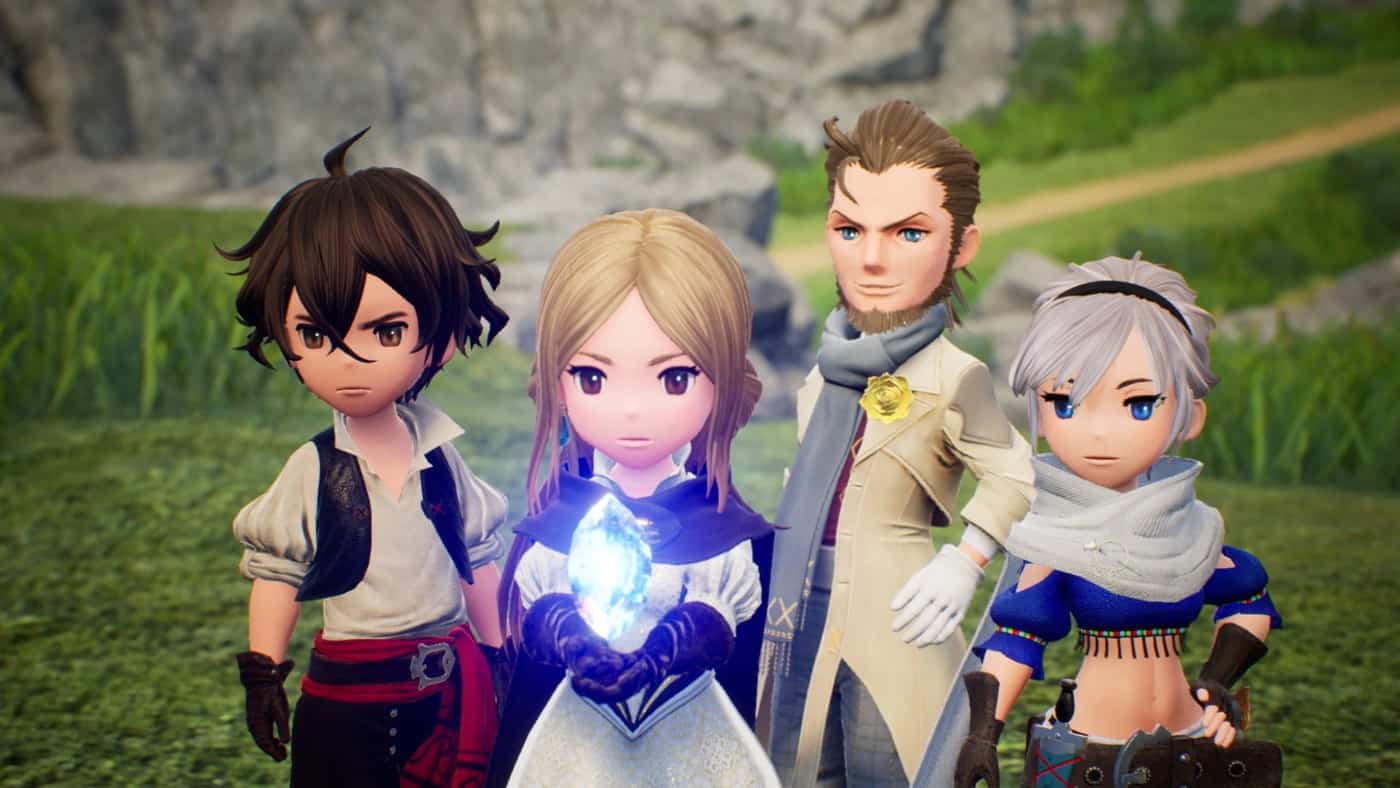 Other Square Enix Games Coming to Xbox Game Pass
Both Bravely Default and Dragon Quest are classic RPG games that Square Enix is known for. However, there are still other great Square Enix games out there that can come to Xbox's Game Pass.
Unfortunately, what those titles are, remains to be unknown. There isn't any additional information or hints about the four other possible games. But at least it is good to know that there are more coming in the future.
We will all just have to wait and see what surprises Square Enix and Xbox have in store for us.