According to a report on Embracer's Investor page, the previous rumor of Star Wars KOTOR Remake being in development trouble could be proven wrong, as the company's latest report confirms that the game is now in internal development, for whatever that means. However, this could also mean that the earlier news of the remake could have a positive spin.
Star Wars KOTOR Remake Is No Longer In Trouble?
Star Wars KOTOR Remake was announced and forgotten as Embracer, and anyone involved in the project has yet to give us any positive updates or updates at all on the title. Every news we have gotten so far are from industry insiders talking about the troubled development of the game.
However, in an interview, the CEO of Embracer had a few choice words when asked about the KOTOR Remake:
Investor question: Could you please clarify the current status of the Star Wars Knights of the Old Republic remake in regards to its development status and what shape is it in. Embracer CEO Wingefors: Favorite question. [pauses as questioner chuckles] I have no further comments.

From Stephen Totilo on Twitter
But the new report on their website gives some clarification of the state of the game: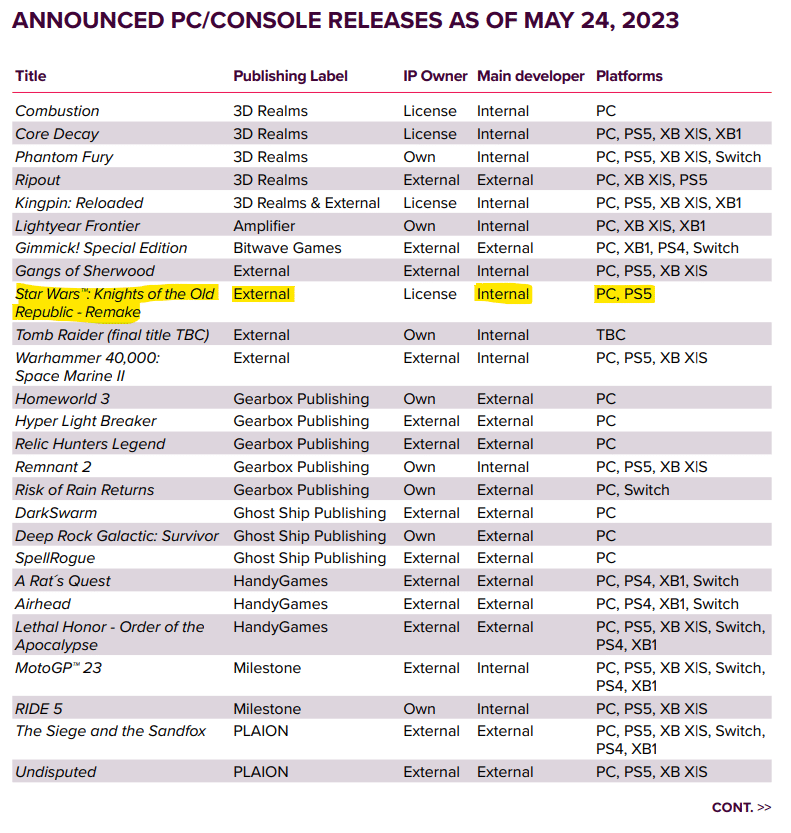 For now, it looks like the title is now Schrödinger's cat of video games. It exists in a state of development and not in development until we get more details on the title from official sources.
What are your thoughts on this latest update? And do you have hope for the KOTOR Remake?