We finally had a deeper look at Starfield during the Xbox Showcase today, and a ton of more information was revealed by the man himself, Todd Howard. The game looks fantastic and fairly ambitious, and we finally have more official details about its different editions. Here is the Starfield pre-order bonus you'll get for an early purchase.
Starfield Pre-Order Bonus Content
If you pre-order Starfield, you'll receive the Old Mars Skin Pack which includes the Deep Mining Helmet and pack, as well as the Laser Cutter.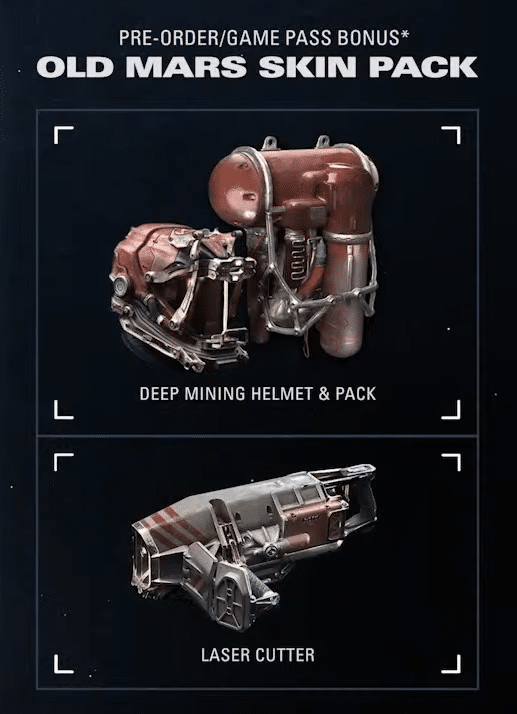 Pre-Order Starfield
You can now pre-order Starfield from the links below.
PC: Steam, Microsoft Store
Xbox Series S|X: Amazon, Microsoft Store
Starfield Digital Premium Edition
There is also the Digital Premium edition available for pre-order which includes the following bonus content.
Starfield Base Game
Shattered Space Story Expansion (upon release)
Up to 5 days early access*
Constellation Skin Pack: Equinox Laser Rifle, Spacesuit, Helmet, and Boost Pack
Access to Starfield Digital Artbook & Original Soundtrack
* Actual play time depends on the purchase date and is subject to possible outages and applicable time zone differences.
Starfield Release Date
Starfield is coming to PC through Steam, and Xbox Series S|X on 6th September 2023. It is also coming to Game Pass on both PC and Xbox consoles.
While you're here, make sure to check out our other pre-order guides for other upcoming releases, including Immortals of Aveum, Lords of the Fallen, and Atelier Marie Remake.
What do you think of the Starfield pre-order bonus content? Do you think it warrants an early purchase? Share your thoughts in the comments below and let us know.