Starfield is out now on PC, and it's easily one of the biggest releases of the year. The PC version runs quite well for the most part, and it supports cloud saves on Steam and the Xbox app. However, if you still want to back up your data, here is the Starfield save file location.
Starfield Save File Location
To back up your Starfield save data, and ensure that you don't lose progress, head over to the following location on your PC.
C:\Users\[YOUR USERNAME]\Documents\My Games\Starfield\Saves\
Faster Navigation
To quickly navigate to these locations, I recommend using Windows Run.
Open Windows Run by either pressing the Windows + R keys together or by searching for it in Windows Search
Enter the following address, and press OK
%USERPROFILE%\Documents\My Games\Starfield\Saves\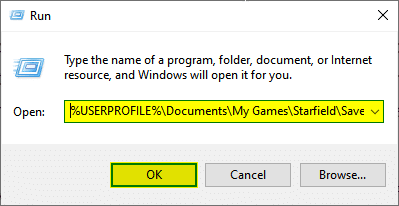 I recommend backing up the entire folder just in case. Thankfully if you have a decent internet connection, you won't have trouble with your save data, but if you're running into frequent disconnections, I recommend backing it up manually to avoid progress deletion.
We hope this guide was helpful and you were able to access the save file location for Starfield. If you have any questions, feel free to ask them in the comments below.