Recent leaks and rumors about some possible spaceship customization aspects in Starfield could be confirmed based on new image leaks on Discord.
Starfield is Bethesda's newest role-playing game. Starfield takes place in outer space and is Bethesda's first original franchise in twenty-five years. They primarily focus on their highly acclaimed Elder Scrolls and Fallout franchises. Both are great franchises, but it's definitely great to see some new ideas from Bethesda.
The game is in development for at least a few years now. Starfield was initially announced back in 2018 when Bethesda released a 1-minute official announcement teaser. It's almost three years since the teaser, but we haven't gotten any new trailers for the game yet.
At this point, we're all mainly relying on leaks and rumors to uncover Starfield's possible gameplay and features.
Starfield Spaceship Customization Leaks
Back in September 2020, there were a few images leaked on the Starfield Discord Server. The three images were of a HUD, a spaceship, and a possible gameplay screenshot. Skullzi, a gaming news content investigator, claims that those were actual screenshots from the game. He said that those were from an early build of Starfield way back in 2018.
Those were some of the first and only in-game screenshots we have. However, earlier today, a user leaked some new images on Discord.
It's not much, but it does reveal an exciting feature about the game. If we look closely, the spaceships look similar to the photos leaked in 2020. The left one looks like an exact copy of the ship, while the right one is the same ship with a different colorway.
It's also very interesting that "blackfleet_full03" is the name of the image on the right. This indicates that it actually is a different color. and not a reskin. All of this points to Starfield having some available spaceship customization options.
Some users claim that it might just be a recolor of the previously leaked image. However, u/Deverell66, the same person who leaked the photo on Discord, said otherwise. He even claims that it's not just a color change.
This can possibly indicate that Starfield's ship customization options are not limited to cosmetics and might also extend to weapons or other features. The spaceship may have different capabilities and other possible upgrade options.
Another possible option is that an NPC in the game is the actual owner of the ship. It might be someone who you'll meet through quests. This might be quite the stretch, but it's still possible.
Bethesda's Spaceship-Related Survey
Adding fuel to the fire, a Bethesda survey recently featured a spaceship-related question. The survey is available on Bethesda's website and appears toward the end of the questionnaire.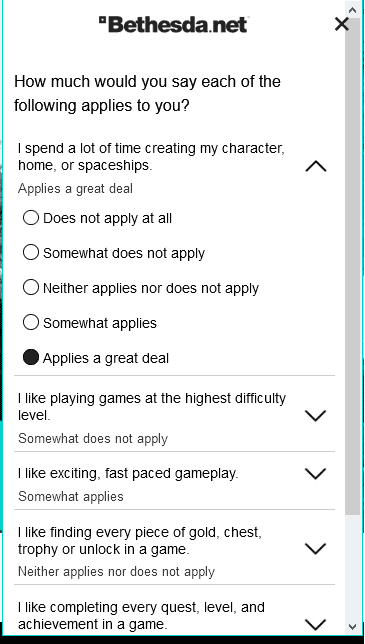 The survey reads, "I spend a lot of time creating my character, home, or spaceships." Spending a lot of time creating a character and decorating your home is something that many people do. However, asking if they spend a lot of time creating spaceships is an oddly specific thing.
Bethesda hasn't created a game with customizable Spaceships yet. Even though Bethesda could be working on other games, Starfield is probably the only one that features a Spaceship.
The survey basically confirms that Starfield will indeed offer ship customization. Although, users are suggesting that it might be a future DLC instead of being included right off the bat.
This speculation does make some sense. Suppose the rumored 2021 release date for Starfield is accurate. In that case, it might be too late to add spaceship customization in the game. However, they could just do a reveal sometime in 2021 and release it next year. If so, it will definitely be more plausible that we can all experience customizing our spaceship right away.
Regardless of how Bethesda plans to integrate spaceship customization in Starfield, it'll definitely be an exciting aspect of the game. Hopefully, aside from customizing and decorating the ship, we get to battle with it as well.