TEAMGROUP Xtreem's ARGB 3600 MHz DDR4 ARB C14 Gaming RAM is an offering that seems too good to be true. Featuring Samsung's B-die IC and a striking but subtle aesthetic that fits well with any system, the specifications seem to check all boxes allowing for extremely high speeds with very low latency.
With that said, we're going to be taking a closer look at the module and will be seeing whether it lives up to its claims or falls short. Given that competitors that offer the same features are priced hundreds of dollars higher than TEAMGROUP Xtreem's offering, this apparent high-speed budget RAM has us all excited!
What's In The Box?
2 x 8 GB 3600 MHz DDR4 Memory Modules
1 x Cleaning Cloth
Technical Specifications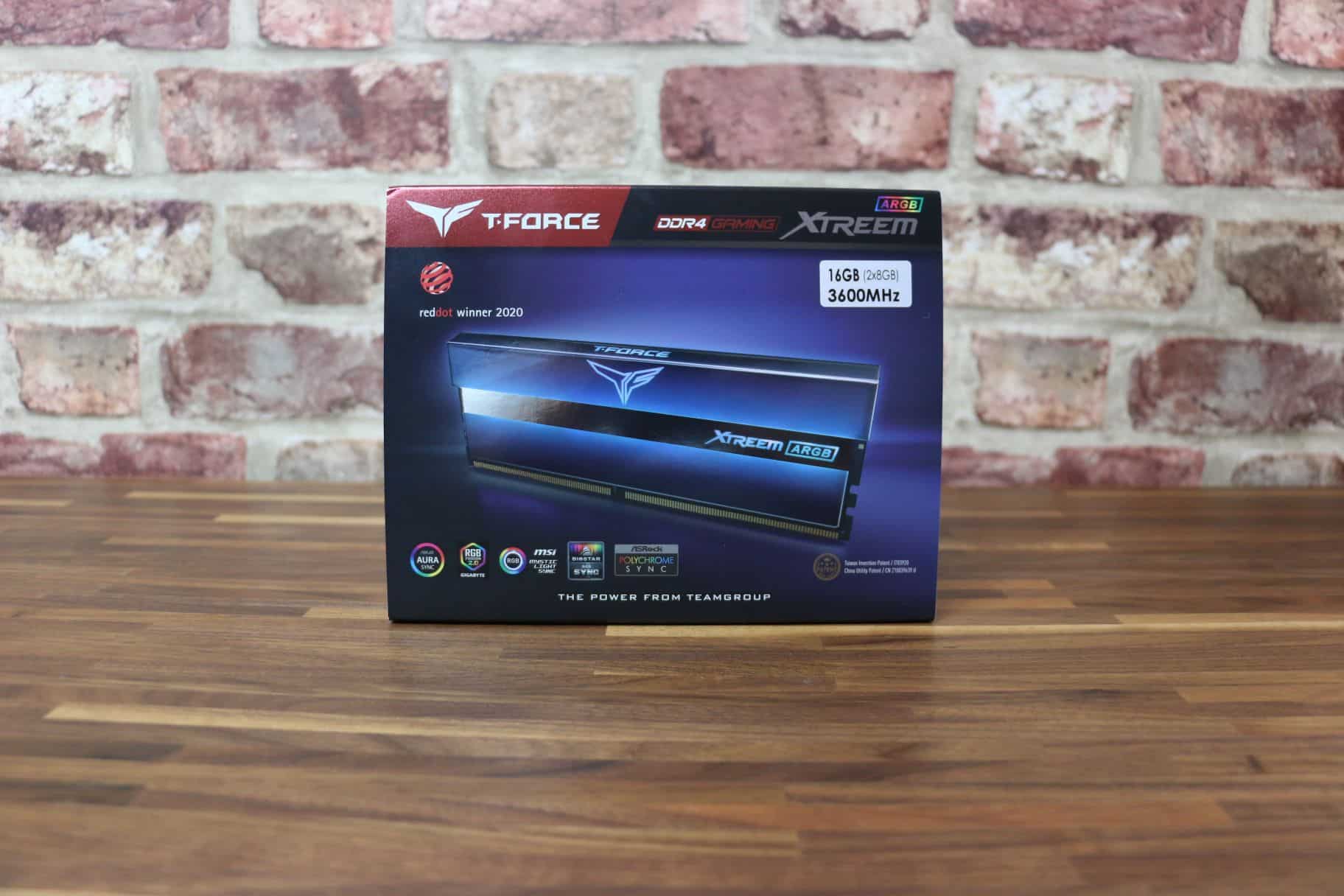 Memory Generation: DDR4
Factory Rated Speed: 3600 MHz
Factory Rated Latency: 14-15-15-35
Recommended Voltage: 1.45v
Capacity: 8 GB x 1 (Box Contains 2 Modules)
Compatibility:

Intel: Z390 / Z490 / Z590
AMD: B550 / X570

Dimensions: 48.7 (H) x 133.7 (L) x 8.1 (W)mm
Bandwidth: 28,800 MB/s
Design
In terms of design, TEAMGROUP Xtreem has definitely ticked all boxes. While it doesn't hone the elegance of a Trident Z Royal, it is also much cheaper. Regardless, it features a subtle look with lighting neatly diffused all over the board.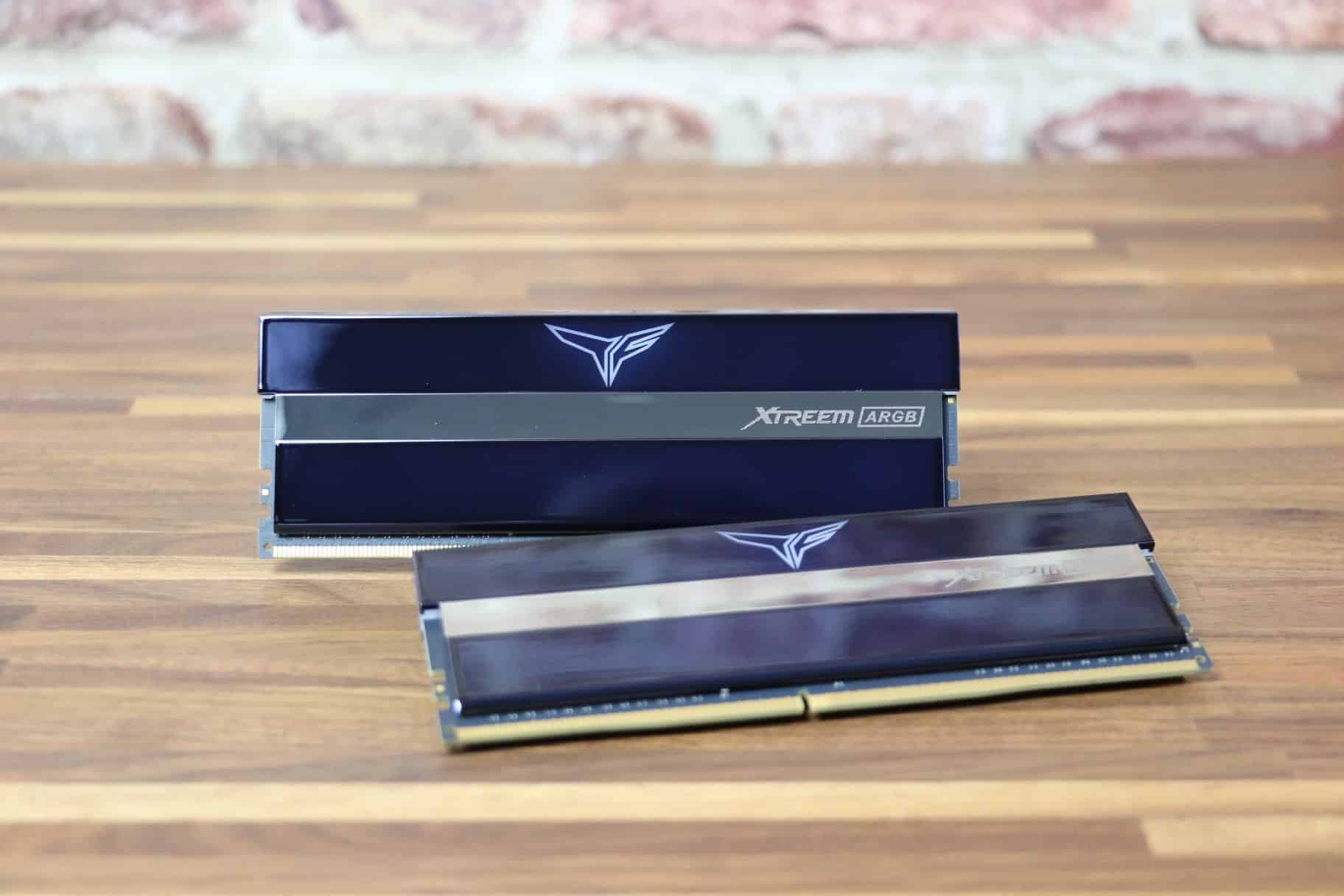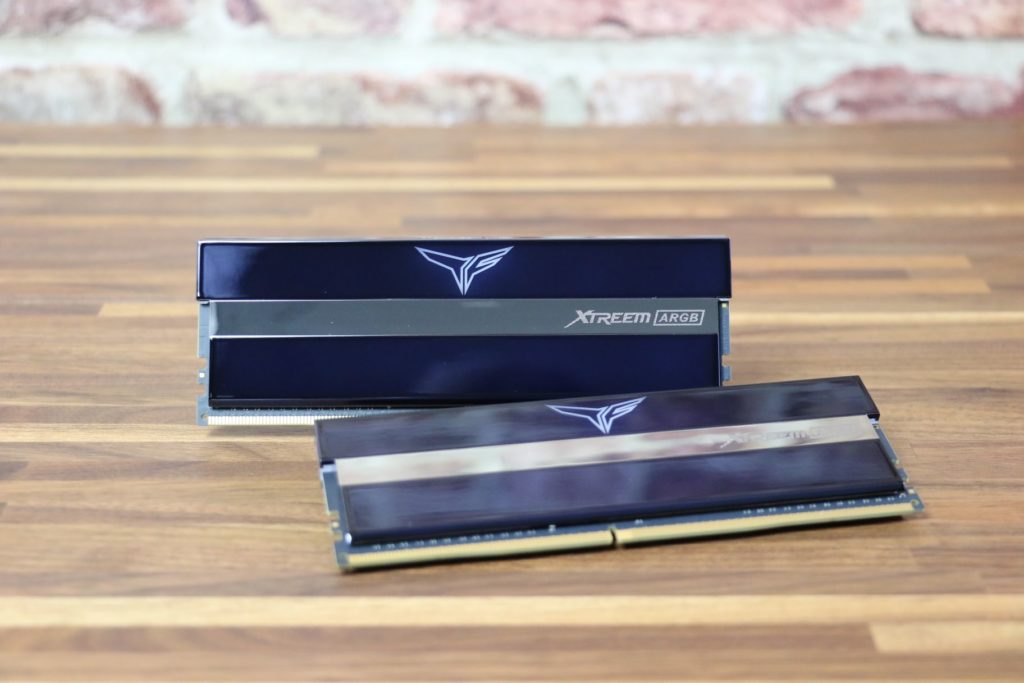 While it isn't as flashy as compared to other gaming-oriented sticks, in our opinion, it looks much better. With a dark blue color that solidifies the overall look, the design certainly seems to be a focal point that TEAMGROUP Xtreem has put effort into and it definitely pays off!
If you are a fan of subtle design, you might also like the Vissles LP85 keyboard we reviewed recently, it looks great on your desk without taking tons of space!
Lighting
The modules feature ARGB lighting with lights neatly being diffused around the entire stick. Thankfully, you won't have to dabble around installing third-party proprietary software to control lighting. Instead, you can use your motherboard's own onboard lighting setup to control the RGB.
However, the amount of customization offered to you will greatly vary depending on what brand of motherboard you have. For example, we found Asus's Aura Sync to be the easiest to use with tons of options.
Here's a list of all the officially supported motherboard lighting software for the module:
ASUS AURA Sync
GIGABYTE RGB Fusion 2.0
BIOSTAR RGB Sync
ASRock Polychrome Sync
MSI Mystic Light Sync
Performance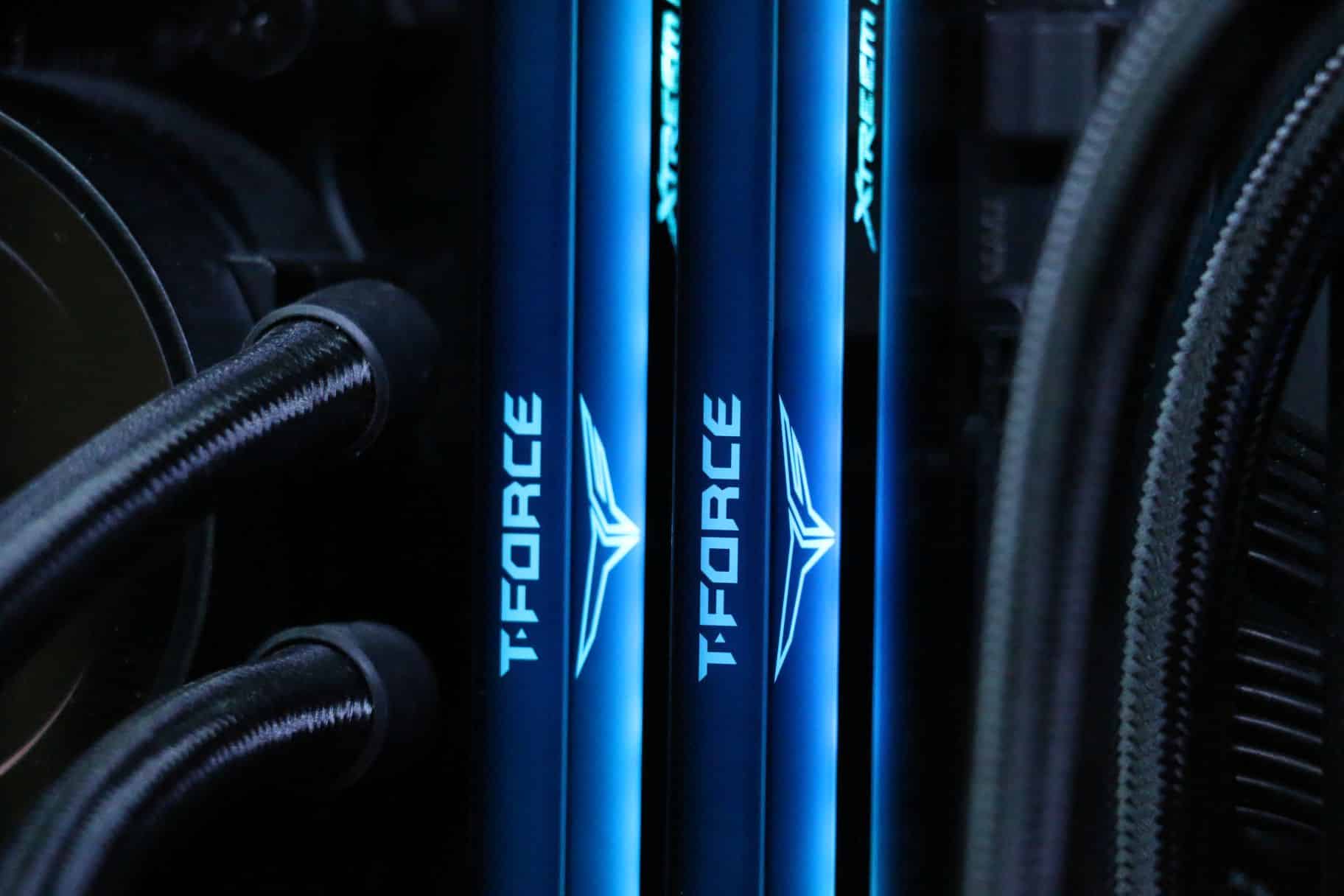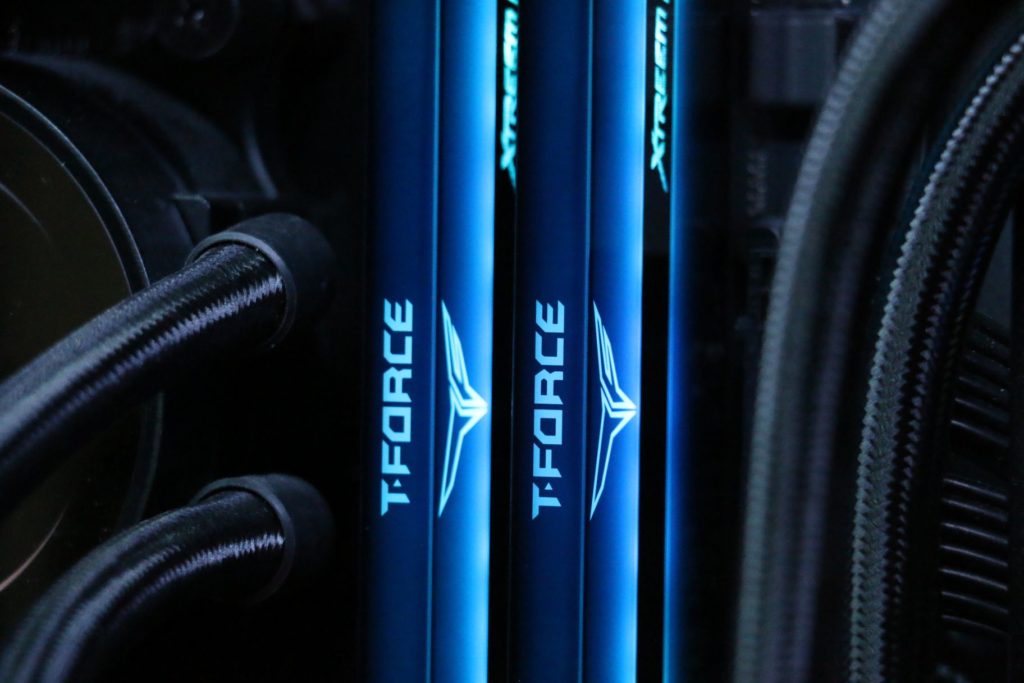 When it comes to high-performance memory like this module, expect to see diminishing returns with each performance bump. Plus, the gains are also heavily dependent on what sort of CPU you have and if your RAM was a bottleneck in the first place.
For example, a Ryzen based CPU will suffer greatly on slow single-channel memory while an Intel-based CPU might fare much better. Without sounding overly technical, Ryzen CPUs use AMD's Infinity Fabric which is linked to the speed of your RAM. So, the faster your RAM is, the better the performance.
However, this does not mean that an Intel-based CPU will not benefit from faster memory. Instead, you are going to be seeing performance gains on both chipsets when equipping them with faster memory.
With that myth busted, how much of a gain can you expect from your old RAM sticks? Well, that depends on what you previously had and what applications you are going to be running. For instance, you'll be seeing a slight performance bump when moving up from a 3200 MHz kit. However, the difference will be much more profound if you had a sub-3000 MHz kit prior.
In terms of applications, if you game at higher resolutions but lower frame rates, you'll be hard-stuck on finding an improvement. But, if you have a high refresh-rate monitor, the bump in frames will be instantly noticeable.
Overclocking
The AMD Zen 2 Architecture (Ryzen 3000+) are known for their overclocking capabilities. As mentioned earlier though, their performance is limited by your RAM's speed. Thankfully, TEAMGROUP Xtreem's 3600 MHz is right where you hit a 1:1 ratio with the Infinity Fabric's clock speed. Plus, with the brand seemingly at the forefront of bringing out DDR5 ARGB RAM, we're expecting great things from this module!
In order to go further beyond, you'll see a major dip in overall latency. However, with this module's rated CL14 latency, overclocking is truly where this module exemplifies itself. Made from the renowned Samsung B-die Integrated Chip, you can't ask for more in this budget. The optimized 10-layer PCB allows for better thermal conductivity and helps achieve a more stable overclock at higher speeds.
While your mileage may vary, the module can easily hit speeds of up to 4200-4400 MHz. The performance gain at this high speed, as mentioned earlier, is not substantial. Kitting out with an expensive motherboard and a system that can actually utilize the fast speed that this module offers perfectly brings us to our next point.
Going any further than 4400 will lead to crashes during stress testing or weird glitches which are an indicator that we might have just reached this module's limit. But, at the price point, we can't complain.
Is Having High Performance RAM Worth It?
To make the most out of TEAMGROUP Xtreem's offering, you'll need a capable CPU and a motherboard that supports overclocking. Moreover, patience and a lot of reboots and stress-testing will be needed before you OC your module just right.
At this price point though, shelling out $40-60 to gain access to very high-quality binned RAM with amazing latency seems like a no-brainer especially if you already have an expensive system. Plus, if you aren't into the premise of overclocking, achieving the rated XMP speeds is a breeze and your system will still benefit greatly especially if you play at higher frames.
All in all, if you have a decently specced rig, the module makes a lot of sense. It has a lot of headroom for overclocking and ensures that you get the best performance out of your system. But, if you run on an older architecture or already have a kit that matches 3600 MHz with the difference only being in timing, you are better off going for even higher-end modules as you won't see much of a difference.
---
With RGB ever-present, great performance, a lifetime warranty out of the box, and support for both Intel and AMD chipsets, the TEAMGROUP Xtreem 3600 MHz ARGB RAM lives up to all of its claims and offers everything a high-performance system would need. At this price point, it has no caveats and is an excellent pick for anyone who's in the mood for an upgrade!