When writing about hot-swappable gaming keyboards, Tezarre is a brand that is always likely to come up. With their speciality being hot-swappable compact wireless keyboards, every few years they refine their product line and bring more affordable peripherals for a wider range of gamers. In this Tezarre TK63 keyboard review, we'll highlight the strengths of this compact powerhouse, as well as bring attention to its few flaws.
The Tezarre TK63 is the latest release, and it is another great addition to the 60% size keyboard family. Allowing you to connect via 2.1 GHz wireless, Bluetooth, and wired-in, with Gateron optical switches, this is a versatile compact keyboard for gamers first.
Tech Specs
Dimensions – 11.5 x 4.0 x 1.6 inches
Connectivity – 2.1 GHz, Bluetooth, Wired
Weight – 620g
Switches – Gateron Optical
Layout Scale – 60% Keyboard
Keys – 61 Keys.
Battery – 3000 mAh
Packaging & Contents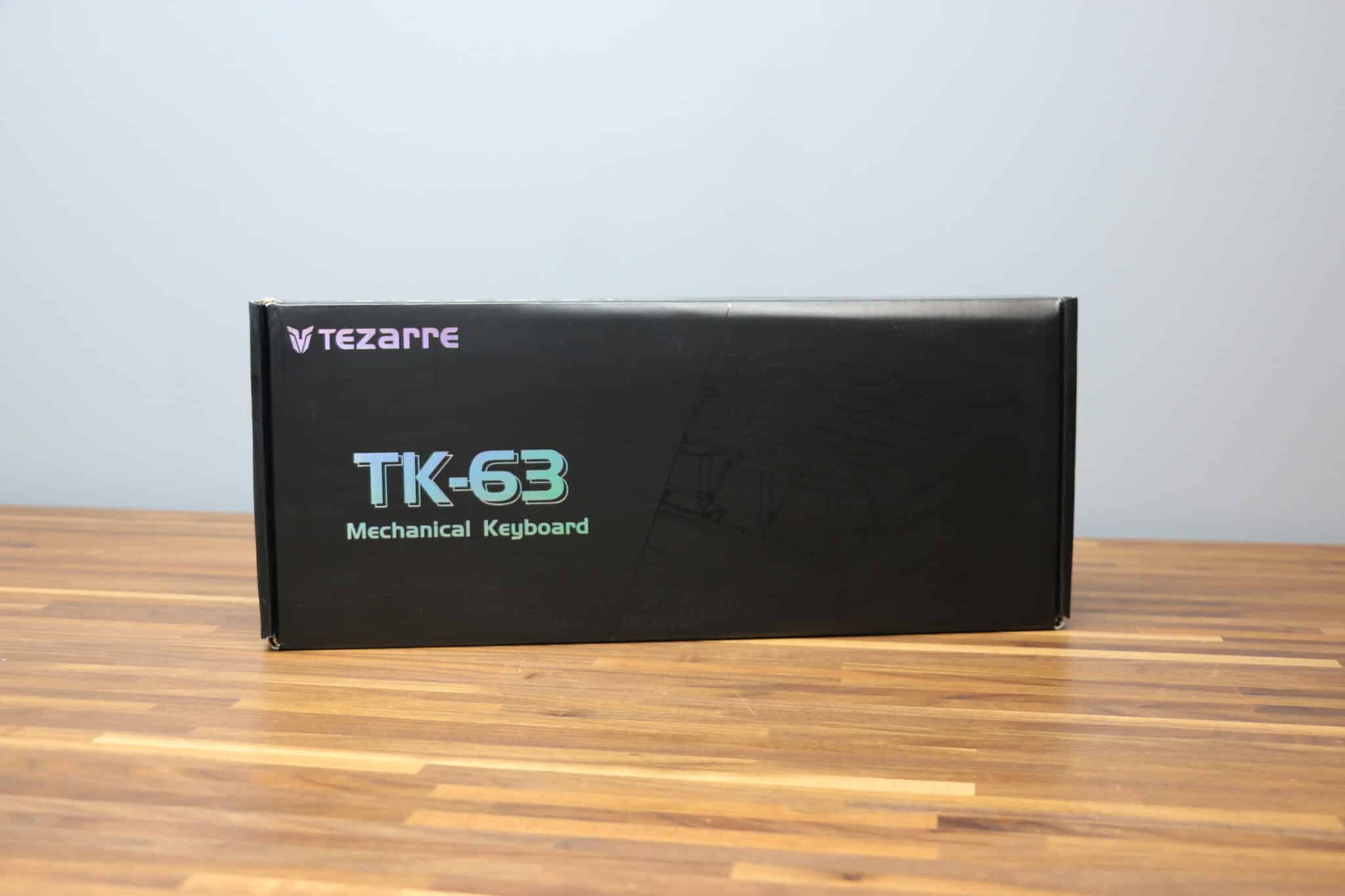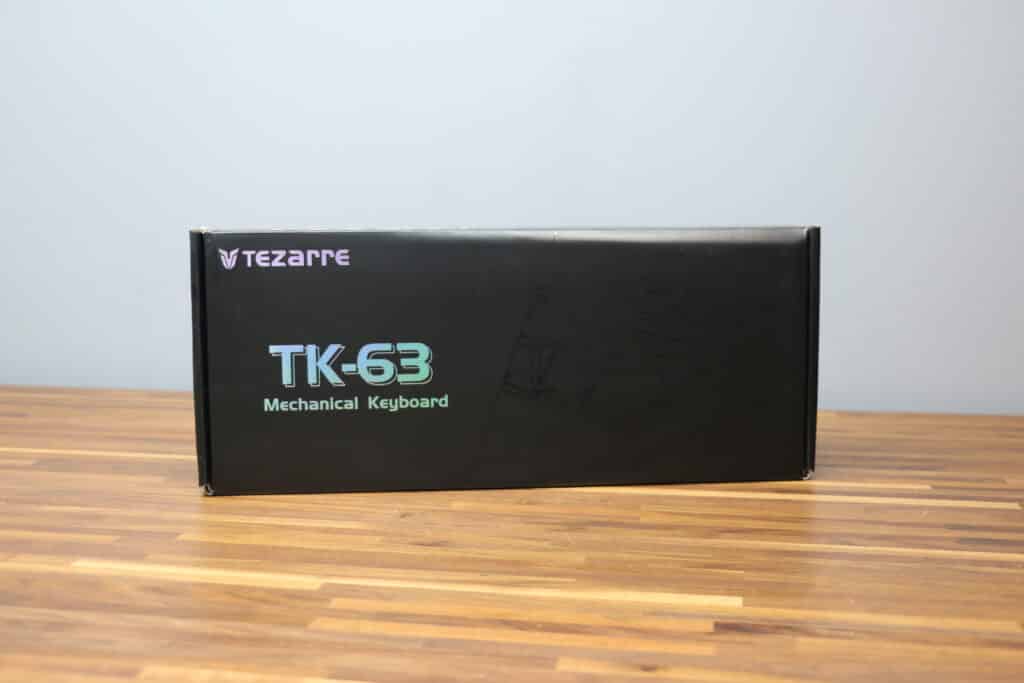 Coming in a tightly packed flip box, there are little to no thrills as you unpack the TK63. Letting the product speak for itself, you're immediately presented with the surprisingly compact device.
The box contains:
Tezarre TK63 Keyboard
Lengthy USB-A to USB-C Cable
Keyboard Shortcut and Function Guide
Quickstart Manual
Two Key Swapping Tools
While there's nothing too exciting about the contents, the key-swapping tools are very welcome. This is especially important because hot-swapping the keys can be a little finicky. This is a potential issue that we explore later on in the review.
Build Quality
Weighing in at 620g, this is a light and portable keyboard. While not as lightweight as the Logitech K380 or K400 plus, the compact keys, RGB functionality and hot-swappable keys make this a true gaming keyboard.
The case of the TK63 is plastic and can feel a little cheap and flimsy when carried, however, when in use, that's not an issue. There's an aluminium plate underneath the keys, which makes interacting with the keyboard feel more tactile. It's worth noting that in normal use, you won't get to feel or see the metal. Regardless, it's a small and interesting choice that helps add to the overall feel product.
The rubber feet at the base of the keyboard are of good quality. When tested on a wooden desk surface, they do a good job of preventing accidental slips during intense gameplay sessions. The plastic feet are sturdy too and can give you a bit more of an angle to play with if you don't like your keyboard being completely flat.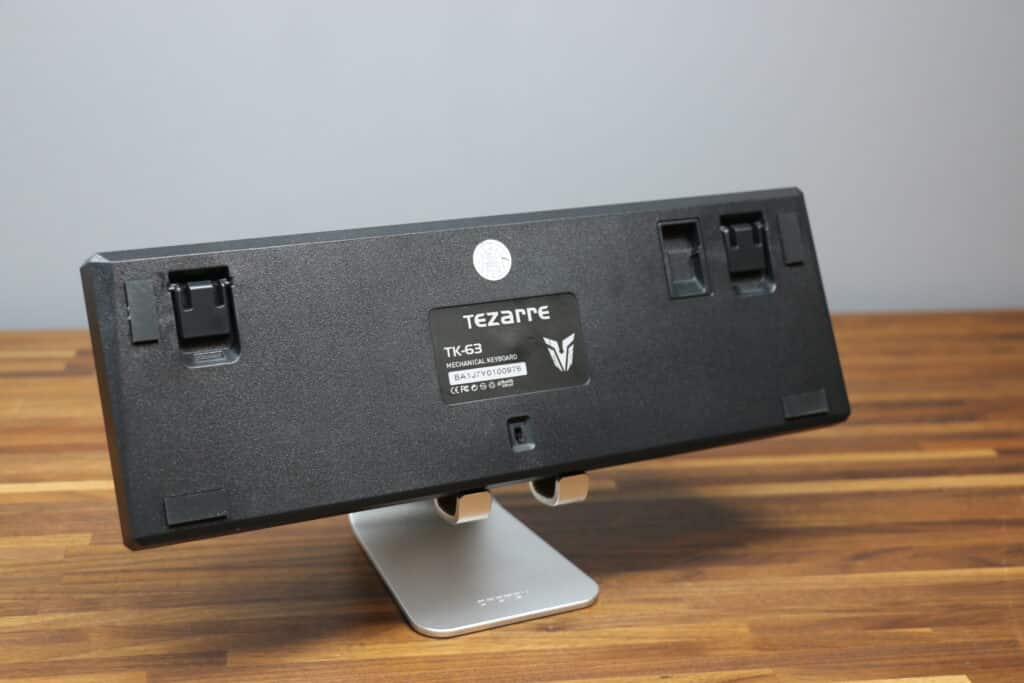 When I started this Tezarre TK63 keyboard review, I was looking for portability above all else. It's safe to say that this impressive little keyboard delivers in that regard. The weight and size already make this a breeze. However, the TK63 sports a cradle at the back that houses the 2.1 GHz wireless USB dongle. This ensures that if you're not using the dongle, or you've got the keyboard on the move, you'll never misplace the tiny receiver.
Keys
Even though the TK63 is smaller than the other keyboards in the same line, it somehow manages to fit arrow keys comfortably in the layout. Arrow keys are an uncommon but nice addition to compact keyboards. This makes the TK63 stand proud in a small pool of other light, compact, wireless keyboards with arrow keys. Tezarre has managed this without feeling like they had to concede any additional space, which is a feat in itself.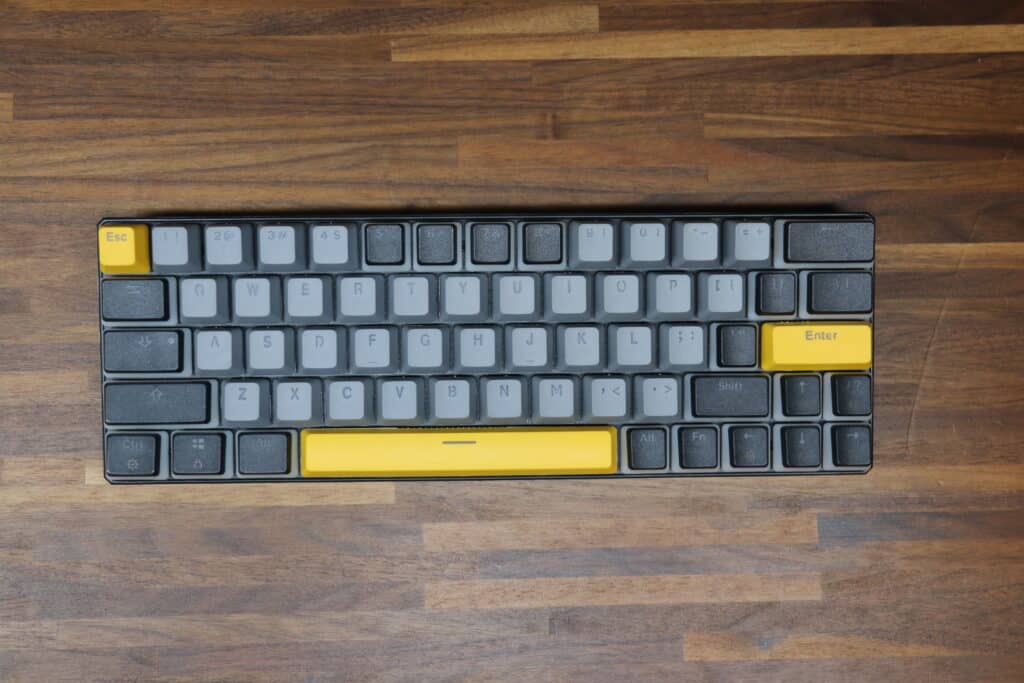 Out of the box, the TK63 contains three different types of keycaps, which not only give the keyboard a nice aesthetic but also show off the hot-swapping capability that is a big marketable aspect of keyboards like this. Each key has Gateron optical switches, which are responsive, quiet, and will avoid any key chattering. The downside of these switches is the limited choices available when it comes to modifications.
The other typical downside of optical switches is the sounds of the keys. If you care about this, you may find that these keys sound more hollow and flimsy than the satisfying click of their mechanical counterparts.
Take a listen to an example of the key sounds here:
As mentioned previously, due to the compact layout of the board, getting the keys off can be more tricky than you may personally want. This is especially evident when the keys closest to the screws of the board are removed.
User Experience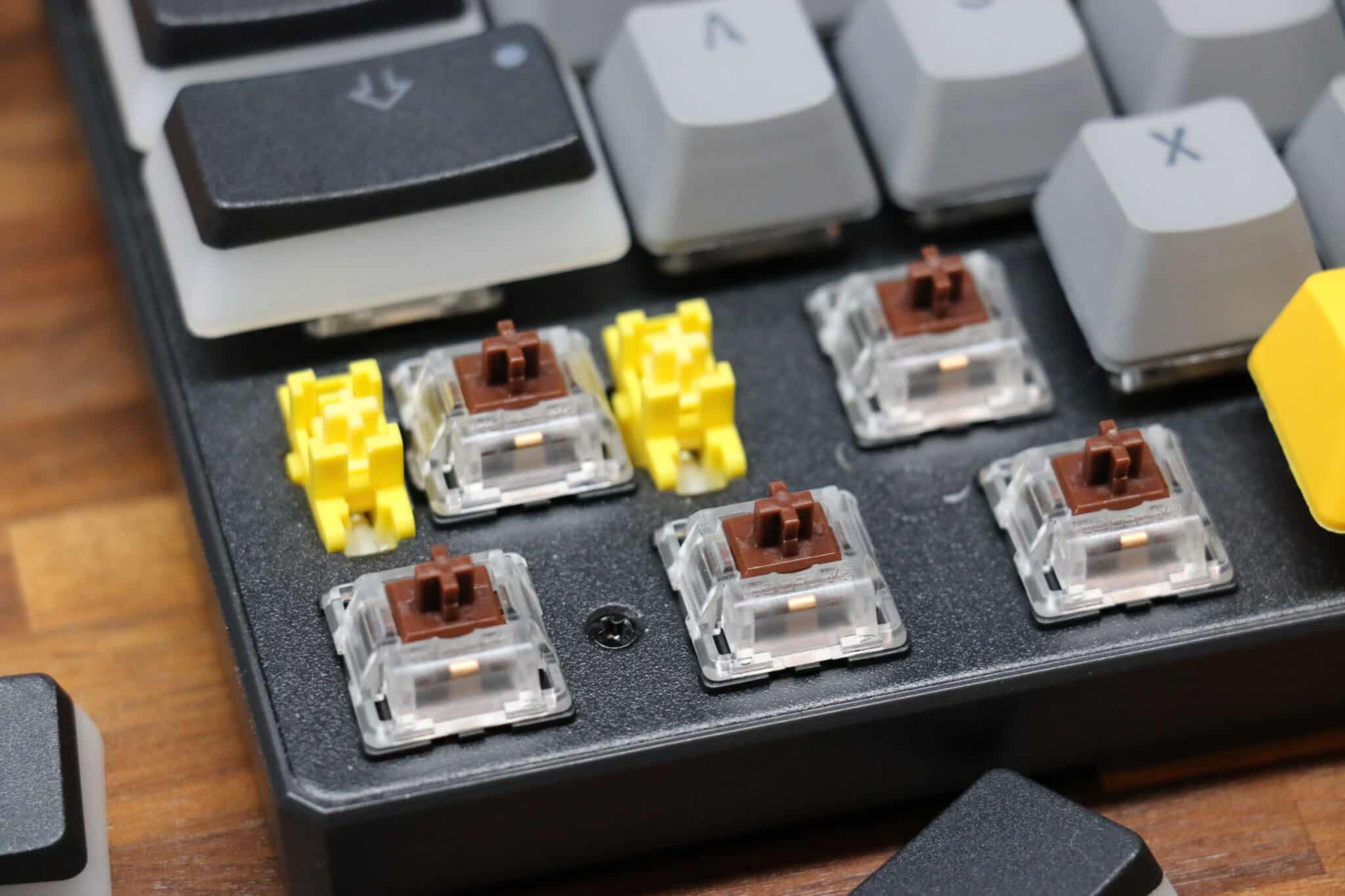 While it's certainly advertised as such, the TK63 isn't just a gaming keyboard. With a comfortable space between the keys, it also makes a great keyboard for general use. Writing on it in particular is a breeze. Whether you want to talk tactics in Warzone, or you're writing as part of your daily routine, you'll have no problem with the TK63. Compact keyboards sometimes struggle with double key presses as the membrane gets worn down, but thanks to the optical switches, you'll never notice such an issue.
Most games will play well with the TK63. MOBAs like DOTA2 play brilliantly as expected However, games that prefer a full layout, such as MMOs like Final Fantasy XIV, will require a change in keybindings. Numpads are king in some games, and the main problem with a 60% layout is the lack of such keys. It's not the TK63's fault at all, but worth mentioning in case this is important to you.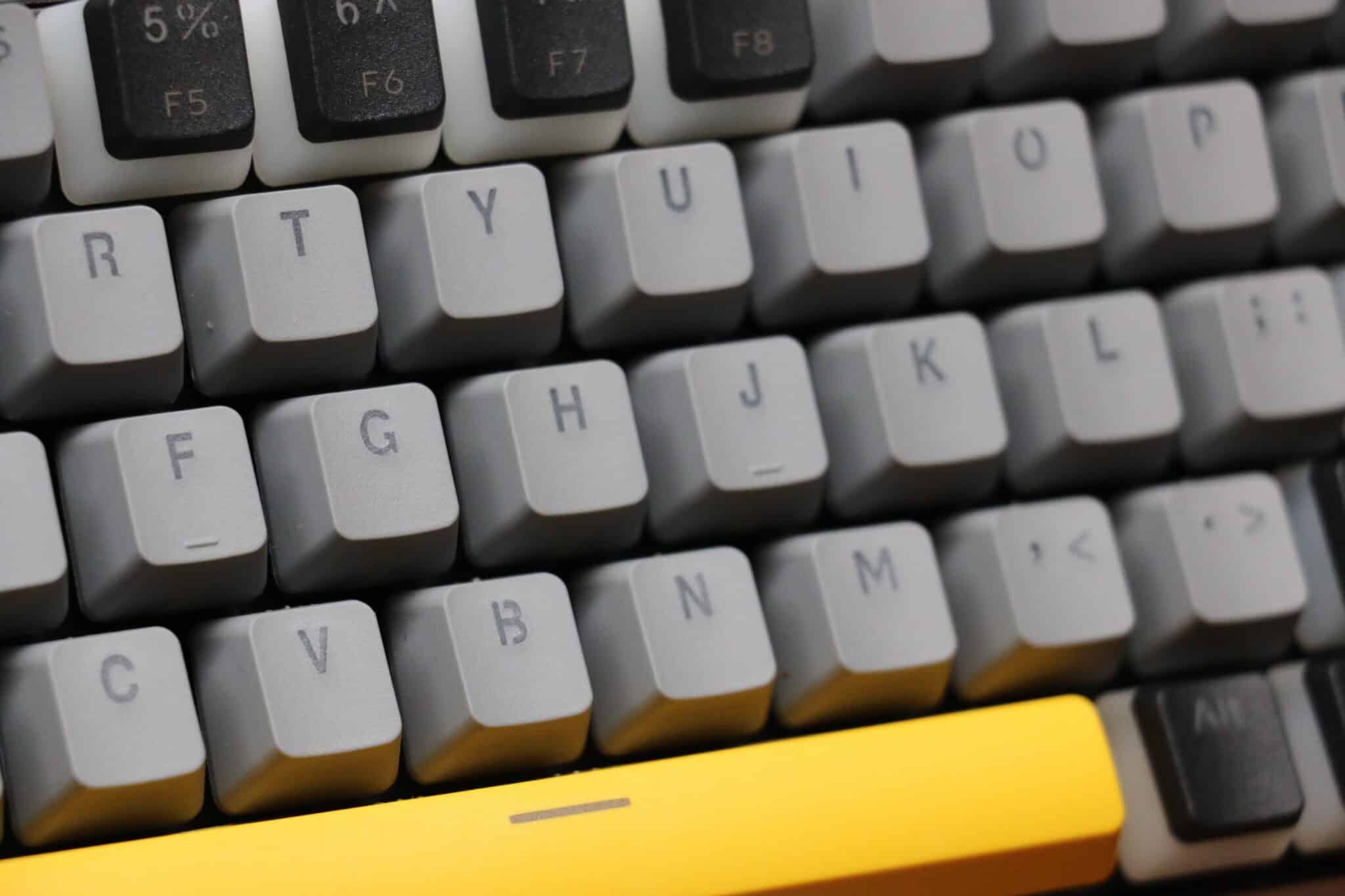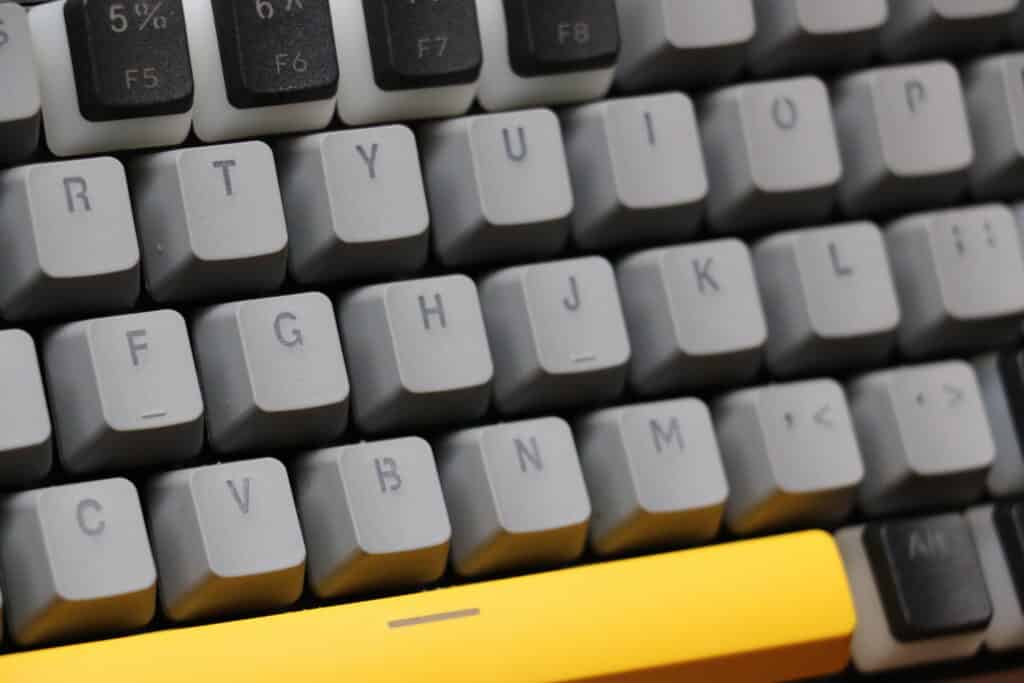 There are 15 different RGB effects out of the box. Perfect for any gamer, whether you love rapid pulsing, or prefer just a static white. Playing with the brightness of the RGB is easy and can be done on the keyboard without any software.
Before we dive properly into the battery section of this Tezarre TK63 keyboard review, we have to bring up a very welcome function the keyboard has implemented. The TK63 allows you to check the current battery status of the keyboard by pressing the FN key and backspace. When you do this, the keyboard will highlight keys between 1 and 0. Each key represents 10% of the battery life, so if 1 to 5 light up, you know you've got about 50% battery left. Thanks to this, you'll always know how long you've got left to play.
Battery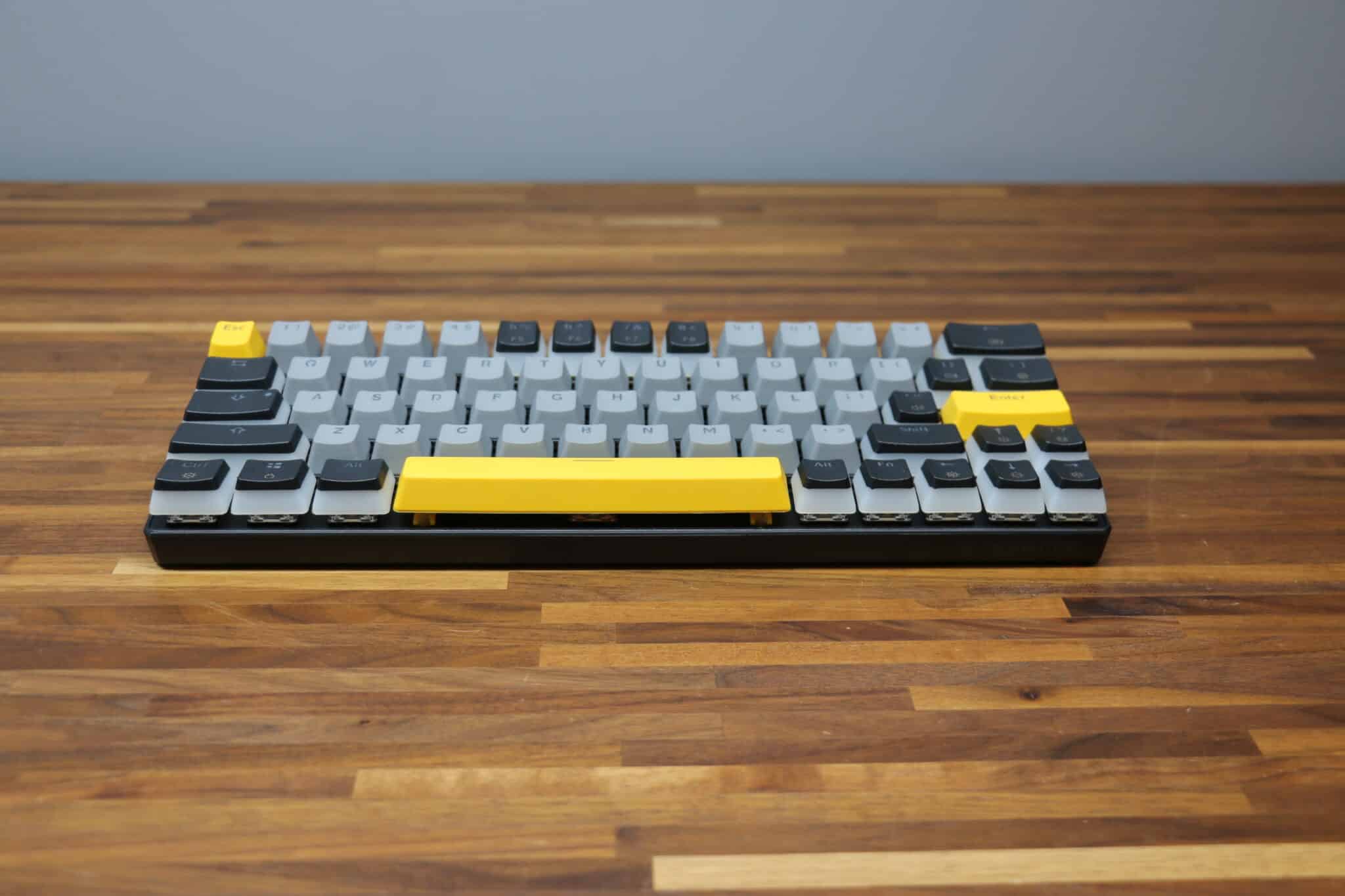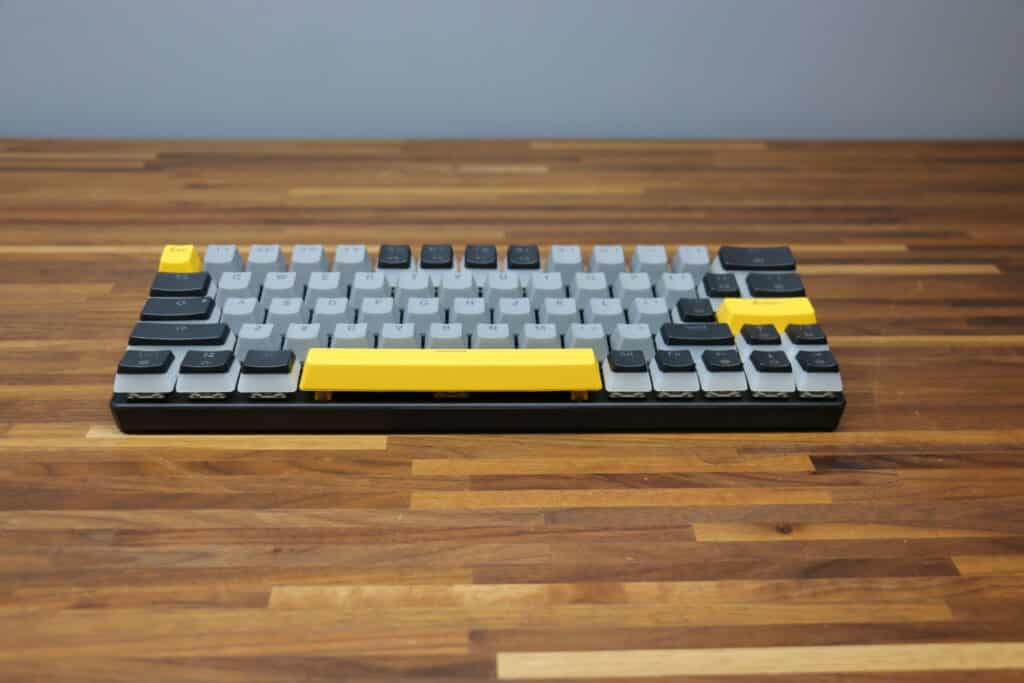 A 3,000mAh battery is nothing to sniff at. While the life of the battery will depend on your individual use case, RGB effect, and brightness, it typically averages around three days of daily use. With a battery-saving feature that turns off the RGB effects after a few minutes if the keyboard is idle, it does everything in its power to use as little of the battery as possible.
Naturally, should you run out of charge while the keyboard is in use, you can always plug it back into the PC and use it while it charges.
Connectivity
In terms of connectivity, there's very little to complain about with the TK63. The 2.1 GHz wireless mode has a good range and no noticeable latency. The same goes for the Bluetooth function, which works near flawlessly up to 30ft.
Of course, wired is always going to be better. But for the average user, you'll hardly notice a difference between the response speeds of the TK63 in wired and wireless modes.
Software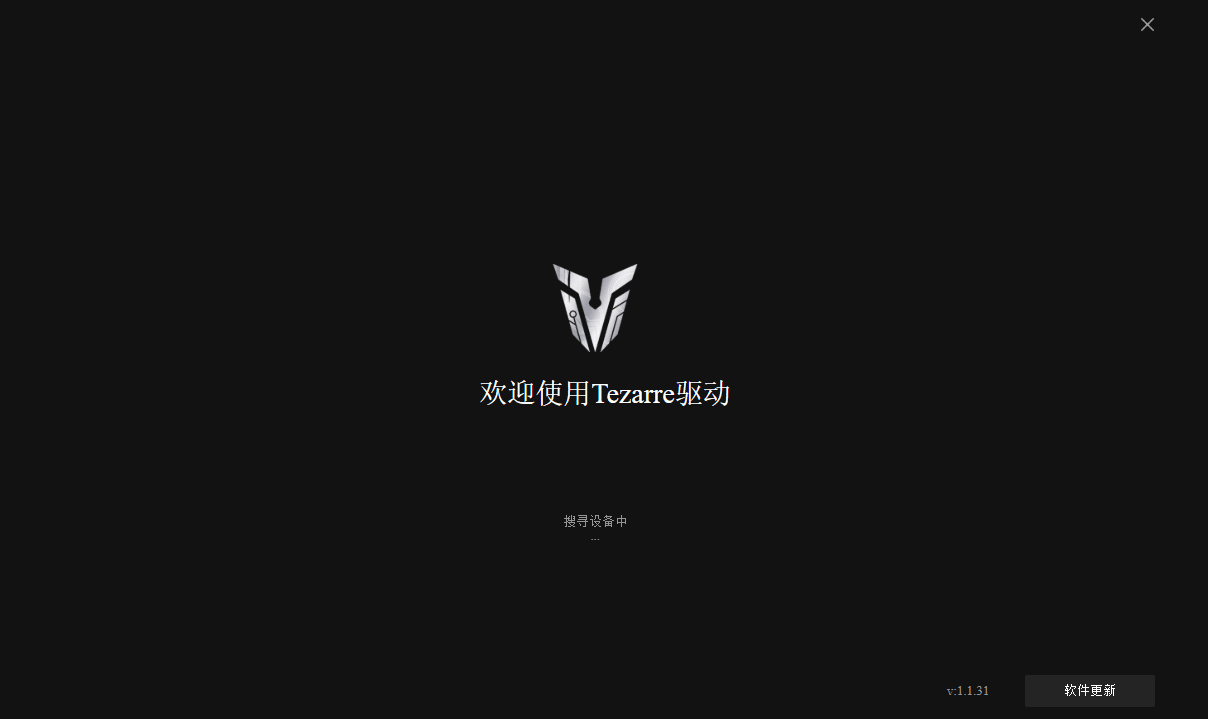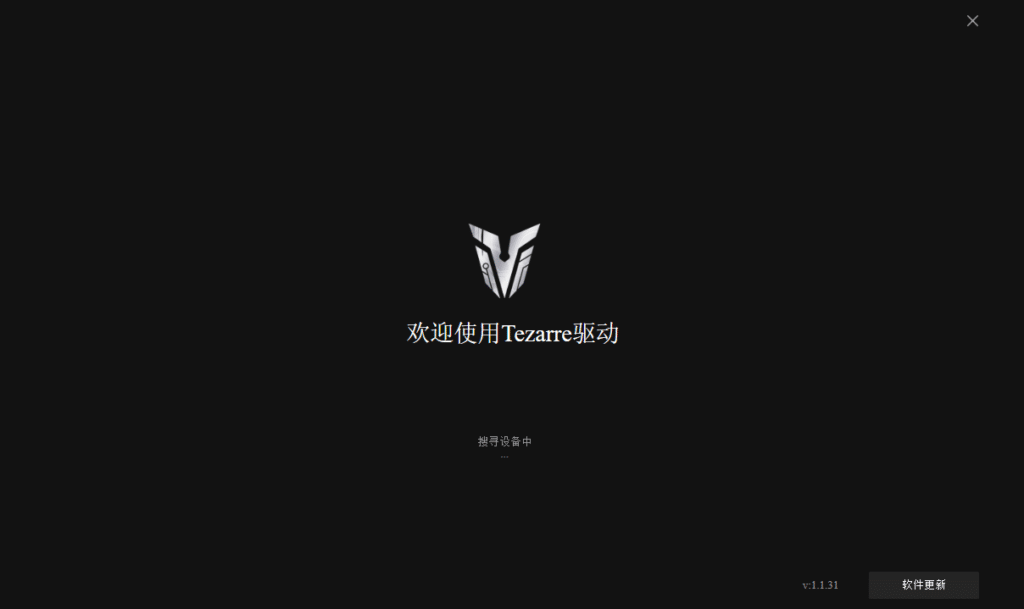 While the TK63 doesn't need any additional software to function, you do have the option to customise your RGB effects key-by-key in the provided Tezarre software. You can also set up macros, as well as access a list of other features.
Unfortunately, by default, the software is in Chinese, which makes it a little more challenging to install than you would expect. With some fiddling (like making sure the TK63 is wired in before you install) you can change the language to English by clicking on the heart icon at the bottom of the menu, and then selecting "EN" as shown in the image below.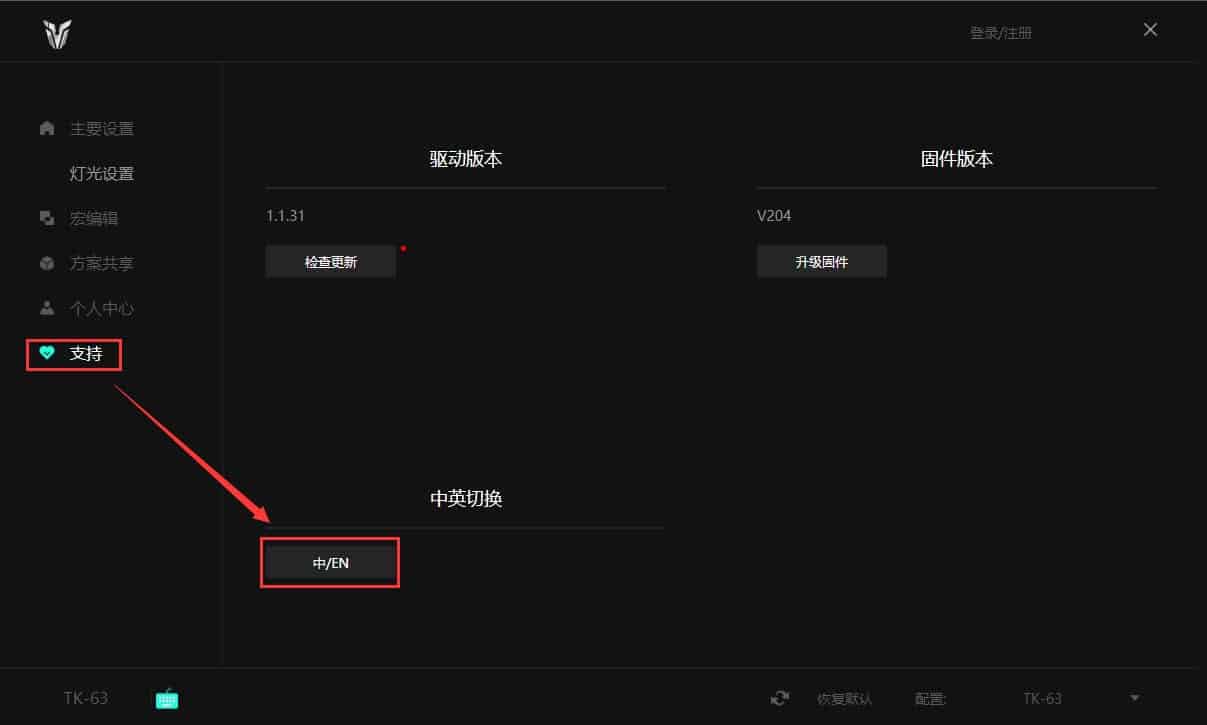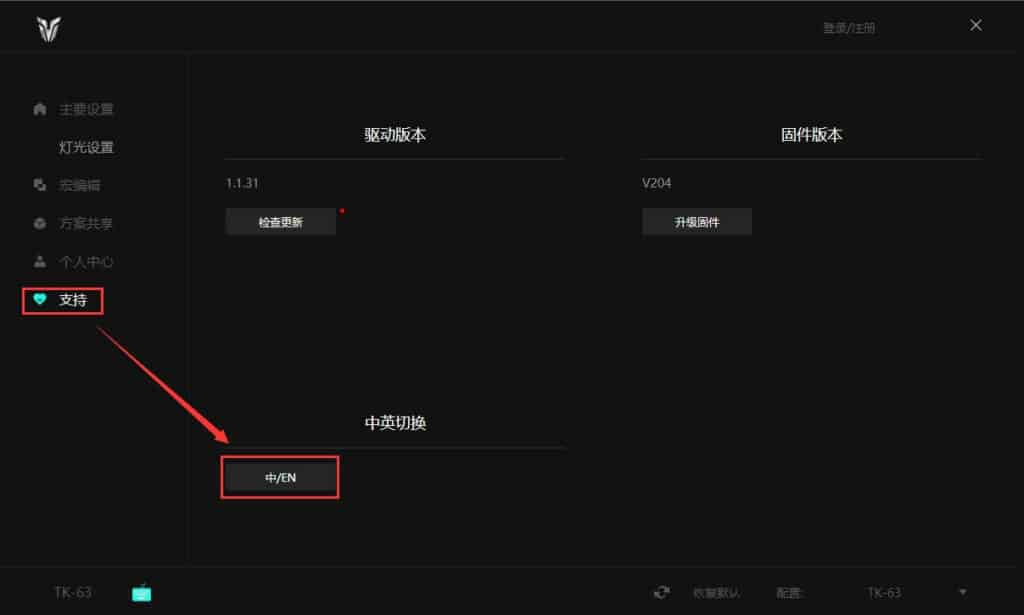 If this doesn't seem like too much of a bother to you, then you can ignore this issue. However, if it feels like one too many steps, this can be quite off-putting.
Conclusion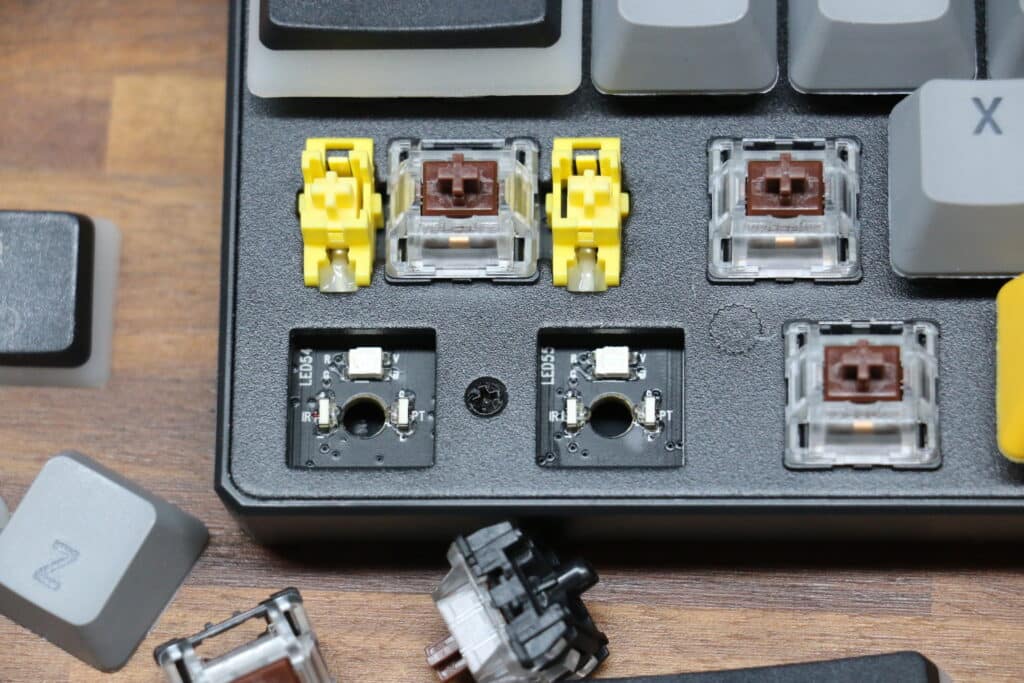 Frankly, the TK63 is incredible. It's going to be very difficult to find a better compact wireless gaming keyboard for this price – especially one with arrow keys. Its optical switches give great performance for most games, and the compact package makes it easy to transport and use in a variety of settings.
While little issues like finicky hot-swapping and limited modding options are small annoyances that you can look past. RGB customisation and macros being partially locked behind a language barrier is a major grievance.
What it comes down to is a lack of customisation. If this doesn't sound like much of a problem, you will struggle to find fault with the TK63. However, if you're looking for a compact wireless keyboard that you can truly make your own, then you may find the experience lacking.