The Artful Escape is one of the most unique games of the year, taking players through a psychedelic journey of a lifetime. It's visually stunning and has an incredible soundtrack to complement every frame. We thought it was great, and you can read our review here. We also had the chance to talk to the game director and designer, Johnny Galvatron, whose own musical career played a huge role in the creation of this title.
The Artful Escape Interview
Note: These questions were sent before the release
The Artful Escape will be out in a few days, how are you and the team feeling?
Calm. Zen. At one with our destiny. I think we're extremely proud of the game, of each other's talent and perseverance. Response has been wonderful so I'm feeling pretty dope.
For anyone out there, that still doesn't know what the game is, how would you describe it?
It's a narrative-driven psychedelic rock opera with light platforming and solo guitar odysseys. It's about a teenage guitar prodigy who embarks on an interdimensional journey to inspire his stage persona. It's kind of like if David Bowie went on a journey of discovery and came back as Ziggy Stardust. It's also got fluffy creatures that run away from you.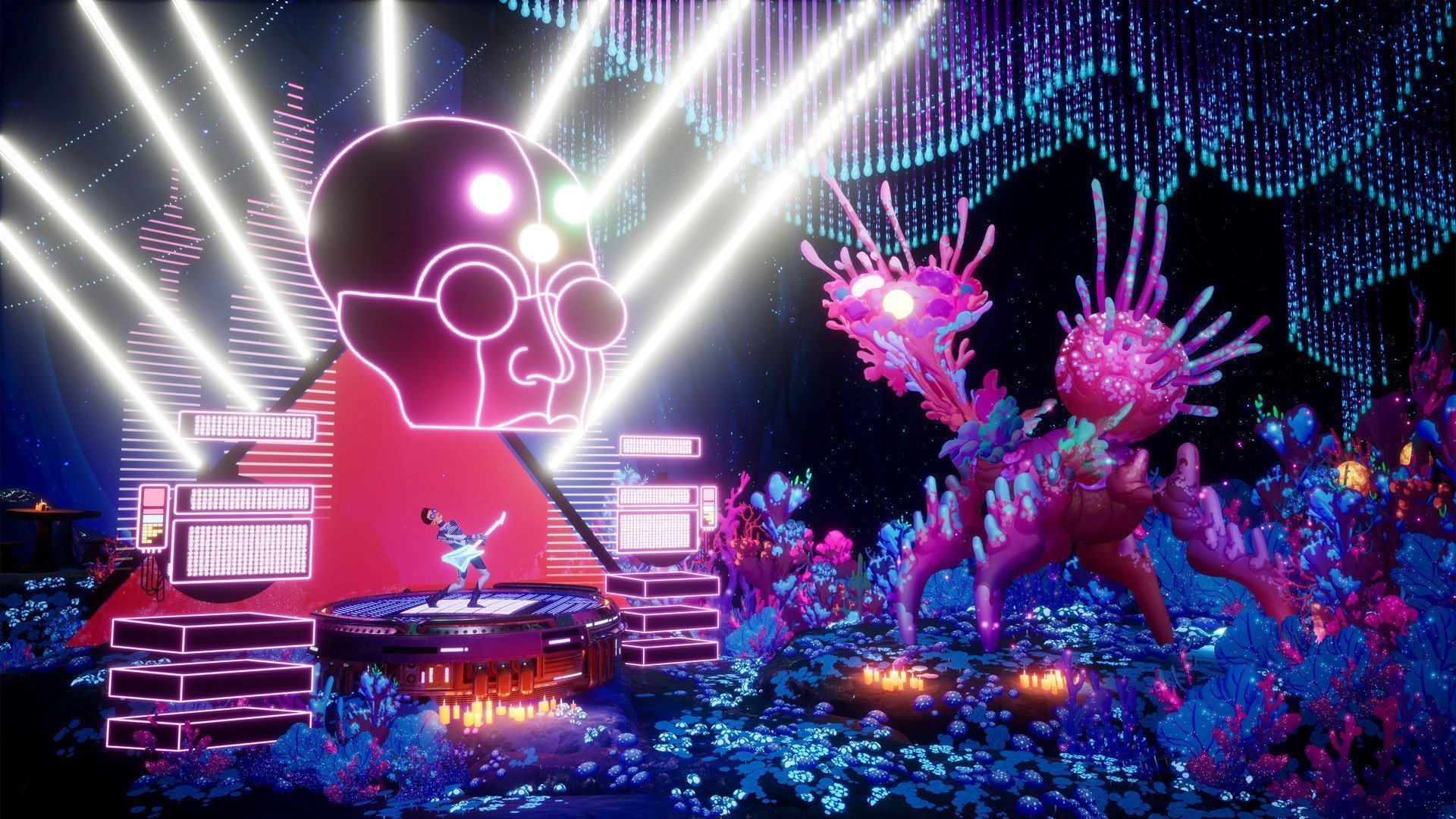 We know that the pandemic has hit the gaming industry especially hard, given its extremely collaborative nature. What were the challenges your team faced, and how did you overcome those?
We were pretty lucky in the sense we could easily move our desks home and continue to work. The game was pretty much locked in and we were able to individually go about our disciplines, completing the game and getting ready for release. By the time we had to head into lockdown, I feel we were all pretty sure of where we were and what we were doing. Honestly, we were just happy to be able to keep working.
What was it like working with such a star-studded cast including Lena Headey, Mark Strong, and Carl Weathers?
Terrifying, at first. I'd never directed voice talent before. I found out it was very similar to working with singers in a recording studio. Really enjoyed it after that! All the voice actors I worked with were just so exceptional and accommodating. A real privilege and a trip to be able to work with such talented people and have them read your nonsense.
What are you hoping for players to really connect with while playing the game?
Francis's plight. The freedom granted by stage personas. Some creative nonsense. Hopefully, have players swept up in fantasia of music.
Were there any other music video games you were inspired by while developing The Artful Escape?
Journey (the game and the band) was a big inspiration. Rez. Sword and Sworcery. Kentucky Route Zero.
How accessible would you say the game is, and how did you approach the challenge aspect?
I think anyone.. 7 or up? How old are children? Who knows? I wanted the guitar to feel effortless, to have it blend seamlessly with your surroundings. To have the sensation of having mastery of an instrument. I wanted players to understand Francis's virtuosity, to understand that it wasn't his music or talent that is holding him back, but his mental hurdles.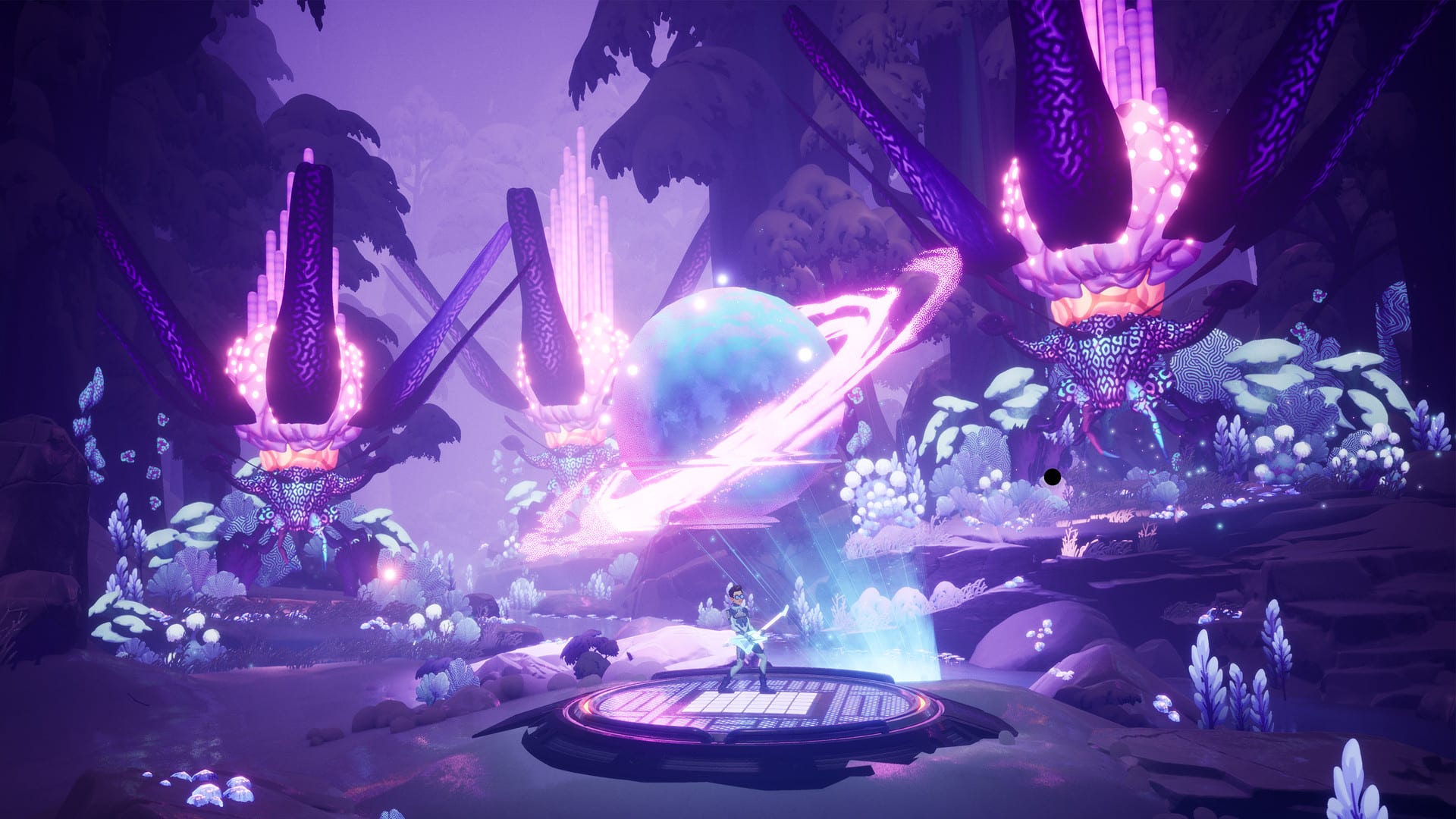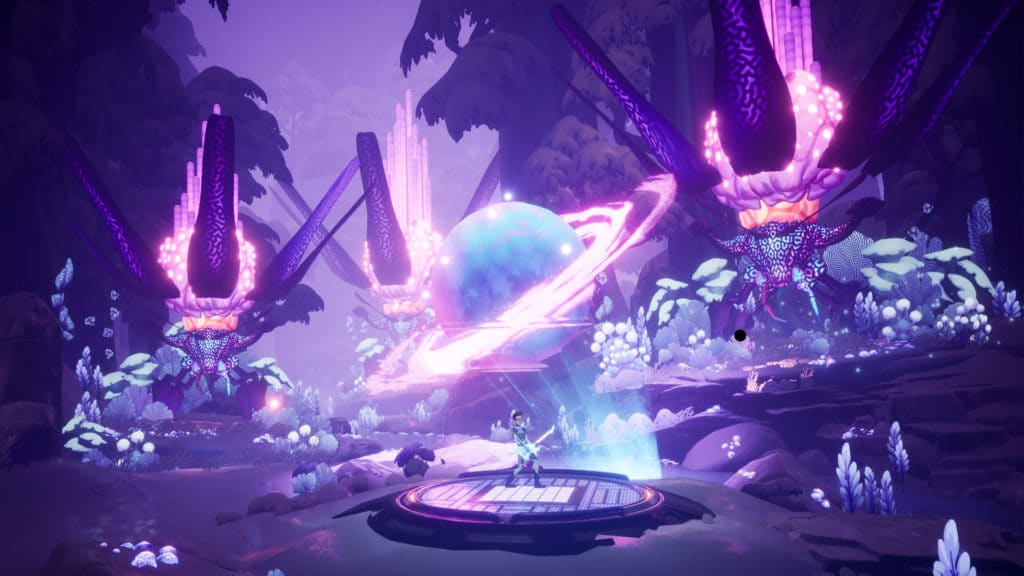 Are there any side quests, or additional content eager players can check out?
There's some crazy character customization about halfway through the game. It's something we're super proud of. You can dress glam, grunge, drag. It's in an 80s mall.
Francis Vendetti wants to create "the most elaborate stage persona the world has ever seen". Given your time in the music industry, how important is that?
Important… I'm not sure. Depends what you're doing, I think. If you want to remove your image from your art it's something you need to think very carefully about. Everything that accompanies your core medium will shape it in some way. That doesn't necessarily mean you have to craft it or ponder it; you can just let it happen, but I don't think that makes it any less true.
What was it like working with Annapurna Interactive?
Pretty metal. Not only do you have an incredible amount of support but that people who work there have a wealth of gaming knowledge. There's a library of knowledge there waiting for you to tap in. Feel super lucky to have them on our side.
The game features some incredible alien landscapes and visuals, where does that come from?
70s, 80s prog-rock albums covers. Yes, album covers. Cream album covers. Also my maths book from high school where there should've been maths.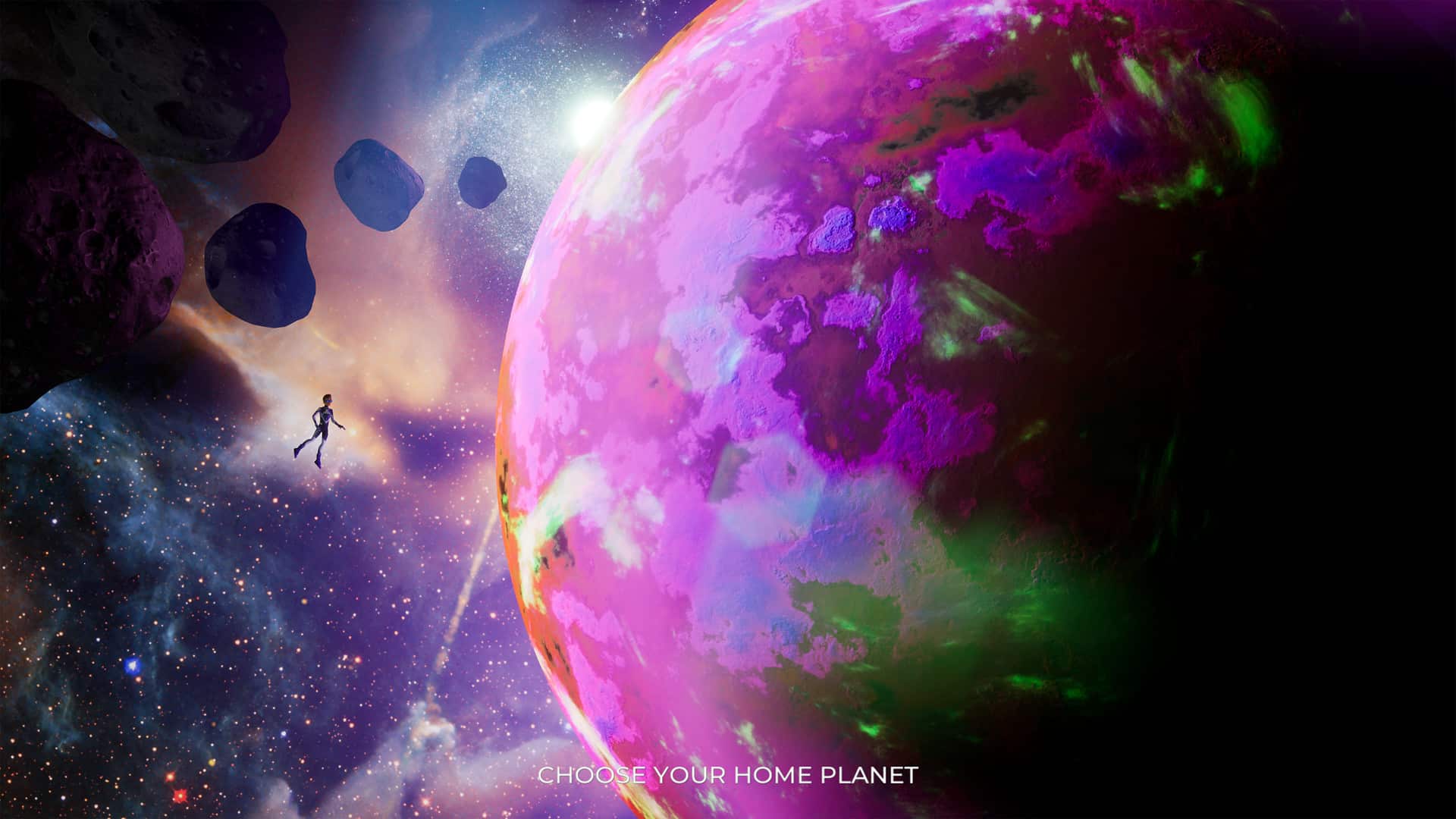 Thank you for your time, and good luck with the release!
Thanks for asking me questions!
You can purchase The Artful Escape on Steam, and Xbox consoles now!
What did you think of our The Artful Escape interview? Have you played the title yet? Share your thoughts in the comments below.