Fortnite's creative mode has expanded our gaming experience by offering a variety of community-made maps catered to different play styles.
You can now enjoy modes like hide and seek and 1v1 battles with creative mode.
If you seek exciting 1v1 maps to play in Fortnite, you're in for a treat. We've compiled the best maps for 1v1 duels that provide a thrilling experience to anyone looking to test their skills.
1V1 BUILD FIGHTS!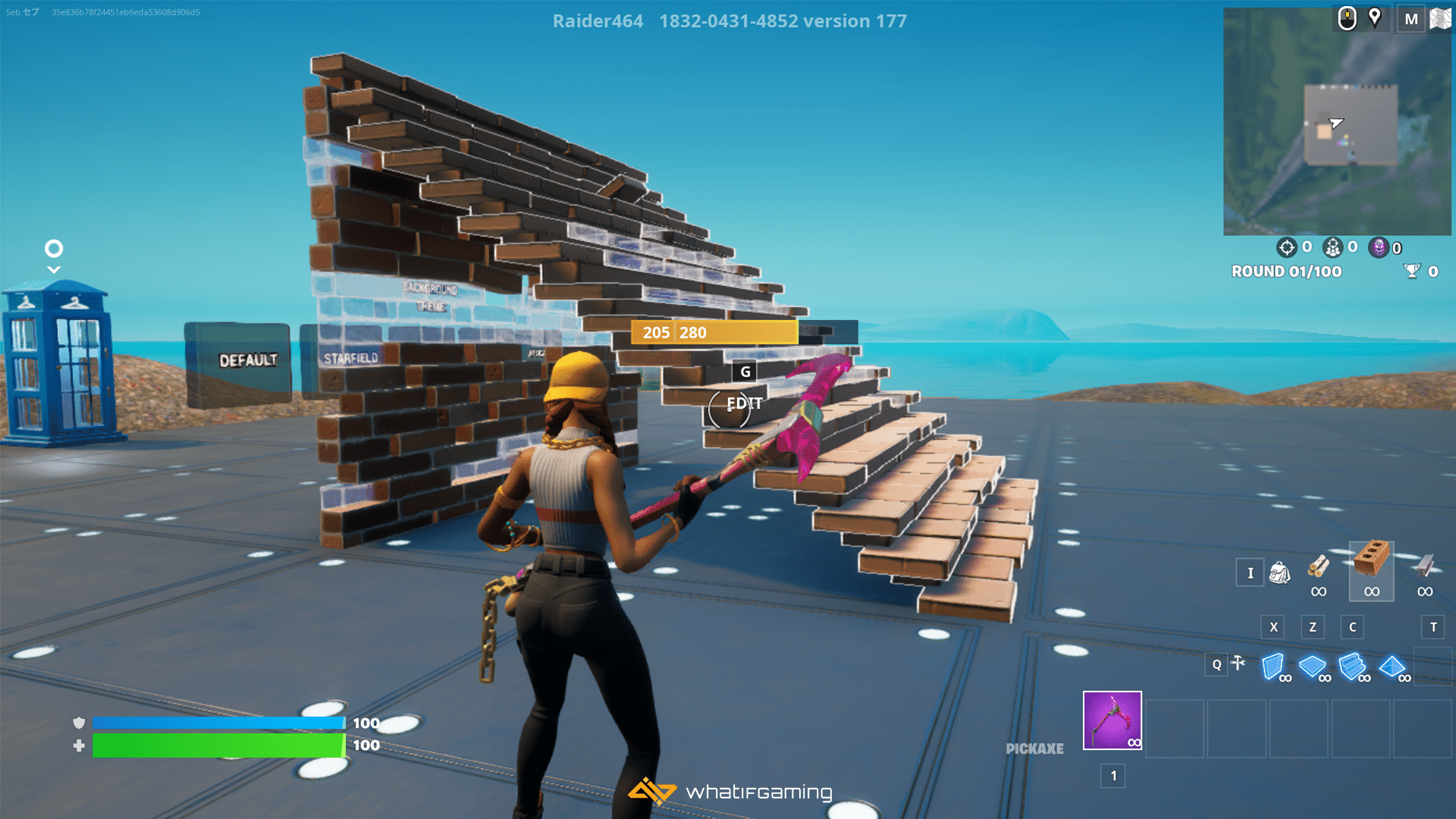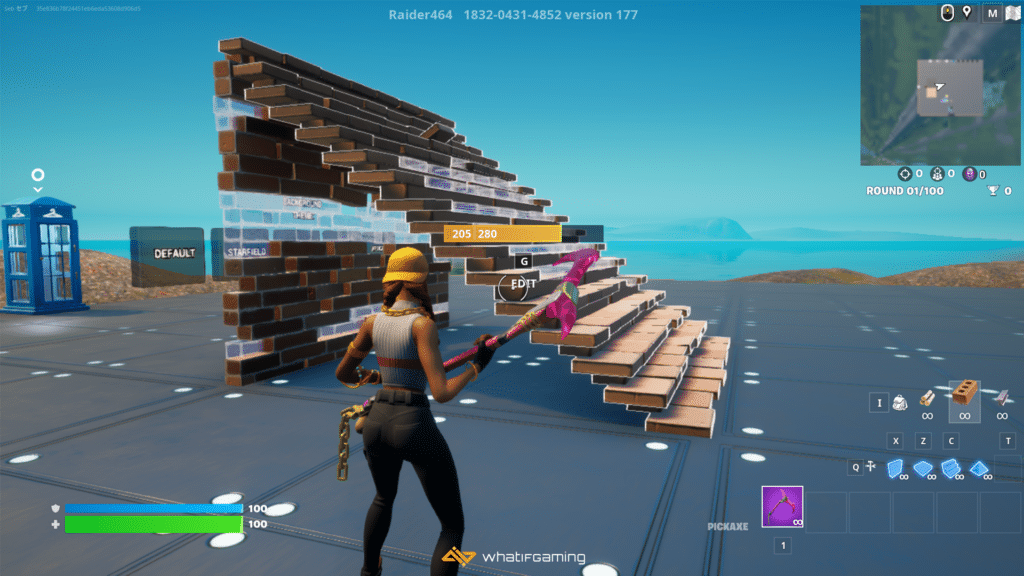 Map Code: 1832-0431-4852
1v1 Build Fights by Raider646 is among the best Fortnite 1v1 maps. It features a completely flat terrain that allows for terraforming and great obstacle placement.
The map's simplicity earned it the top spot, allowing players to focus on pure 1v1 battles to improve battle royal skills and simulate real in-game scenarios. This map also has hundreds of competitive players, allowing you to face opponents with varying skills.
Finally, 1v1 Build Fights also offers a borderless map that allows you to scale up with unlimited materials before starting the fight.
PIECE CONTROL 1V1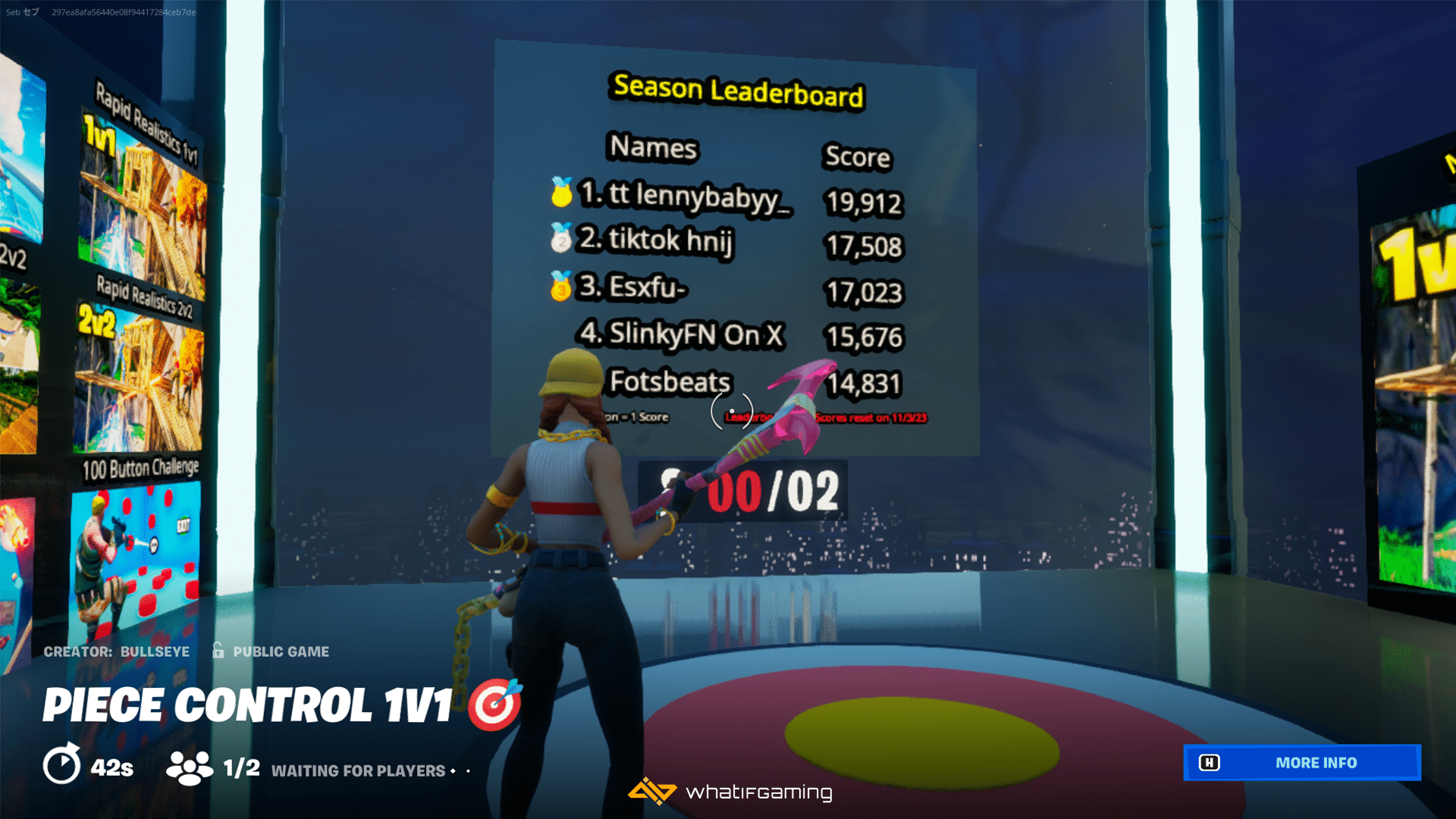 Map Code: 8298-6891-9930
PIECE CONTROL 1v1 offers many compelling features that made me include it on this list.
First, this map offers brand new loadouts to give you access to a diverse range of weapons.
It also offers new courses to keep the gameplay fresh and features a leaderboard to elevate the level of competition. You can expect all your opponents on this map to take you seriously as they aim to claim the top spot.
If that's not enough, the piece control courses on this map are built by a competitive professional, AVFN.
1V1 WITH EVERY GUN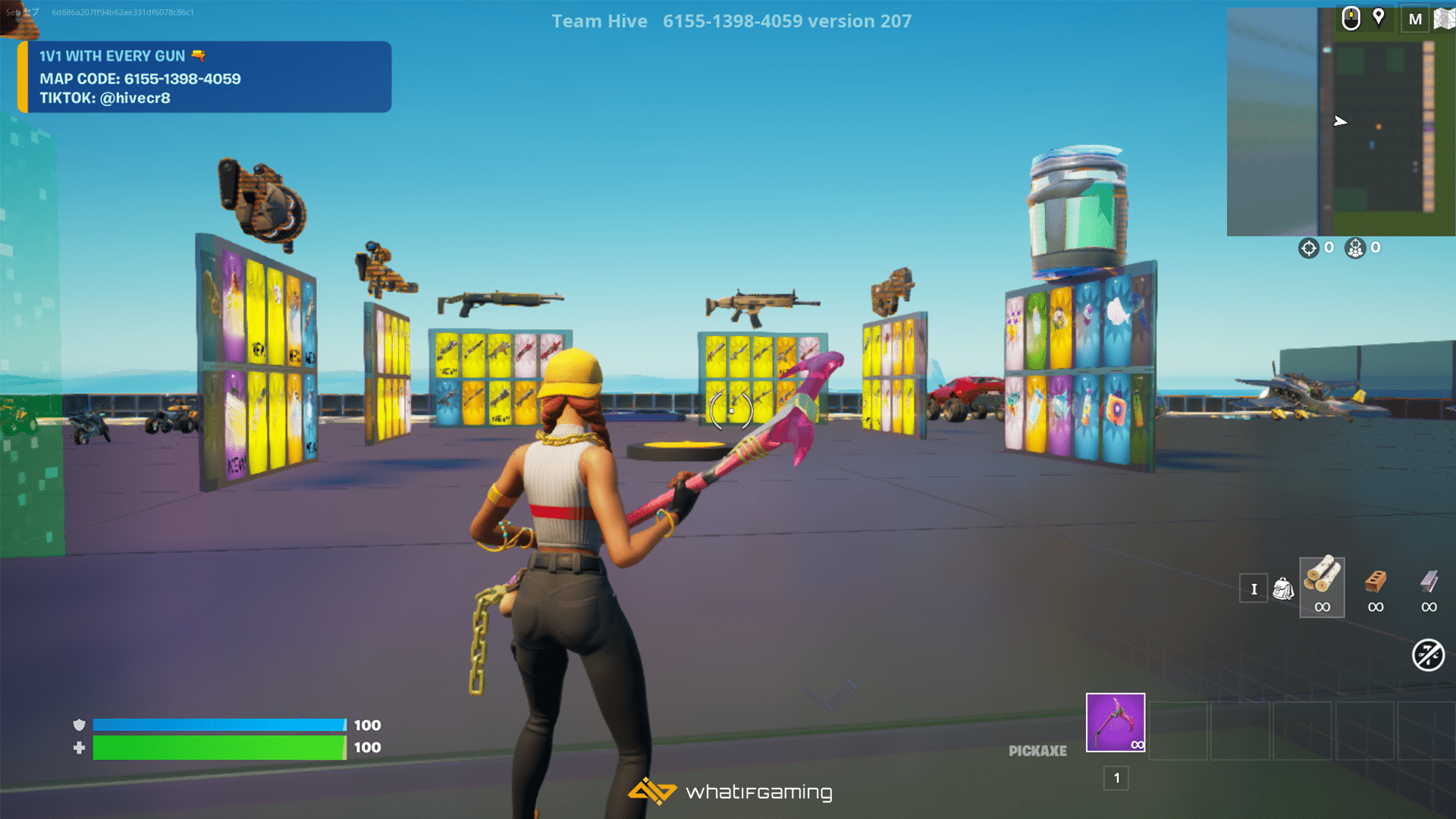 Map Code: 6155-1398-4059
If you want to test out all the guns in Fortnite, then this map is the one you should play.
1V1 with Every Gun offers a free-for-all or 1v1 experience with all weapons and vehicles avaible. This map is frequently updated with the newest weapons, ensuring you can enjoy the latest guns.
What's great about this map is that your eliminations get saved. Your opponents can see your kill count the next time you play, giving them something to think about.
SPEED REALISTICS [1V1]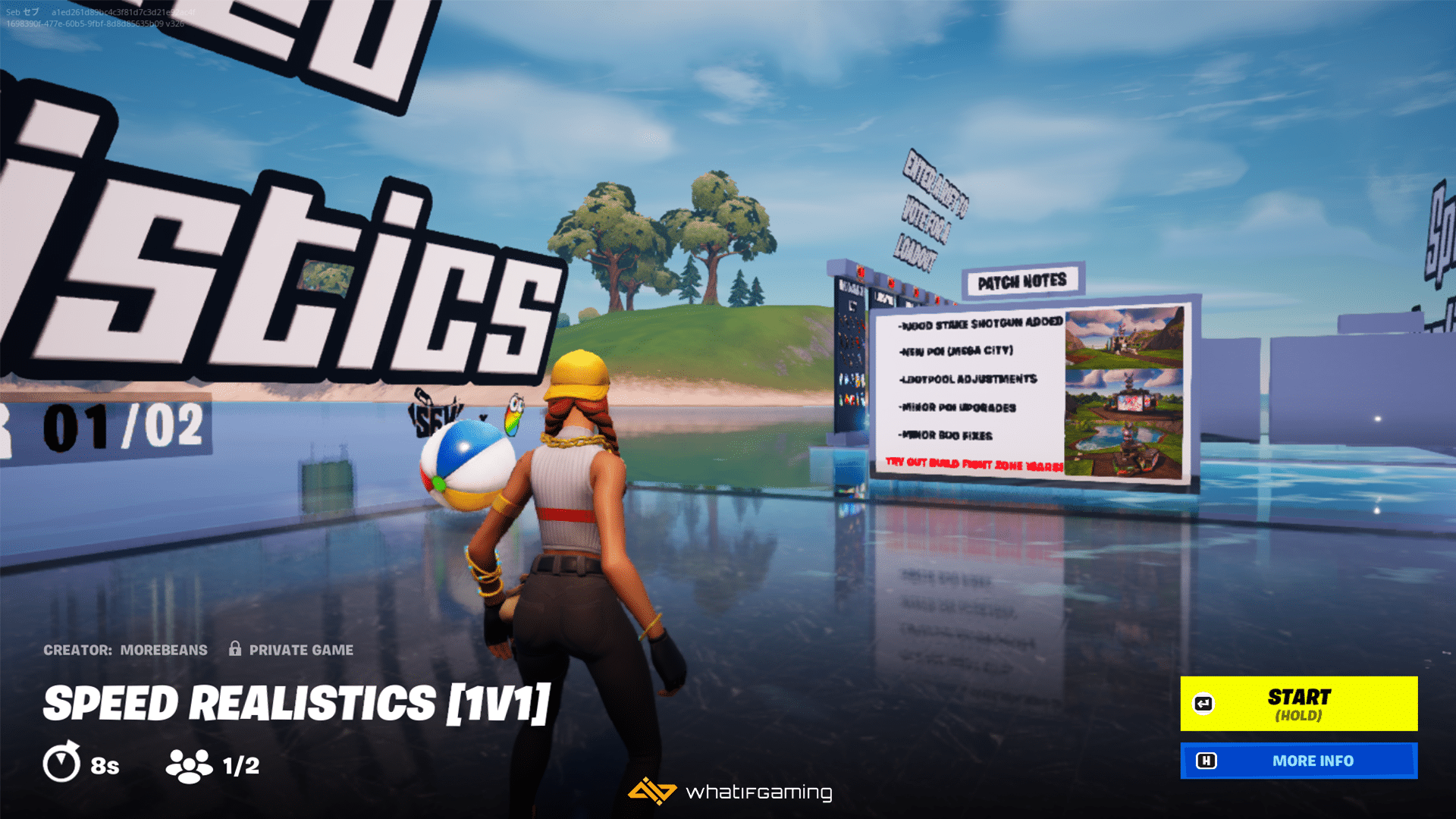 Map Code: 0550-1651-3094
Speed Realistics is a clever map that offers a fun and thrilling 1v1 experience. However, it also gears you up for the future, where you have to deal with better and higher-ranking players.
The gameplay for this creative map is simple.
One player spawns on the ground with five seconds to rearrange their inventory and the other spawns in the air for three seconds before landing on the left side of the box. Its creator set up the map like this because he believes every pro player attacks a box from the left side.
I also liked the beach ball in the lobby, giving me something to do while waiting for an opponent.
PANDVIL BOX FIGHT (1V1)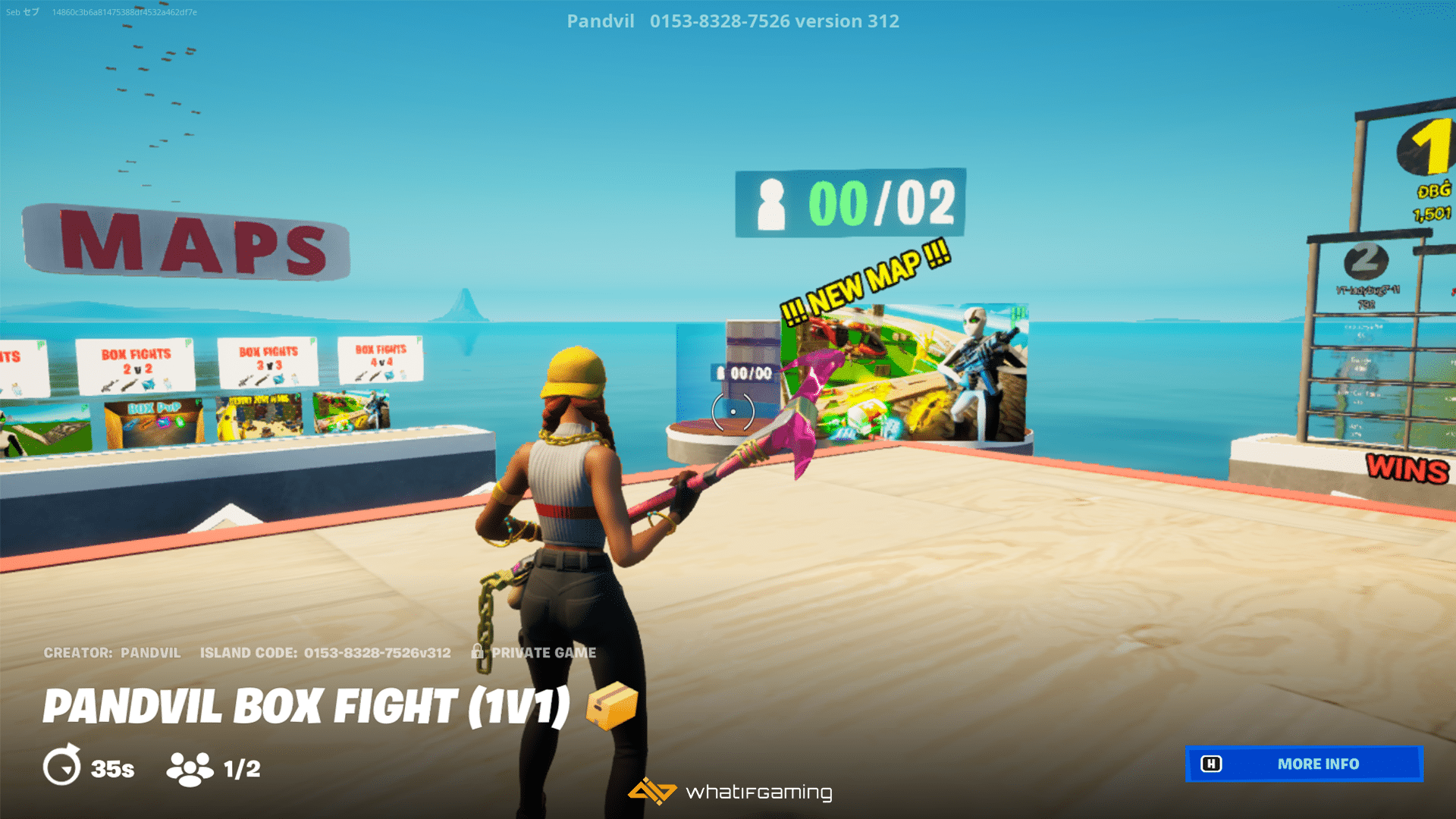 Map Code: 0153-8328-7526
The competition on this creative map is very high. This map pins two players in a game of 9 rounds, and the player with the most eliminations wins.
However, what sets Pandvil Box Fight apart is the limited space you can use to build and eliminate the opponent. This allows for a very unique experience that will test out your building and editing skills.
The pause in between rounds is a nice addition that allows you to gather yourself and prepare to bounce back for the next round.
MYTHIC 1V1 BUILD FIGHTS
Map Code: 6384-3577-3037
If you want pure Fortnite action, Mythic 1v1 Build Fights is a great map.
This map pins you against 12 players (max) in a decently sized map where you can test out different weapons and building techniques.
I believe this is a great map to play if you want to take a break from the traditional battle royale but still want some level of competition.
BHE 1V1 BUILD FIGHTS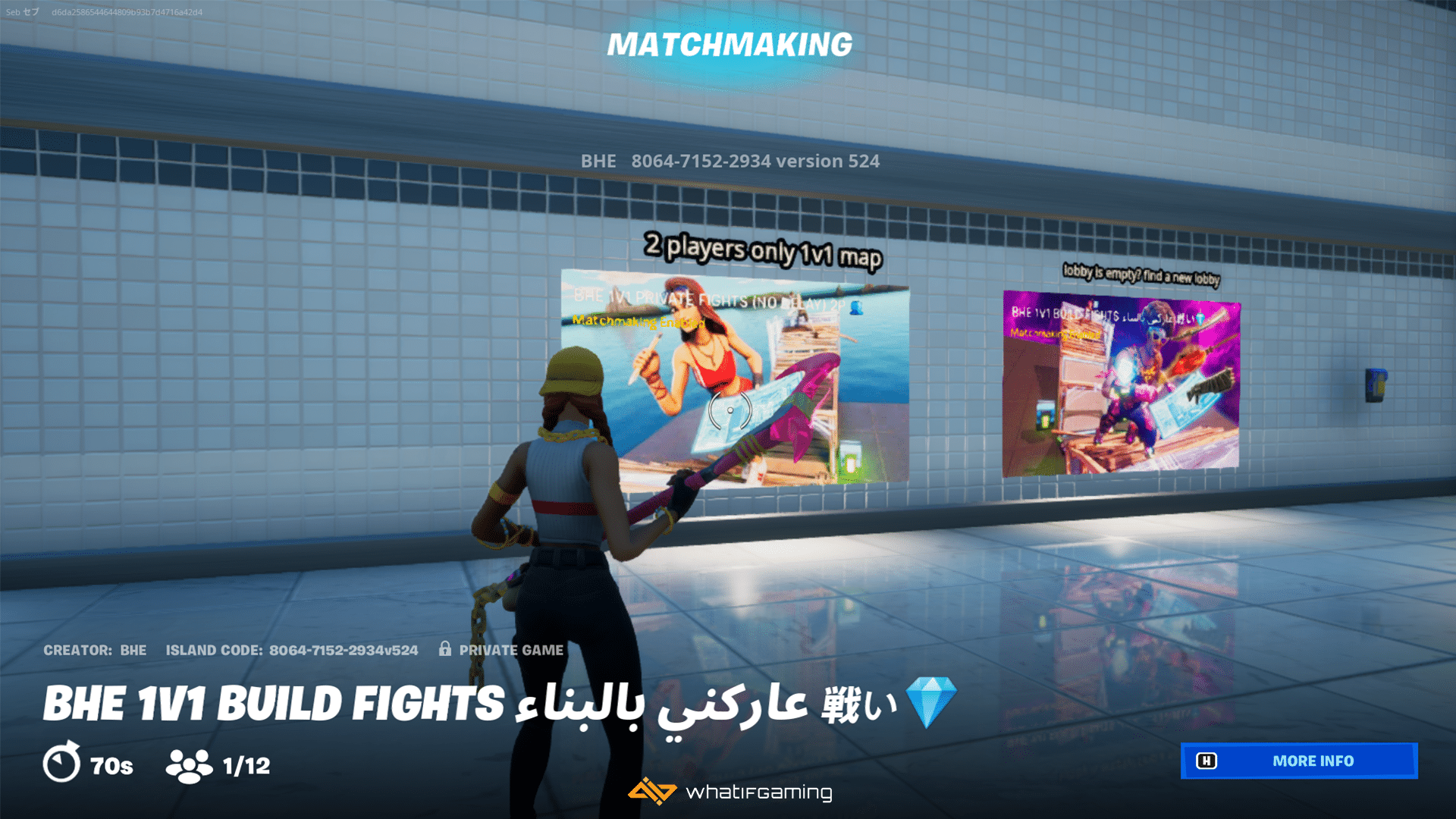 Map Code: 8064-7152-2934
This map boasts a generously sized arena with an unrestricted height limit, enabling players to construct towering structures spanning up to 40 levels to outmaneuver their opponents.
Additionally, BHE 1v1 Build Fights provides the flexibility to experiment with various weapons and loadouts, enhancing the versatility of the gaming experience.
What I loved about this map is the XP challenges that give bonus XP when you complete missions. This adds depth to the gameplay experience, giving you other things to do besides eliminating your opponent.
669 CLAN MAP BUILD FIGHT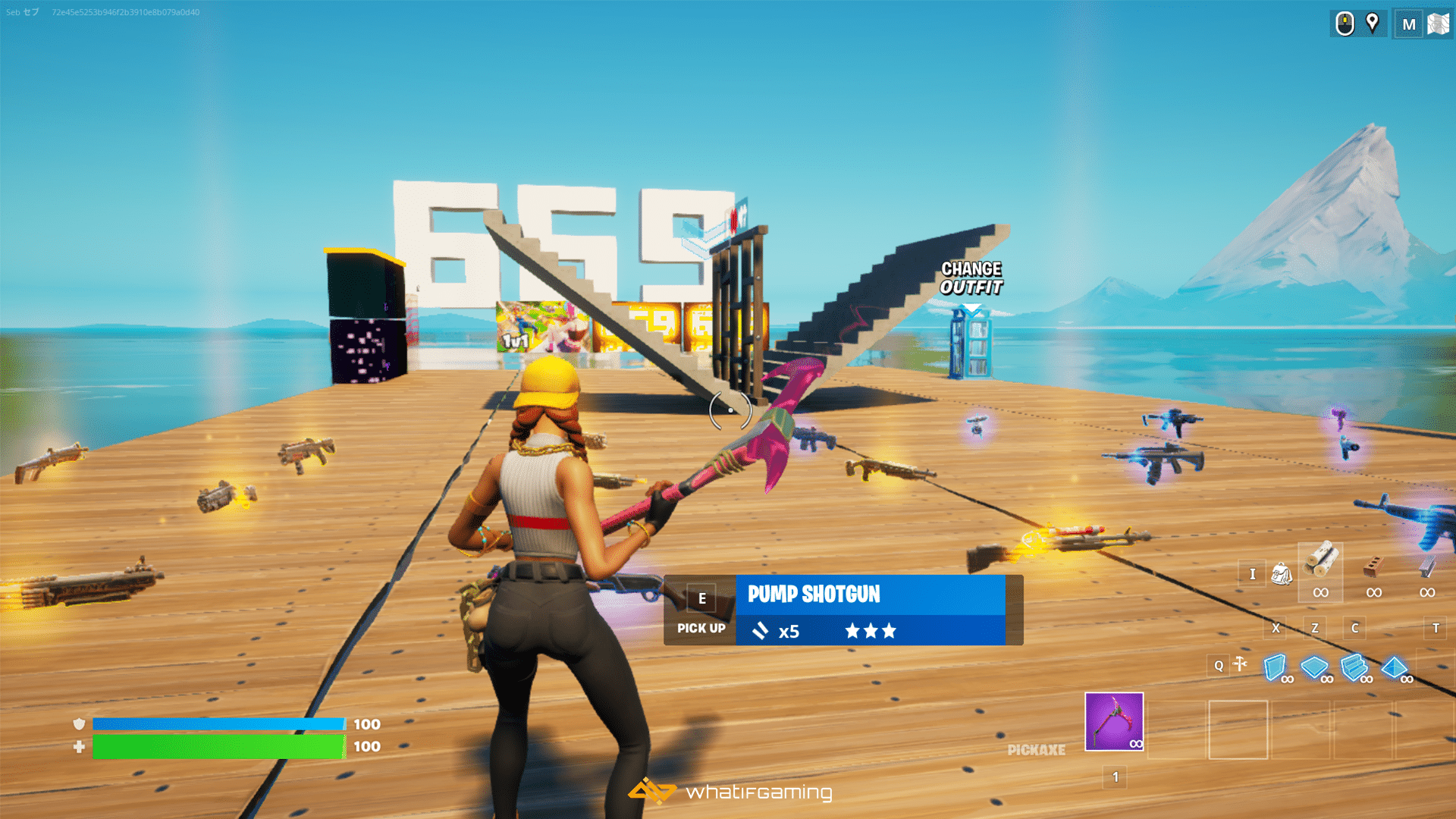 Map Code: 7149-8291-0915
669 CLAN Map Build Fight is a great 1v1 Fortnite map that receives regular updates.
It has zero delay in gameplay, which is crucial in any online shooter. This lets you focus on eliminating your opponent and gives you peace of mind that what you see on the screen is happening in real time.
The option to choose between 175 HP and 200 HP is a great addition, which allows players to tailor the game based on their skill level and playstyle preference.
Conclusion
The 1v1 maps included above offer an exciting array of challenges and experiences. Whether you seek intense battles, skill development, or just want to have fun, we make sure there's a map to suit your taste.
Get ready to test your skills and face fierce competition with these fantastic 1v1 Fortnite map options.