Technology is rapidly evolving and we've seen a lot of gaming setups withstand graphical changes through the years. Also, with streaming becoming a norm since the pandemic, we've seen other content creators step up their game.
Despite a lot of advancements, 2016 graphics cards such as an Nvidia GTX 1060 can still play popular game titles. Looking at the recent benchmarks, you could still play the latest AAA titles on medium to high settings in 1080P.
However, if you're that person who's seeking the best gaming setup and you're looking for either an inspiration or an upgrade amidst the shortage of graphics cards that we're still experiencing up to this day, then you've come to the right place.
Are you looking for a gaming rig that can help you be better at popular FPS titles such as Valorant? Or maybe you're seeking a minimalistic build that gives you monster performance?
What about a build that can give you a great console gaming experience that you can get immersed in popular horror titles such as Resident Evil: Village? Fancy in a Mac and PC combo setup? We got you covered!
Here's a huge list for you to explore and we're not focusing on PC gaming setup alone because we're also going to take a look at console setups as well as hybrid setups if you prefer the best of both worlds.
It's up to you to rank for yourself which of these rigs would suit your personality ranging from casual to hardcore monster builds.
Spidey-Themed Gaming Setup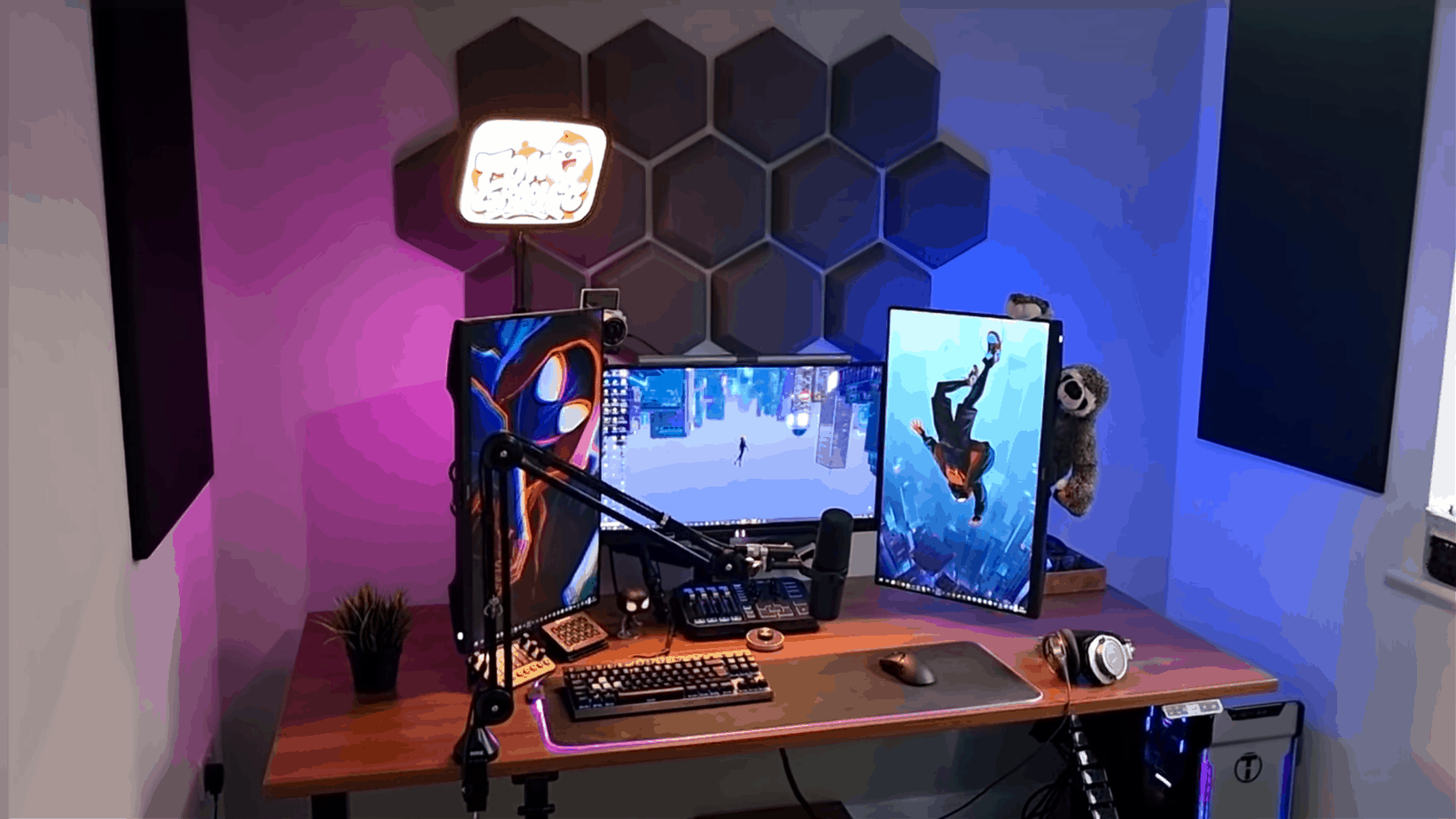 First on this list is a monster build from Tomographic where he has a triple monitor setup with the left and right monitors displayed vertically. Adding those Spiderman wallpapers definitely gives a nice touch to this gaming rig.
As far as the specs go it's actually powerful enough to do 4K gaming however according to Tomographic, he might go for another PC dedicated for streaming since one machine might not be enough to let him do multitasking, especially for high demanding games.
He does stream while recording and also posts a lot of Call of Duty: Warzone content over his YouTube channel. So it's understandable why he would consider adding another PC dedicated to streaming for distributing the processing workload.
Another great addition to this gaming setup is that he used a standing desk, and it's so sturdy that it could even lift him up.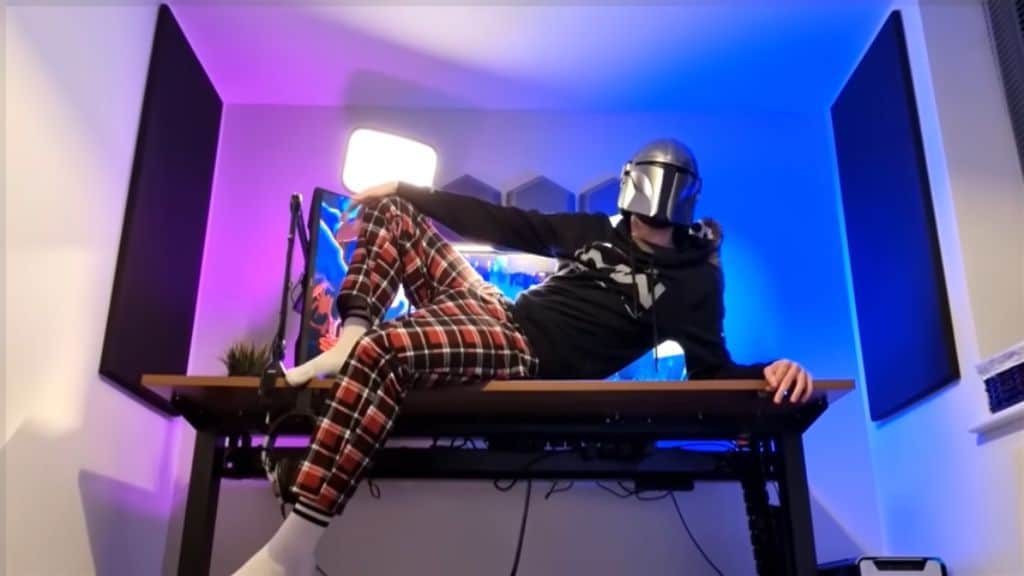 The streaming and audio gadgets included in this setup are also top-notch and a musician's dream to have a TC Helicon GoXLR.
He even has a foot pedal switch to control his Discord voice chat as well as a cycling machine underneath the desk for exercising while working. You can watch his video below for more information about this ultimate PC gaming setup.
Gaming Rig Specs:
Intel i9-7900X
32GB RAM
Nvidia GeForce RTX 3080
2x Samsung 860 EVO 2TB SSD
Samsung 850 EVO 500GB SSD
Seagate 6GB External HDD
Peripherals:
HP Omen X 27″ 240Hz Monitor
2x BENQ GW2780 27″ 1080P 76Hz Monitors
Corsair K65 LUX RGB TKL Keyboard
Razer Viper Ultimate Wireless Mouse
Audio-Technica ATH-M50X
Elgato Streamdeck
Loupedeck Live
TC Helicon GoXLR
Herman Miller Aeron Chair
Shure SM7B
Sony A5100
Aputure MC RGB LED
Razer x IKEA Build Combo
We never thought putting Razer and IKEA in the same sentence as this black and white gaming build from TechBlock caught our attention (and we have more of these to feature so stick around).
If you've been following his YouTube channel, you'll see his massive obsession with IKEA Linnmon tabletops and he's made a series of videos on how he has transformed his gaming rig through multiple iterations.
This dream gaming build is for you especially if you're a fan of IKEA products. You can watch how he was able to create this IKEA desk for his Razer setup below.
Gaming Rig Specs:
AMD Ryzen 9 3950X 16-Core, 32-Thread Desktop Processor
MSI Godlike AM4 AMD X570 ATX DDR4-SDRAM Motherboard
ENERMAX LIQMAX III ARGB 360
MSI RTX 3090 Gaming X Trio
G.SKILL 64GB Trident Z Neo
1TB ADATA XPG S40G RGB
2TB T-FORCE CARDEA ZERO Z440
1TB ADATA XPG SX8200 PRO
RAZER Chroma ARGB Controller
Razer Tomahawk ATX
Peripherals:
Razer Raptor 27″
Razer Iskur Chair
MSI Optix 27″ MAG272CQR
Razer BlackShark V2 Pro
Creative Sound BlasterX Katana
Elgato Stream Deck
Nanoleaf Canvas
Philips Hue Play LED Light Bars
Razer Kiyo
Razer BlackWidow V3
Razer Basilisk Ultimate
Yeelight LED Lightstrip 1S
IKEA Linnmon Desk
IKEA Linnmon Corner Desk
Solar-Powered Gaming Van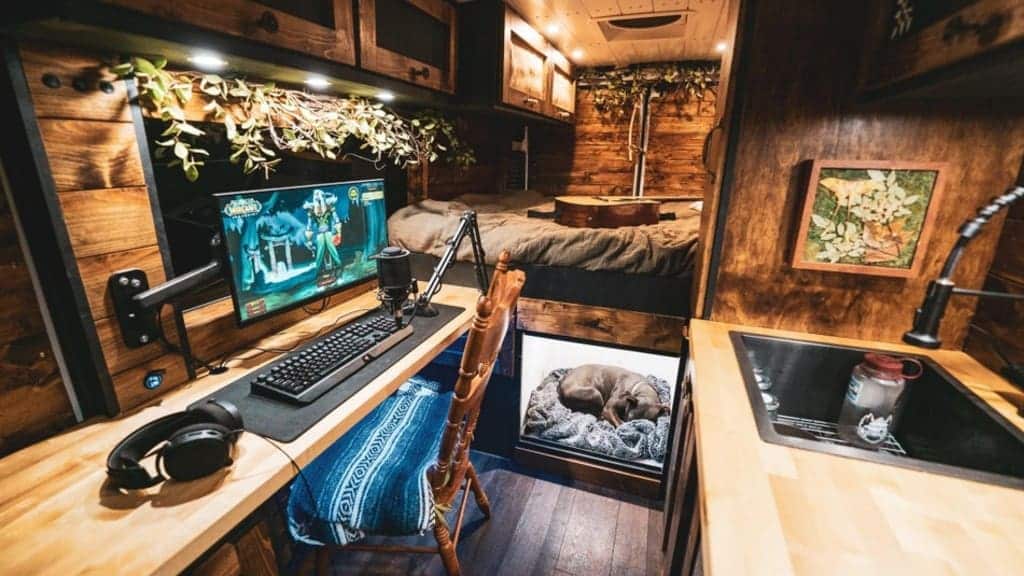 Ever dreamed of traveling and gaming at the same time? This mobile gaming setup is probably the most unique that we've seen so far this year.
Who would've thought that you could fit a gaming rig inside a Ram Promaster 2021? Well, TTTHEFINEPRINTTT made it possible and if you're suddenly curious about what else is inside his portable home, you could check his video out here.
You might be curious about what he does for a living and how he's able to sustain his passion for gaming. He actually has an additional Mac Mini M1 well hidden inside his station where he uses it for work and you can watch this video as he explains more about his gaming setup.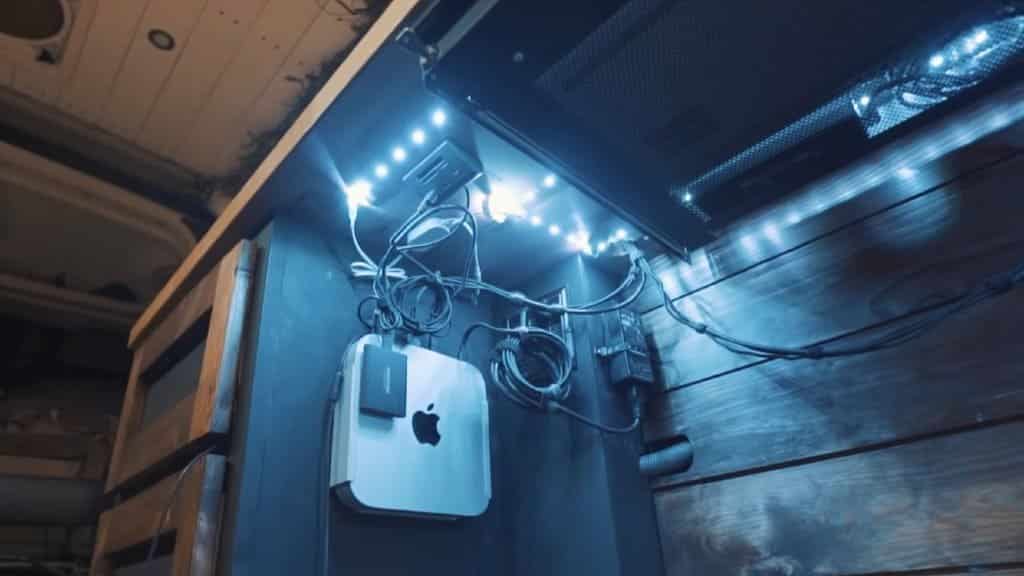 From a Reddit post that went viral with over 30,000 upvotes, this battlewagon is starting to getting much love and attention.
15″ Razer Blade Laptop
Intel Core i7-10750H
Nvidia GeForce RTX 2070 with Max-Q
16GB RAM
512GB SSD
Peripherals:
MSI OPTIX G241 24″ FHD 144Hz Gaming Monitor
GK61 Mechanical Keyboard
Razer DeathAdder Gaming Mouse
Audio-Technica AT-2020
If you're a traveler yourself and a big fan of minimalist setups, this van setup definitely deserves to be on the list.
A Monster Gaming TV Setup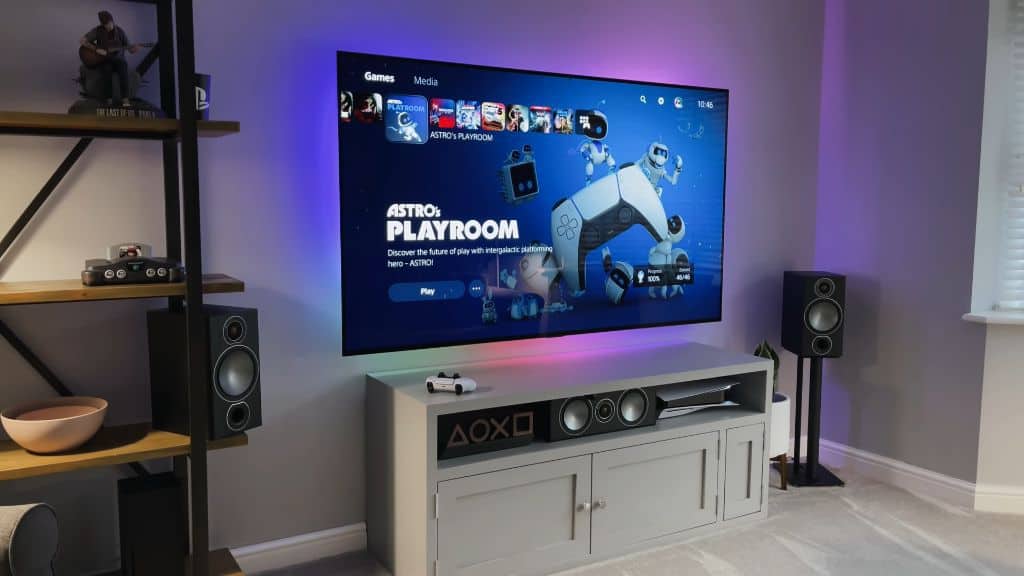 We're taking a break for a bit with the PC master race builds. As mentioned at the start of this article, we didn't want to limit ourselves to showcasing a great computer setup. So here's one of the cool gaming setups that we came across and it's this clean entertainment room from SpawnPoiint.
What's nice about this gaming console setup is that he managed to put in an LG C1 77″ OLED TV. The extra shelf space to tuck away his consoles also has a nice touch just in case he just wants to focus on Netflix and chill rather than gaming.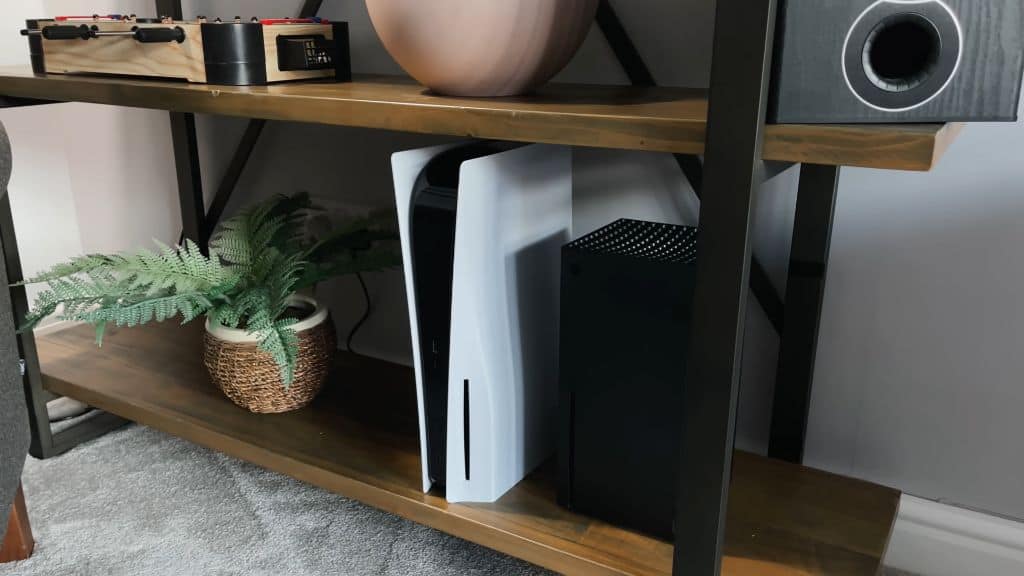 This setup might be an overkill to some but if you do have that extra money to spare, you could go for this premium console gaming setup or you could opt for the other setups that we're featuring on this list.
Consoles:
PlayStation 5
Xbox Series X
Peripherals:
LG C1 77″ OLED
White Planter with Legs by M&S
LIFX Z Led Strip Starter Kit
Monitor Audio Bronze Speakers
Monitor Audio Bronze Center Speaker
Onkyo TX-NR696 AVR
Mission Stancette Speaker Stand – Black (Pair)
ROFAVEZCO 4K HDMI Splitter 4K 60Hz HDR
Wooden PlayStation Button Blocks by Geek Made Designs
The Ultimate Small Room Setup
Aside from the van gaming arrangement that we featured on this list, there are also amazing PC gaming setups that are built around small spaces and this is one of them. And if you thought that this is the only area that Scorpio Tech has to offer in his 5.9 square foot room, think again.
The amount of gear that this small room has and the attention to detail are insane. If you observed the TV area shelves have color-coded lights that match the console theme (e.g. green for Xbox and blue for PlayStation)
The IKEA PC desk also gives a nice touch to the room and here are the essential gears of the two gaming areas that we saw.
Gaming Rig Specs:
Intel i9-9990K 5GHz
ASUS ROG STRIX RTX 3080 10GB
Corsair Vengeance RGB PRO 32GB
Asus Prime Z390-A Motherboard
Samsung EVO Plus NVME 1TB
WD Black 6TB HDD
Corsair RM 650x PSU
NZXT Kraken X62 Cooler
Corsair Crystal 570x
Corsair LL120s and LL140s
Peripherals:
Nanoleaf Light Panels
Govee Dreamcolour LED Strip
Autonomous ErgoChair 2
Logitech C920
RODE NT-USB Microphone
Gamakay K66/Womier K66 Keyboard
Razer Basilisk Mercury Mouse
Beyerdynamic DT 990 PRO Headset
IKEA Linnmon Desktop
IKEA Alex Drawers
IKEA Mosslanda Shelves
TV Area:
Samsung UE55NU7470 (55″ 4K Ultra HD HDR LED)
Samsung HW-K450 2.1 Wireless Sound Bar
Xbox Series X
PlayStation 5
We also didn't mention the tons of Funko Pops that this room has along with his other novelty tech items that you can find in his bedroom. You can watch his video for a more detailed breakdown.
Futuristic Gaming Room
This next featured setup shows off a mix of a Gigabyte and Corsair-powered command center. Not only does Tech Tesseract have this massive RGB showcase but also he has a clean Razer work area.
Since he also does a lot of tech reviews, he has a spare computer case where he tinkers around with building custom gaming specs. Here's a breakdown of his main PC gaming rig.
Command Center PC Specs:
AMD Ryzen 9 3950X 16-Core CPU
Gigabyte GeForce RTX 3070 Vision OC 8G Graphics Card
Gigabyte B550 Vision D Motherboard
Kingston SQ500S37/960G Q500 SSD
Corsair LL120 RGB LED Fan
Corsair CX650F 750W RGB Power Supply
Lian Li Galahad 360 GA360B CPU Cooler
JONSBO MechWarrior MOD-3 Gaming Computer Case
Command Center Peripherals:
Alienware AW3420DW Curved WQHD 3440 X 1440 120Hz 34″ Monitor
ASUS VN279QL 27″ Full HD 1920×1080 Monitors
Alienware AW510H Headset and AW510 Keyboard
Alienware Wired/Wireless Gaming Mouse 610M-Light
Elgato Stream Deck
Secret Lab Titan Gaming Chair
Panasonic Lumix G7 4K Digital Mirrorless Camera
RODE NT1 Microphone
Cololight LED Hexagons
Nanoleaf Rhythm Edition Smarter Kit – NL28-2003TW-9PK
Since Tech Tesseract often modifies his Antec Dark Phantom case with different gaming specs over at the Razer area, we decided to cover the peripherals that he currently has over at his work area instead.
Work Area Gear:
Razer BlackWidow Lite TKL Tenkeyless Mechanical Keyboard
Razer Viper Ultimate Lightest Wireless Gaming Mouse & RGB Charging Dock
Razer Base Station Chroma Headphone/Headset Stand w/ USB Hub
BOSE NC700 Headphones
Xbox Controller
Lava Me 2 Guitar
Govee Strip Lights
If this setup overwhelms you, wait 'til you see the next ones on this list. But we're going to take a step back and look at some underrated setups.
Less Is More: A PS5 x MacBook M1 Minimalist Setup
An ultimate setup doesn't necessarily mean flashing more stuff but this sleek and stylish gaming and working area from tech and lifestyle YouTuber ktechcan definitely caught our eye. Sporting a good amount of IKEA furniture, this setup is a haven for minimalists out there.
Another great feature about this setup is how he discreetly handles I/O, storage, and cable management as he created a custom SSD enclosure and USB hub at the back of his television.
Minimalist Gear:
13″ MacBook Air M1 (2020) 256GB + 8GB RAM
Samsung EVO Plus 970 SSD
LG 32UL950-W 32″ Class Ultrafine 4K UHD LED Monitor w/ Thunderbolt 3
Bias Lighting (at the back of the monitor display)
Audio-Technica ATH-M50X Professional Studio Monitor Headphones
Apple Magic Wireless Keyboard with Numeric Keypad
Logitech G604 Lightspeed Wireless Gaming Mouse
Uncrowned Kings Desk Pad – 35.4″ X 17.7″ Premium Home Office Desk Mat
Twelve South Curve for MacBooks and Laptops
IKEA Setup:
Säljan Kitchen Counter Top
Alex Drawers
Fjällbo Shelf
If you're not a fan of Apple, you could always replace the MacBook with your preferred monster gaming laptop. Overall, the cleanliness of this setup makes a good escape from distractions and lets you focus on being productive at work aside from playing your favorite Sony titles.
A Tiny But Powerful Gaming Loft
Here's a small loft-type gaming room made by rising YouTuber DIY Tatay Dan from the Philippines. A licensed civil engineer and a woodworking hobbyist, Tatay Dan has been making noise this year and his latest YouTube video reached over 10 million views.
Exploring his YouTube channel, you would also see plenty of DIY projects and he shows you behind the scenes of the building process and everything from start to finish.
Just look at how he gradually transformed this small space…
…into this!
Imagine waking up in the morning from your bunk bed and you immediately turn on your PC and have games for breakfast. Talk about living the dream.
ASUS TUF Gaming Laptop, 15.6" 120Hz
TUF505DU-EB74 Model
AMD Ryzen 7 3750H
Nvidia GeForce GTX 1660 Ti
16GB DDR4 RAM
256GB PCIe SSD + 1TB HDD
Gigabit WiFi 5, Windows 10 Home
Peripherals:
ASUS TUF Gaming VG279Q1A 27" Gaming Monitor, 1080P Full HD, 165Hz
Havit RGB Laptop Cooling Pad for 12″-17″ Laptop w/ 4 Quiet Cooling Fans
Redragon M602 RGB Wired Gaming Mouse
INSMART Computer Speakers w/ RGB Light USB Powered Gaming Speakers
AKRacing Core Series EX Gaming Chair
You might think at first glance that this space is only meant for PC gaming but if we look closely there's actually a console gaming area right beside this room setup.
If this build isn't enough for you to get inspired, check out his latest loft build which now includes Amazon Alexa's voice control.
This gaming setup displays great woodwork and space management. You can even flex your toy collection in here without the feeling of being cramped.
Make Cables Magically Disappear With This IKEA Build
One of the most frustrating parts of creating a gaming PC setup is cable management and this YouTuber found a lazy but effective way of taking care of the clutter.
And you guessed it — IKEA saves the day once again. He used a Linnmon table top as a fake wall to hide the cable mess.
The Video Nerd also proves to us that you don't need to get the massive RTX 3080 cards for a good gaming experience. In fact, his rig only uses an RTX 2070 is more than enough to withstand future games at least for the next couple of years.
Budget Streaming PC Specs:
AMD Ryzen 5 3600
G.Skill RipJaws V Series 16GB RAM
Samsung 970 EVO Plus NVMe SSD
EVGA Nvidia RTX 2070 Super
Gigabyte X570 UD Motherboard
NZXT H510 Computer Case
Corsair RM650x Fully Modular Power Supply
IKEA Desk Parts:
Micke Drawer
Karlby Countertop
Linnmon (or Lagkapten) Tabletop for the fake wall
Peripherals:
LG 38GN950-B 38" Ultragear Curved 144Hz HDR 600 Monitor with G-SYNC
Corsair K95 RGB Platinum Mechanical Gaming Keyboard
Corsair Gaming SCIMITAR Pro RGB Gaming Mouse
HyperX FURY S – Pro Gaming Mouse Pad (Large)
SteelSeries Arctis 7 (2019 Edition) Lossless Wireless Gaming Headset with DTS
Elgato Key Light
Rode Procaster Broadcast Dynamic Vocal Microphone
Cloud Microphones Cloudlifter CL-1 Mic Activator
TC-Helicon GoXLR Mini
Feel free to watch the video below and see the unfolding of this clean gaming setup from The Video Nerd. He did a lot of tinkering with the IKEA parts so you should have an idea of what to do if you decide with going this route.
This PC is also probably one of the most affordable premium builds out there if you want to get the best of AAA gaming in 1080p while getting the bang for your buck.
MacBook Pro M1 x Gaming Room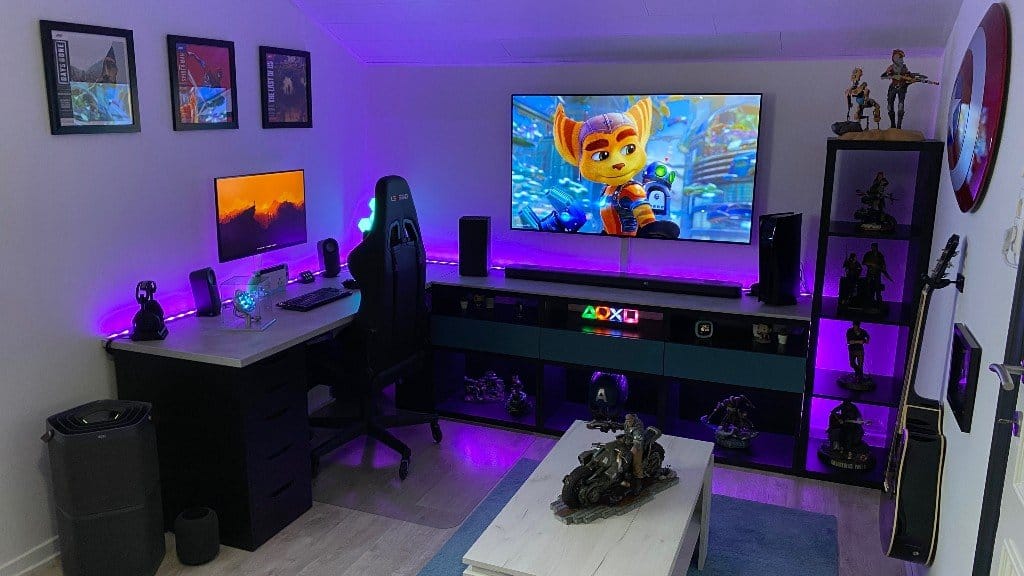 Here's another bonus from the list — a rare gaming room that we found over at Reddit where this user perfectly integrated his Macbook Pro M1 setup to the mix. The decorations look so organized as well and the lighting is well balanced with the room.
Wondering how he got the rest of his stuff? We reached out to him over at Reddit and he gave us a comprehensive write-up of his entire setup which you can also read here. But here are the ultimate gaming essentials that we've picked up from his list.
Desk Setup:
13″ MacBook Pro M1 (2020) 256GB with external 2TB HDD
LG 27UL850 4K/60 monitor with HDR
Logitech Z407 speakers
Elgato Streamdeck Mini
Nintendo Switch
Logitech G915 TKL Keyboard
G502 Lightspeed mouse
Apple Magic Trackpad 2
Oculus Quest 128GB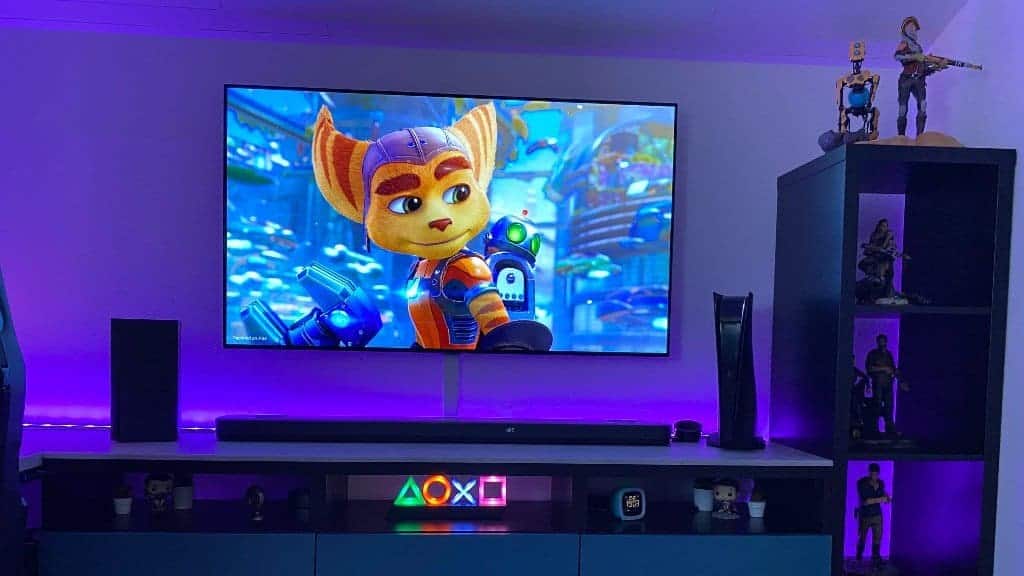 TV Setup:
LG 55″ OLED C8 (4K, HDR, Dolby Vision)
LG SK9Y Soundbar (Dolby Atmos)
PlayStation 5
Xbox Series X
Nvidia Shield TV Pro
Peripherals and other nice to haves:
Astro A50 (4th Gen)
Logitech Harmony Smart Remote
Gaming chair Legend from Jysk
Philips Hue light strips
Apple Homepod
AEG Air purifier
The Great Green Room Makeover
TechSource is a popular tech YouTube channel with over 3 million subscribers known for its Setup Wars series and we were treated to a build where he surprised a 14-year old boy by giving him a room makeover by transforming it into a gaming paradise.
We got to appreciate how his room was before it changed. Talk about being the luckiest kid on the planet.
As far as cable management goes, remember the IKEA Linnmon wallhack that The Video Nerd did for his setup? TechSource hid the wires neatly behind the headboard.
Gaming PC Specs:
EK AIO Elite 360 AIO
Ryzen 7 3700X
Aorus X570 Xtreme Motherboard
Gigabyte RTX 3080 Vision
Aorus M.2 Gen4 2TB SSD
Thermaltake Toughram RGB 32GB (3200mhz)
Nvidia GeForce RTX 2080Ti
Lian Li PC-O11 Dyanmic XL White
Lian Li ST120 RGB Fans
Corsair RMX 850W PSU
Primochill 120mm Aluminum Fan Cover (White)
Custom Cablemod Cables
Peripherals:
IKEA Ekbacken Countertop
Gigabyte G27QC 27″ 165Hz Monitor
Taotronics Soundbar
Aorus K1 Gaming Keyboard
Aorus M5 Gaming Mouse
Aorus M5 Gaming Mous
InnoGear Microphone Boom Arm
Rode Broadcaster Microphone
Rode A1 Audio Interface
He definitely deserves this build and he's got some mad skills on Rainbow Six Siege too! You can watch this special episode from the TechSource YouTube channel. Game on kid!
The Ultimate Overkill Gaming and Streaming Station
Last but not the least, we managed to discover this one hell of an ultimate gaming setup from Nano Tech in 2021.
A huge standing desk, two monster PCs where one is dedicated for gaming and the other for streaming and editing, plus console and mobile gaming compatibility with easy stream switching in 4K resolution, what more can you ask for?
If there were enough graphic cards for everyone he could've gotten the RTX 3090 too for his streaming and editing rig.
Amidst the current graphic card shortage, at least he was able to secure one for his gaming PC and it looks like he's in for the long haul. Just look at this Goku flexing!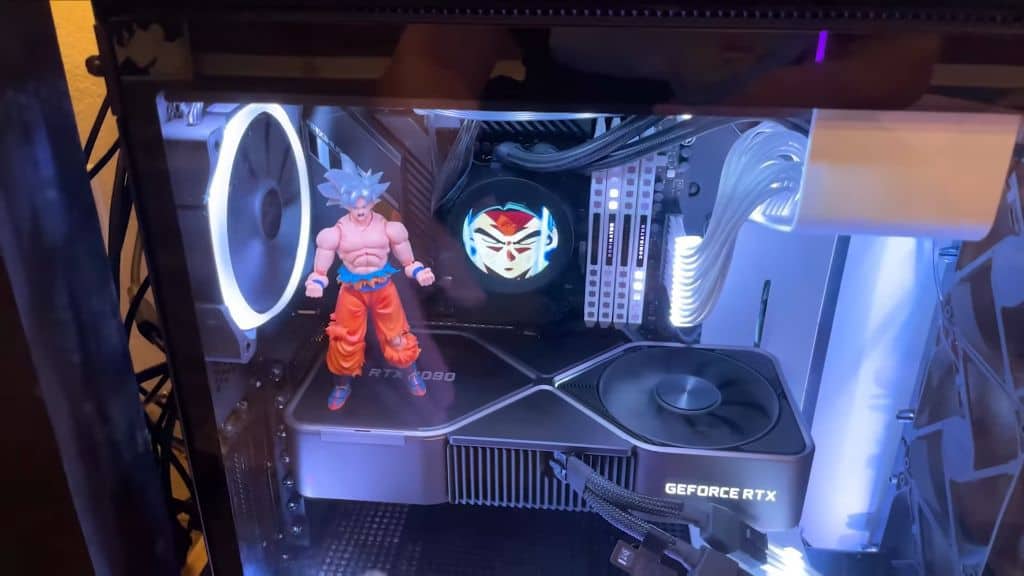 Streaming PC Specs:
Lian Li 011 Dynamic Case
AMD Threadripper 3970x
MSI Creator TRX40
Corsair Dominator Platinum 128GB 3600 RAM
Antec Sleeved Cables
Corsair LL120 Fans
Nvidia GeForce RTX 2080Ti
Gaming PC Specs:
NZXT H710i
Intel Core i9-10900K
ASUS ROG Maximus XII Hero Z490
CORSAIR Dominator Platinum RGB 64GB
NZXT Kraken Z73 360mm AIO RGB CPU Liquid Cooler
Nvidia GeForce RTX 3090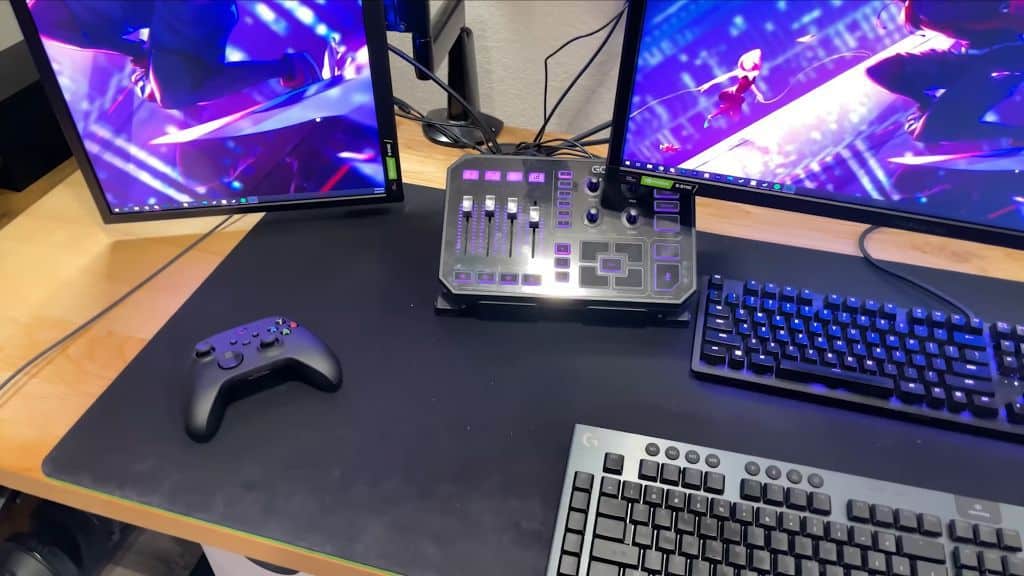 Peripherals:
Acer Predator XB273K Monitors
LG CX 48″ TV
G502 LightSpeed Wireless Gaming Mouse
G915 LightSpeed Wireless Mechanical Gaming Keyboard
Razer Naga Pro Wireless Mouse
Razer Huntsman Keyboard
TC Helicon GoXLR
Creative Sound Blaster X7
Audioengine A2+ Speakers
Audioengine 8″ Sub
Herman Miller Embody Chair
Shure SM7B
The Ultimate Streaming Gears:
Elgato Stream Deck
Elgato Key Lights
Elgato 4K 60 Pro Mk.2 Capture Card
Avermedia Live Gamer 4K Capture Card
Panasonic Lumix GH4 Camera
Olympus M.Zuiko Digital ED 12-40mm F2.8 Lens
What piqued our interest the most while watching the tour was his stream routing workflow so he also showed us his J-Tech switchers and here's what he uses:
J-Tech Digital HDMI Audio Extractor And Switcher
J-Tech Digital Premium Quality SPDIF TOSLINK Digital Optical Audio 4×2
J-Tech Digital HDMI 2.0 Splitter
And of all the PC rigs that we unveiled in this list, he's the only one who has this unique feature in a gaming and streaming PC combo setup.
Watch as Nano Tech passionately explains his crazy setup and trust us, you'll get a lot of advice and ideas when it comes to his gaming and streaming workflow especially for those who want to go this extreme route.
Plus he has a surprise for you guys at the end of the video so be prepared to get your jaws dropping at this insane setup.
And that wraps up our ultimate list!
We hope your eyes got satisfied and you've drawn enough inspiration to design and build your own gaming kingdom. You don't have to hoard everything on this list, just get the essential ones enough to jumpstart your gaming journey.
Let us know in the comments what setup you liked best and if you're planning to get any of these gears on this list.