Technology is rapidly evolving and we've seen a lot of gaming setups withstand graphical changes through the years. Also, with streaming becoming a norm since the pandemic, we've seen other content creators step up their game.
Last year has been a crazy ride for NFT games and unfortunately, it looks like the graphic card shortage is still going to be a problem this 2022.
But don't lose hope, if you're that person who's seeking the best gaming setup and you're looking for inspiration or upgrades that you might need for your rig, then you've come to the right place!
Here's a fresh list for you to explore and what we've noticed for this year is that majority of streamers and content creators these days are going for the minimalistic look.
This is probably because of the fact that a lot of us have been working from home because of the COVID-19 pandemic and most people have gotten creative in sprucing up their spaces for where they work and play.
It's up to you to rank for yourself which of these rigs would suit your personality ranging from casual to hardcore monster builds.
Big E Ultimate ASUS Gaming Setup
Some people are lucky to have the budget to pull off a hybrid setup and here's a $35,000 build from Big E where he separates his work and content creation setup from his gaming setup.
Gaming PC Specs
Intel Core i7-8700K
ASUS ROG STRIX GeForce RTX 2080TI-O11G
SAMSUNG 970 EVO SSD 500GB M.2 NVMe
ASUS ROG STRIX 850W White Edition PSU
ASUS ROG Ryujin 240 RGB AIO Liquid CPU Cooler 240mm Radiator
ASUS TUF Gaming GT501 Mid-Tower Computer Case
Peripherals
ASUS TUF Gaming 27″ 1440P HDR Curved Monitor (VG27WQ1B)
ASUS ROG Strix 27" 4K HDR 144Hz DSC Gaming Monitor (XG27UQR)
Drop Carina Mechanical Keyboard Kit
Logitech G Pro Wireless Gaming Mouse
Rodecaster
Rode PodMic
With the Apple M1 series rising in popularity, it's no surprise that other content creators such as Big E are investing in these types of monster machines.
Watch his YouTube video below for a more in-depth tour of his content creation and gaming studio.
An 18 Year Old's Dream
Here's a nice and clean white setup we found from Cole Caccamise, a very underrated tech YouTuber where he shares his desk setup used for content creation, games, and work for his other passions such as web development.
We actually hung around his YouTube channel for a bit and we saw that he also did a quick gaming test on his 16″ MacBook Pro. You can also watch it here in case you're curious.
Gaming PC Specs
Intel Core i7 12700k
Crucial Ballistix 32GB 4400Mhz DDR4
CoolerMaster 850W SFX PSU
CoolerMaster NR200P
Gigabyte DDR4 ITX Motherboard for Z690
EVGA RTX 3070 XC3 ULTRA
Noctua NH-U12S Redux Air Cooler
Noctua NF-P12 Redux Extra Fans for Top
Peripherals
Samsung Odyssey G7 4K Monitor
BenQ ScreenBar Halo
Logitech G Pro X Superlight
Pulsar SuperGlide Glass Mouse Skates
Odin Zero Gravity Mousepad
Xtrfy H1 Pro
Mode 65 Custom Keyboard
Gateron Oil Kings Switches
Infinity Cow Switches
Check out his video and see all of his other nice-to-have accessories along with this beautiful setup.
Like what his wallpaper says, "Stop stressin', just create", learn more about his detailed setup below.
Dual PC Minimalist Game & Stream Setup
Spratt is a Call of Duty content creator and here is his gaming, streaming, and work from home setup from his new house. One thing that we loved about this desk setup aside from how clean it is, you wouldn't notice that he has a PlayStation 5 as part of his setup.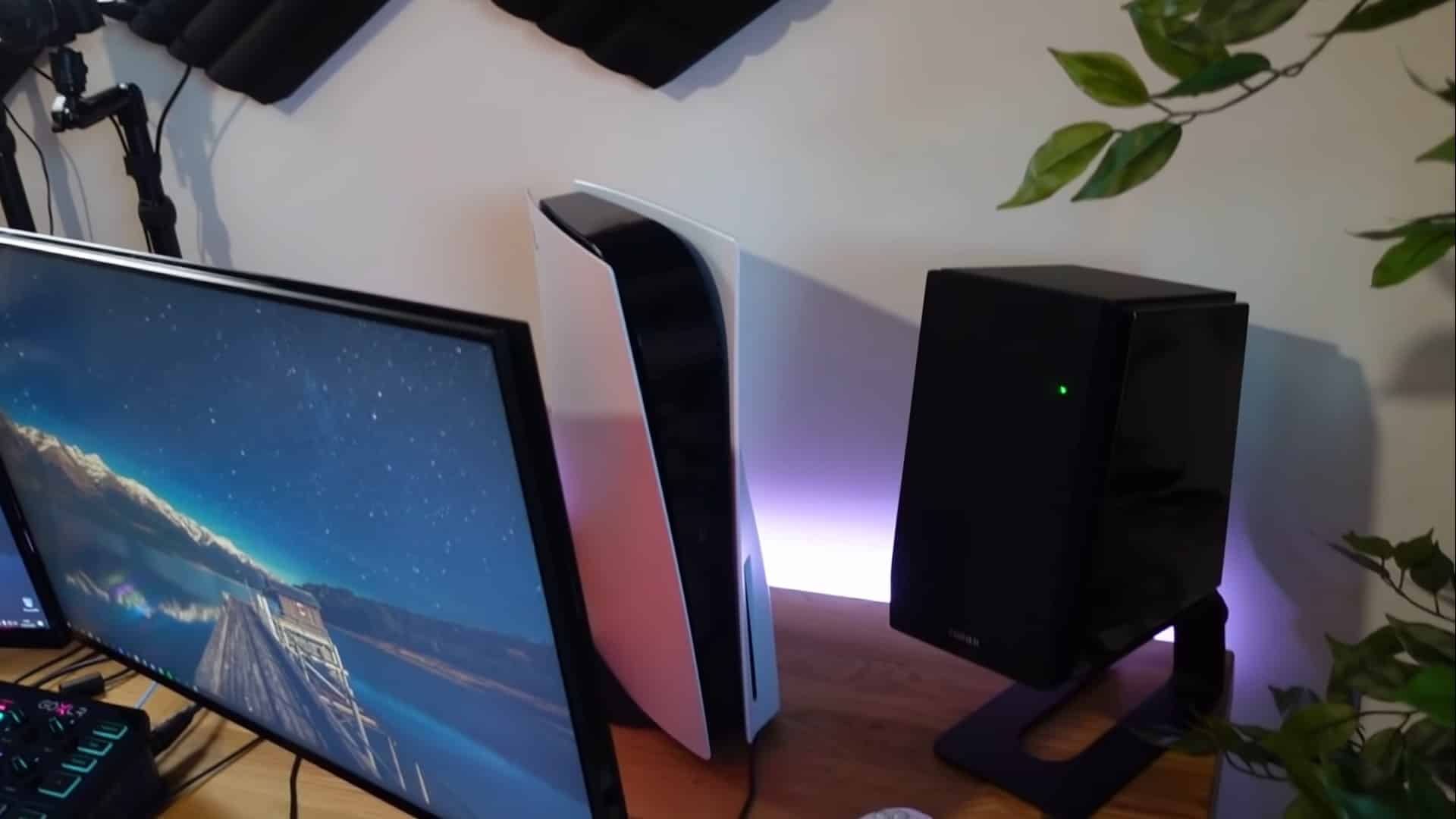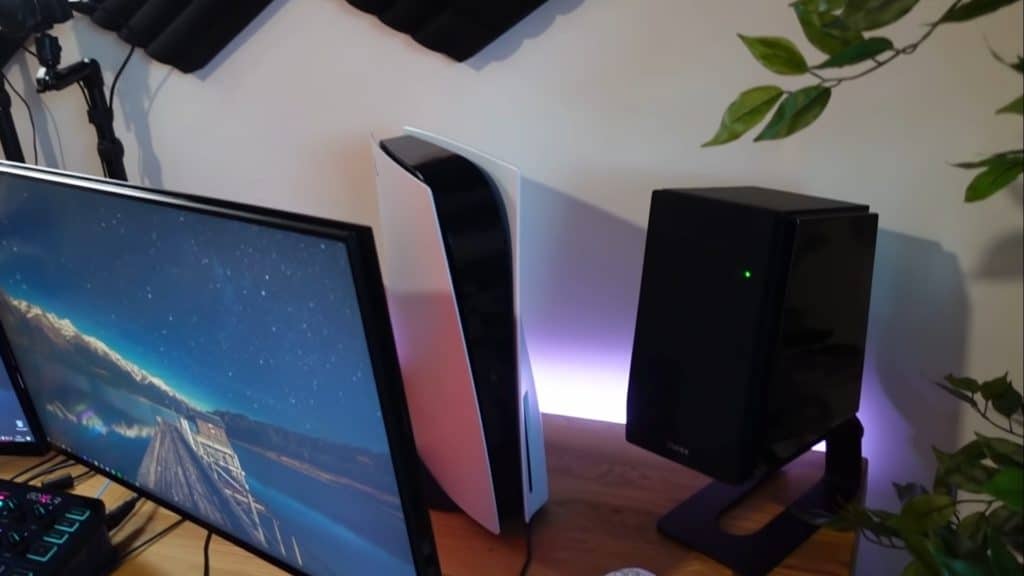 Some might get turned off by the cable management as he brings it up during his setup tour video but nonetheless, this is one of the best gaming setups that we've seen on this list.
Gaming PC Specs
Lian-Li PC-O11 Dynamic XL Black Case
Intel Core i9-10900K Processor
MSI GeForce RTX 3090 Graphics Card
2TB Samsung 980 Pro M.2 SSD 32GB
HyperX Predator RAM – DDR4 @
4000MHz
ASUS ROG Z490 MAXIMUS XII HERO Motherboard
4TB Samsung 870 QVO SSD
Corsair AX1600i PSU
NZXT Kraken Z73 360mm Liquid Cooling System
Streaming PC Specs
NZXT H700 Mid-Tower Gaming Case
Intel Core i9-9920X Processor
GeForce RTX 3080 Graphics Card
512GB Samsung 970 Pro M.2 SSD
32GB Corsair Vengeance Pro RGB – DDR4 @ 3200mhz
ASUS Prime X299 Deluxe II Motherboard
2TB Samsung 860 EVO SSD
Corsair HX1000i PSU
Corsair Hydro Series H150i Pro Cooling System
Peripherals
27″ LG UltraGear 27GN950-B Curved Gaming Monitor 144Hz
27″ LG UltraGear 27GL83A-B Gaming Monitor 144Hz
HUANUO Dual Monitor Stand
TC Helicon GoXLR
Sony A6300 Camera
Elgato Stream Deck
SCUF Controller
ASTRO A40 TR Headset
Shure SM7B Microphone
Elgato Key Light
Elgato Wave Mic Arm LP
Logitech G915 LIGHTSPEED TKL Tenkeyless Wireless Mechanical Gaming Keyboard
Logitech G840 XL Cloth Gaming Mouse Pad
Logitech G PRO Wireless Gaming Mouse
Edifier R1800BT
Herman Miller Lino Office Chair
Oak Furnitureland Cantilever 6 Seater Natural Solid Oak Table
The Dyson and fake IKEA plant in the corner has a nice touch. Watch his gaming setup and room tour below.
Less Is More Gaming Space
Boss Lucio is one of the well-known stream coaches and tech review content creators in the Philippines and he amazes us with his small room setup where he maximized every space.
Rocking a two-monitor white and grey-themed PC gaming setup, we love the balance of putting a 3D and solid wall in his background to give his room more depth. Not to mention the RGB drop ceiling aesthetic that his interior designer did to make the room seem bigger.
Gaming PC Specs
Galax NVIDIA RTX 3060TI
32GB RAN
ROG STRIX X570 E-Gaming
Lian-Li 011-Dynamic
Lian-Li Unifans SL 120 X9
Samsung 970 EVO 1TB SSD
Seagate Barracuda 2TB HDD
Peripherals
Presonus Eris 3.5 Near Field Studio Monitor
Bezel 34HX270-S 34″ 144Hz IPS Gaming Monitor
ASUS TUF Gaming VG259QR 24″ 165Hz Full HD Monitor
ASUS ROG Strix Go Core Moonlight
ASUS ROG Keris Wireless FPS Gaming Mouse
Asus ROG Strix Impact II Gaming Mouse
ONAIR Heavy Duty Microphone Stand Adjustable Suspension Boom Arm
Elgato Wave 3
Elgato Streamdeck
AverMedia Nexus Live Streamer AX310
GamaKay LK67 RGB Gateron Switch Mechanical Keyboard
Check out his video and see how he was also able to sneak in his vlogging area plus all of his other awards and sponsored items that he has achieved in this small setup.
The Video Nerd Smart Streaming Setup
Here's a gaming and streaming setup by The Video Nerd where he went all out with his accessories. What's awesome about his $380 AZZA case is that it looks so futuristic and it's tucked away in the corner and you barely notice it.
You gotta appreciate how he was hands-on with setting up his IKEA desk.
Not to mention his monster storage for all his videos making his gaming setup a luxurious productivity setup as well.
Overall, The Video Nerd has pulled off a smart streaming and content creation setup thanks to these crazy upgrades.
Gaming PC Specs
Ryzen 9 3900X
NVIDIA RTX 2070 SUPER
Synology DiskStation DS1821+
Tridentz 64GB RAM
AZZA Cube Computer Case
Peripherals
LG 38GN950-B 38" Ultragear Curved WQHD+ Nano IPS 1ms 144Hz HDR 600 Monitor
LG 27UL500-W 27-Inch UHD (3840 x 2160) IPS Monitor with Radeon Freesync Technology and HDR10
Dell S2716DG LED with G Sync 27″ Gaming Computer Monitor
Elgato Stream Deck XL
Elgato Wave XLR
Glorious Model O Wireless Gaming Mouse
Corsair K95 RGB Platinum XT Mechanical Gaming Keyboard
ICY Box USB 3.0 Hub, 10 Port
Take a look at his video below for his step-by-step process on how he was able to pull this off. The cameras and PC case were overkill if you ask me.
Ultra Clean White Gaming Setup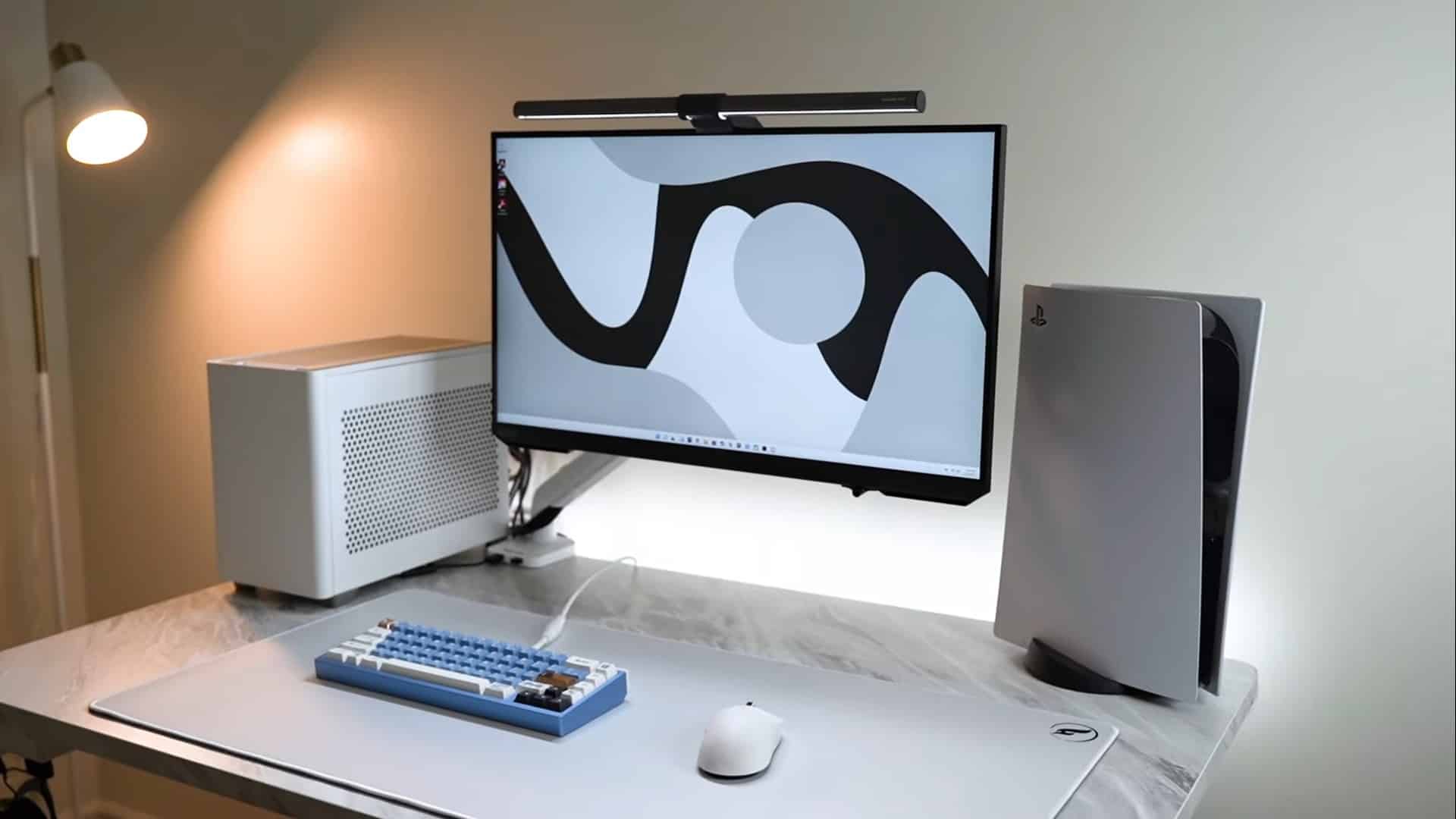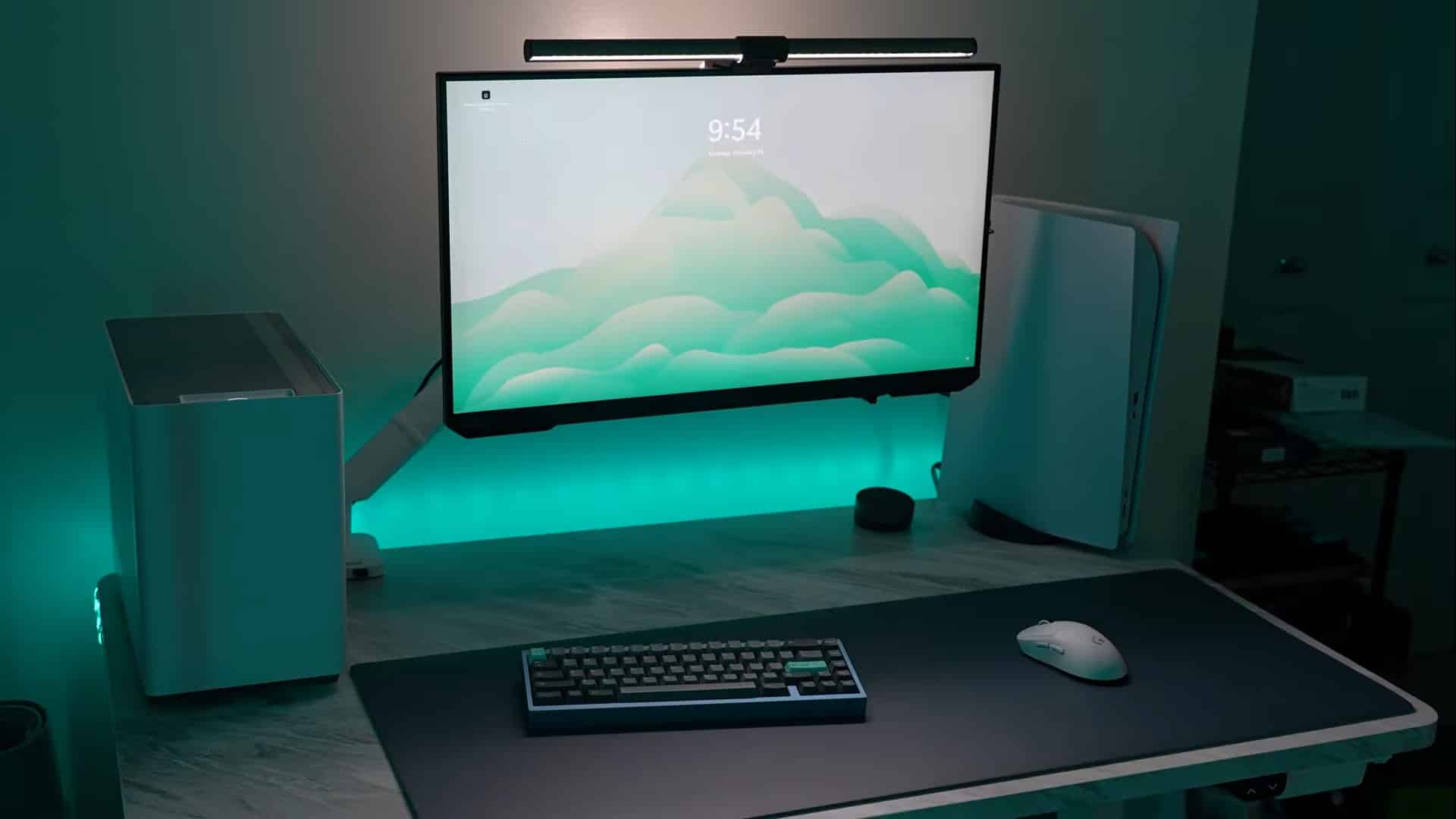 This minimalistic battle station has got to be one of the best gaming setups that we've seen so far from YouTuber Too Much Tech. We love the clean white finish that this setup brings. Not to mention that the mini-ITX build actually has an RTX 3070 inside.
Some people might be skeptical about the cooling but as long as your room has good ventilation, you wouldn't need to worry about overheating.
Gaming PC Specs
Crucial Ballistix 32GB 4400Mhz DDR4
CoolerMaster 850W SFX PSU
CoolerMaster NR200P
Gigabyte DDR4 ITX Motherboard for Z690
EVGA RTX 3070 XC3 ULTRA
Noctua NH-U12S Redux Air Cooler
Noctua NF-P12 Redux Extra Fans for Top
Peripherals
Samsung Odyssey G7 4K Monitor
BenQ ScreenBar Halo
Logitech G Pro X Superlight
Pulsar SuperGlide Glass Mouse Skates
Odin Zero Gravity Mousepad
Xtrfy H1 Pro
Mode 65 Custom Keyboard
Gateron Oil Kings Switches
Infinity Cow Switches
Check out his video and see all of his other nice-to-have accessories along with this beautiful setup.
Custom-Built Gaming & Content Creation Room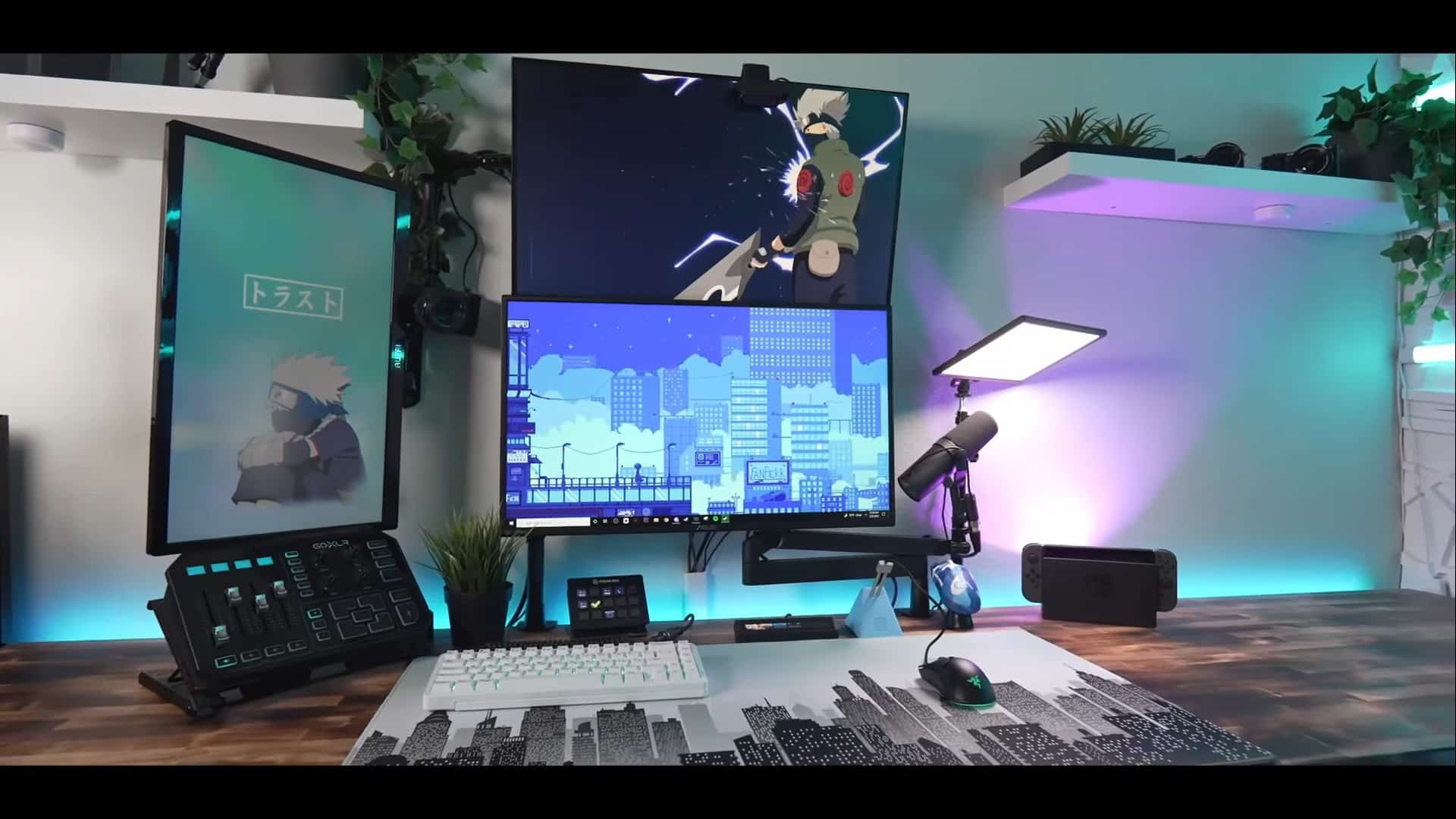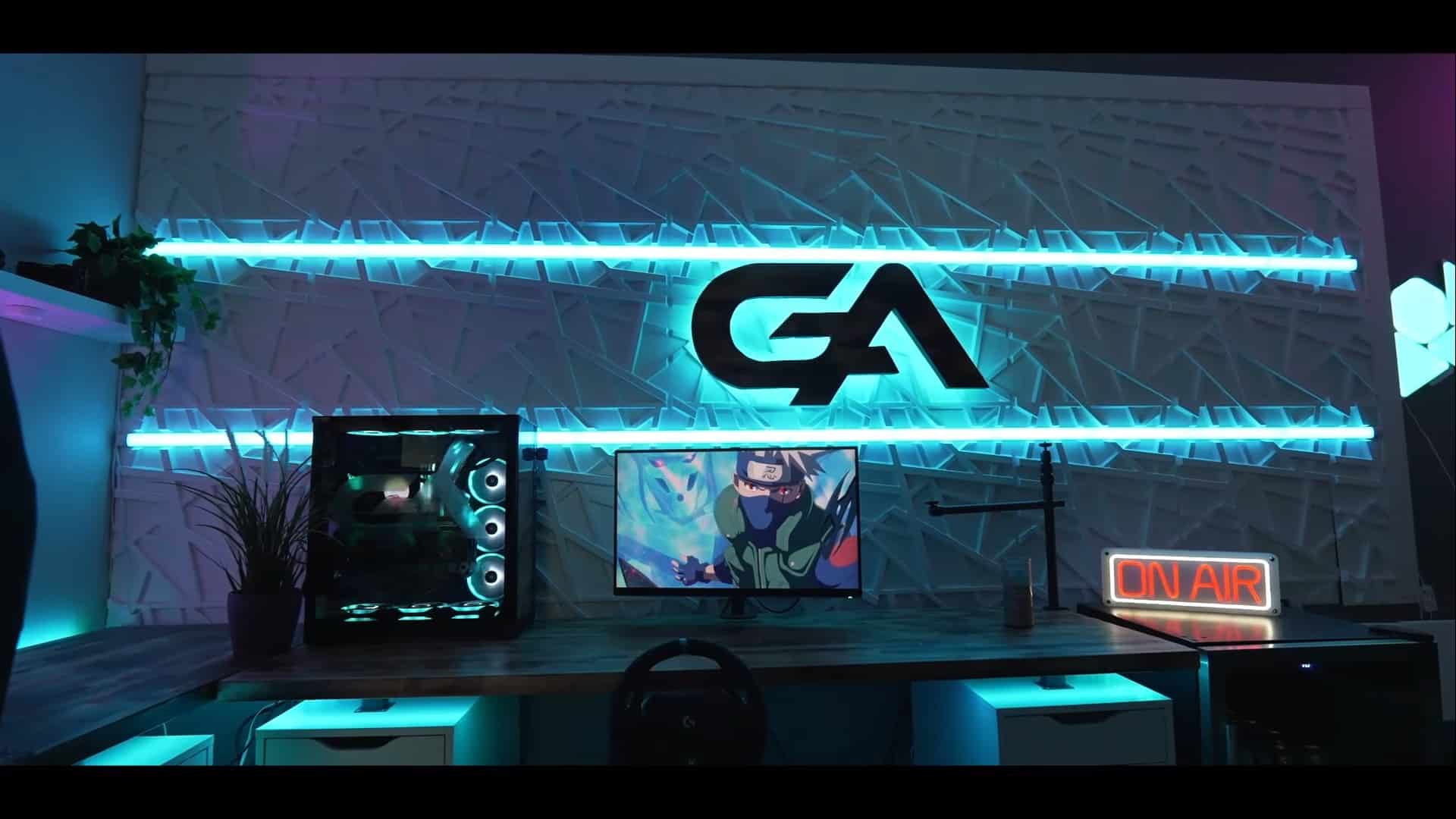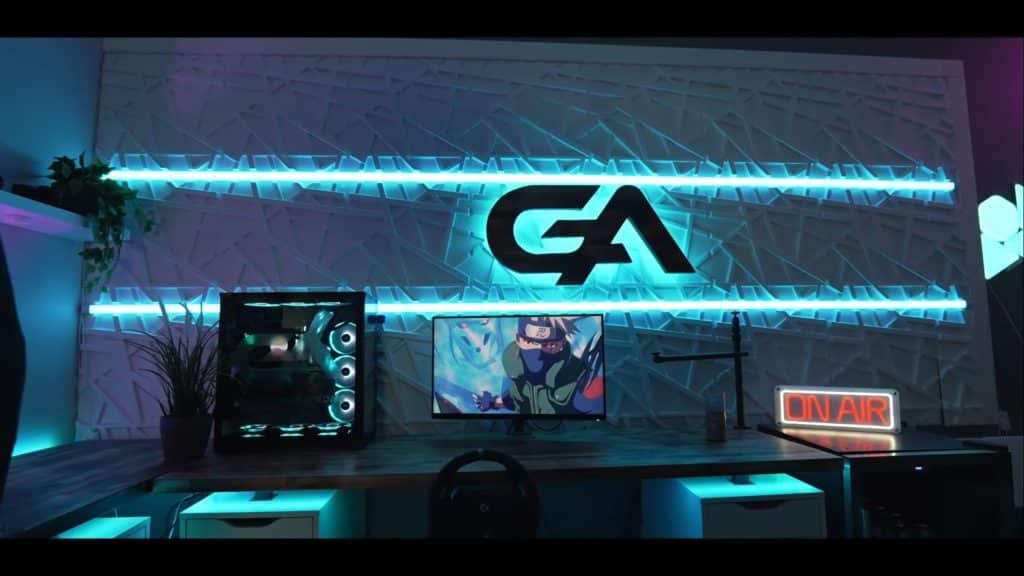 We bring you another ultimate gaming setup from GutzyAiden, a 22-year-old Twitch partner, where he and his dad created this spacious and clean monster gaming and streaming room.
For this setup, we actually want to highlight his wall because he put a lot of thought into what his streaming background is supposed to look like so that viewers can be more entertained with the aesthetics of the room.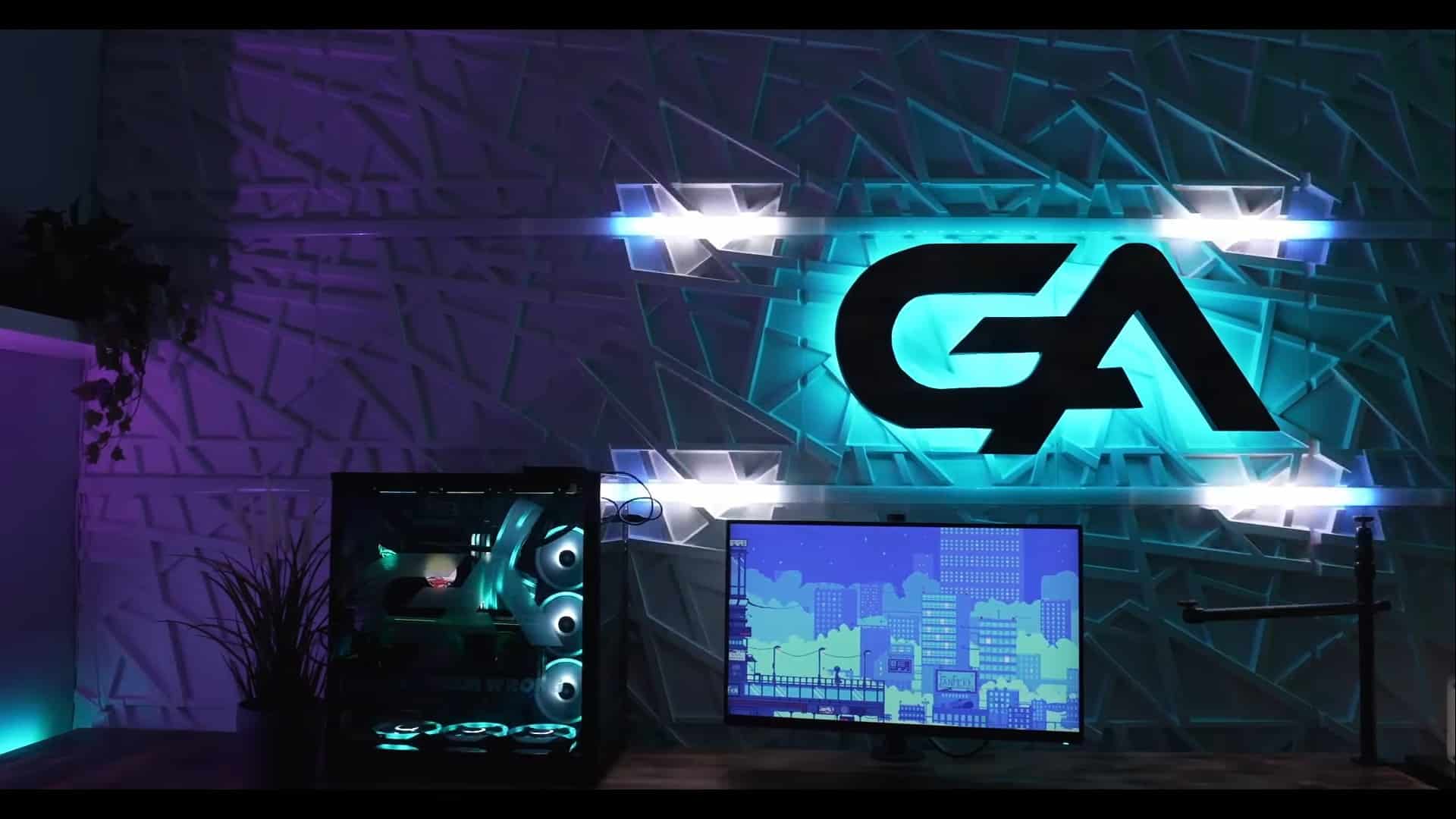 Also, if you see his wall background during his Twitch stream, he sometimes uses his fourth monitor as his racing sim area.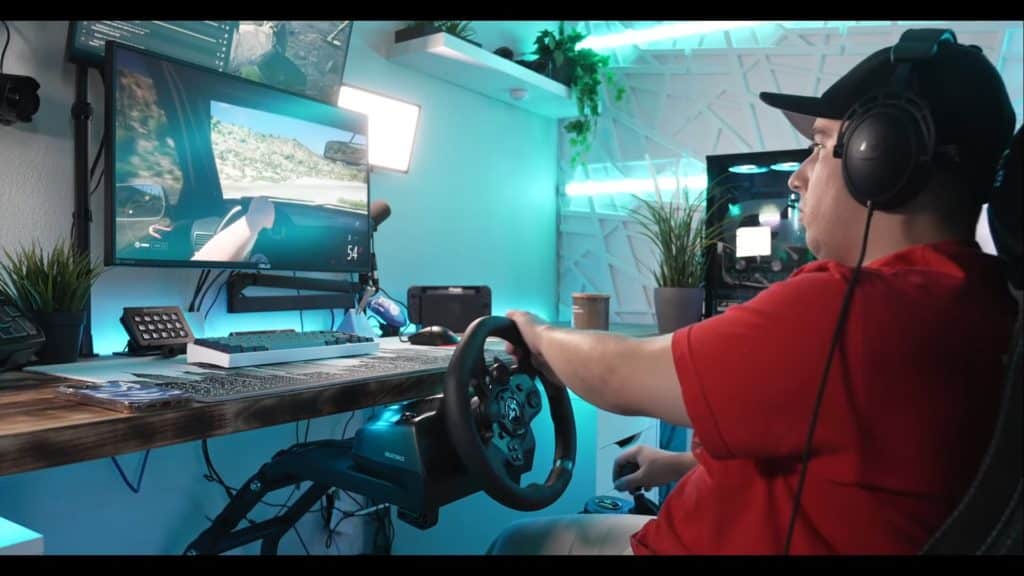 Gaming PC Specs
AMD Ryzen 9 5950X
ASUS ROG STRIX GeForce RTX 3090 24G DDR
ASUS B550-E ROG-STRIX Motherboard
Corsair Vengeance RGB 3600MHz 64GB RAM
ThermalTake 1200W PSU
1TB SSD M.2 Drive
7TB HDD (for files and videos)
2x 2TB HDDs
1TB SSD (for games)
Lian-Li ASUS ROG Edition Case (w/ Custom Designs by Nacho Customz and Power GPU)
Peripherals
27″ 280Hz ASUS TUF Monitor
27″ 144Hz Dell Monitor
21″ AUZAI Monitor
2x Home Depot Hardware Reflection Countertops (with custom finish)
4x IKEA Alex Drawers
GutzyAiden Mousepad
Razer Viper Mini Wired Gaming Mouse
D65 Custom Mechanical Keyboard
TC Helicon GoXLR
Shure SM7B Microphone
HyperX Alpha 2
Elgato Stream Deck
Sony A6400 (w/ 12mm lens)
Elgato Multi-Mount
Watch GutzyAiden's video below and appreciate the time and effort that he put into his ultimate gaming, streaming, and productivity setup!
RTX 3080 Monster Minimalist Build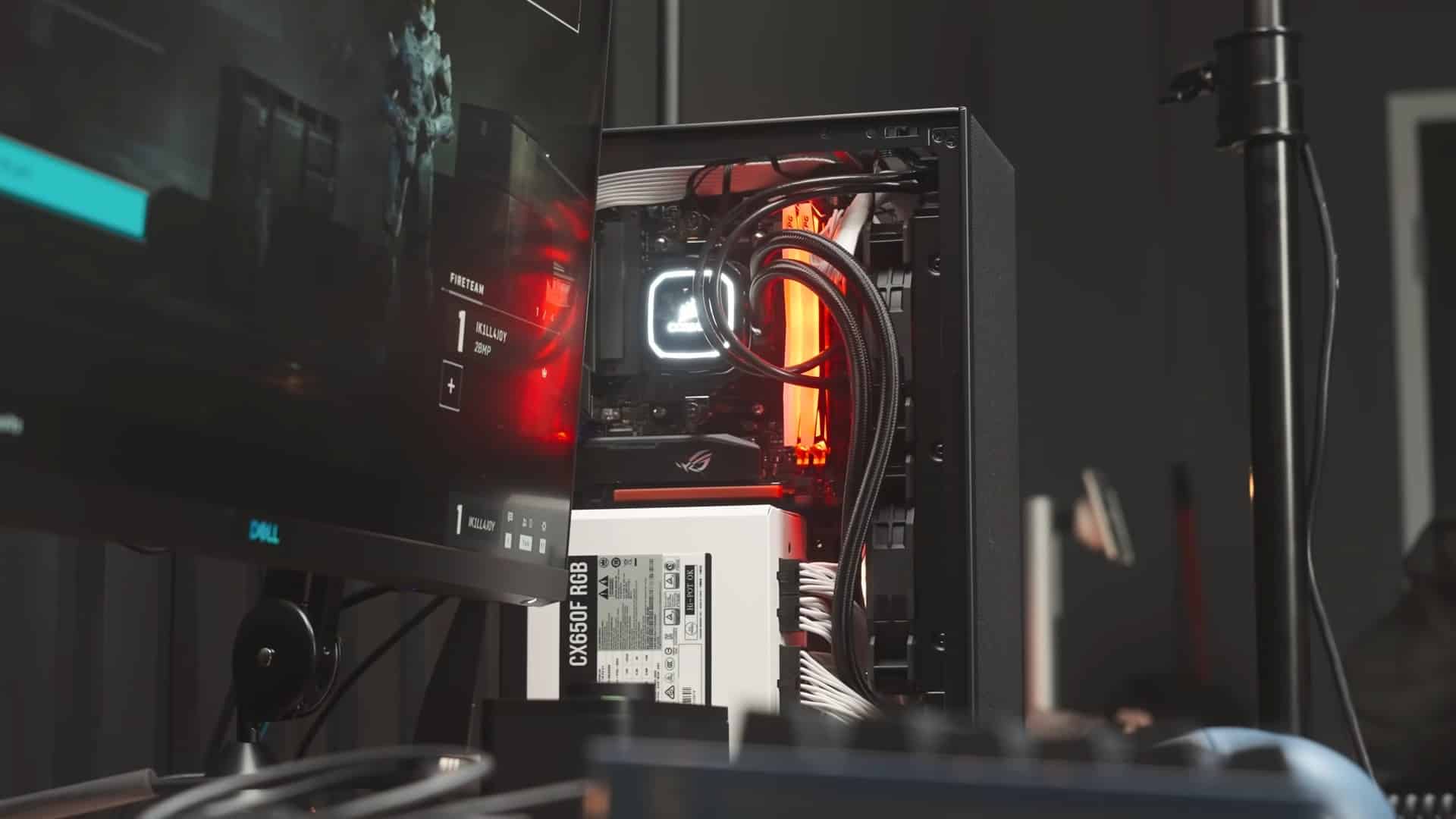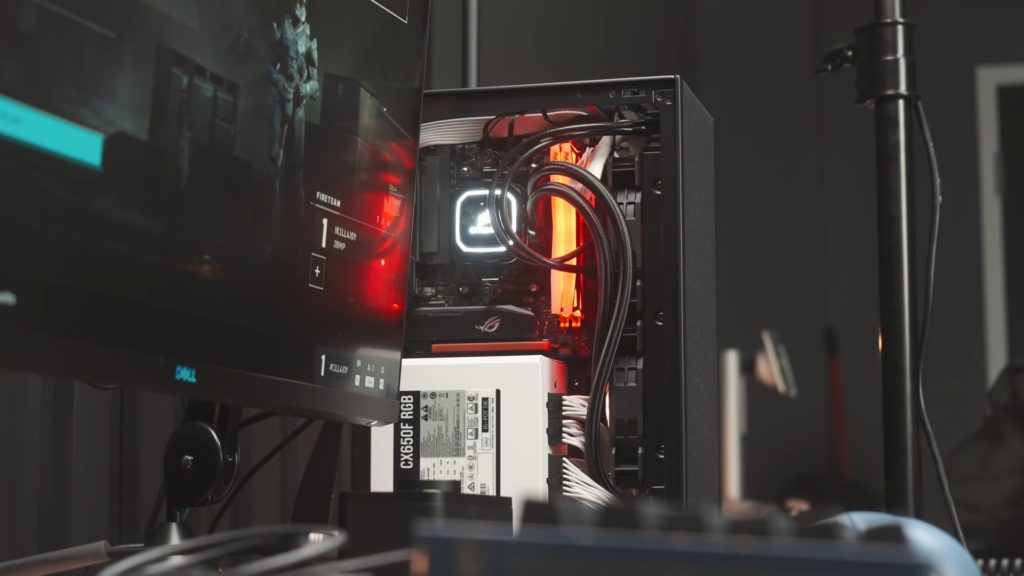 You've seen the clean white minimalist build but we found another insane mini-ITX setup – this time rocking an Nvidia RTX 3080 and an AMD Ryzen 5 5600X processor.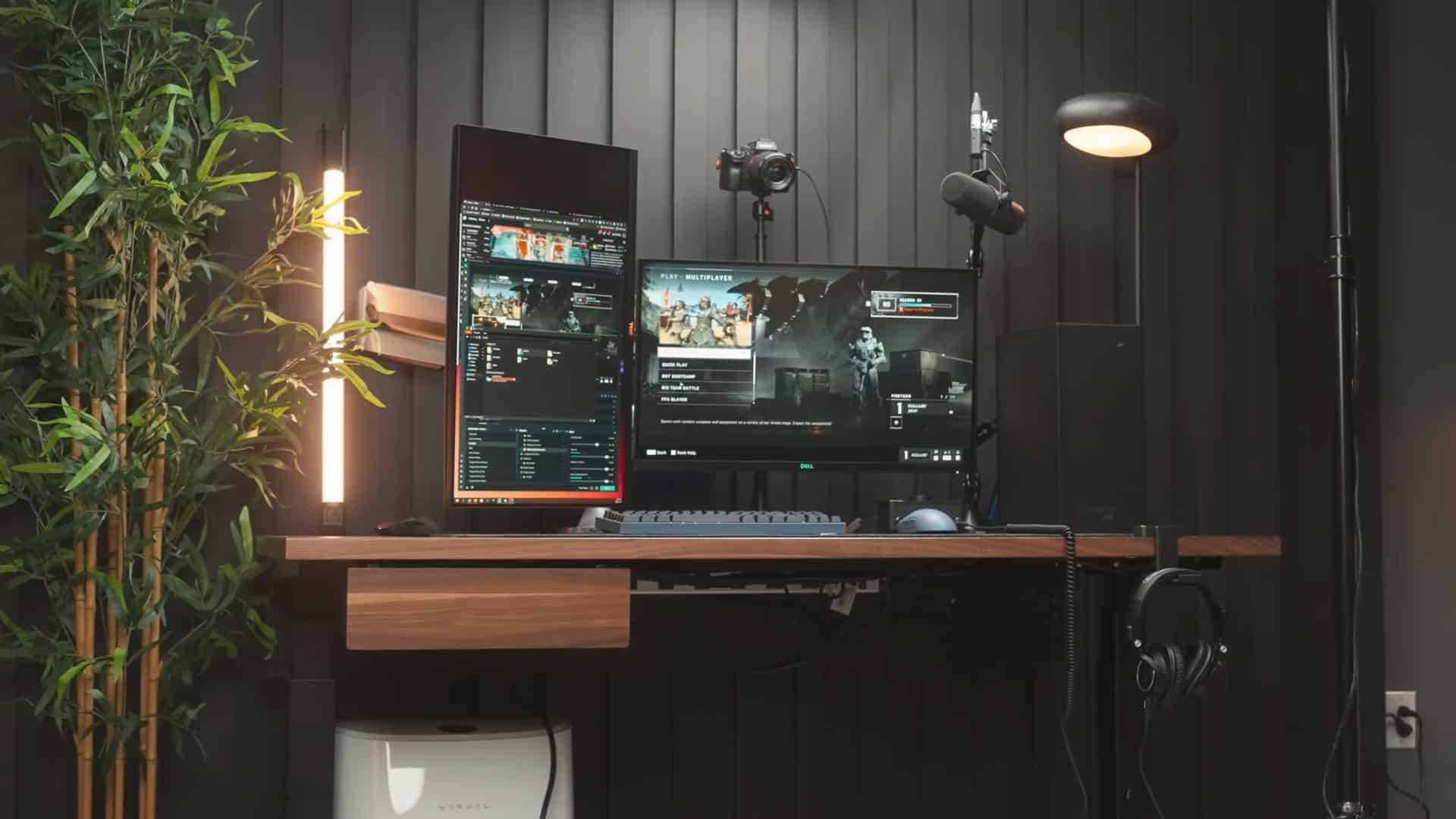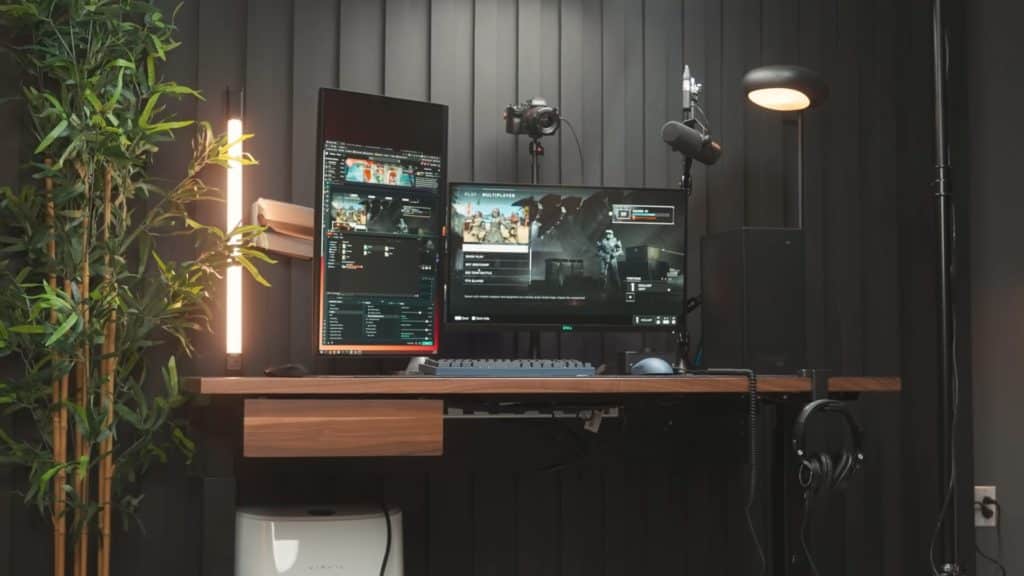 The table used here is a solid wood handmade standing Sway desk from ergonofis, which feels pristine and comparable to an IKEA Karlby countertop in terms of its wood material (if you want a cheaper option), giving the rig an executive and modern feel.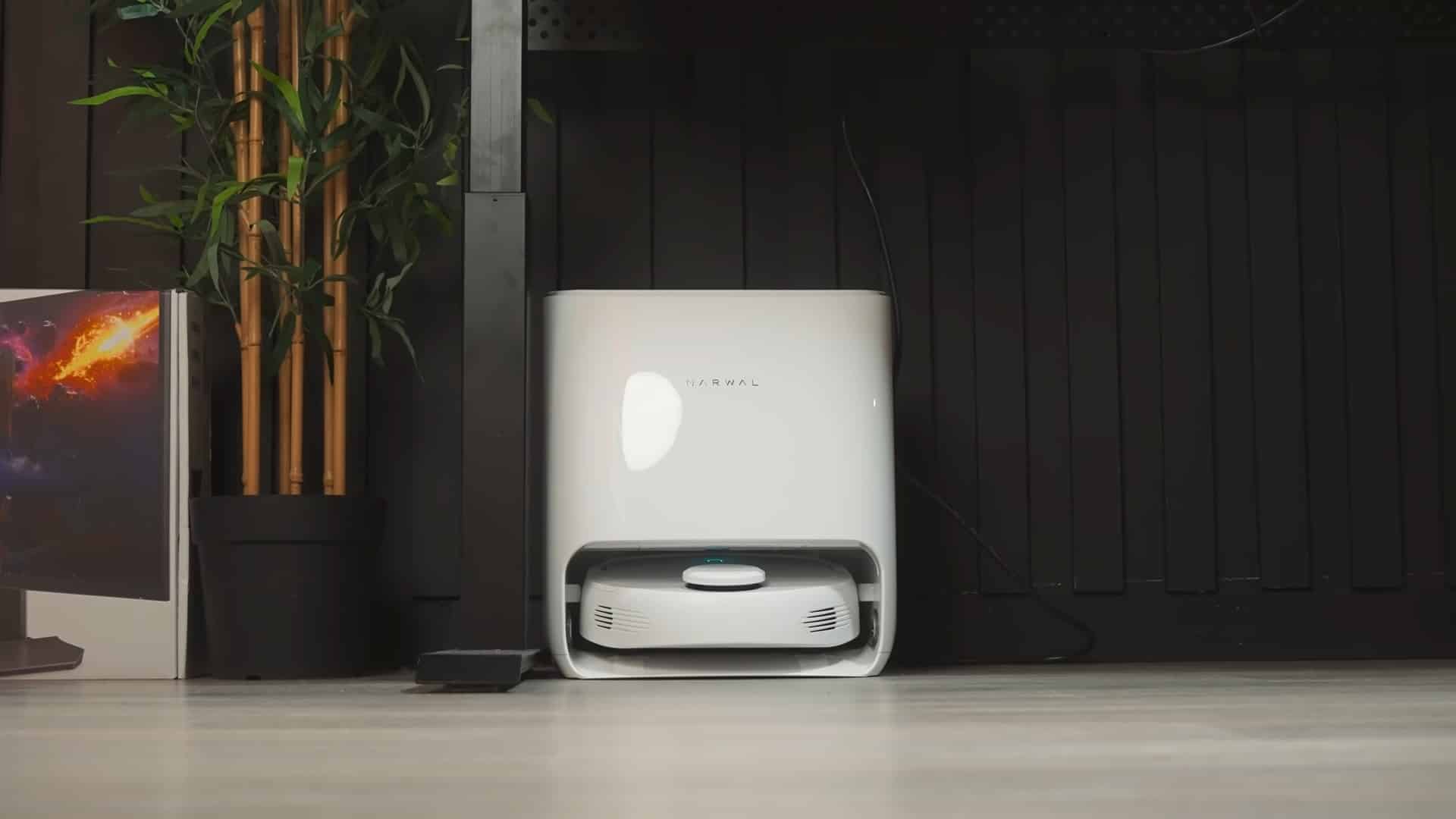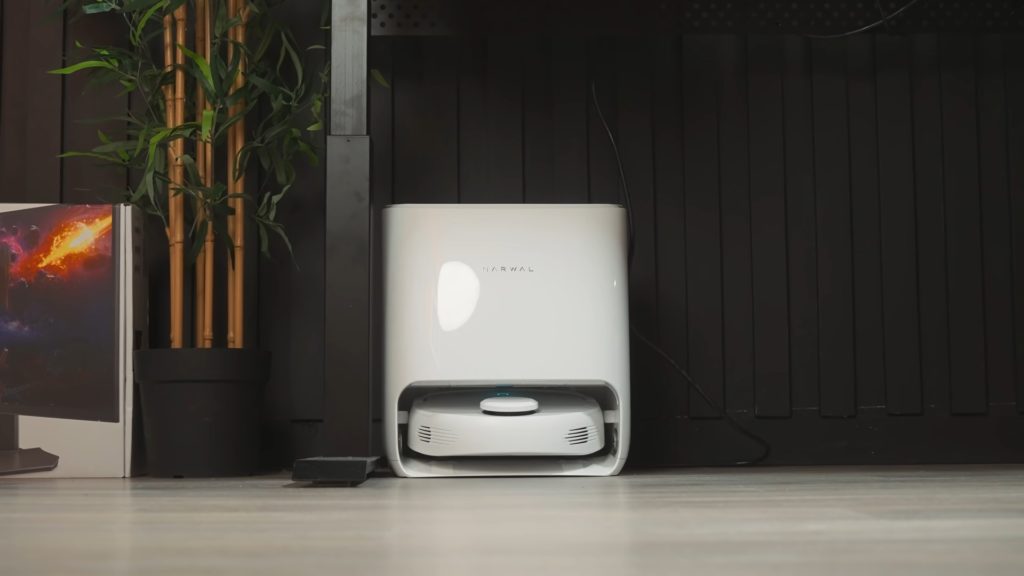 As a bonus to this minimalistic setup, Vidoza even placed a Narwhal T10, a 2-in-1 robot mop and vacuum with an automatic mop cleaning station. How's that for a tidy setup?
Gaming PC Specs
AMD Ryzen 5 5600X
Corsair CX650F 650W RGB
EVGA GeForce RTX 3080 FTW3 Ultra Gaming
XPG DDR4 D60G RGB 16GB (2x8GB) 3200MHz
Corsair Hydro H100 x 240 mm Radiator Dual 120 mm PWM Fans Liquid CPU Cooler
Ssupd Meshlicious Full Mesh PCIE 4.0 Edition Mini-ITX Case
Peripherals
Dell S-Series 27-inch QHD 165Hz Monitor (S2721DGF)
Shure SM7B Vocal Dynamic Microphone
Audio-Technica ATH-M50X Professional Studio Monitor Headphones
Audient EVO 4 USB Audio Interface
Logitech G PRO Wireless Gaming Mouse
Logitech G PRO Mechanical Gaming Keyboard
Grovemade Wool Felt Desk Pad
Narwal T10, 2-in-1 Robot Mop & Vacuum With Automatic Mop Cleaning Station
Watch his video below and immerse yourself in his ultimate gaming setup.
Aqua-Themed Streaming/YouTube Studio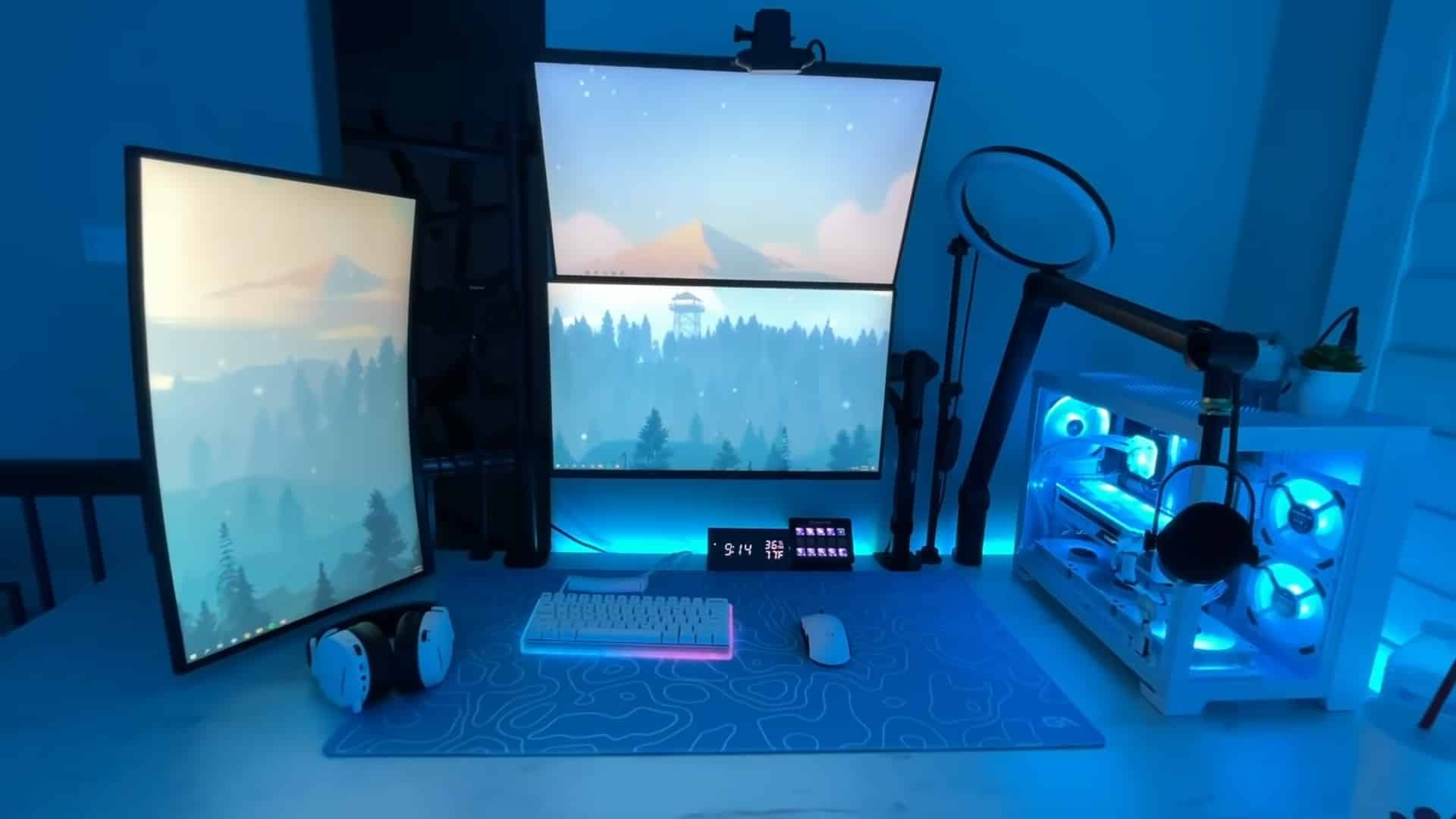 Here's a tour of a streaming, YouTube, and entertainment area from 17-year-old content creator and Twitch streamer Slush.
We loved how he designed the lighting of his studio with the Govee lights as well as the minimalistic stream background giving his place a nice touch.
For his desk, he used a combination of the IKEA Ekbacken countertop and Alex drawers to keep his white theme aesthetic in place, topping it off with a Gutzy Aiden Aqua XXL mousepad.
Gaming PC Specs
AMD Ryzen 9 5900X
GIGABYTE GeForce RTX 3070 VISION OC 8G
Corsair Vengeance RGB 32GB RAM
Corsair iCUE H150i ELITE CAPELLIX Liquid CPU Cooler
MSI B550 Motherboard
Peripherals
Alienware 240Hz 1080P IPS Panel (AW2720HF)
ALZI 24″ 75Hz
Viotek 27″ Curved 60Hz
Shure MV7
GoXLR Mini
Drop Carina Mechanical Keyboard
Logitech G PRO X Superlight Wireless Gaming Mouse
If Aquaman had a gaming safehouse, this could be it. See what's in store in his studio.
Black & White Themed Gaming/Productivity Setup
Less is more is becoming popular when it comes to gaming and productivity setups and this black and white themed station from Geek Street just puts the icing on the cake.
Geek Street added some Govee lights at the back of the monitor to give ambient lighting to prevent eye strain.
This station is for gamers who are not really into flashy PC gaming setups and is always on the go so you might want to consider this clean setup.
Consoles/Laptop
PlayStation 5
Xbox Series X
Lenovo Yoga 730 13″ 2-in-1 Laptop
Peripherals
FlexiSpot Standing Desk E8
Alxum TYPE C Hub 8-in-1
Razer Iskur Gaming Chair
Razer Kaira Pro Headset
Gigabyte 31.5″ M32U IPS 4K 144Hz HDMI 2.1 Adaptive Sync Gaming Monitor
Gamesir VX2 Aimbox
Logitech G915 TKL Gaming Keyboard
Logitech G502 Wireless Gaming Mouse
If you're building a productivity/entertainment area for your family, then you might want to consider Geek Street's setup.
White Minimalist Gaming Room In Latvia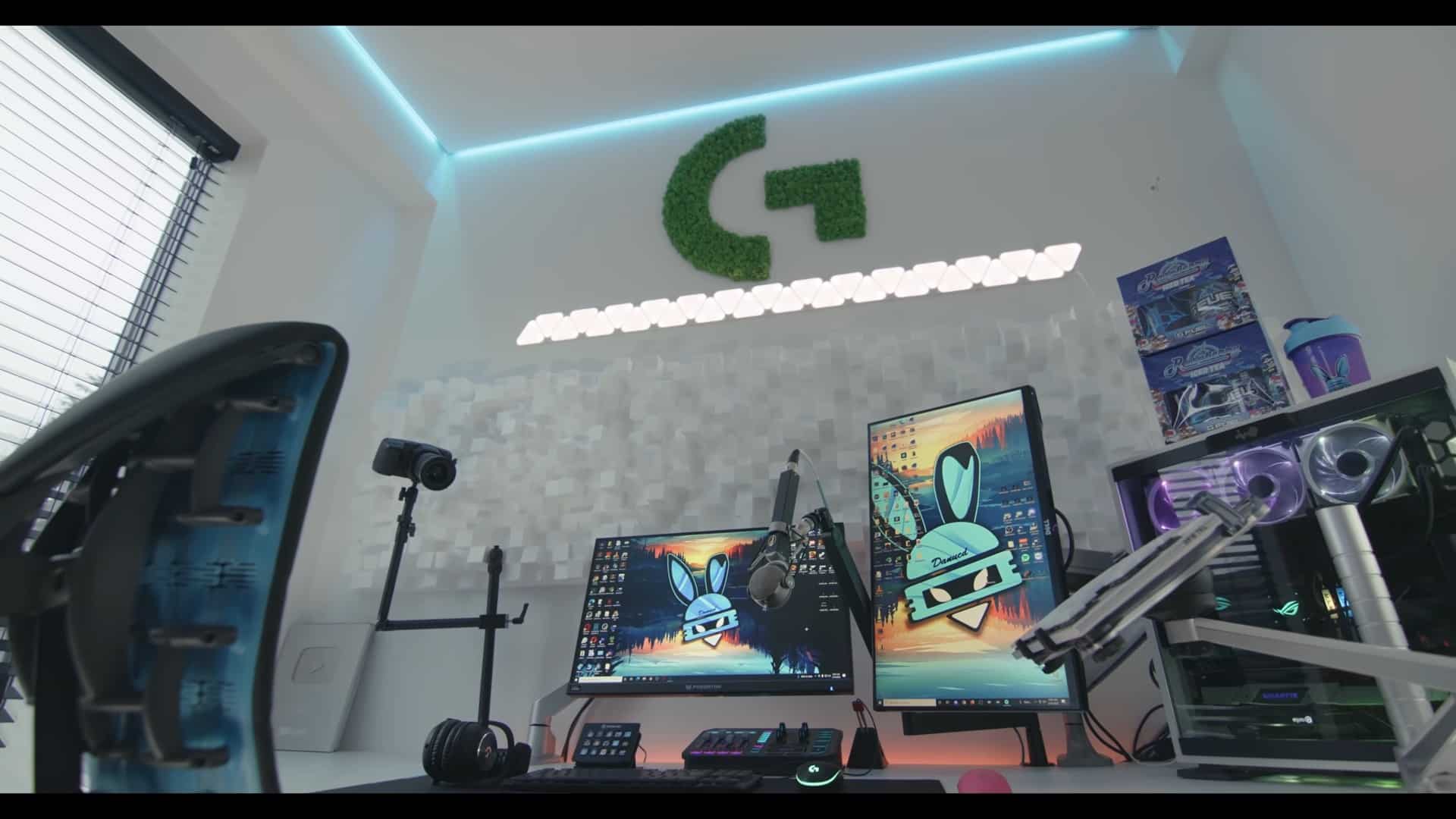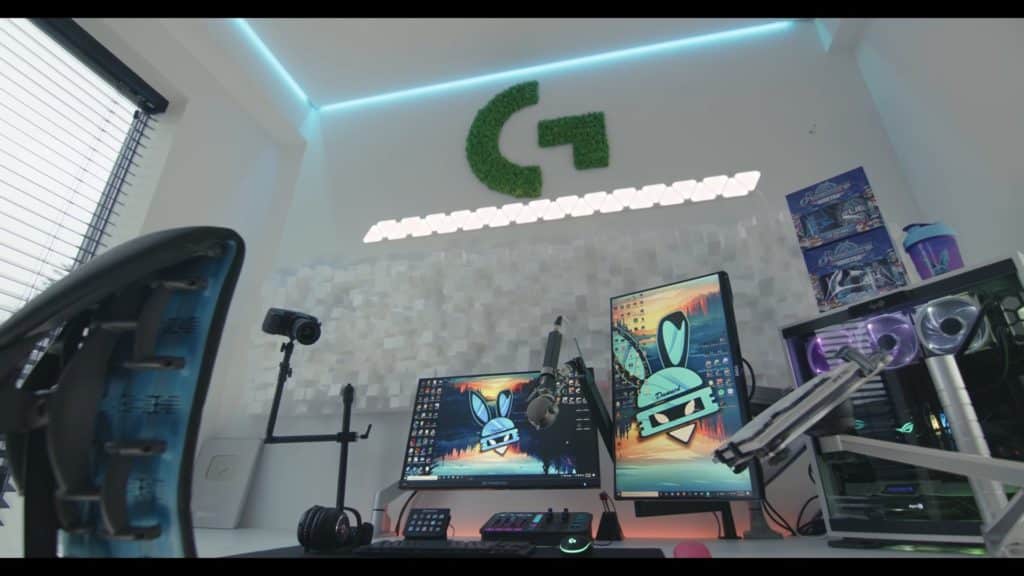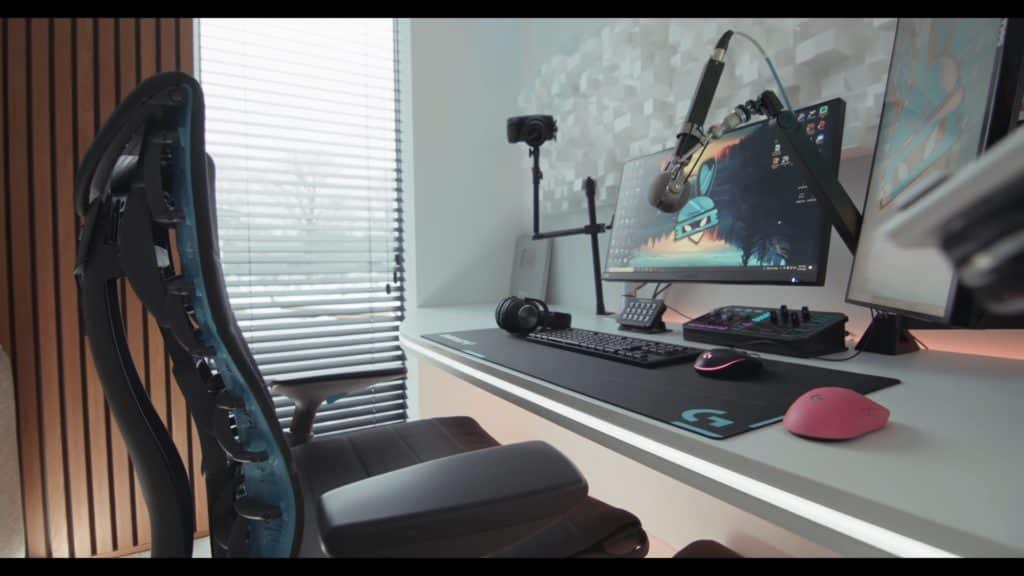 We have another gaming and streaming hybrid setup by Dana Danucd, more known as "DanucD", a popular PUBG Twitch streamer and content creator and she has made one of the cleanest gaming setups on this list.
Being an official partner for Logitech, it's expected that you'll see a lot of Logitech gear in her room like these gaming mice over here.
Additionally, the mic and camera setup look so nice and it doesn't feel distracting. As Dana mentioned in her gamer house tour, she has both a streaming and gaming PC in her minimalist-designed room.
We couldn't see in the video where exactly her gaming PC is even though she mentioned that it's there but her streaming PC matches really well with the overall white aesthetic in the room.
Gaming PC Specs
Gigabyte GeForce RTX 3080Ti
AMD Ryzen 9 5900X
Kingston FURY Renegade RGB 64GB (2x32GB) 3200MHz DDR4
ASUS ROG Strix LC 360
ASUS ROG Strix X570-I Gaming Motherboard
IN WIN 303 White ATX Mid Tower Computer Case with Tempered Glass
Streaming PC Specs
Gigabyte GeForce RTX2080
AMD Ryzen 9 5950X
Kingston FURY Renegade RGB 64GB (2x32GB) 3200MHz DDR4
ASUS ROG Strix LC 360
ASUS ROG Strix X570-E Gaming WiFi II AMD AM4 X570S ATX Motherboard
Elgato 4K60 Pro MK.2
H700 PUBG Limited Edition Case
Peripherals
Acer Predator XB241H 24″
Dell S2417DG 24″
AVLT Single Monitor Mount
Blue Dragonfly
Blackmagic Design Pocket Cinema Camera 4K
Tokina 11-16mm
Herman Miller x Logitech G Embody Gaming Chair
Logitech C922 Pro
Logitech G Pro
Logitech G915 TKL
Logitech G Pro X
Logitech G435
Logitech G333
TC-Helicon Vocal Effects Processor GOXLR
Watch the video below to have a glimpse of her gamer house in Latvia.
A Filmmaker's Small Studio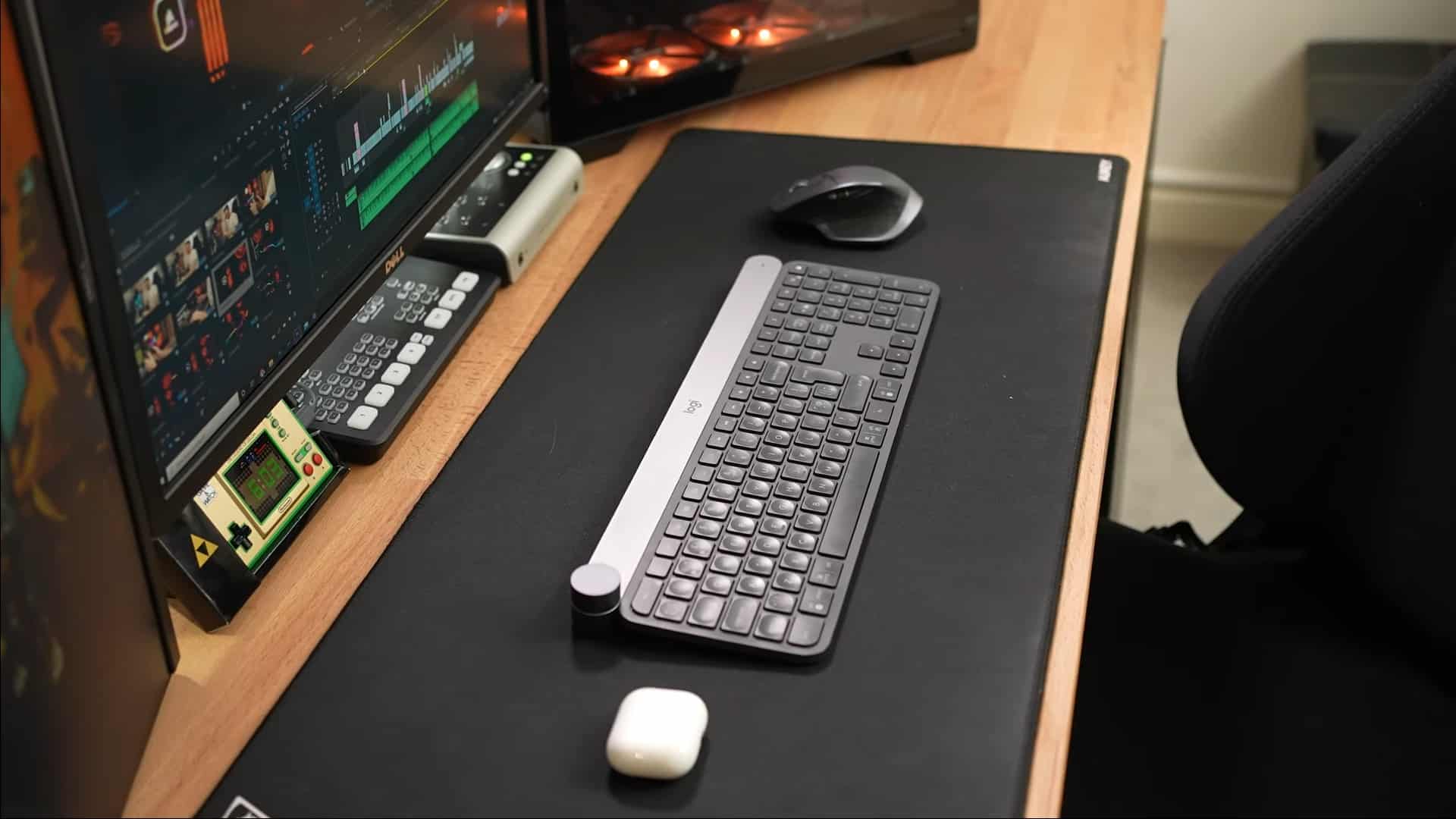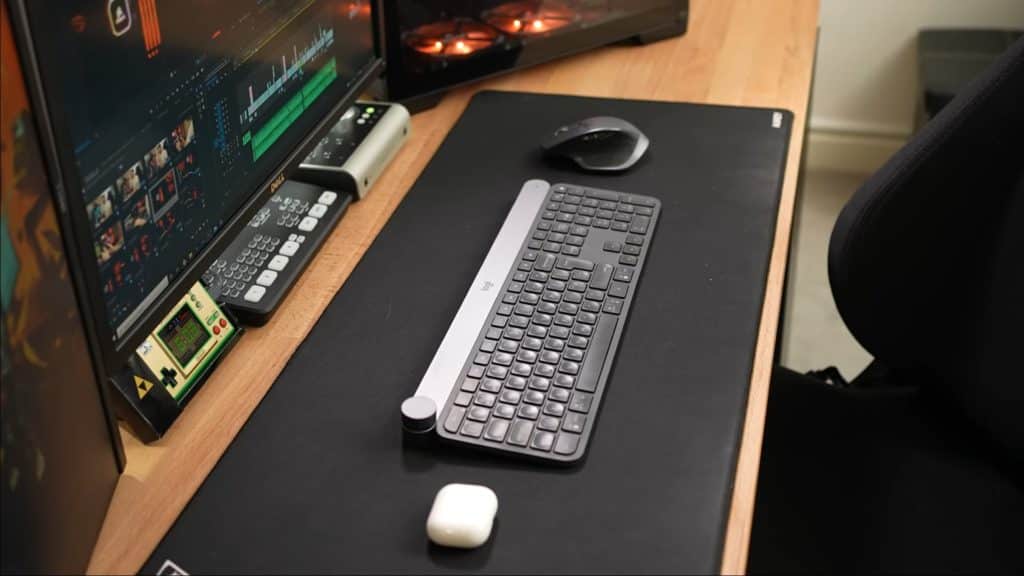 While most of the setups that we've been featuring are inspired by minimalism, here's a cramped-up rig by Daniel Henry. He doesn't claim to be a minimalist but the video editing in his tour reminded me of a mix of Stranger Things and Mr. Robot vibes.
Even though he's a casual gamer (we're looking at you Nintendo Switch), we can't help but feature his setup since it has massive gaming capabilities aside from his passion for filmmaking, digital art, and 3D rendering. Who knows, we might see some games that he designs in the future.
Although the monitors that he has isn't really optimized for hardcore gaming, at least he made up for it with his monster PC build. We appreciate people who don't really force themselves to upgrade (only if necessary) because it's the current trend and this build is just one of those setups.
Gaming PC Specs
AMD Ryzen 5 5950X
Corsair Vengeance RGB PRO 64GB DDR4 3200 MHz
MSI NVIDIA GeForce RTX 3070 SUPRIM 8G
ADATA XPG SX8200 Pro 512GB M.2 Gaming SSD
Samsung 860 EVO 1TB SATA 2.5″ Internal SSD
Corsair Hydro H100 x 240 mm Radiator Dual 120 mm PWM Fans Liquid CPU Cooler
Be Quiet Pure Power 11 700W CM, Modular 80 PLUS Gold PSU
Corsair iCUE LL120 RGB LED PWM
Antec Performance Series P120 Crystal Mid-Tower Case
Synology DS420+ 4 Bay NAS Enclosure
Peripherals
Invision Monitor Arm Bracket for 22"-35" Screens VESA Ergonomic Long Arm Desktop Clamp
BONTEC Single Monitor Arm Desk Mount for 13″-32″ LCD LED PC
Dell Monitor
Dell P2219H 21.5 Inch Full HD (1920×1080) Monitor 60Hz IPS Panel
Luminoodle Professional Bias Lighting for HDTV 6500K True White
Anpollo Gaming Mouse Pad XXL Size
Apple AirPods 3rd Generation
Logitech MX Master 2S Wireless Mouse
Logitech Craft Illuminated Wireless Keyboard
Sontronics STC-3X PACK 3-Pattern Condenser Microphone
Rode PSA1 Professional Studio Arm
Watch his video below and indulge yourself in this British chap's ultimate filmmaking and gaming setup.
Creative & Minimal Bedroom Desk Setup
Here's another good example of a nice bedroom gaming and work-from-home setup from tech, design, and lifestyle content creator James Kvesic.
What we loved about this setup is that he hides his compact PC well and the desk looks so clean with the dark wood texture matching the black and white vibe of his house.
Although he mainly uses his PC for editing, his tiny machine is enough to do some gaming and streaming as well.
Gaming PC Specs
AMD Ryzen 7 3700X
ZOTAC RTX 2080Ti
64GB RAM
NZXT H1 Case
Peripherals
Uplift Sit-Stand Desk Commercial V2
2x Dell UltraSharp 27″ 4K USB-C Monitor U2720Q
BenQ Screen Bar
Sony A7
Blue Yeti Microphone
Godox ES45

Hernan Miller Aeron Chair

Audio Engine A2+ Speakers
Loupedeck Live
MX Master 2S Mouse
Idobao ID80 Keyboard
Watch his behind-the-scenes video on how he was able to design his house along with this cool and clean PC setup.
Home Office and Gaming Desk Setup
Here's a clean setup by David Amaya, also known as Side of Tech on YouTube where he showcases his dream all-in-one home office and gaming room.
We do get that most of the GPU prices for this year are still inflated but David managed to show us a clip of him playing Far Cry 6 on ultra settings using last-gen PC parts.
Gaming/Productivity Specs
M1 Max Macbook Pro
Nintendo Switch OLED
ASUS X570-E Motherboard
AMD Ryzen 7 3700X
AMD Radeon 5700XT
Corsair Dominator 32GB
Peripherals
LG 38WN95C-W Monitor 38″ 21:9 Curved UltraWide QHD+
Rode PSA1+
Rode NT1
Focusrite Scarlett Solo 3rd Gen USB Audio Interface
BenQ Screenbar Plus
Belkin Boost Charge
Caldigit TS3 Plus Dock
Apple Magic Keyboard
Logitech G915 TKL Keyboard
Logitech MX Master 3 Mouse
Logitech G502 Wireless Mouse
Hernan Miller Aeron Gaming Desk Chair
Watch the video below to have a peek at this Side of Tech (pun intended).
1,500 Square Feet Game Room Tour
The last setup on this ultimate gaming setup that we want to feature is somewhat unique because it's a massive game room that's a size of a house!
SeeJayAre is one of the underrated gaming and tech content creator that we discovered on YouTube and he's got everything, from the retro arcade consoles up to the next-gen gaming consoles.
We gotta appreciate how well he organized his big room. Every nook and cranny of this room has a theme like a Nintendo area, Sega area, toy collections, arcade area, and more!
While it's gonna take forever to list down his family's plethora of gaming collectibles, you can immerse yourself further in his game room tour video below.
So what gaming setup did you like from this list? Comment down below!