The battle royale genre has grown to incredible proportions over the years. It's gotten to the point where other games such as Battlefield V, Call of Duty, and Valorant have it, have it as a game mode, or are currently adding it. Eventually, you'll want something different every so often in the genre. Otherwise, this gets awful dull in a hurry! So in comes a blend of man and machine with Super Mecha Champions.
The game itself is really something to get into. However, it still presents a nifty problem. You can't simply use one mecha for everything. It'd be a huge waste once you find out what all the other Super Mecha Champion mecha can do. Naturally, no "ordinary mecha" will do! So here's a guide to the best mecha in Super Mecha Champions.
The Best Mecha in Super Mecha Champions: Destructive Power
Let's face it, we all like to blow stuff up good! Unfortunately, you can't do that in-game if your mecha basically hits like a wet noodle! Oddly enough, some mecha have the problem of wet noodle hitting but can get away with it! Nope, you really want to whoop the skirt off your opponents with purpose. So the first in line is absolutely Doomlight.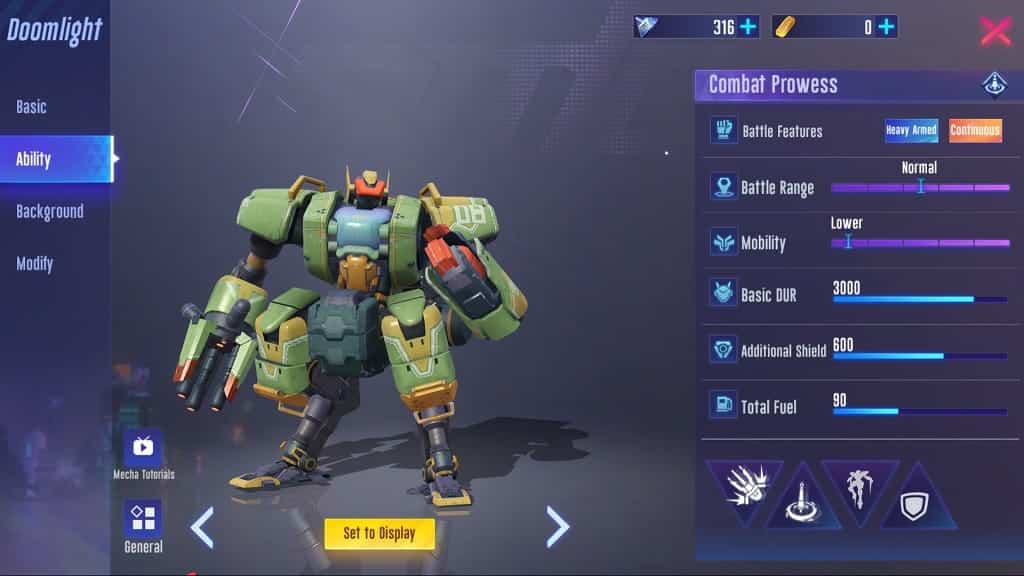 Without doubt, without question, Doomlight can certainly erase targets with impressive destructive power. It's second ability can place up to 3 torrents on the battlefield in no time flat. This translates into up to 4 attacks at the same time on the same target. Of course, you'll have to practice aiming the torrents as well as your normal attacks. Currently, this is the most destruction you can release onto a single target at any given time, especially other Super Mecha Champions mecha.
Mixed with its shield ability, this mecha is definitely tough as nails. So what's the balance preventing Doomlight from being used all the time? That'd be other tactics and playing styles for starters. The other problem is its moving speed. Many players can and will fight close to or outside of circle. This is an impressively bad idea when using Doomlight. Yes, Doomlight can take flight. Unfortunately, no, it can't get very far. However, the flight capabilities allow it to get on top of buildings fairly easily.
Ultimately, this mecha can take the hits and deliver the asteroid strikes with little difficulty. Just don't plan on running away or far, quickly or otherwise! This is an exercise in commitment. This means if you "start something" using Doomlight, you better be ready to finish it. Yes, Doomlight can definitely finish it!
In Terms of Destructive Power Runner-Up
When it comes to play styles, Super Mecha Champions has a bit of something for everyone. In terms of mixing playing styles and destructive power, it'll be none other than Trio of Enders.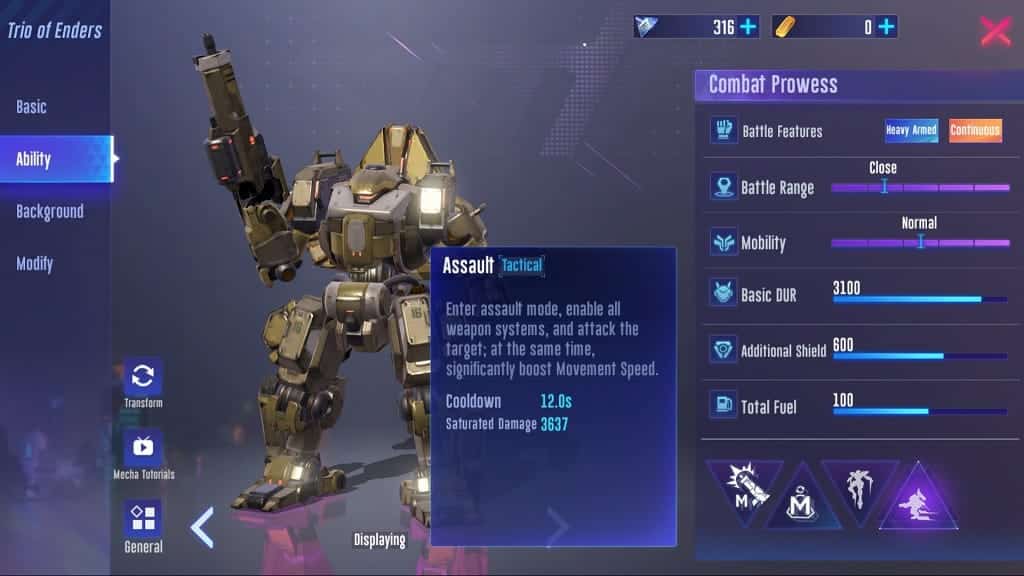 The idea for this Super Mecha Champions mecha is to have tactics to use and pack a very nasty punch. When you check the Assault ability, you'll notice this fires all weapons at the same time. While attacking at melee distance or at range, this mecha can certainly hammer on targets. Trio of Enders doesn't have the full destructive power like Doomlight. However, its move speed and weapon switching make up for it along with the associated tactics.
With that Assault ability, you'll have all 3 weapons firing at the same time and increased move speed. The downside is that Assault doesn't last long. Now you'll have the standard 3 weapons which can be used separately depending on which one is selected. You can switch to whichever weapon best suits the situation. The problem shows up when you're using specific modules and the core module. These play a very large part in using Trio of Enders. You'll lose some destructive power if your moves don't match your core modules.
Ultimately, this mecha is a near perfect blend of destructive power and strategies/tactics. The main problem is in using it to maximize both. It can be a real test of your patient and luck in finding the core modules. Lastly, don't try "Spider-Man" moves with this mecha. It's a really bad idea!
The Best Super Mecha Champions Mecha: Strategies and Tactics
Playstyles go hand in hand with strategies and tactics. This allows you to decide if you want to stand and attack or move and attack. The options for getting into and out of battles are also very noticeable. Of course, the best bet for battles is to wipe out opponents without taking hits. So at the top of the list is Firestar.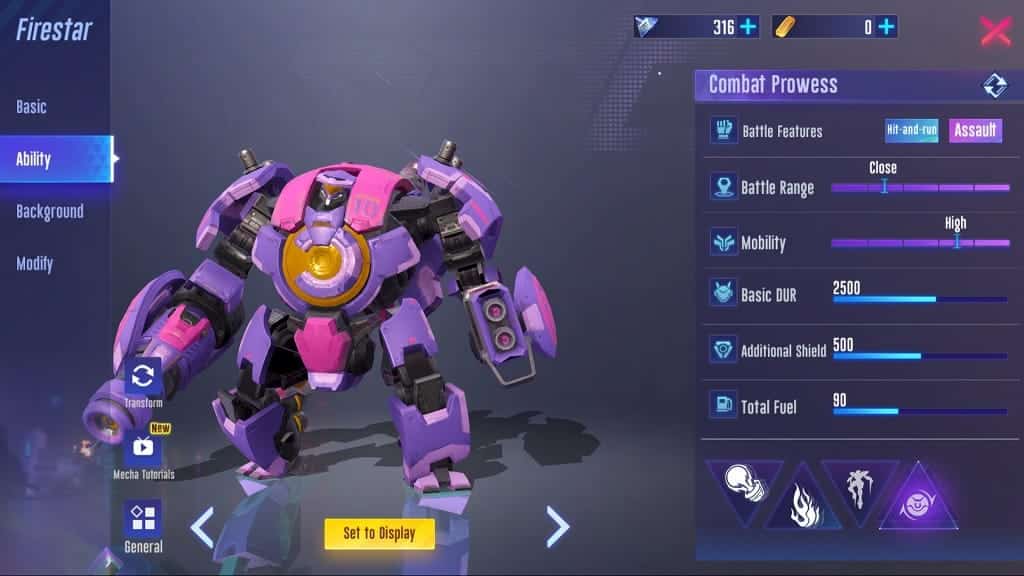 Yes, this is the one that turns into a giant ball that you can attack with! There's nothing quite like turning this into a demolition derby! In its mecha form, you have AoE on its standard attack. It's not just AoE. It's also Damage over Time (DoT) with that AoE. So even if you don't get a direct hit, you can still splash damage something and burn it. In its ball form, your options really open up. You can attack (demolition derby) by crashing into opponents. You can also get into and out of battles very quickly.
You'll often want to use the ball form of Firestar. That's where pretty much the most fun of this mecha is. It's surprisingly hard to take hits while attacking demolition derby style. It bounces off in pretty much a random direction. Your opponents will miss a lot and they tend to "freak out" a bit in close ranged combat. This works to your advantage. The main problem would be controlling it. Firestar's ball form has a time limit. When you bounce off an opponent, you still have to recover to get back into it quickly. That won't always be easy.
With all things considered, this is the Super Mecha Champions mecha to beat in terms of strategies and tactics. It's just easy to end up all over the place or in places you don't want to be. So you'll have to get in some practice in the Training Grounds first.
Strategies and Tactics Runner-Up
The next in line for strategies and tactics is Caramel. This mecha is a typical good choice for beginner's and "veteran" players alike. It's certainly not perfect but it has a lot going for it.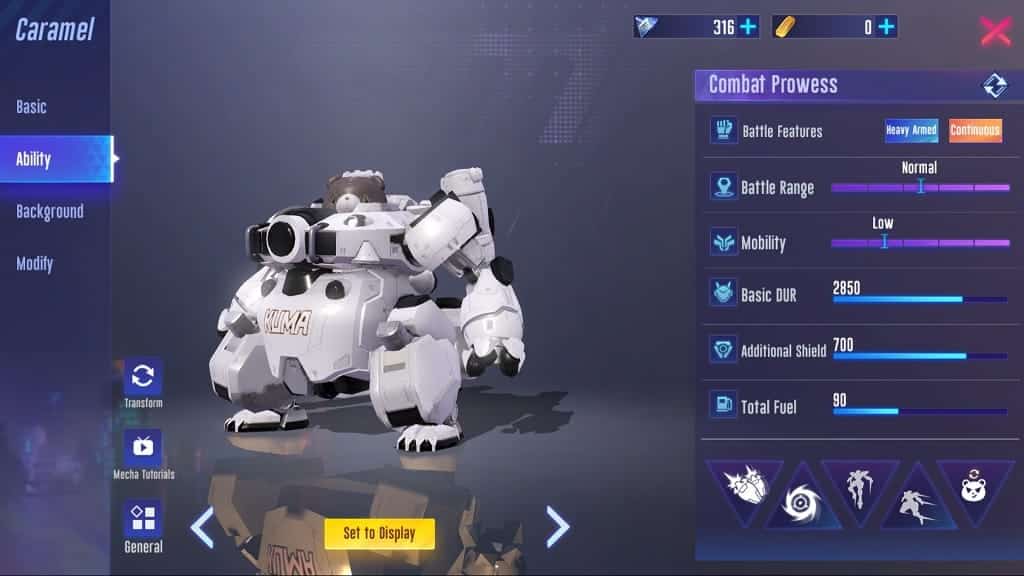 Don't let its "low" Mobility listing trick you. Caramel is a lot more mobile than it appears to be (ok, it needs a gym!). This mecha has a standard jump ability that can be combined with its Rocket Jump ability. Climbing becomes a bit easier with this combo. In terms of not taking hits, Caramel can certainly get out of the way quickly. Then again, it's no slouch in the punch packing department! The primary and secondary abilities certainly don't "go easy" on opponents!
Next it can go into stationary cannon mode (panda icon). While in cannon mode, your primary attack becomes a big AoE attack. Everything inside the targeting circle takes the full damage as they are. The problem is that you'll be a stationary target as well. So someone or something can easily destroy you. You'd think your cannon mode spot is great until you get blown apart by something you didn't even see. Yes, unfortunately, you can also have spots where you can't pan enough to get to the target.
When checking all concerns of Caramel, you'll have to make good judgment calls while using it. It'll always be on you to decide when to switch its form, when to battle it out and when to try to get out of Dodge! It won't be so easy to hit targets while using the jump + Rocket Jump combo. If you can, then you'll have a mecha that certainly won't die easy.
The Most Maneuverable Mecha
You might not think of it, but being able to get around is a big deal in battle royale games. It's not so much in terms of move speed, it's being able to get anywhere at any given time. This also includes into and out of battles. At the top of the list is Gabriel.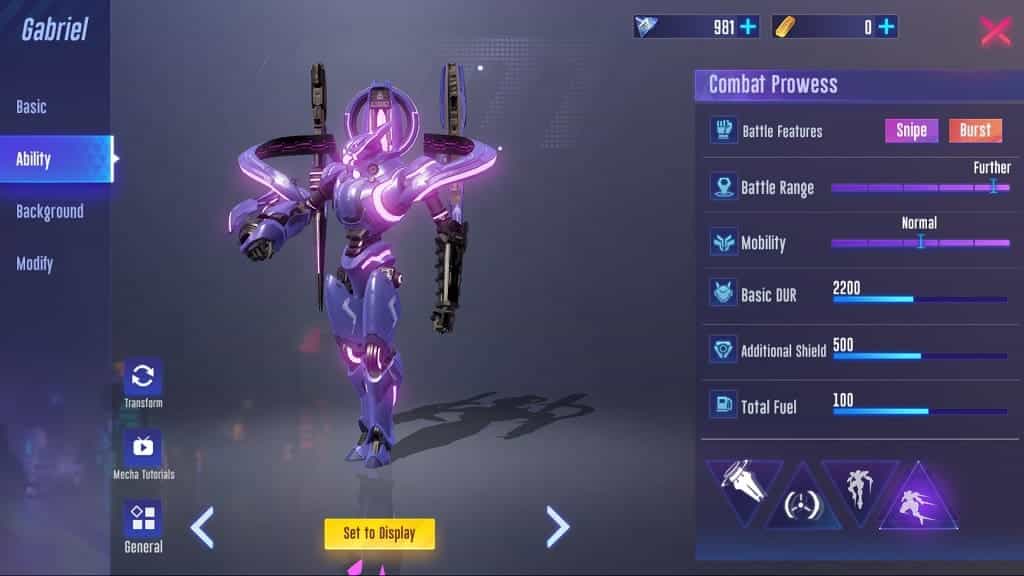 Gabriel's move speed isn't very high. However, that doesn't matter. Its Teleportation ability is what makes all the difference. With that, you can take off in any standard direction fairly instantly. Now add in the "any direction" feature of it. Climbing and getting around comes into play. Then add in the adjustable (zoom in and out) and chargeable Sniper Cannon ability. Gabriel is certainly a monster that can bean targets at a hefty range. That's Gabriel's main aim, to be a hard hitting sniper.
The best bet is to find very good hiding places that are high up. Yes, many players have a real noticeable problem with hitting targets in the air. Just being high up on something also helps! Unfortunately, just like Caramel, you can get caught depending on your spot. Again, Gabriel's move speed isn't very high. In close ranged combat, you'll definitely want that high hiding spot again!
In putting it all together, you'll definitely want to know the map very well. With that circle closing in on you all the time, staying still is a problem. However, if you already have spots picked out, you should be able to score highly almost always. Its primary weapon isn't so great. The secondary weapon can hit a ton! Yes, this includes while at close range. However, it can be hard to see very close ranged opponents. Then again, your opponents have time to run away while you're charging.
The Most Maneuverable Runner-Up
It's one thing to be jumping around all over the place. It's a whole new set of fun when you take flight. Of course, that whole "Transformers" thing provides some fun/popularity! It's Hurricane that comes in as the runner-up in terms of maneuverability.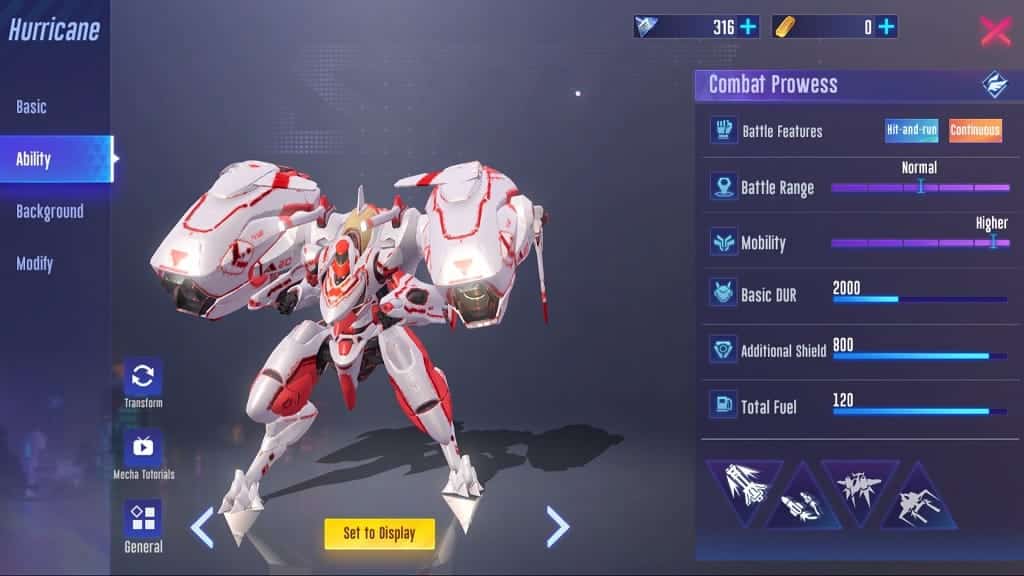 Hurricane's standard form is the usual walk around and blast opponents. It's when you use the Airborne Jump ability, you take flight. Again, you'll notice many opponents missing you quite often while you're in the air. Just don't stand still while attacking! While you're at it, you also have the High-Speed Charge ability. So while flying around, you have a turbo boost! You can literally get anywhere on the map in a hurry.
Unlike Gabriel, you're almost never stationary. Pretty much nothing is off limits until you discover the bad news. That'd be you'll burn through fuel quickly. Even though Hurricane can get far and fast, it can't stay in the air. Once you hit the ground, you're very much a target like every other Super Mecha Champions mecha. The good news is that this only gives the advantage back to the "better player". Beyond that, you can certainly rain down on opponents pretty easy.
Ultimately, Hurricane is one very capable mecha. However, you still have to practice with it. It's not always easy to hit targets on the ground. This is especially true if they're trying their best to run around underneath you.
So who's The Fastest Attacker in Super Mecha Champions?
Do you recall that wet noodle hitting power mentioned above? I bet you're wonder who has that "honor"?! It also happens to be the fastest attacker in Super Mecha Champions. That's exactly how it gets away with being a low damage dealer. It's none other than Neutron Star.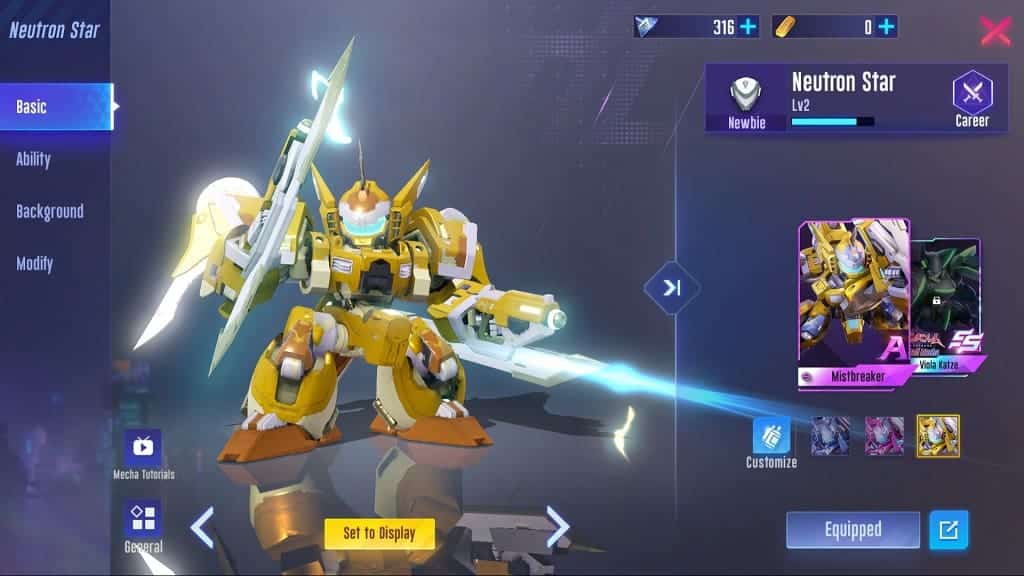 Neutron Star happens to be the definition of "Short n Terrifying" in Super Mecha Champions. It's very high attack speed is how it tears apart opponents very quickly. Think in terms of Firestar's demolition derby attacking style on a near-permanent basis. That is, without the crashing! At range, Neutron Star isn't so great. However, when in close combat, this thing is awful fast on the attack and equally fast to move and dodging. Its attack combinations are pretty much second to none. With a 1 second reload time, it won't take all day to keep on attacking.
The biggest problem with Neutron Star happens to be its strongest point. While being so fast, it can be hard to control. You'll have to plan on being all over the place and possibly missing your target at close range. Do note that they're supposed to be moving too! When up against other mecha such as Gabriel and Hurricane, you'll have problems. Those 2 will almost always be at range. When up against Doomlight, you'll definitely have to have the utmost in mecha control. Otherwise, you'll be in pilot mode very quickly!
What this all adds up to is Neutron Star being one very difficult mecha to defeat. All it takes is getting used to how it works first. That's what the Training Grounds are for. The common part is that it's not so easy to get used to. That's why you don't see the battlefield loaded with Neutron Star users!
Conclusion
These are pretty much the best mecha in Super Mecha Champions. However, it's still all on your play style and what you can get good with. The preferred idea is to get good with many mecha. However, with this set of mecha, your chances of winning matches or scoring highly anyway are pretty good. Whatever you do, don't sit there and hope all of your opponents suck. Free tip: they won't! When they don't, just try to have fun with it!