The Genesis Xenon 800 is a great bang for your buck mouse. Take a look at our Genesis Xenon 800 RGB Review and find out if it is your next gaming mouse.
Genesis isn't exactly a household name like Logitech and Razer, so it's fair to be skeptical about the brand. But don't worry, because Genesis was established in 2011 and produces a variety of gaming products.
They usually produce budget-friendly gaming products ranging from mice, keyboards, mousepads, and headphones, among many others. Today's review will be solely focused on the Genesis Xenon 800 RGB.
The Genesis 800 review will talk about the design, look, feel, performance, price, and specifications of the mouse. As well as its software, pros, cons, our overall rating, and if the Genesis Xenon 800 RGB is worth your money.
Price and Specifications
First, let's talk about the full specs of the Genesis Xenon 800. It supports up to 16000 DPI and has a sampling frequency of 1000 Hz. It uses the PixArt PMW 3389 sensor, which is the same one found in the Cooler Master MM710, HyperX Pulsefire Pro, and Endgame Gear XM1. The PMW 3389 is an excellent sensor to have in a mouse and is among the best flawless sensors today.
These specs alone already tell us that the Genesis Xenon 800 is not just another ordinary gaming mouse. Additionally, the mouse also features an interchangeable top panel, allowing you to switch between a honeycomb and solid top cover.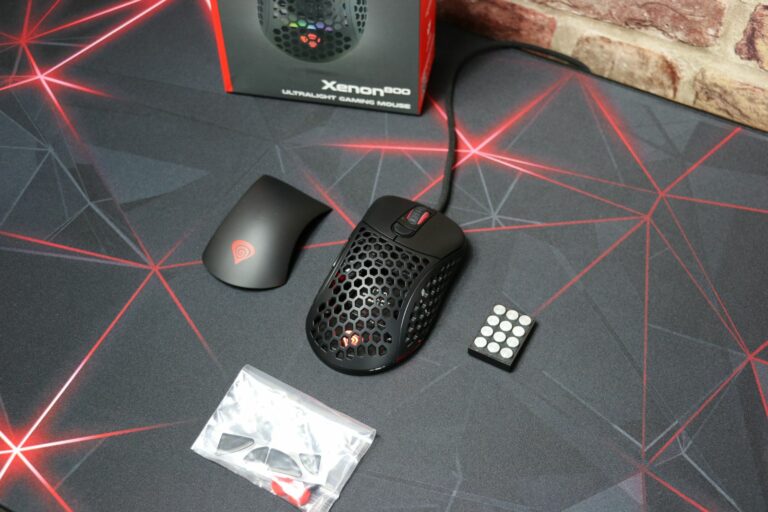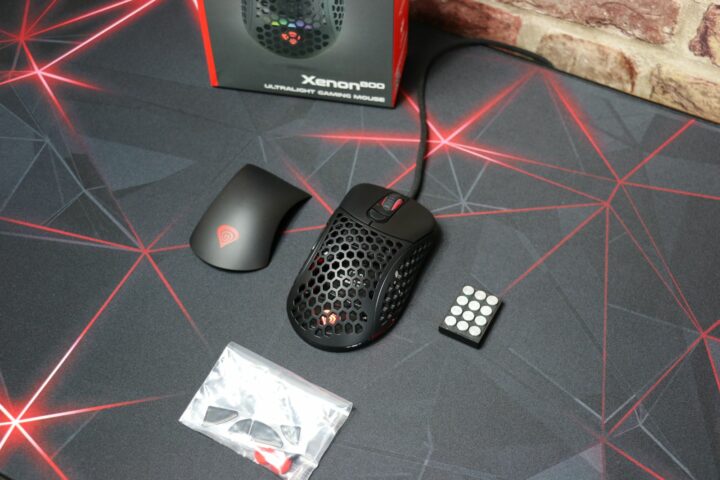 The Genesis 800 uses Omron switches, has Teflon feet for a smoother glide, and an adjustable weight starting at only 58 grams. This is a good weight considering that the trend is moving towards lighter gaming mice.
At 58 g, it puts the Genesis 800 at roughly the same weight as a Cooler Master MM710, lighter than the Glorious Model O, and heavier than the Finalmouse Ultralight 2.
It also comes with a 180 cm long shoelace style cable, similar to the Viper Mini stock cable. It also has a total of 6 programmable buttons that you can customize using the Xenon 800 software.
The Genesis 800 Xenon 800 comes at a budget-friendly price of only $50. For these specs, it's definitely a steal. It's a complete package that can compete with gaming mice with price tags of $50 or more.
Carbon 500 Maxi Flash Mousepad
Genesis also sent over their Carbon 500 Maxi Flash Mousepad, the mousepad featured in some pictures with the mouse. To be fair, it's an excellent mousepad with a smooth and soft texture allowing the mouse to glide with ease.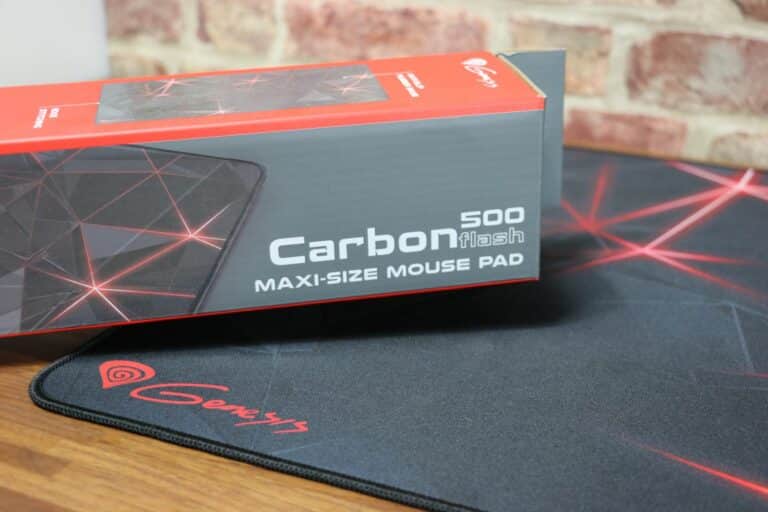 It has a unique and clean design that can match even the best gaming setups. It's stable, has a low profile, and is even waterproof. No messy cleanups when you accidentally spill that secret gamer juice.
It's an extended mousepad with 900 mm x 450 mm dimensions, which can easily hold your keyboard while still having enough space to make insane flicks. The mousepad is sold separately, but I will use it during my Genesis 800 review.
The Genesis Xenon 800 RGB Review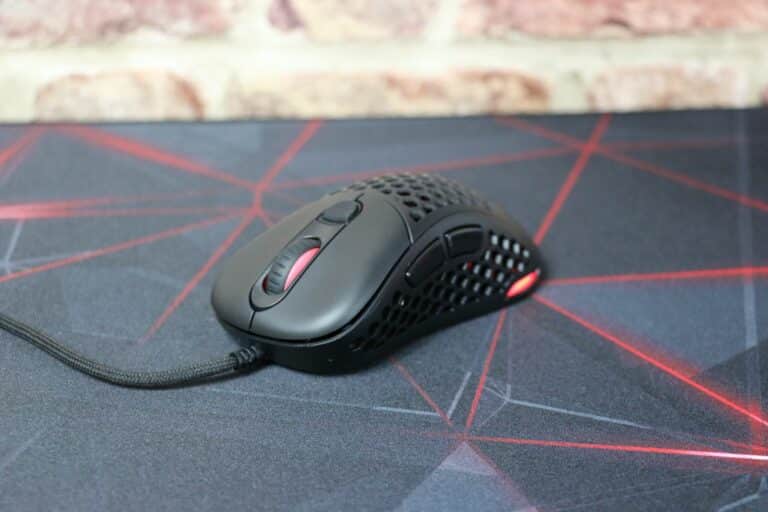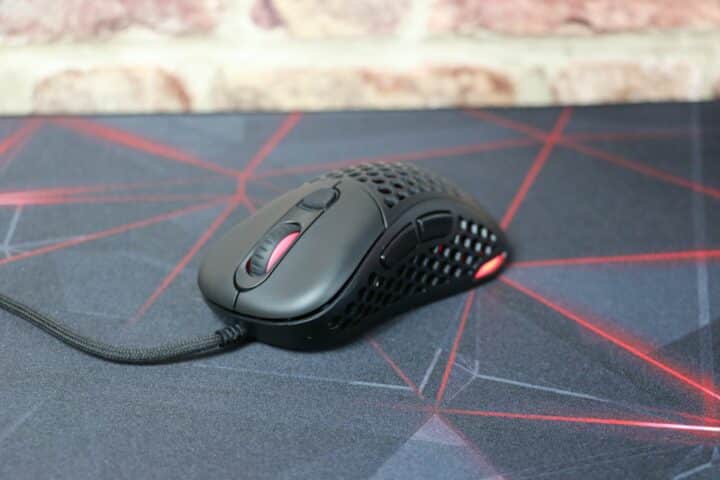 First Impressions
Inside the box, you can find the included adjustable weights, with a total of 12 metal weights and a holder. There's also the solid top panel and some extra black and red DPI buttons with different heights, so you can choose which one suits you the best. There are also some additional black mouse feet that you can use in the future or swap out the pre-installed white ones. Finally, there's a quick installation guide and, of course, the mouse itself.
At first glance, the Genesis 800 looks similar to other popular gaming mice like the Glorious Model O and the Cooler Master MM710. It features the now popular honeycomb design, which helps in lowering the total weight of the mouse.
During my Genesis Xenon 800 review, I noticed that the RGB compliments the mouse well, even though most of it is located near the bottom. The honeycomb design serves the RGB well and allows it to shine a bit through the sides and the top. Speaking of the top, it also has an interchangeable top panel. Allowing you to choose between a solid and honeycomb top.
This is a great design choice, in my opinion, and gives more freedom to the users. The Genesis Xenon 800 isn't the first mouse with interchangeable top panels, but it's definitely a big plus.
Some users prefer a more traditional and solid feel, while some have already adopted the honeycomb feel. This opens the mouse up to a bigger market and allows more players to pick it up without choosing between a honeycomb or solid design.
The Genesis 800 also comes with a shoelace cable design that is soft to the touch and doesn't create any drag when using the mouse. This allows for a free range of movement while also helping lower the total weight of the mouse.
Shape and Feel Review of the Genesis Xenon 800 RGB
The mouse has a very ergonomic shape. It's comfortable to hold and has enough space for all your fingers. It has a similar shape to the BenQ Zowie EC2, one of the best gaming mice for CS: GO. This is probably why the shape and feel of the mouse are quite familiar to me, and most people will feel right at home as well.
The mouse has a nice and grippy matte black finish that is complimented well by the RGB zones. I've always loved gaming mice with a matte finish. They are usually easier to grip for my sweaty hands and aren't a fingerprint magnet like the glossy ones.
Unfortunately, the Xenon 800 only comes in a matte black finish and isn't available in any other color. I feel like a matte white finish would've been a good choice as well, especially for people who prefer a cleaner look. Hopefully, they release one in the future.
Next, let's compare the Genesis Xenon 800 to some of the best gaming mice for Valorant, like the Glorious Model O and the Razer DeathAdder V2. The Xenon 800 is lighter than both of these mice, but it shares some similarities with both when it comes to size.
The Genesis is shorter than both mice, but it's wider and a little bit taller than both mice as well. This gives it a relatively compact but heightened shape, making it great for all grip types. I feel like the mouse is best for claw grip users, but using a palm grip would be comfortable as well, thanks to its relatively high top panel.
Performance Review of Genesis 800 RGB
I didn't run into any issues when it comes to performance. The mouse has a flawless sensor, hardly any cable drag, smooth mouse feet, and a comfortable and grippy body.
The PixArt PMW 3389 is an excellent sensor. It is more than capable of keeping up with high-intensity gameplay, making it perfect for playing competitive FPS games. I can't say anything else about the sensor since it's a pretty good one and a lot of other good gaming mice use it as well.
I personally prefer the solid top panel over the honeycomb one since I use a palm grip and the holes just feel weird to me. The ones on the sides were, though, and actually provided some extra grip.
The base Xenon 800 is pretty light, coming in at only 58 grams. You can add up to 21 grams by adding up to 12 metal weights, each being 1.75 grams. I personally prefer a light mouse since it helps make flicking easier. Still, you might have to adjust a bit if you are coming from a heavier and bigger mouse.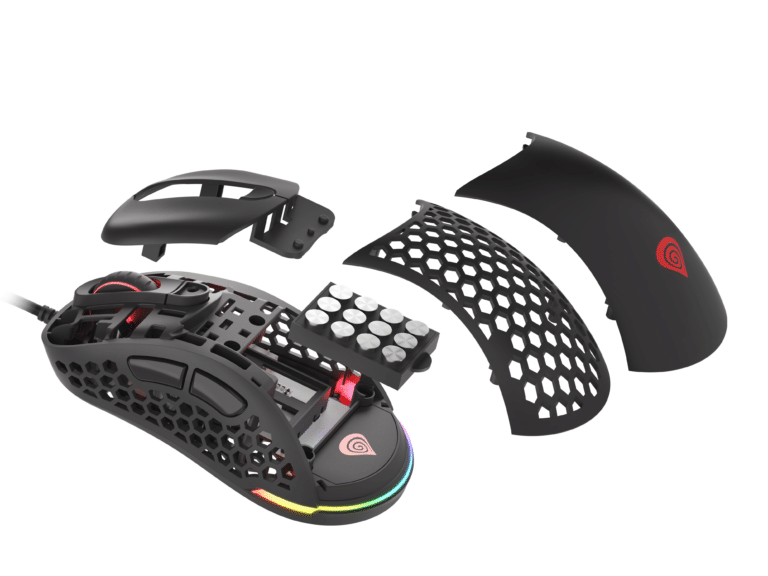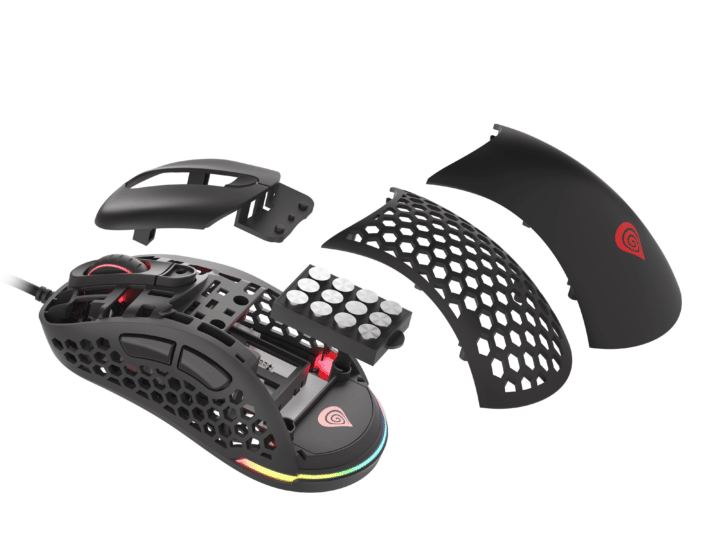 The buttons on the mouse feel nice and tactile. It has a nice and smooth 24-step rubber scroll wheel and a rubber DPI button. Unfortunately, it only has two side buttons on the left side, which means it isn't an ambidextrous mouse. Sorry to my left handed-gamers out there.
The two main clickers have Omron switches rated for 20 million clicks. For the most part, they feel good and can even be used for drag-clicking. Plenty of gaming mice use Omron switches, and most have no problem whatsoever.
Overall, the only thing I didn't like is the rubber scroll wheel and DPI button. It just feels different from the rest of the plastic build. I know I'm nitpicking here, and it's mostly just personal preference, but that's my honest opinion.
Genesis Xenon 800 Software Review
Most gaming mice you can buy today all have their very own software. Usually, you can control more things and further customize your mouse using the company's software. Logitech has their G Hub, Razer has Synapse, and the Genesis Xenon 800 has its own software as well.
The interface is pretty straightforward. There are five different tabs, Key Assignment, DPI, LED, Advanced, and Macro. Under the Key Assignment tab, you can customize and re-program a total of 8 different functions.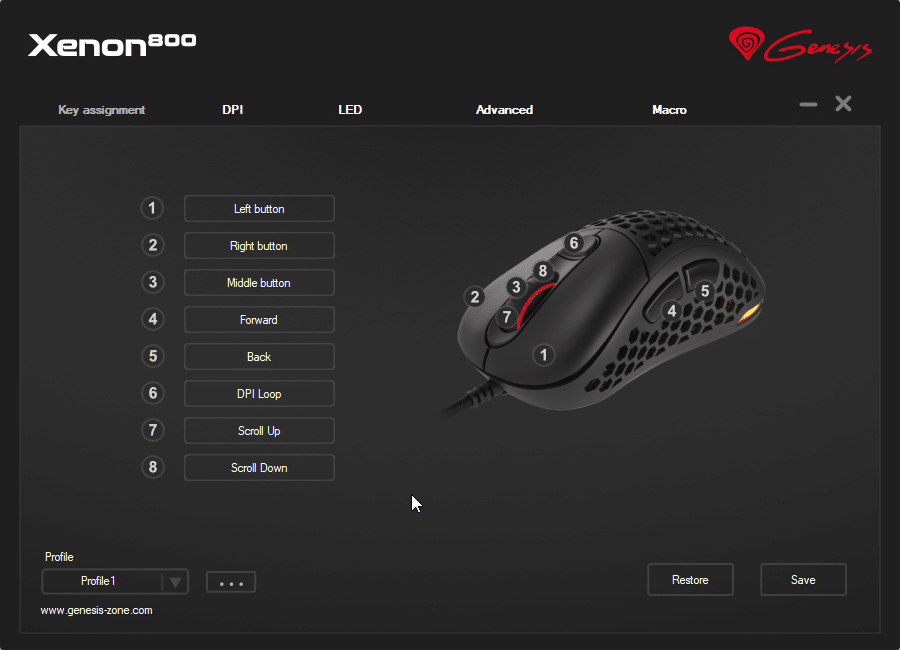 The DPI tab allows you to change the 7 different increments using the DPI button. This mouse supports up to 16,000 DPI, and you can even adjust the X and Y axis speed independently. The LED tab is pretty straightforward and allows you to control your light effects and their brightness.
Under the Advanced tab are more settings that you can use to further tune the Xenon 800 to your preference. This includes double-click speed, scrolling speed, mouse sensitivity, and even adjusting your Lift Off Distance (LOD), which can be a pretty valuable thing for competitive players.
Finally, using the Macro tab, you can create custom macros by recording them. You can then program them to your mouse buttons. This is a great and valuable feature, making the Genesis Xenon 800 a good mouse for playing Minecraft, MMO games, and other RPGs.
Overall, the software looks clean and is very easy to understand and navigate. It was also a pretty flawless installation experience and detected the mouse right away. No one should run into any problems while using the Xenon 800 software.
Final Verdict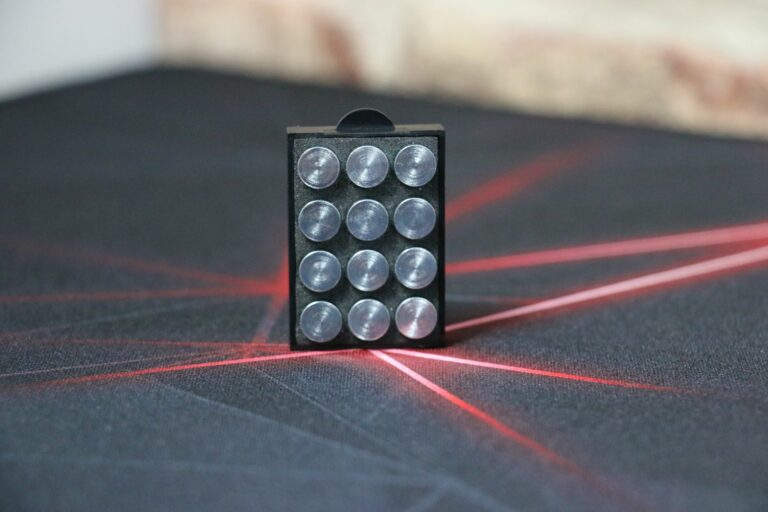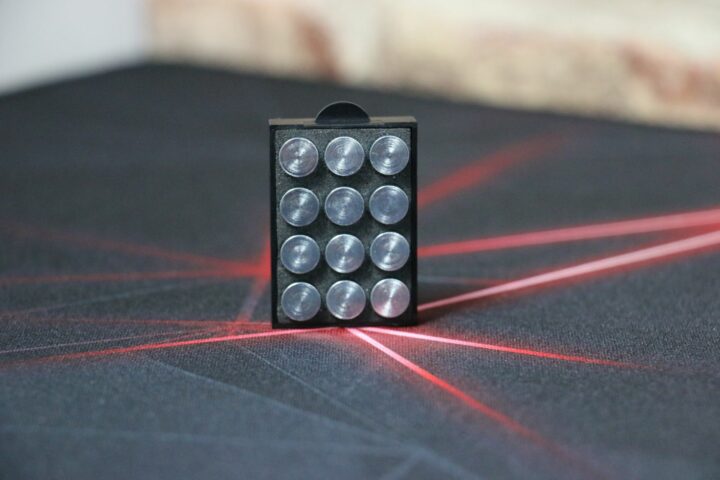 My Genesis Xenon 800 RGB review really surprised me. I never expected much from the mouse and thought it was just another copy of the famous honeycomb-designed gaming mice. It looked like a ripoff trying to lure budget gamers.
However, the Genesis Xenon 800 RGB proved me wrong. It's cheap, lightweight, has a flawless sensor, tons of customization options, has good software, great gliding feet, and a drag-free cable; what more can you ask in a mouse?
I enjoyed my Genesis 800 review and never would've thought that this Genesis gaming mouse would be this good. A few improvements in mind include changing the rubber scroll wheel and DPI button and making it an ambidextrous mouse. It also wouldn't hurt if they could make a white variant and maybe release a wireless model in the future.
At the end of the day, the Genesis Xenon 800 offers some pretty amazing value for its price. It is, without a doubt, recommended for gamers on a tight budget looking for an excellent-performing mouse.