Turbo Overkill is a fast paced first person shooter from Trigger Happy Interactive and Apogee Entertainment. It's out now in Early Access on PC via Steam and. After spending some time in the Cyberpunk world of "Paradise" playing as Johnny Turbo, here are my Turbo Overkill Early Access impressions.
Gunplay, Abilities, and Movement
Turbo Overkill feels exceptional to play. It's inspired by tons of titles from the 90s era, and early 2000s, but also recent shooters like Titanfall 2, and even Vanquish. Johnny Turbo can slide, and cut down enemies with a chainsaw attached to his leg, wall-run, dash, and move around very quickly. Guns are fast, varied, and beautifully designed. The more bosses you encounter, the more varied your arsenal becomes.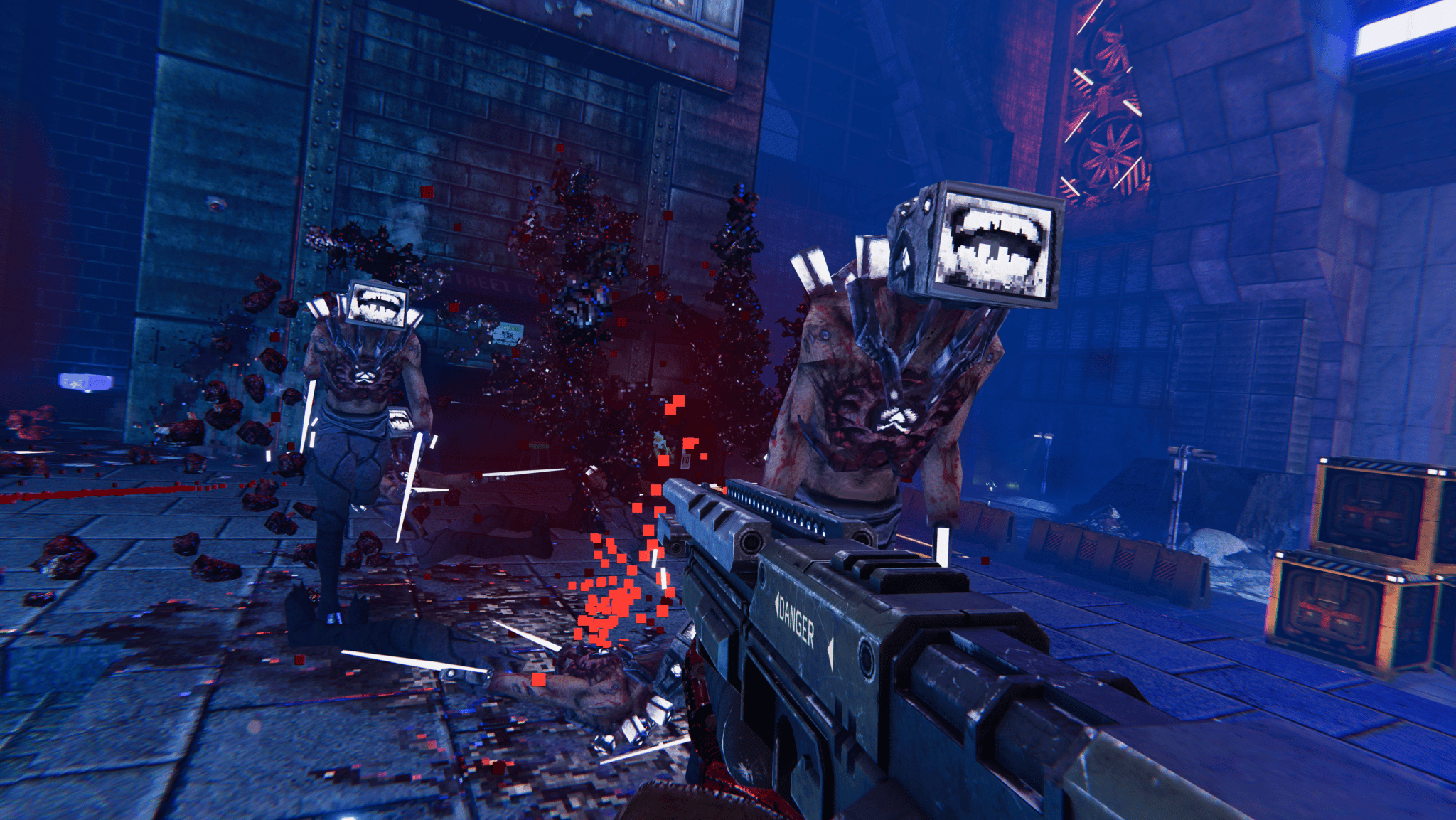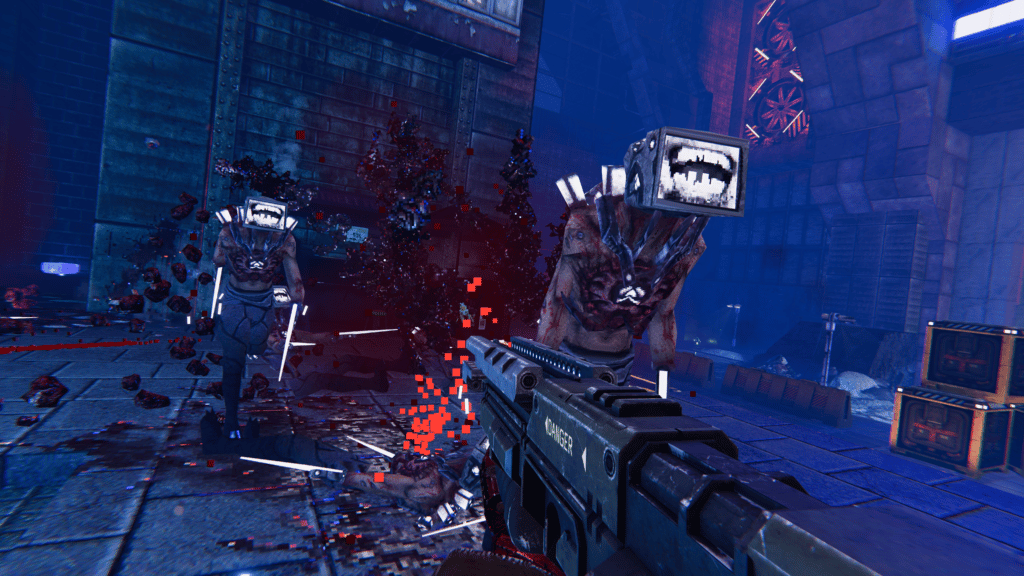 Even though the game is extremely fast-paced, it feels closer to DOOM, and Quake than something like Ultrakill. Staying in one place is a sure way to get instantly killed. Moving around is something you need to prioritize. Even earlier enemies can take you down pretty quickly if you don't adapt fast.
There are plenty of stages, even in its current Early Access state, and you'll be familiarizing yourself with locations as you play. The more you play, the more abilities you'll unlock to not only enhance your combat skills but traversal as well. This makes replaying levels even better, as you can move around levels with ease.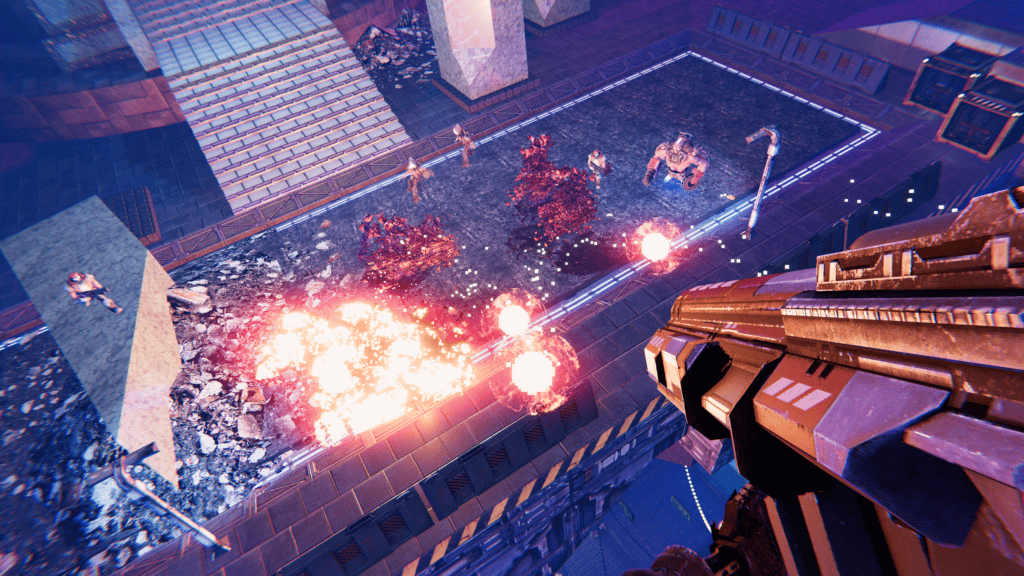 Even with these obvious inspirations from other titles, Turbo Overkill feels like an FPS sandbox at its core. Getting more abilities, and weapons push you to experiment and adapt to different enemies, and levels. I'm very impressed by how varied levels felt, and traversal as a whole never hurt the pacing in any way. The game isn't interested in wasting your time with exposition and gives you full control even during dialogue.
Turbo Overkill's pacing is king, and there's never a dull moment. If you aren't mowing down enemies with your chainsaw leg, you're dashing through awesome environments with Cyberpunk imagery, and graffiti plastered everywhere.
Presentation and Audio
Turbo Overkill borrows a lot from contemporary Cyberpunk media including Blade Runner and the tabletop series from Mike Pondsmith. Its world is drenched in Neon, bursting in contrast, and the usual Cyberpunk imagery we've come to expect now.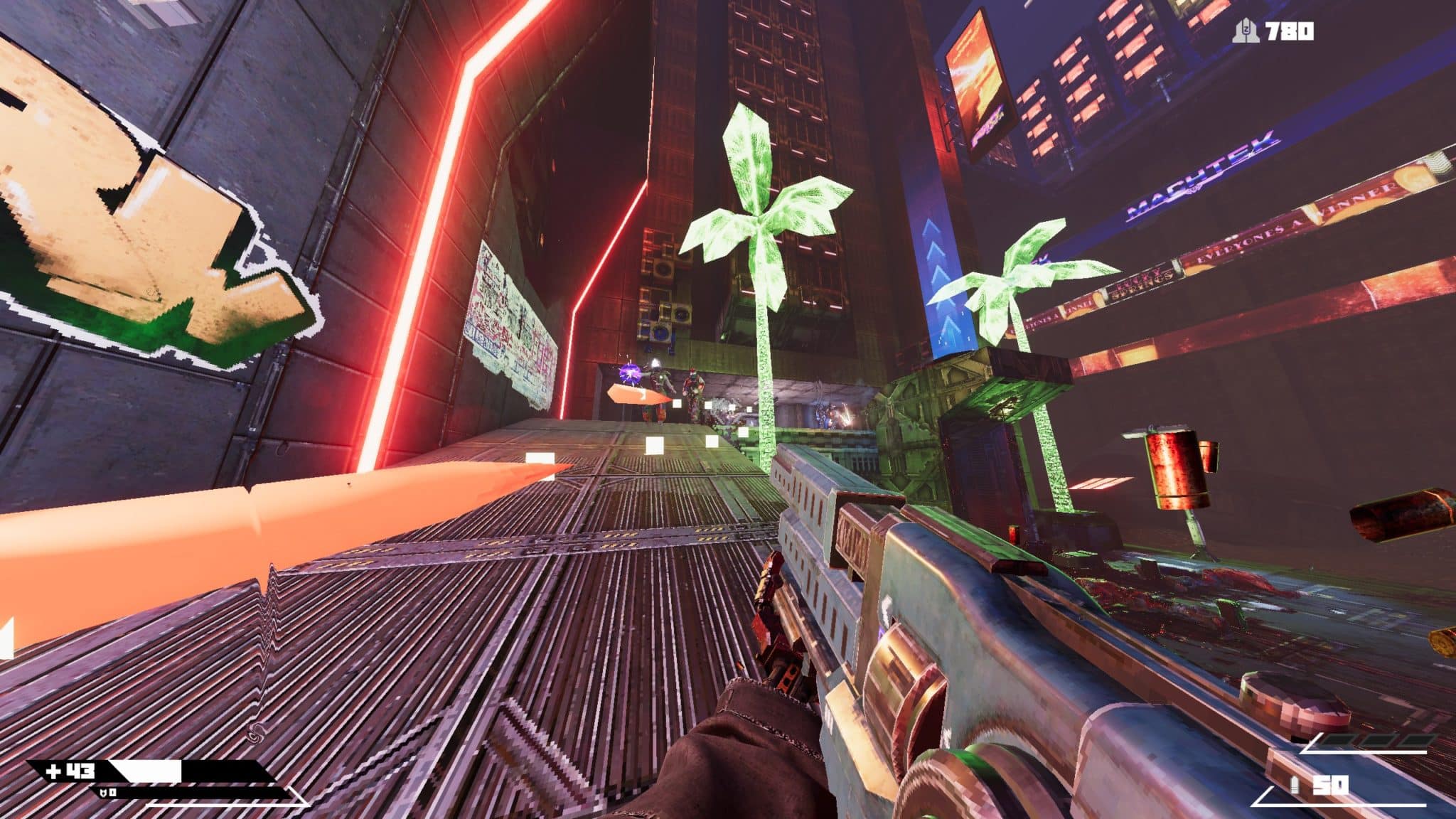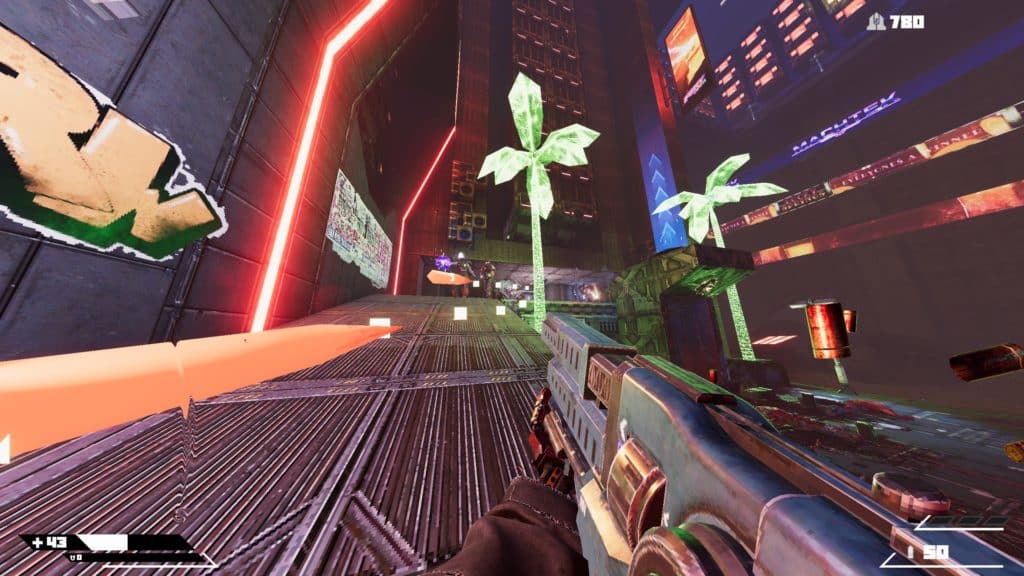 The visuals combine 3D models with pixel art, to create a nostalgic presentation that still feels recent. Unlike most Boomer shooters that are adamant to look the way most titles did in the past, Turbo Overkill looks modern, especially because of its lighting. I wouldn't say it leans towards a certain style though. It strikes a good balance to stay faithful to the games it borrows from.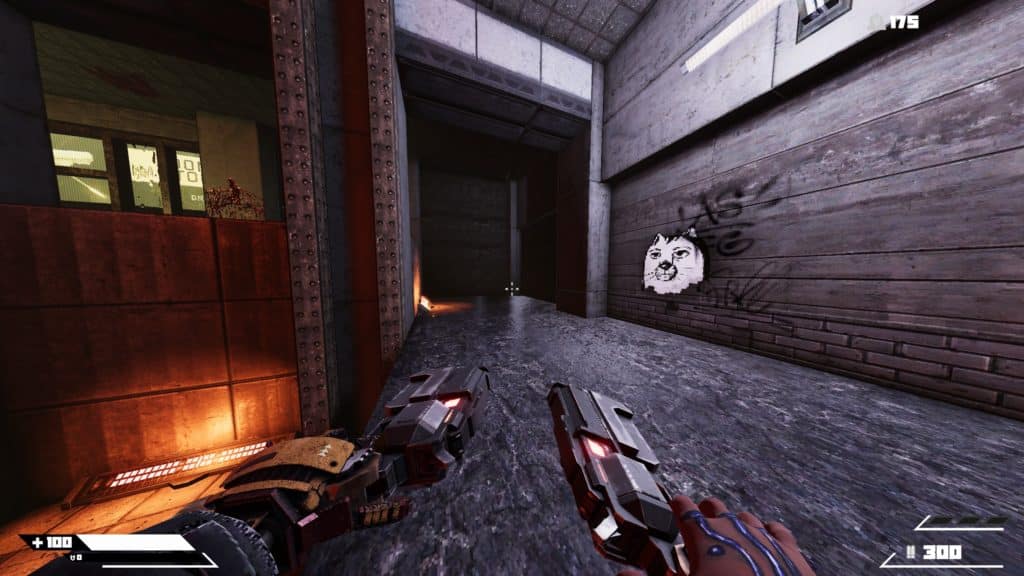 If I had to compare it to a recent title, it shares a similar art direction to Ghostrunner. Though it doesn't share the same graphic fidelity. Levels are easy to read, and while certain character portraits could have been better, I found the overall design appealing.
Minor Bugs and Checkpoints
This is an early access title, so you need to expect bugs, and glitches going in. Unlike many other EA games though, Turbo Overkill doesn't suffer from much. There are a few instances where I got stuck in the terrain while sliding.
At times, the last checkpoint can spawn you right next to enemies, which can be pretty annoying. The game doesn't refill your HP at checkpoint reloads either, and you're stuck with the small amount of health even if you spawn next to enemies.
Closing Thoughts
Even in its early access state, Turbo Overkill offers a lot. It liberally borrows from multiple FPS titles but creates a sandbox experience like no other. The fast-paced gunplay, ever-evolving traversal, and gorgeous environments add up to a fantastic shooter that I want to keep playing. It's not every day you get to slide with your chainsaw leg one moment, and swing around like Spider-Man the next.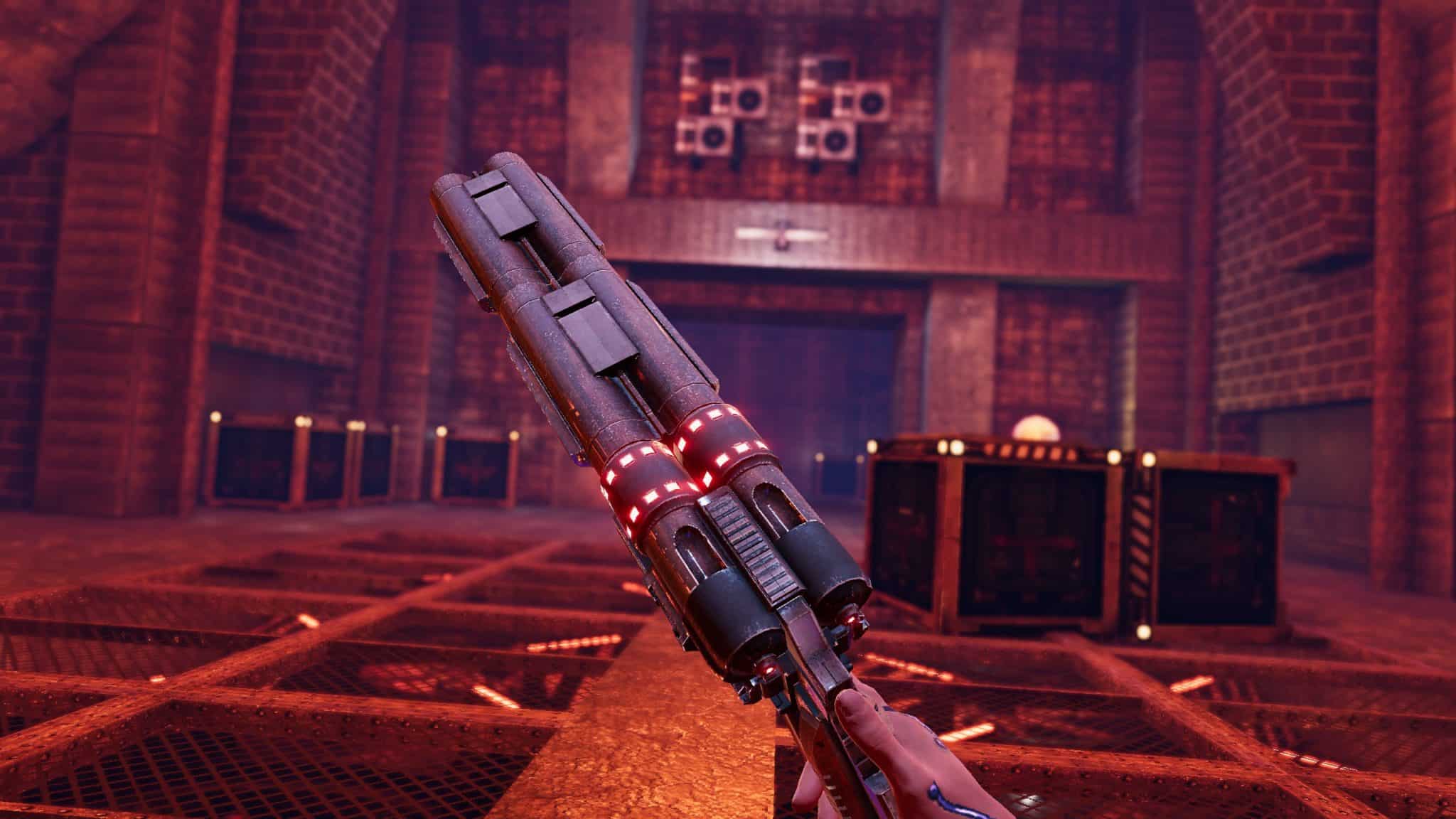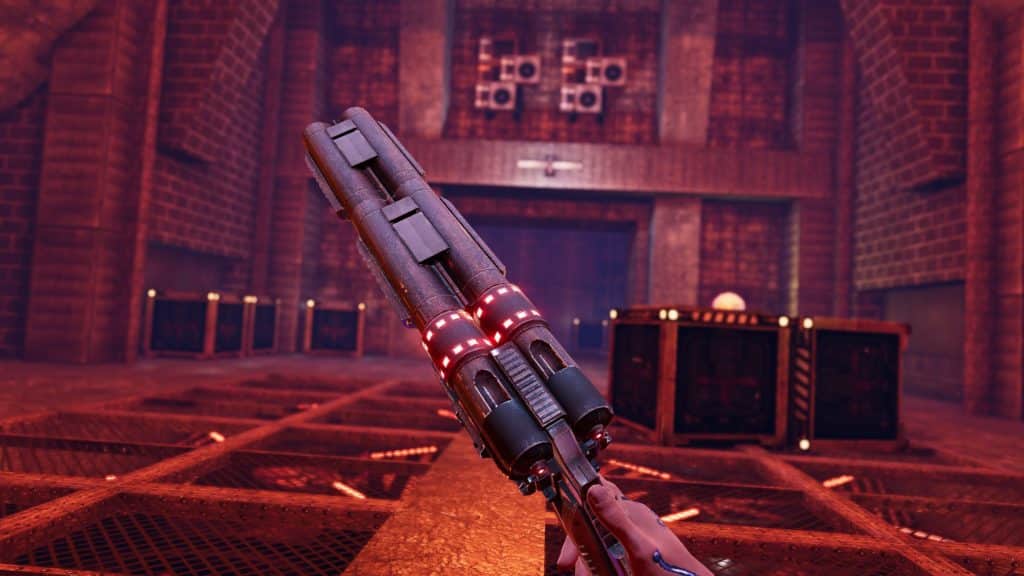 Turbo Overkill on Steam
The title is out now on Steam in Early Access state, and you can get it at the following link.
While you are here, make sure you read out other reviews as well, for titles including Weird West, Winter Ember, and The House of the Dead Remake.
What did you think of our Turbo Overkill Early Access Impressions? Are you picking up the game? Share your experience in the comments below.
This impressions article is based on the PC version of Turbo Overkill. The key was provided by Apogee Entertainment