This vampire sandbox RPG has become one of the favorites on Steam this 2022 and we are here to share a couple of tier lists you can consult when playing through your vampire builds. These V Rising tier lists range from the best blood types to acquire during the game to the best abilities you can pick up.
Blood Type Tier List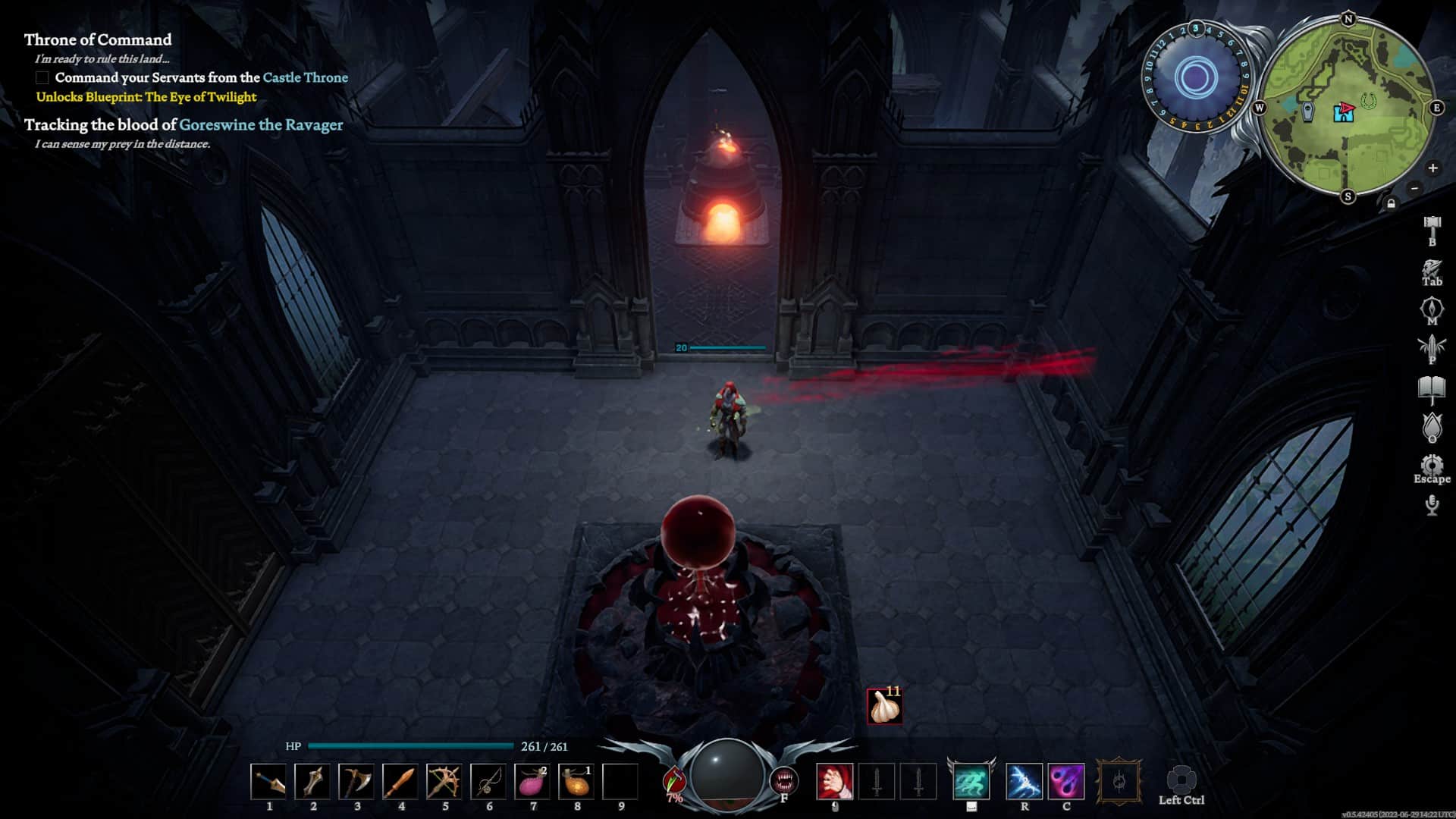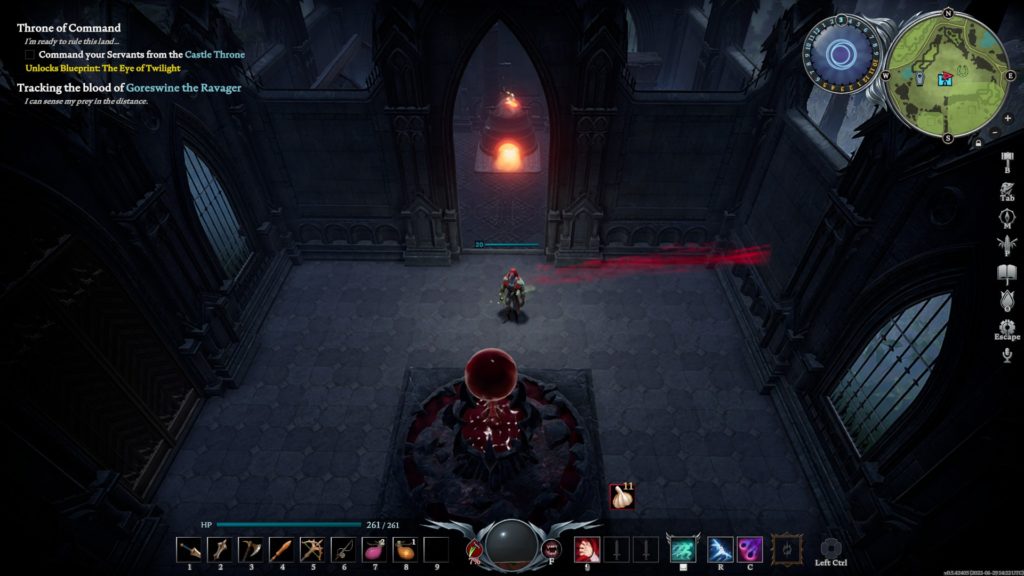 In V Rising, you get a chance to consume a couple of blood types depending on your playstyle and we're here to rank them and show you what types to look out for from best to worst.
If you consume blood that is of 100% quality, all effects of that blood type will gain a 30% boost (Quality 5), except for the Frailed type. Also take note that in V Rising, you slowly lose health once your blood pool runs out. Choosing not to consume blood will keep your health to 1HP unless you feed off a human or creature. Keep this in mind.
Brute
Clearly, the best blood type to obtain in your early grinds to the game is the Brute since its Quality 1 ability gives you Life Leech which can be helpful to increase your survivability instead of consuming blood to heal yourself.
That could take a toll later on if you forget to fill up your blood pool while exploring the map for hours.
Blood Quality Levels:
7.5% – 12.5% Primary attack life leech.
7.5% – 15% Increased Primary Attack Speed and gain 1 Gear Level.
Healing received increased by 20% – 35%. Heal yourself for 4% of your victim's health when striking a killing blow.
6% chance per relative health recovered to boost movement speed by 20% and primary attack damage by 25%.
Rogue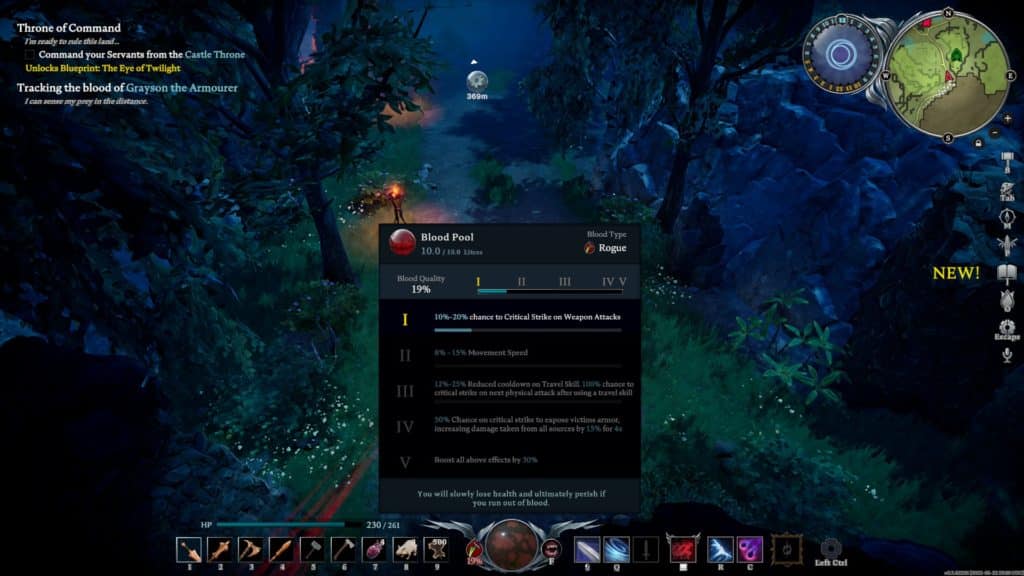 The Rogue is an alternative offensive blood type in case you can't find any human carrying the Brute blood type. It's also one of the easiest blood types to obtain since you can get these from archers which are easy to kill.
Blood Quality Levels:
10% – 20% Critical Strike chance on Weapon Attacks
8% – 15% Movement Speed
12% – 25% Reduced cooldowns on Travel Skill. 100% chance to get a critical strike on the next physical attack after using a travel skill.
50% Chance on critical strike to expose victim's armor, increasing damage taken from all sources by 15% for 4 seconds.
Warrior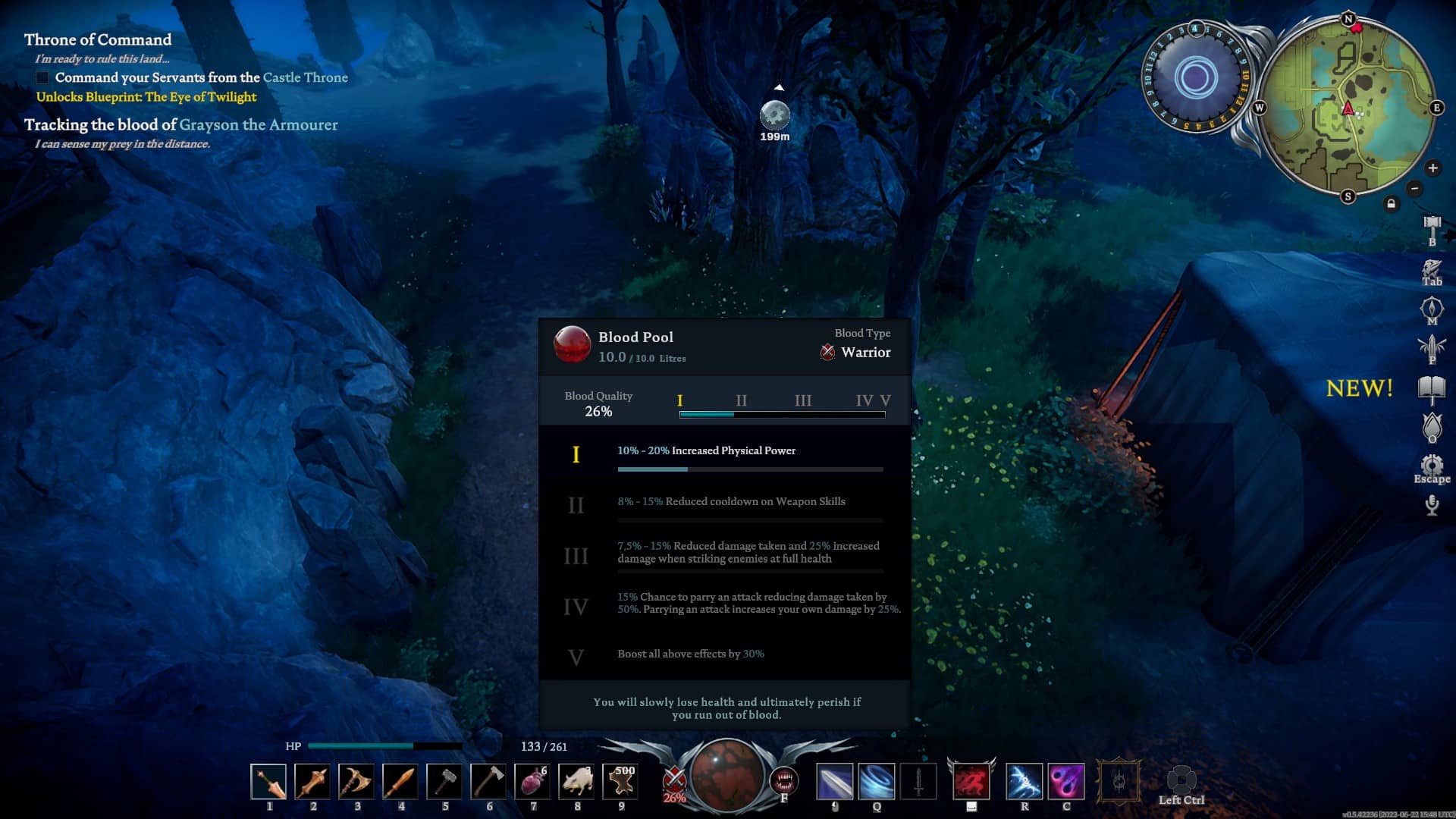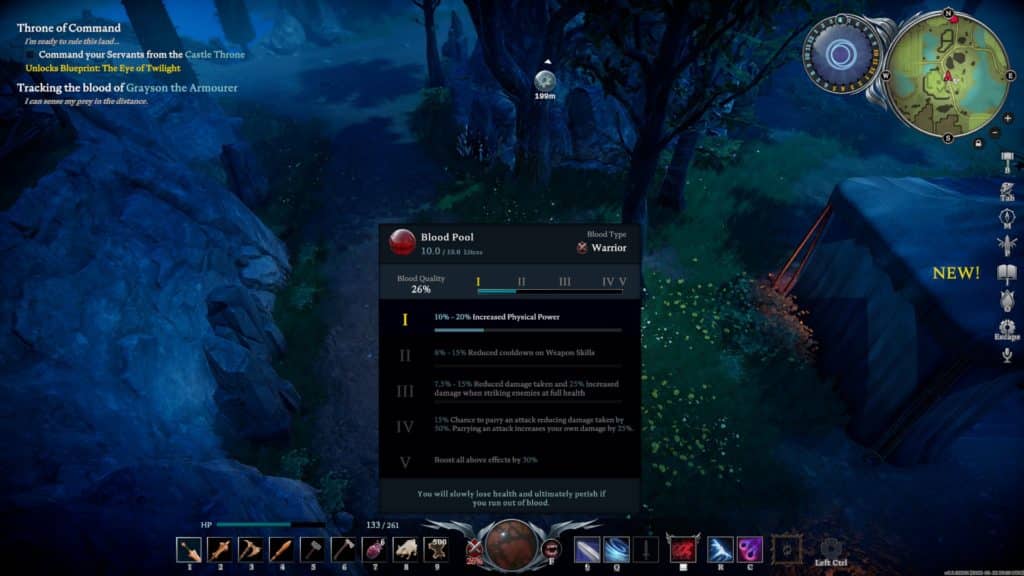 If you want a steady damager build without relying too much on luck when hitting deadly strikes, you may consider consuming the Warrior blood type.
Not only does it give you reduced weapon skill cooldowns and an ample amount of weapon power but also tank skills that can help you survive longer.
Blood Quality Levels:
10% – 20% Increased Physical Power
8% – 15% Reduced cooldowns on Weapon Skills.
7% – 15% Reduced damage taken and 25% increased damage when striking enemies at full health.
15% Chance to parry an attack reducing damage taken by 50% which in turn increases your own damage by 25%.
Creature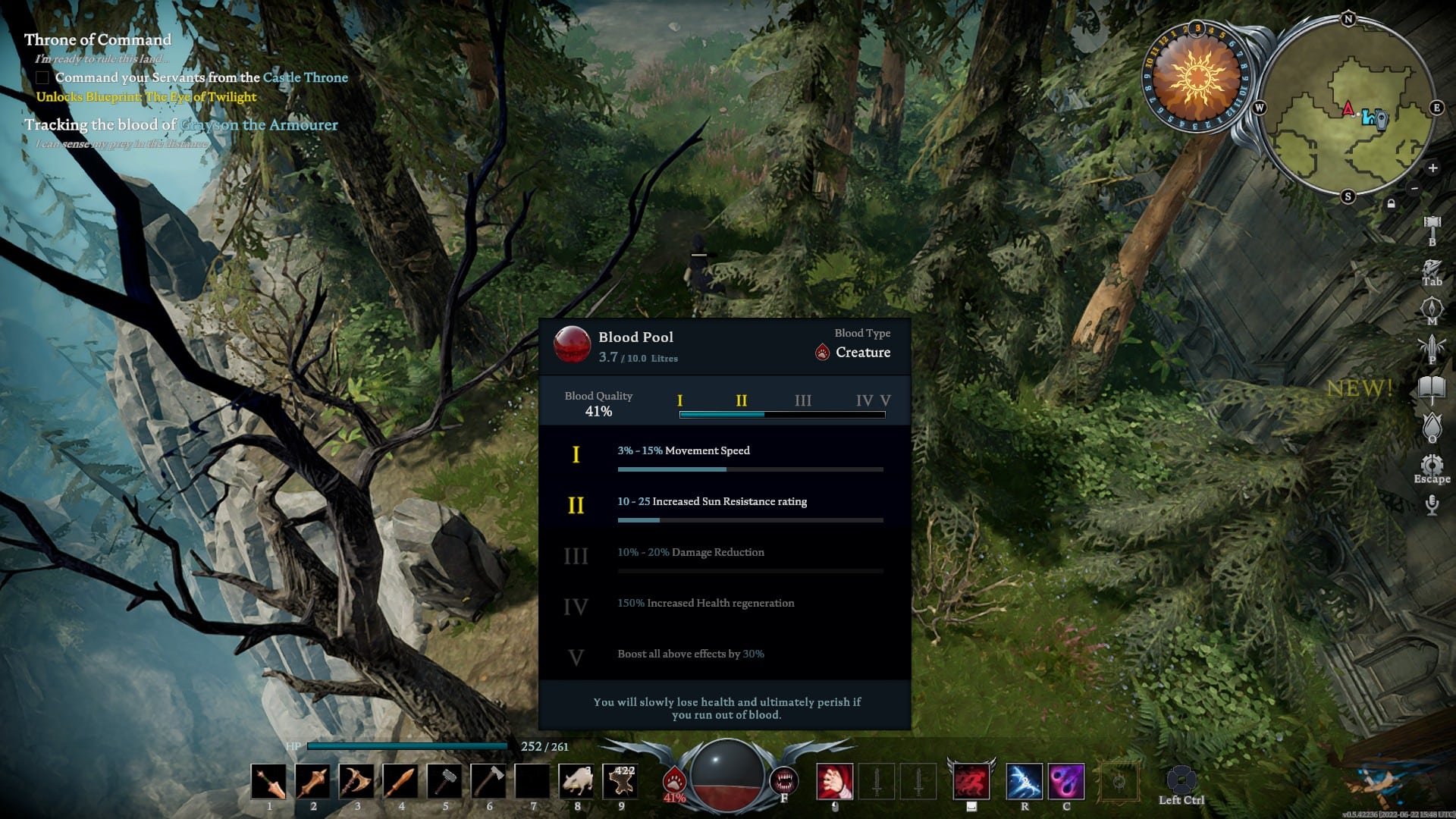 The Creature blood type is one of the easiest to obtain since you only need to find animals around the map. If you get higher-quality blood, your vampire can get tanky. Mix it up with a dash of movement speed and increased sun resistance, you can explore more comfortably during the day.
This blood type is best used while your vampire is in Wolf Form and if you're lucky to get a higher quality, you might become a tanky self-regenerating vampire.
Blood Quality Levels:
3% – 15% Movement Speed
10 – 25 Increased Sun Resistance rating
10% – 20% Damage Reduction
150% Increased Health regeneration
Scholar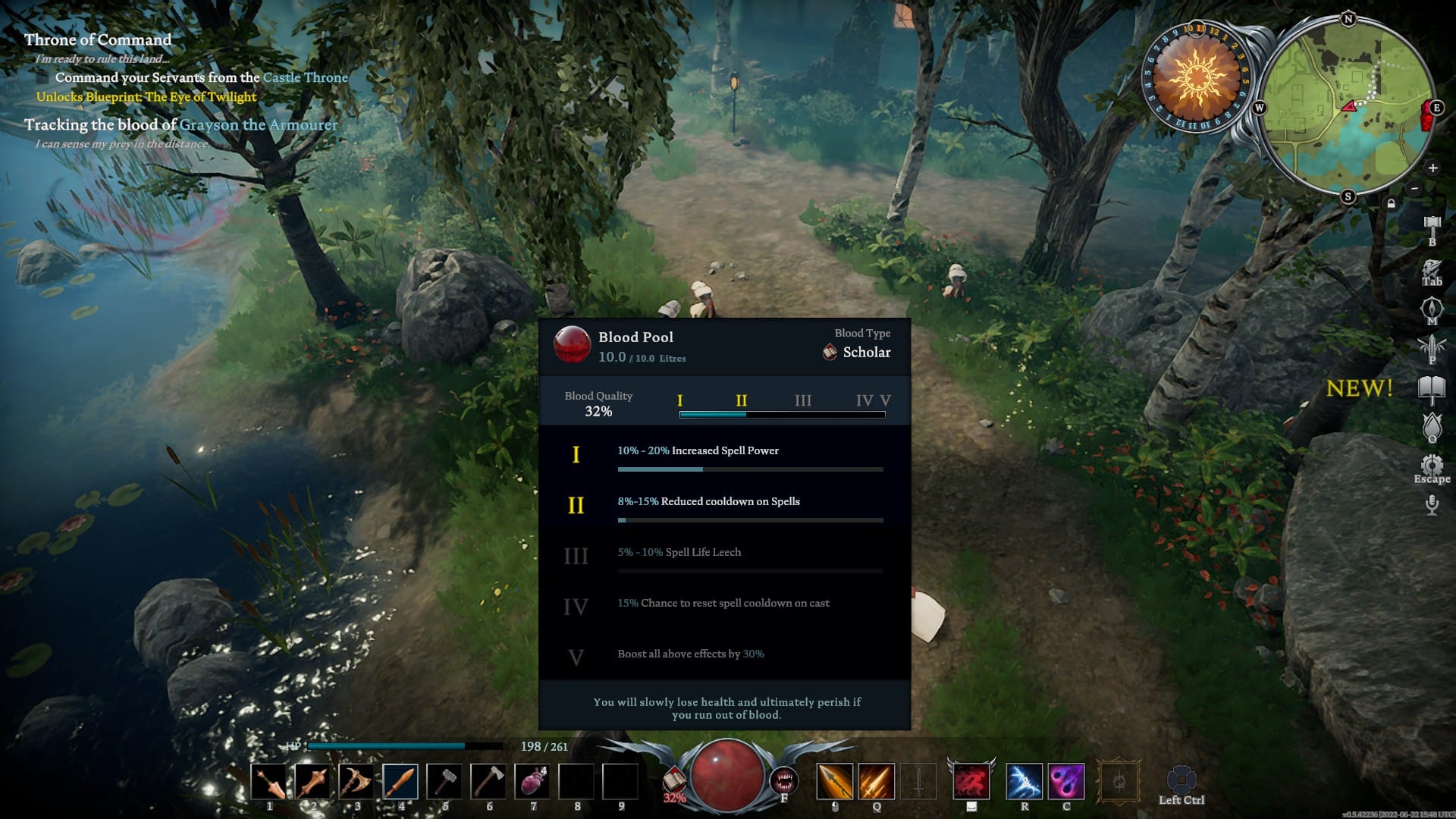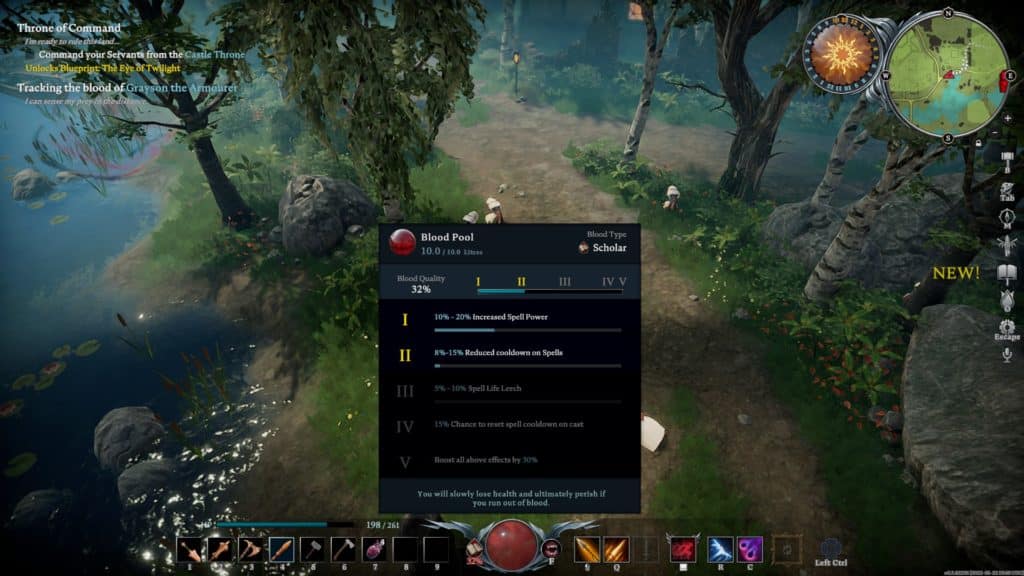 Playing spells in V Rising doesn't require mana but your obstacle in chaining combos would be the cooldowns. So this is where the Scholar blood type comes in. This blood type is best suited for gamers who love to play the role of a mage/caster.
You can explore the upper parts of the map to obtain this blood type specifically in the area near Dunley Farmlands.
Blood Quality Levels:
10% – 20% Increased Spell Power
8% – 15% Reduced Spell Cooldown
5% – 10% Spell Life Leech
15% Chance to reset spell cooldown on cast
Worker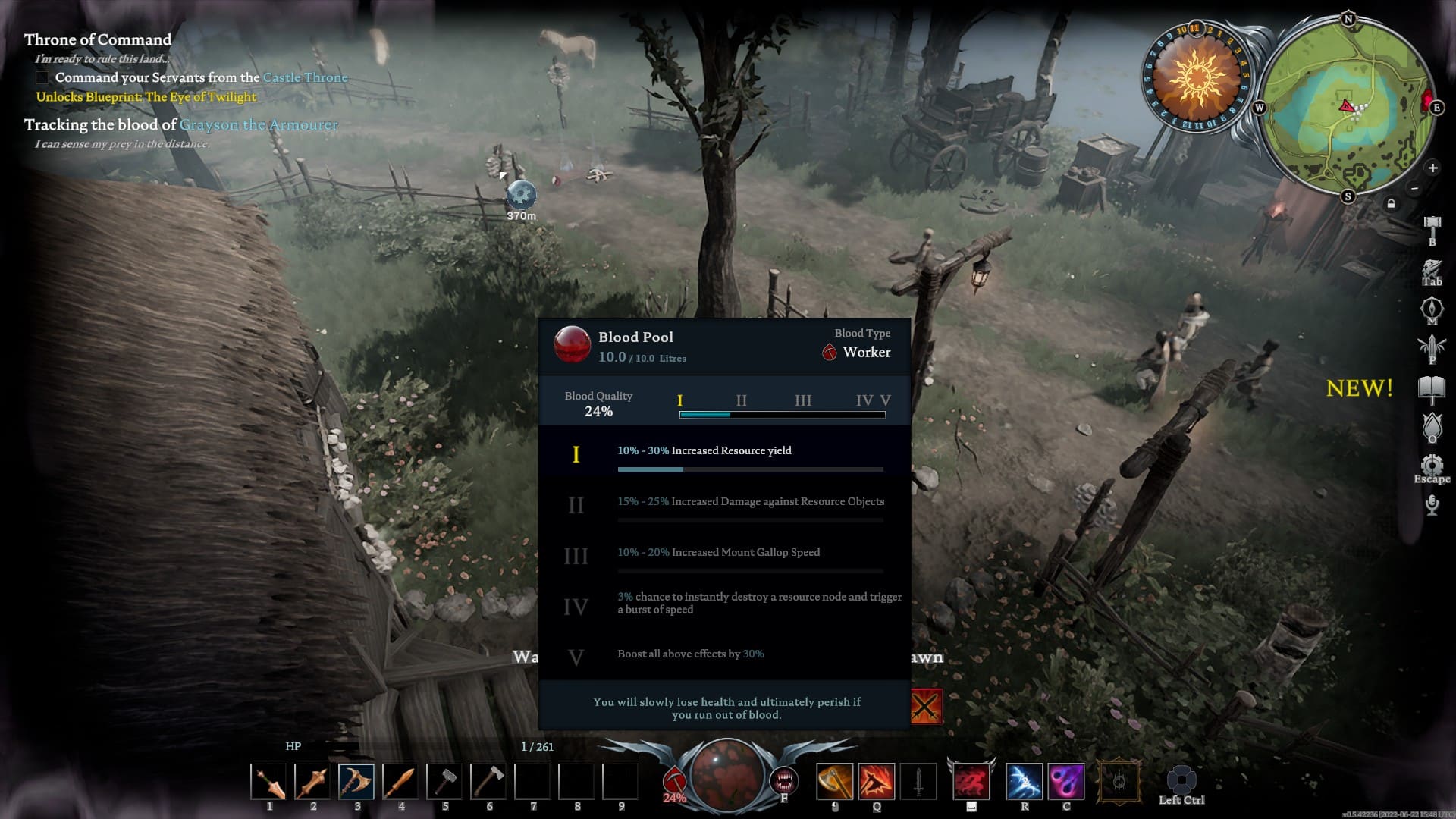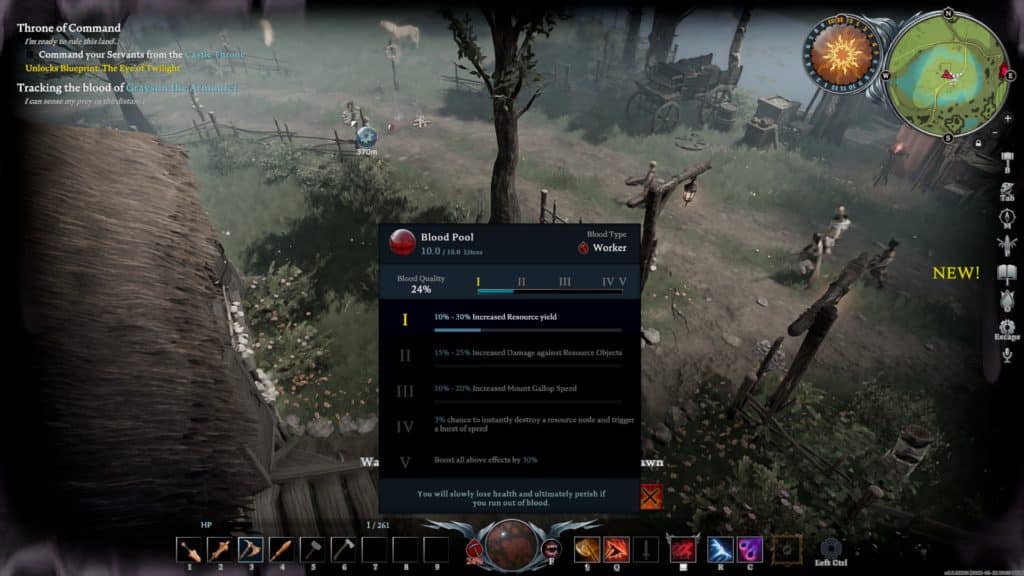 If your playstyle is more of a gatherer and builder and you prefer to live a peaceful life exploring the world, then the Worker blood type is for you. Its perks can help you stack up resources in improving your castle, expanding your territory, and creating more refined materials to craft better weapons and armor.
Getting a higher quality Worker blood can also help you travel the world faster although the perks are not that great compared to the Creature.
Blood Quality Levels:
10% – 30% Increased Resource Yield
15% – 25% Increased Damage against Resource Objects
10% – 20% Increased Mount Gallop Speed
3% chance of destroying a resource node to trigger a speed burst
Frailed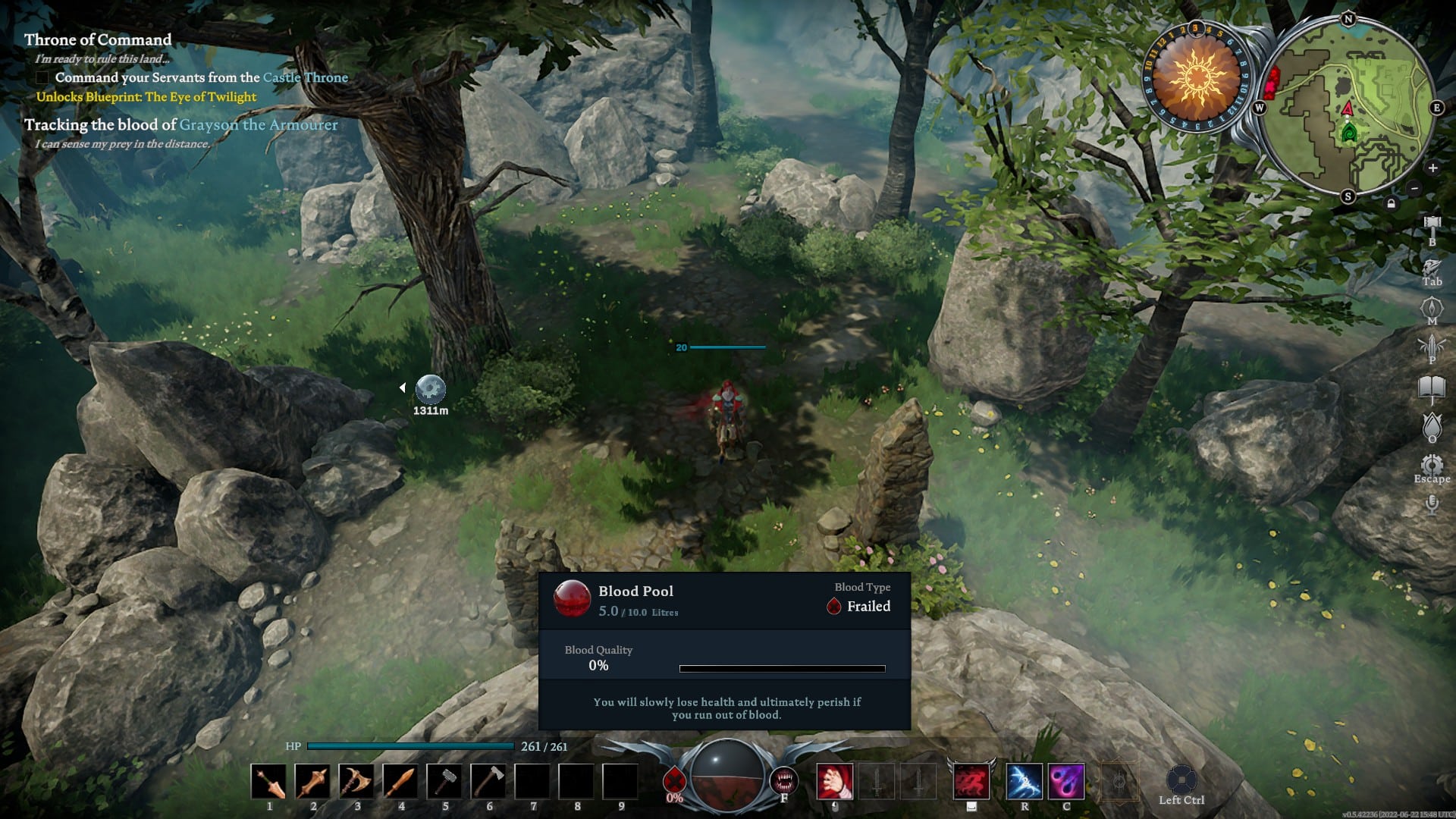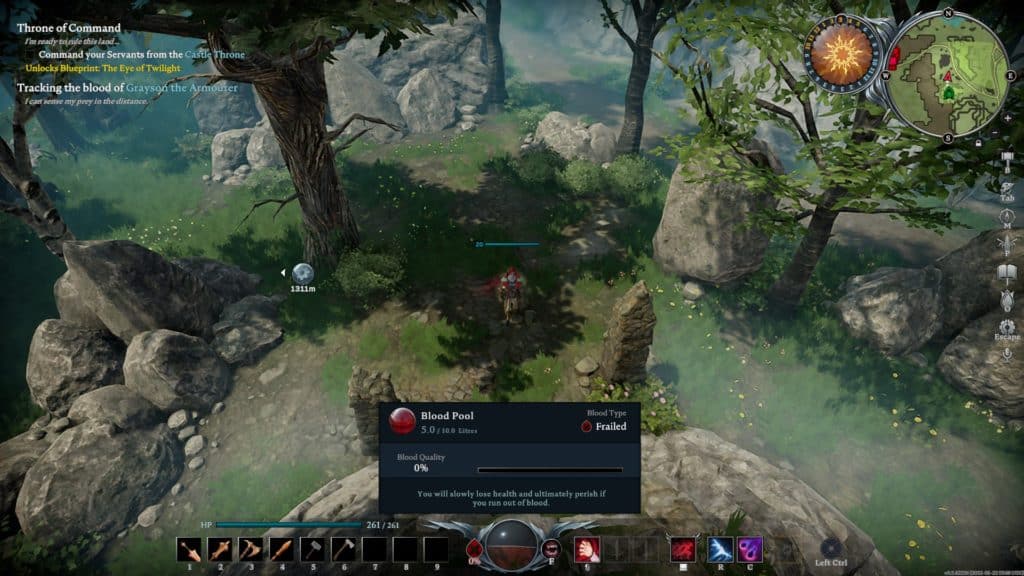 This blood type is only used as a last resort in this V Rising tier list category if you can't find any nearby human or creature to consume while exploring which is very unlikely unless you're mostly encountering ghouls and skeletons.
The Frailed blood type is usually found in Rats or Tainted Hearts which are consumable in your inventory once you pick one up.
Ability Tier List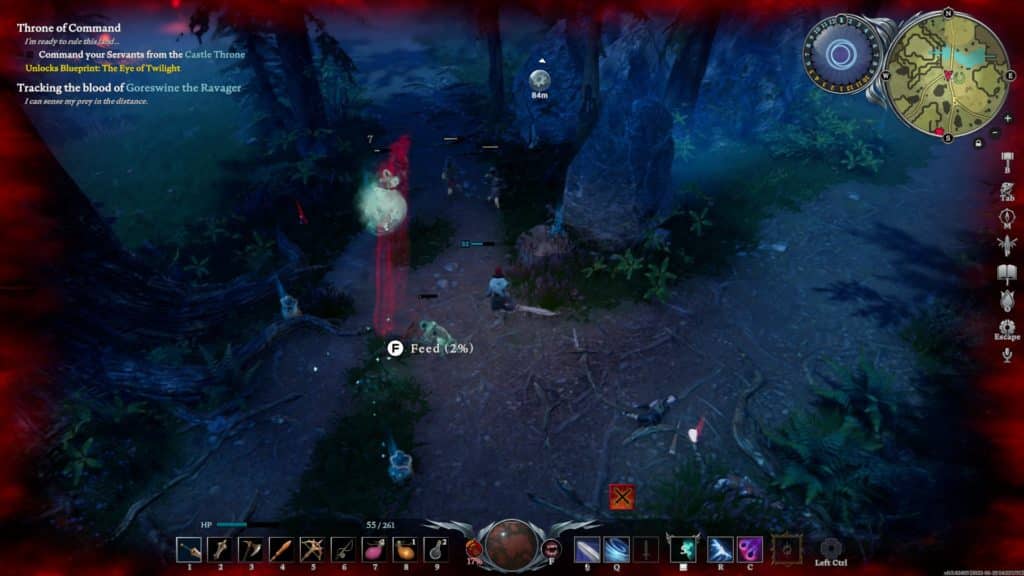 The next section of our V Rising tier list features the many abilities you can discover while also playing the game. Although you can unlock all of these abilities, you can't really use all of them at once. You are limited to one travel ability, two basic abilities, and one ultimate. But you can mix and match your preferred abilities according to your playstyle.
So far in our playthroughs, these are our top five abilities that are very useful in solo PvE.
Chaos Volley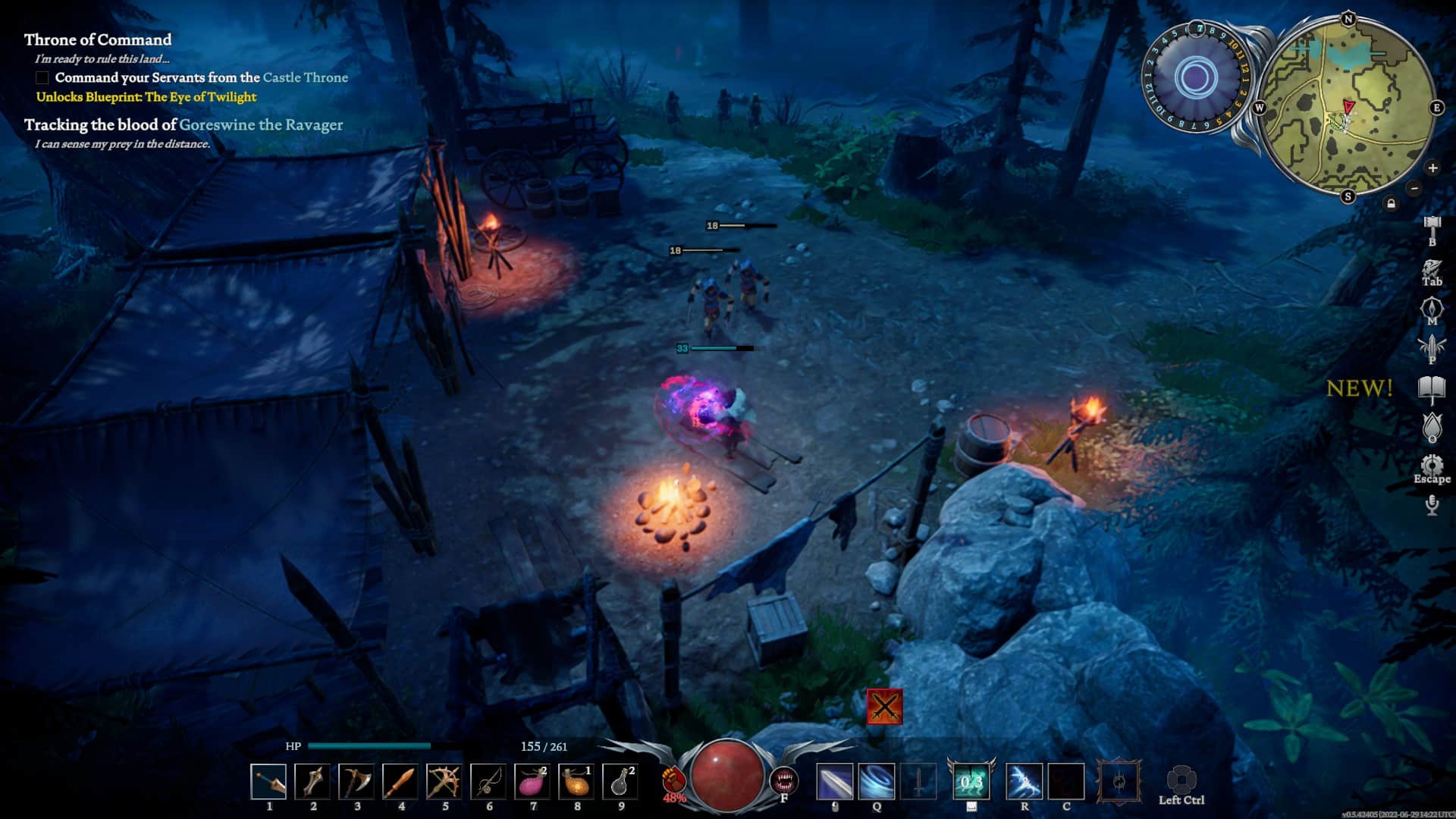 Launch 2 Chaos Bolts in a sequence that deals 110% magic damage and inflicts Chaos Burn. This ability makes a perfect combo with any travel ability and even Frost Bat. The Chaos Burn status effect damages enemies over time and it makes feeding quicker.
You can obtain Chaos Volley by defeating Lidia the Archer. Use the Blood Altar to track her down; she usually roams around this area, so keep an eye out. If you're lucky, you might even get both Chaos Volley and Frost Bat in a single encounter.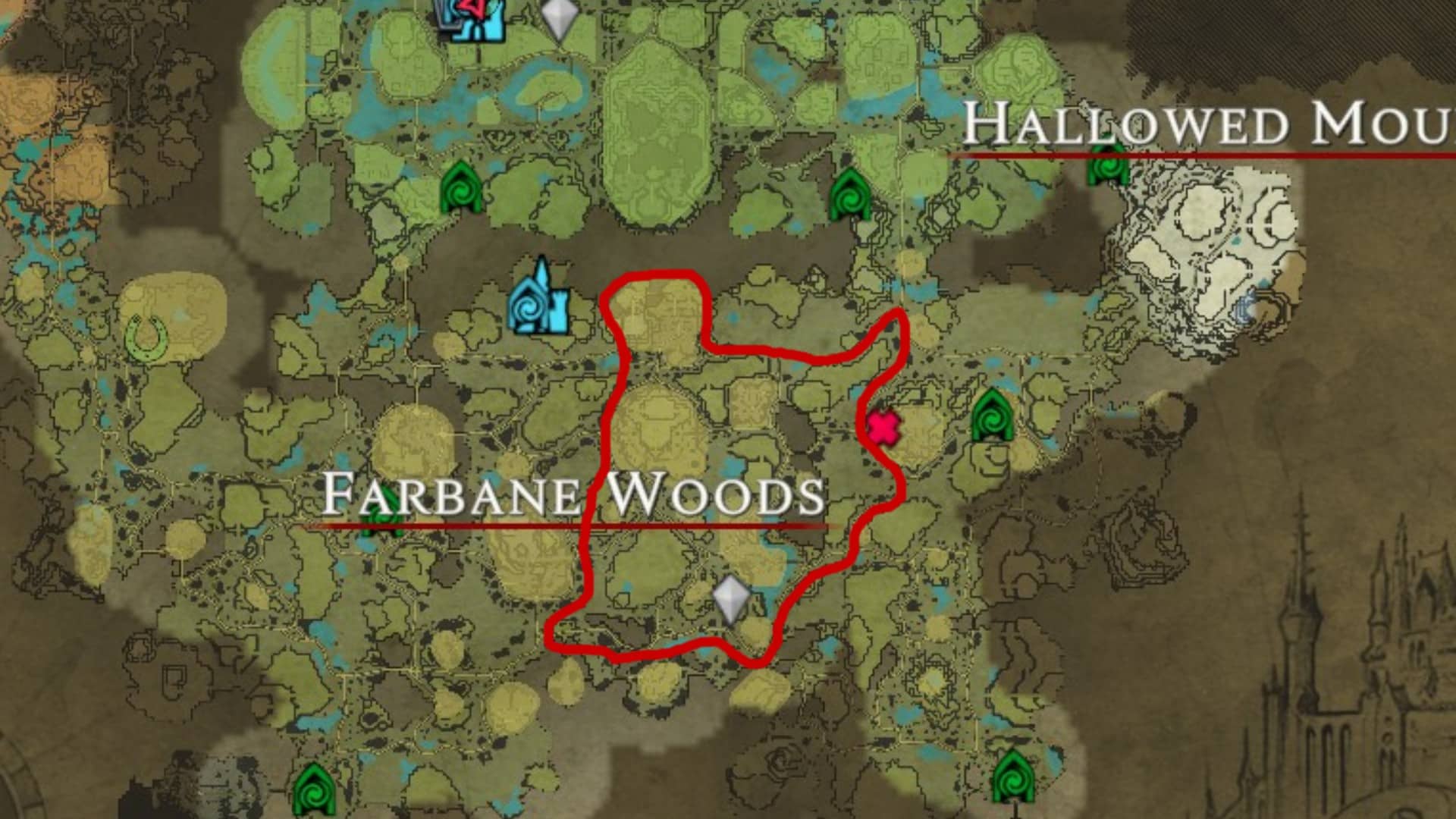 Frost Bat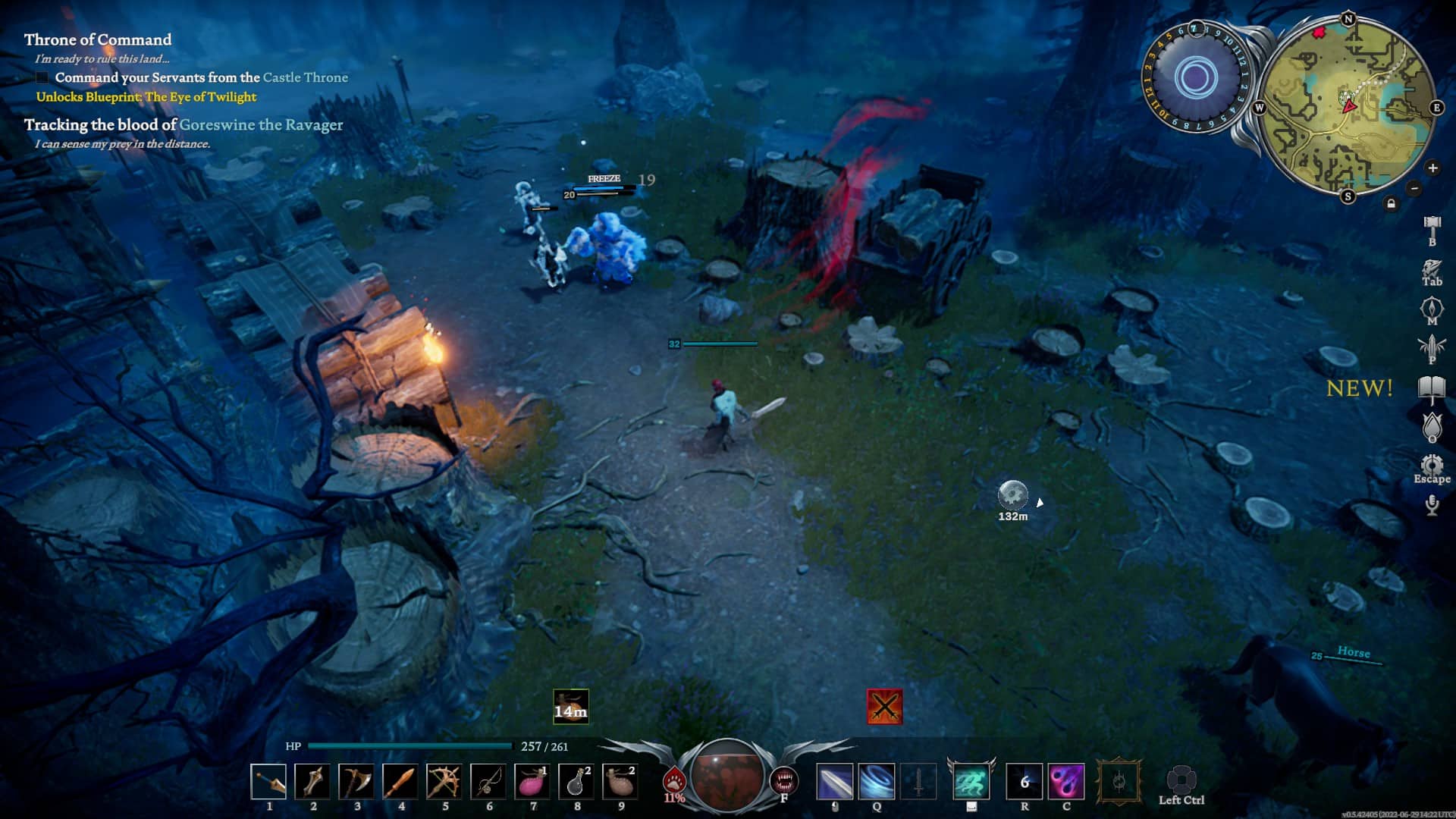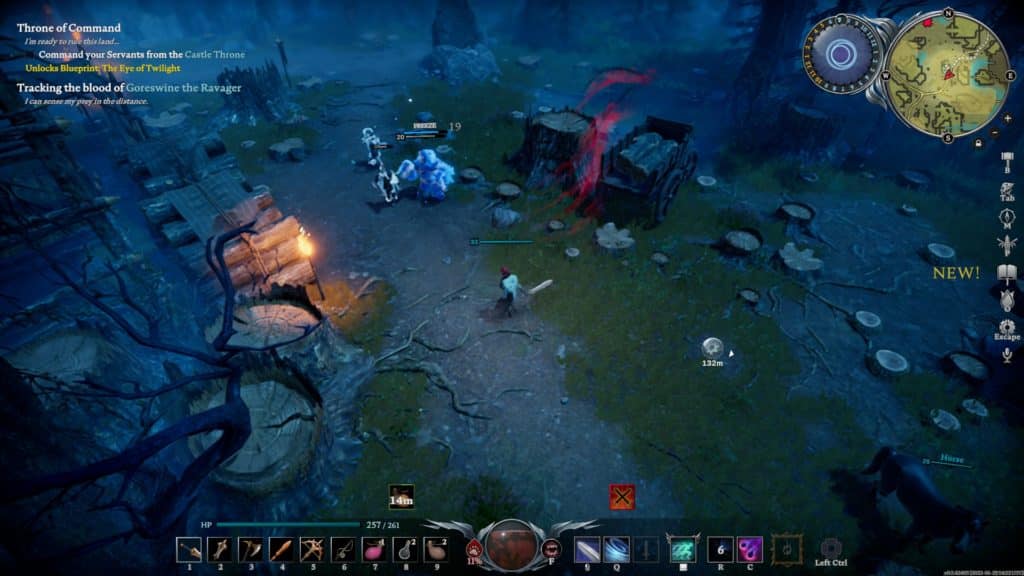 Launch a projectile that explodes upon impact, dealing 100% magic damage and putting enemies in a Chill state. Hitting chilled enemies will get them frozen for 4 seconds. This ability is great for escaping powerful foes if you hit them with Frost Bat twice.
Frost Bat is obtainable if you beat Keela the Frost Archer in the Bandit Tracker Camp in Farbane Woods.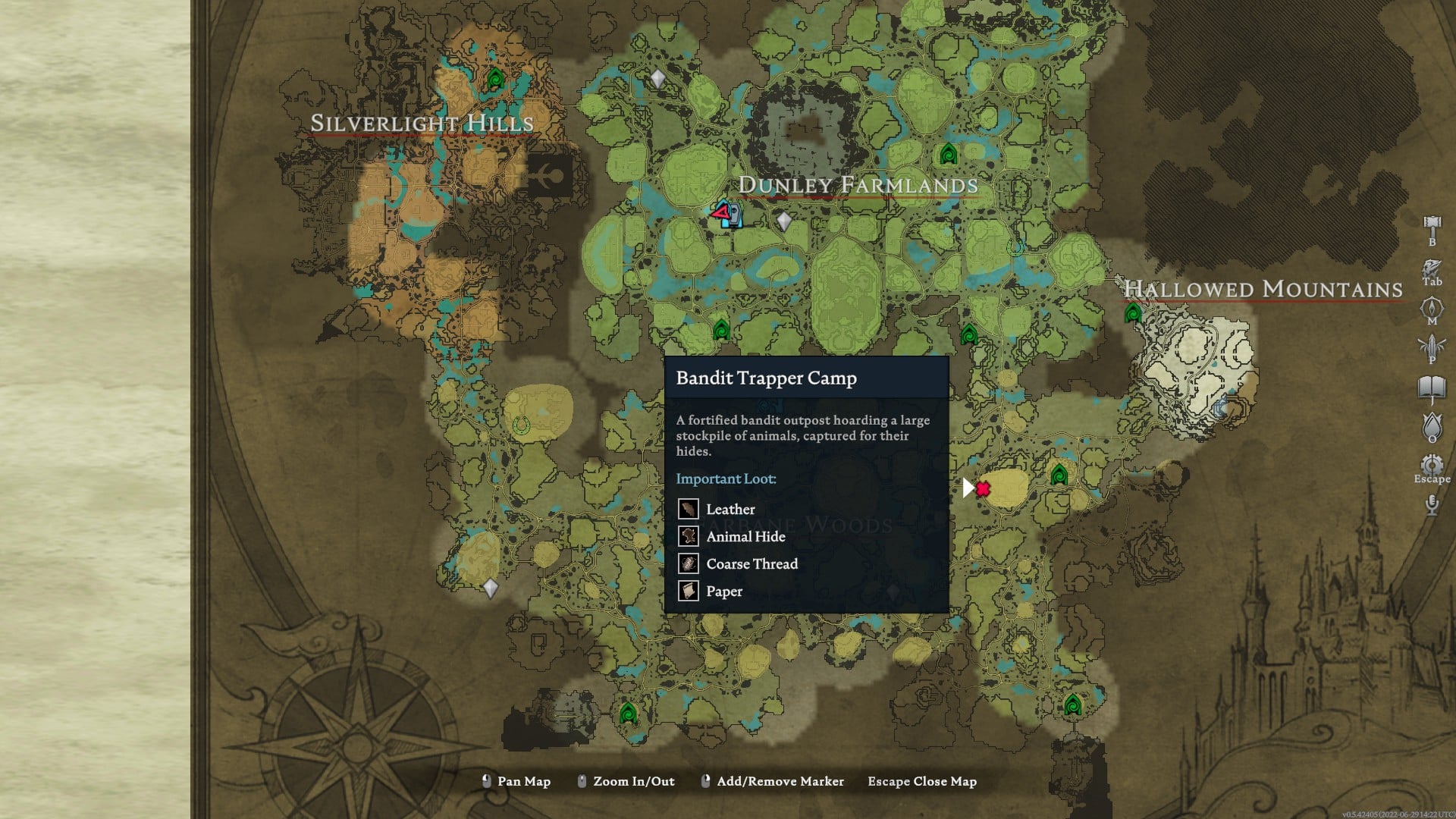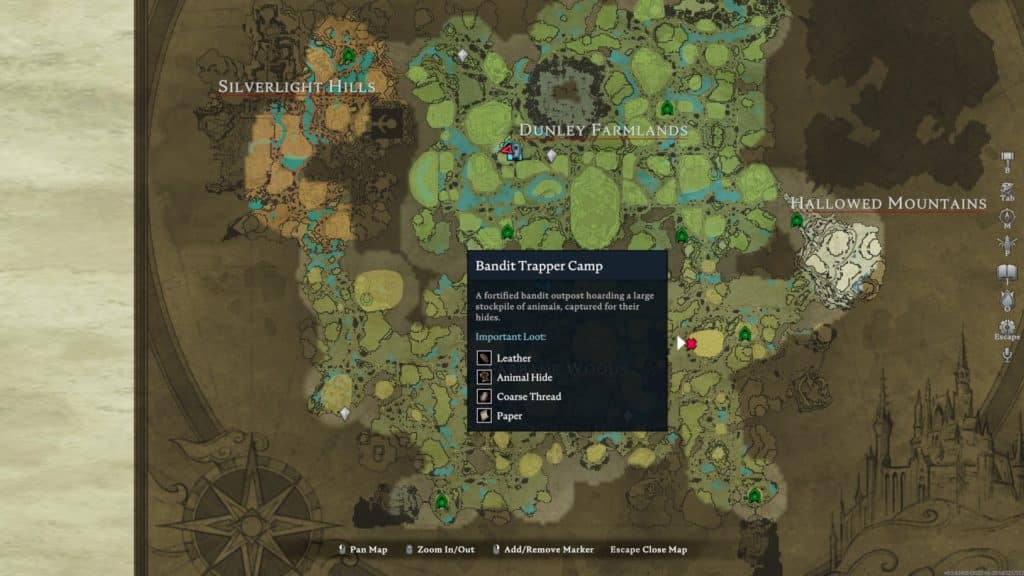 Crimson Aegis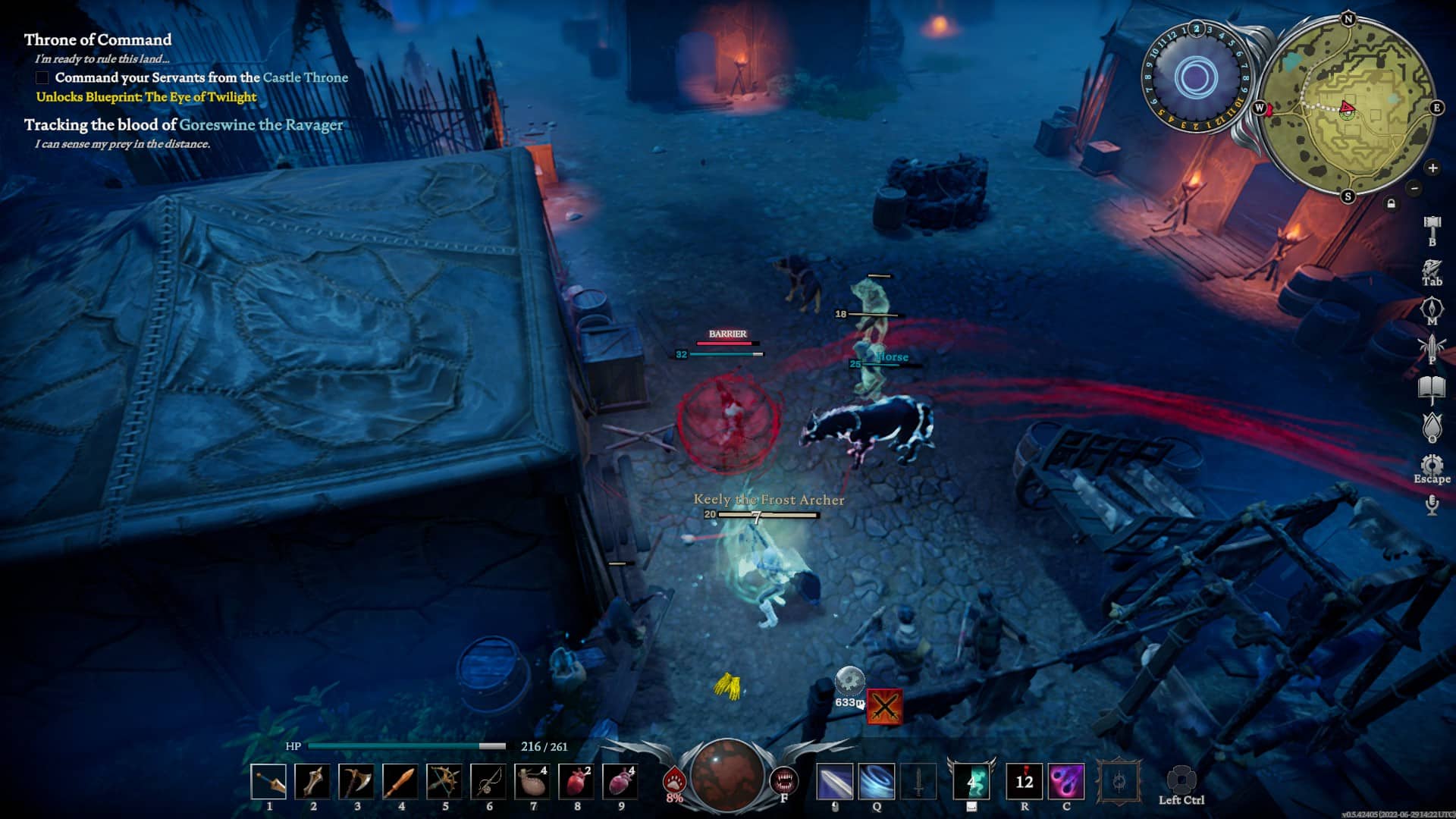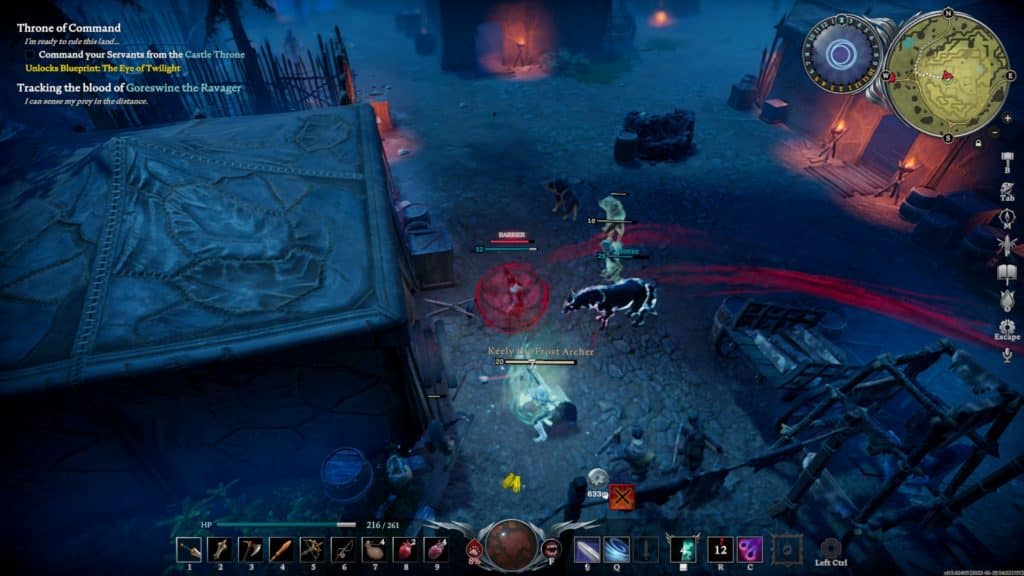 If you want a defensive ability, the Crimson Aegis can be handy especially if you're surrounded by enemies. This applies a shield to either a target ally or yourself that shields the target for 200% of your spell power and it can knock back enemies once it's activated.
To get this ability, defeat Grayson the Armourer located at the Bandit Armory in Farbane Woods.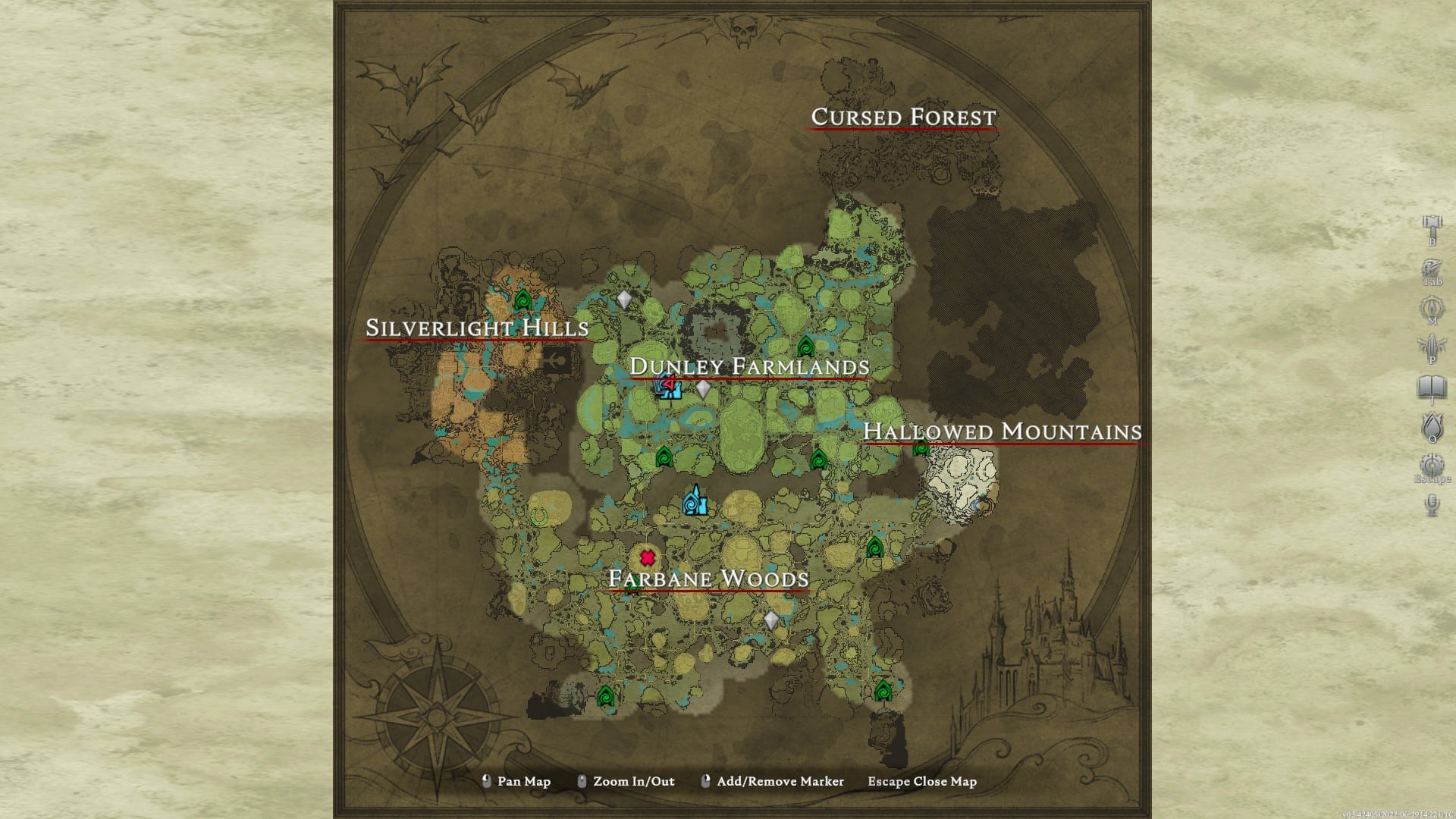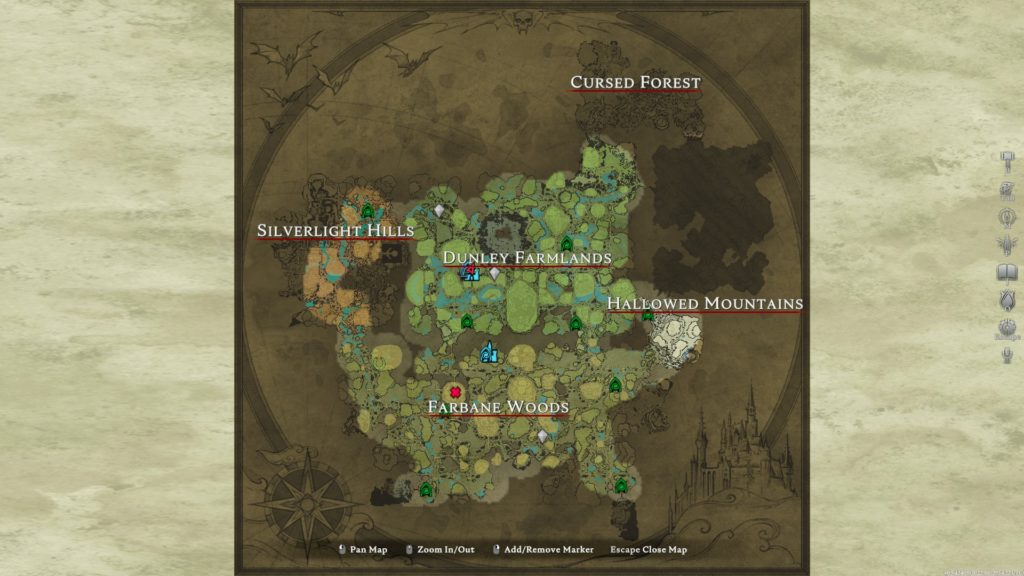 Veil of Chaos
This travel ability may be the go-to for players who want a quick escape and it's easier to master compared to the Veil of Illusion.
The Veil of Chaos ability lets you dash in your chosen direction and elude nearby enemies. You get 25% bonus damage on your next melee attack and a chance to recast a second illusion. These spawned illusions can also deal 40% explosive magic damage to nearby enemies.
Beat Clive the Firestarter in the Bandit Sulphur Quarry Mine located southwest of Farbane Woods.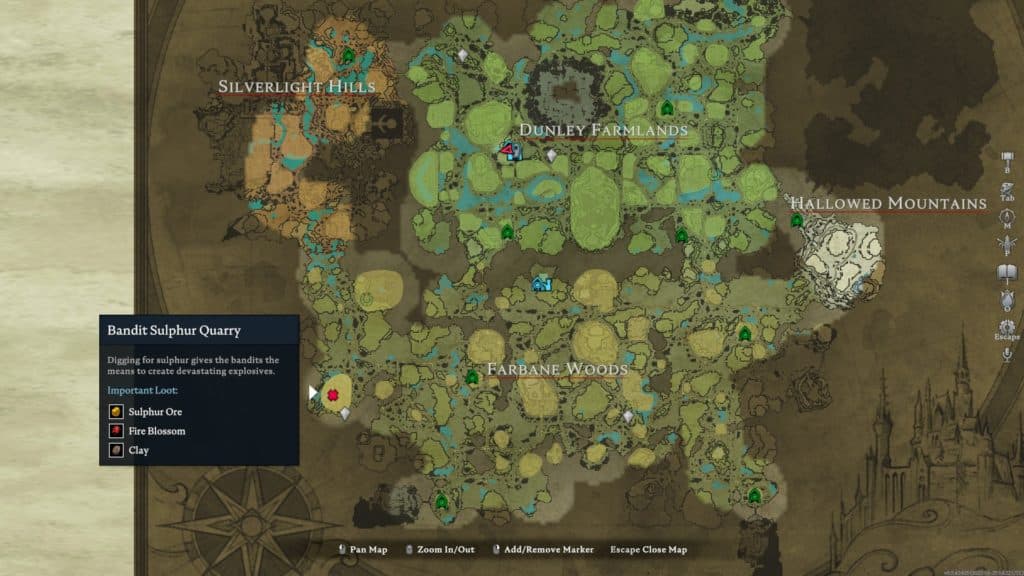 Veil of Illusion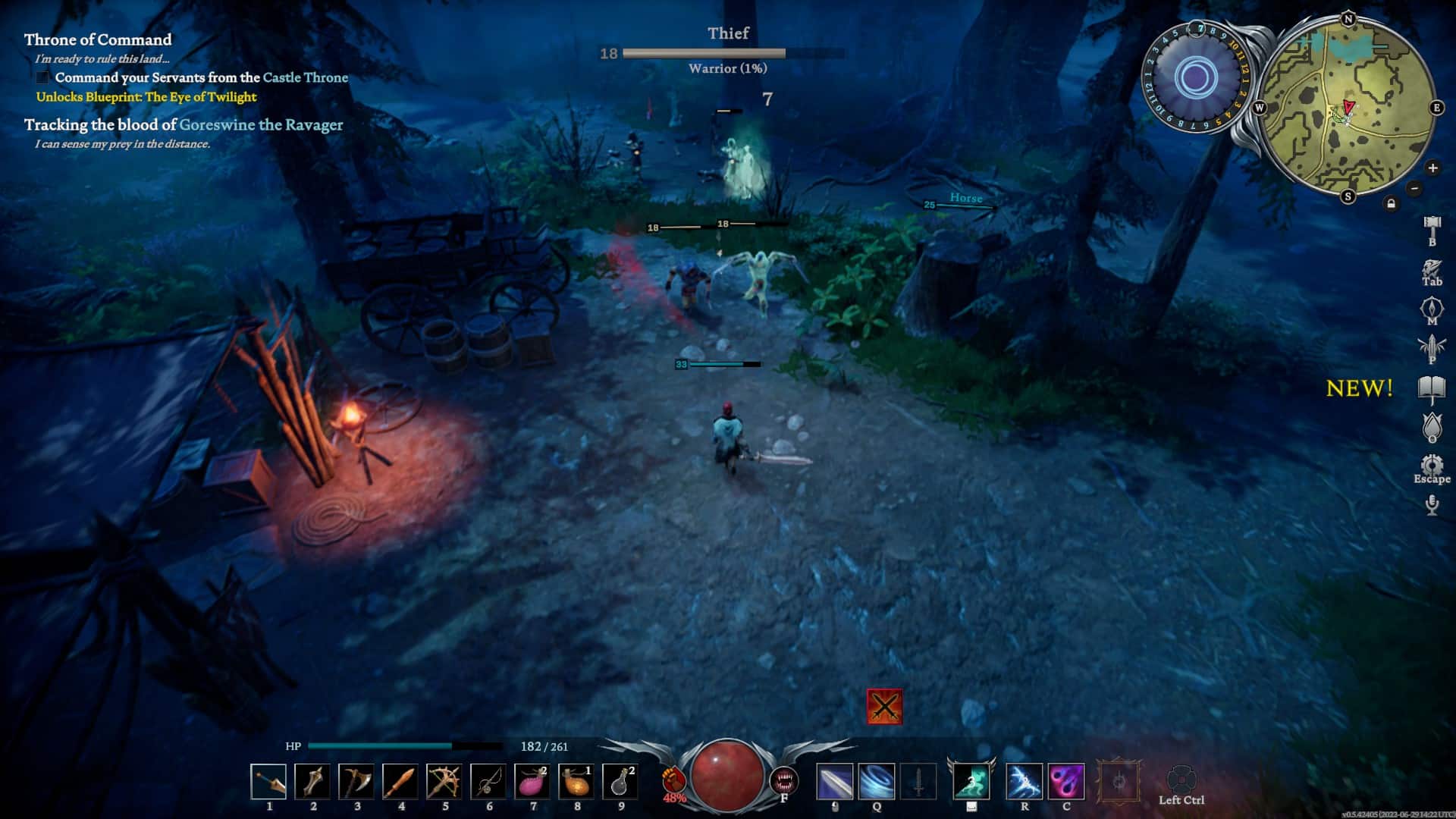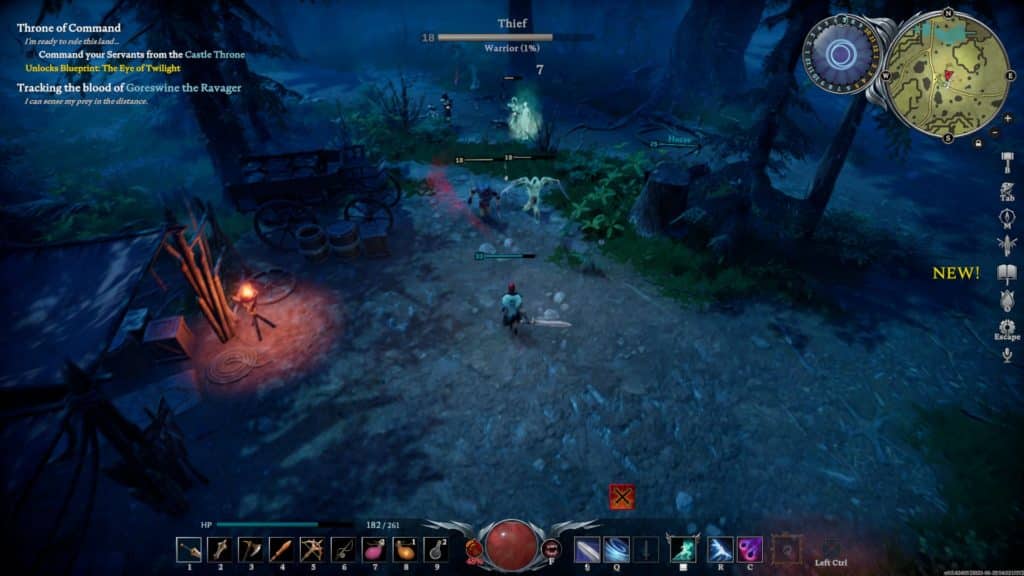 Dash towards your chosen direction to distract nearby enemies for 2.2 seconds. Your next primary attack deals 25% bonus damage. What's great about this travel ability is that your illusion can throw projectiles that deal 40% magic damage.
In addition, you also have a window of opportunity to recast the spell to return to your start position and spawn a new illusion at your current location.
You can obtain this ability once you defeated Polora the Feywalker in the Gleaming Meadows west of the map near the entrance to Silverlight Hills.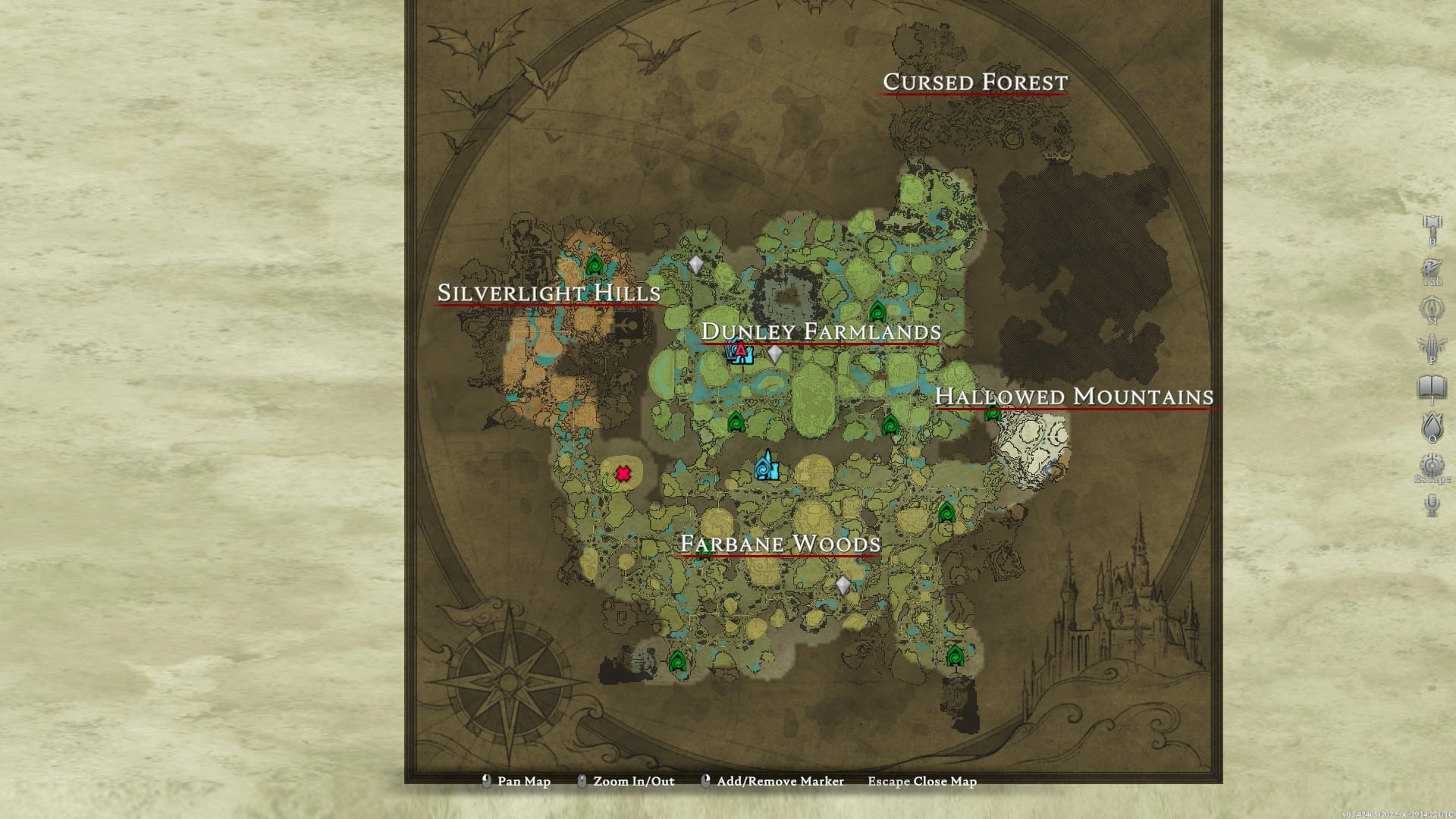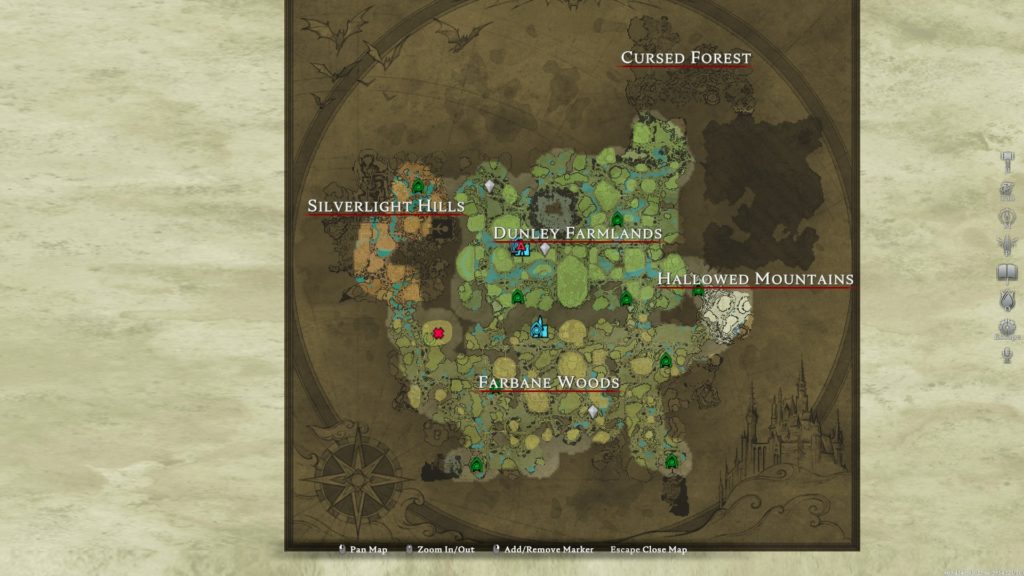 There you have it! We hope you've enjoyed reading through our V Rising tier lists. Have a look at our other lists and reviews if you want to explore more games for your collection.