Minimalism is a word that seems to be long-forgotten in the dictionaries of loudly clacking mechanical keyboards. While they do deliver amazing performance, not everyone in your workspace might be appreciative of you loudly typing away with your Cherry MX Blue switches.
To remedy the conundrum above comes the Vissles LP85, an opto-mechanical keyboard meant for both home and office use that delivers a great typing experience while also not annoying everyone around you. With its profound connectivity options and some inspiration taken from the Apple Magic Keyboard, is it worthy of your precious desk space? Let's find out.
Design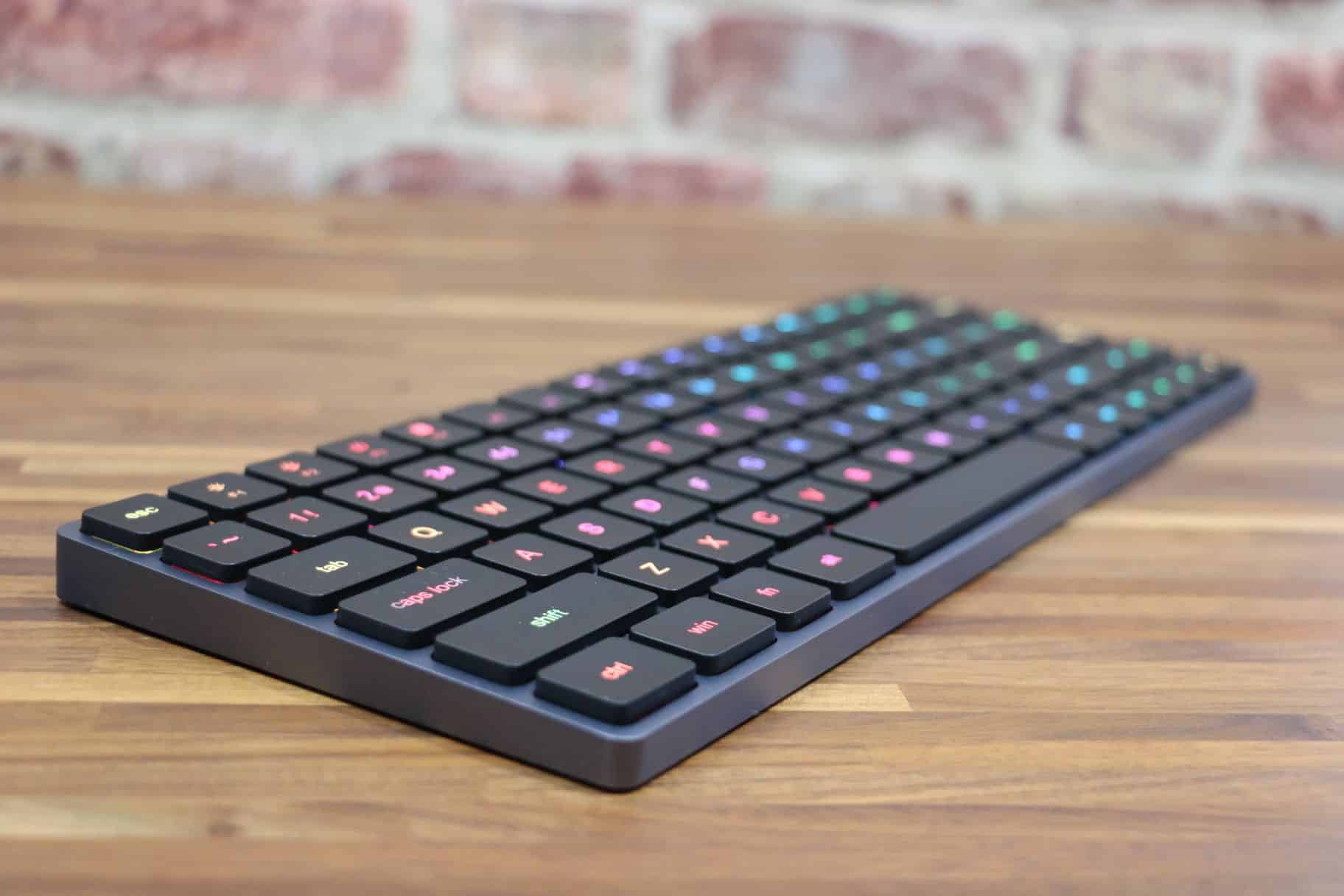 The LP85 is an extremely thin and sleek 75% optical-mechanical keyboard made out of aluminium. What's an optical-mechanical keyboard you may ask? Well, instead of using the force of a spring to detect key registration, an opto-mechanical switch uses infrared light beaming within each individual switch to detect whether a key has been pressed or not.
This leads to faster response times and lesser actuation, a key metric when designing a low-profile keyboard like the Vissles LP85. This begs the question, how thin is it? Well, coming in at a maximum height of 12mm, the keyboard is actually one of the slimmest in the world.
Coming in at around 547 grams and comes in two different colours: white and black, the keyboard feels quite sturdy and looks great on your desk accompanied by the RGB lighting.
What's In The Box?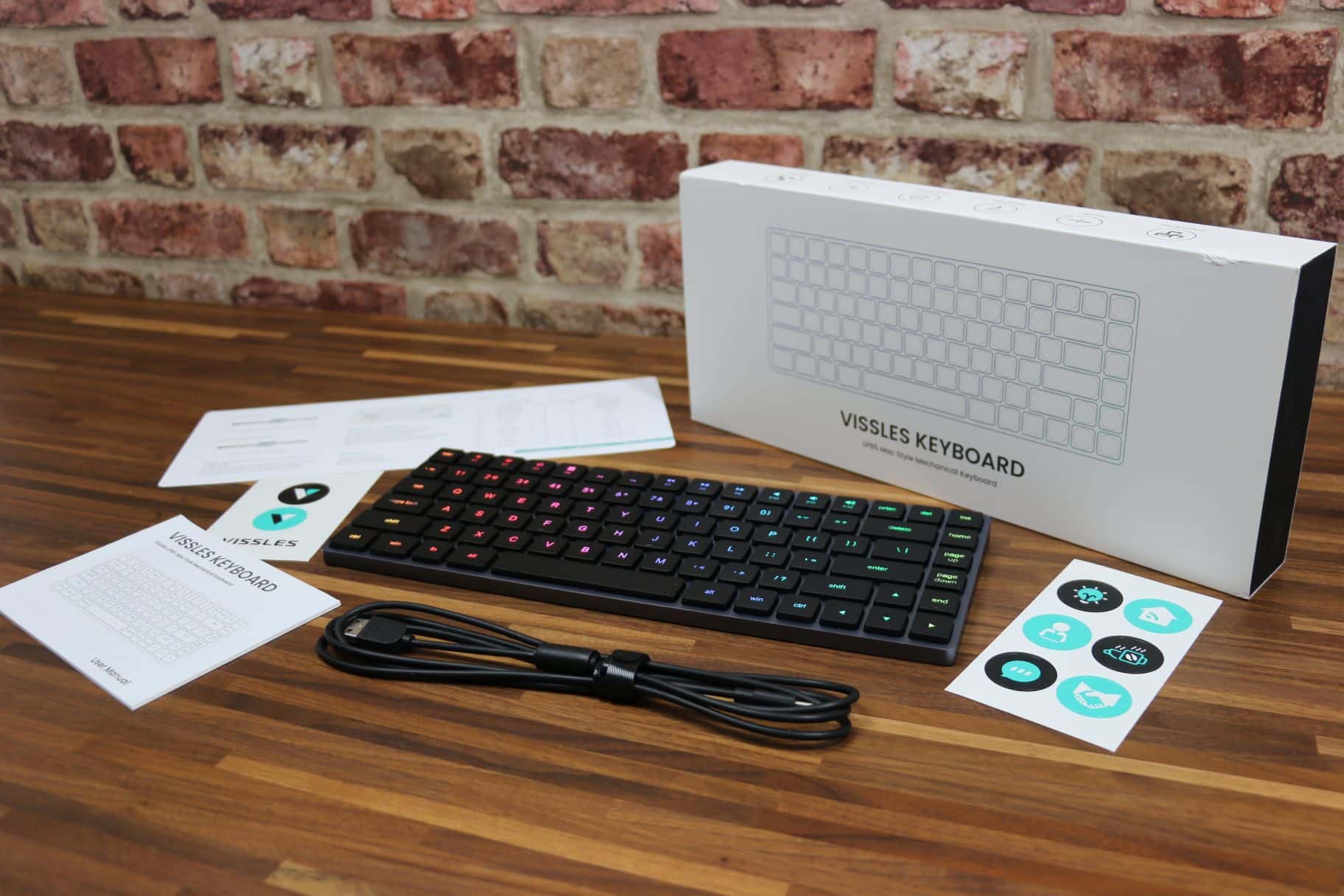 The Vissles LP85 comes packed in with the following components:
Vissles LP85 75% Optical Mechanical Keyboard
USB Type-C Cable
User Manual
Stickers!
Connectivity
Our previously reviewed Vissles v84 shares a few similarities with the LP85. For instance, you can easily switch between a Mac and Windows machine with the press of two buttons, the Fn + A key for Windows and Fn + S for the MacOS.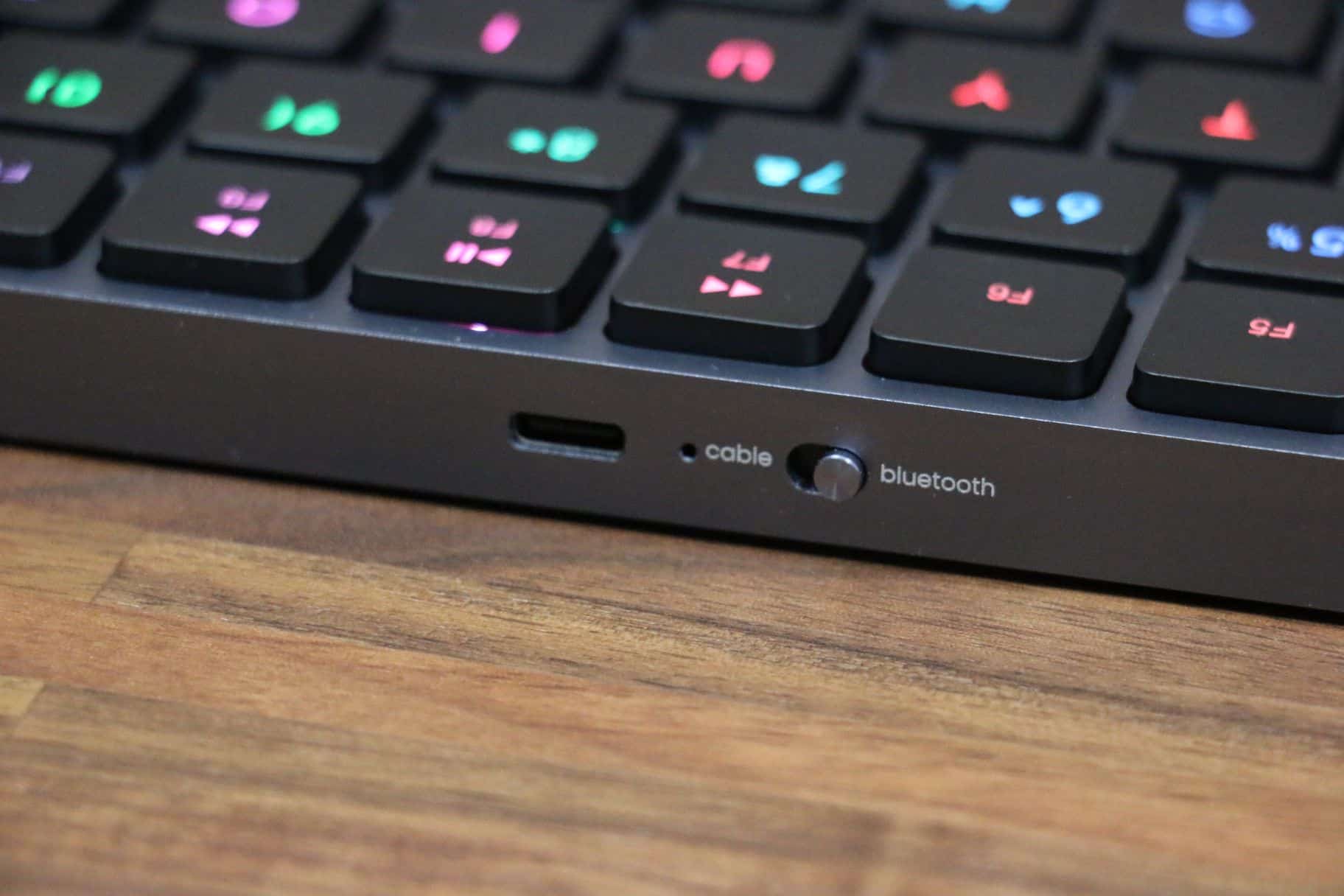 Unlike the Magic Keyboard, the Vissles LP85 allows for a USB Type C connection and also supports Bluetooth 5.0. So, you'll be able to connect the keyboard to your laptop, tablet or desktop and switch between platforms too. How handy!
Battery
Unlike other traditional office keyboards whose battery lasts for months, the addition of RGB lighting to the mix has led the Vissles LP85's battery timing to truly suffer. Sporting a 2,000 mAh battery, you can expect only a few days of battery life especially if you have the lights on.
However, you can charge the keyboard via USB-C and use it at the same time which is a bit of a silver lining. To conserve battery, the LP85 goes on sleep mode (turns its lights off) after 5 minutes and will hibernate (disconnect) after 30 minutes.
As soon as you press a key though, the keyboard will instantly light up and get back to working!
Lighting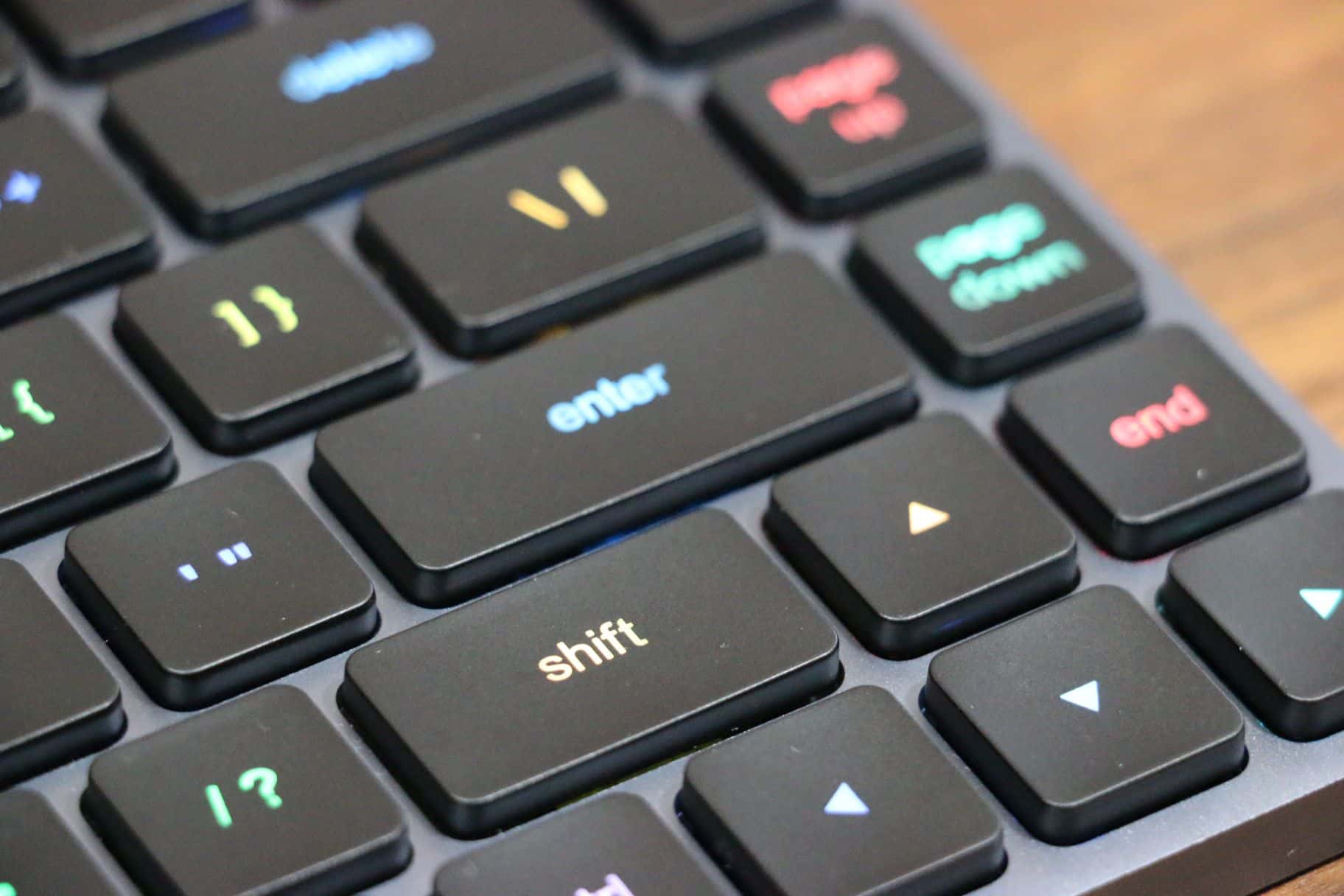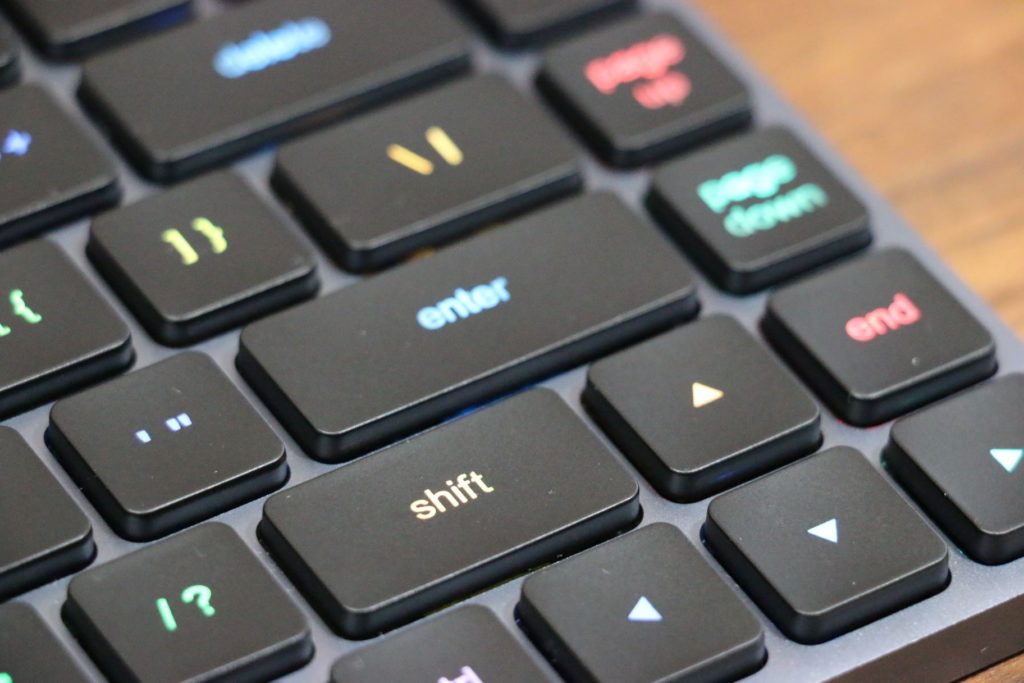 The keyboard features RGB backlighting which looks extremely pleasing. The combination of the low-profile keycaps and fingerprint resisting coating keeps the keyboard looking fresh for more than just a few days. Here's how you can control the lighting on the Vissles LP85:
FN + DEL = Switch between 19 different RGB backlight effects / modes
FN + → = Switch between 7 backlight colors
FN + ← = Switch the direction of backlight
FN + ↑ / ↓ = Increase / Decrease the brightness
FN + Plus / Minus = Increase / Decrease the lighting speed
You can also use the User Manual Guide located in the keyboard's box for more information on all the different RGB backlights and effects the keyboard has.
So, if you aren't a big fan of having proprietary lighting software installed on your keyboard just to change your backlight, the LP85 has all the features you'll ever need to control the RGB built-in.
Typing Experience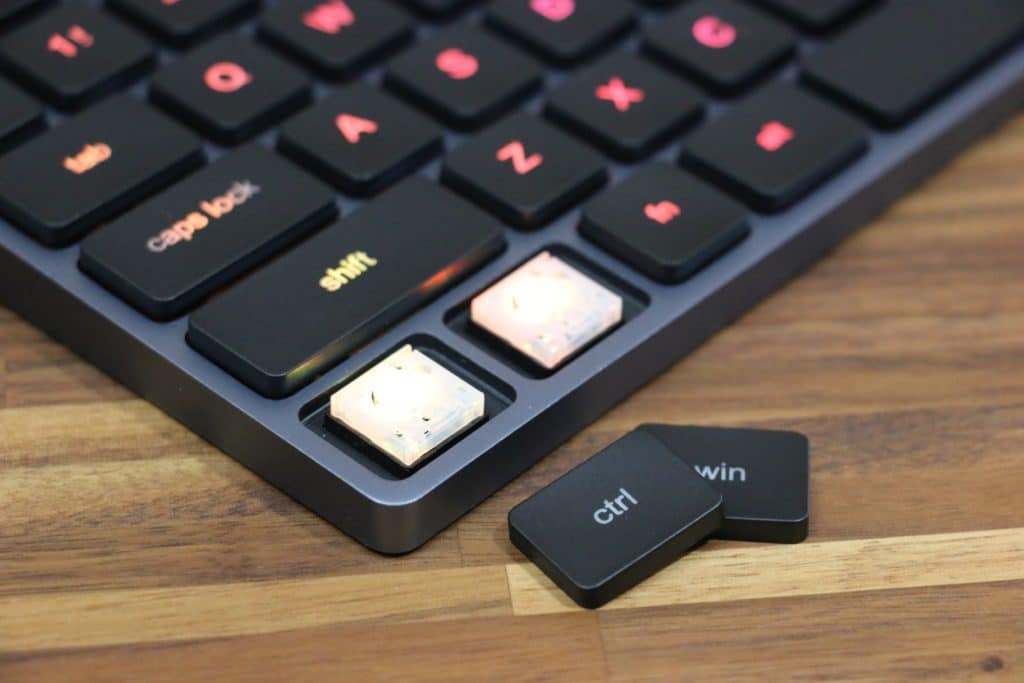 If you've been using mechanical keyboards all your life, switching to an optical-mechanical keyboard might take some getting used to. If your fingers have been trained on the resistance that a traditional mechanical switch provides, then you might just find optical-mechanical switches a bit too easy to type on.
However, for us, the fluidity and ease of gliding across from one key to the next was a welcome change especially when it came to gaming. Due to faster actuation, everything from moving around in Call of Duty or hitting our spells in League of Legends just felt that much snappier.
From the snippet above, it is clear that the LP85 isn't perfectly silent by any stretch of the imagination. But, it is much quieter than a traditional mechanical keyboard. However, you may be better off with Cherry MX Red Style switches if it's acoustics you are going after.
But, if you are a fan of the traditional clickety-clack that a mechanical switch provides, look somewhere else. Don't get us wrong, the LP85 delivers a solid audible clack and a perfectly tactile response. But, it won't really match up to the loudness of a Cherry MX Blue. But, if you are used to more traditional membrane keys like those of the Apple Magic Keyboard, you'll notice the typing experience to be much better.
Just like the V84 though, the FN key for LP85 is placed right in the middle of the Option and Command keys. This can be quite annoying for Mac users though, but you will end up getting used to it in a day or two.
All in all, we've had fun typing and gaming with the Vissles LP85. Given its size, you wouldn't expect the keys to have much travel. But, surprisingly, they do! The overall experience is well-rounded enough that even a traditional mechanical switch user will feel right at home after they give the keyboard a chance. And who knows? You might even like the lower input delay from each keystroke; this holds especially true if you are into FPS games or MOBAs.
Ergonomics
The keyboard is quite compact and therefore does indeed feel more clumped up than a full-sized keyboard. Does that lead to an uncomfortable typing experience? Well, not really. You see, the keyboard that the Vissles LP85 takes inspiration from, the Magic Keyboard, is one that has garnered praise for its ergonomic design. And, the Vissles seems to improve on it in every way.
As such, while it may take some getting used to, you'll be able to quickly adjust your hands to the smaller form factor and enjoy the 85-key keyboard. The form factor can actually feel like an improvement over larger keyboards especially if you have smaller hands and you often find yourself stretching your hands out to reach keys that are further spaced out.
---
Should You Buy The Vissles LP85?
If you own a Mac and don't want to shell out top dollar for a Magic Keyboard that may or may not be worth it, the Vissles v84 is an excellent pick. The ability to switch between platforms and even use the keyboard on a tablet or mobile is a welcome addition.
Plus, the fact that you are treated with actual optical-mechanical switches instead of membranes in a low-profile setting allows you to game on the go and fill in documents comfortably.
So yes, given the LP85's reasonable price point and its versatility combined with its low-profile opto-mechanical switches, it is a worthwhile pick for anyone who wishes to to get a comfortable typing experience while travelling or just needs a relatively quiet keyboard that still looks great on their desk.