The Vissles v84 is a Bluetooth-enabled, hot-swappable, wireless, mechanical keyboard with RGB lighting. It features a 75% layout and comes in a striking white color. Built for both Mac and Windows users, it allows you to quickly switch between five devices using its onboard memory.
If you are into customizing your keyboard but don't have the skills, time, or budget to invest in building your keyboard from the ground up, the Vissles v84 might be the kit you are looking for. While it doesn't reinvent the wheel in any sense of the manner, it seems to do everything just right.
Design
The keyboard features a relatively niche 75% keyboard layout. So, it has the entire FN key row while not having Numpad which can feel quite obscure especially if you are coming from a full-size keyboard.
If you've ever handled an older IBM-era keyboard, you'll feel right at home with the Vissles v84. It is quite hefty coming in at nearly 2 pounds. No matter how much pressure we've applied to it, the keyboard seemed to hardly flex. This led to an extremely comfortable and rigid typing experience.
In terms of Ergonomics, the keyboard is well thought out. Each row of keys is raised ever-so-slightly to help your hands acclimate to the layout better. Unlike most other gaming keyboards, there's no difference in terms of design or aesthetic between each key. All of them share a smooth, white exterior which helps the bright RGB lights shine through. More on that later.
We're appreciative of sublime design and the Vissles v84 might just be the epitome of it. The keyboard comes with two magnetic rubber feet that help raise the angle of the keyboard. Moreover, it also comes with a leather wrist rest making the entire product even more enticing. But, truth be told, the wrist rest hindered our typing experience and caused some strain. Your mileage may vary.
What's In The Box?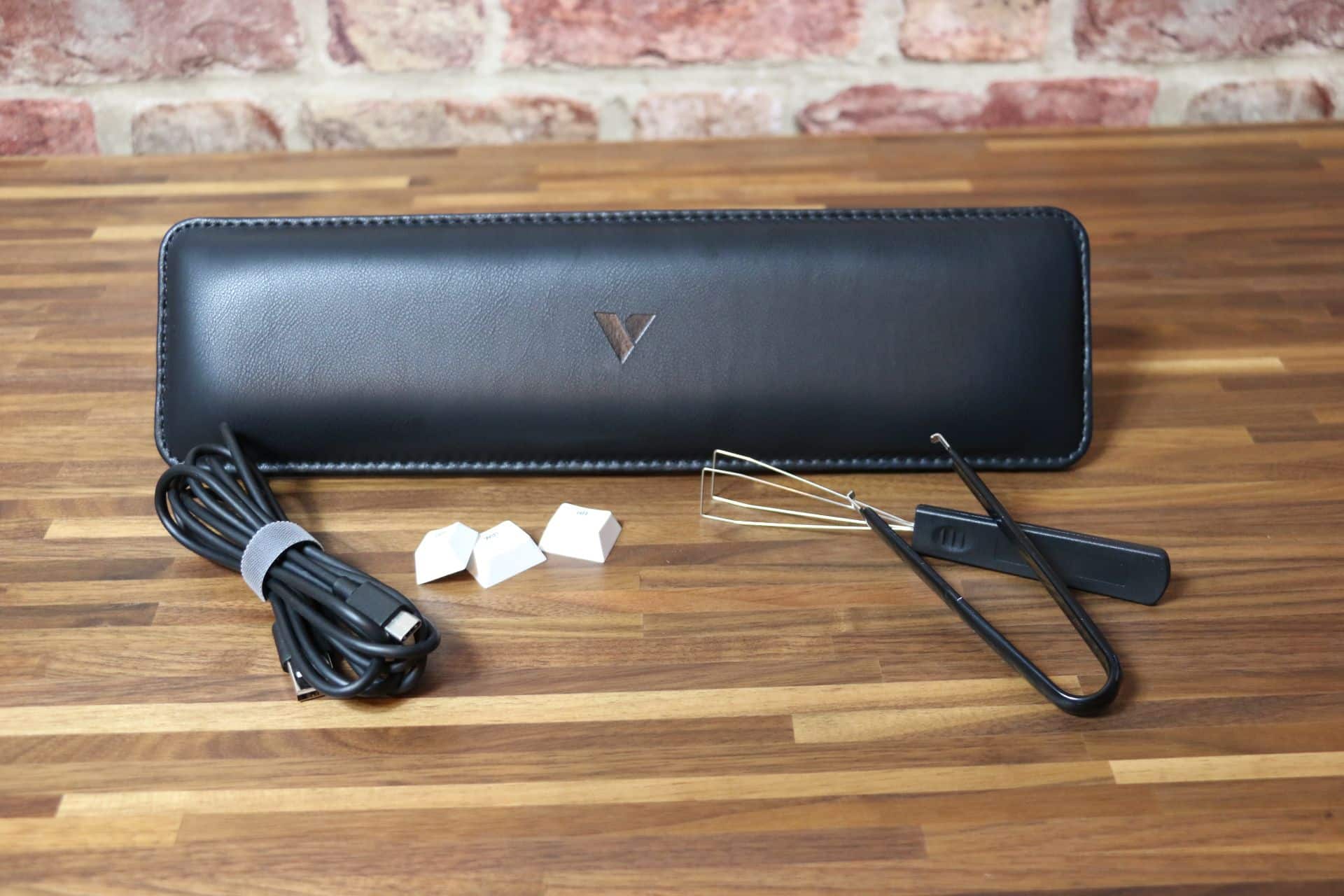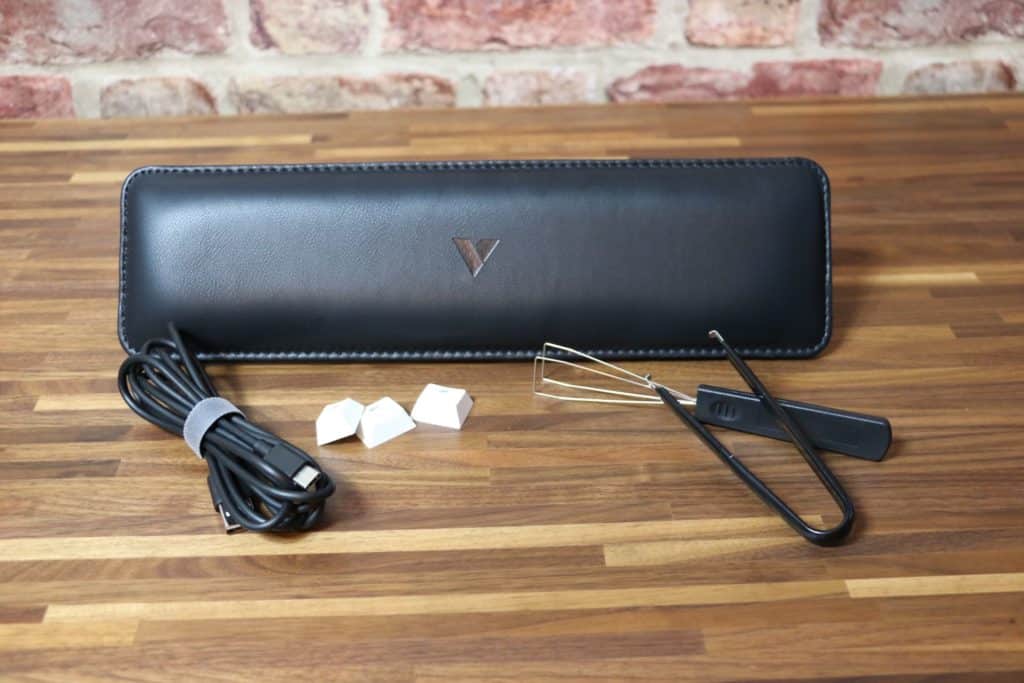 Here's what the keyboard comes with:
Vissles V84 Keyboard
Two Magnetic Feet
USB-A to USB-C Cable
Switch Puller Tool
Keycap Puller Tool
Leather Wrist Rest
Quick User Guide
User Manual
Two Wrist Mats
Connectivity
The Vissles V84 takes full advantage of its relatively sleek body and helps your desktop look wire-free by incorporating Bluetooth connectivity into the mix allowing for up to 5 devices. However, we recommend using the USB-C wired option when gaming as it leads to minimal latency.
And yes, the keyboard works great on both Windows and Mac.
Battery
The manufacturer claims up to 180 hours of battery life without RGB. With a capacity of 3750 mAh, that's great timing for someone who occasionally wants to sit the keyboard down on their lap and type away.
As per our observation, you can use the keyboard for up to 19 hours if you have the backlight set to maximum brightness.
Customization
Lighting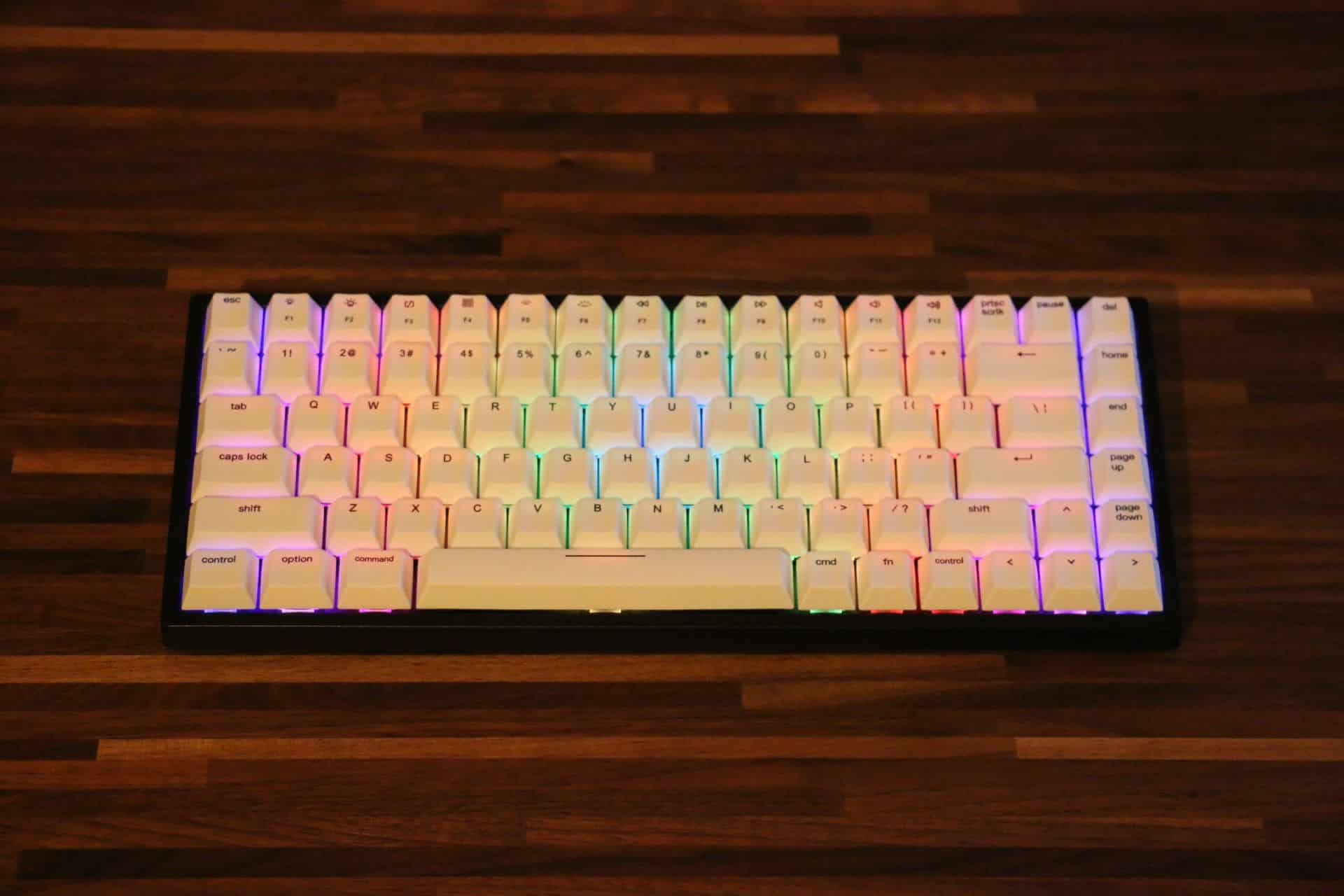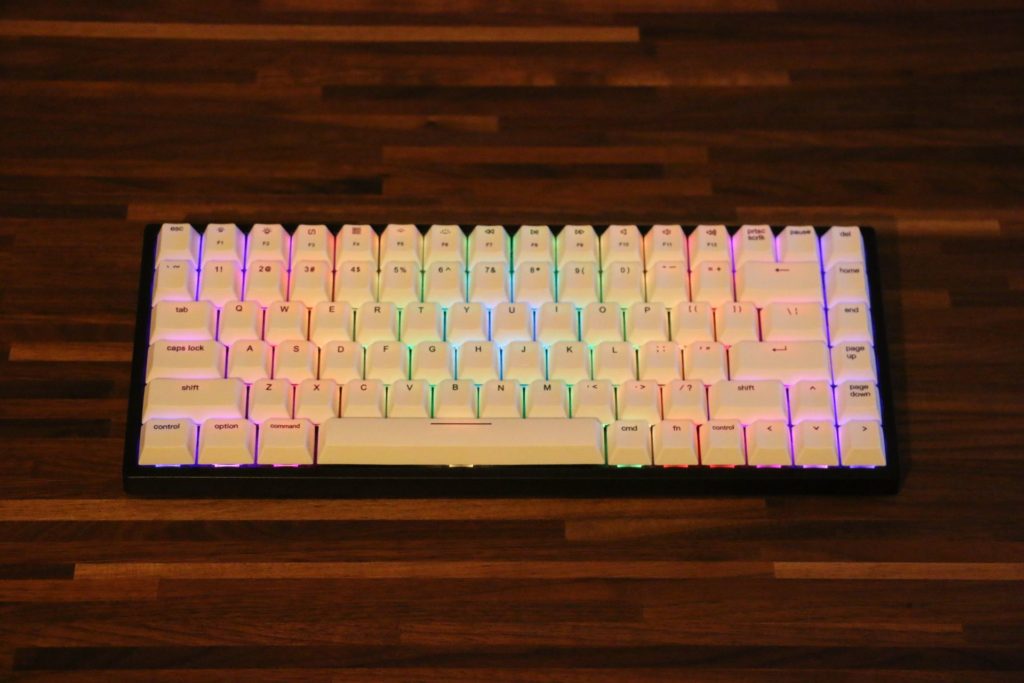 If you are into RGB, the Vissles is an absolute treat! You can either use the downloadable software to customize Lighting or use the pre-built options. The keyboard is bright enough to look good in a well-lit room as well.
Software
While the software doesn't look that great, it certainly gets the job done. Currently, it supports the following features:
Custom Key Binds
Macros
Mouse Emulation
Lighting
You can also record macros on the keyboard itself. However, it is quite a tedious process and you are much better off with just getting them up and ready from your PC.
Hot-Swappable Fun!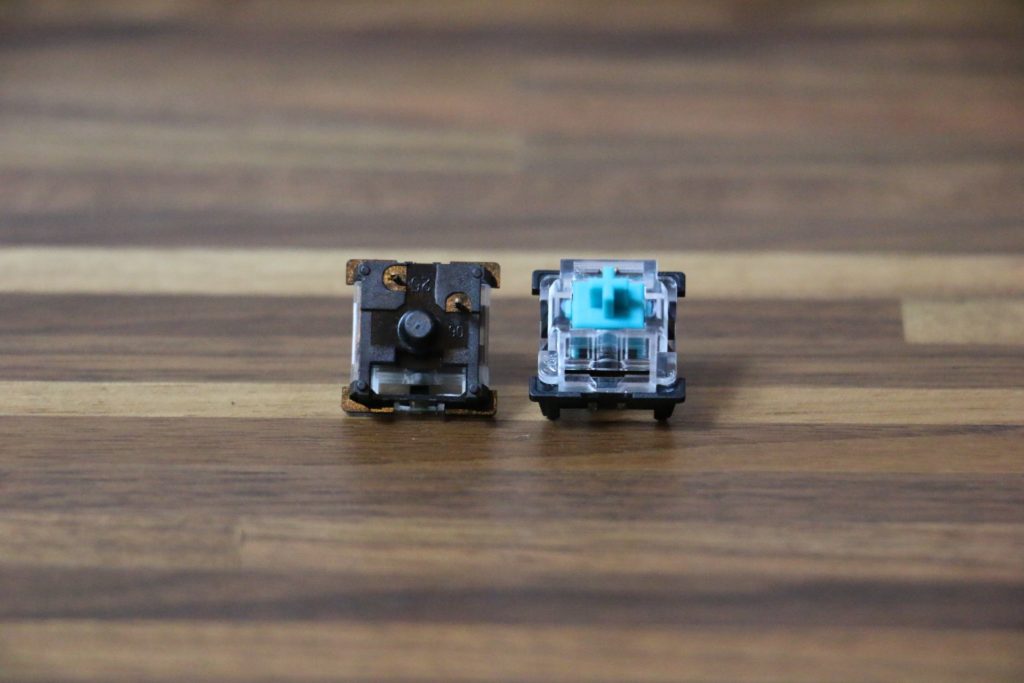 The Keyboard is customized for Mac out of the box. However, you can use the puller tool that comes in the box to quickly switch your Fn or WASD controls to suit a Windows / Android / iOS layout.
However, perhaps the coup de grace of the Vissles is the fact that you are able to pull out all of the switches with the puller tool as well! So, if you wanted a more tactile WASD layout with a Blue switch, you can do so with relative ease.
Typing Experience
As we've mentioned earlier, the Vissles v84 offers a great typing experience. You might need to spend some time getting used to the 75% layout. However, the keyboard does it make easy for you by introducing a slight degree of elevation to each row allowing for better key recognition.
We weren't big fans of the pre-installed VS II switches though. They were silent, linear switches which meant that they provided us with no click or feedback that most mechanical keyboard users swear by.
If you are into more tactile switches like Cherry MX Blue or Brown, you'll be thoroughly disappointed. However, it isn't really the end of the world as the keyboard allows, nay encourages you to swap out the switches to provide the Vissles with an identity of its own.
Once you get the keyboard tuned to your comfort, it is an absolute dream! The fact that you can swap one key at a time allows you to come up with some extremely nifty combinations like swapping your arrow keys with more tactile switches for an added punch.
---
Should You Buy The Vissles v84?
Short answer, yes. The Vissles v84 offers everything a keyboard aficionado hopes for. It features a minimal yet aesthetically pleasing design that can fit it into any setup. Its lighting options allow it to be tuned down according to one's personal taste.
Moreover, the versatility in terms of connectivity and keyboard layouts with Windows, Mac, and Android help its case even further. And last but not least, the fact that you can swap the keyboard's switches and replace them with whichever ones you like all on an individual basis makes the Vissles v84 an easy recommendation in our eyes.
You can get the Vissles v84 from their official website. If you are in the market for a new Gaming Mouse? Take a look at our review for the Marsback Zephyr Pro! It's got some nifty bells and whistles.