It seems that everyone's favorite Windows hacker cat may have unearthed some juicy details about inXile entertainments secret project, Wasteland: Frost Point is a game that is being published by the Gumi group in Japan and could be a 50 player Battle Royale spin-off of Wasteland 3, set to release late this year with Frost Point set shortly after.
Wasteland Frost Point is the secret project of inXile Entertainment
With fans already aware about Wasteland 3 being developed by inXile entertainment for release on August 28th 2020, it seems that there is a smaller team in the studio that's been at work on another secret project – Wasteland Frost Point
According to everyone's favorite Hacker Cat, the game is coming in Q4 2020. With Wasteland 3 already scheduled for August 28th 2020.
As to what Wasteland Frost Point is, someone in the comments pointed out that its a 50-player Battle Royale game for VR, that will be published exclusively in Japan.
We can confirm the second half of the statement, by going to Gumi Inc. website and seeing inXile in their investment portfolio with the following statement about the game by Gumi.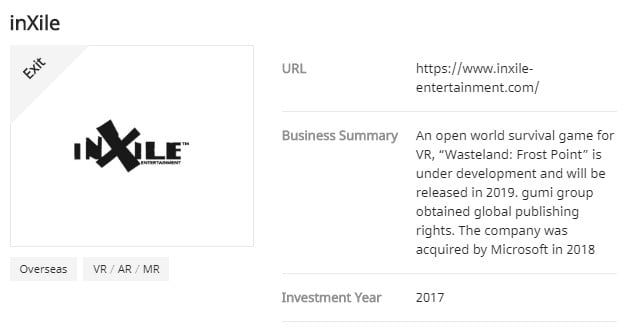 When we dig deeper for the name, a Japanese website by the name of gamebiz tells us that Wasteland Frost Point is now Frost Point VR.
Unfortunately, this is where the trail goes cold, so we can only take the claim made by Level1DRM for its word.
So far they've been able to confirm the involvement of Gumi Inc. and VR, so it could potentially be a Japanese exclusive 50-player Battle Royale VR Shooter.
For now, it seems that the VR title could be exclusive to Windows as the Xbox One doesn't have any VR capabilities.
Whether or not Gumi will keep it as a Japan exclusive title is up to them, but for now, it's best to not hold your breath.
With that, the mystery of inXile's secret project has now been solved. So fans can probably stop speculating.
What about The Initiative's secret project?
It is unlikely that we will see this project make an appearance at the upcoming July 23rd Xbox Show case, but there's also The Initiative's secret project to look forward to.
This is a title that could make an appearance on the July 23rd show, but is also another game enveloped in mystery.