After someone on ResetEra spoke out earlier about their experience of the game so far being restricted to 30 FPS on the PS5, many fans were wondering whether this would be remedied with a day-one patch as is now the norm for a major release like this. However, the executive producer on the title has officially issued a statement confirming the FPS lock with no other FPS options available (for now?).
Gotham Knights 30 FPS is official
An employee for Warner Bros Games Montreal, Fleur "Flaoua" Marty, the Executive Producer, of Gotham Knights has just confirmed on Discord that the game is capped at 30 FPS on the PS5 and the Xbox Series X.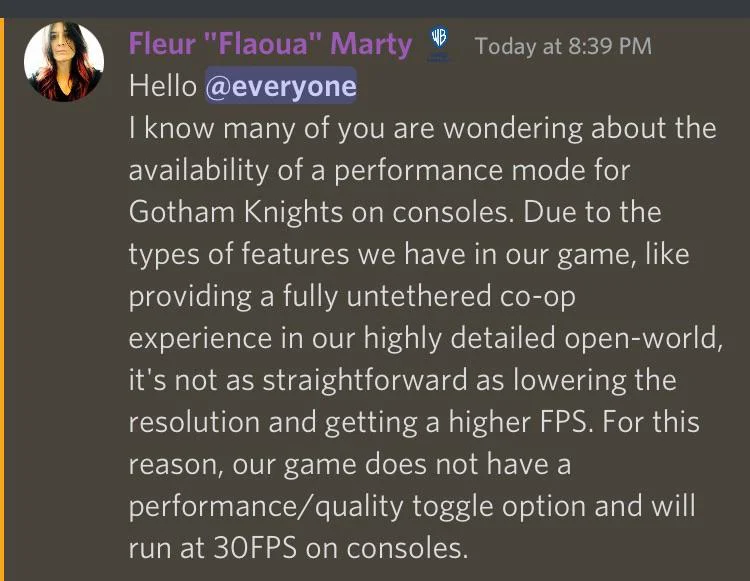 The above screenshot taken from the gaming forum, ResetEra, does indeed confirm from Warner Bros. side too, that this is indeed a capped title, and on release, may not offer a performance or quality mode which is another industry standard practice that many developers give players the option of.
This is only days before the game's global launch is set to take place on October 21st, which has riled mixed feelings among fans who were looking forward to the title. Currently, 30 FPS is a choice kept for resolution or 4K modes in games, with players able to still select 60 or 120 FPS modes at the cost of sacrificing resolution but to have the choice taken is indeed disheartening for gamers.
It's no wonder the game has some rather demanding system requirements, but even this is something that no one saw coming and is something that just came out of the left field. Hitting many fans by surprise, less than a week before its release.
We have no word yet if we will get an eventual performance/resolution mode as a future update, so that is worth keeping in mind.
What are your thoughts on the situation? Are you still going to play the game on your console? Let us know in the comments section below.