Multiversus is a game that has taken the gaming world by storm over the last few weeks. With the announcement of open beta and Season 1 set to launch at a later date, fans are excited to try out the game. However, as we previously learned from short-term hits like Among Us, and Fall Guys, Multiversus is currently doing a lot of stuff right, but also needs to up the ante and fix some things if they want to stay relevant once they hit past the saturation phase of growth and head into maturity.
Multiversus has potential, but some roadblocks too
Multiversus is a fantastic game. It offers something that Brawlhalla has been doing for years, but for some reason, has been able to capture the player's attention with much better gravity, attracting players across numerous platforms to play the game and enjoy a great experience.
However, with the recent announcement of Season 1 getting delayed to August 15th, which was originally slated for August 8th, this could be time for the title to reflect on what they are doing right, and what they are doing wrong.
While a delay that was timely communicated is always welcome, here are some of my thoughts on what Multiversus needs to address for a bright future if it hopes to succeed.
Where is the Nintendo Switch Port?
Multiversus is available on PS4, PS5, Xbox One, Xbox Series, and PC with full cross-play, and cross-progression. However, most curiously the game is missing a Nintendo Switch port.
The last we heard about the Nintendo Switch port was in December of 2021 from Tony Huynh, the co-founder of Player1stgames, the developer.
Anyone who has played the game on PC can easily recognize that the game is by no means a powerhouse. On the Steam page, the recommended requirements are a 3rd generation Core i5, and GTX 660, a GPU from 2012. The Switch has hardware that succeeds these requirements, to the point where it can run the likes of Apex Legends.
Not to mention the behemoth player size that exists on the Nintendo Switch. Fans of the system would love to be a part of the cross-play ecosystem. There is unfortunately no official news on when to expect a Nintendo Switch port.
The in-game purchases are lacking
Before we begin, let us first talk about the 2 forms of currency in the game:
Gold – Earned by just playing the game. You earn this by playing matches.
Gleamium – Can only be bought from the in-game store.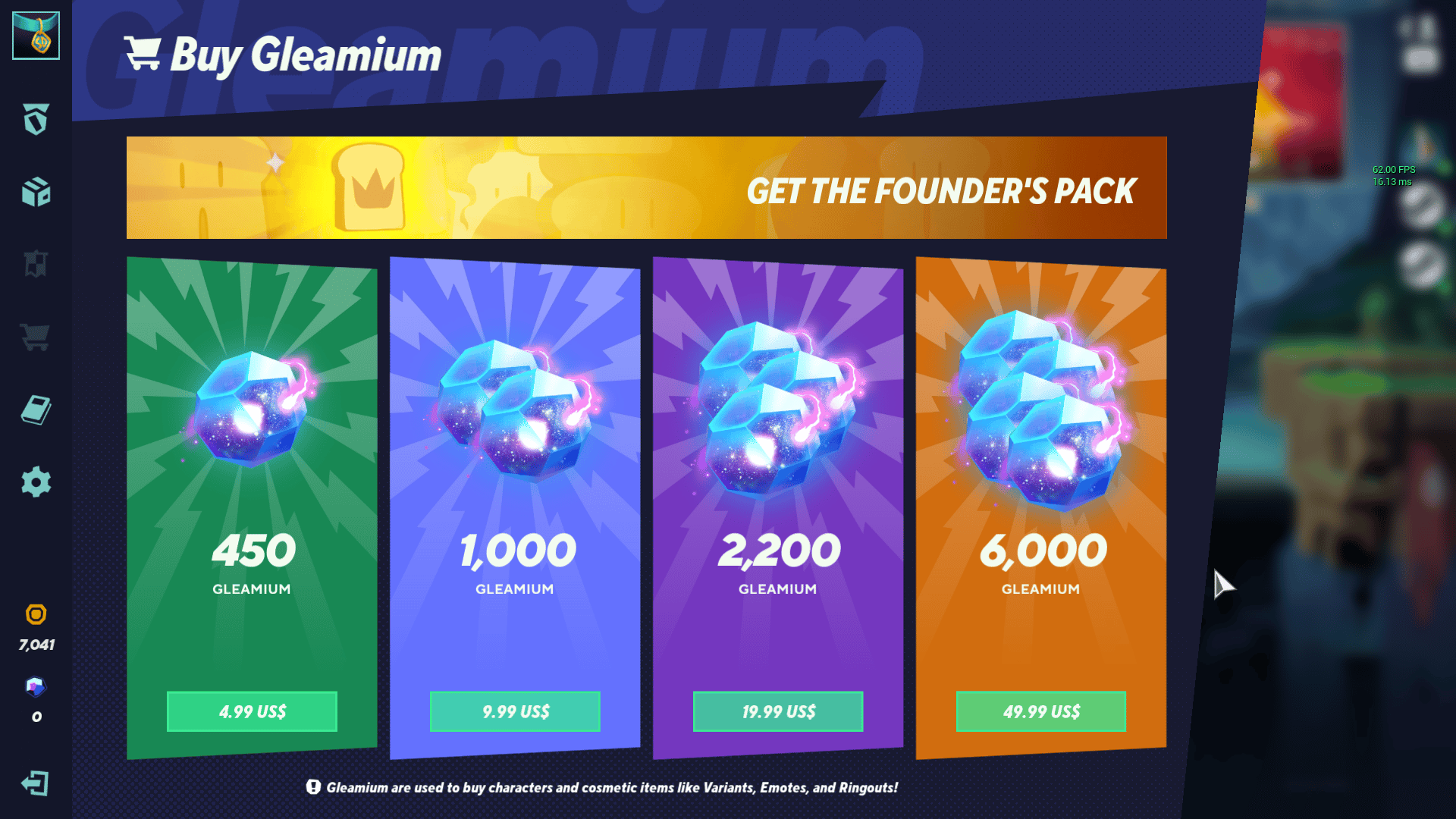 The main issue is when we look at the current offerings of skins. We see that each character currently has 1 alternative skin that is either tied to the Battle Pass, or to Gleamium. The prices on these costumes vary from 800 to 1200 Gleamium.
The issue, however, is that you are unable to buy 1200 Gleamium. You buy the currency in denominations of 450 ($4.99), 1000 ($9.99), 2200 ($19.99), and 6000 ($49.99).
To put it in perspective, the current battle pass (pre-season 1) can be bought for 300 Gleamium. That would mean one would buy the $4.99 one, and with the remaining 150 Gleamium. One can only use 100 of the currency to buy a voice pack. 50 Gleamium will just be there until they buy another $4.99 deal to make it an even 100.
Announcer Packs
All of the announcer packs in the game cost a 100 Gleamium, which is great. It's a great way to spend your leftover currency to make your game experience a little bit better, and is not exclusive to characters. They can be equipped on anyone.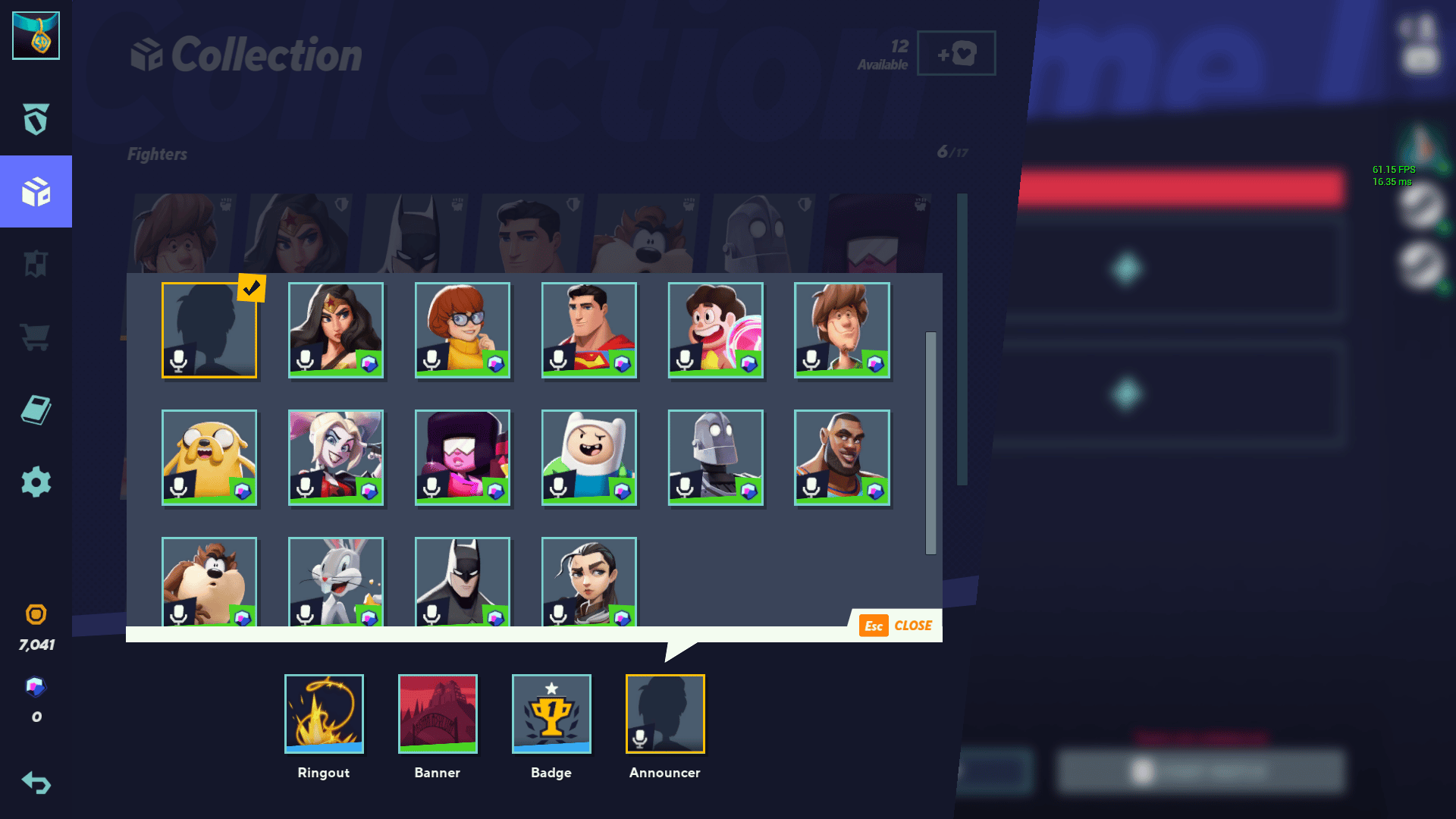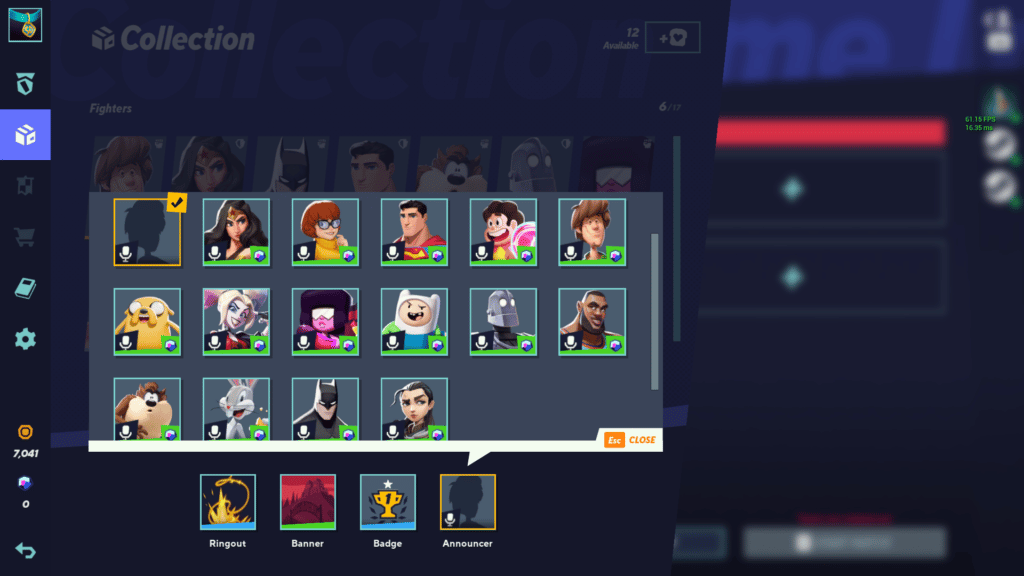 Costumes – A Costly Affair
Talking further about skins, some of these prices are rather steep. A single skin for Batman, giving him his iconic look from the 90's "The Animated Series" – costs a whooping sum of 2000 Gleaium – $19.99.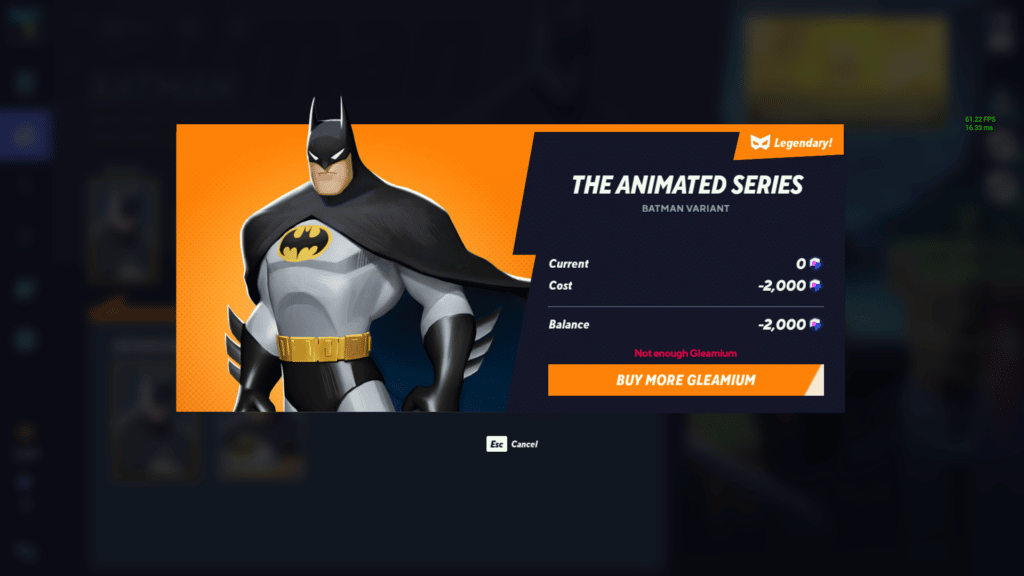 This is a legend rarity costume, and Epic Rarity costumes cost another 1500 Gleamium, which shockingly, can't be bought for $14.99 as you will be 50 Gleamium short. You once again have to opt for the pricier $19.99 deal.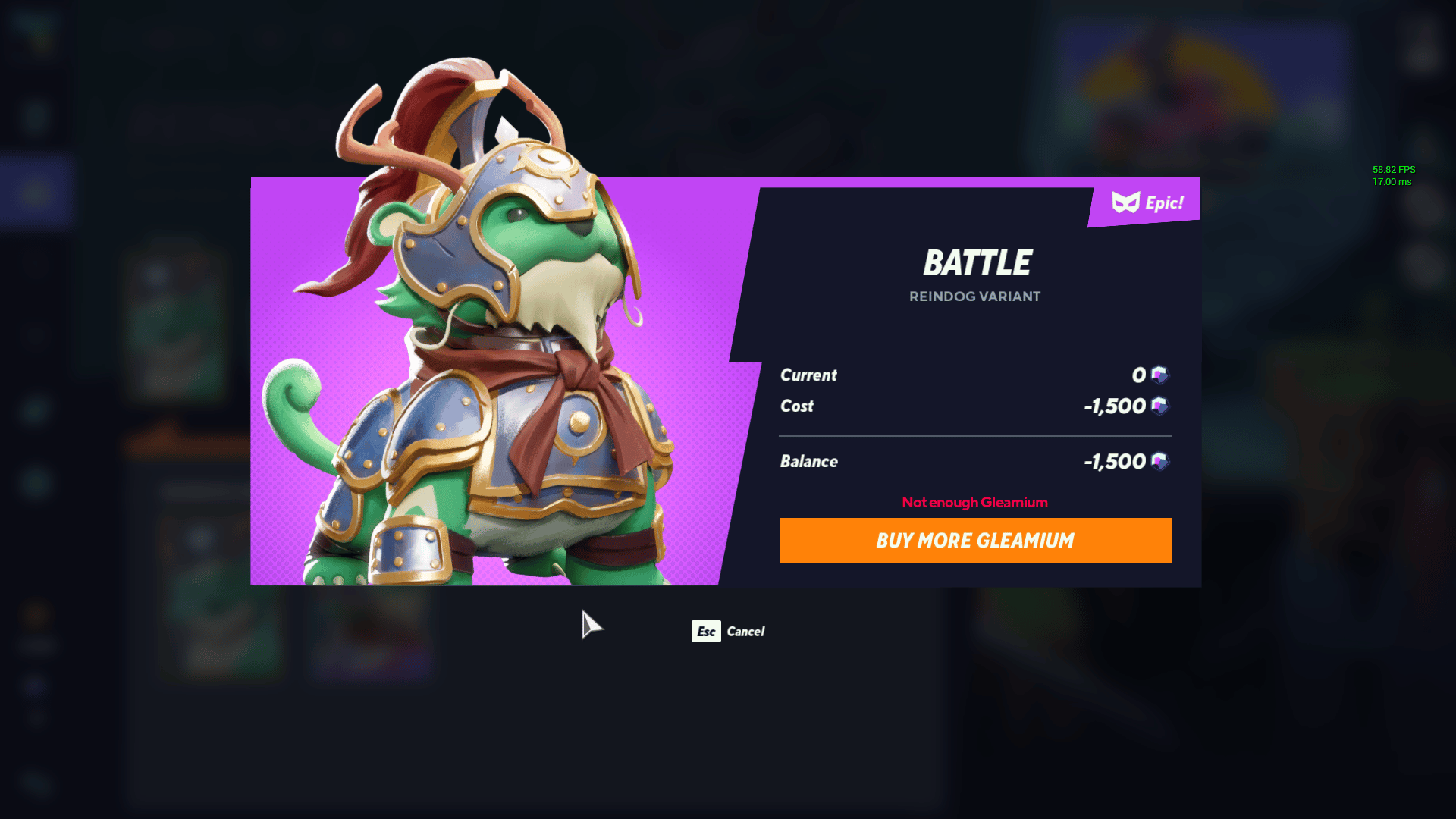 When we talk about other character-exclusive content, taunts are another issue. An Uncommon taunt costs 200 Gleamium, a Rare taunt costs 350 Gleamium, but an Epic taunt costs 500. Once again this is inaccessible to players who want the $4.99 deal. Currently, there are no legendary taunts in the game, so we don't know the pricing.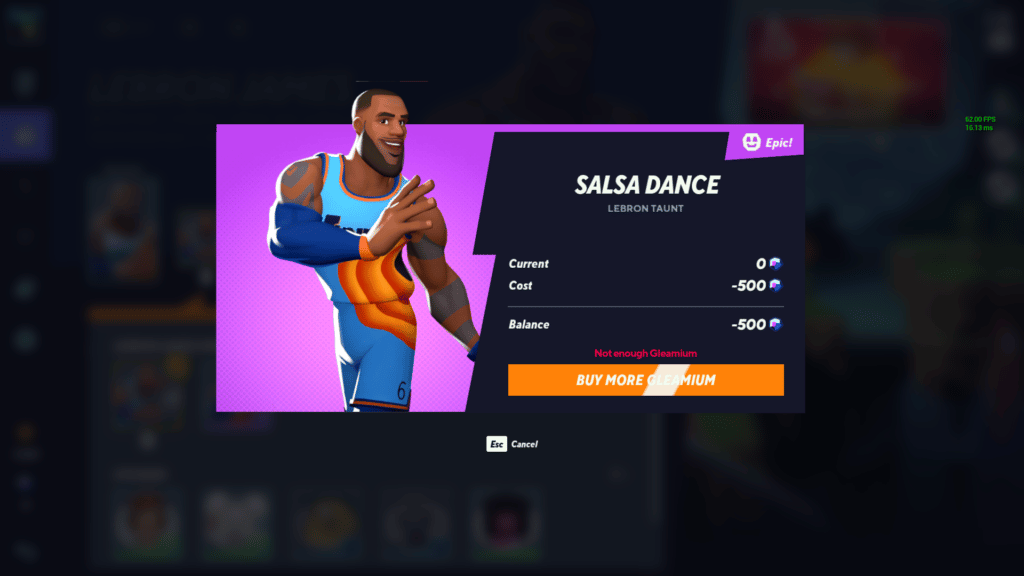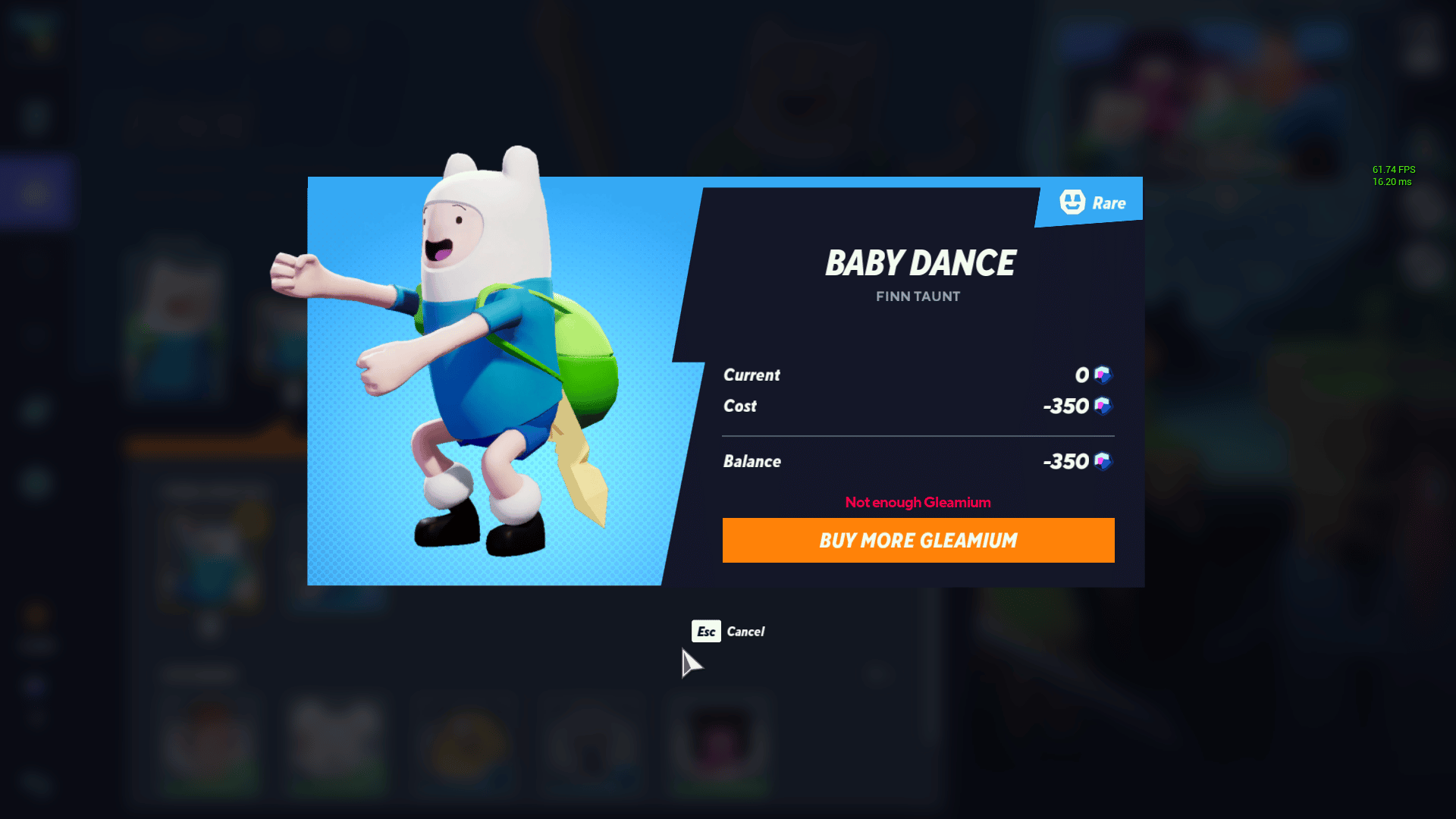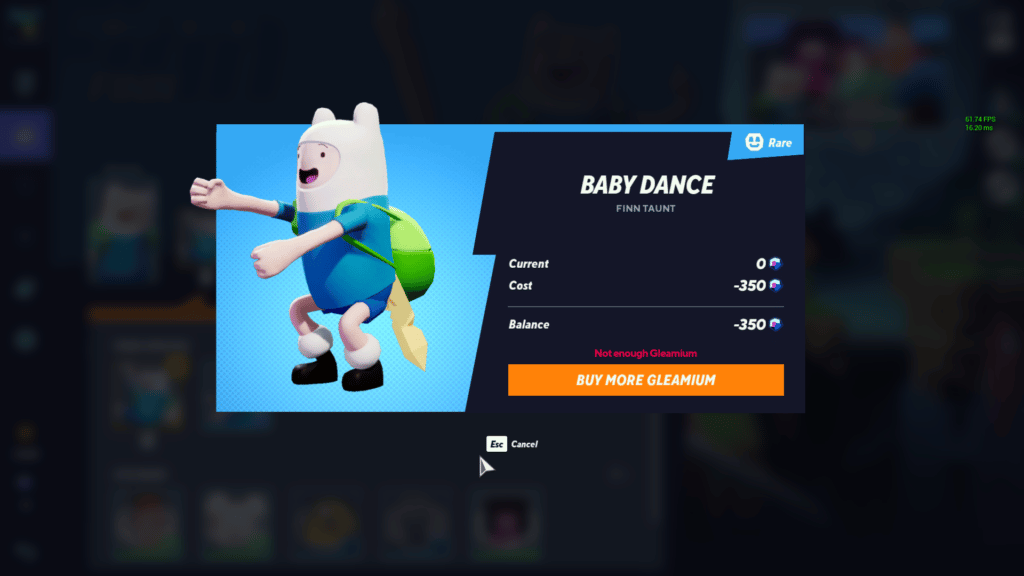 Taunts and Announcer Packs
Another problem with the above two cosmetic items (Taunts and Announcer Packs) is not being able to see what the item looks like in real-time, similar to Fortnite or Rocket League. Especially for something like Taunts. This was also a major issue with Fall Guys. You only have a static image and will probably have to go to Twitter or YouTube to see the animation.
Thankfully, this isn't the case for ringouts. While the animations are visible, their pricing is a little steep, but their novelty is definitely welcome.
Ringout animations too are also a separate debate – a rare ringout animation costs another 800 Gleamium, and an Epic rarity one costs 1200 Gleamium.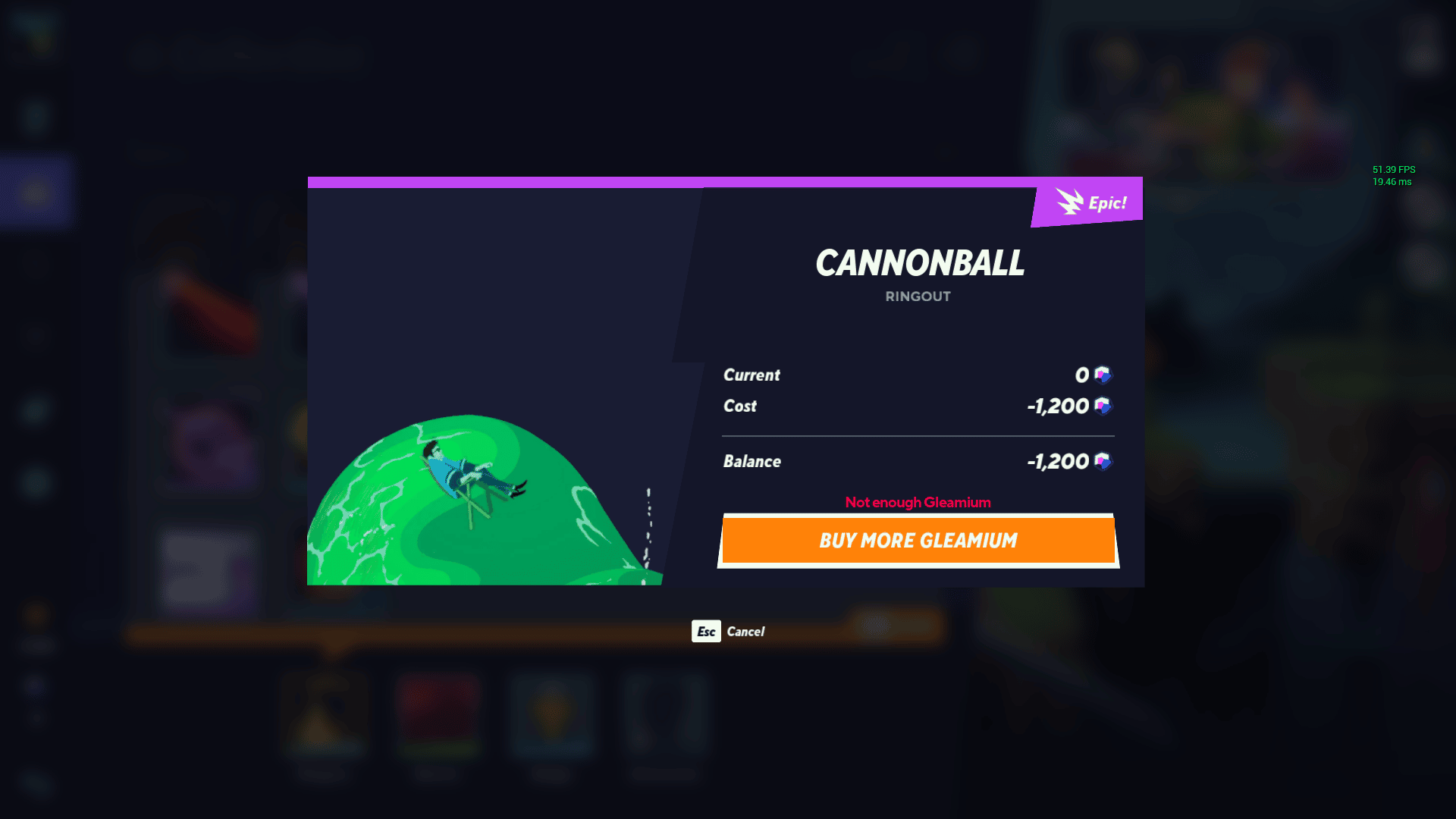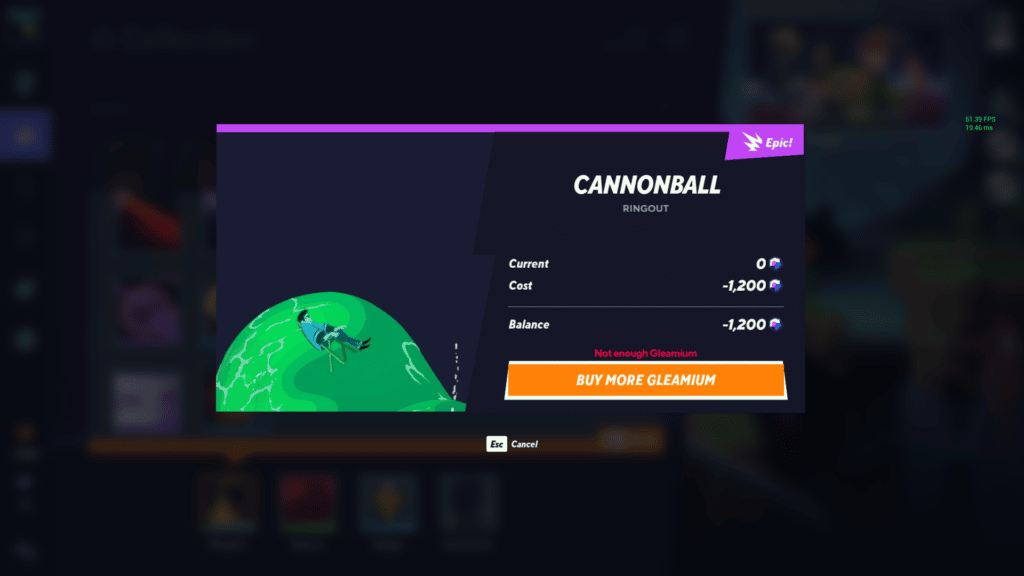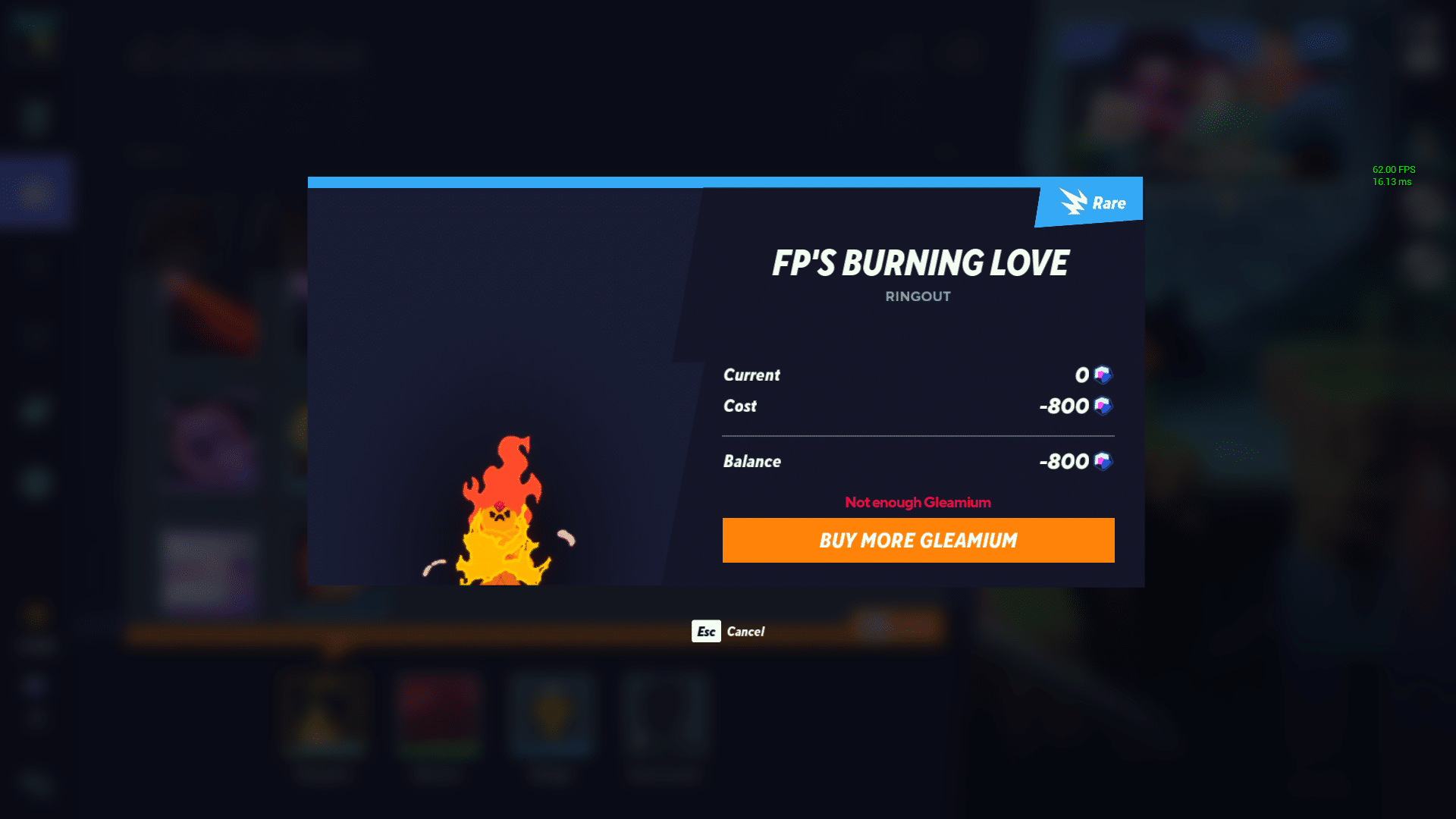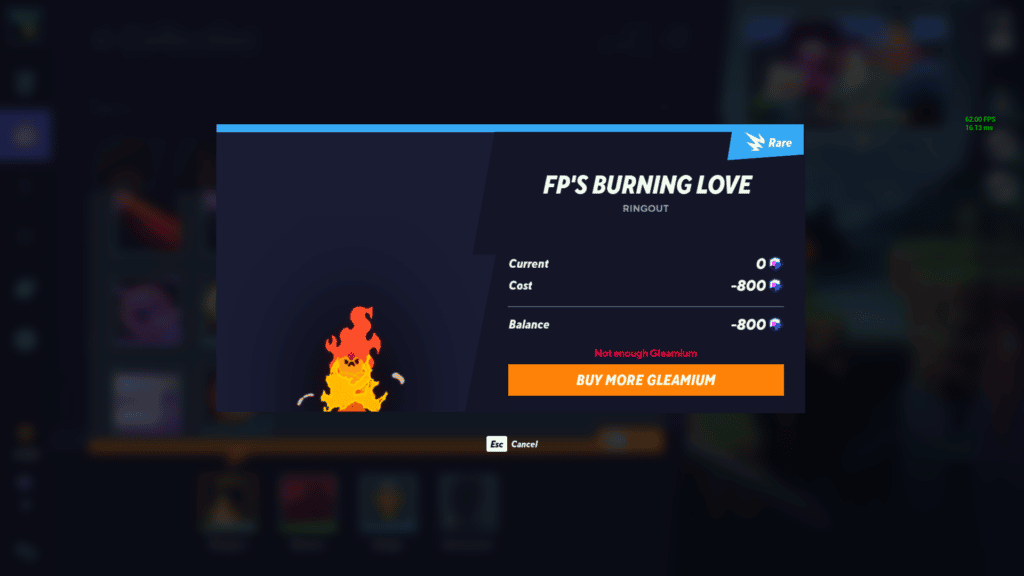 Ringout animations are usable by all your characters, so these are fine. However, the cost of getting them is also a little troublesome, because when you have to buy an Epic Rarity one, $14.99 will get you 1450 Gleamium.
While I am a complete supporter of monetizing a free-to-play game, my biggest issue stems from how the game is pushing the $9.99 bare minimum as a purchase point, instead of the $4.99 option, where even the $14.99 deal offers you less, and encourages you to dip into the $19.99 bundle.
It would be nice to have these items at a rounded price, where the items that cost a weird figure like 1200 have a more rounded figure like 1000.
Bonus WTF Moment
Bonus: There are two items in the game that cost 20,000 Gold and 50,000 Gold respectively. A badge that shows on your profile before loading into the game that shows you have maxed out characters – 20,000, and a close-up of Fred's Ascot from Scooby Doo, for a whopping 50,000 Gold. I really want to know … why?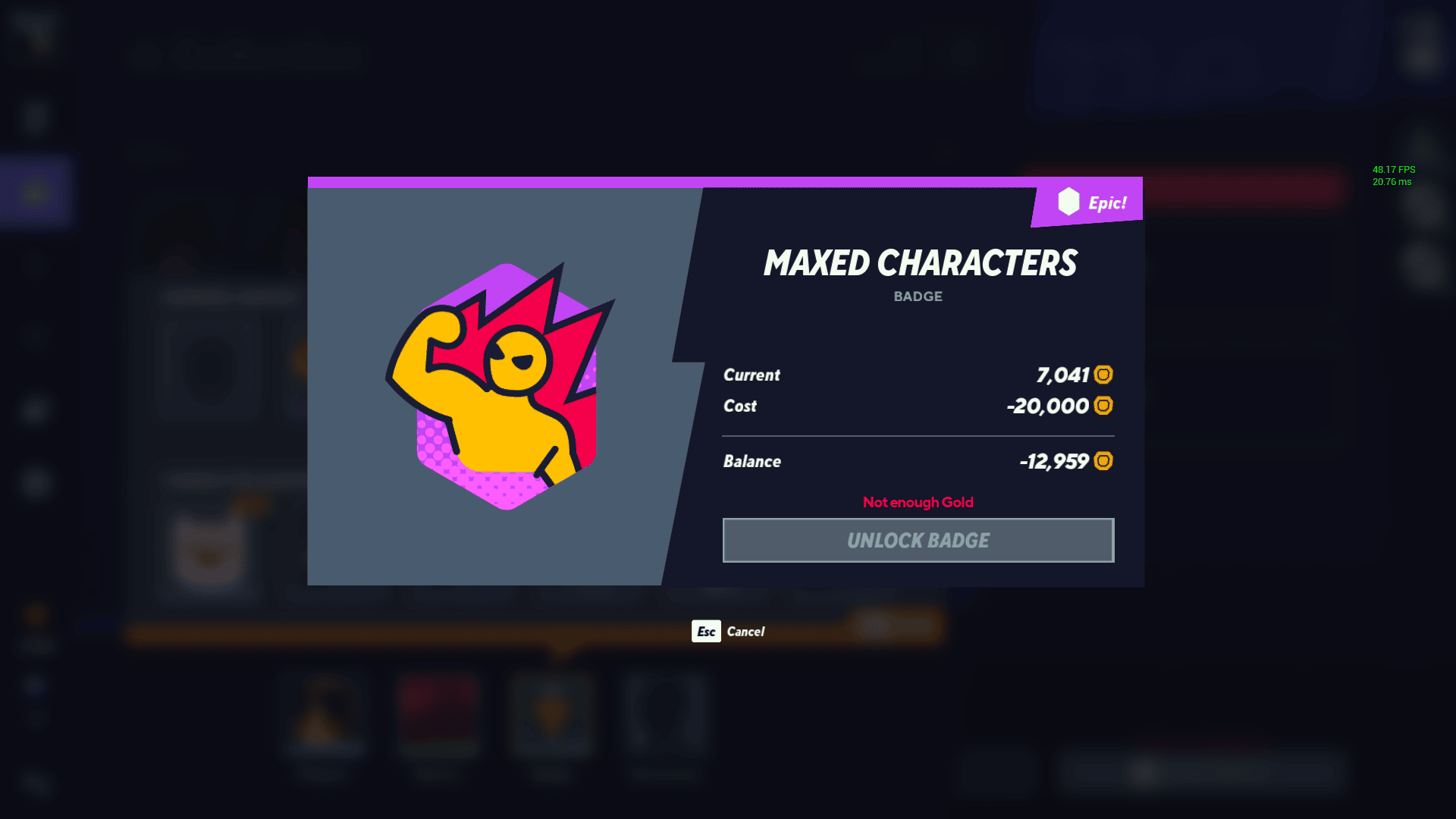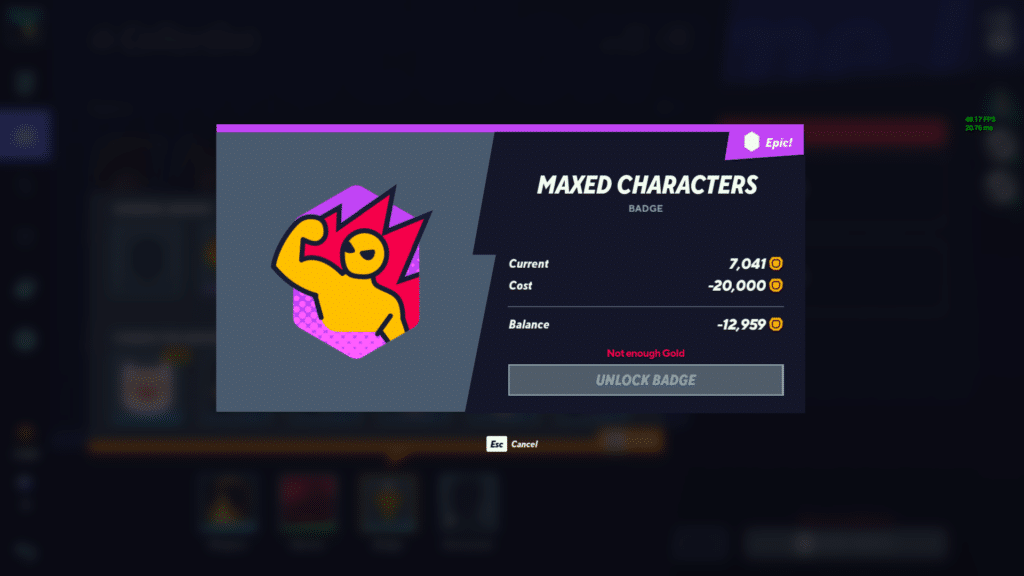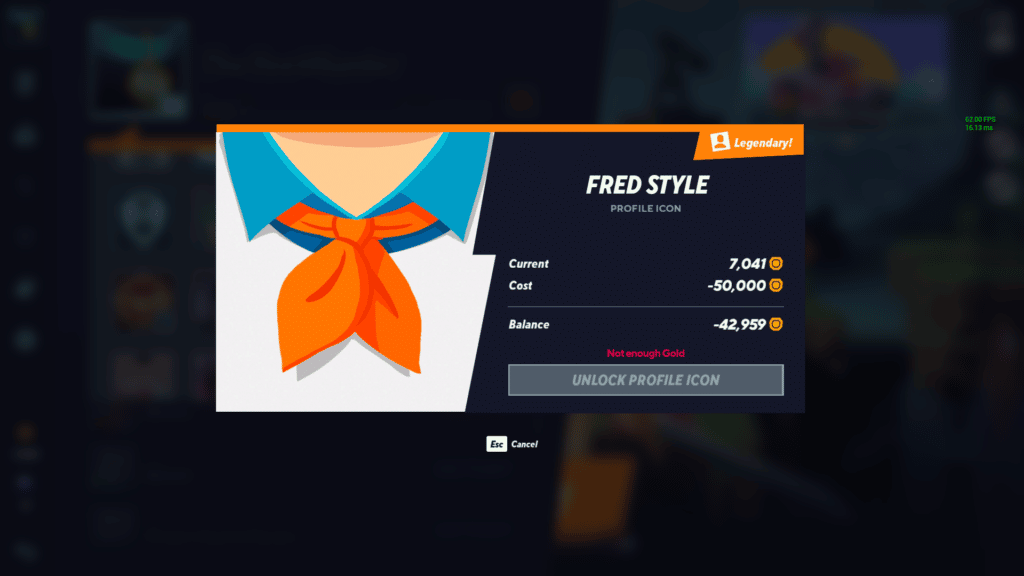 The lack of game modes
Currently, the game has a single game mode – Normal. Which pits players against each other in a casual match, but there is no official ranking system outside of the one that you see on your player profile as shown below.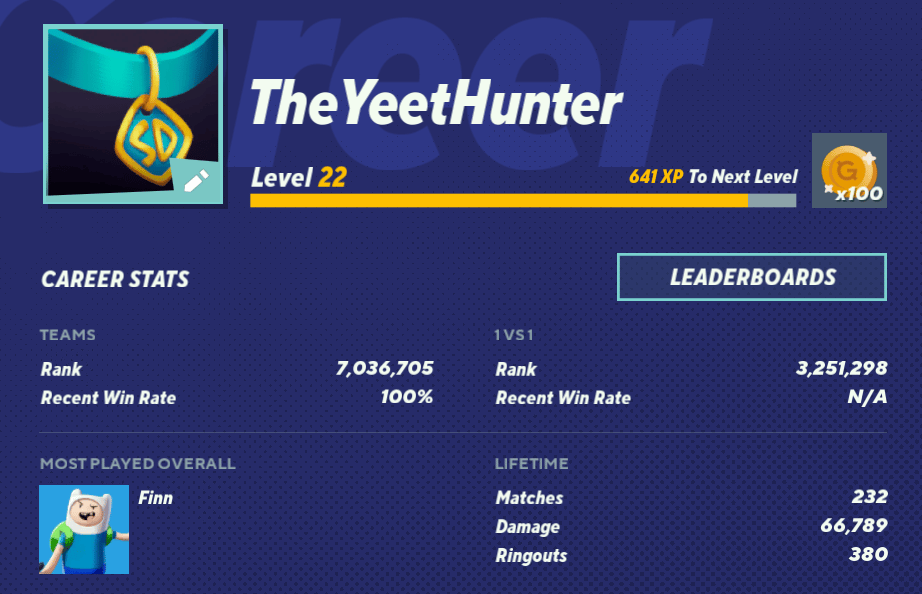 You can see below career stats, your Teams based ranking, as well as your 1 vs 1 ranking. Unfortunately, the game doesn't (as of the time of writing this) has a rank mode, and while you can take a lot of the problems of playing against Iron Giants by going into Bot games in Teams or 1 vs 1, there still needs to be a dedicated ranked mode and a mix of other modes to spice up the battlefield.
The developers are very active in rolling out nerfs and buff's for characters, and with Morty only a few days away with no date yet for Rick, Black Adam, or Stripe, we will just have to wait and see what the developers envision for other game modes, as taking too long can make players quickly lose interest due to the linearity of the game and a lack of an expanding roster.
Keep in mind, the current game modes do provide enough challenge based on your MMR and of your partner if any, but the lack of a ranked game mode that can also offer potential seasonal rewards is something fans would really want as well.
The Battle Pass needs to improve
With the roll out of Season 1, the Battle Pass is bigger and has more rewards, with more tiers. However, fans have taken umbrage with the rewards offered by it.
Admittedly, yes, the skins do vary in price and do give us back the $10 investment in Gleamium in spades by giving us one-of-a-kind skins, and the same for taunts. However, the issue here is that this is akin to what Rainbow Six Siege does – you get a plethora of cosmetics, but also the inability of buying a future Battle Pass. This means at the start of Season 2 for Multiversus, you will have to buy the Season 2 Battle Pass again as you have no Gleamium.
While the person in the Reddit thread has offered Fortnite as a comparison, even Fall Guys let you earn back 1500 Show-Bucks, which lets you buy back the next Battle Pass for 1000 Show-Bucks.
While I have no problem buying a Battle Pass if the game is good enough to support, but for a game to already have such a steep marketplace for Skins, Taunts, Ringouts, and more, It would be nice to balance out the Gleamium rewards too?
Rewards
Another problem that Multiversus faces in terms of its rewards, is that the skins are only rewarded for characters you may or may not own or characters you play or don't play. These aren't universally applicable skins which is the case with Fortnite, Fall Guys, or Rocket League. However, this issue can exist in similar games like Rainbow Six Siege or other games where cosmetics are tied to fit a specific person.
A good way to counter this would be to give players an option of choosing a skin to unlock from the Battle Pass. Similar to how Hearthstone allows you to unlock a unique hero portrait after completing tier 100.
Still not a global launch
The game is currently live in the Americas, Europe, Australia, and New Zealand. However, there is a key market missing – Asia. Players in India, Pakistan, the Philippines, and other similar regions cannot access the game. They are unable to load past the button prompt for "Enter the Multiversus".
Many players who love fighting games in these regions are unable to enjoy this amazing title, and with a Nintendo Port already out of reach, this creates another obstacle for gamers to enjoy this title.
Whatever the reason for excluding Asia from the launch – the game certainly has a high enough demand in these regions, and the exclusion of not launching in Asia is a very odd choice, considering the free-to-play market for these places is also very high.
Unfortunately, we will have to add Multiversus to the "watchlist" of games we hope to launch in Asia in the future, but as of the time of writing this, many players in the Asia region are still unable to play the game and feel left out when trying to play with their friends.
Concluding
The game has a lot of potential to be the next big thing in gaming. However, it still needs to do a lot to be able to keep the players coming and playing, and with devs who constantly push out patches to fix and balance the game, it is already a good sign of progress, but it needs more work to ensure the reach stays.