In what seems to be the biggest PR turnaround of the century since Microsoft's catastrophic E3 2013 presentation with the Xbox One, Microsoft has reverted yesterdays revised draconian pricing for Xbox Live Gold but they have also removed the requirement for free-to-play Games require Xbox Live Gold on their consoles.
Xbox Live Gold no longer mandatory for Free-to-Play games on Xbox Consoles
Microsoft has done the biggest move yet in decades since the reveal of the Xbox 360 – they have joined Sony and Nintendo in the ranks of making free-to-play games truly free-to-play.
In an updated Blog post, Microsoft will no longer require Xbox Live Gold to play free-to-play games.
This comes after the company faced severe backlash for revising the Xbox Live Gold prices earlier in the day and charging almost $11 per month – 1-month for $10.99, 3-months for $29.99, and 6-months for $59.99.
Following this backlash, many people started sharing memes about how Microsoft is forcing Game Pass to consumers even if they don't want it, and how Microsoft is the only company that currently has free-to-play games behind a paywall.
With the only console in the market where you had to have a subscription to play games like Fortnite, Apex Legends, Call of Duty Warzone, its understandable why Microsoft was having a hard time when competing against Sony and Nintendo in the console market.
Nintendo and Sony have always offered a free-to-play ecosystem without their premium service being require, and Microsoft joining those ranks has truly elevated their status in the gaming world today.
In addition, Microsoft has also reverted back to their original pricing scheme for Xbox Live Gold subscribers, to what their original prices used to be.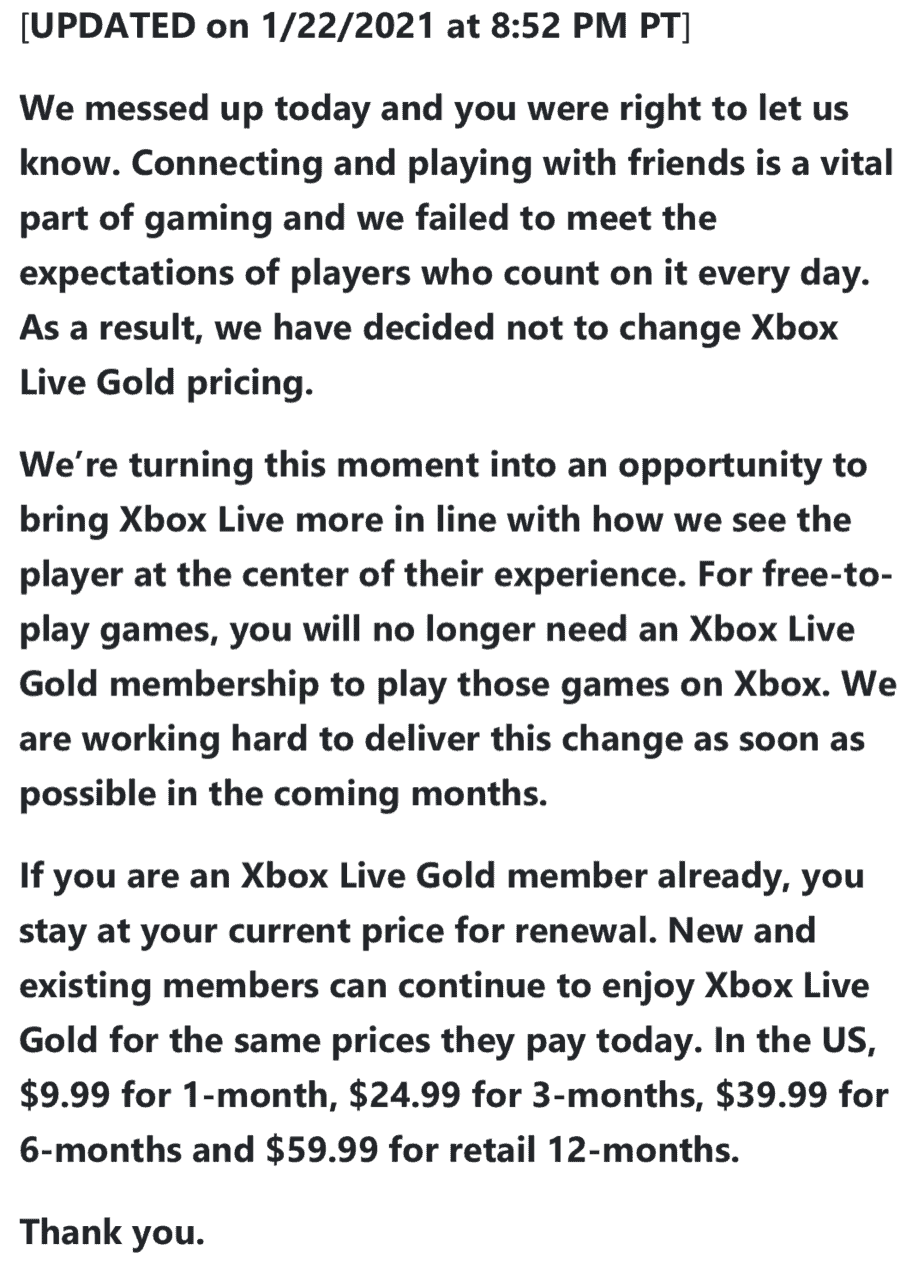 You can now buy Xbox Live gold for 1-month for $9.99, 3-months for $39.99, 6-months for $39.99 and 12-months for $59.99 in the United States.
While Microsoft has made the announcement today, it would be days before this change is effectively rolled out for all major games on their consoles, but rest assured that this change is now set in stone going forward.
This also adds much more significant value to consoles like the Xbox One S and Xbox Series S as a casual console for people to buy for games like Rocket League, Fortnite, Apex Legends, etc. to buy for the purpose of playing cross-play games with friends without needing an expensive gaming system or a paid subscription.
What are your thoughts on the turnaround from Microsoft? Let us know in the comments section below.