It seems that while Microsoft might be biding their time in announcing the Xbox Series S, their own packaging did a good job of ruining the surprise for them. In a series of photos and even a video showing off the new Xbox Series X controller, the side of the box confirms that the fabled Xbox Series X codenamed Lockhart does indeed exist.
Xbox Series S – all we need now is an official announcement
It seems that in some recent tweets and videos, The Xbox Series S has been mentioned once more.
According to rumors, the Xbox One X is going to be 4K/120 FPS juggernaut of the family, while the Lockhart will be a more affordable option offering 1080p/60 FPS. With all these points, fans are expecting the Lockhart to be for gamers who will be content with 1080p.
The original tweet comes from user Zak S on twitter:
But another series of tweets comes from an Arabic account, but sharing slightly different pictures:
This is a close-up of the box, indicating Xbox Series S.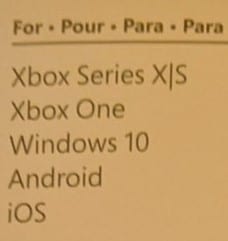 And an addition video to show that it isn't doctored.
The white controller was spotted in the wild earlier before, but man people were quick to dismiss it as a fake or just a developer test model.
The Xbox Series X has been constantly talked about at every Microsoft event so far, but Microsoft is adamant on showing off or even talking about the Xbox Series S or mentioning its existence at an official capacity.
With only a few months to go until both consoles officially launch, we are still in the dark about the price tag and the variants that will be available for both consoles.
Hopefully, Microsoft and Sony will host events this month that should help clear up both questions, or at least answer one or the other.
With Microsoft taking the two console approach, Sony is taking the one console approach, offering a base PS5 and one without the Blu-Ray drive, calling it the PS5 Digital Edition. There will be no difference in power between either console, at least that has been announced yet.
What are your thoughts on the potential news of Xbox Series S? Would you enticed to buy that over the Series X? Let us know in the comments section below!