Microsoft has just confirmed that the Xbox Series X launch will take place in November, and while they didn't share a date for the release, and also acknowledge the absence of Master Chief won't affect the immense line-up of games that the console has in store for fans who buy the console on day one.
Xbox Series X launch – Coming in November, no date
In their latest blog post, Microsoft has just confirmed that the Xbox Series X is coming in November, but didn't share a specific date for launch.
Microsoft will continue the trend of November console releases like they did with the Xbox 360 and the Xbox One.
To comfort fans who are disappointed by the delay of Halo Infinite to 2021, Microsoft has offered a good line-up of upcoming games.
A lot of the games like Assassins Creed Valhalla, Watch Dogs Legion, and many other games are going to be cross-gen, but some of the first-party titles coming to the Xbox Series X launch includes games like Scorn, Tetris Effect: Connected, and The Medium, are only a few games coming.
In addition, many Xbox One games will also get optimized for the Xbox Series X. Games like Ori and the Will of the Wisps, Gears 5, Destiny 2 will be given the 4K with 60 FPS or 120 FPS treatment.
While there's going be a lack of popular first-party titles, there is still plenty of content offered by the Game Pass to offer you value for your console.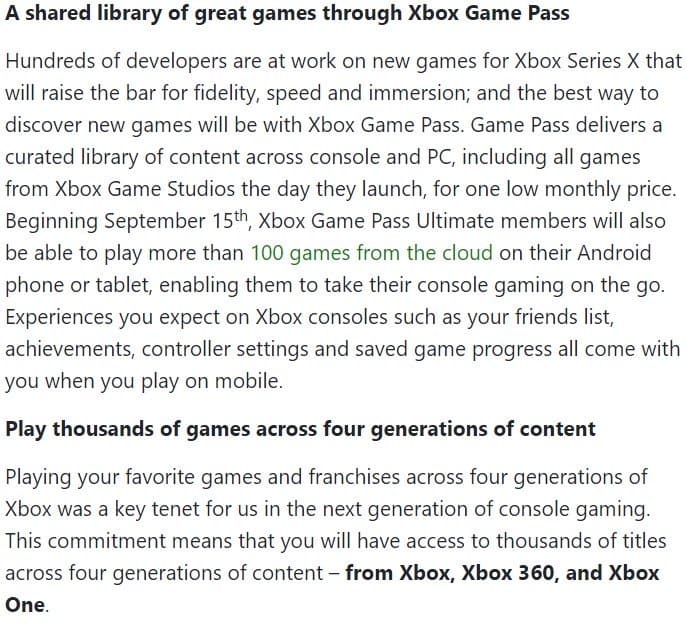 Xbox Game Pass also gives you access to the immense library of original Xbox, Xbox 360, and Xbox One games, but will also come to xCloud.
So if you haven't already, you should consider buying Game Pass for your Xbox One so it can pass on to your Xbox Series X.
Now that Microsoft has shared a tentative month, Sony will probably up the ante and share a November date as well with the month of the PS5. Whether they do it in the month of August or later is yet to be determined.
What are your thoughts on the release date? Are you excited about getting more news on Microsoft for the Xbox Series X launch?
Let us know in the comments section below.