The upcoming ninth generation of consoles is only a few months away. Microsoft and Sony are both shying away from revealing a pre-order date, a release date, and most importantly, a price for their upcoming consoles. Both companies are doing monthly shows for their console lineup, but it seems that Telstra has just implied that Xbox Series X pre-order are about to happen sooner rather than later.
Xbox Series X pre-order – could we finally be getting all the questions answered?
Telstra, a mobile carrier network, sent out a mass SMS to their customers telling them that the Xbox Series X will soon be available for pre-order. First posted in a Reddit thread.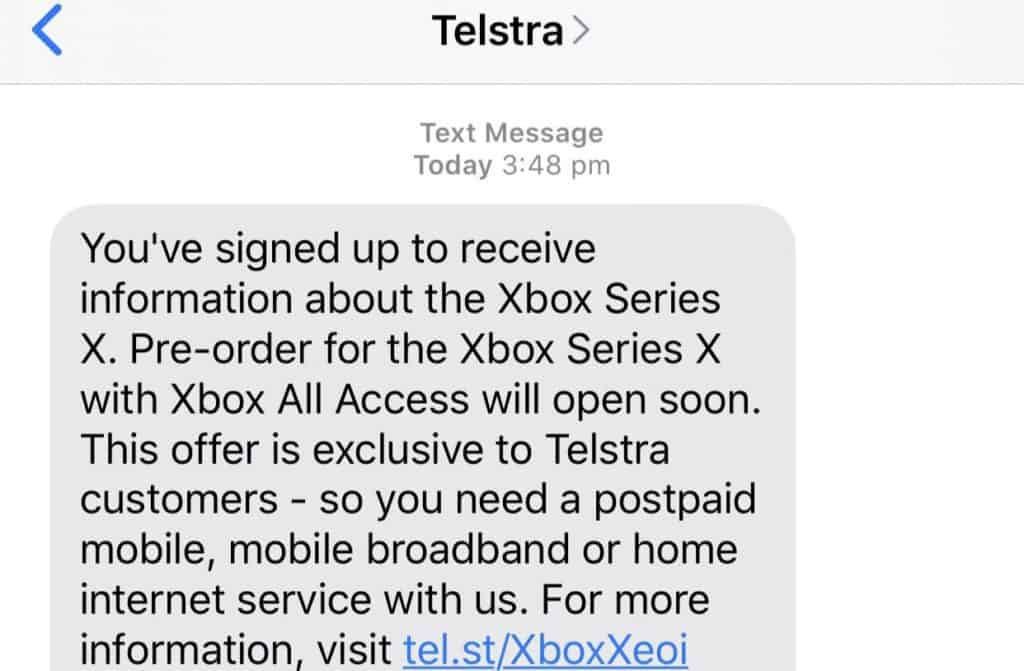 A link provided in thread takes us to the one mentioned in the SMS.
It's also worth mentioning that Telstra has exclusive rights to Xbox All Access in Australia, so this means that they are a reliable source of Information, second only to Microsoft.
We all know that Microsoft and Sony are poised to return for an August showcase of their games or consoles, but currently, neither company has announced any new dates.
What about PS5 pre-orders?
While fans are also eager for the PS5 pre-order, on the recent DualSense PS5 demo with gaming industry's leading icon, Geoff Keighley was joined by Eric Lempel, Sony's worldwide head of marketing, who stated that PS5 pre-orders will be announced well in advanced, and not at the drop of a hat.
Many rumors and speculations suggested that the PlayStation 5 price or pre-order details would be a part of the above event, but fans were disappointed to learn that the rumors would prove untrue.
If Microsoft is indeed looking to beat Sony to the punch with a pre-order strategy and maybe even a price, this will mean Sony will have to deliver a swift response too.
Many fans also believe both consoles will release in November 2020, as that is the most common month for console releases with regard to the Xbox 360, Xbox One, PS3, and the PS4.
What are your thoughts on Xbox Series X pre-orders? Let us know your thoughts in the comments section below!