Early on in the Xbox Series X, the Storage Expansion Card was highlighted as a feature for the console. Moving away from external hard drives, this expansion option lets you put a PCIe NVMe sized hard drive in your new gaming console, should you decide to require more storage.
Xbox Series X Storage Expansion Card – More details to follow
It seems that the Xbox Series X Storage Expansion Card has been detailed. The first of its kind will be provided by Seagate, a company synonymous with storage solutions for any computer system, and console, far and wide.
Some early pictures of the expansion card show that it is just slightly shorter than the Xbox Series X Controller, and it slides into the back of the console.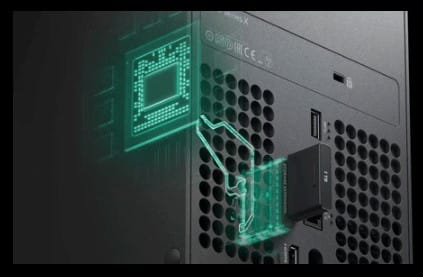 While we do know what it looks like now, and that it will be limited to 1TB at the moment, which isn't quite much storage. Hopefully Seagate and other manufacturers do introduce bigger storage options along the lines of 2TB, 4TB and 8TB.
Currently, the PlayStation 4 and the Xbox One use external USB 3.0 hard drives to expand on the storage options, with these expansion cards, you no longer have to worry about carrying your hard drive in hand should you move the console.
Seagate has also not shared any technical aspects of the card yet, specifically the size and the price of the card itself.
With the addition of the card, you can get the benefits of the Xbox Velocity Architecture, while still holding the default 1TB default system storage.
While this is Microsoft's storage option detailed, we have yet to hear back from Sony on how they plan on handling expanded storage. We do know that the PS5 will support USB 3.2 Hard drives.
Unfortunately, those hard drives will not be able to deliver the same performance as the on-board storage that will be capable of delivering the lightning-fast loading times PlayStation 5 fans will grow fond of.
Whether or not Sony's tech will also be similar in proprietary tech to the Xbox Series X is yet to be determined, but with only 850GB of Storage on the PS5 and 1TB on the Xbox Series X, that will barely be enough for 4-5 AAA titles, larger expanded storage options is something both companies will have to look into.
What are your thoughts on the new storage option? Let us know in the comment section below!