Grand Theft Auto 5 is set to launch for the 3rd time in the game's history for an entirely new console generation – the PS5 and Xbox Series consoles. The new version of the game will bring a slew of changes that will greatly improve the games technical and visual aspects, but the most important aspect of the game, Grand Theft Auto 5 Online, may face some trouble with players who may have previously used a glitch or exploit with their online characters.
Grand Theft Auto 5 Online players be warned!
It seems that Rockstar is looking to crackdown on players who may have taken advantage of any of the numerous times Grand Theft Auto Online was unintentionally broken. The multiplayer portion is undoubtedly the biggest crowd-puller, and over the near-decade of the existence of the game, there have been instances where an update allowed for instances of item duplication (cars, money, etc.) or other ways to game the system.
However, Rockstar is taking the opportunity for players to move from Xbox One / PlayStation 4 consoles to help filter out the players who engaged in such activities. The discovery was made by Twitter user videotech_.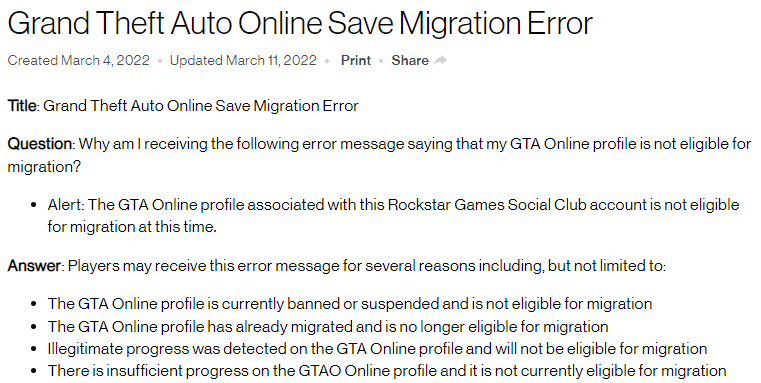 The 3rd bullet point is what sends the message home. For players who have been playing the game since the PS3/Xbox 360 days of the games will have to make sure their account contains no forms of prior exploit or glitching if they wish to enjoy the new Grand Theft Auto 5 Online experience with their friends.
The game is set to launch on March 15th, so we still have some time to wait to see how the story unfolds. We suspect that there is going to be a big uproar from players in the days that follow.