It's practically impossible not to know about FromSoftware's Souls series, if not for how fun they are, then for how hard it is to beat them. Elden Ring's big baddies have been receiving much attention for their difficulty level. But the Dark Souls 3 bosses aren't a piece of cake either.
The game is especially known for its many perilous pathways. Keeping that in mind, to help you navigate through Anor Londo safely, I've made a list of all Dark Souls 3 bosses in order so that you know exactly what you're up against.
Iudex Gundyr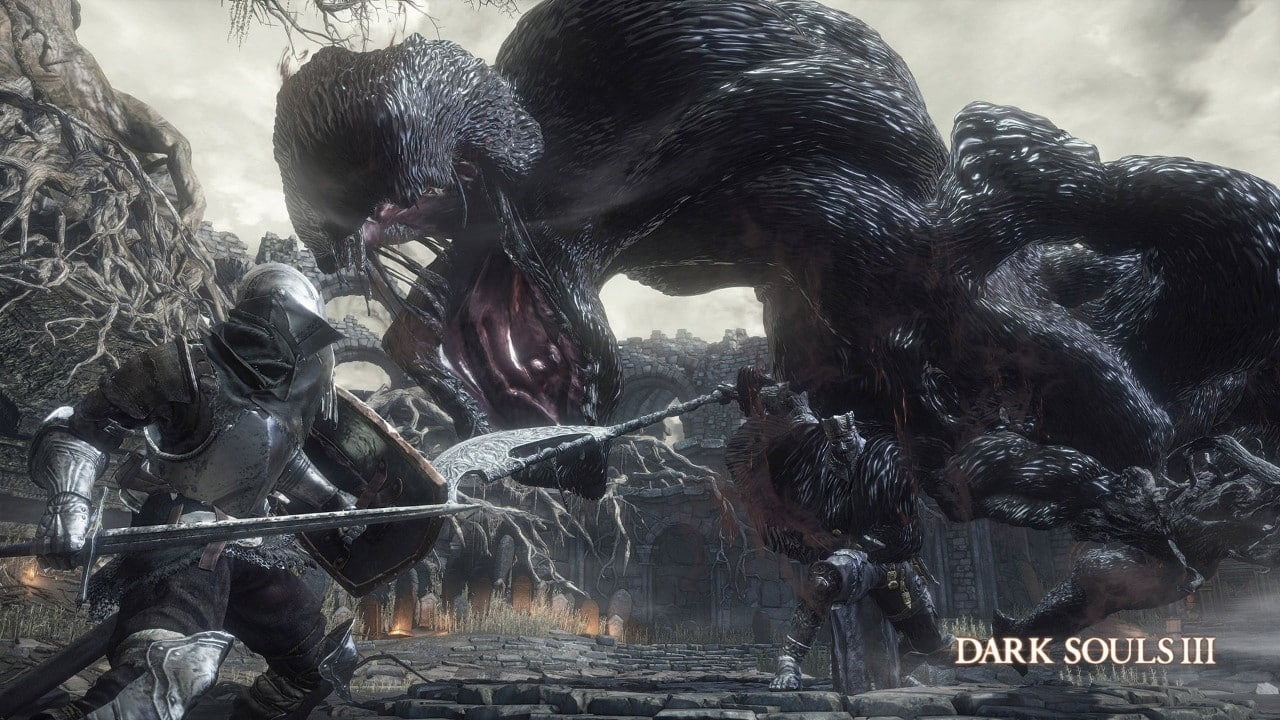 Location: Cemetery Of Ash
Rewards: 3,000 Souls, Coiled Sword
Iudex Gundyr is the first boss you'll be facing off against in the game. His lifeless body is waiting for you at the end of the Cemetery of Ash, and once you pluck out that giant sword in his chest, the tussle actually begins. For players who aren't familiar with the Souls series beforehand, Iudex can be a challenging opponent.
He hits relatively slowly and has a decent amount of build-up before each attack. The first part of the boss fight will be a breeze if you can time your attacks right. The second phase is where things get a bit rowdy. Iudex turns into some sort of abomination and his attacks which followed a pattern beforehand become completely disorganized.
Vordt of the Boreal Valley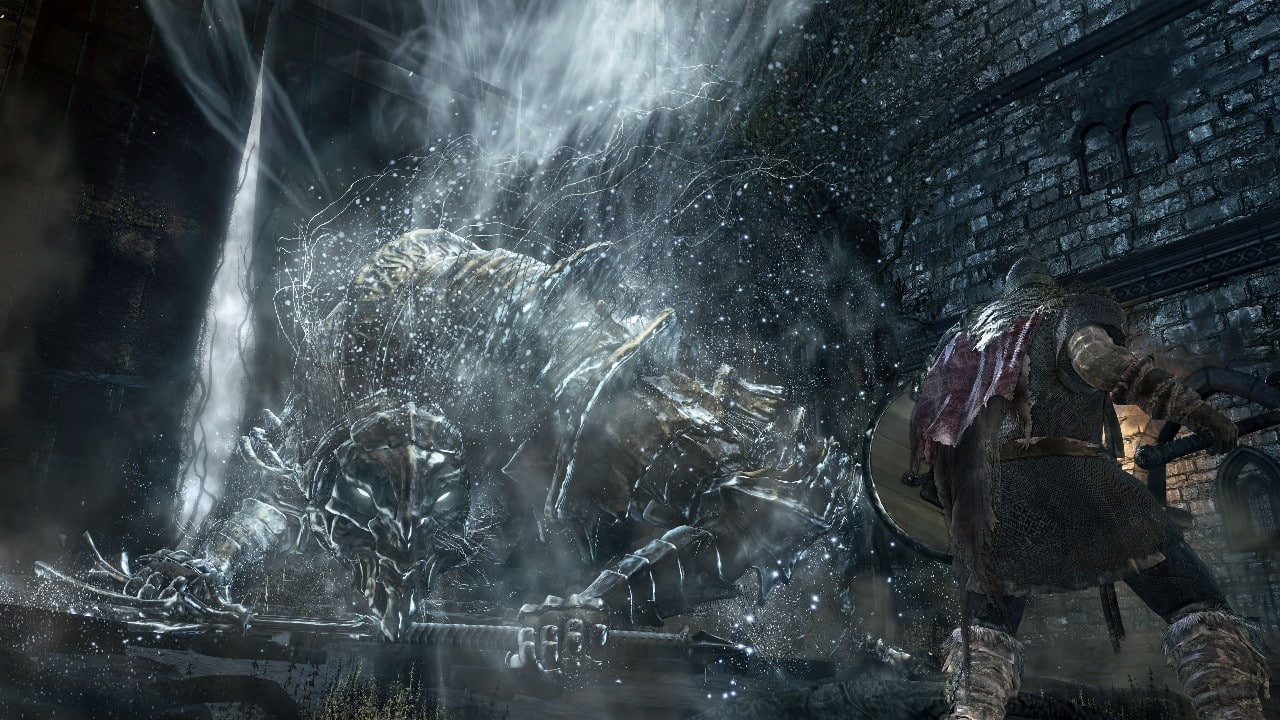 Location: High Wall of Lothric
Rewards: 3,000 Souls, The Soul of Vordt of the Boreal Valley
Vordt of the Boreal Valley is a menacing creature, and FromSoftware definitely didn't pull any punches with this boss fight. This beast walks on all four limbs and has a mixed variety of pounce, swing, and magic attacks. Try to keep behind him at all times, but if that's not an option, be sure to roll out of the way when he swings his giant mace.
Halfway down his health bar, Vordt will start becoming more aggressive. He'll start using his frost breath attack way too much, and that'll kill you instantly if you're not careful. As he's an early Dark Souls 3 boss, you won't have much equipment with you. So chipping away at his health seems to work best.
Curse-Rotted Greatwood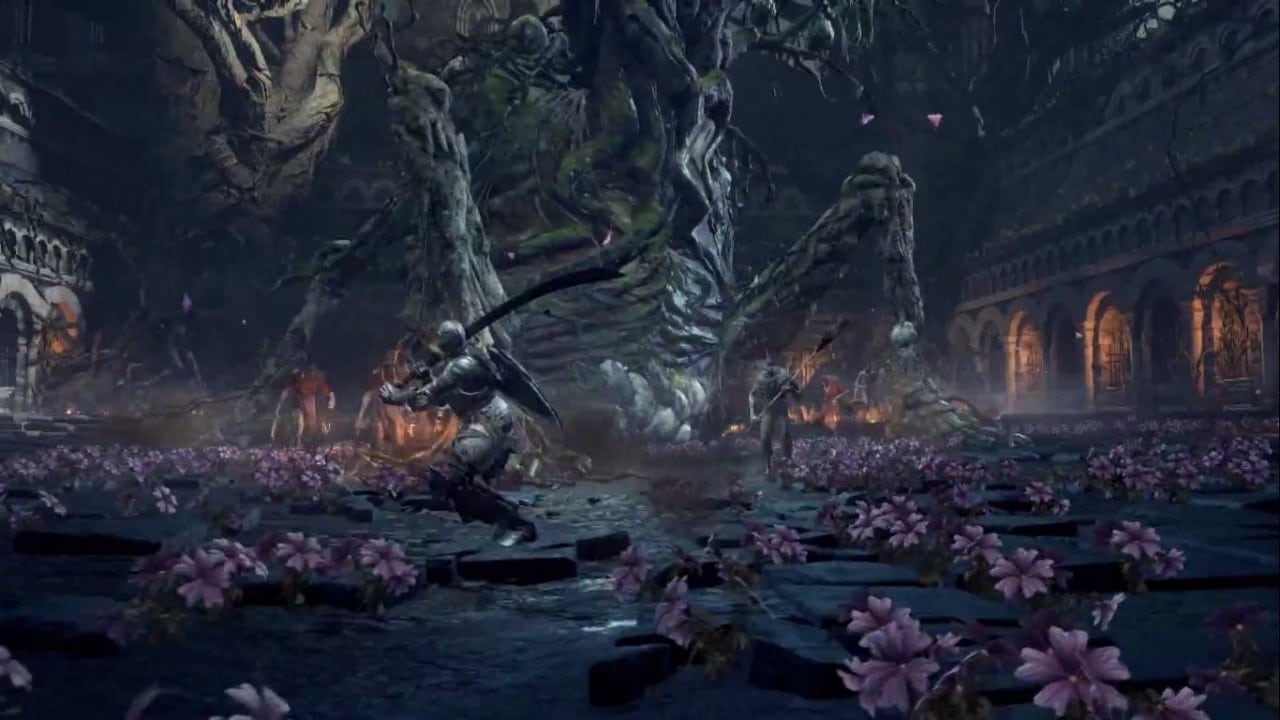 Location: Undead Settlement
Rewards: 7000 Souls, Transposing Kiln, Soul of the Rotted Greatwood
Imagine a really big tree, now imagine it having root legs and walking to kill you. That's just about the accurate description of what the Curse-Rotted Greatwood is. It's the first one of the optional Dark Souls 3 bosses you'll have to defeat. You'll likely run into it right after Vordt,
So for most people, including me, the Greatwood will likely be their third boss battle.
Aside from having to beat the boss itself, you'll have to fend off its lot of worshippers which are regular enemies. So keep avoiding its giant slam attacks, use some magic, and you'll be good to go.
​​​​​Crystal Sage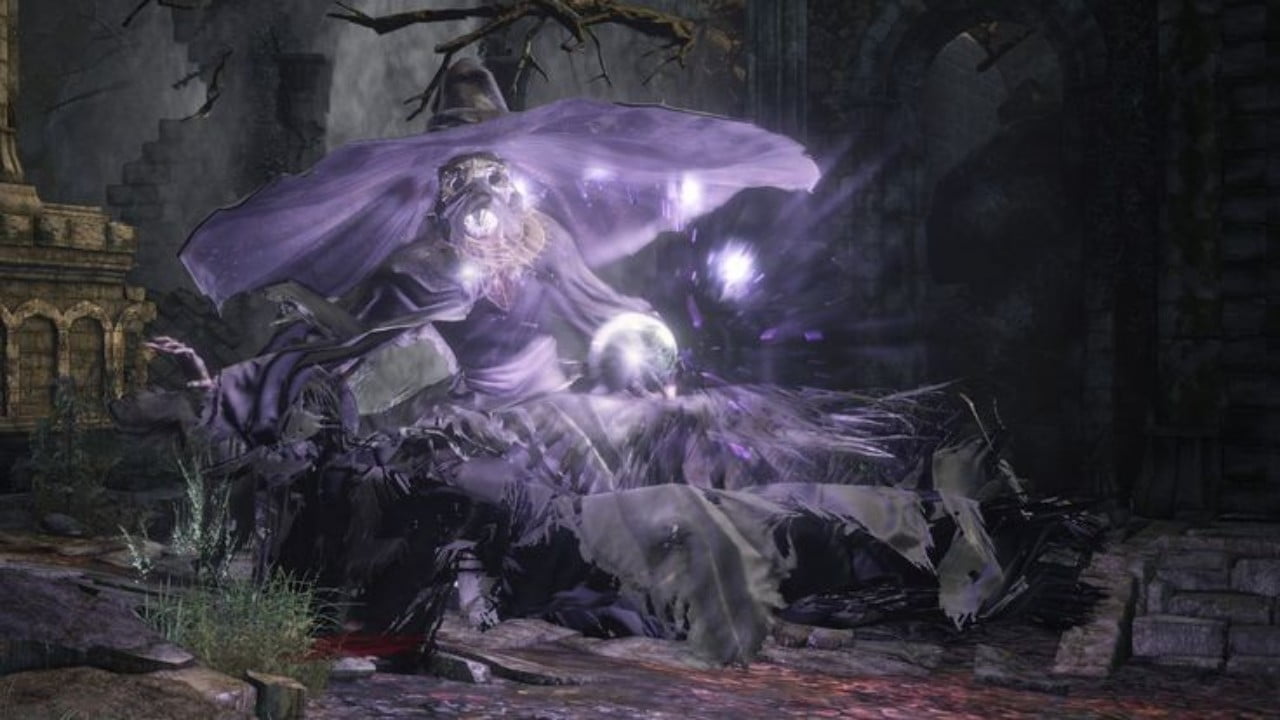 Location: Road of Sacrifices
Rewards: 8,000 Souls, Soul Of A Crystal Sage
The Crystal Sage is a sort of witch or wizard that possesses the ability to teleport as well as blast you with spells at a distance. It's generally a very annoying boss to deal with. The first phase is pretty easy to but once you have the boss at half health, three look-alikes will spawn, and you'll have your hands full.
I'd recommend using the terrain to your advantage. Hide behind the decrepit ruins and pick your chance to attack. With enough consistency, you should be able to complete this challenge before your controller goes flying out of the window.
Deacons Of The Deep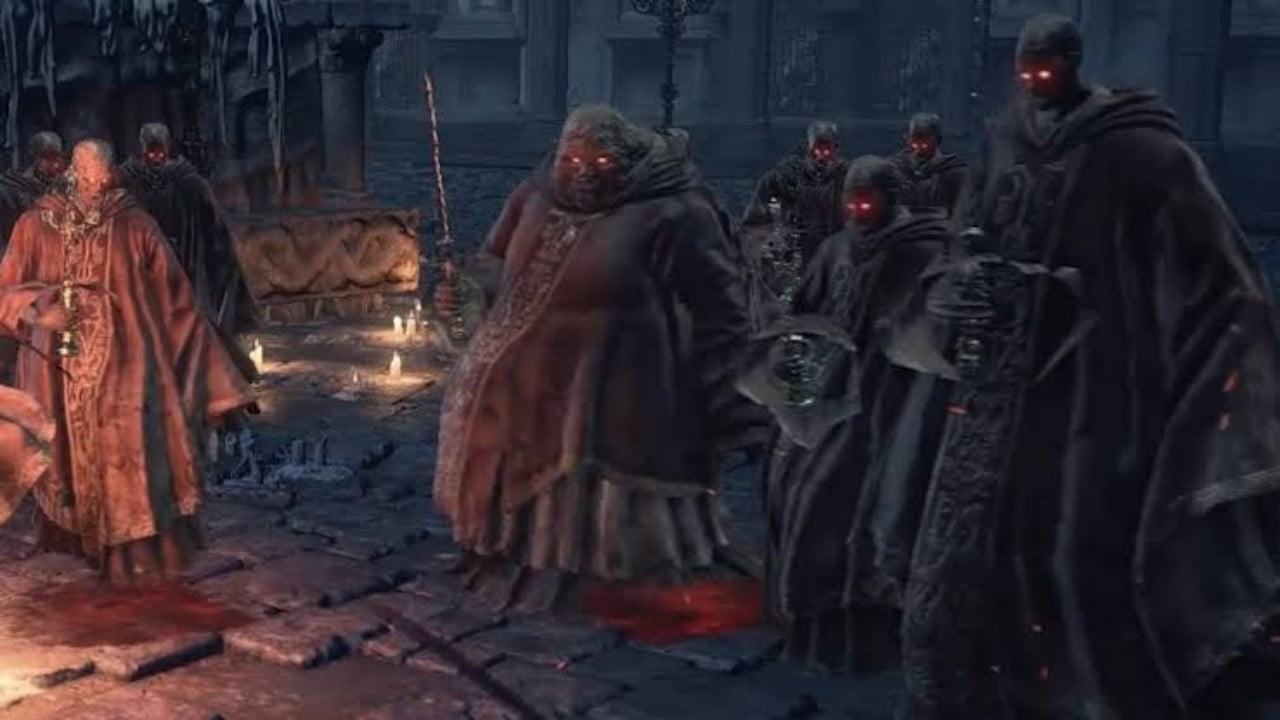 Location: Cathedral of the Deep
Rewards: 13000 Souls, Soul of the Deacons of the Deep, Small Doll
Deacons of the Deep is a challenging boss encounter that takes place in a huge and eerie cathedral in Dark Souls 3. This battle will pit you against a group of powerful clerics who'll keep on barging at you like zombies. The key to this boss fight is the hit-and-run strategy.
The Deacons' spellcasting abilities are a pain but are relatively easy to dodge. One of them will always be making an oversized homing soul mass, which can be quite difficult to evade. So either take this specific enemy out or hide behind the giant structure in front of you.
Overall, the Deacons are a really easy challenge if you don't become too greedy as it only takes one good hit to finish you off. You could say this boss fight is the Mist Noble (Sekiro) of the game.
Abyss Watchers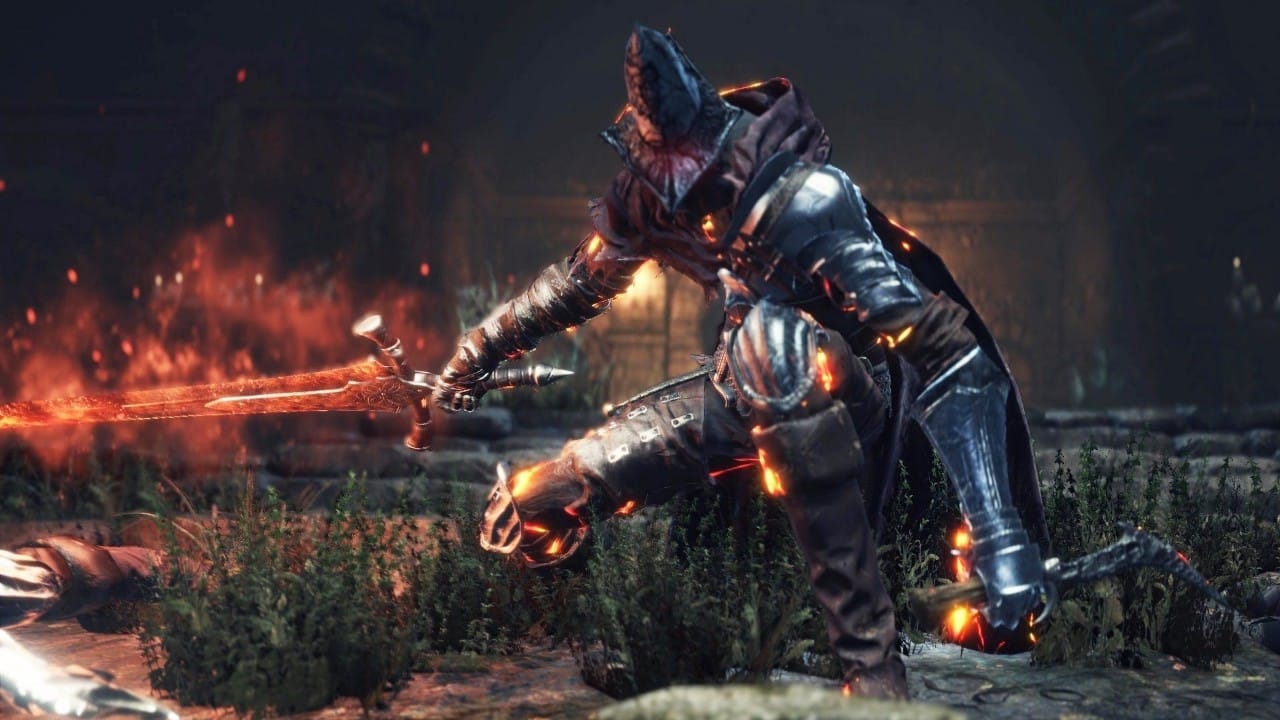 Location: Farron Keep
Rewards: 18000 Souls, Cinders of a Lord, Soul of the Blood of the Wolf
At the end of the Farron Keep, you'll encounter a large weird door. Upon opening it, you'll find that an undead warrior is standing on top of a pile of corpses. A moment later, he'll be on you like a hound. His flurry of attacks is fast, and while they look arbitrary at first, there is a pattern. But that's not actually why this boss fight is a boss fight in the first place. A minute after the fight begins, the corpses will start resurrecting one by one until there are three enemies altogether.
Interestingly, the Abyss Watchers can't distinguish friend from foe, so most of the time two of the enemies will be fighting each other instead of all three rampaging toward you. The only thing I recommend during this fight is parrying them. If you're good at that, the Abyss Watchers will be an easy Dark Souls 3 boss. But if not, then you might need to get used to the "You Died" screen for an hour or two.
High Lord Wolnir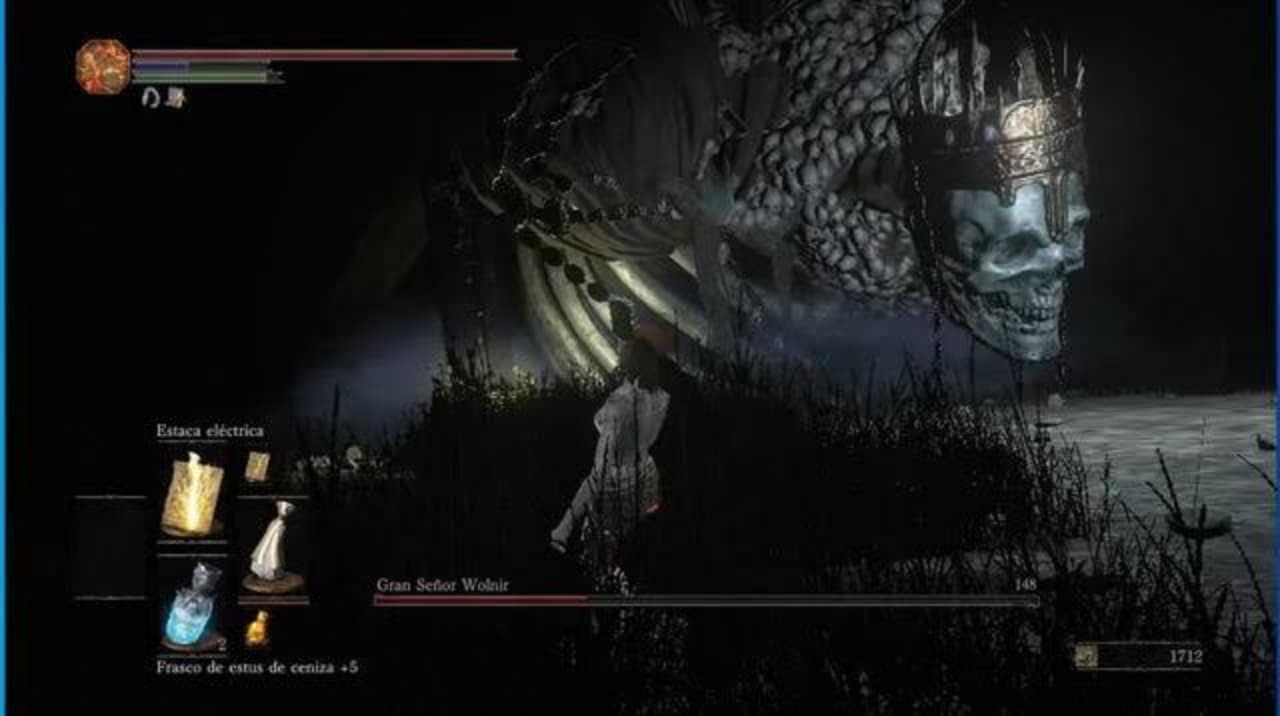 Location: Catacombs of Carthus
Rewards: 22000 Souls, Soul of High Lord Wolnir
High Lord Wolnir is a colossal skeleton that'll be pestering you quite a lot with his hands. The battle with Wolnir takes place inside a dark arena, and the environment isn't one you can take advantage of. His attacks are quick but still have a fair enough wind-up time, therefore, you'll likely be able to dodge them if you're paying attention.
Old Demon King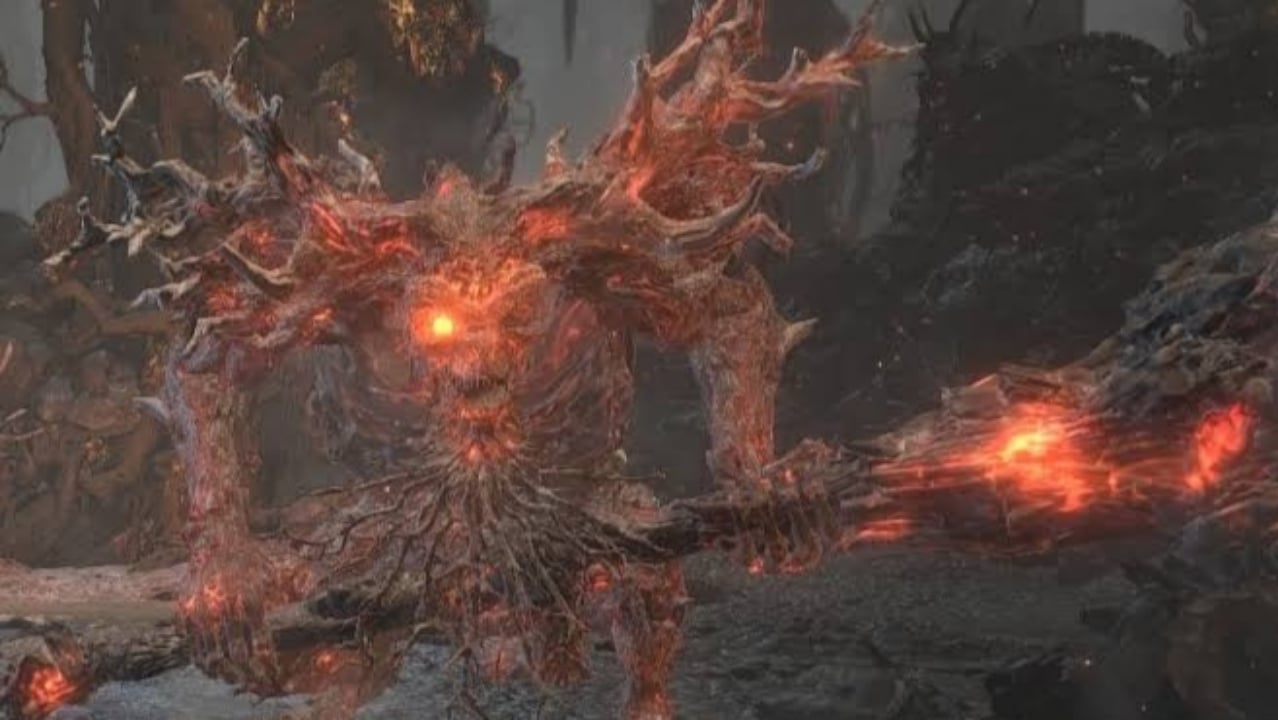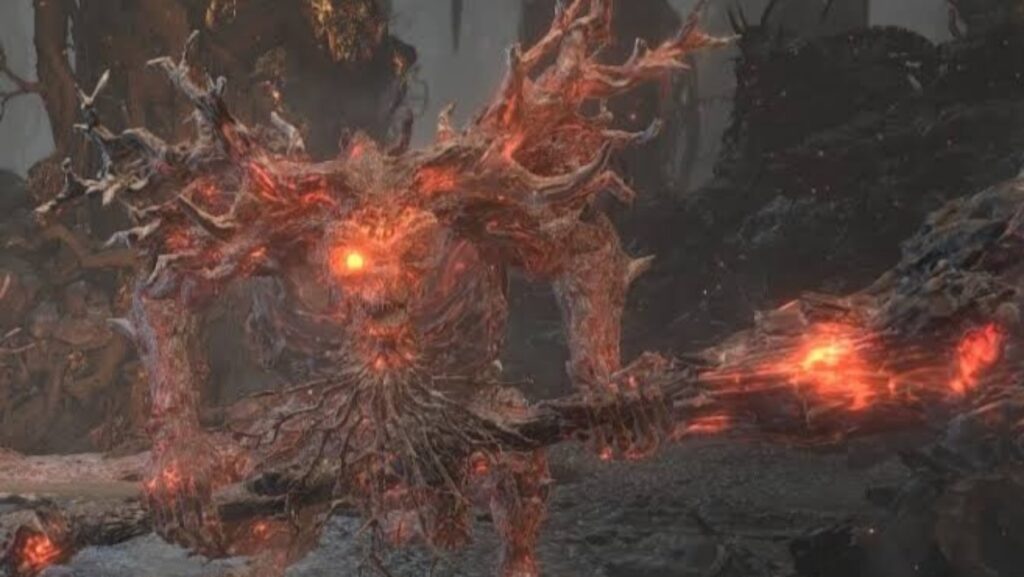 Location: Smouldering Lake
Rewards: 25000 Souls, Soul of the Old Demon King
Another optional challenge in the Dark Souls 3 bosses in order list is the Old Demon King. He's what you'd expect a big and typical demon to look like, except that he's on fire and wields a hammer as big as him. As such, he'll hit you with fire magic, homing fire spells, and repeated smashes.
There's no easy way to go about this boss battle, but it's optional for a reason. Either learn his attack patterns or use the NPC summon sign for some help.
Pontiff Sulyvahn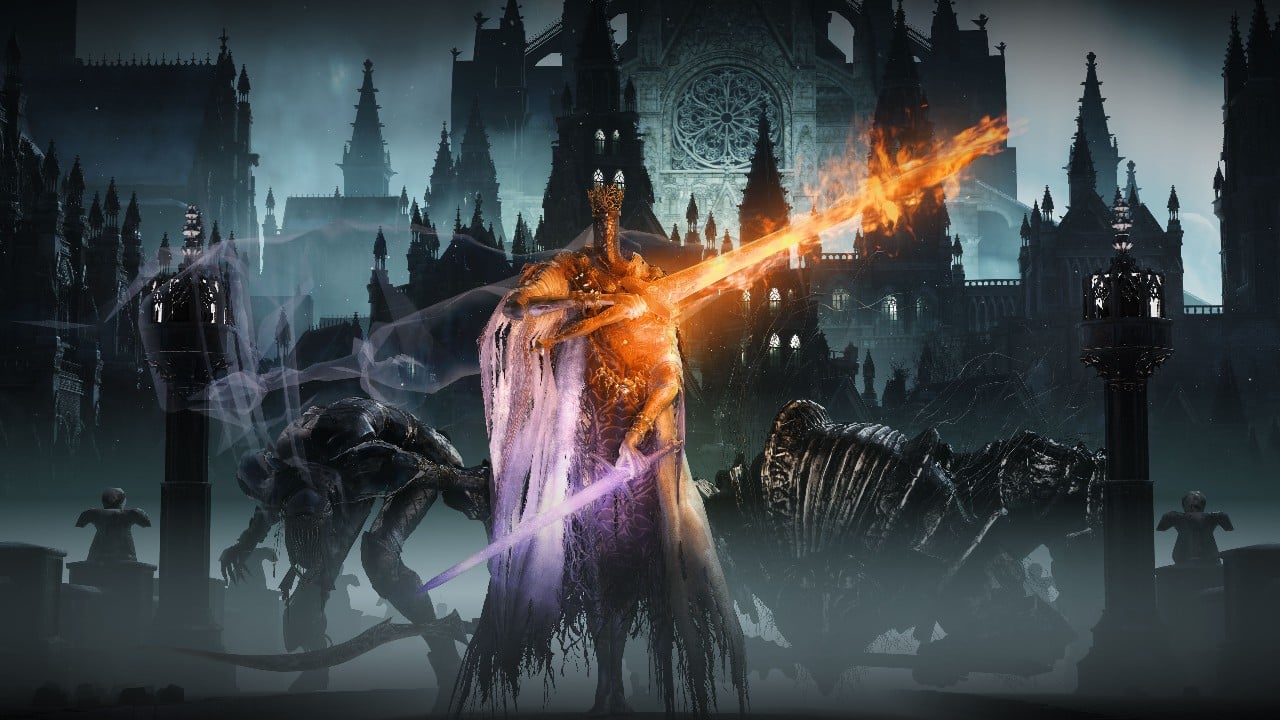 Location: Irithyll of the Boreal Valley
Rewards: 28000 Souls, Soul of Pontiff Sulyvahn
Fire sword in one hand and a magic sword in the other, the Pontiff presides over the Irithyll of the Boreal Valley, allowing no Unkindled to pass. The Pontiff is a really interesting NPC with a cool character design, so aside from the difficulty, the boss fight is visually enjoyable.
In his first phase, Pontiff Sulyvahn will repeat a pattern of two or three slash attacks which you can easily dodge or parry even. The second phase, where he starts flying and becomes more hostile, is when things take a turn. Most of his moves will remain the same, but they'll be quite repetitive. Be quick, and when he flies into the air, dodging at the right moment should be your only thought.
Yhorm, The Giant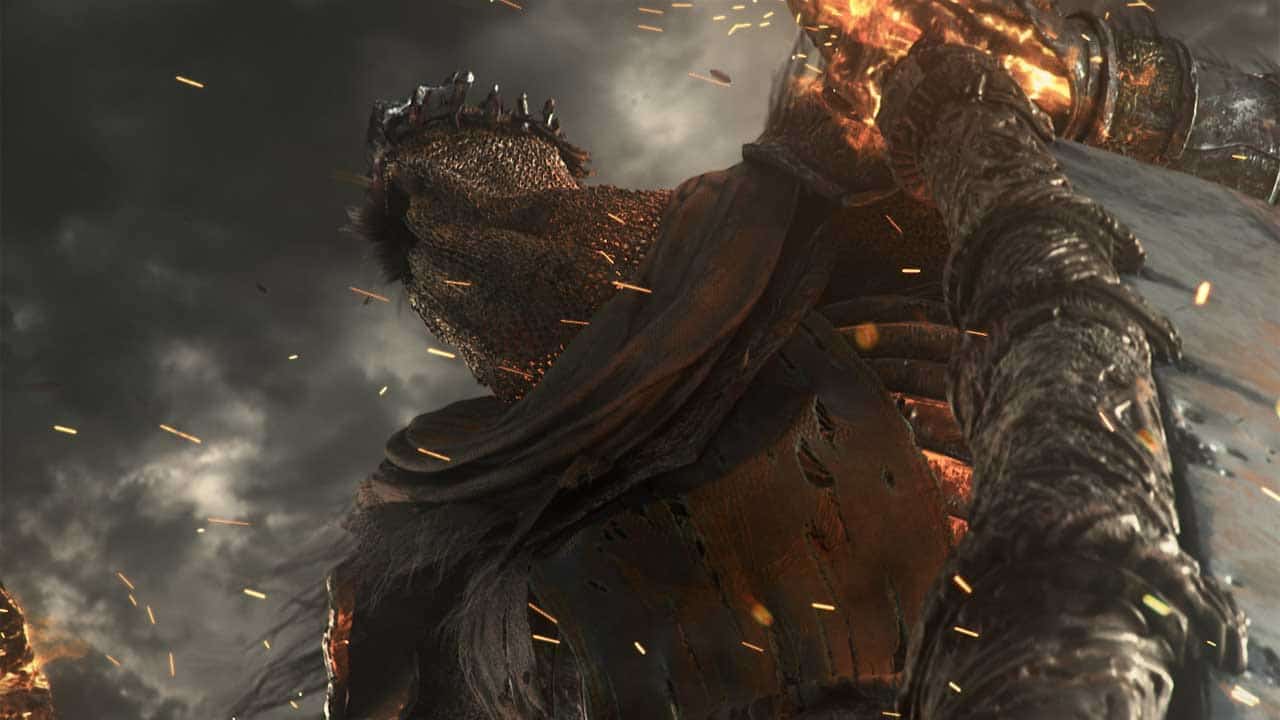 Location: Profaned Capital
Rewards: 36000 Souls, Soul of Yhorm the Giant, Cinders of a Lord
As The Ashen One, you're tasked with gathering the souls of the Lords of Cinder, so eventually, you'll have to defeat Yhorm. As the name implies, Yhorm's a giant with an enormous machete as his weapon. He has a massive health pool, and while he's slow to attack, two hits are more than lethal.
The only sensible way to beat Yhorm is by using the Storm Ruler. It's a weapon specifically made to slay giants, which you'll find right beside the throne Yhorm was sitting on when you first walk into the boss arena. Without the Storm Ruler, Yhorm is undoubtedly one of the most challenging bosses in the entire game. You'll probably need more than two hundred hits to kill the big guy with any other weapon. So again, Storm Ruler is the way to go.
Aldrich, Devourer Of Gods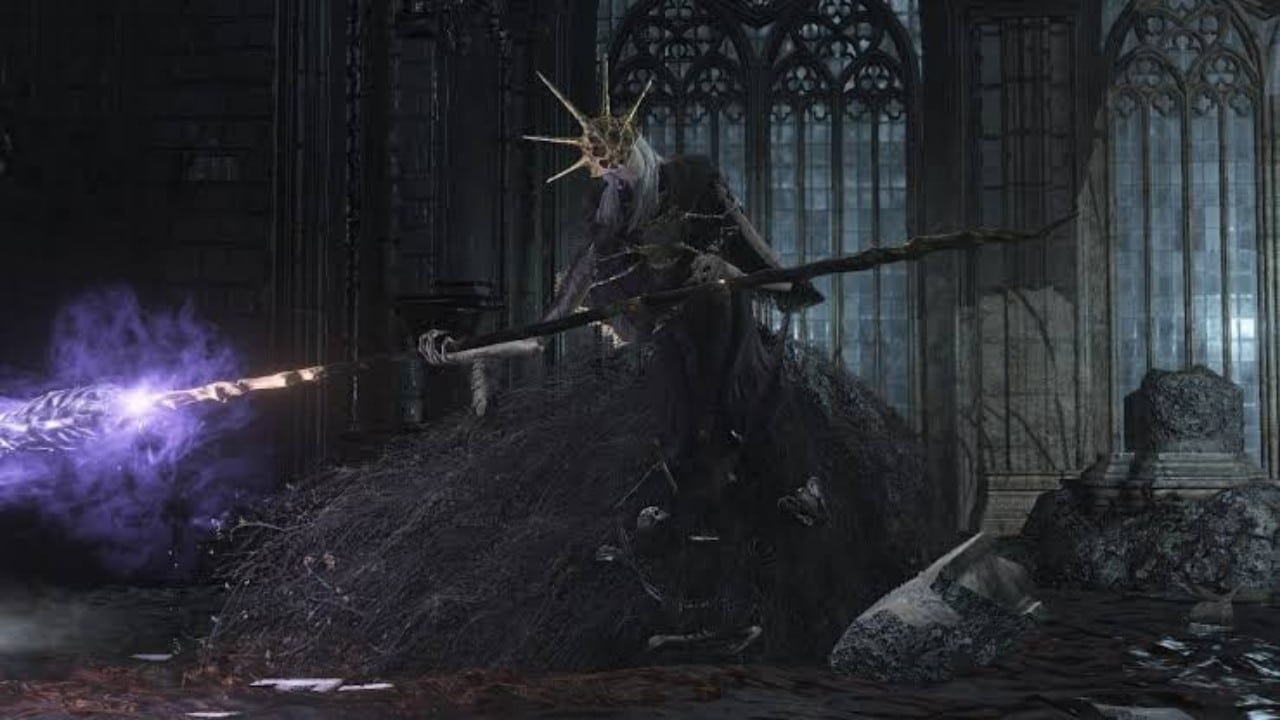 Location: Anor Londo
Rewards: 50000 Souls, Cinders of a Lord, Soul of Aldrich
Aldrich is found atop the tower in Anor Londo. He's another one of the Lords of Cinder like Yhorm, and yes, he's really tough as well. Aldrich's snake-like design makes him pretty quick on his feet, well, tail actually. And he's almost always using his magic staff to kill you from afar.
There are a few moves of his that could insta-kill you. So either you should hide behind one of the pillars in the room or keep at his tail and punish him non-stop.
Dancer Of The Boreal Valley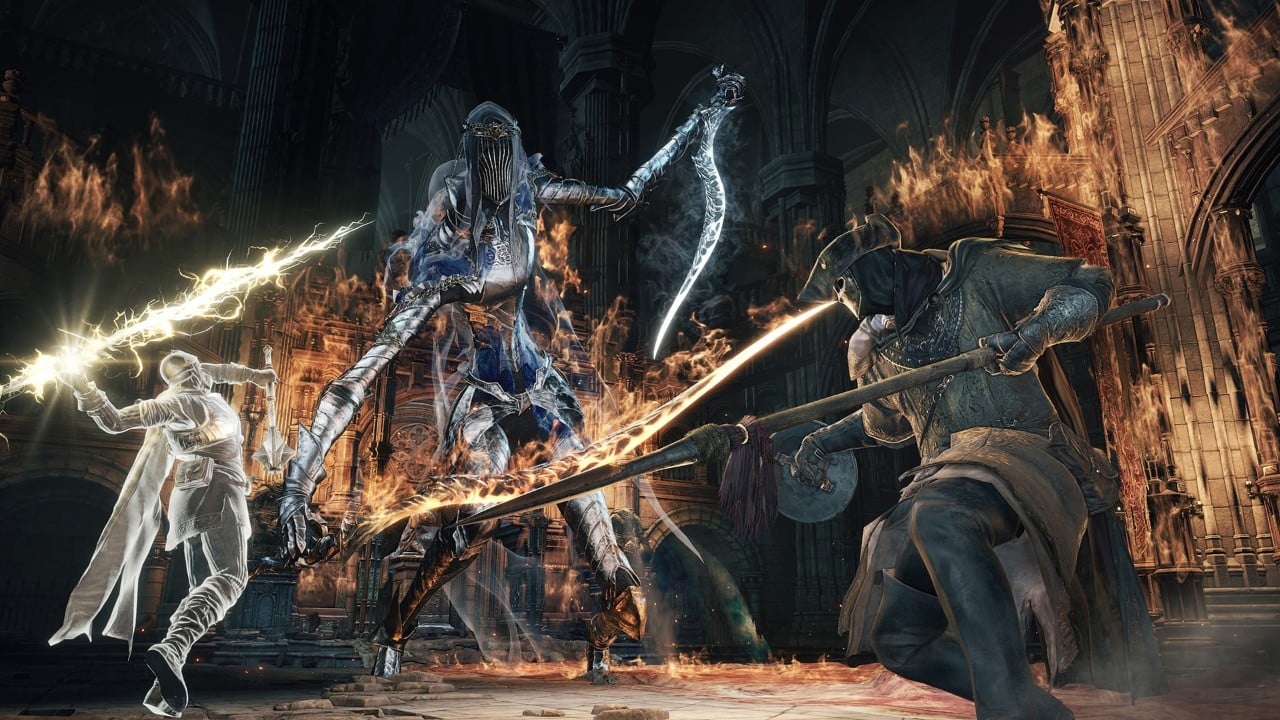 Location: High Wall of Lothric
Rewards: 60000 Souls, Soul of the Dancer
If you've followed this Dark Souls 3 bosses in order guide, right after you beat Aldrich, you'll be transported into a room at the High Wall of Lothric. There you'll have the prompt of activating a statue. On doing so, the Dancer of the Boreal Valley will appear, and the boss fight will commence.
The Dancer is a tall, and slender enemy that utilizes a flurry of quick and long-sequence attacks. She has a major reach advantage, and there's nowhere you can be safe during this fight. Dodging is essentially what you'll need to focus on. And after every roll, stay on top of her and follow up with attacks of your own.
Dragonslayer Armour
Location: Lothric Castle
Rewards: 64000 Souls, Soul of Dragonslayer Armour
Guarding the entrance to the Grand Archives you'll find the Dragonslayer Armour, an empty suit animated to life by the Pilgrim Butterflies high above Lothric Castle. It may look dead, but the massive shield in its left hand and the greataxe in the right are very much alive.
The Dragonslayer Armour has two-three hit combos, which you can learn to dodge. Other than that, it has a lot of hard-hitting attacks with long wind-up times. Positioning yourself behind him at all times and attacking works wonders.
Oceiros, The Consumed King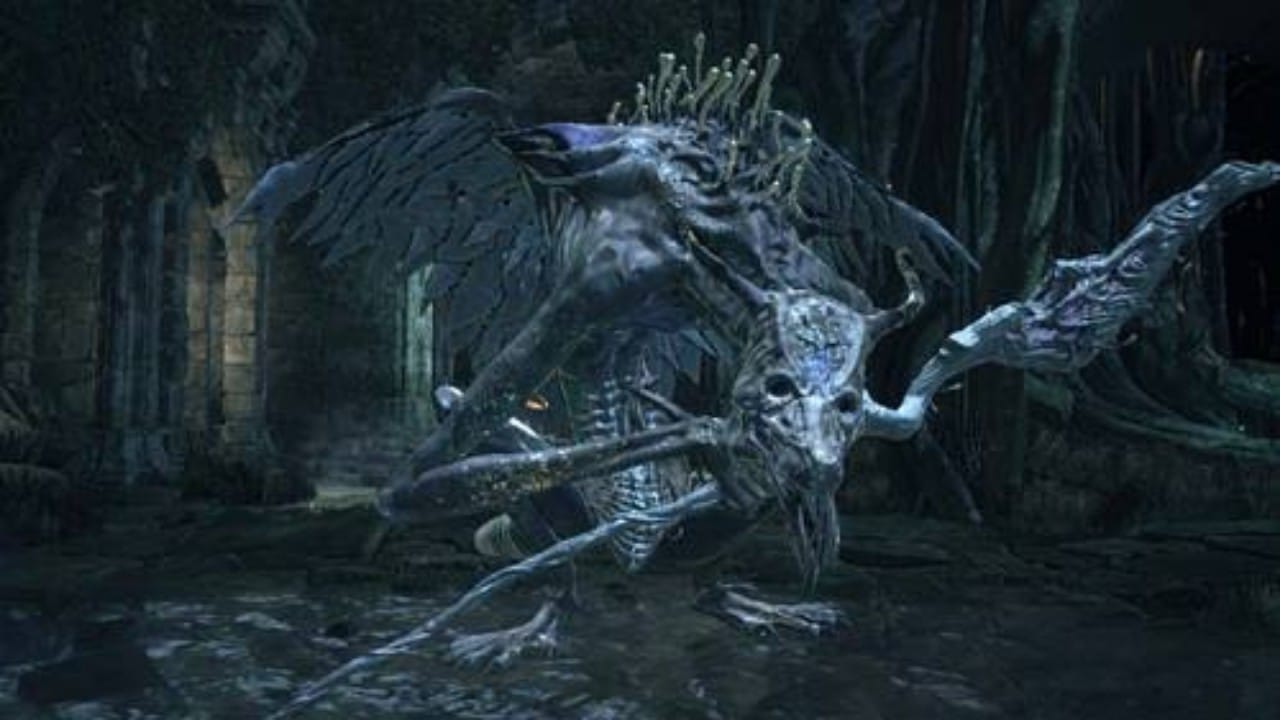 Location: Consumed King's Garden
Rewards: 58000 Souls, Soul of Consumed Oceiros
Oceiros is an optional boss that you can find in a hidden area in Lothric Castle. He's a pale-looking dragon that apparently assaults you just as much as he talks. For the most part, Oceiros will be sweeping his tail or swinging his staff at you. Later, he'll take things up a notch and will rapidly start hurling his claws everywhere around you.
He has got curse breath as well, and if you get hit by it enough, it'll be the end of you. Staying underneath him and returning the favor always seems to do the trick.
Champion Gundyr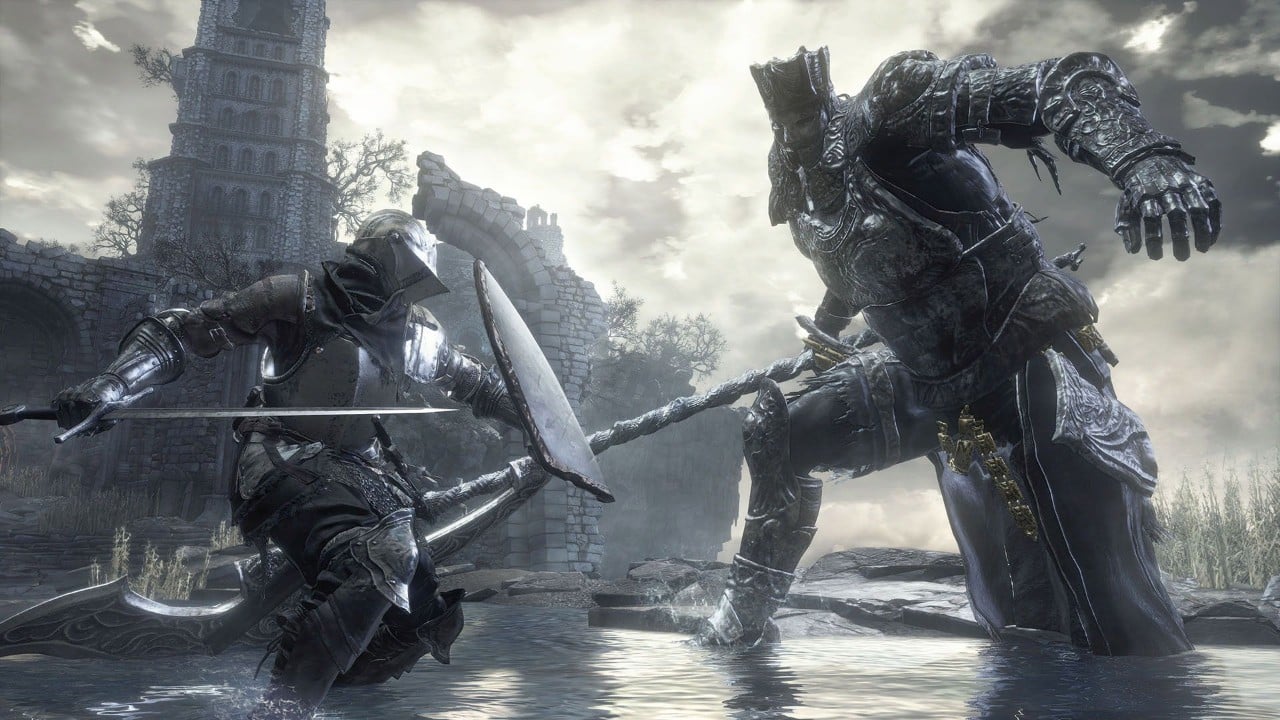 Location: Untended Graves
Rewards: 60000 Souls, Soul of Champion Gundyr
If you look back on the first boss, Iudex Gundyr, after beating Oceiros, you could laugh at how easy it was. FromSoftware pulled a fast one with that actually as you have to face a fairly amped-up version of him in the Untended Graves.
The fight with Champion Gundyr plays out about the same as before, but this time he's extremely aggressive. Some of his moves will feel familiar, although there will be a few new sweeps and stabs. A mix of parrying, dodging, and counter-attacking should be all that you need, regardless.
Lorian, Elder Prince and Lothric, Younger Prince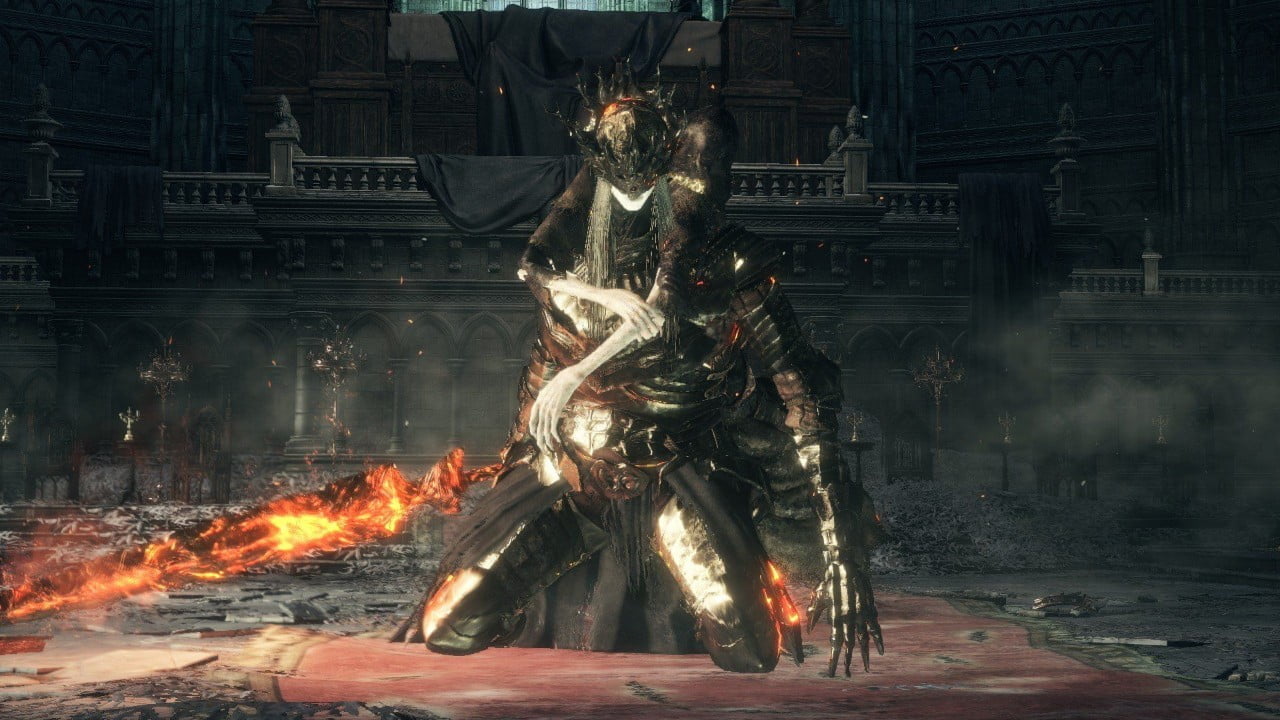 Location: Grand Archives
Rewards: Souls of the Twin Princes
You've been fighting a great many Dark Souls 3 bosses in Lothric Castle, and obviously when there's a castle involved, so is a prince or princes. The duel kicks off with you facing Lorian. He's a cripple, so he'll crawl towards you and start slashing his fire sword. The sword is easy to dodge, but it's his teleportation ability that's terrifying. He can teleport right behind you and take you out quickly, so always be on your toes.
When you take the Elder Prince down, his brother Lothric will revive him, and the battle will begin anew and much tougher than before. Lorian's moves will change a bit, plus there's a devastating beam of light which you'll have to run from. After all that, once Lorian's down again, you'll have to chip away at Lothric's health, as he will revive his brother again and again till you kill him.
Ancient Wyvern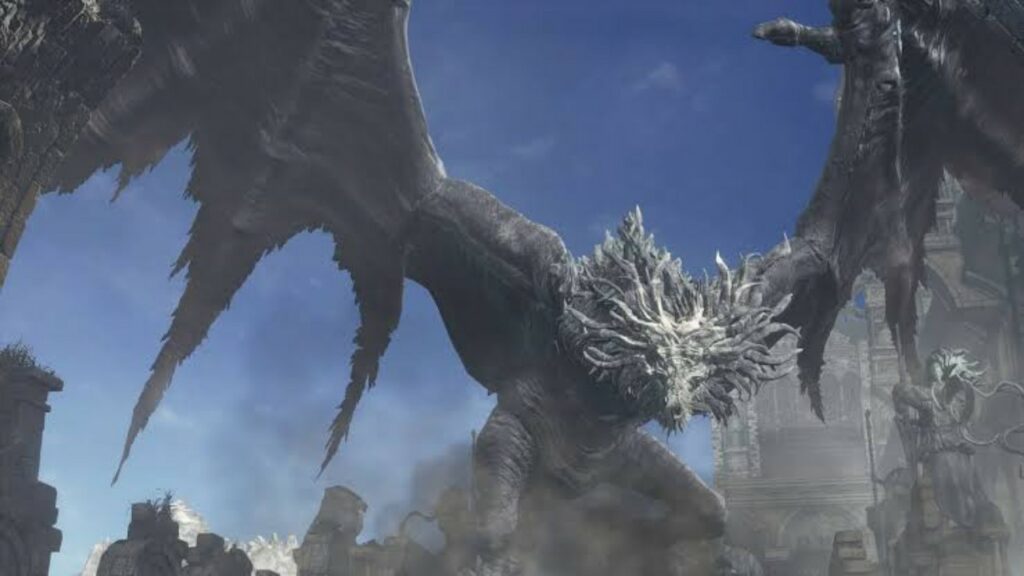 Location: Archdragon Peak
Rewards: 70000 Souls, Dragon Head Stone
The Archdragon Peak is an optional area you'll unlock near the end of the game. It's the hardest place to beat in Dark Souls 3, but a few good surprises await you here. In particular, you'll be locked into a giant colosseum with the Ancient Wyvern, an equally big dragon.
There will be a hundred or so mobs around too, and this fight would be near impossible if it was like the others. Luckily, it's not exactly a boss fight. To beat the Ancient Wyvern, run past everything until you reach the highest point in the Colosseum. Jump from there and you'll insta-kill the Wyvern. Feels good to be the boss for once huh?
Nameless King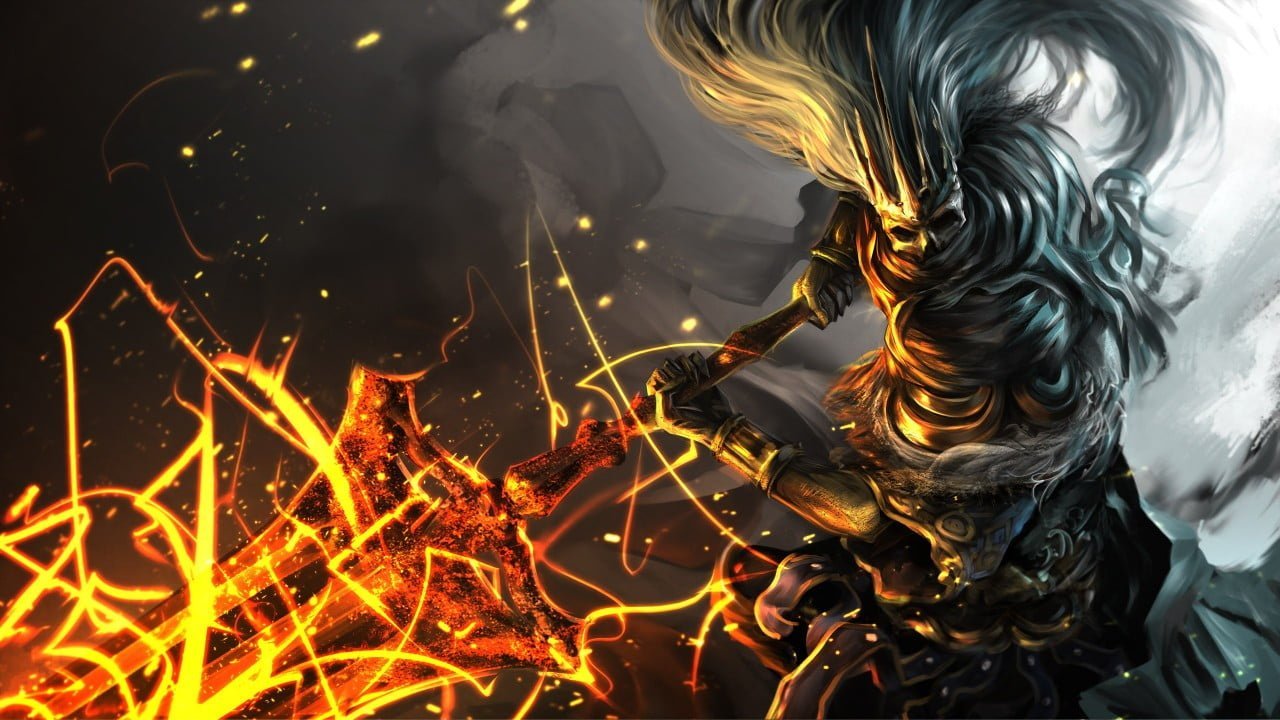 Location: Archdragon Peak
Rewards: 80000 Souls, Soul of the Nameless King
The Nameless King is the final optional boss of the base game. Personally, I'd say he's tougher than the actual final boss, so tread lightly here. In his first phase, the Nameless King is riding his dragon. Both of them will come at you with unorthodox moves, but eventually, you'll get used to the patterns.
The second phase is what's a pain. You'll have to 1v1 Nameless, and he's by no means easy. He can close gaps in an instant, perform moves in quick succession, and worst of all, he barely staggers during the fight. So you might even have to perfect this exchange. There's a reason why it's left optional in the Dark Souls 3 bosses in order list.
Soul Of Cinder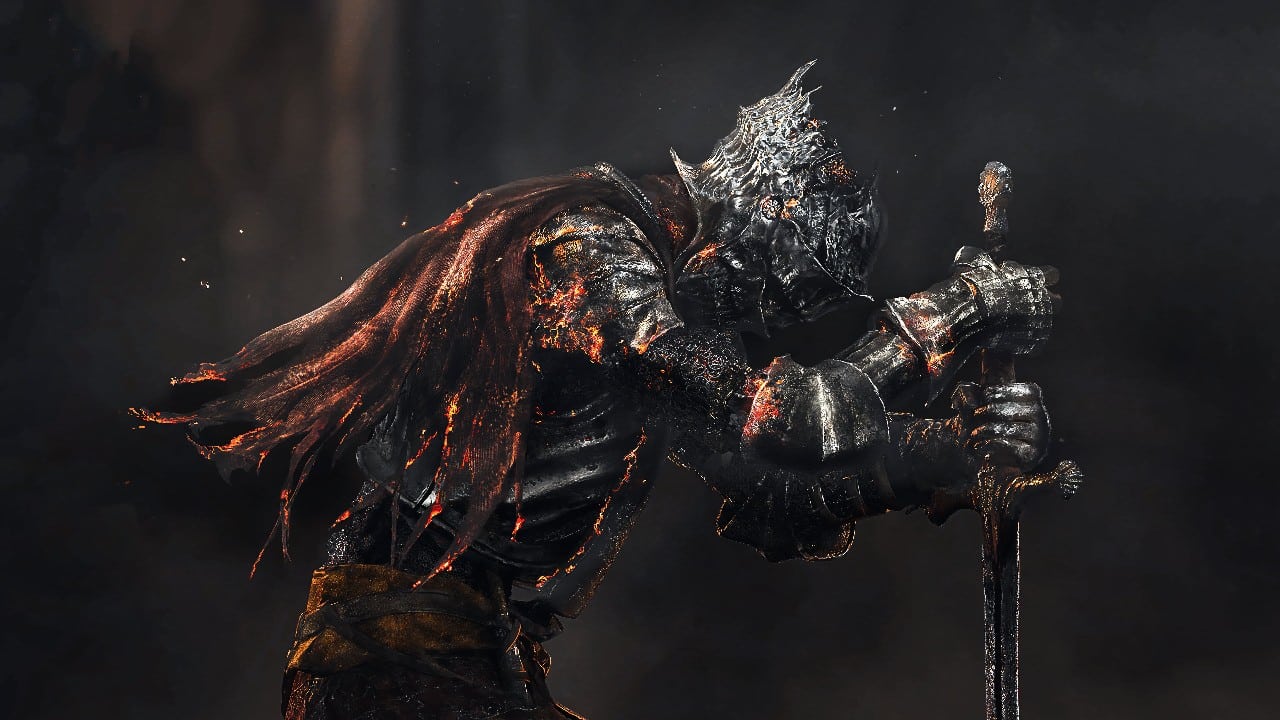 Location: Kiln of the First Flame
Rewards: 100000 Souls, Soul of the Lords
Perhaps the most unique and intriguing NPC ever in a video game is the Soul of Cinder, the final boss of Dark Souls 3. The Soul of Cinder is an amalgamation of every weapon and Lord that you would have come across till now. The Firelink Greatsword is Cinder's arms, and it's not just a sword. It possesses the ability to change into anything the user wants; a spear, a lance, a sword, a staff, you name it.
As amazing as this sounds, you'll, unfortunately, be on the receiving end. The first phase is all about evading and finding an opportunity to strike. The second phase, however, is absolutely bonkers. The Soul of Cinder buffs himself insanely and starts an endless onslaught.
Champion's Gravetender and Gravetender Greatwolf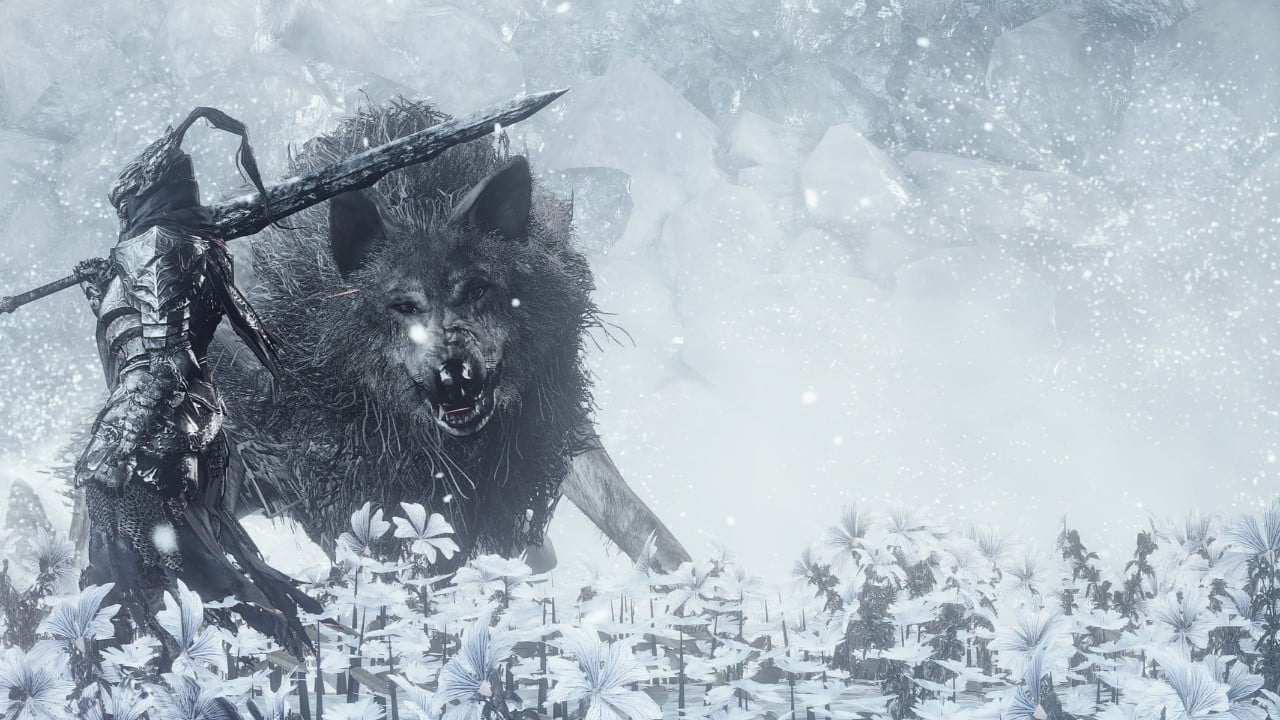 Location: Painted World of Ariandel
Rewards: 60000 Souls, Champion's Bones, Valorheart
The Gravetender is the first boss of the Ashes of Ariandel DLC released for Dark Souls 3. Compared to other boss fights, it's a little underwhelming as this time, it isn't something bizarre that you'll fight. A pack of three wolves and their master is what will be standing in your way, but fret not as it isn't that infuriating.
The trick is to take out the wolves first, then to focus on the Gravetender until he summons his Greatwolf. Kill the most annoying one to even the odds, and then repeat. How well you're able to crowd control here will determine how quickly this confrontation finishes.
Sister Friede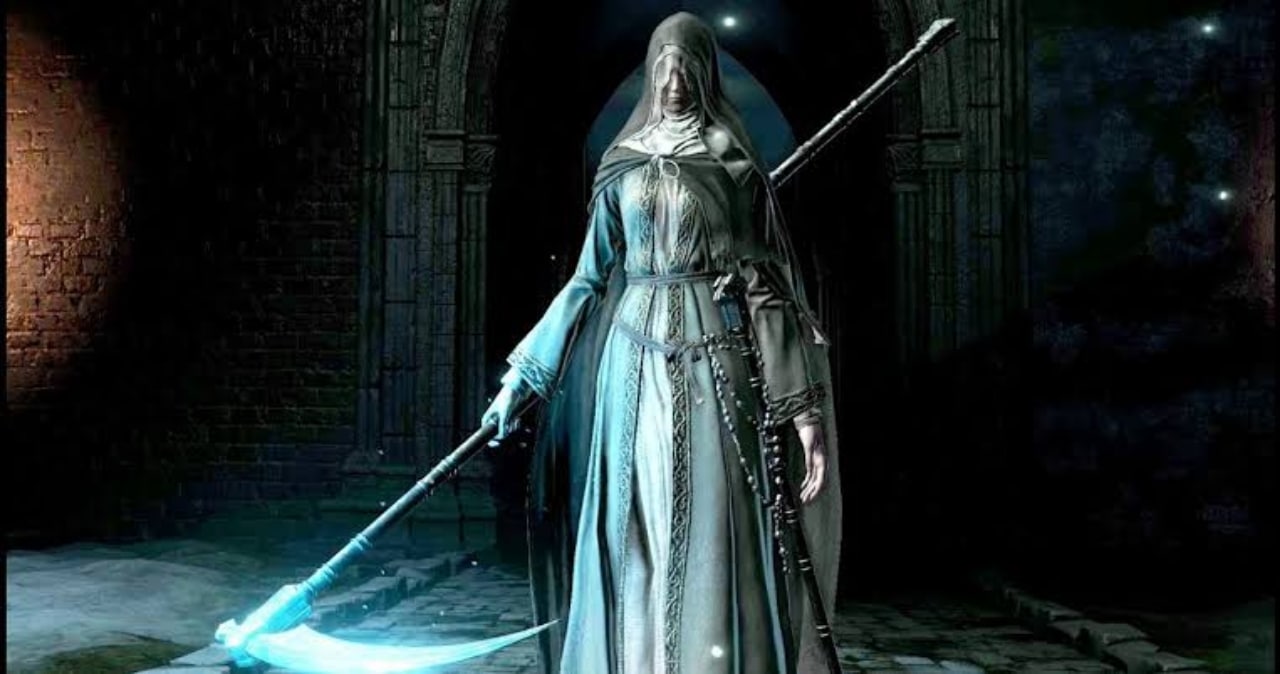 Location: Painted World of Ariandel
Rewards: 54000 Souls, Soul of Sister Friede, Titanite Slab
Oh boy, is Sister Friede a tough nut to crack. This is a three-phase boss fight, and each one of them is incredibly tough. You'll start the fight off with Friede. She'll be equipped with a scythe and will do some moves familiar to the Dancer. I recommend dual-wielding katanas as they'll cut her health down substantially.
After you've beaten her, a cutscene will play, and Father Ariandel will join her to take you down. Kill Father Ariendal first. He's slow but can pack a punch, so don't be too reckless. The third and final phase will have Sister Friede again, but this time her scythe will be ignited by a black flame.
Demon In Pain, Demon From Below, And Demon Prince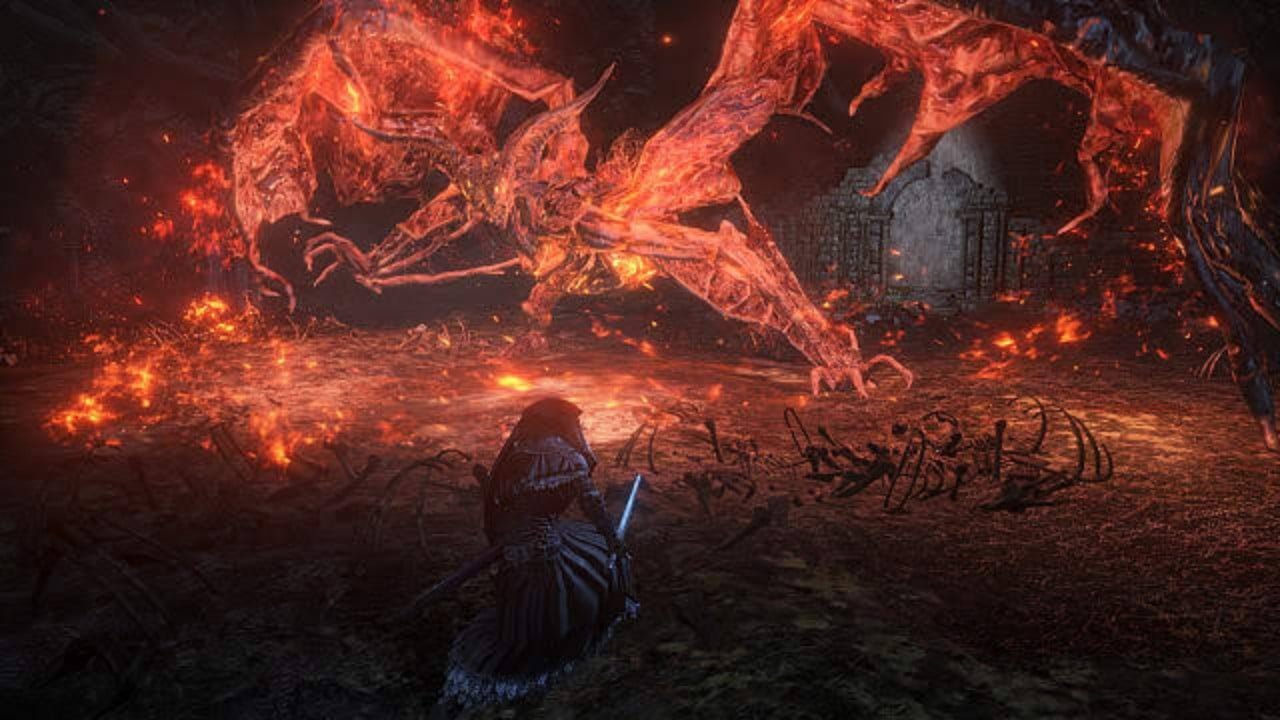 Location: The Dreg Heap
Rewards: 100000 Souls, Titanite Slab
In The Dreg Heap, two huge, and winged demons will be patrolling the area. Both will charge at you simultaneously, but like always, you should only concern yourself with one. One of the demons will always be in an ignited state, so avoid that one at all costs.
Once you've taken out both, the Demon Prince will manifest from the body of the demon you killed. Depending on which of the two demons you finished off last, there will be two variants of the Demon Prince. Needless to say, both variants aren't that easy, and it's likely that you'll struggle to learn the patterns. But well, you wouldn't have made it this far in the Dark Souls 3 bosses in order list if you were one to give up.
Halflight, Spear Of The Church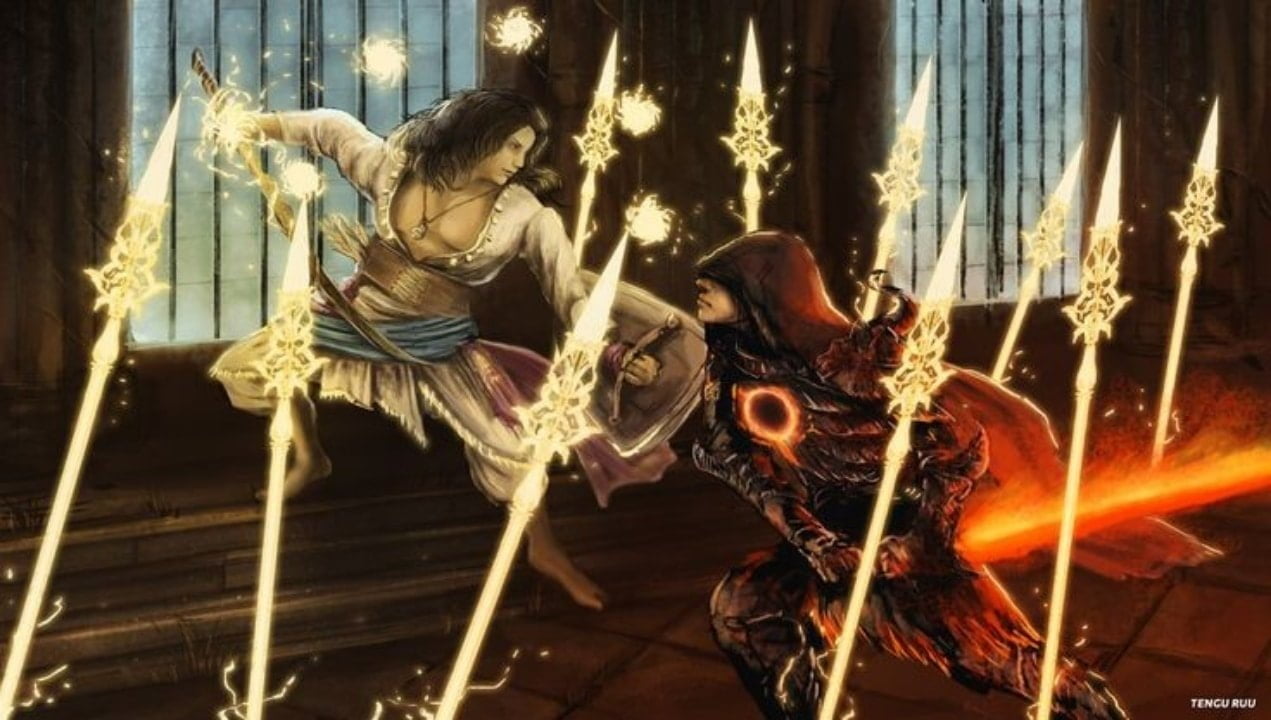 Location: The Ringed City
Rewards: 80000 Souls, Filianore's Spear Ornament, Titanite Slab
The second boss in the ringed city DLC for Dark Souls 3 is Halflight, Spear of the Church. The boss is just about the same size as the player and does carry different weapons that he'll use during the fight. Katana, Knife throws, and his magic spear attacks are especially worrying.
Supporting NPCs, called the Guardians of the Church will be there to help the Halflight too. But If you're focused enough, you could best him on your first attempt. Likewise, you may be stuck here for hours because of a small slip-up. Intriguingly, if you're playing in online mode, instead of the Halflight, it's possible that you could face a fellow player as a boss. That's allegedly reported to be FromSoftware's original design.
Darkeater Midir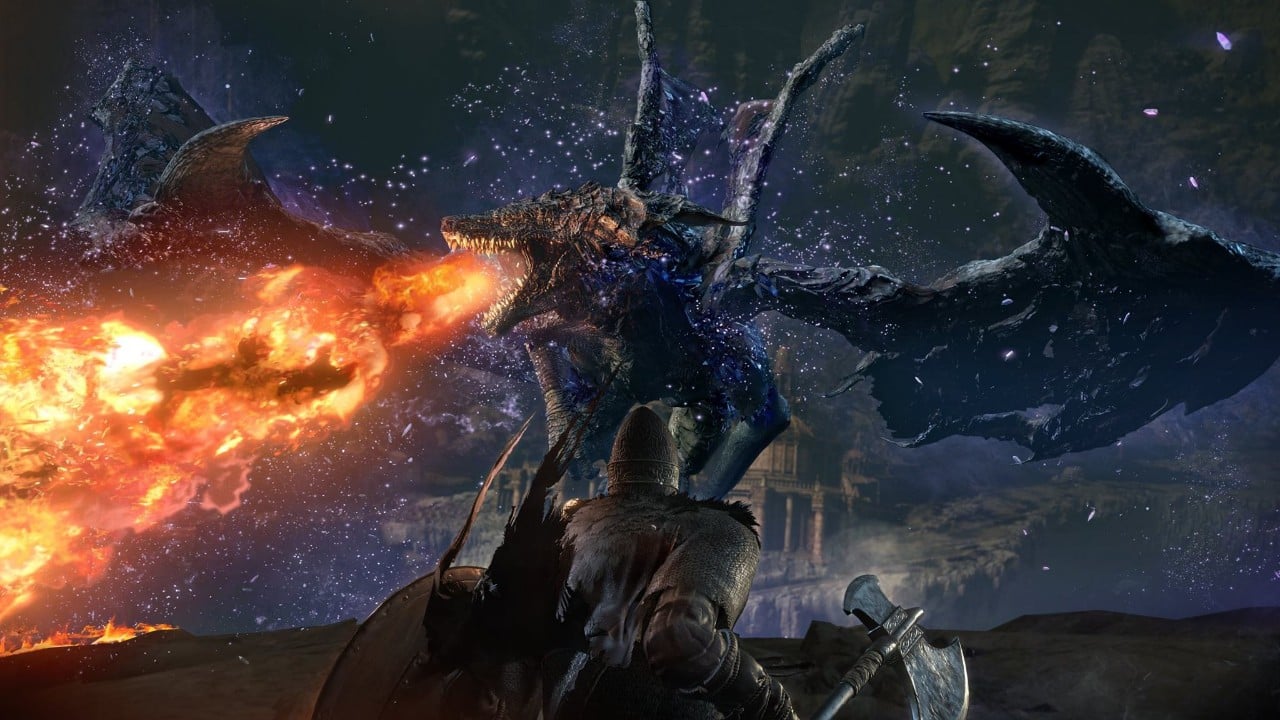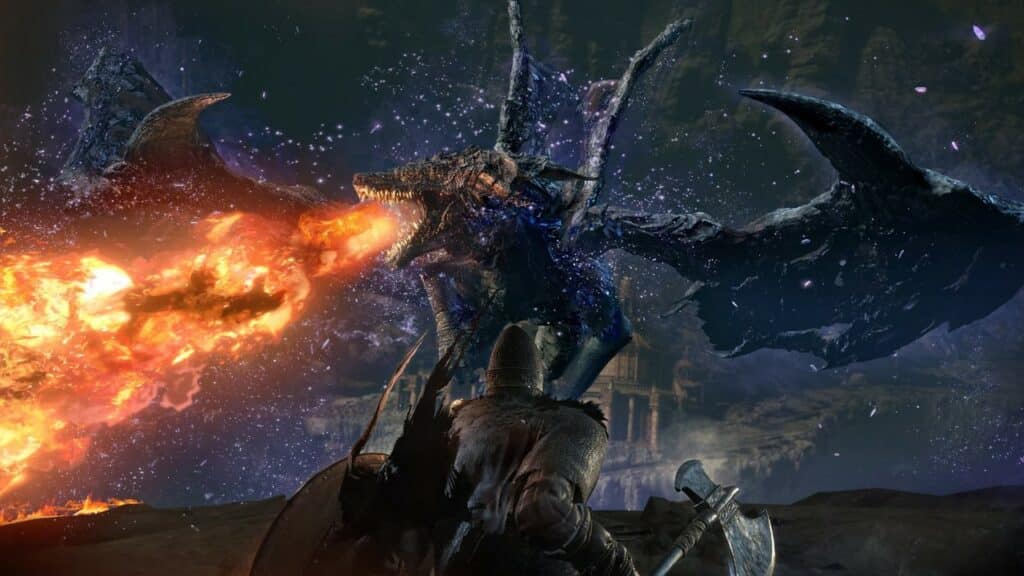 Location: The Ringed City
Rewards: 150000 Souls, Soul of Darkeater Midir, Spears of the Church
Darkeater Midir is kind of like a replica of the Ancient Wyvern. One reckless turn in the Ringed City, and you may find yourself standing inside the den of the Midir.
Unfortunately, like with the Wyvern, this time there's no easy way out with a single secret hit. Aside from the typical attacks you'd expect from a dragon, Midir has got a death beam that's going to one-shot you quite a lot. This encounter is one of the toughest ones in the entire game. So take your time, assess your arsenal, and go in their swords blazing!
Slave Knight Gael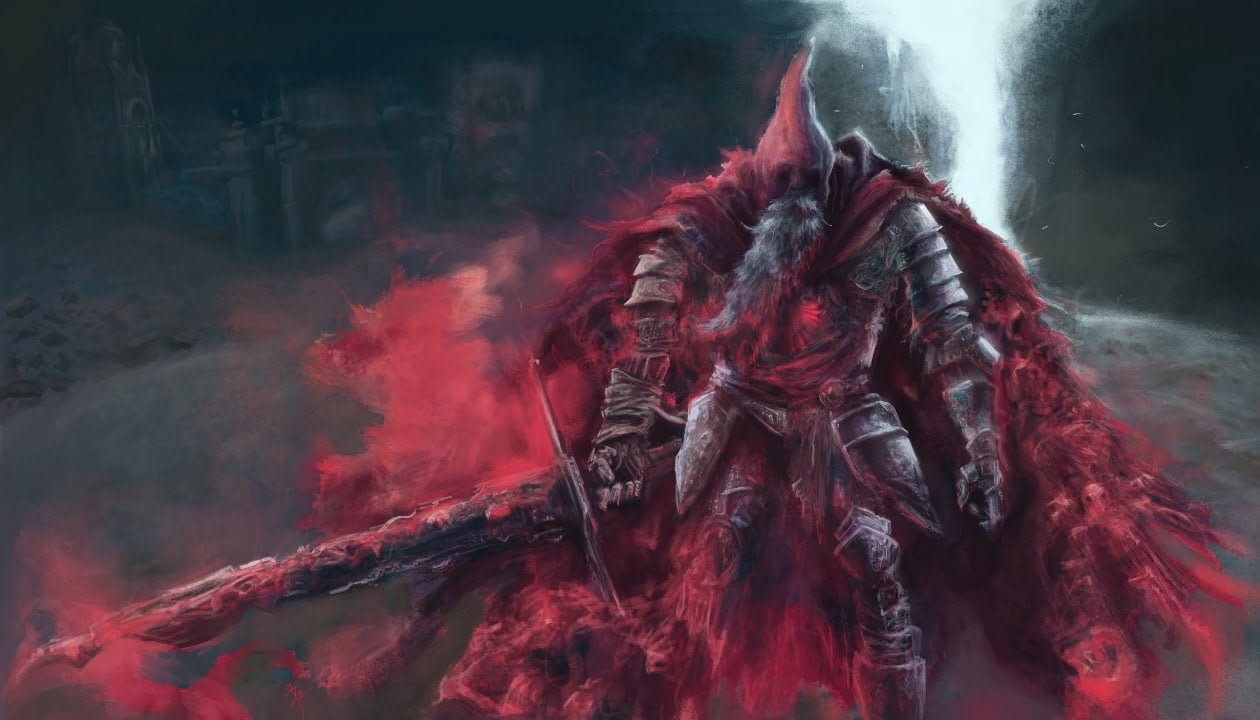 Location: The Ringed City
Rewards: 120000 Souls, Soul of Slave Knight Gael, Blood of the Dark Soul
Slave Knight Gael is the final boss of the entire Dark Souls series, and he does, by all accounts, live up to that title. He's a man yet moves like a beast, and he may look weak, but he hits like a truck. Gael is most definitely the Malenia of Dark Souls 3, and if you get that reference, then you already know how arduous this experience will be.
He uses a greatsword for most of the fight, but don't be fooled, as it only looks as if his strikes will be slow due to the heft of the sword. He's nimble on his feet when he wants to be and even relentless at times. It's his second and third phases that are terrifying, though. His sword gets imbued with an insane buff that can kill the Ashen One in two hits, so caution is advised. In addition, his moveset changes completely, and he pulls out a semi-automatic crossbow. It's like you're up against an amalgamation of players who've actually played the game.
---
These bosses are a perfect way to wrap up a timeless masterpiece. They also epically lay out the groundwork for awesome bosses we might see in another entry into the franchise.