It seems that April 2022 PlayStation Plus Titles have been leaked by the legendary Billbil-kun on Dealabs. The leaker has had a spotless record so far and has given us the heads-up on PS+ games for many months now. The legendary leaker has given us a first look at April 2022 PS+ titles, so let's see what's in store.
April 2022 PlayStation Plus Titles Leaked
Billbil-kun is now a known and revered name in the world of leaks. The leaker has a spotless track record thus far and has continued to give us an idea of what games to expect for PS+, Xbox Game Pass, and Xbox Live Games with Gold.
With their latest leak, they have revealed the lineup for April 2022.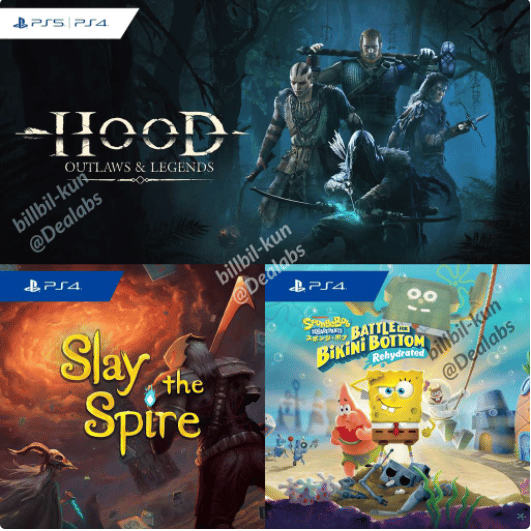 If you're unable to see the image, the games are:
Hood: Outlaws and Legends
Slay the Spire
Spongebob: Battle for Bikini Bottom
You can see this is a rather eventful month of games, and while the games are definitely something that fans of PS+ are going to enjoy, it is a surprise that PS+ still gives us at least 1 good game on the list.
While we have long been waiting for Sony to announce Project Spartacus, we may have to wait a little longer. The service is set to create a divide in the current PS+ ecosystem, but whether that's for the better or not is yet to be seen.
Until we do hear or see more details on Project Spartacus, we can enjoy the current offerings of PS+ for what it is, and see how it will shake up things in the world of PlayStation.
April 2022 looks like a good month for fans once again.
With the latest lineup of games revealed, what game are you most looking forward to? Let us know your picks in the comments section below.