Fischl of Genshin Impact might oddly present herself as Prinzessin der Verurteilung who hails from the realm of Immernachtreich. However, like many others, the 4-star Electro bow user works as an investigator in Mondstadt for the Adventurers' Guild. Together with her talking raven Oz, you might also find her assisting you in your adventures in Teyvat. If you don't mind her long and formal dialogues, you will definitely enjoy a powerful sub-DPS and support Fischl build carrying your party.
Luckily, after straight 11 banners gone, Fischl is now back for the 2.5 update on the "Everbloom Violent" banner of Yae Miko. Whether you're wishing for Fischl herself or her impressive constellations, you can now spend your Intertwined Fates to put her in your team. With Fischl, you'll see how great of a companion Oz can actually be, not only in translating his master's lines but also in making elemental reactions.
With that, we prepared the best Fischl build so you can maximize her physical and Electro damage against enemies. Read on to know more about her talents, suitable weapons, and recommended artifacts!
Breakdown of Talents and Playstyles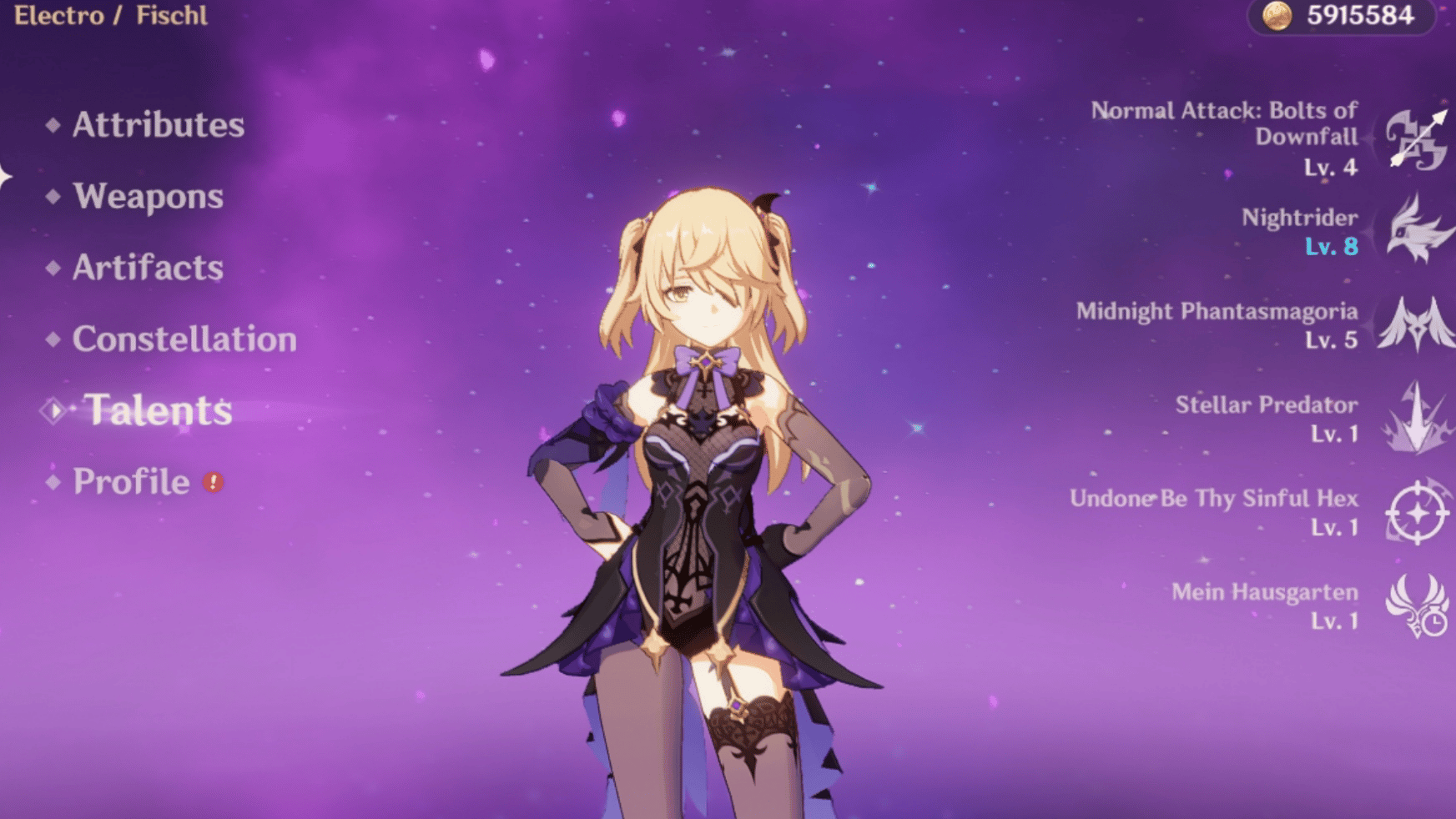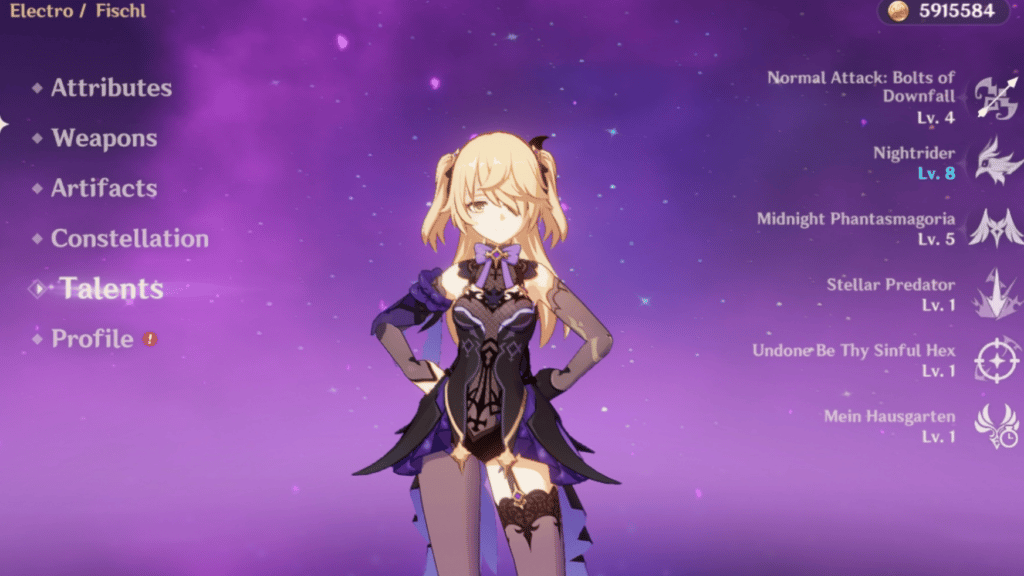 Due to her flexible skillset, Fischl can work either as a Physical sub-DPS or an Electro support. Her fast Normal Attack speed is ideal for dealing raw Physical DMG while her raven Oz can inflict continuous Electro DMG, even when Fischl is not the active character.
That's exactly what makes Fischl's Elemental Skill, Nightrider, impressive. While this skill doesn't have any unique version when held, it allows you to aim it towards your enemies. However, if you're practically next to your target, you can instantly tap or press the skill to summon Oz, dealing instant Electro DMG within a small AoE.
Throughout the ability's 10-second duration, he will also attack enemies with Electro using Freikugel. This attribute makes this Elemental Skill useful in making a series of elemental reactions such as Overload and Electro-Charged. However, keep in mind that this skill has a 25-second CD, so it's best to know when to optimally use it in combat.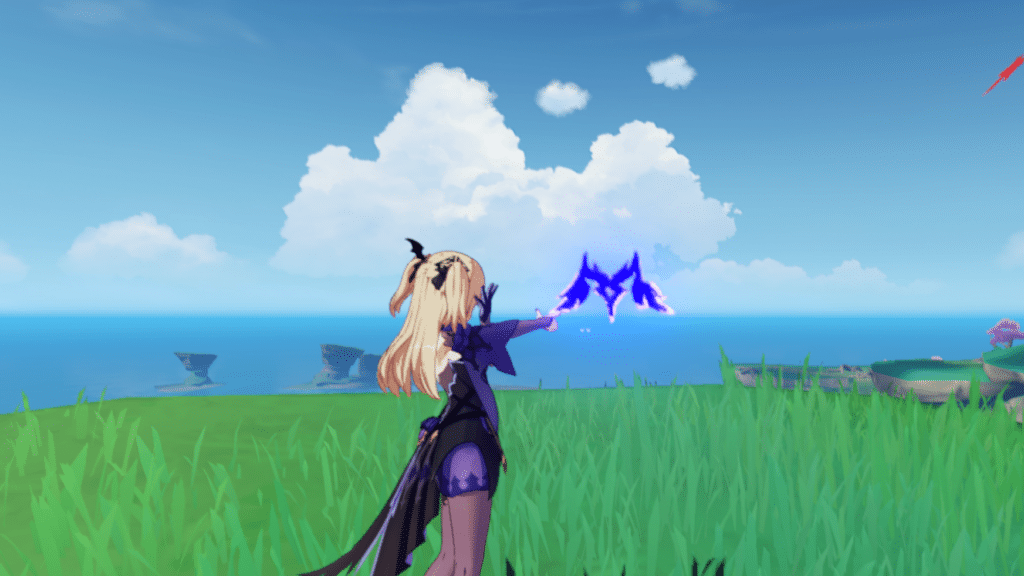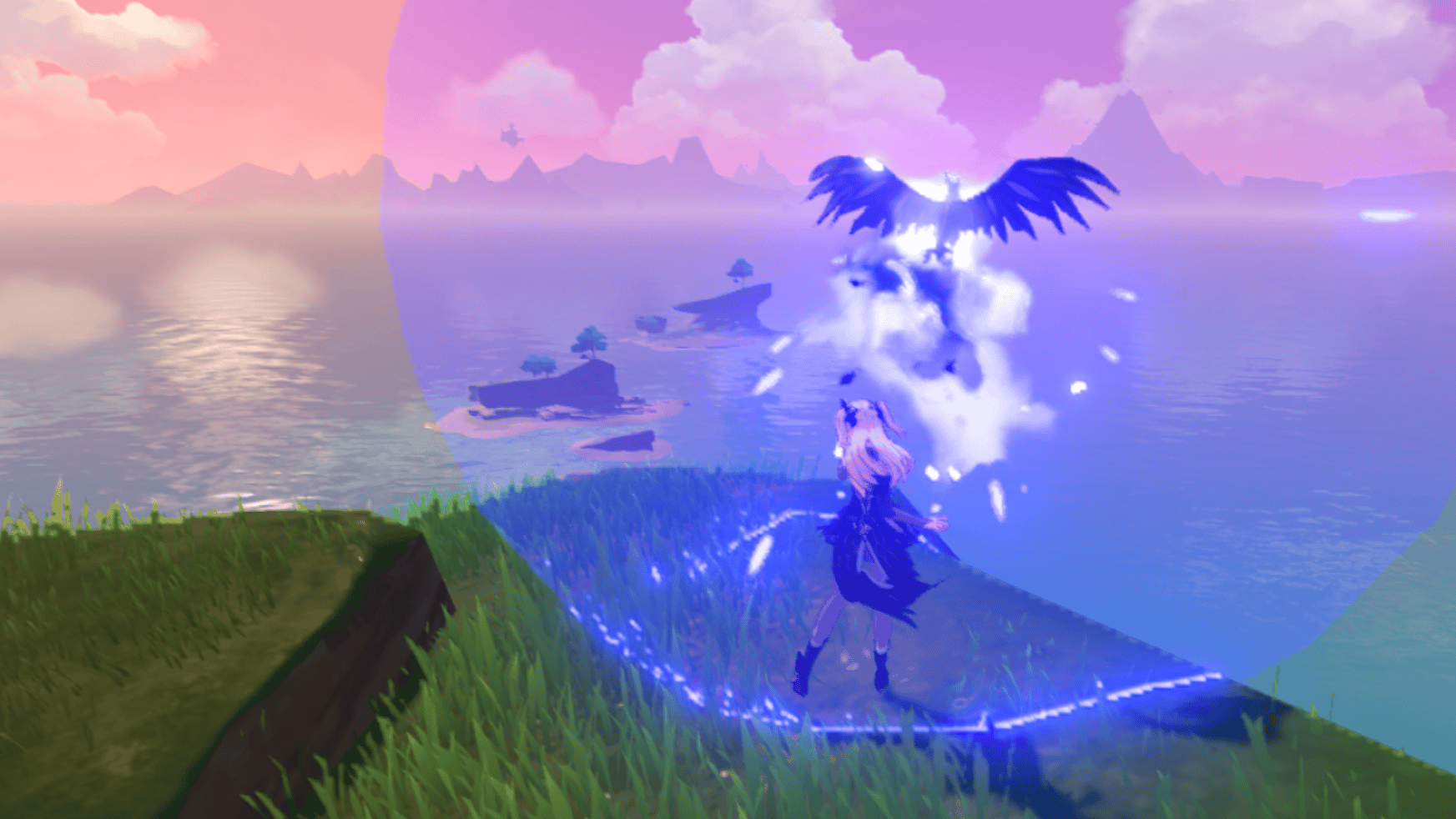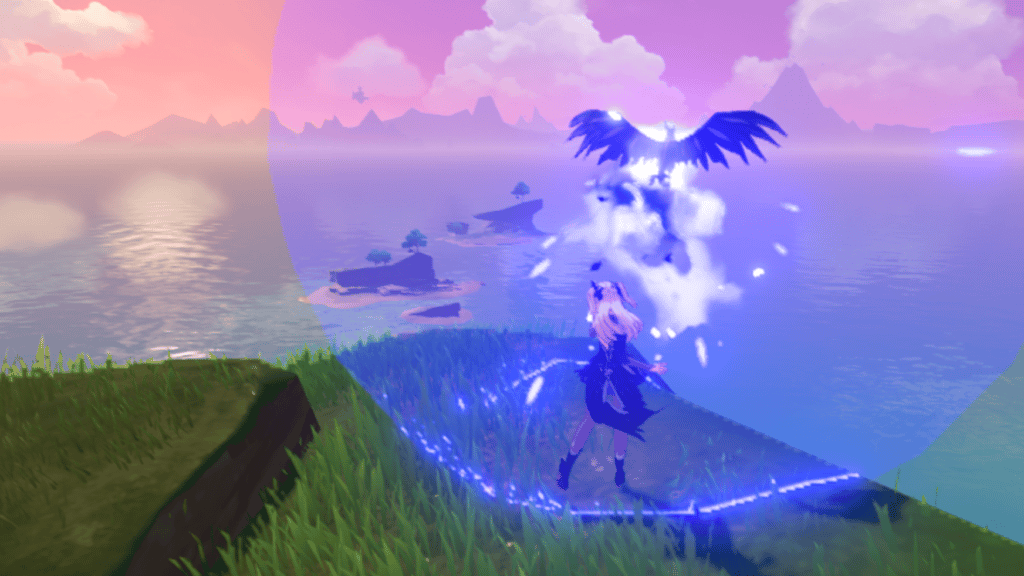 To maximize Oz's Electro capabilities, Fischl's 1st and 4th Ascension Passives will allow the raven to deal Thundering Retribution, dealing additional Electro DMG. This can be done by hitting Oz with a fully-charged Aim Shot or creating an Electro-related elemental reaction against enemies.
Fischl's Elemental Burst, Midnight Phantasmagoria, will allow her to take the form of Oz and move at a greater speed. As she escapes through the crowd, she will strike each nearby enemy with lightning, dealing Electro DMG. Her Elemental Burst also summons Oz, which uses Nightrider.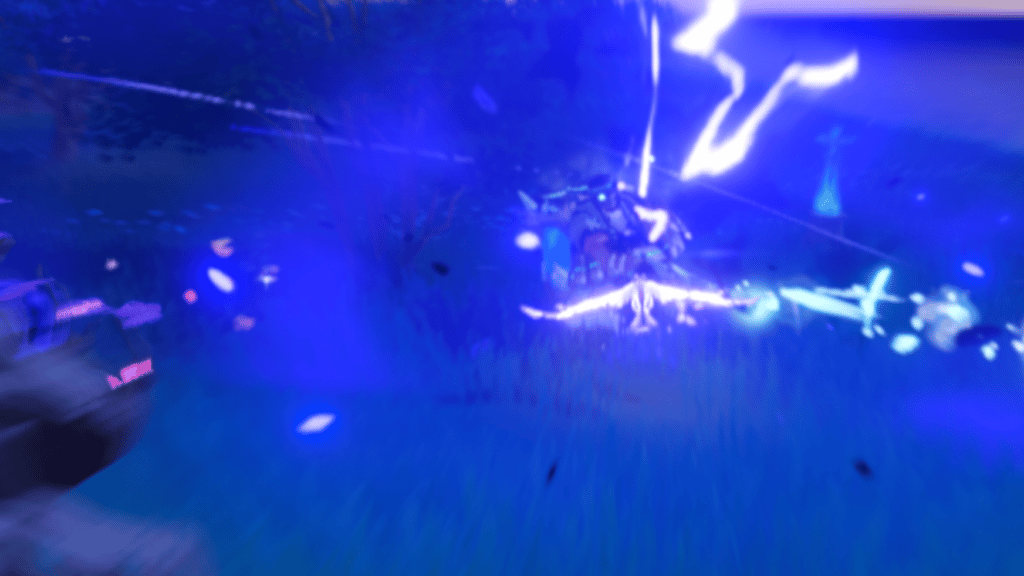 To maximize Fischl's skillset in your team composition, you can follow this attack sequence.
Use Fischl's Elemental Skill "Nightrider."
Switch to your DPS characters, preferably Pyro or Hydro for Overload or Electro-Charged, respectively.
If you use a Physical Fischl build, switch back for her Normal Attack during her skill's CD.
To escape mobs, tap Fischl's Burst and control its direction.
NOTE: Use Fischl's Elemental Skill first before her Burst to utilize Nightrider's initial AoE Electro DMG.
Weapons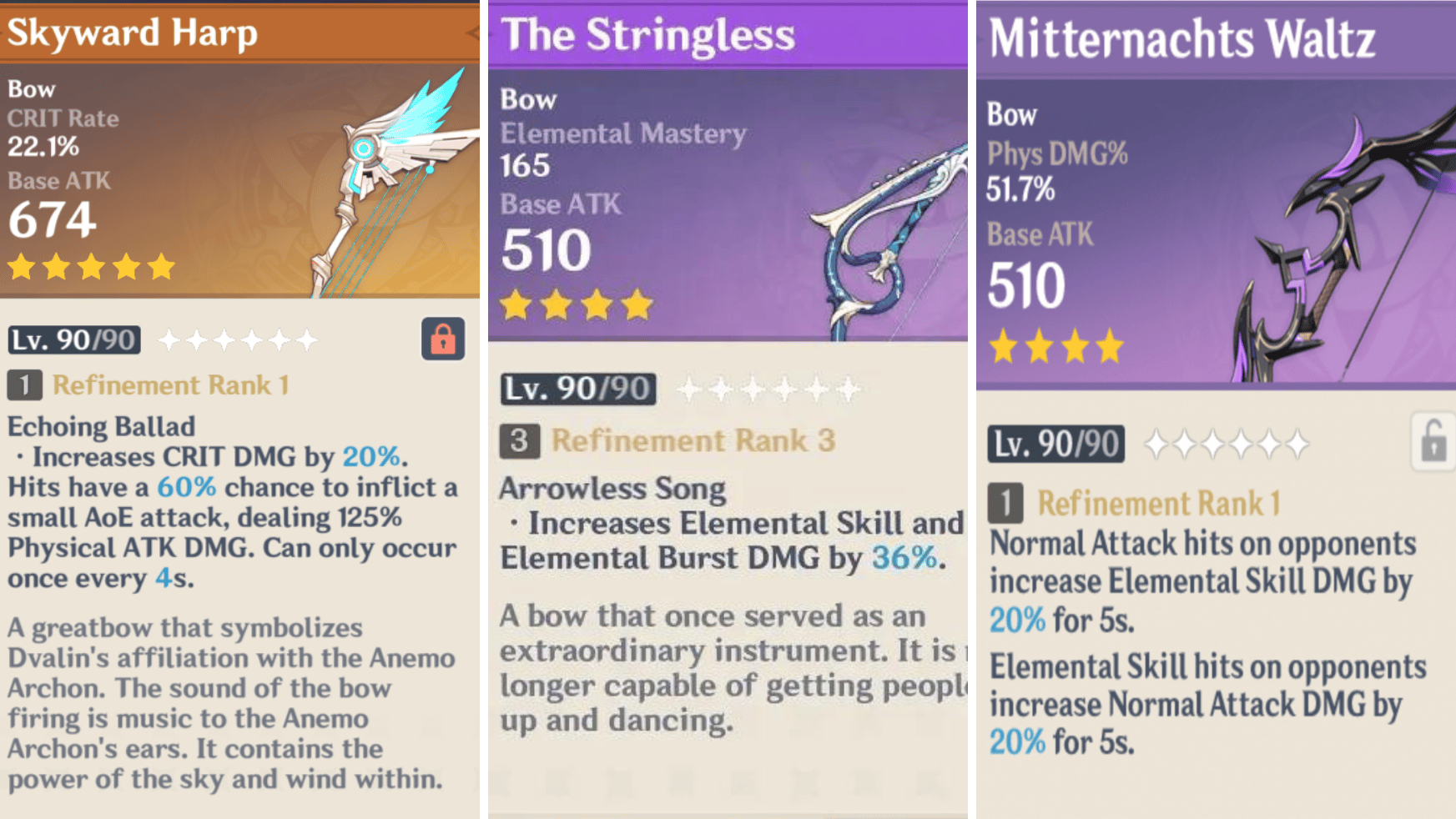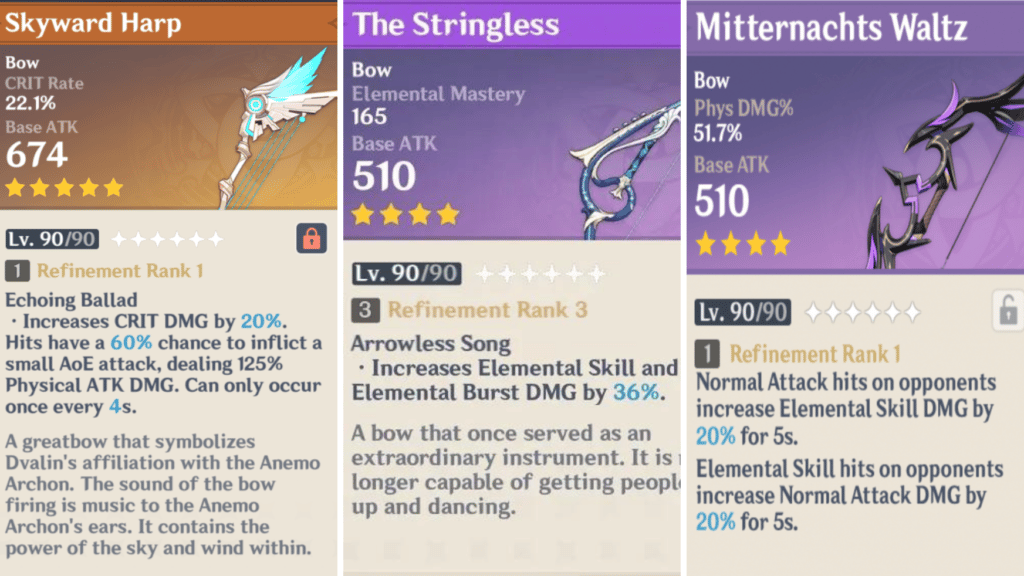 Whether your Fischl build focuses on Physical, Electro, or both, there are a few ideal 4-star and 5-star bows to increase your damage output.
The 5-star bow Skyward Harp is arguably the best and most versatile weapon for Fischl. Its high base ATK, Crit Rate substat, and Crit DMG passive will guarantee you huge damage numbers. While it's also ideal for an Electro build, its Physical DMG passive will strengthen your Physical Fischl build.
For an Electro build, you can equip Fischl with the 4-star bow The Stringless. Its Elemental Mastery (EM) substat is recommended if you constantly rely on elemental reactions. Its passive also has zero conditions, making you deal consistent damage with your skills.
For a balance of Electro, Physical, and even general aesthetic, Fischl's signature 4-star bow Mitternachts Waltz is your best bet. While having a Physical DMG substat, it also increases Fischl's Normal Attack and Elemental Skill DMG interdependently.
If you don't want to spend your Intertwined Fates for these weapons, there's an F2P weapon roster for you. The 4-star bows Rust and Compound Bow are ideal for Physical sub-DPS Fischl build due to their ATK and Physical DMG substats, respectively. This YouTube video from Sekapoko will show you how these F2P weapons fare against opponents.
Artifacts
There are several artifacts suited for Fischl depending on your preferences. However, we narrowed down your artifact options by giving you the best and Traveller favorites.
The 4-piece Thundering Fury is ideal for a support Fischl with its 15% Electro DMG Bonus and 40% Overloaded, Electro-Charged, and Superconduct DMG increase. You can even make the most out of these set bonuses by stacking up on EM for increased reaction damage.
You might also lack ATK or simply find it difficult to farm Thundering Fury with good substats. With that, you can use a 2-piece Gladiator's Finale or Shimenawa's Reminiscence for an 18% ATK boost and at least a 2-piece Thundering Fury for 15% Electro DMG Bonus. The ATK increase is recommended if you want to amplify not just your elemental damage but also your Normal Attack's.
If you run a Physical Fischl build, you can equip her with 2-piece Gladiator's Finale or Shimenawa's Reminiscence and 2-pc Bloodstained Chivalry or Pale Flame. These artifact sets can give an 18% ATK increase and 25% Physical DMG Bonus, which are preferred for a Physical sub-DPS.
As a damage dealer, Fischl would benefit from the classic DPS build with ATK, Electro or Physical DMG Bonus, and Crit Rate or Crit DMG stats. Also, include EM in your substat priorities especially if you rely on Fischl as an Electro support.
Conclusion
What do you think of Fischl as a Physical or Electro damage dealer? We hope this handy guide on Fischl helped you use her potential for your combats in Teyvat!
If you want to know more about Electro characters in-game, check out our Yae Miko and Raiden Shogun guides to harness the power of Electro!
Thanks for reading this article!