Chasing a constant feeling of adrenaline can lead to serious consequences for some people. Not for those in keen of a need for speed. From arcade racing to total simulation experiences, we're here to show you some of the best racing games currently available on the PS5.
Destruction Allstars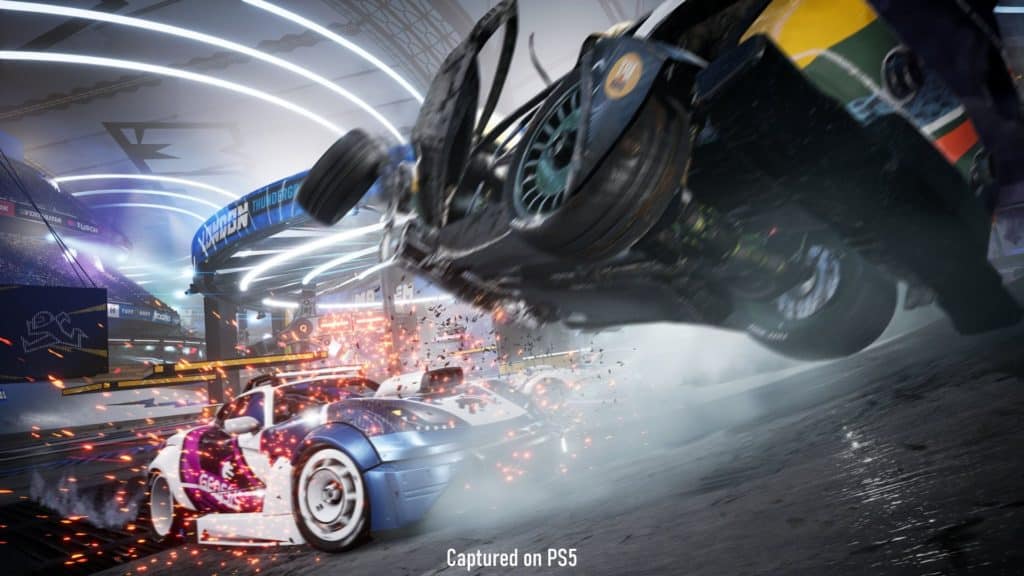 Platforms: PS5
There are a lot of bitter sweet feelings associated with Destruction Allstars. It's a good game, don't get me wrong. If it wasn't I wouldn't have mentioned it here on my list. But there's a severe lack of content, and it definitely didn't warrant the $70 price tag the game had on launch. I'm not sure who thought this game was worth that much. This severely butchered it's potential and resulted in an anti-climactic launch. However, the game is now a part of PlayStation Plus. So, practically its free, and I don't have any problems recommending it since it comes with no price tag.
This is a pure arcade game and if you're on this list looking for simulation games, this isn't it. You should definitely skip this one. But, if you enjoy the occasional arcade games, this one's definitely something you'll like. The gameplay revolves around you driving around in an arena with crash racing dynamics. It offers great camera shots, amazing driving that feels exciting with a controller, and several different characters and cars to play with.
One glaring issue with the game is how unbalanced it really is. The game doesn't have a lot of content that could help balance certain things. So, it's just stuck in this phase where players have to settle for unbalanced mechanics with no hope for a patch. It's sad to see a game with potential go down this route, but, it's still briefly enjoyable.
WRC 10 – FIA World Rally Championship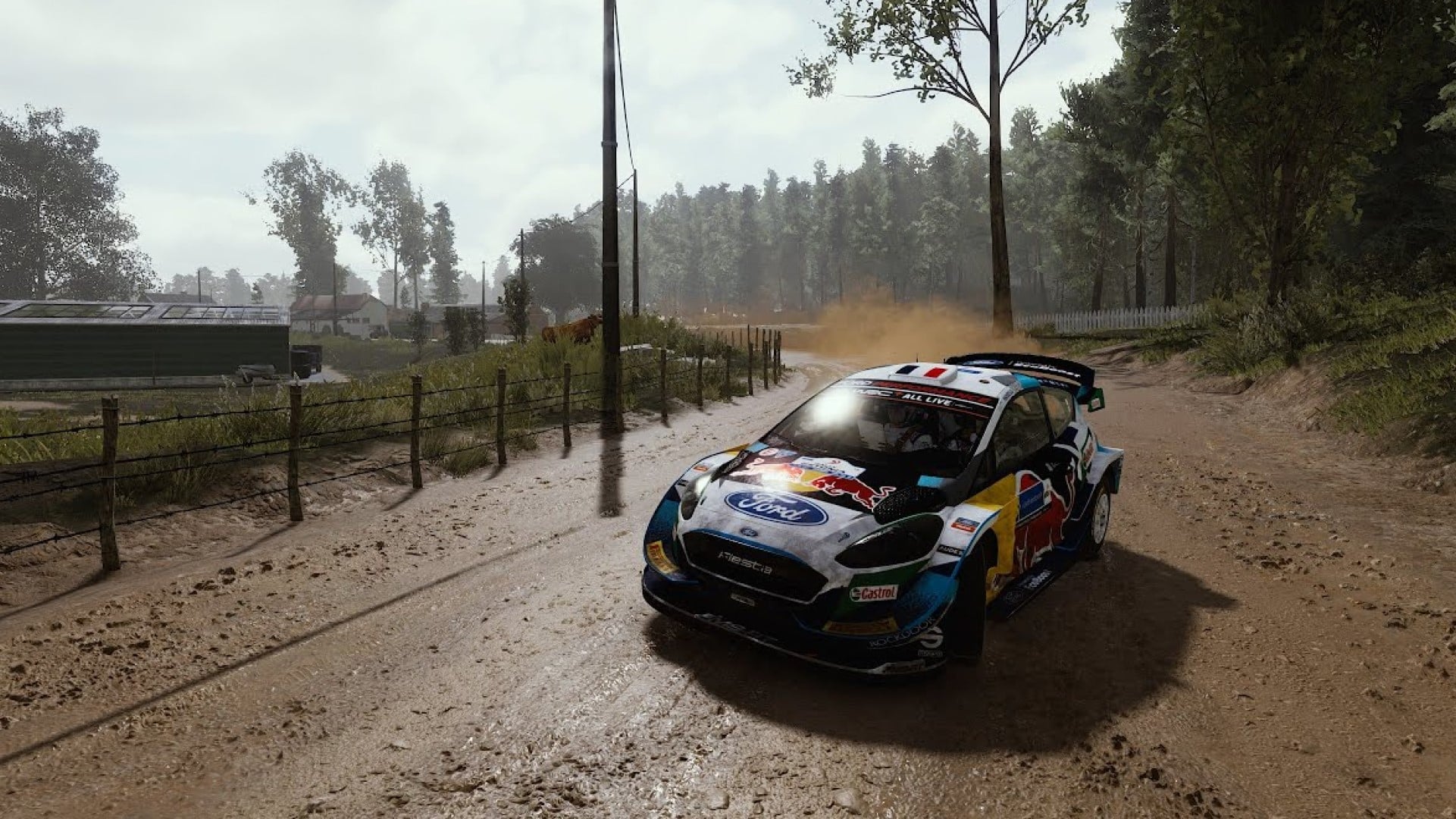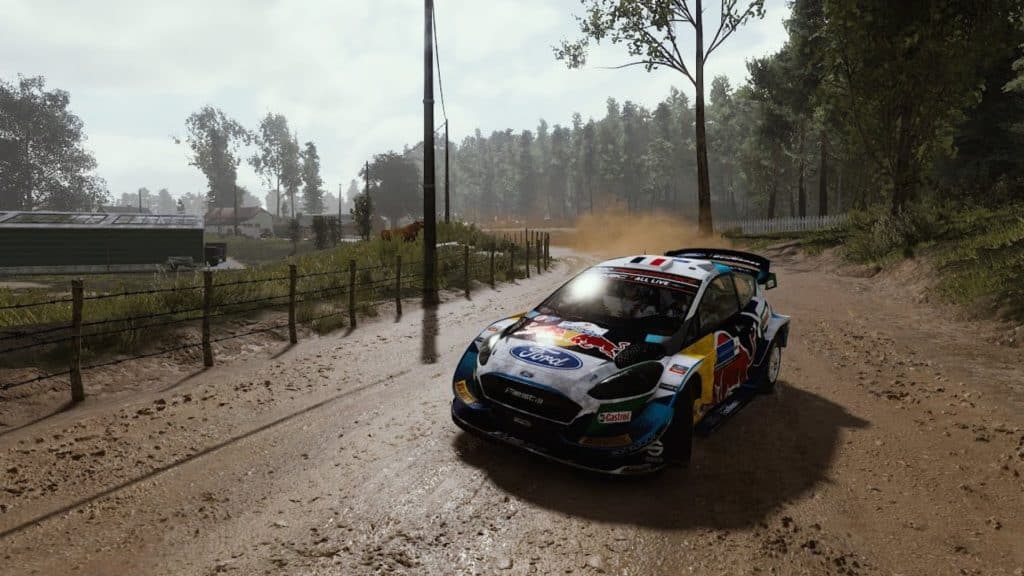 Platforms: PS5, PS4, Xbox Series X/S, Xbox One, PC, Nintendo Switch
The tenth installment in the FIA World Rally Championship is a very solid racing game available on the PS5. WRC 10 is a rally/simulation game at its core, so don't expect to find frenetic action around every corner.
WRC 10's versatility is an integral part of what makes this game fun. There are so many different modes to choose from, with Career mode being a particular highlight. You are a rally driver who manages every aspect of their team. This can be things like crew management or on-track performance vis-à-vis car tuning and repairs.
We weren't joking when we said this is a simulation game. Car tuning is very customizable and the handling of most cars feels unique and varied. You even have a detailed talent tree system, as you unlock new skills by progressing through the career.
On the technical front, the game benefits strongly from the PS5's qualities. While WRC10 doesn't necessarily compete against the likes of F1 2021 or Drift 5, it is unarguably a decent-looking game. Driving around different parts of the world has never felt better in this franchise, whilst sound improvements have also made for a much more dynamic and precise experience.
Hot Wheels Unleashed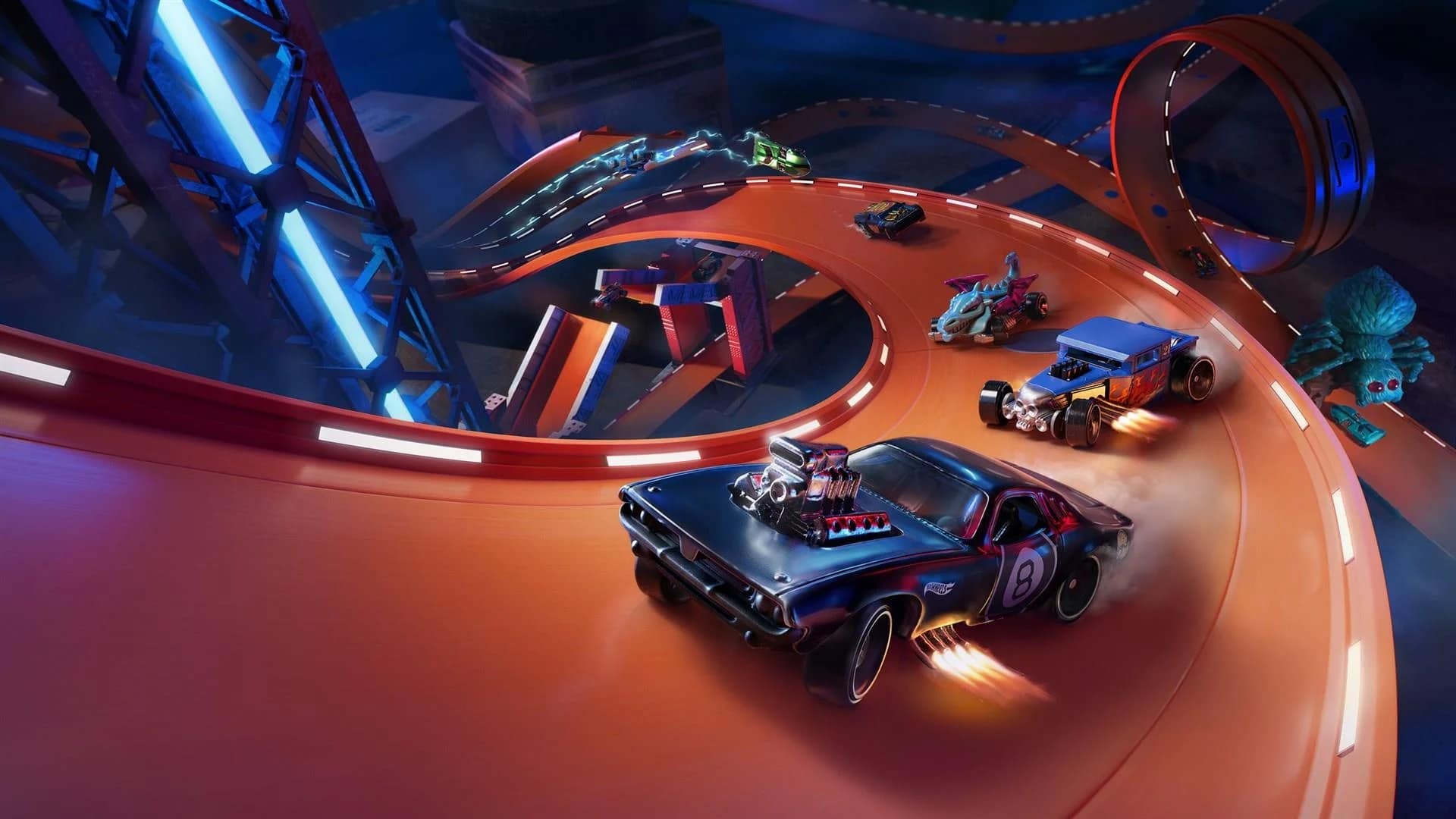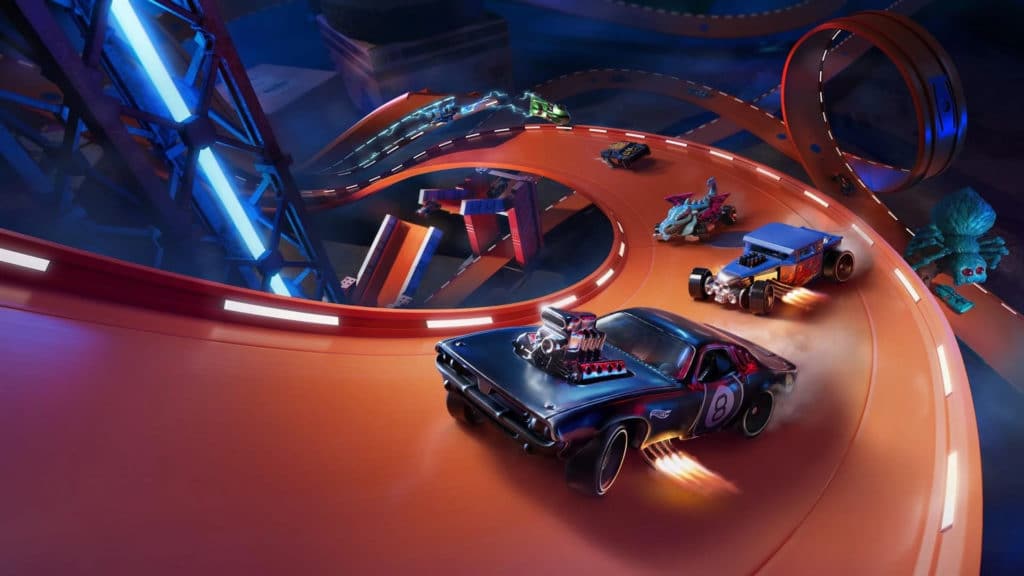 Platforms: PS5, PS4, Xbox Series X/S, Xbox One, PC, Nintendo Switch
When it comes to PS5 racing games, many people may not consider Hot Wheels Unleashed to be a serious contender. Toy cars just seem to appeal more towards a younger audience, but that couldn't be further from the truth. This game is intense and actually quite entertaining for all sorts of racing fans.
In its purest form, Hot Wheels Unleashed is an extreme arcade racing game. These may be toy cars, but they feel like Lamborghinis and Porches brought to life by some impressive graphics. The tracks themselves feel diverse and very fun to play through. There's a variety of turns that allow for powerslides, jumps, and even opportunities to crash into your foes. The game's handling system is quite easy to get used to, but of course, it will take some practice. That being said, Hot Wheels does have a very high skill gap.
As you'd expect from an arcade racing game on PS5, Hot Wheels Unleashed does have its own physics and skill system. There are several boosting spots set around different tracks that you need to get used to. On top of the various jumping spots and in-game handling system, there is ample room to 'get good'. Hot Wheels Unleashed, of course, is best played online or with a buddy on split-screen.
Wreckfest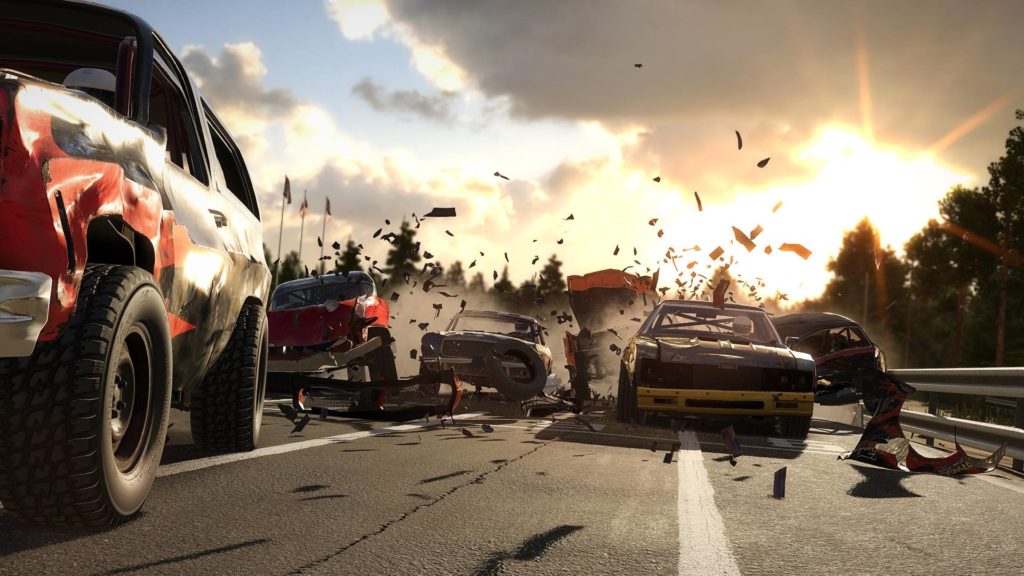 Platforms: PS5, PS4, Xbox Series X/S, Xbox One, PC, Nintendo Switch, Google Stadia
In contrast to its competitors, Wreckfest delivers an enthralling arcade experience thanks to its ludicrous destruction system. By the end of a race, you should count your lucky stars if your vehicle hasn't completely disintegrated. Of course, you can just race around if you so please, but you shouldn't buy this game just for that.
There is a variety of fun and silly modes to experience and keep players entertained for a while. For example, you could play as a small car amidst a battalion of school buses in hopes of finishing first without simultaneously getting thrashed.
Where Wreckfest shines the most is in its intense online PvP battles. Face off against players across the world as you turn your car into a powerful battering ram. Almost every part of a vehicle can be torn to shreds, so get ready to do your worst. This racing game for the PS5 is definitely not for the faint of heart, or those looking for a true simulation experience.
That being said, Wreckfest does have a modestly complex physics system. The handling system feels different for many cars, and that is definitely a good thing in terms of diversity. There has been noticeable concern amongst the community regarding the lack of a split-screen option. Quite understandably, this is asinine decision-making by developers Bugbear.
Grid Legends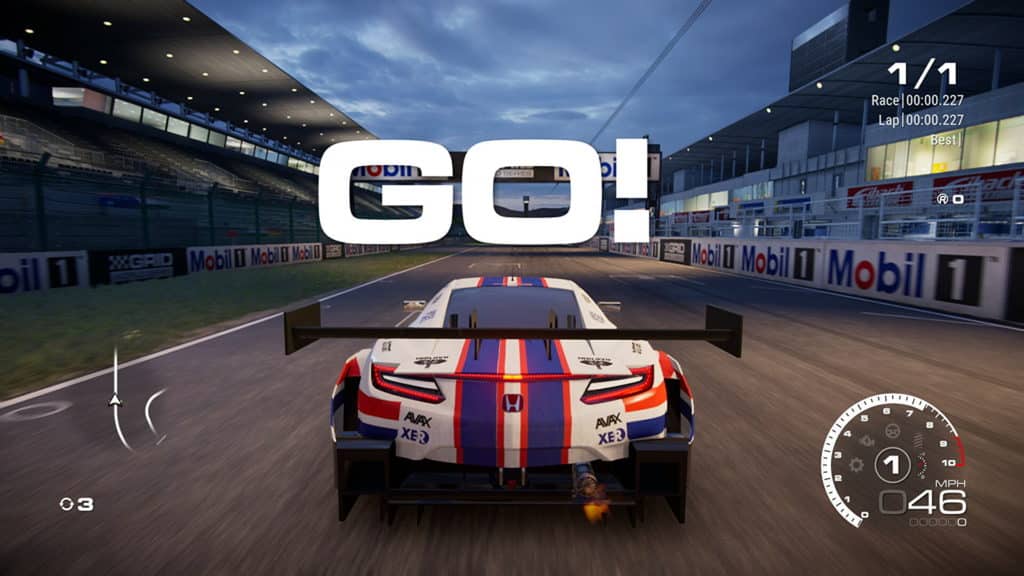 Platforms: Windows, macOS, PS4, PS5, Xbox One, Xbox Series X/S
Grid Legends is a phenomenal racing game that deserves much more recognition than it currently has. This is a sequel to Codemasters' own TOCA Race Driver back in 2004. This is one of the only modern racing games that actually have a full-blown story. The story revolves around Nathan McKane, a racer driving for the Seneca racing team against their rivals Ravenwest.
Secondly, one thing I genuinely enjoyed in this game was the AI opponents. If you didn't race clean and bumped into them a little too much, they'll start driving aggressively and will try to take you out. Even if you draft them for a little too long, they won't like that, and this will activate Nemesis mode.
It's a pretty small story, but it's a lot of fun to play through.
Need for Speed: Heat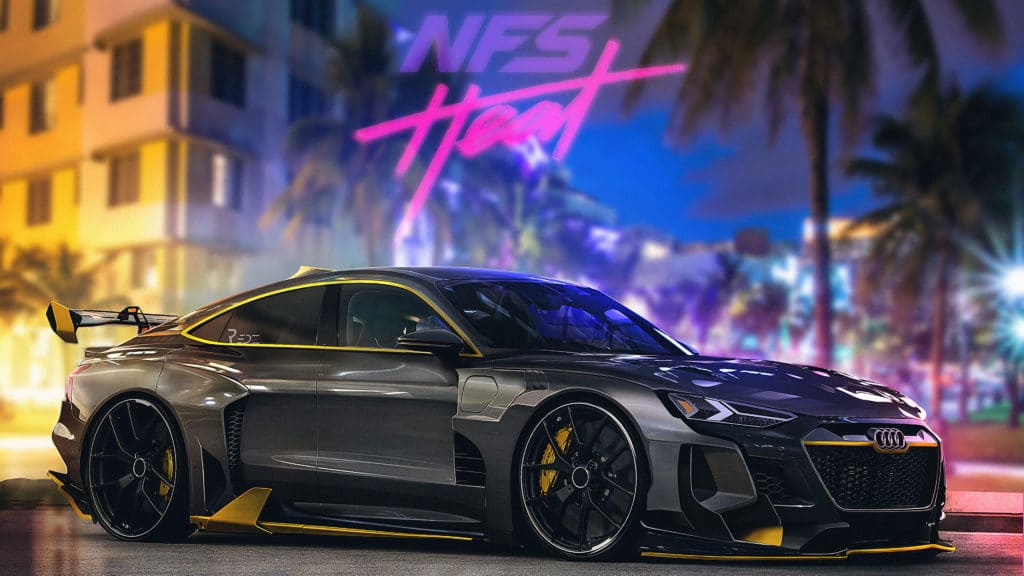 Platforms: PS5, PS4, Xbox Series X/S, Xbox One, PC, Nintendo Switch
The Need for Speed franchise has always been glorified as one of the best racing titles on the PlayStation. While not necessarily a new entry into the series, NFS Heat returns thanks to the PS5's backwards compatibility. With that in mind, NFS Heat is certainly one of the best-looking racing games currently available on the PS5.
The game feels fitting of the franchise's roots. It's somewhat of an open-world racing game with a plethora of arcade modes and main story quests. The story itself is suitably simple for a NFS game; you're a racer trying to make a name for yourself on the grand stage of Palm City, Miami. Gain higher income and reputation through different quests, as you fine-tune your cars for improved performance.
One of the best aspects of NFS: Heat is its dynamic day-to-night cycle. This is especially cool since the game's content changes depending on the time of day. During daylight, world events are akin to a traditional sim-like game; the majority of missions include time trials, speed management, following lines, etc.
In contrast, night missions materialize in the form of relentless chaos and adrenaline-fueled races with almost no rules. Hell, even police can chase you mid race as they try to halt these fast & furious activites in Palm City.
In terms of variability, NFS has a ton of modes and activities that should keep players entertained for a while. There's lots of things to expect here. From time trials, cop chases, traditional races, all the way to PvP alla Wreckfest style. Empowered by the PS5 engine, NFS Heat has seemingly got it all.
MotoGP 2022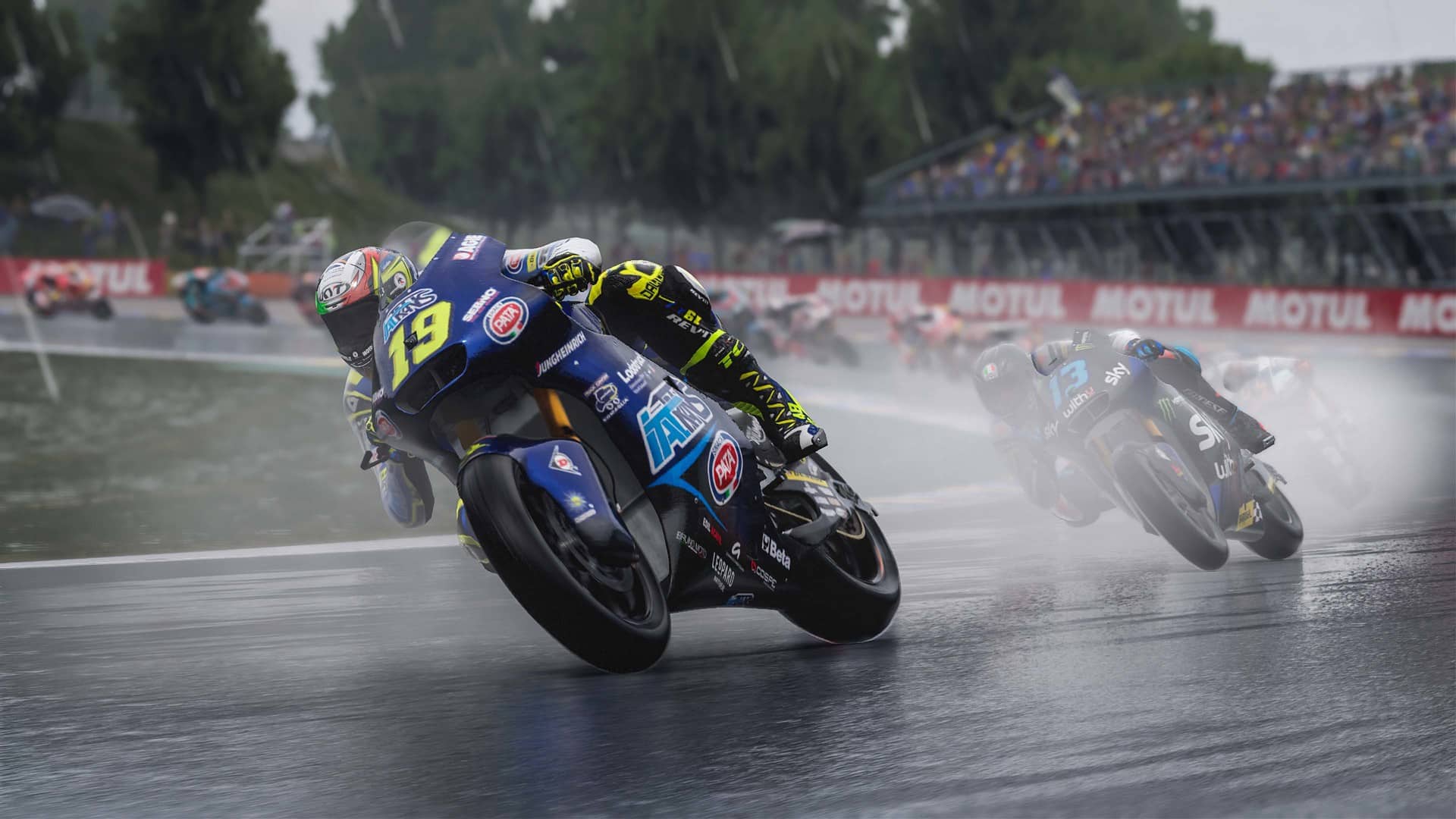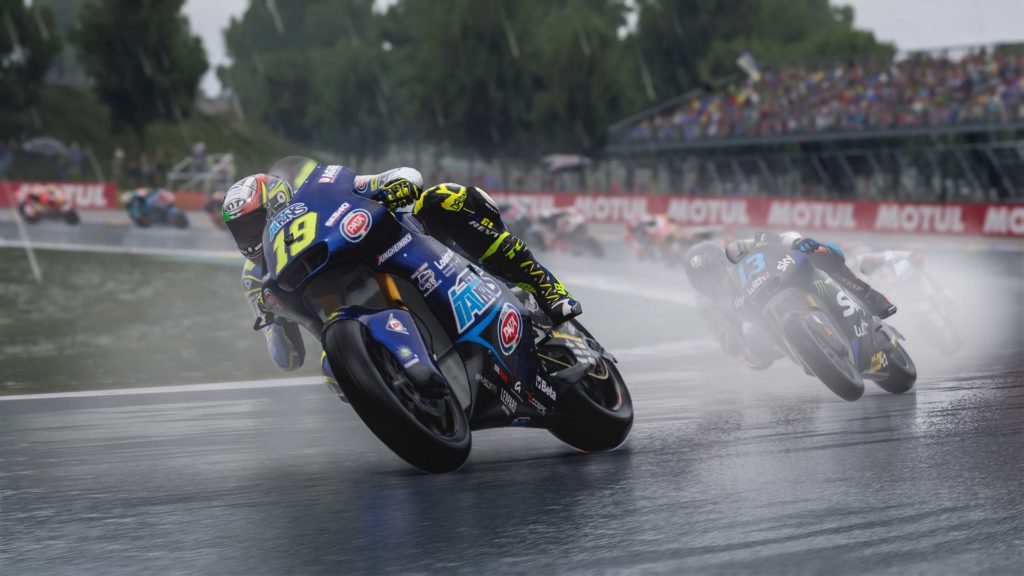 Platforms: PS4, PS5, Nintendo Switch, Xbox One, Xbox Series X/S
The MotoGP games have always been overshadowed in the motorsport industry by the F1 games. They're more fun and are a lot more enjoyable. MotoGP 2022 aimed to change that and made an attempt to pull out all the stops with their newest game.
Visually, it's the best MotoGP game ever. The tracks are spectacular, and they managed to do an insane job at designing the bikes. You'll see yourself spending some time with the photo mode as well.
The engine sounds pretty good too. I'm not an expert on MotoGP. I couldn't name more than 5 MotoGP drivers. But, based on my limited knowledge, the sound was absolutely brilliant. Hearing the engine's roar was soothing and quite like the real thing.
Dirt 5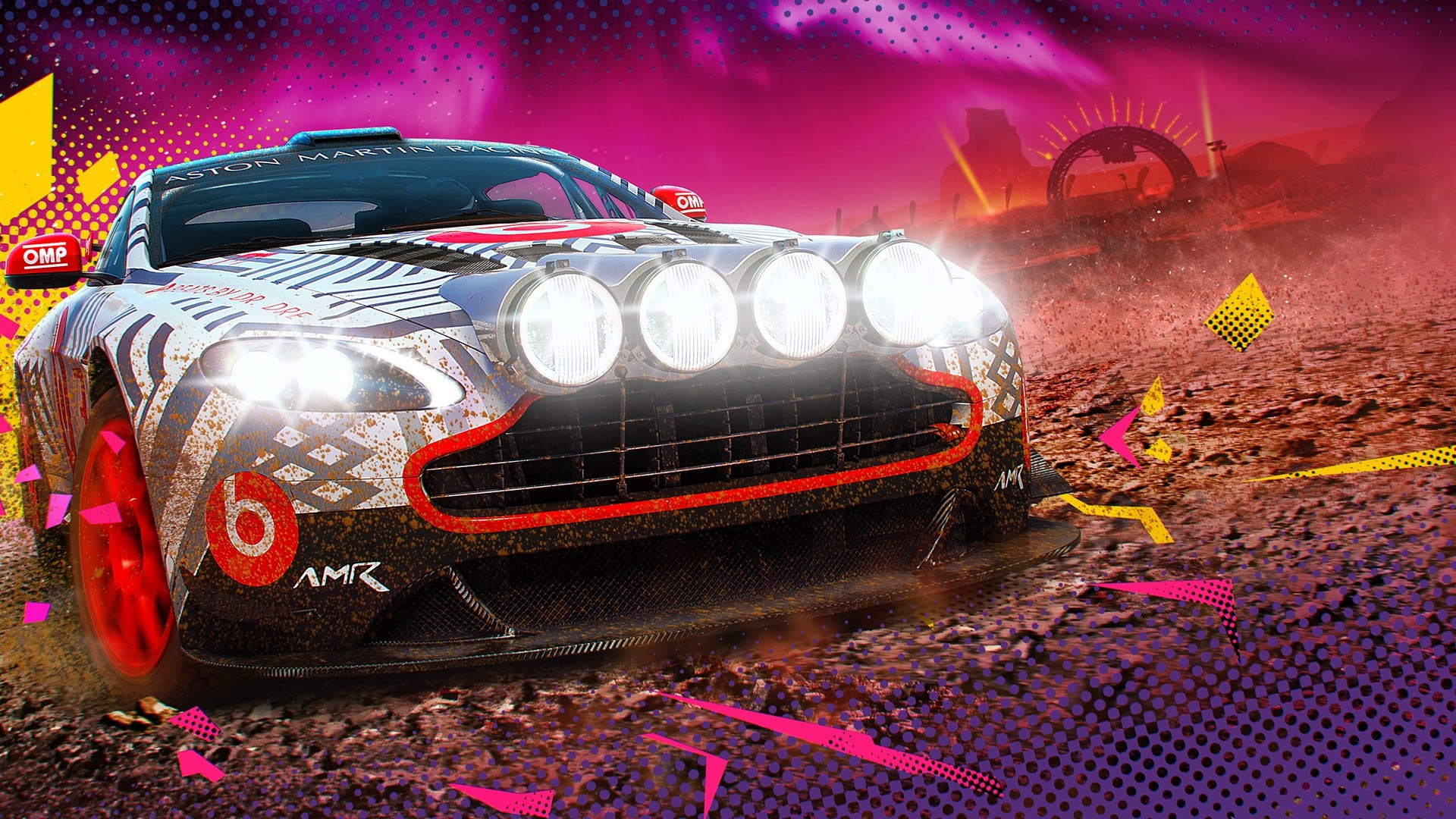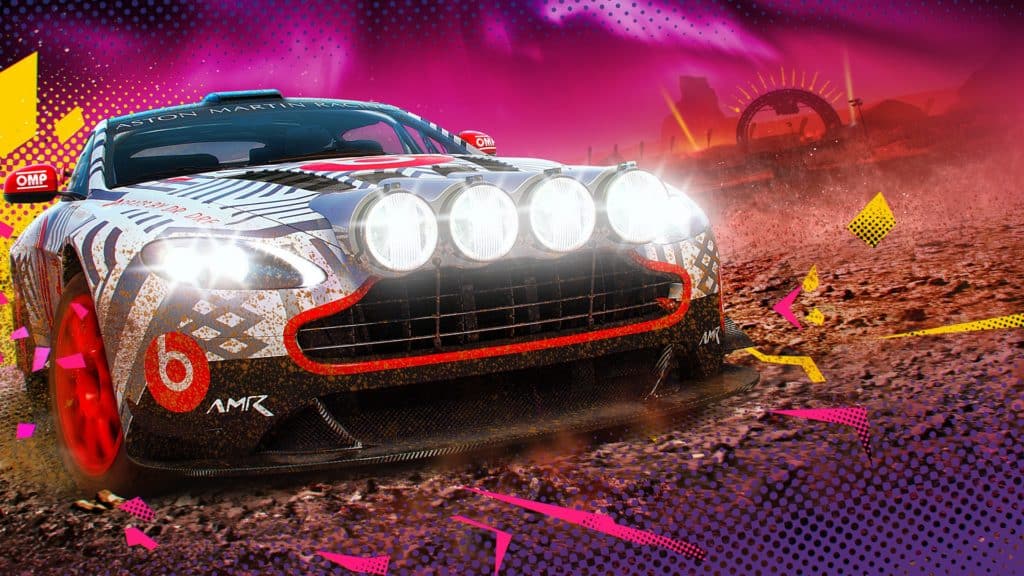 Platforms: PS5, PS4, Xbox Series X/S, Xbox One, PC, Nintendo Switch
Unlike its predecessors, Dirt 5 ditches the franchises' simulation experience in favor of a more arcade-focused racing game. Veterans fear not, the game feels much simpler to play without ever really losing its adrenaline factor. This is quite frankly, a Dirt game through-and-through, and thanks to the PS5's technological prowess, it is also the most drop-dead gorgeous Dirt game to date. There is just something about driving around the Aurora Borealis in Norway with those crisp, beautiful graphics.
Dirt 5's physics and controls systems are very finely designed. Accelerating and breaking feel very smooth, but you always need to find the right balance between the two. It will definitely take time to master, but its inevitably well worth the effort considering just how fun the game is. Your driving performance is similarly dependent upon the surface layout of different maps in-game. Dynamic weather, including rain and snow, also play their role in making Dirt so thrillingly entertaining.
It is best not to take Dirt 5 too seriously. The campaign mode is relatively bland with a repeat of trivial objectives and challenges throughout different chapters. Multiplayer, while fun on its own, can become quite repetitive as well. Playgrounds on the other hand, is a very nice addition to the franchise. Put simply, Playgrounds is a sandbox mode which allows players to create and customize their own tracks. Of course, these can then be shared and played by the Dirt community online.
F1 2022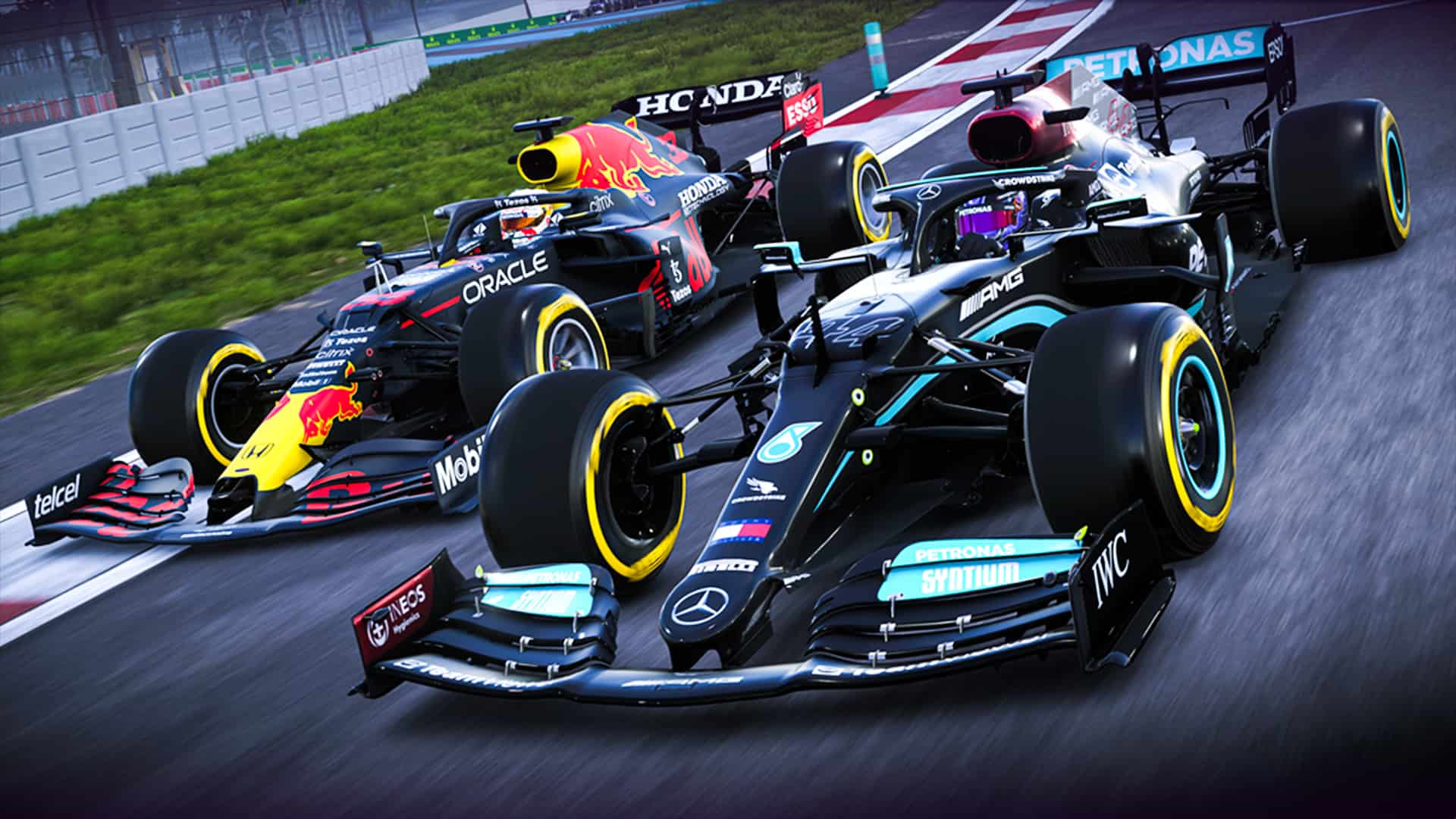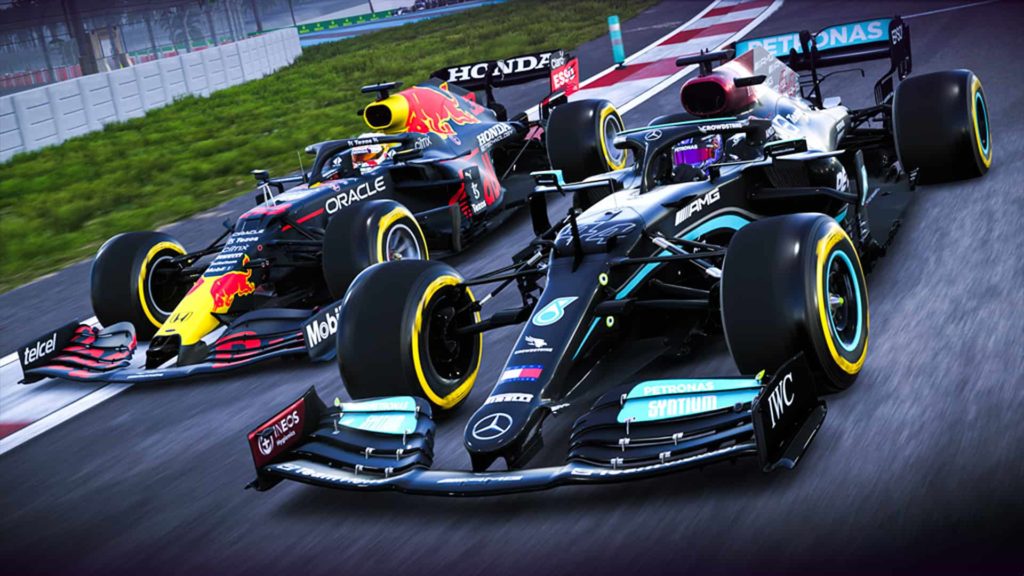 Platforms: PS5, PS4, Xbox Series X/S, Xbox One, PC, Nintendo Switch
Gone are the days where F1 games are simply a yearly release with not much end product. With Formula One's recent surge in international popularity, it seems that many people are also getting sucked into the video game series. That is certainly not a bad thing!
Right off the bat, the first thing you'll notice is the addition of the F1 Life feature. You will have the option to customize your virtual homes, play around with furniture, and create a showcase to show off your supercars. Is this a cool new feature? Yes. Was it needed? Probably not.
The racing aspect of the game is phenomenal as ever. The circuits are visually beautiful and are replicated down to the final detail. The tracks also reflect the recent changes made to circuits like the Yas Marina Circuit, Australia's Albert Park Circuit, and Spain's Circuit de Barcelona-Catalunya.
Gran Turismo 7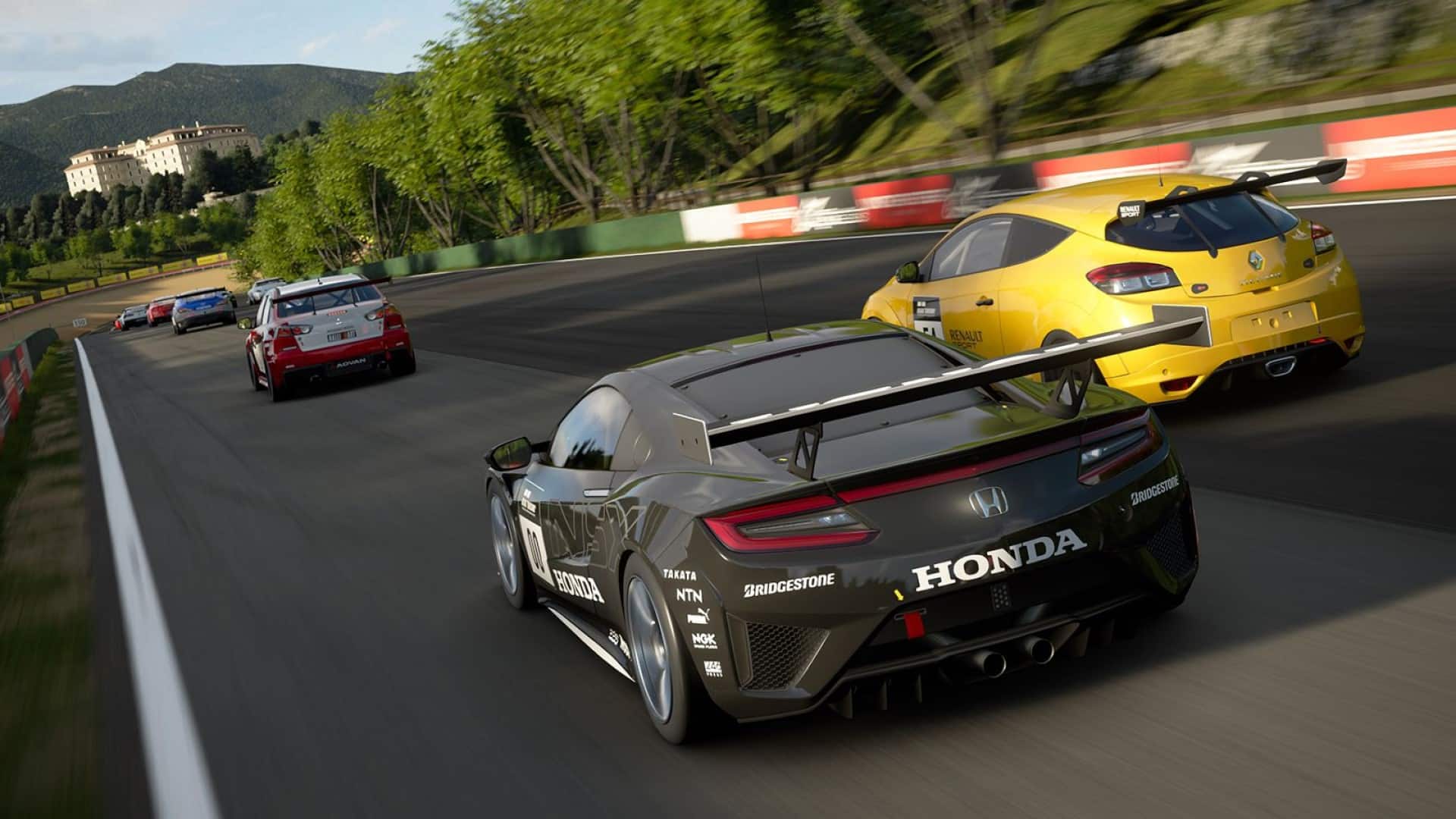 Platforms: PS5, PS4
Gran Turismo 7 is PlayStation's very own racing game and is the only popular racing franchise that has stayed loyally exclusive to Sony's consoles. It's a racing simulator that is designed to look absolutely gorgeous and infuriatingly hard at the same time.
There's a trend in the gaming industry where loved franchises end up releasing absolutely horrendous games. Far Cry, Fallout, Call of Duty, FIFA, Madden, and so on. However, Polyphony Digital did a phenomenal job with their game and managed to create the very best in the series.
The best part about the game is that they managed to capture the true essence of the cars brilliantly. It doesn't matter if you're driving a Honda Civic or a Porsche; every car will feel and drive the same as it would in real life.
Overall, it's an amazing game and a must-play for racing sim enthusiasts.
---
Verdict
So there you have it folks! From arcade, simulation, all the way to massive demolition fests, there is definitely something for everyone. While we mostly recommend Gran Turismo 7, now may be the time to delve into the market and find the perfect racing game just for you.