Have you ever wondered what exactly Discord Nitro does? Well, you have come to the right place as we are going to explain what discord nitro is and if it's really worth it.
Discord is a free app that allows you to communicate with friends and communities worldwide. It offers services such as messaging, voice calls, video calls, streaming, and adding bots that help enhance the experience.
However, Discord is still a company that needs to make money. Since using the app is free, Discord makes money in other unique ways. These include optional paid features such as server boosts, game developer partnerships, and of course, Discord Nitro.
Discord Nitro is Discord's monthly subscription program that allows you to improve your overall experience with Discord. It unlocks additional features and powerful tools that enable you to better customize and level up your Discord experience.
However, some people don't believe that the extra features you get are worth the $9.99 that Discord is charging them monthly. They claim that Discord is greedy and ripping them off.
On the other hand, some people happily pay the monthly fee, saying it's more than worth it because of all the extra features you get. So which one is it? Today, we find out. Continue reading and find out what Discord Nitro is and if it is worth it.
What is Discord Nitro?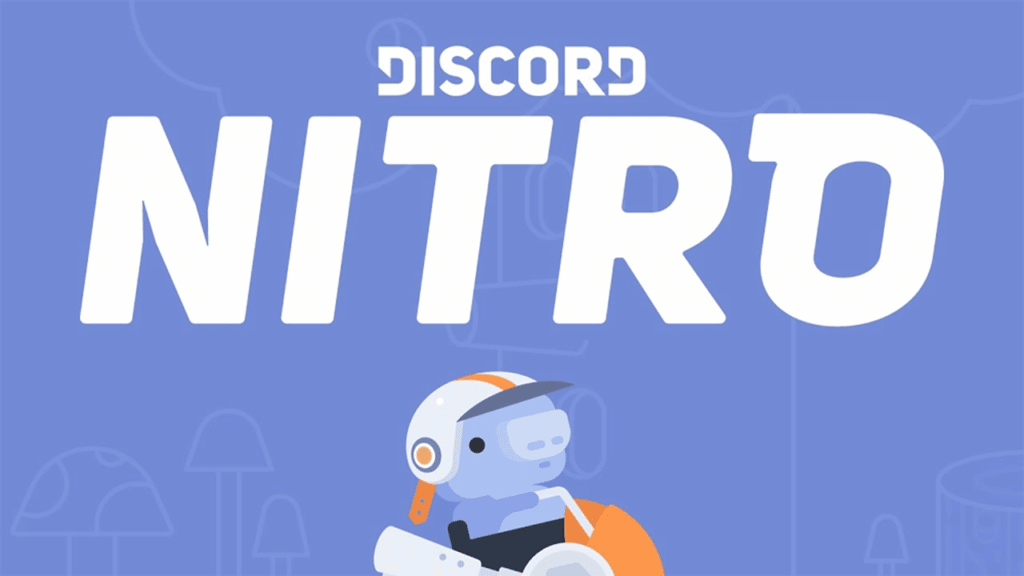 Discord Nitro is a paid membership program for Discord. Discord asks for a monthly subscription fee in exchange for more exciting features. Most of these features apply to your account only and enhance your personal Discord experience. If you're looking for server-wide improvements, you'll have to use server boosts to unlock more features.
There are two types of Discord Nitro. These are Nitro Classic and Nitro. Nitro Classic is a cheaper version of Nitro, but you get fewer features and benefits. Meanwhile, Nitro is the fully-fledged and complete version of the monthly subscription plan.
Discord Nitro Features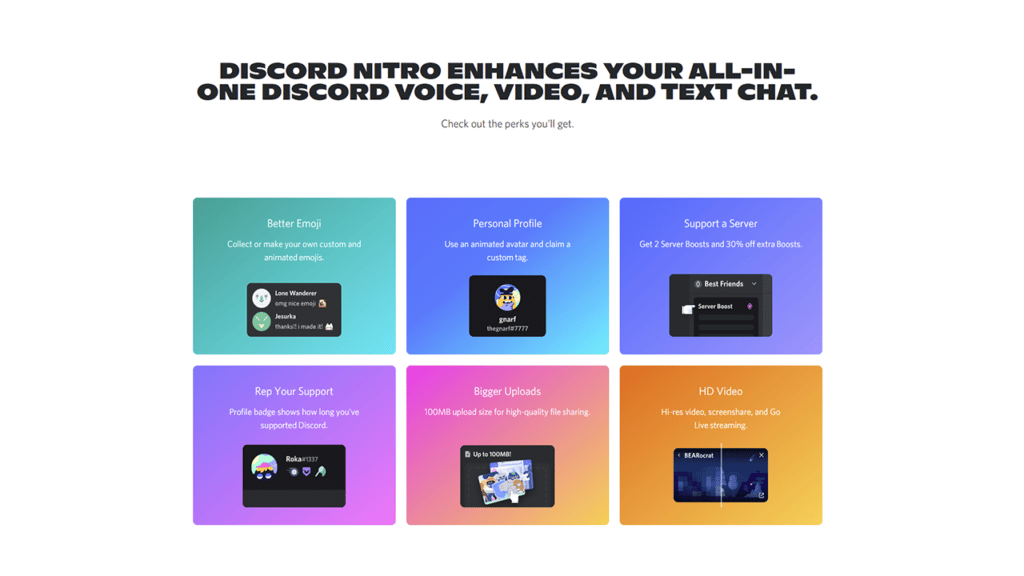 Better and Customized Discord Emojis and Stickers
The first feature is the ability to use animated GIF emojis and server-specific emojis anywhere. You also gain access to stickers over 300 Nitro-exclusive stickers and use any available sticker on any server or chat.
This simply allows you to unlock and use countless custom emojis and stickers from all the servers you are a member of. It's more about freely using stickers and emojis without any problems.
Personalized Profile Enhancements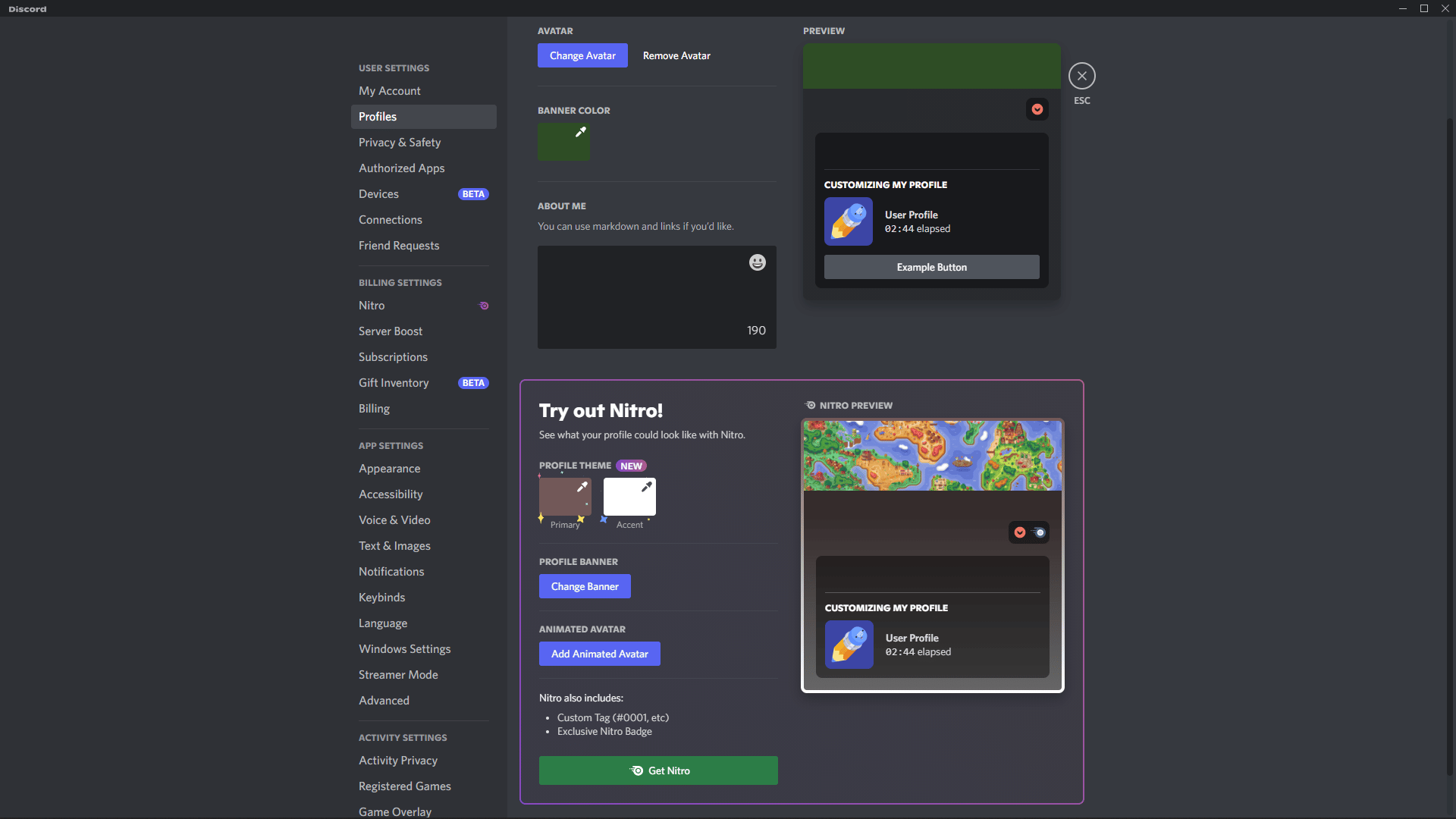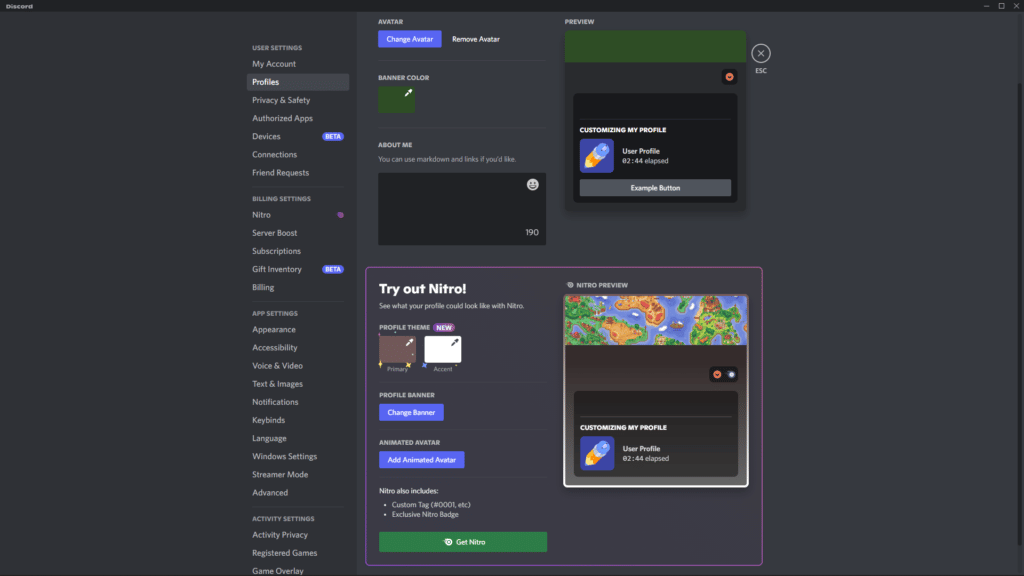 If you subscribe to Discord Nitro, there are a few extra profile customizations that you can make. This includes server-specific profiles, animated PFPS, profile banners, and custom tags. Not to mention a special Nitro badge that you can add to your profile.
The server profile feature allows you to create and customize your Discord profile only for a specific server. To complete the package, you can use different Discord names, custom PFPs, banners, and bios unique to each of your servers.
Being a Nitro subscriber also allows you to use various profile themes. These themes allow you to add custom border colors with primary and accents to match. You're free to choose from the entire color spectrum and use hex codes to match your preferred color. The themes can either be global or server-based, letting you add some extra design to your Discord profile.
Custom Activities and Unique Ways to Hang Out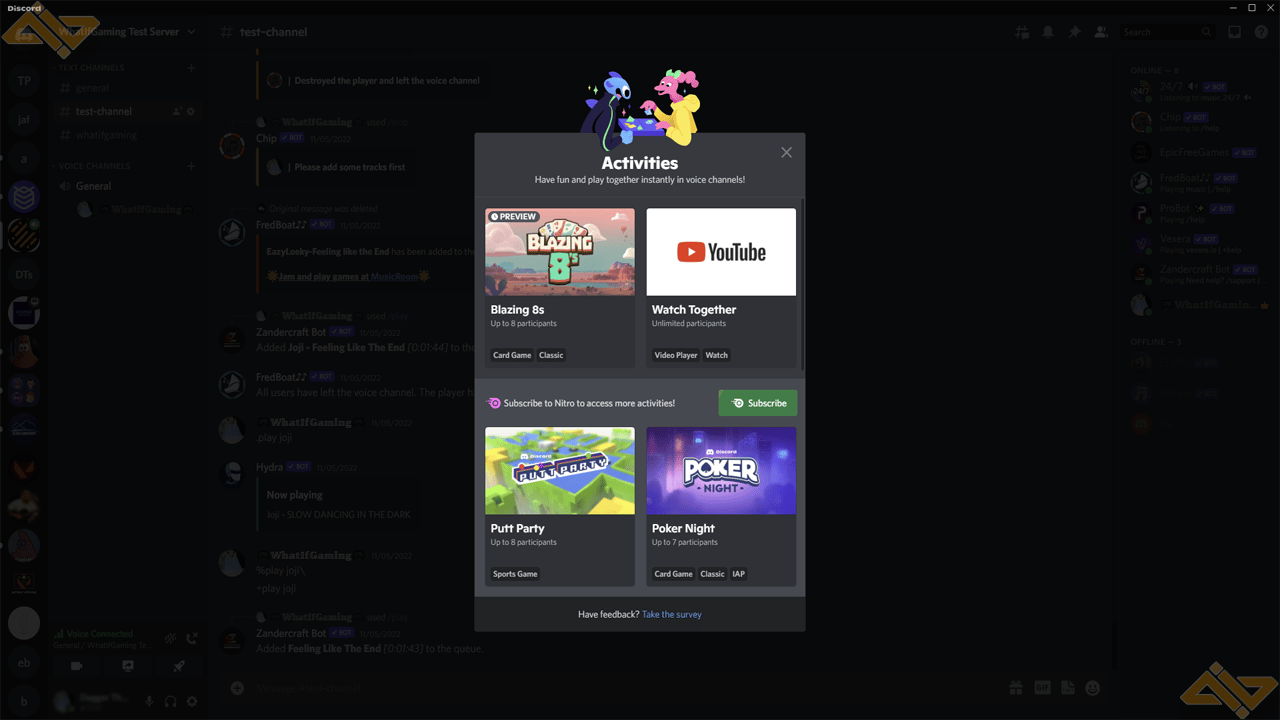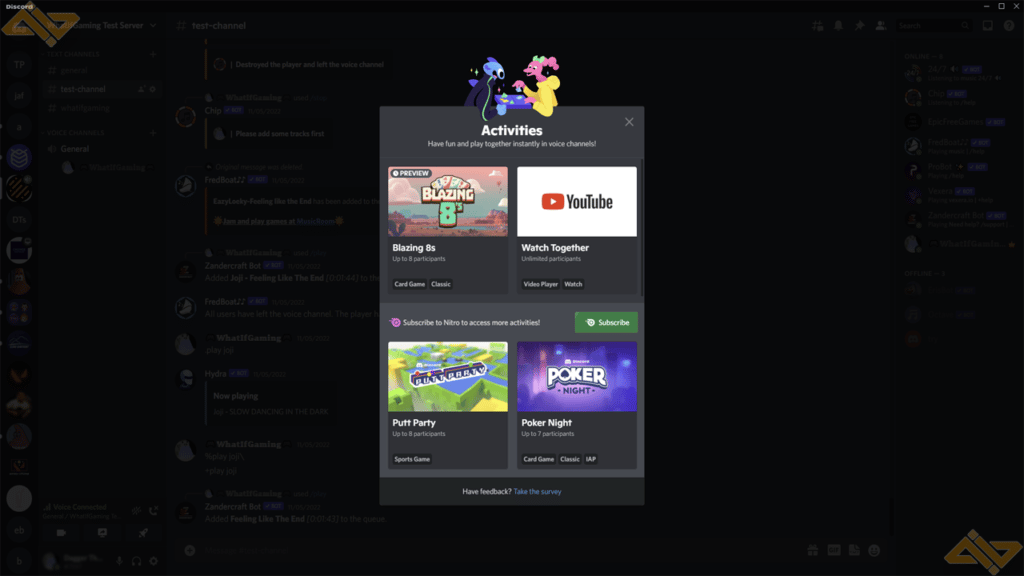 Discord has revamped its Nitro package and has given users an entirely new way to hang out. We all know that Discord is mainly used by gamers, communities, and groups of friends. It's a great platform to simply chill, socialize, and enjoy each other's company.
Game nights are already fun on Discord because of the access to voice and video servers. But they just got even better. Discord now allows you to host and play various mini-games directly from your Discord server. Who says that you can't have fun on Discord?
These mini-games range from 6 to 16 players, allowing you to enjoy them as a group. This includes card games, mini-golf, word games, drawing games, and other PvP-based activities. However, there are also some leaderboard-based activities that can support an unlimited amount of players, like Chess and Checkers.
If gaming isn't your cup of tea, you can enjoy participating in a watch party via Discord. Discord now has an activity that directly supports a YouTube watch party. You no longer need to stream your browser window just to enjoy a YouTube video with your friends. The best part is that it supports unlimited participants, letting you enjoy videos regardless of whether you have a small or large group of friends.
HD Video Background and Screen Sharing
Discord has some built-in screen-sharing features that allow you to share gameplay and other moments with your friends. However, the quality is locked at 720p 30 FPS for non-Nitro users. Subscribing to Nitro lets you stream HD videos at 1080p 60FPS allowing for a smoother and better streaming experience.
However, 1080p 60FPS isn't the maximum screen-sharing quality you can use if you have Nitro enabled. You can select the "Source" option and match it with 60FPS. This automatically streams in whatever resolution the source material is at. This option supports up to 4K 60FPS, allowing you and your friends to enjoy smooth and pixel-full content with Nitro.
Additionally, you can also conduct video calls with Discord. They already have some fun basic video backgrounds. However, you can upload some custom ones if you have Nitro. This allows you to take your video calls to a whole new level of fun.
Custom backgrounds can be very helpful and enjoyable. It allows you to express yourself better during video calls. It's definitely a great tool to have, whether you're using it to hang out with friends or for more serious matters like work or school.
Server Boosts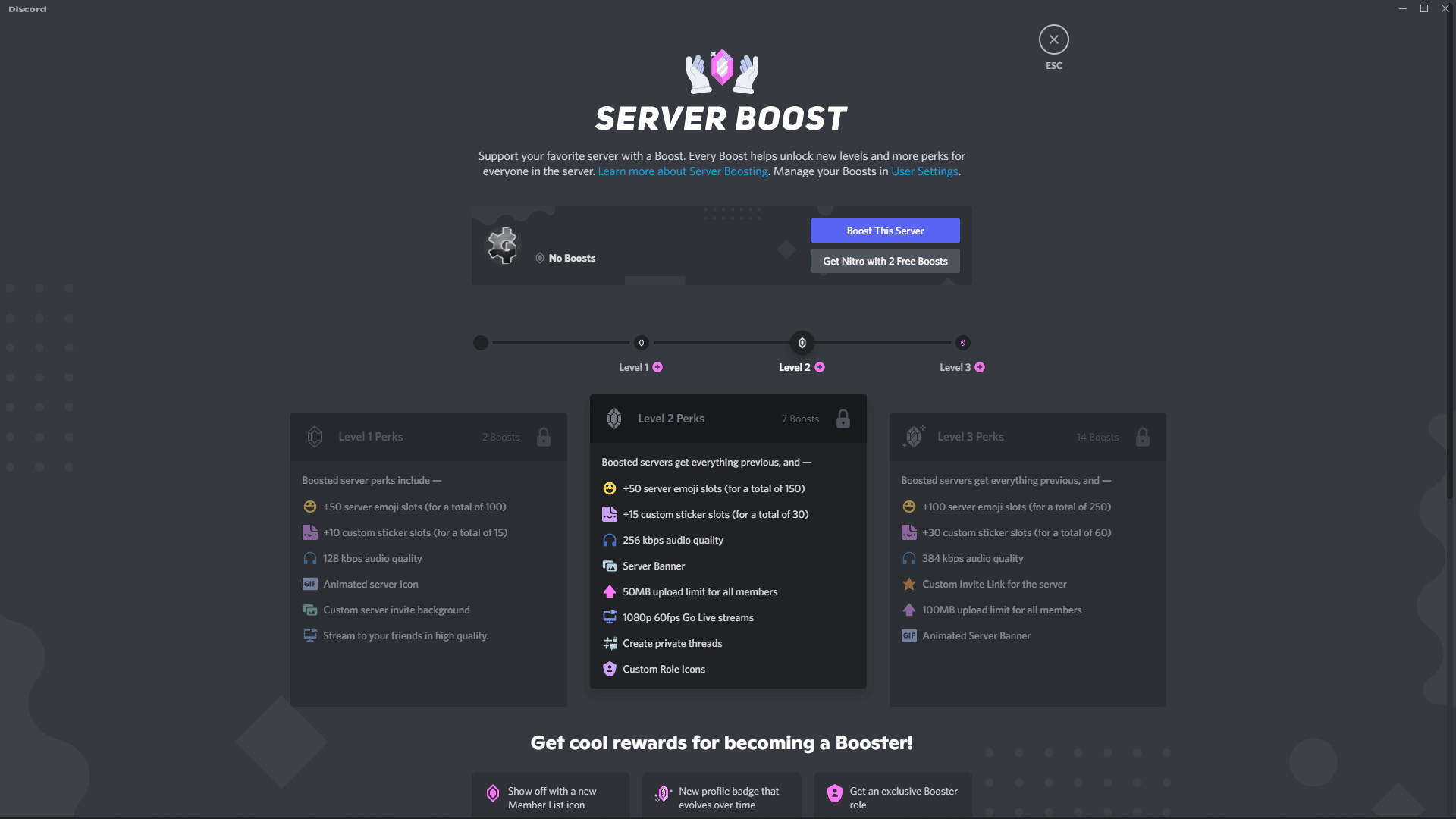 When you subscribe to Discord Nitro, you get 2 free server boosts. Typically, these boosts cost $4.99 per month, but you get them for free. These boosts can then be used on servers and help unlock server-specific features for everyone.
In addition, you also get a 30% discount when buying more server boosts. This might only be important to owners of a Discord server or people who run Discord communities.
Other Discord Nitro Features
Aside from everything mentioned above, you also get access to bigger file upload limitations (100 MB), longer messages (4000 characters), and a higher maximum number of servers (200). These features are definitely worth paying for if you have a specific use for them. So their usefulness will mainly depend on a case-to-case basis.
These extra features aren't necessary for everyone and won't be the reason why you decide to avail of Discord Nitro. However, they are definitely excellent additional features to have, especially since you're already getting a ton of awesome perks.
Discord Nitro Pricing and Availability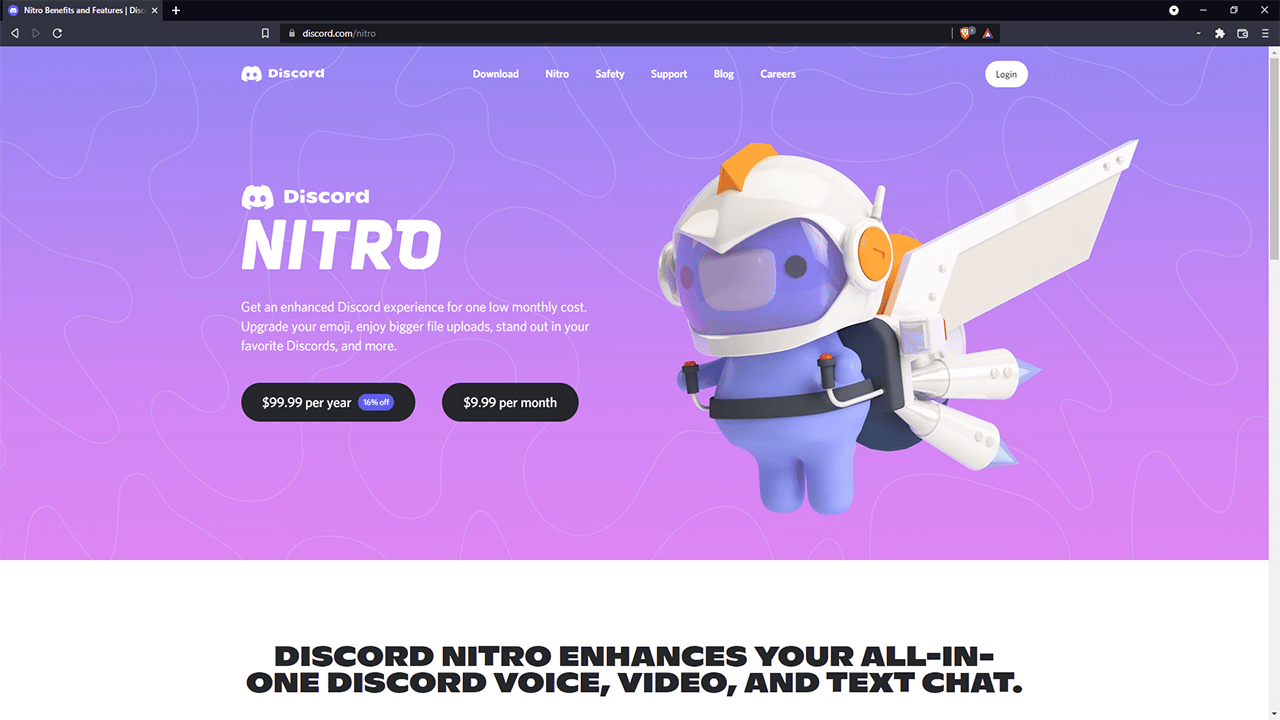 A few months ago, Epic Games gave away three months' worth of Discord Nitro to its users. It gave people a chance to try Discord Nitro for free and take a look at all its additional offered features.
However, that was a rare occasion. For the most part, you can't get Discord Nitro for free and would have to pay a monthly subscription to enjoy its benefits. You can subscribe to Nitro straight from the Discord app.
Availing Nitro Classic for a month will cost you $4.99. Although you can also buy Nitro Classic for $49.99 per year, saving you around $10.
If you're looking for a more robust plan, Discord Nitro is available for $9.99 per month. Like Nitro Classic, you can also avail yourself of a yearly plan for $99.99. This saves you around 16% or just a little under $20.
There are two ways to get Discord Nitro. You can subscribe to it using a browser or a Discord app. You can also get Nitro through gifts. If you have a thoughtful friend or a loving family member, they can gift you Discord Nitro. Gifting Nitro costs the same as just subscribing directly.
Aside from subscribing to Discord Nitro directly or getting it through gifts, there are no other ways to get Discord Nitro. Unless Epic Games or some other big company wants to surprise everyone again and give away free Nitro subscriptions.
Is Discord Nitro Worth It?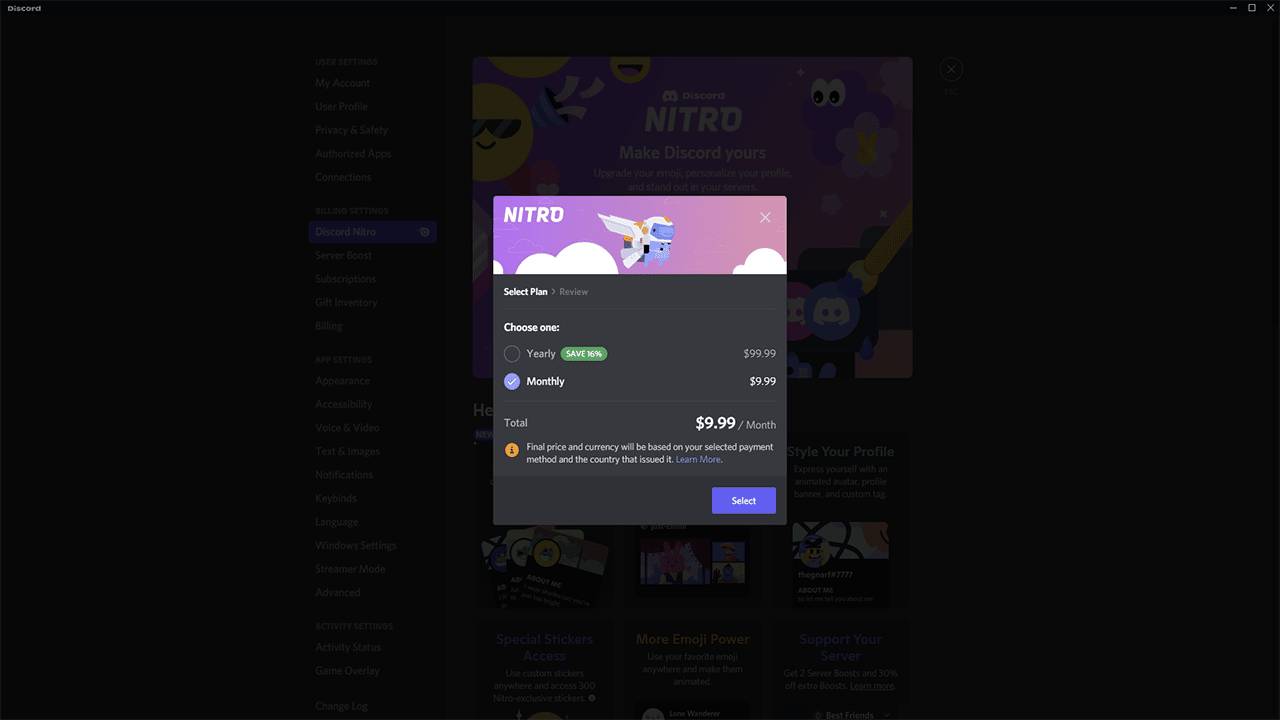 Now, onto the moment of truth, is Discord Nitro worth it? Yes and no. Like most things, it will always depend on your needs. Discord is a great platform to stay in touch with friends, find new servers and communities, and chill out. But not everybody uses Discord the same way.
If you're a power user, use Discord daily, and interact with different communities and servers, then Nitro might definitely be worth it. If Discord is one of the main platforms that you always use, then there might be some features in Nitro that will be helpful to you.
Now, if you own a server, are trying to grow a community, and use server boosts, then Discord Nitro is more than worth it. The benefits you get from Nitro on server boosts alone are worth paying for.
However, if you only use Discord a few times a week just to chat with friends and play games, then it might not be worth it. The basic features in Discord are already pretty great and allow you to pretty much do everything you need to do.
If you're really just curious to see if Discord Nitro can help you, I suggest getting Nitro Classic first. It's cheaper, which means you don't waste too much money if you don't end up liking it. It gives you a pretty good idea of the features that come with Nitro and should help you decide if paying $9.99 a month is worth it for you.