Genshin Impact stamped its success in the industry with its anime-style graphics, element-based combat systems, and fantastical storylines. Furthermore, the gacha mechanics of the game made it even more addictive, garnering over 50 million users across various platforms. Specifically, Genshin Impact is available on Android, iOS, Microsoft Windows, Playstation 4, and Playstation 5. Now, Travelers might be wondering if there will ever be a Genshin Impact Switch version.
Japanese company Nintendo is one of the trailblazers of hybrid gaming consoles with the popular Nintendo Switch line. Like their game The Legend of Zelda: Breath of the Wild, it's easy to see why Genshin Impact will be a great addition to the console's game roster. With that, let's dive into the interesting updates and everything we know about this much-awaited release!
Official Genshin Impact – Nintendo Switch Trailer
Genshin Impact's official YouTube channel already released the Japanese trailer for the Nintendo Switch version. Aside from Lumine and Paimon in majestic in-game sceneries, the video only featured the Nintendo Switch and Genshin Impact logos.
Although the video stated "coming soon," nearly two years have passed since developers left fans hanging for the actual release. At this point, many have speculated that the company miHoYo has already scrapped the Nintendo Switch version. However, the fact that this trailer still exists in their YouTube channel indicates otherwise. In a nutshell, there's still hope for Travelers wanting to experience Teyvat using the Switch console.
Will There Be a Genshin Impact Switch Version at All?
Safe to say, there will be a Nintendo Switch version of Genshin Impact in the future. And there are lots of information, both official and unofficial, that back up the game's arrival on Nintendo.
For example, Genshin Impact's official Wikipedia page puts Nintendo Switch under the Platforms category. Undoubtedly, Wikipedia is not the most reliable source out there due the leniency of their editing rules. However, references from official Genshin Impact content provide enough credibility. Because of this, many fans have also thought that the famous RPG is already available on the Nintendo console.
In addition, the game's official Japanese YouTube Channel continually includes "Nintendo Switch" on their videos' description boxes. As a proof, you can even see this under the latest Japanese trailer of the upcoming Version 2.5. However, Nintendo Switch does not sit on the same category with other platforms of the game here. Based on online translations, the "対応OS" next to the currently available platforms refers to "Supported Operating Systems." On the other hand, the "対応予定OS" next to Nintendo Switch literally translates to "Scheduled / Planned to be Supported Operating Systems."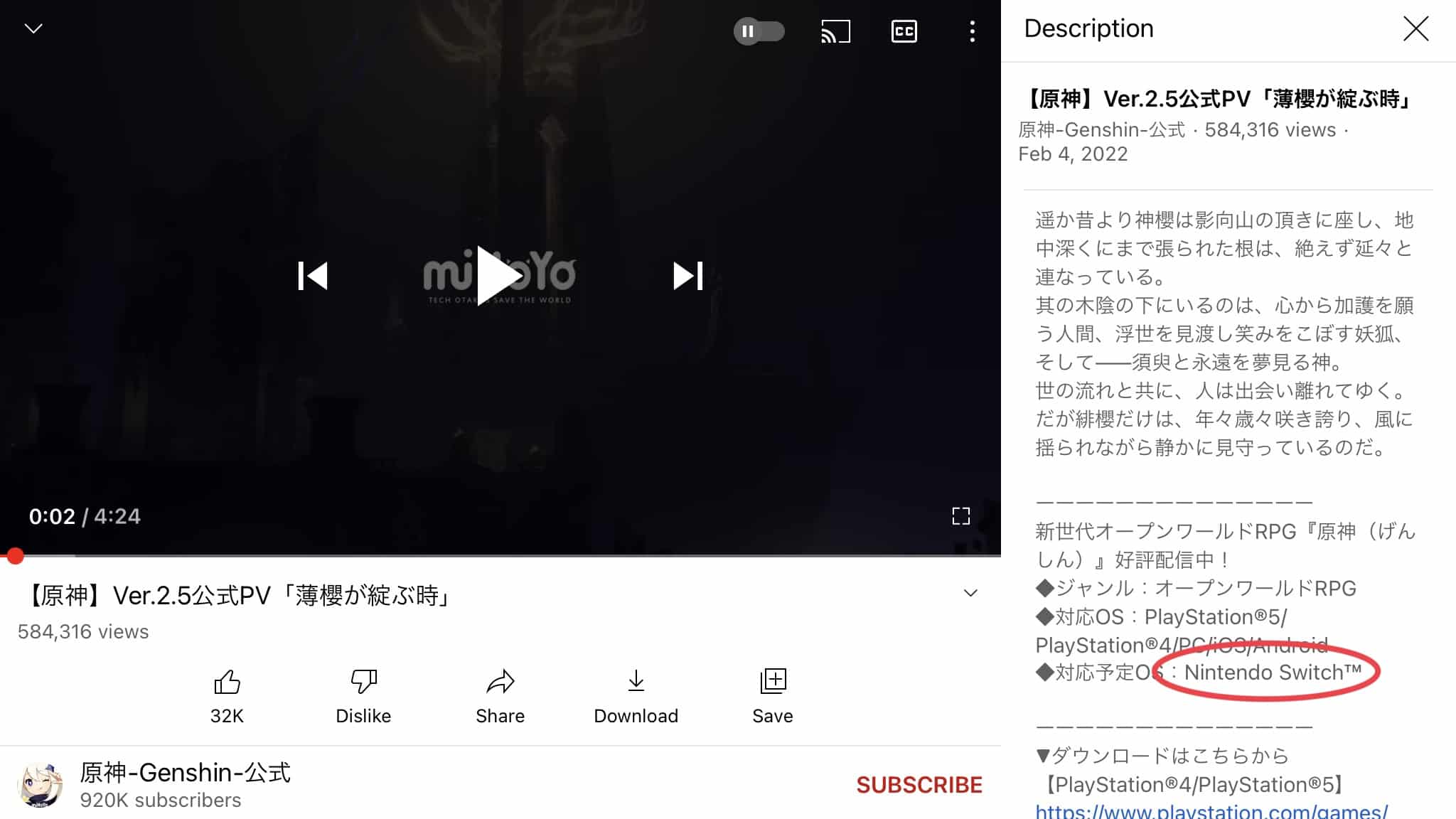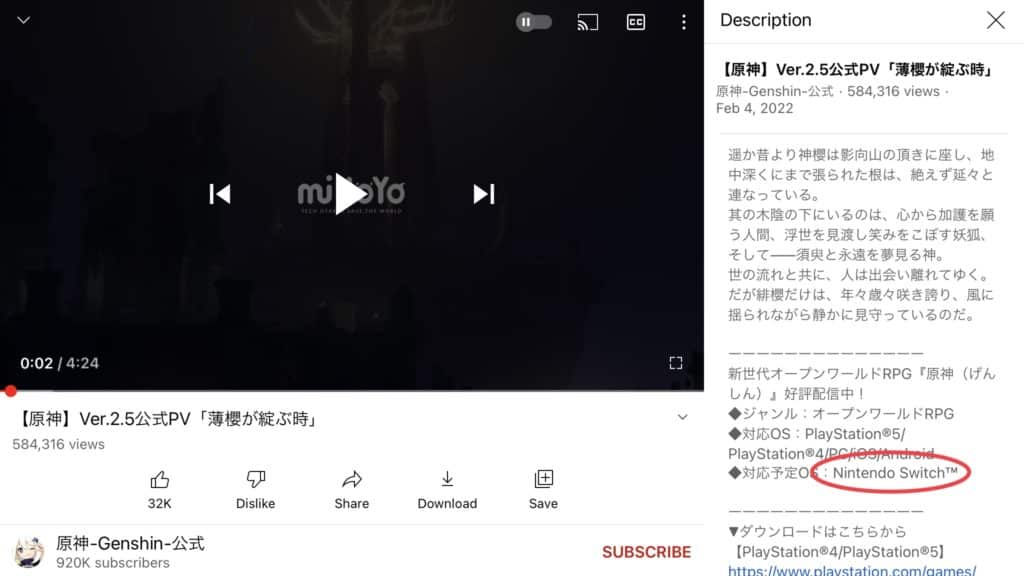 Furthermore, YouTuber ayyanxmi's recent video on Genshin Impact's Switch release featured a Twitter thread started by Enviosity. Here, a fellow Genshin Impact player replied that they have already participated in the beta testing of game's Nintendo Switch version. It was during an anime convention in New York City. This was proven by a video clip of the event where Nintendo Switch's signature blue and red Joy-Con controllers are connected a monitor.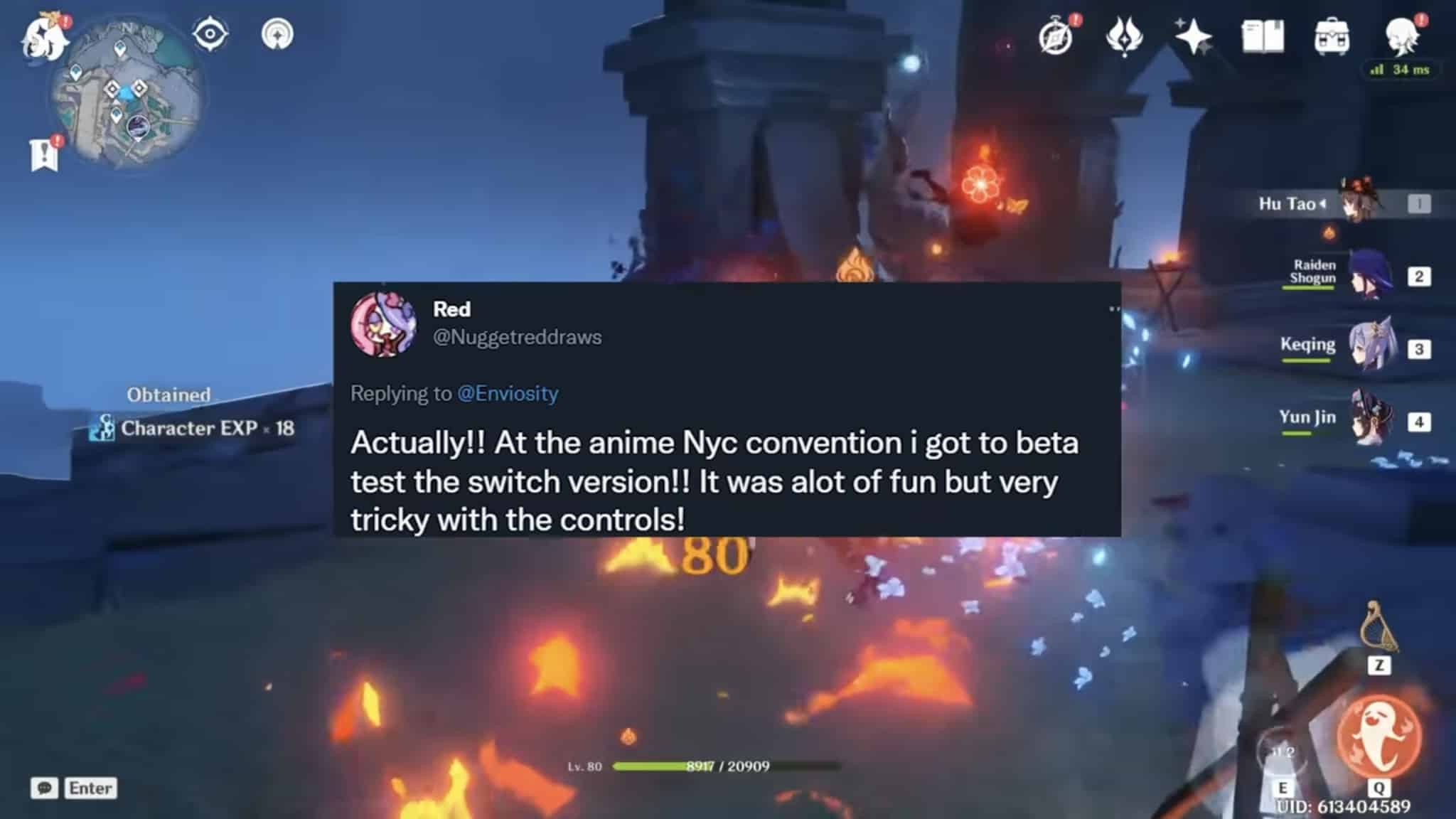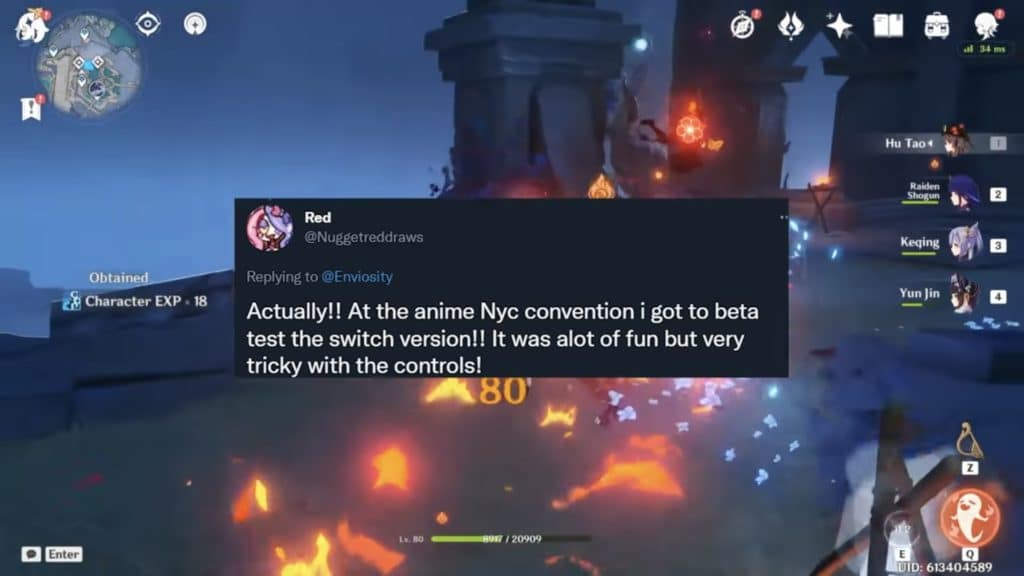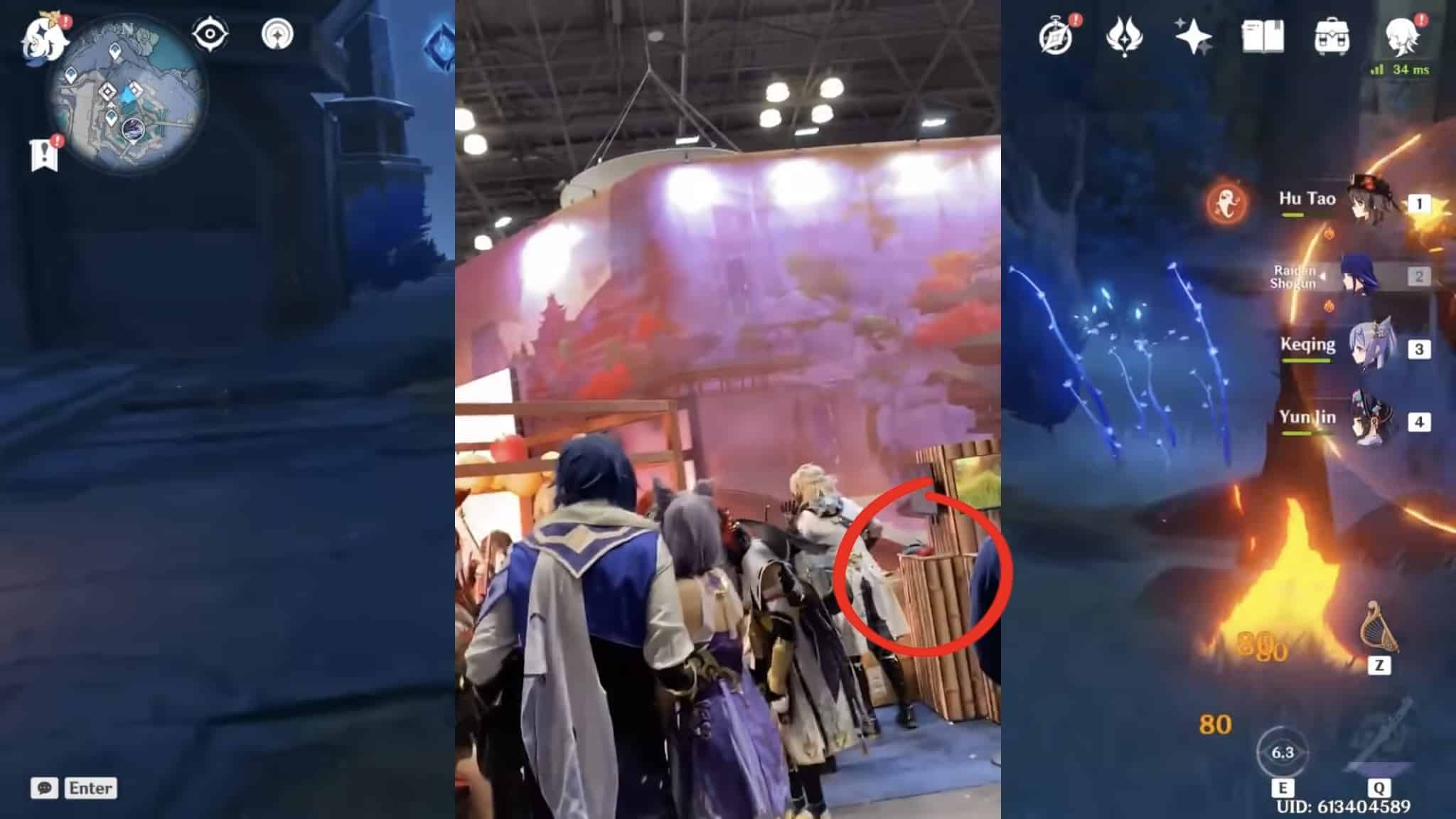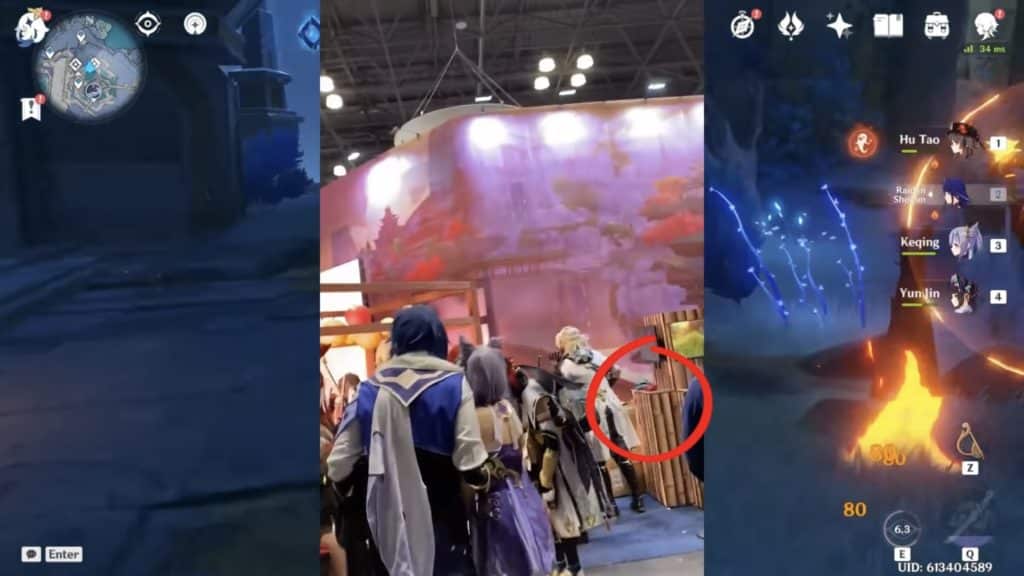 Lastly, a 2020 interview with miHoYo's head of communications Sam Lai featured the possible release. Here, he mentioned that they are still developing the Switch version of Genshin Impact. In addition, they will later announce more information regarding Switch beta testing and launch dates.
What's With the Delay Behind the Nintendo Switch Release?
There's still no concrete reason from the developers behind the delays of Genshin Impact's Nintendo Switch release. However, many players from various communities suggested some valid explanations.
Former leaker Genshin Report tweeted that the company delayed the Switch version of the game due to the console's weaker hardware. Specifically, Nintendo Switch's processor would not properly run Genshin Impact considering its size and regularly updated content. If you're an avid player, the recommended specifications for this gacha game do not spare even smartphones and PCs. While there are lots of other games like The Witcher 3: Wild Hunt that are much more massive yet work on Switch, Genshin Impact is possibly not yet optimized.
And speaking of gacha, Genshin Impact revolves around microtransactions. Some leakers have speculated that there might be issues in connecting the game's purchasable items to Nintendo's eShop. Furthermore, miHoYo possibly wants to maintain the cross-save feature to keep Travelers' progress across all platforms, which was previously unavailable.
With that, the most probable reason behind the relatively long delay is miHoYo wanting to optimize Genshin Impact's performance first in all platforms, including Nintendo Switch.
When Is the Release of Genshin Impact's Switch Version?
As of now, the company has yet to deliver an official statement regarding the exact release date of this version. In fact, the latest update we got from miHoYo was a statement to GoNintendo back in May, Where Xin Yang, miHoYo Global PR specialist: "The Switch version is still in development, and we will release more information as we progress further along." No other, credible, statements have been made since then.
We did, despite that, caught a vague reply to YouTuber Nintendo Enthusiast's email last July 2021.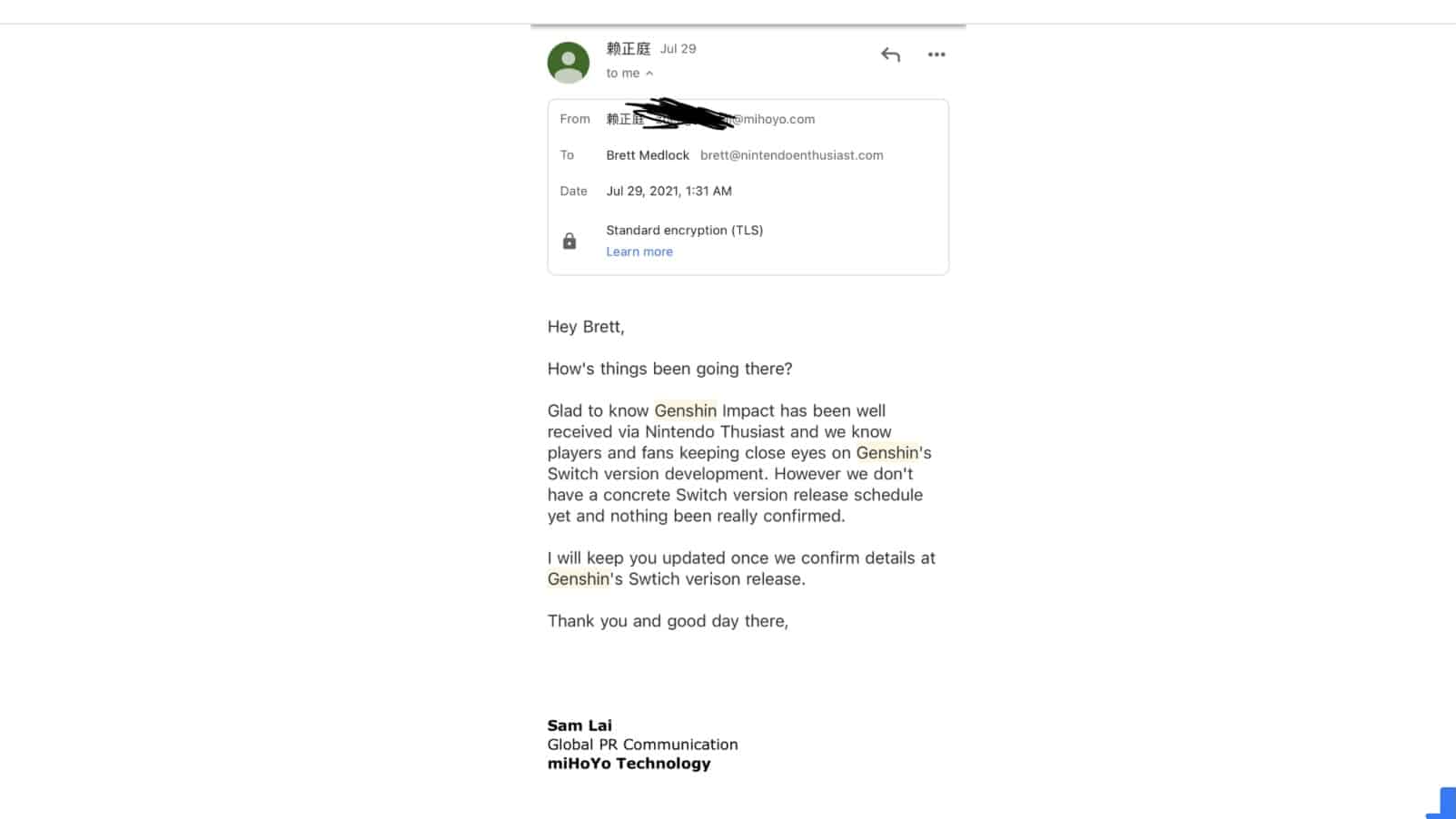 Now, we're not 100% sure about the credibility of this reply. The censored email and a few typographical errors just make it slightly unbelievable. However, if miHoYo was to ever reply to queries regarding the game's Switch development, their statement would've most likely contained the same idea. Apart from the mentions of Nintendo Switch in the game's official Japanese YouTube channel, there are no other information that sustain the buzz regarding the release on the platform.
How Much Is Genshin Impact Going To Cost on the Nintendo Switch?
Although we have no official statement on this topic, we can be certain that Genshin Impacts' Nintendo Switch version will be free-to-play. Although microtransactions can still apply. A physical copy of the game, however, will likely cost the players money.
Conclusion
All in all, we can safely say that we, Travelers, are getting a Nintendo Switch version of this open-world RPG at some point in the future. While miHoYo has somewhat left us hanging with the lack of updates on Switch, we're positive that the developments for Genshin Impact on Nintendo Switch are already underway.
In the meantime, why don't you enjoy Genshin Impact's immersive gaming experience on PC? Update 3.0 is coming up, bringing with it the new Dendro element, and tonnes of new areas to explore and people to meet! You can check out our guides on recommended laptops for Genshin Impact and how you can manually install the game to start your adventures in Teyvat!
We hope you got the latest scoop about Genshin Impact's future Nintendo Switch release! Also, like all types of leaks and rumors, be sure to take the unofficial information here with a grain of salt. Thanks for reading this article!