Genshin Impact's immersive storylines and unique characters surely liven up with intriguing voice-overs for each personality. Much like the role-playing game's splendid soundtracks per location, one can even say that their favorite Genshin Impact character's voice is music to their ears with stylish delivery.
The game currently has four voice-over languages available, one of which is Japanese. If you happen to be an avid fan of anime or even following the world of seiyuus or Japanese voice actors, chances are you've already heard Genshin Impact voice actors playing an anime character. Perhaps not only once if they're really famous behind the clear-cut animation.
If you're excited to see which popular character shares the same voice with whom, then here are 10 Genshin Impact voice actors and their anime characters.
Saori Hayami as Kamisato Ayaka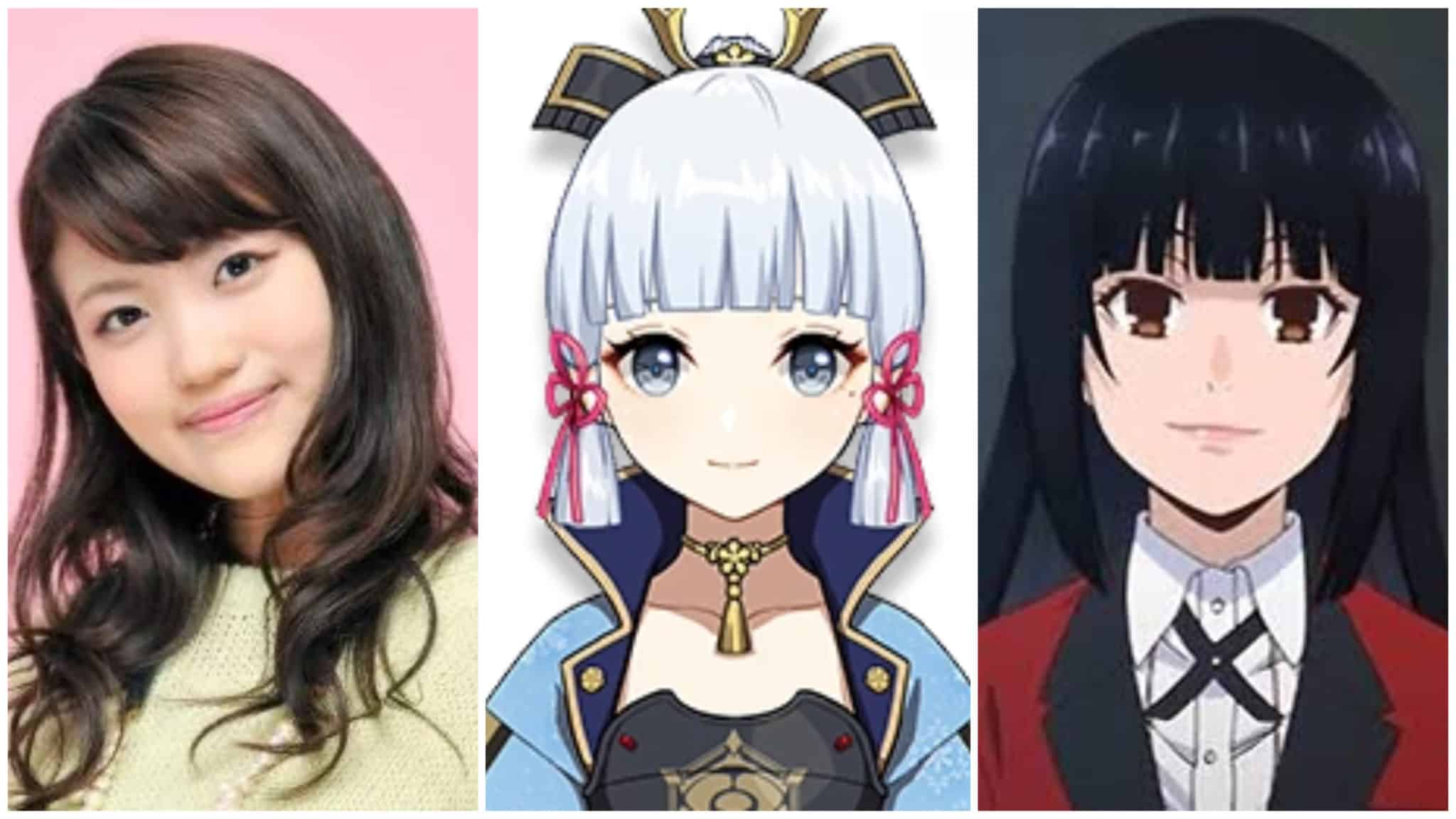 Voice actress Saori Hayami plays Kamisato Ayaka, the ever graceful daughter of Yashiro Commission's Kamisato Clan. Despite her Cryo vision, Ayaka presents a warm and compassionate demeanor, earning her the title of Shirasagi Himegimi in Inazuma. Likewise, Kakegurui's Jabami Yumeko displays a pleasant personality. But when she's indulging in gambling, she can get a little too extreme in bashing her enemies' tricks that her eyes will burn red.
Another prominent character that Saori Hayami voiced is Yukino Yukinoshita from My Teen Romantic Comedy SNAFU.
Maaya Uchida as Fischl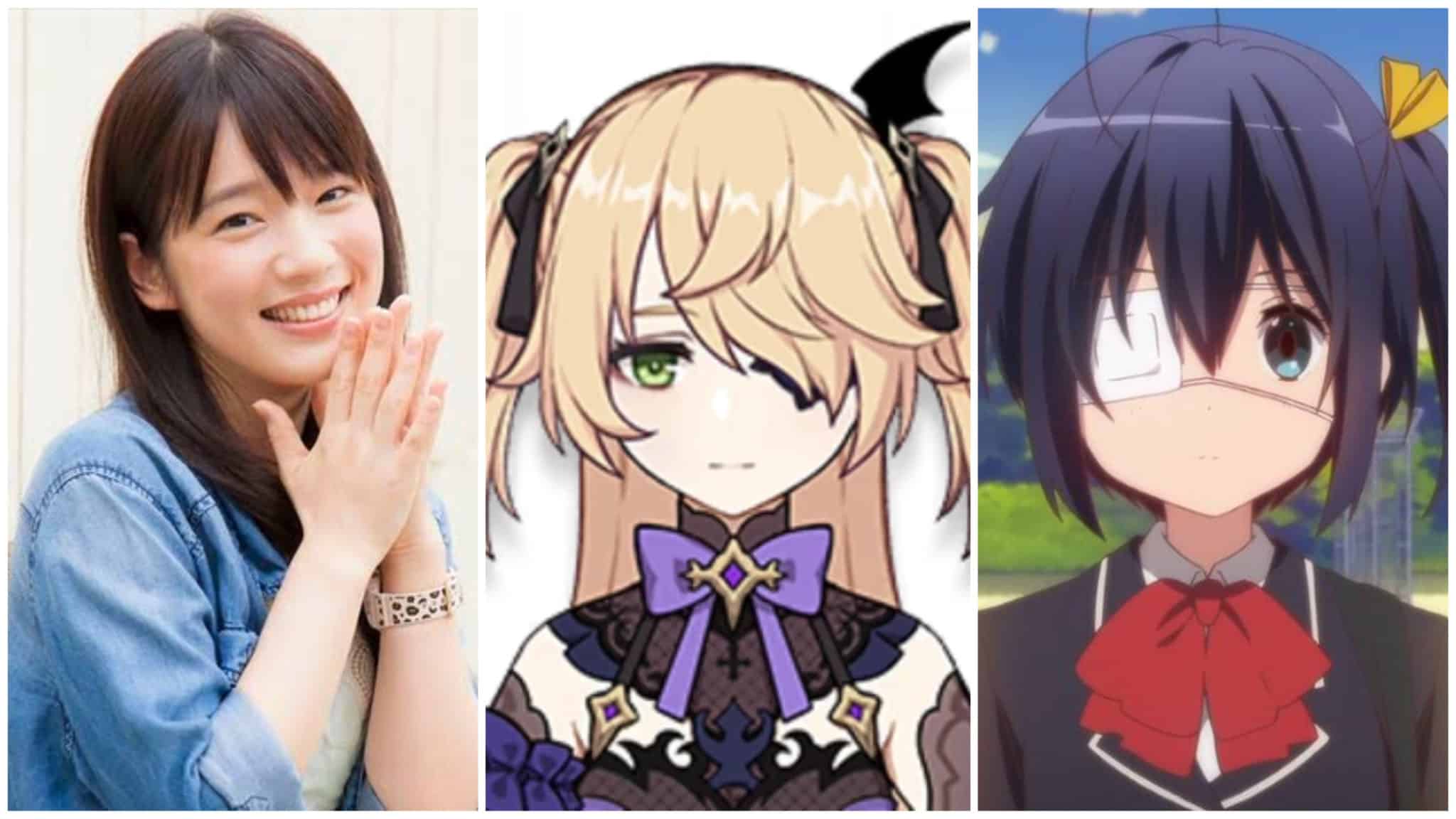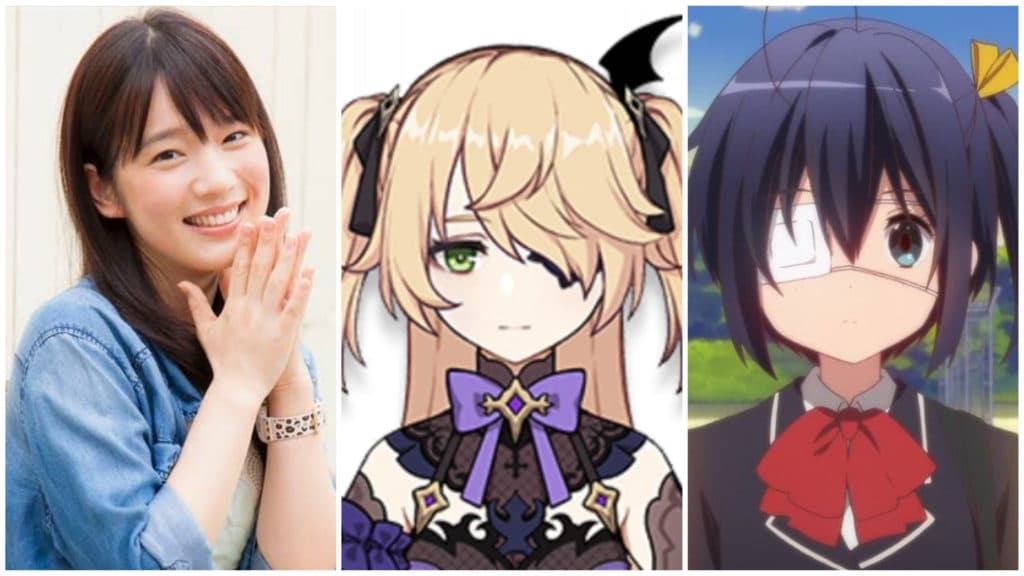 Maaya Uchida is the voice behind Fischl's extremely formal lines in-game. Coincidentally, our Prinzessin der Verurteilung is not the only teenage girl with an eyepatch and grandiose delusions that Uchida has played. Rikka Takanashi from the slice-of-life anime Love, Chunibyo, and Other Delusions also exhibits an eccentric nature. Unlike Fischl, though, she wasn't granted an Electro vision and a talking raven named Oz for being too immersed in her fantasies.
Blue Spring Ride's Futaba Yoshioka is also voiced by Maaya Uchida. If you want a similar anime, be sure to check out our best rom-com anime list!
Nobunaga Shimazaki as Kaedehara Kazuha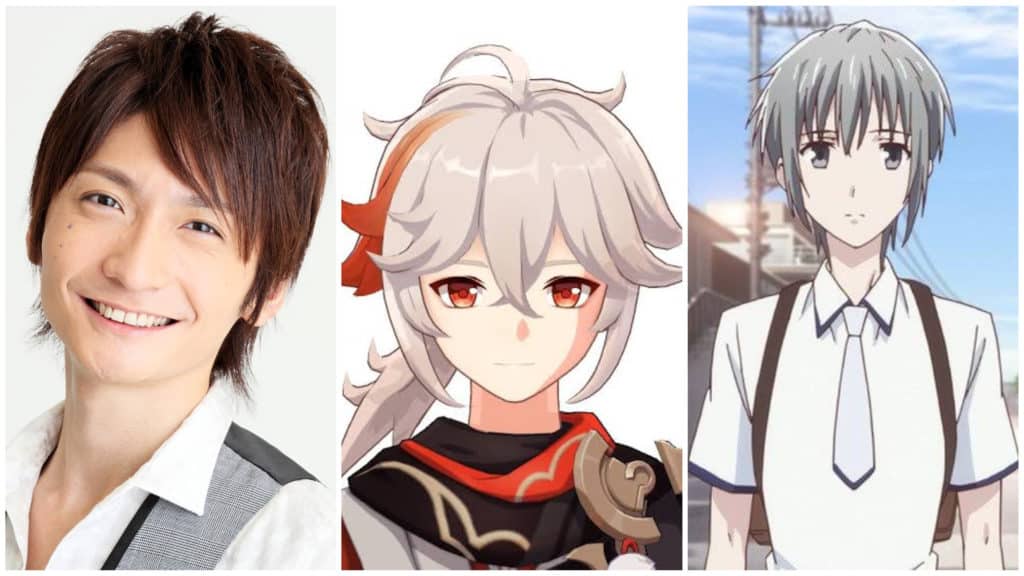 Japanese voice actor Nobunaga Shimazaki plays Kaedehara Kazuha and Yuki Sohma from the 2019 version of Fruits Basket. Both of these light-haired males possess a gentle and reserved character, so it's not surprising that they're voiced by the same person. While Yuki has the curse of the rat from the zodiac, Kazuha bears the burden of his journey as a samurai, including grief.
Aside from these two, the protagonist Shido Itsuka from fantasy anime Date A Live is also voiced by Nobunaga Shimazaki. 
Yoshitsugu Matsuoka as Xiao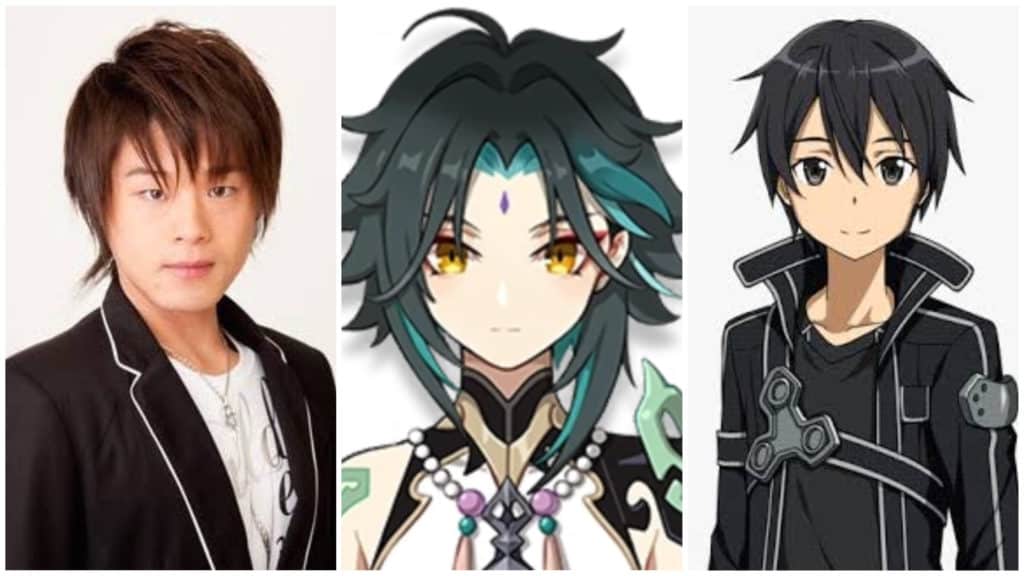 Yoshitsugu Matsuoka brings life to Xiao, an adeptus who used to be a cursed illuminated beast. Among many others, the actor also plays the main character Kazuto Kirigaya or Kirito from Sword Art Online. Slightly similar to Genshin Impact, Sword Art Online is an MMORPG in the anime itself. However, its mechanics will not allow players to log out unless they've beaten the game.
Another popular role that Yoshitsugu Matsuoka played is Inosuke Hashibira from Demon Slayer: Kimetsu no Yaiba.
Miyuki Sawashiro as Raiden Shogun
Miyuki Sawashiro is the voice behind Raiden Shogun, the Electro Archon revered by the citizens of Inazuma. In Hunter x Hunter, Kurapika shares the same voice with the Almighty Narukami Ogosho. Both of these characters show their vast knowledge and do not easily open up to others. Take the existence of Ei's Plane of Euthymia, for example.
Kakegurui's Kirari Momobami, the main antagonist of the series, is also played by Miyuki Sawashiro.
Ayumu Murase as Venti
Ayumu Murase is the mischievous voice behind the famous "ehe" of Venti. This character is the Anemo Archon of Mondstadt in disguise. The voice actor also plays another energetic and playful character. This is Haikyu's Hinata Shoyo, the middle blocker of his high school's volleyball team. Needless to say, these two are bubbly yet they show their seriousness during important fights.
In Attack on Titan, Udo, an Eldian Warrior candidate, also uses Ayumu Murase's voice.
Asami Seto as Kujou Sara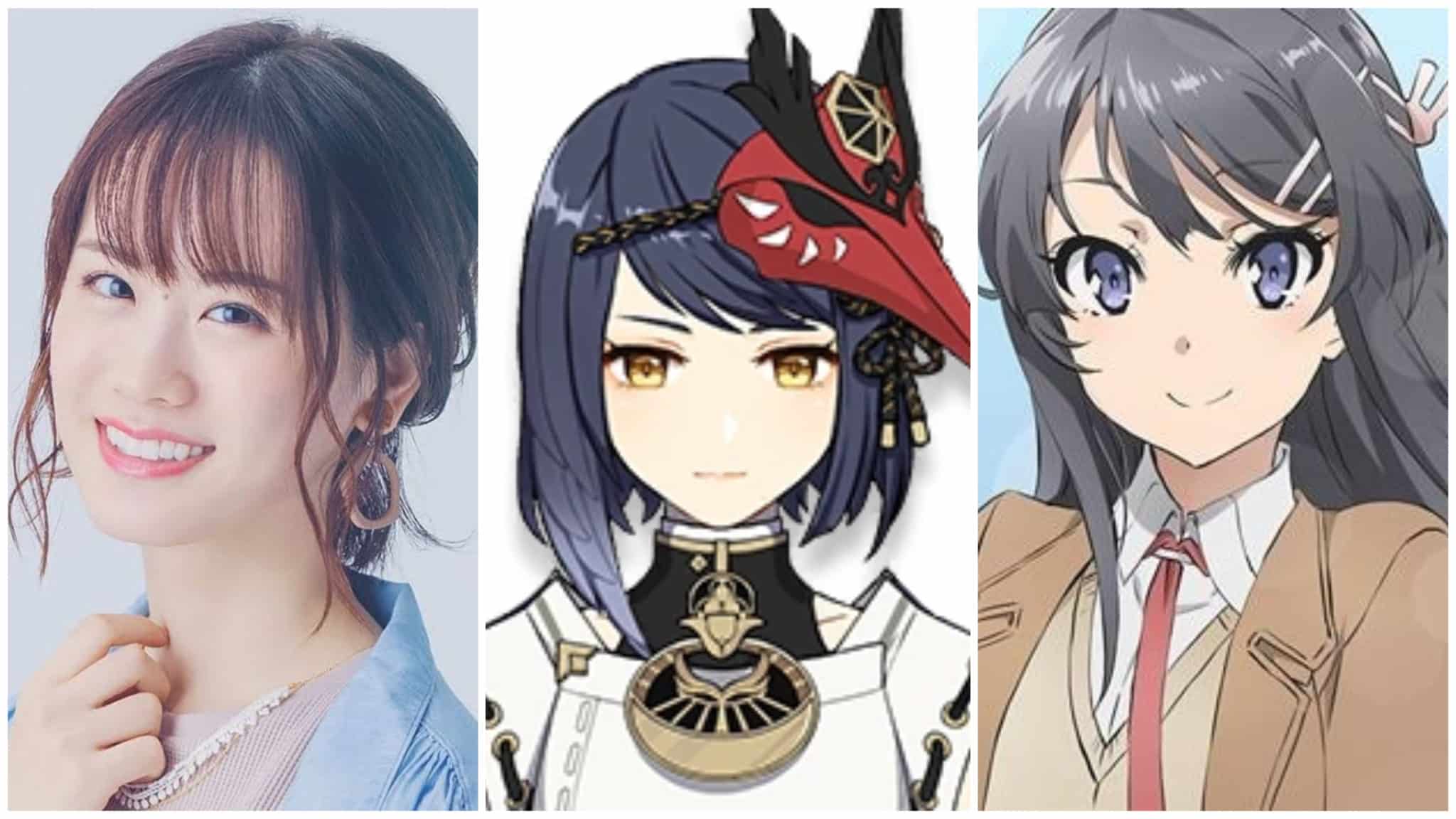 Japanese voice actress Asami Seto plays Kujou Sara, a tengu adopted by the Kujou Clan of the Tenryou Commission. Asami Seto also voices the female protagonist of Rascal Does Not Dream of Bunny-Girl Senpai, which is Mai Sakurajima. These females are often observed to project their mature and serious side.
Chihaya Ayase of the series Chihayafuru also shares the same voice with these two characters.
Manaka Iwami as Amber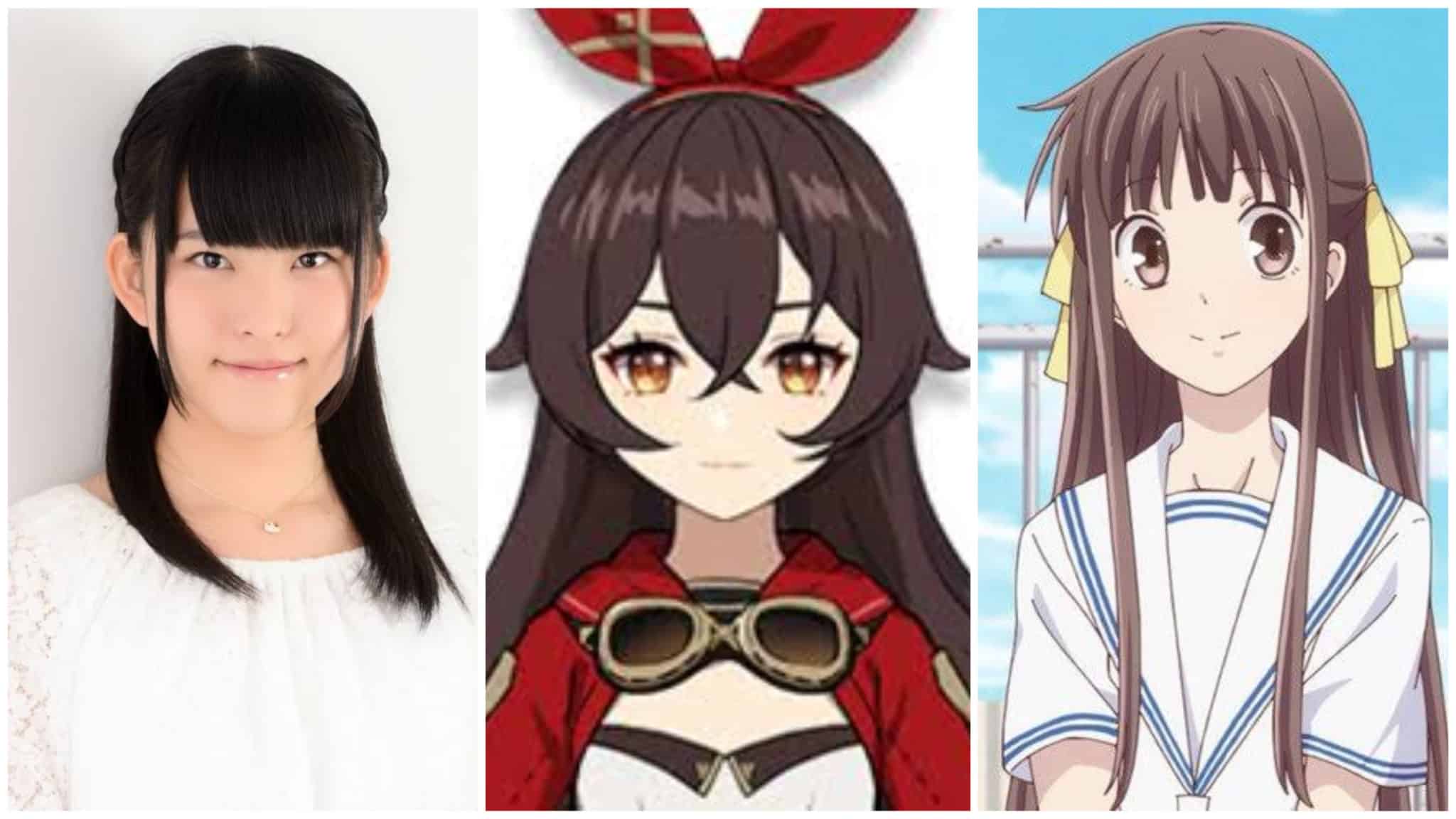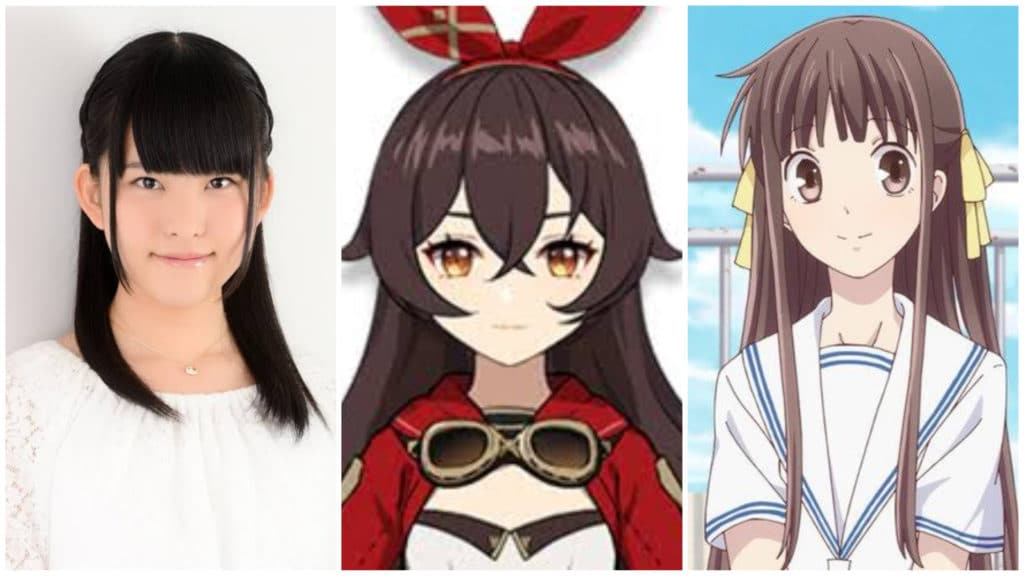 Manaka Iwami voices the only Outrider for the Knights of Favonius, Amber. Often optimistic and full of life, she resembles another character played by the voice actress which is Tohru Honda, the human protagonist of Fruits Basket. They're both altruistic and sympathetic in nature, as Amber for the Traveler and Tohru for the Sohma siblings.
In Cells at Work!, she plays the minor character of Backward Cap Platelet.
Akari Kito as Barbara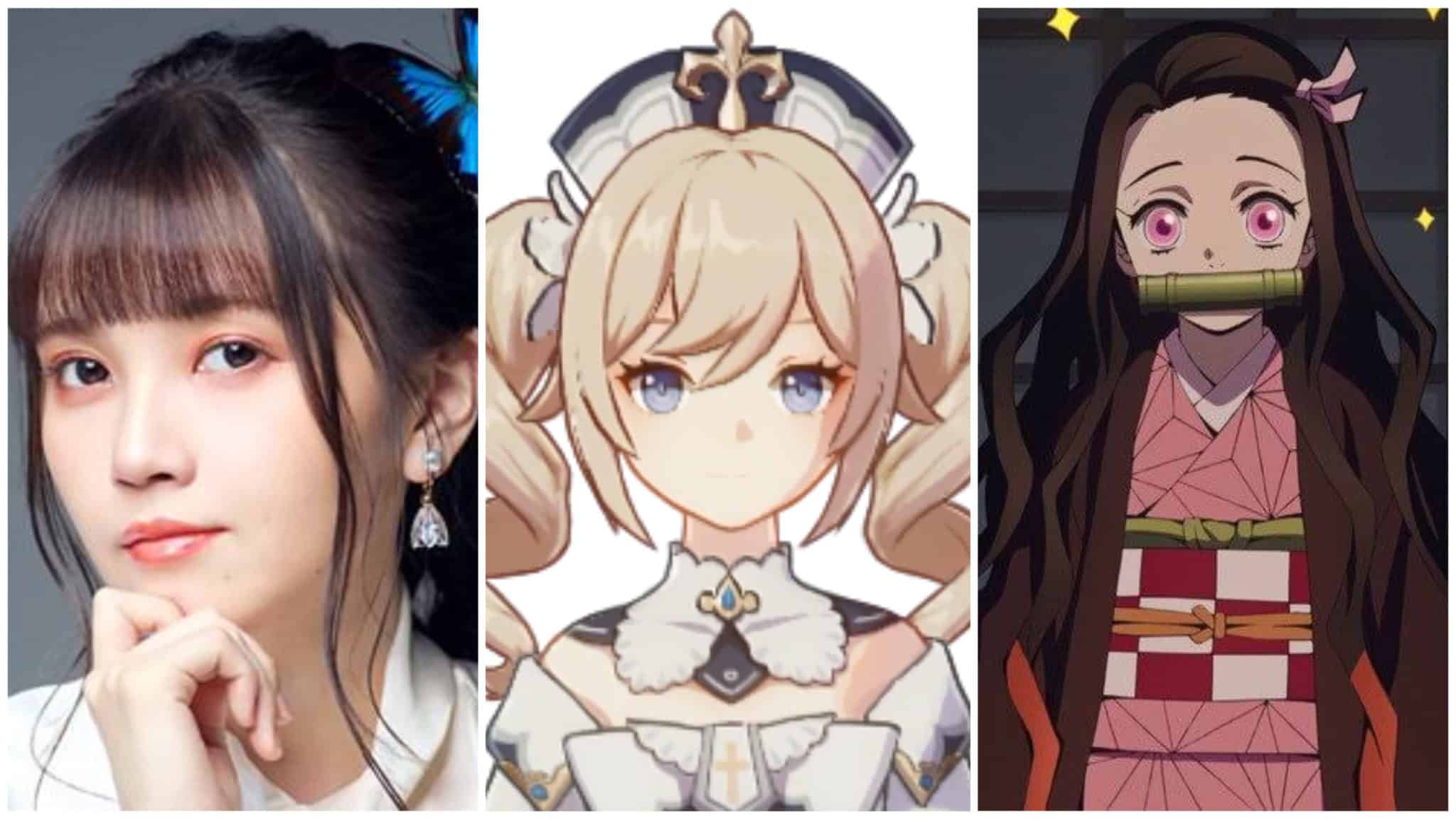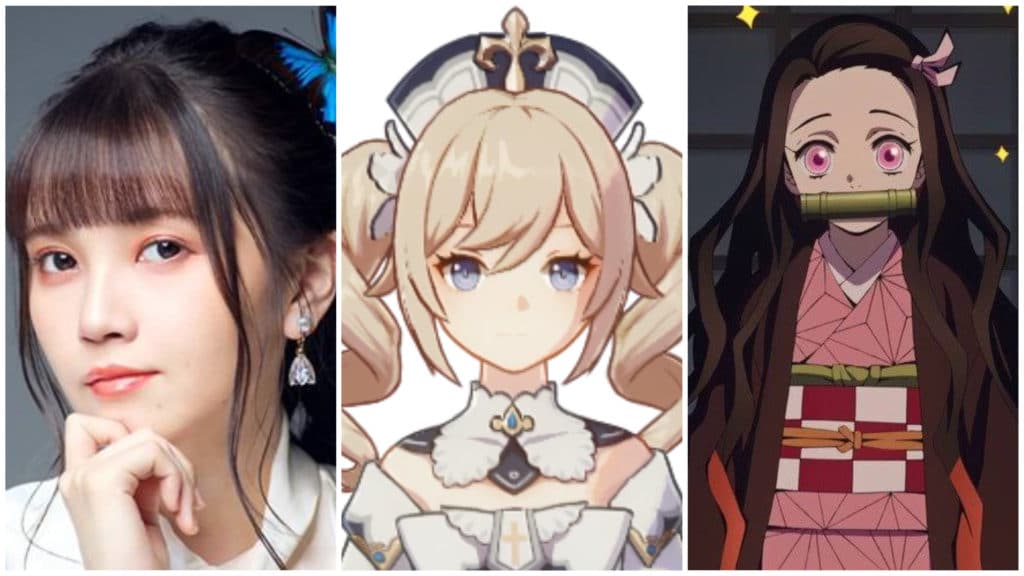 Akari Kito is the voice behind Barbara's popular line of "Barbara, ikuyo!". As much as you'll hear the Deaconess of the Church of Favonius singing most of the time, another character played by the same voice actress does otherwise. Demon Slayer: Kimetsu no Yaiba's Nezuko Kamado is unable to speak due to a bamboo restraining her from biting as a demon.
Classroom of the Elite's Suzune Horikita also takes the voice of Akari Kito.
Aoi Koga as Paimon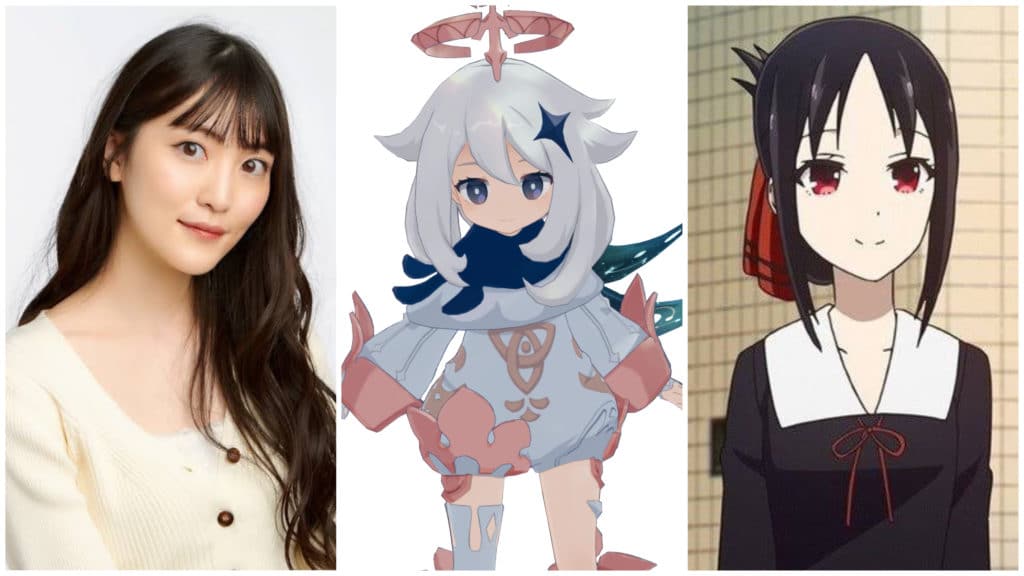 Aoi Koga voices our favorite travel companion and emergency food, Paimon. However, in contrast to the floating fairy's high-pitched voice and bubbly personality, the voice actress also plays the cold and reserved Kaguya Shinomiya of Kaguya-sama: Love is War. Perhaps Paimon is the closest to the personality of the series' Chika Fujiwara.
On top of these two, Aoi Koga also plays Komi Shoko from Komi Can't Communicate.
Conclusion
Did any of these Genshin Impact voice actors sound familiar to you? Comment down below if there are other prominent anime characters we have missed and Genshin Impact Japanese voice actors you want to add. Also, let us know if we should make a separate article for English voice actors in Genshin Impact.
Thank you for reading and we hope you enjoyed this article about seiyuus!