Genshin Impact is one of the most popular games post-2020. With a vast open world, a wide array of characters to choose from, engaging quest lines, and other miscellaneous content, it is no wonder that the game's file size is stupendously large. Moreover, the game receives regular updates every 6 weeks and has tonnes of new content to offer every update. So, how do players reduce Genshin Impact's ever-increasing file size?
Recently, HoYoverse has allowed Mobile players to delete some audio and video resources relating to past quest lines, allowing for reduced file size on their hand-held devices. Unfortunately, PC players don't have access to this feature yet but can employ other means of file size reduction.
How To Reduce Genshin Impact's File Size On Mobile Devices?
There are many ways mobile players can make use of to reduce Genshin Impact's file size. Let us begin with the most relevant.
Deleting Past Quest Resources
When Genshin Impact officially announced version 3.1 update "King Deshret and the Three Magi", they included the following paragraph in the list of details.
On the Asia, Europe, America, and TW, HK, and MO servers, testing of the "Past Quest Resource Management" function has begun: Travelers can delete the audio and video resources corresponding to the completed Archon Quests and Story Quests on mobile, thus reducing the size of the game. The deleted audio resources can be re-downloaded after deletion. Travelers can do so in the "Settings > Resources > Quest Resources" interface. The function is now being tested in the Irminsul Server. Function testing will commence on the Celestia Server in Version 3.2

HoYoverse
Let us summarise: players can now delete files of quests that they've already completed. This includes all video resources (cutscenes, animations, etc.) and audio resources (dialogues, quest-specific theme music, etc.).
If they so choose, players can also re-download the deleted audio resources, the quote does not mention the same functionality being available for video resources, which is understandable since players are not able to "replay" these cutscenes in the first place.
Players can follow these steps to delete past quest resources and reduce their Genshin Impact file size.
When in-game, press on Paimon's icon on your screen's top-left side.
Press on the "Gear" icon, this will open your game settings. After that, find and press "Resources."
Click on "Quest Resource Management"
Click on "Past Quest Resources", and then press "Uninstall".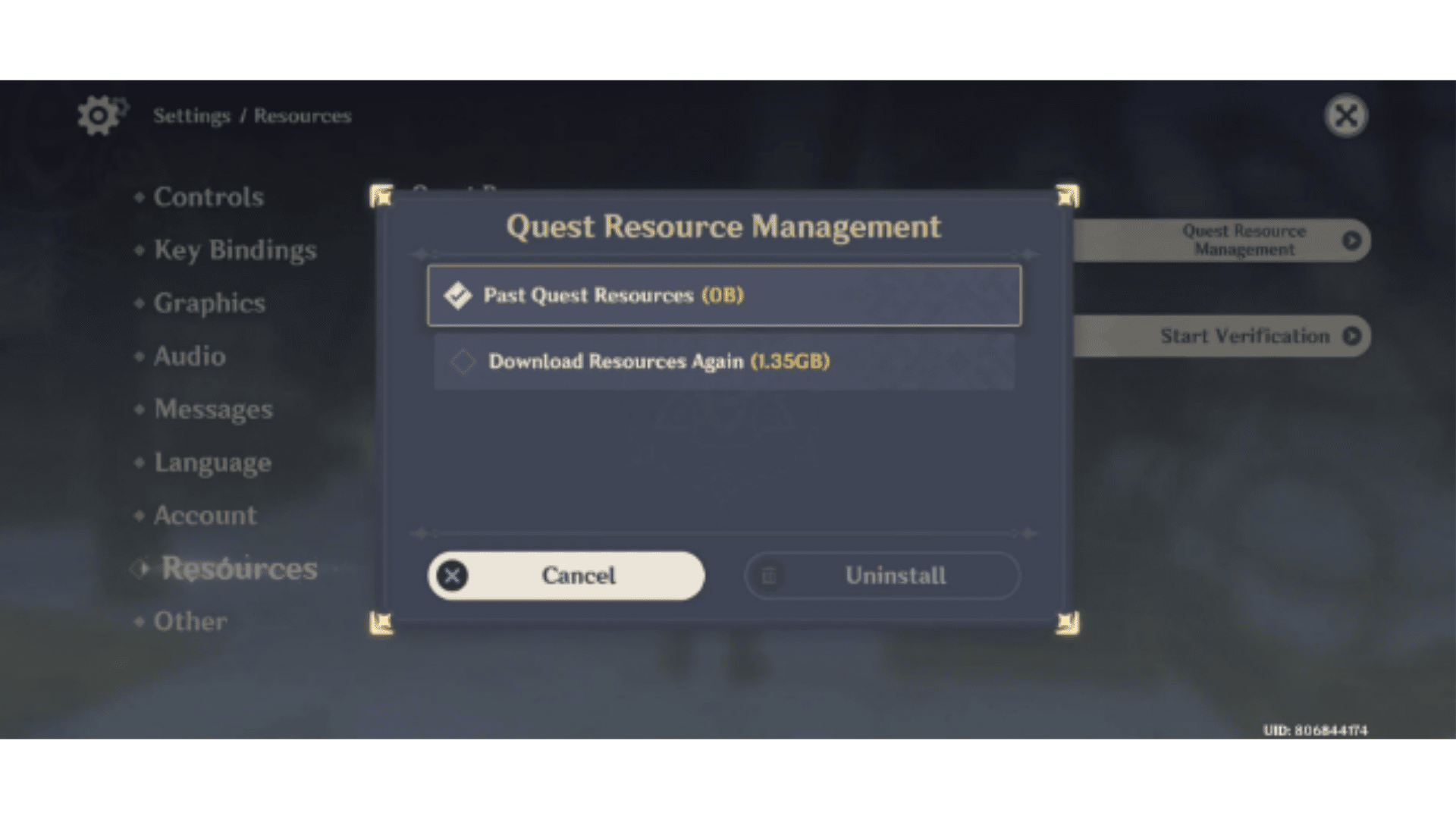 Players can navigate back to the same screen to re-install the same resources.
Clearing Cache
Players can also opt to regularly clear their applications cache. Clearing an application's cache removes all temporary files generated by that application. This can free up your phone's storage space and can also improve your device's performance. To clear Genshin Impact's cache, players can
Open their device's settings application, and navigate to "Applications" (occasionally called "Apps")
Locate Genshin Impact's directory, and tap on it.
Find the "Storage" button, and click.
The user will notice an interface similar to the one shown below, press the "Clear Cache" button, and wait. The time this process takes will depend on how regularly you clean your cache/ how much data is stored in your cache.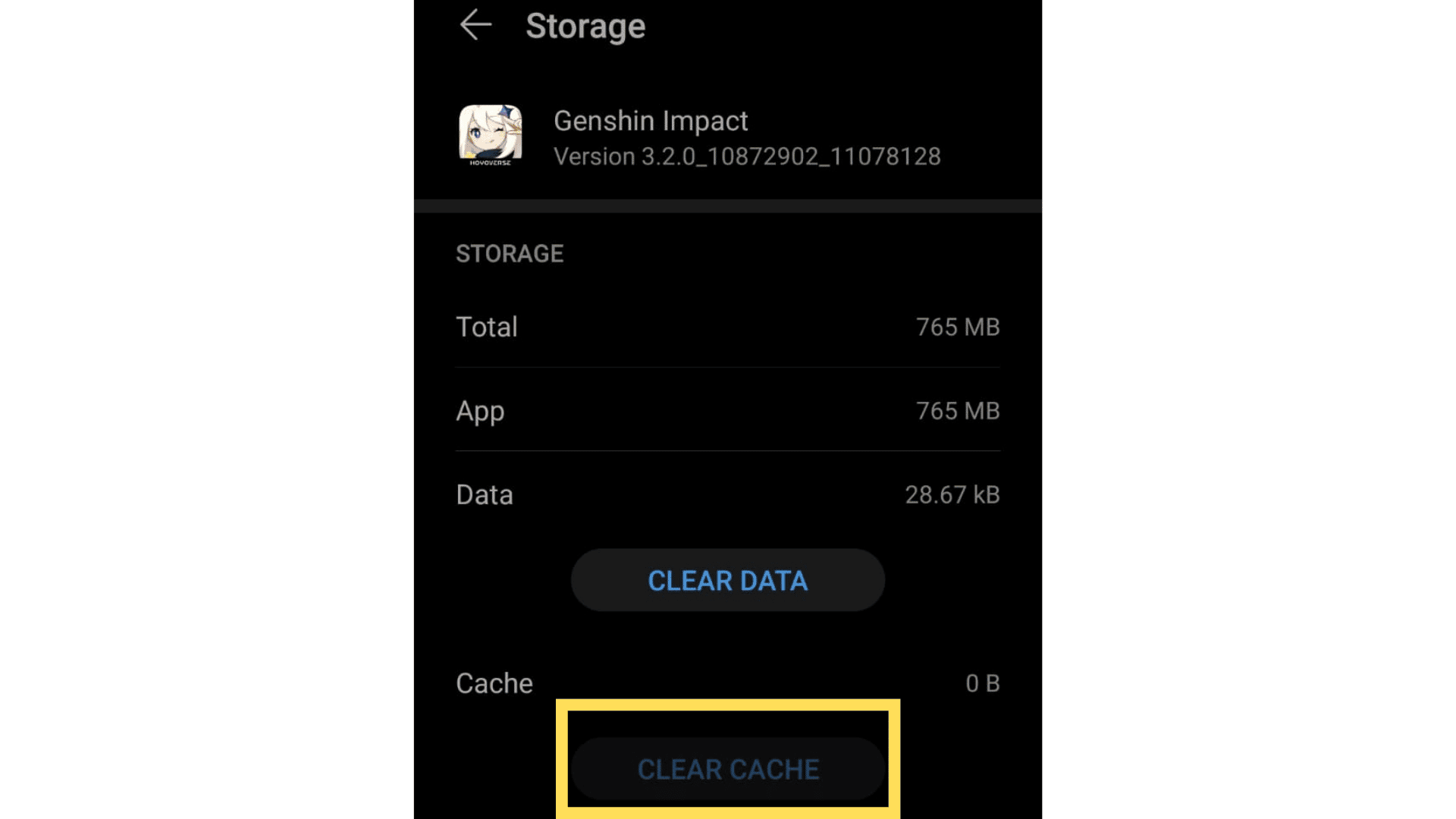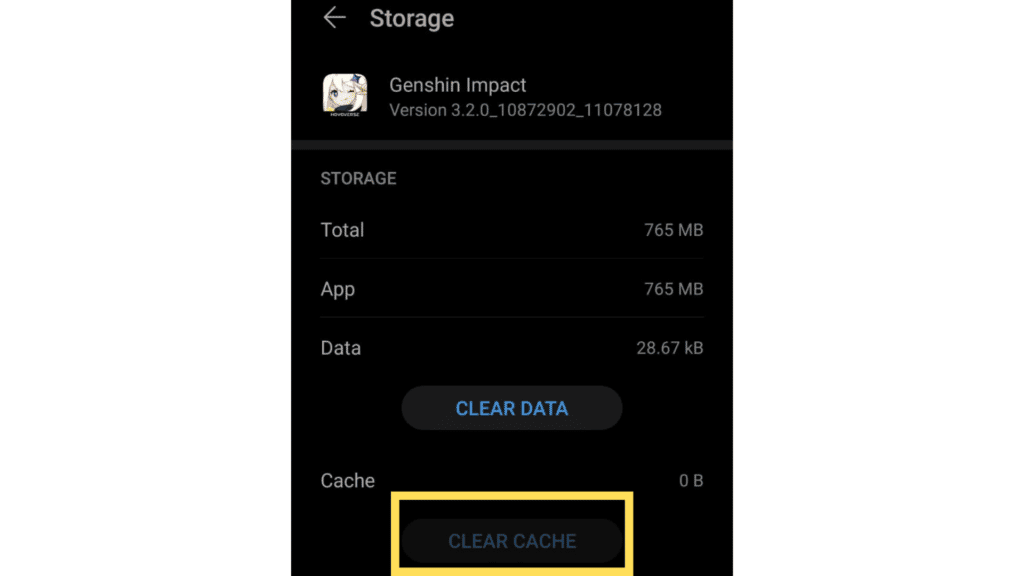 Clearing App Data/Re-installing The Game
Secondly, players can go the brute route and just uninstall -> re-install their game to retrieve some of the precious storage space on their hand-held devices.
To uninstall your game,
Go to your device's settings page
Locate and click on the section titled "Applications" / "Apps".
Find Genshin Impact's directory, and click on it.
An interface looking a bit like the one below should appear; press uninstall.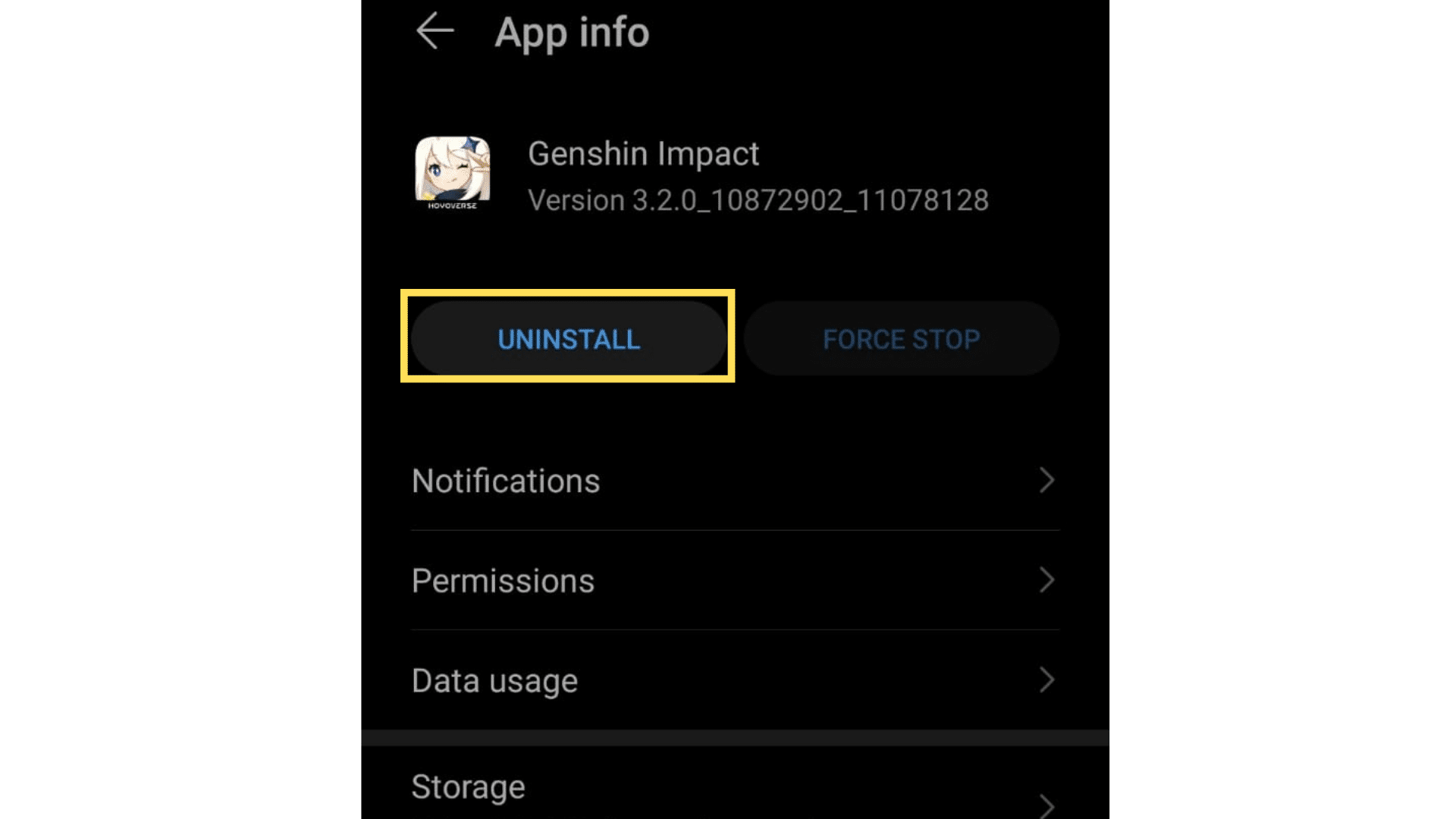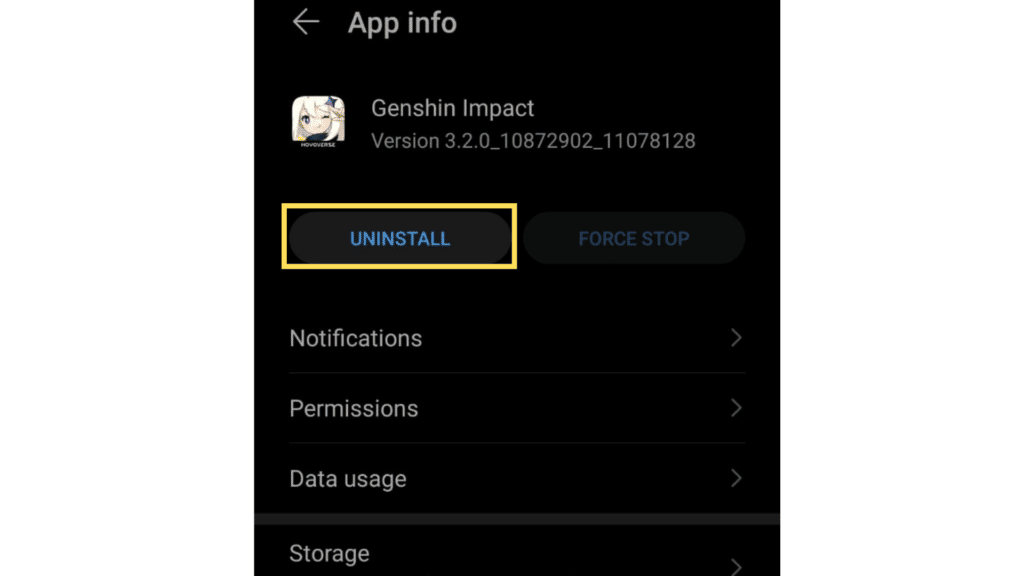 To reinstall the game, just head over to your favorite application browser, like Google Play Store or the Apple Store, and press "Install" when Genshin Impact appears in the search catalog.
Alternatively, players can also use the "Clear Data" button to avoid following the reinstallation process.
Players can find this button on the same screen as "Clear Cache".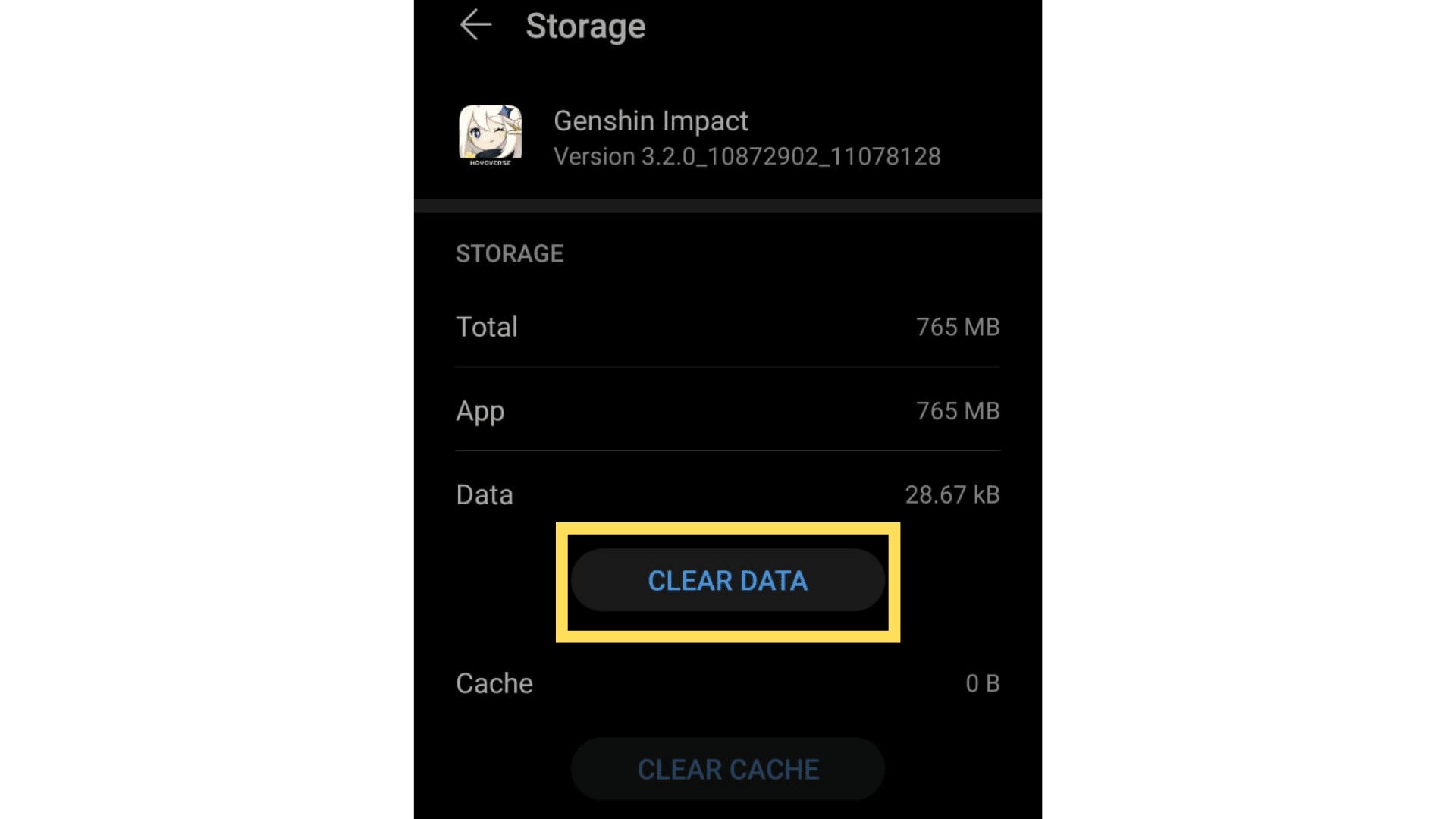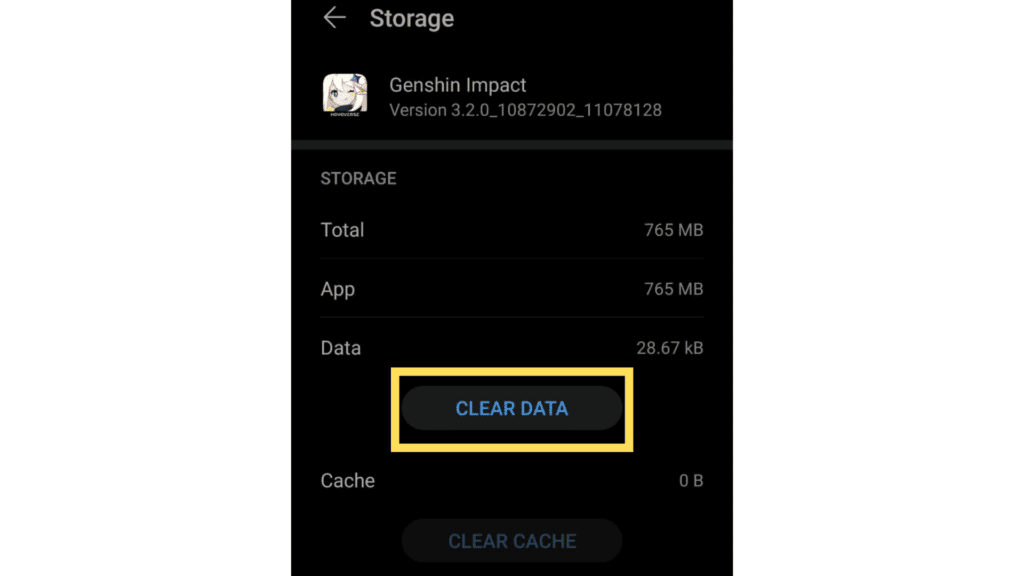 Removing Additional Voice Packs
Lastly, if all is for naught, players can delete unnecessary audio files from their game. This includes the Japanese (the most popular), English, Chinese, or Korean character voice-overs that the players may have installed on their devices.
Open Paimon's Menu and navigate to "Settings."
Select "Language"
Select "Voice Over Language" and choose which files you want to keep.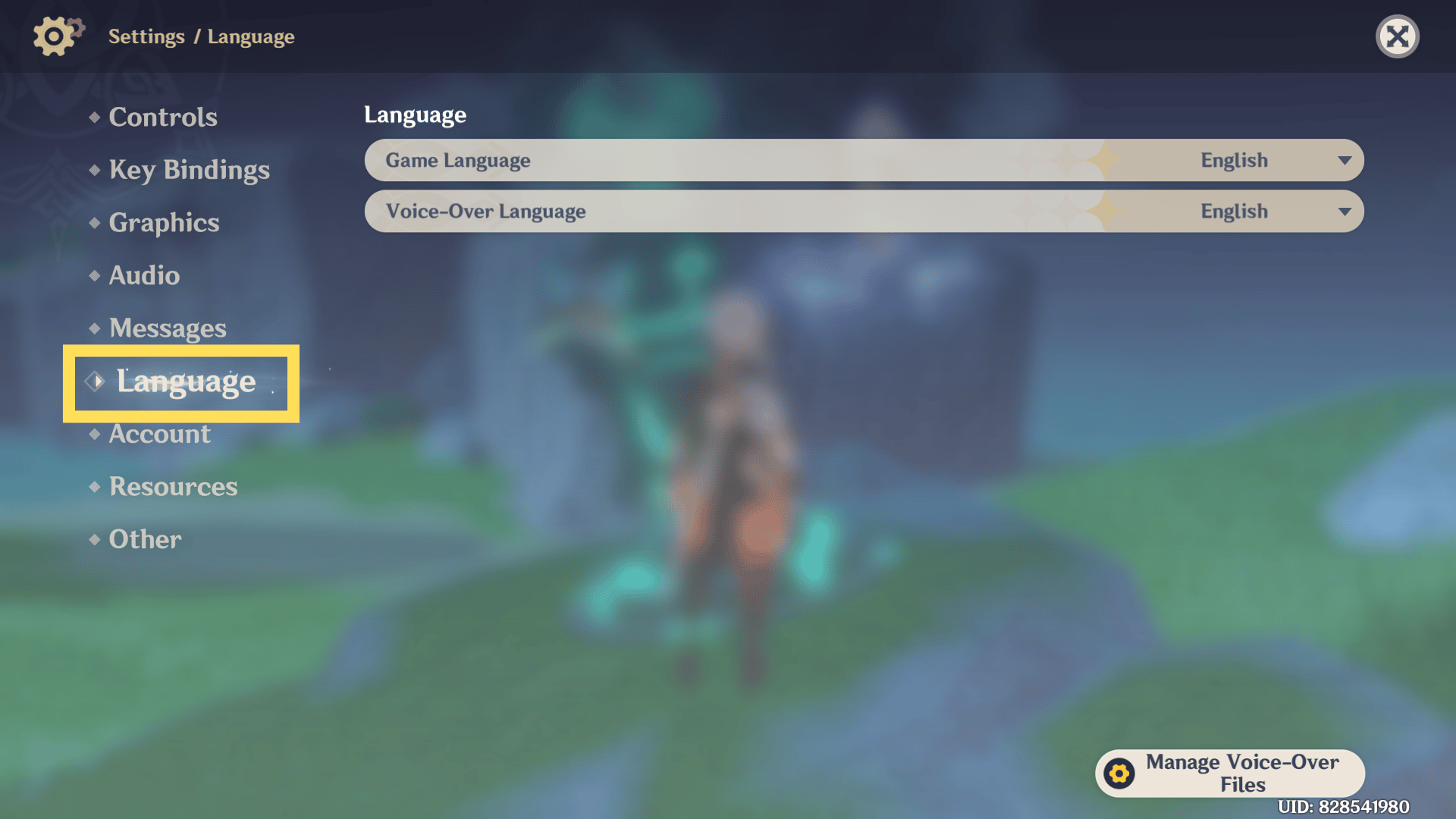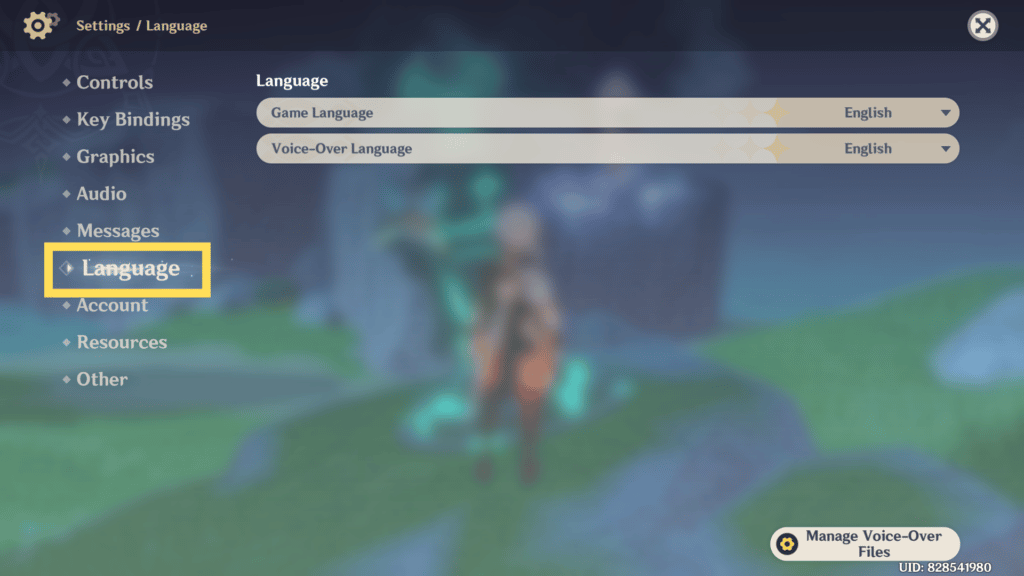 How To Reduce Genshin Impact's File Size On PC?
HoYoverse is yet to release the "Quest Resource Management" functionality for PC, perhaps owing to the general fact that most PC players don't really face an issue in terms of memory. But in the rare case that they do, we have some tips on how PC Genshin Players can reduce their games file size.
For the most part, besides directly clearing the game's cache, and the ability to make use of the "Quest Resource Management" function, players can follow the same steps as mobile players to reduce the game's file size.
That means PC players can delete unnecessary voice-over files and re-install the game through the launcher to reduce their games file size.
How Effective Is Re-Installing Genshin Impact To Reduce File Size on PC?
Plenty. The following images were taken on the same date (02/12/2022) on two different devices. Both devices had the game installed for a different period of time. The first image shows the more recent install, 28/10/2022, sitting at 49.1 gigs of memory. While the latter image, displaying information on a much older copy of the game, 22/01/2022, is at 58.4 gigs.
In truth, not everyone has the time and bandwidth to re-install the game and go through the setup from scratch, making this an unideal solution, but it is all PC players can do to save some memory in their precious SSDs.
Conclusion
That is it, folks! Our tips on how you can reduce Genshin Impact's file size so you can enjoy the game for longer and without having to think about the hassle of getting new hard drives or SD cards for your game.
Now that you have more some more space to play with, and with Genshin Impact's update 3.3 just around the corner, why not take a peak at some gameplay leaks? Maybe have a look at Nahida's build guide? Layla's?Cyno? Nilou? Perhaps you're more of a foodie?
Please, let us know your thoughts on this guide and others in the comments. We value your feedback, dear Traveler!