For a long while, we have been speculating that Final Fantasy 7 Remake could be one of many games to be announced for March 2021 PS+ Lineup, it seems that after a very long time, we finally have a leak from Sony themselves, and from their official social media no less. The leak confirms Final Fantasy 7 among other games for PS+.
March 2021 PS+ Lineup is ripe for the picking!
It seems that the March 2021 PS+ Lineup has been revealed early. PlayStation Netherlands official Facebook page posted the images of the games early.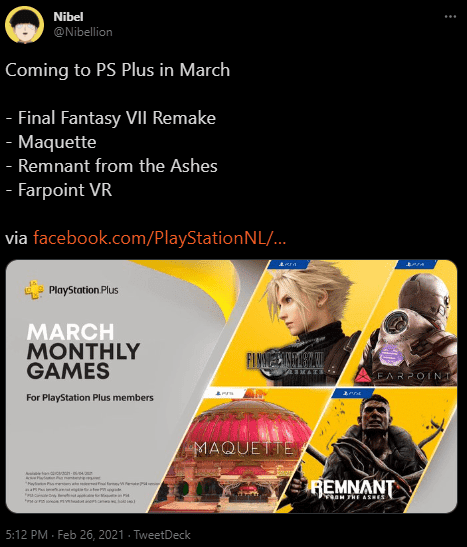 Here are the games coming to PS+ in March 2021:
– Final Fantasy VII Remake (PS4)
– Maquette (PS5)
– Remnant from the Ashes (PS4)
– Farpoint VR (PS4)
Maquette is a brand new game that was supposed to release on March 2nd, 2021, and just like Destruction Derby All-Stars, will have a PS+ Premiere.
The game has great similarities to The Witness and Superliminal, and with the combination of both games styles, could be how you would go about solving puzzles in this visually appetizing world.
The game is also coming on the PS4 and PC, but just like Bugsnax, PS+ users will only get the PS5 version of the game and not the PS4 version of the game in the deal.
We have also extensively talked about Final Fantasy 7 Remake being potentially in the lineup, and we are glad to see that we were right on the money with that bet.
The games are set to be officially announced by Sony later today, but this is more or less the final list as Sony has had a track record of their social media accounts accidentally revealing their PS+ Lineup prematurely via social media portals.
Players will already be familiar with Remnant: From the Ashes, and if you have been looking for a way to play the game on the cheap, this is your best bet. In addition, Farpoint VR is also a great game but its exclusive to PSVR.
For now, what are your thoughts on the latest PS+ Lineup? Let us know in the comments section below! What game are you most excited to play?