Minecraft is the perfect playground for testing any building idea you can think of whether you decide to use Creative mode or try to achieve it in Survival or Hardmode. However, sometimes it's good to go back into basics. Considering how Wood is arguably one of the most common resources you can find in the Overworld (right after stone, of course!), why not have a lovely home using the entire tree? That's why we have the ten best Minecraft treehouse ideas to help you take full advantage of this vital resource to the maximum. It's the childhood dream base, and you can have it in your Minecraft world today!
Cottagecore Treehouse
The cottagecore aesthetic is all the rage inside the Minecraft community, spawning endless building ideas to convert your world into the perfect fairy fantasy. If you want to have one of the best Minecraft treehouse ideas as your main base, you can get some inspiration from the following video tutorial by LubovLC. It's a massive project set next to an ocean shore filled with Vines, Leaves and Lanterns, using Jungle trees as the foundation for the platforms and stairs. The video also shows how to build a fairy bridge to connect your base to the mainland.
If you want to tackle this impressive project in Survival, don't forget to gather all the resources before starting– you don't want to run out of blocks when building the top areas!
Modern Treehouse
If you're a fan of modern Minecraft houses, we have the perfect suggestion for your next base. The following video tutorial by 6tenstudio uses the classic White Concrete alongside wood. These materials help a lot in evoking a minimalistic and contemporary feel, with wide windows and clever block placement. The most remarkable thing about this Minecraft treehouse idea is the functional elevator that will transport you with the push of a button! If you don't feel like tinkering around with Redstone contraptions, you can always skip the video forward to see how the rest of the treehouse's designed.
Dark Oak Treehouse
The cool thing about Minecraft tree houses is that you can achieve a natural look with just the basic blocks you can find in a tree. Some logs, planks and leaves, and you have the necessary ingredients to create something remarkable. The following video tutorial by TheMythicalSausage goes full Dark Oak with some Spruce details when showcasing how to build a starter treehouse base. You can access the interior with a classic entrance in the middle to reach the top area. It's the perfect survival place to keep your loot and shelter from hostile mobs during the night. We love how it uses Fences to simulate tree branches surrounding the entire treetop and the smoking chimney details!
Dual Treehouse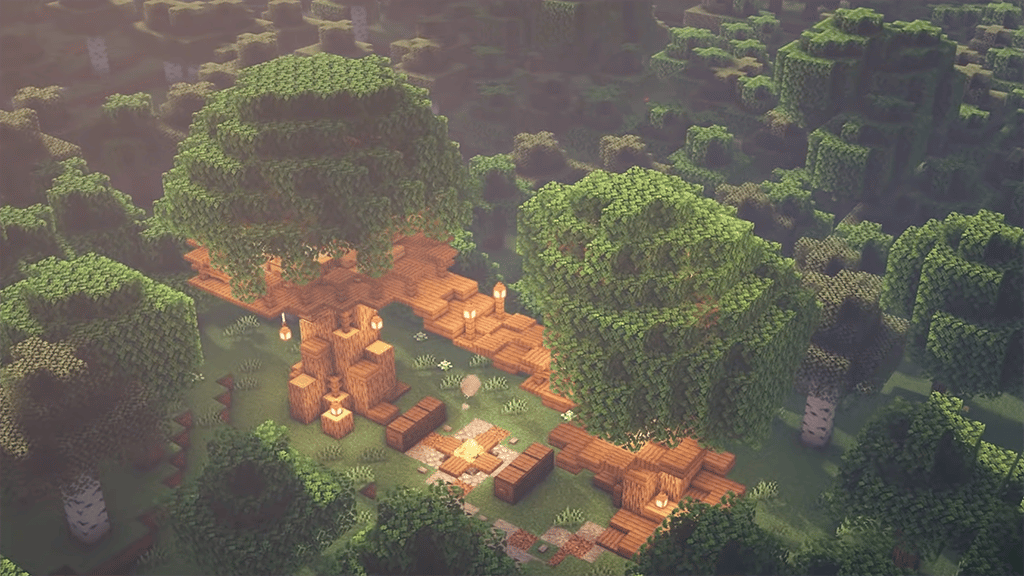 Up next, you can always cheat a bit to create the perfect tree to set your Minecraft treehouse, right? The following video tutorial by Typface features a unique structure with the main area built with a sweet combination of Spruce, Dark Wood and Oak blocks to create a fantastic treehouse. The trick is to use Slabs, Trap Doors and Stairs to make your house look more dynamic and natural as you place the leaves and other minor details. The great thing about these types of Minecraft house designs is that you get plenty of room to customize as you please!
Natural Treehouse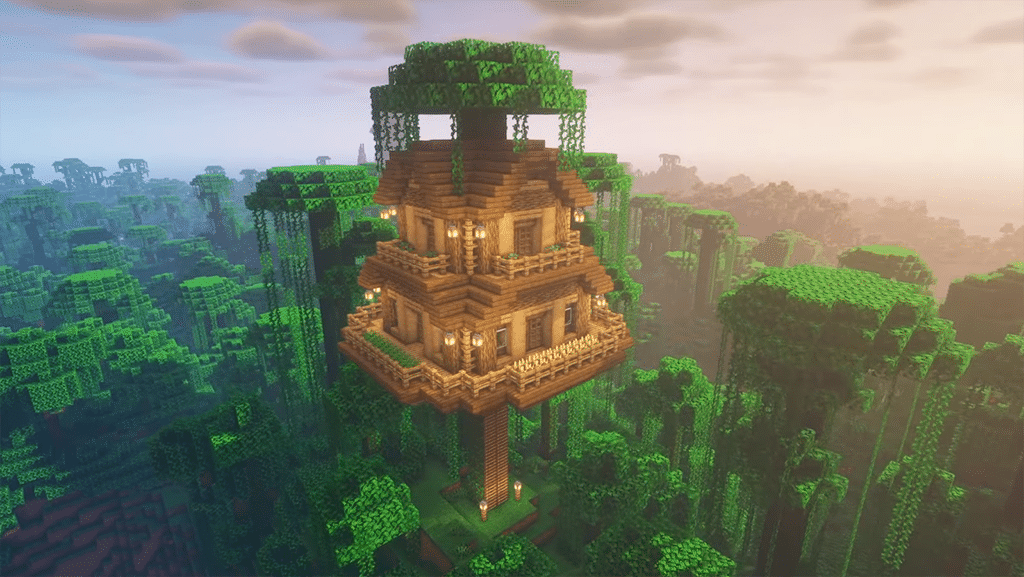 The jungle biome is the perfect place to set one of the best Minecraft treehouse designs, especially if you want to expand your base to other trees nearby. The following video tutorial by Don4lex combines several types of Wood and Stone blocks to build an aesthetically pleasing home with a Jungle tree as the primary foundation. You can have more than enough space to store your goods and potentially expand your base vertically or horizontally. Besides, the view from above is priceless!
Survival Treehouse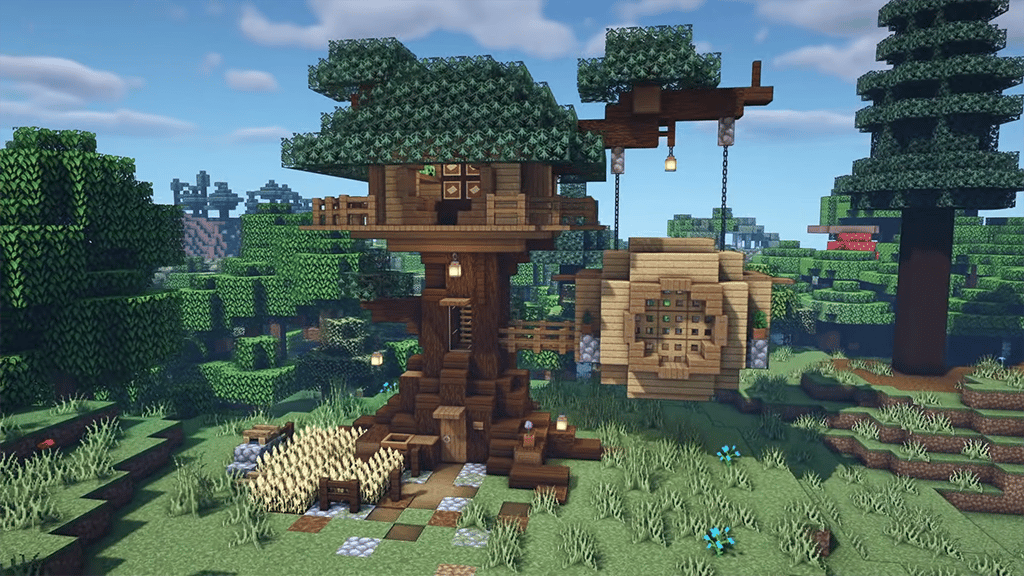 The following video tutorial by Blue Bits features a small farm, a bedroom and enough space to fit a workspace and some storage. Rather than relying on an existing tree as the primary foundation, you get to follow along the design and tweak it as you see fitting. We love this blueprint since it's one of those Minecraft treehouse ideas that adds an interesting twist to the formula with the side dome filled to the top with crafting stations. It's only a matter of finding the perfect spot to start building!
Nether Treehouse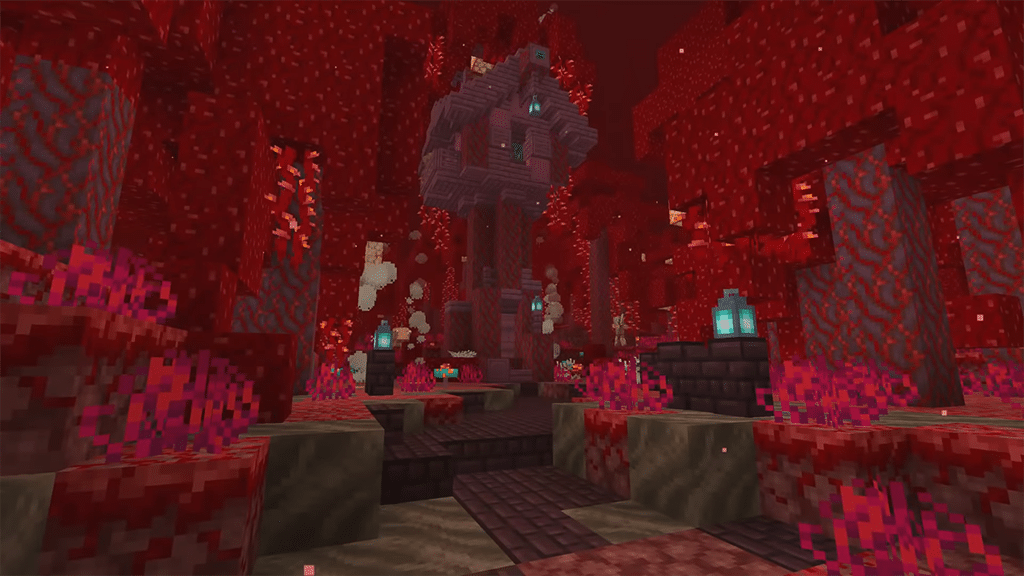 As we all remember, the 1.16 update introduced two new types of wood only available in the Nether, allowing players to add a much-needed splash of coloured timber into their homes. We all need to explore the Nether at some point if we want to progress, so why not build a great treehouse base as a haven in the middle of chaos? The following video by TheMythicalSausage mainly uses the Crimson Hyphae and Red Nether Bricks to build the treehouse from scratch, and the results are astounding. We do suggest watching the entire video tutorial in a single sitting at least once since the creator makes some adjustments to the design on the go.
Spruce Treehouse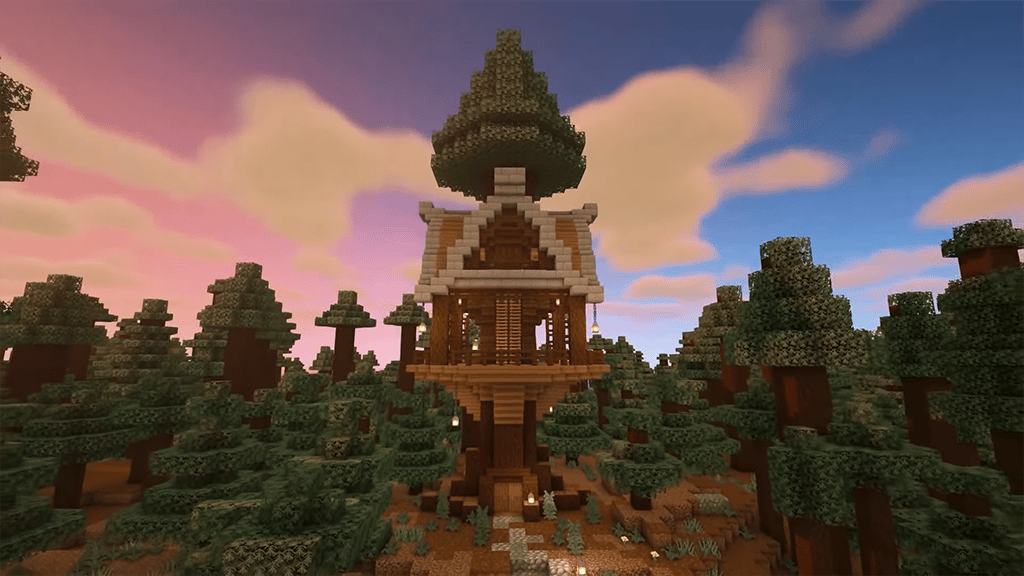 In Minecraft, Spruce sapling can grow in a 2×2 square to become a gigantic tree. You may find spawning naturally in your world or grow one yourself. They're the perfect blank canvas to place all types of awesome Minecraft treehouse ideas, as we can see with the following video tutorial by Spudetti. It's important to note that you need to grow a second tree on top of the first one to achieve the necessary height for this design. Spudetti has always created incredible Minecraft house designs, and this fantastic Spruce treehouse is no exception. Don't forget to use Scaffoldings and wear some armour if you're building it in Survival mode!
Simple Treehouse
Some players don't want to spend countless hours building their base. After all, we are talking about a sandbox game– you can do whatever you want! Why not have a simple Minecraft treehouse to kick off your adventures and have a place to stay the night? The following video tutorial by Nuec features essential Survival elements like crafting stations, a bed and some barrels and chests inside a lovely wooden structure. The video tutorial is easy to follow and specifies the number of materials you need to complete it. We also appreciate how the creator takes the time and effort to show the tutorial in Survival mode!
Related: Would you like to have a breathtaking garden surrounding your new treehouse? Get inspired with one of the 15 BEST Minecraft Garden Ideas!
Last but not least, why should you spend countless hours setting up a base if you can just have a simple platform? We suggest an easy Minecraft house tutorial you can rely on to settle in the middle of the jungle. The following video tutorial by Mr Mirror features a wooden platform you can place on top of any Jungle tree. Of course, your primary resource will be Jungle wood in its different variations, so there's no need to spend too much time gathering resources beforehand!
Also: Do you want to take a chance at building a treehouse entirely by yourself? Read our 10 Minecraft Building Tips To Improve Your Builds before starting!
Setting your base up high has the main advantage of keeping most hostile mobs away from your valuables. Maybe you'll need to keep an eye out on any Spider that dares to climb up to your doorstep! Again, Scaffoldings are essential if you wish to recreate any of our showcased Minecraft treehouse designs in your world. Which one of these entries was your favourite? Let us know in the comments below, and thank you for reading!