Need for Speed Unbound was revealed just now by Electronic Arts and is the latest entry in the long-running racing franchise. Criterion Games is back with a new entry that has a new tone, visual style, and certainly stands out from the last few entries bringing it closer to the Underground era. Now, with the proper reveal, additional details are available as well. Here is the Need for Speed Unbound Pre-Order Bonus Content you'll get for an early purchase.
Need for Speed Unbound Pre-Order Bonus Content
If you pre-order Need for Speed Unbound, you'll get the following additional content.
Driving Effect
License Plate
Banner Artwork and Sticker
$150,000 Bank (Multiplayer use only)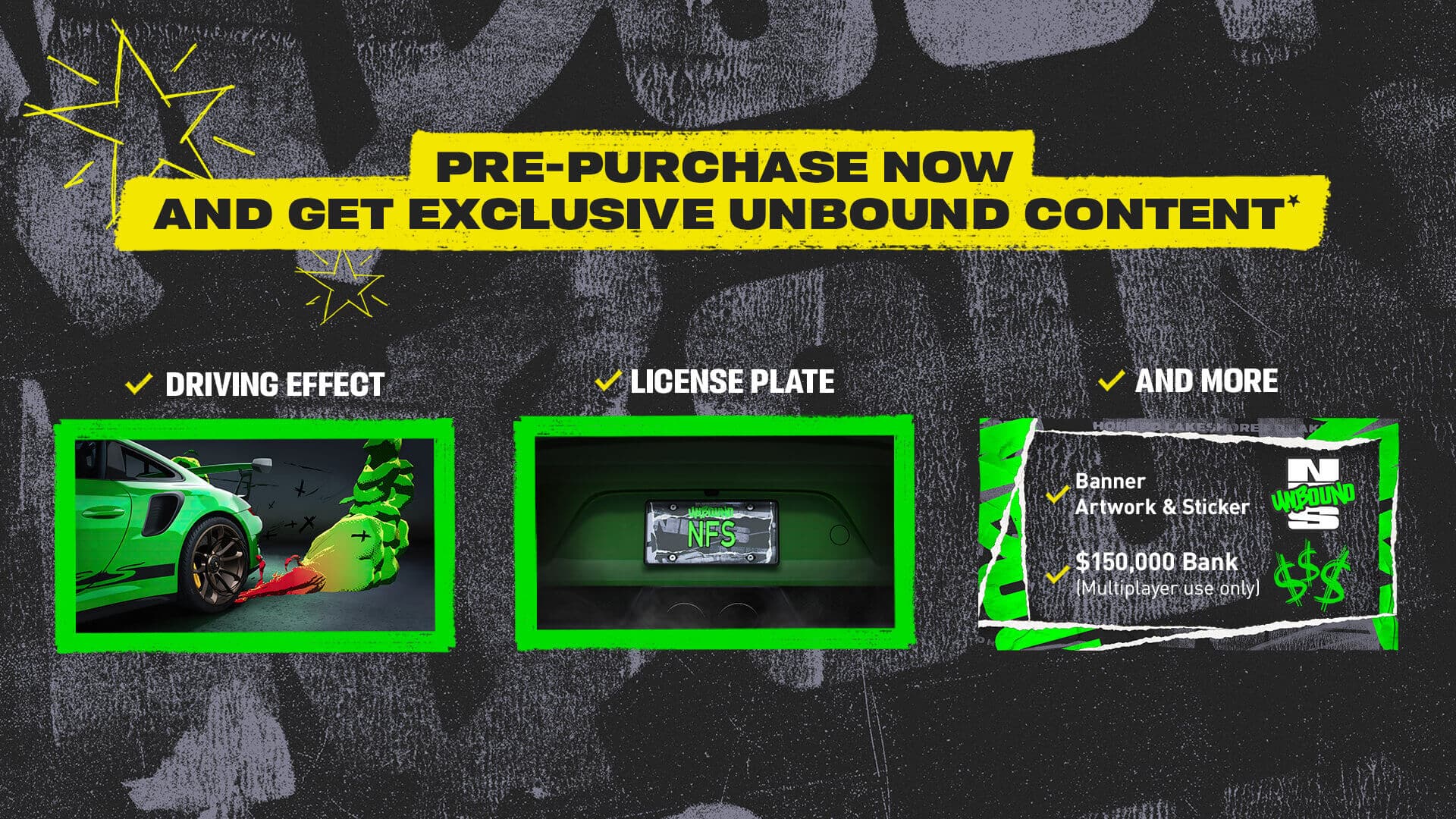 The driving effects were featured in the recent reveal trailer, and we're guessing this particular effect is one variant of that.
Apart from that, you'll get a custom license plate it seems, a banner artwork, a sticker, and $150,000 cash or "bank," which is the in-game multiplayer currency. We're unsure as of now what it does, but it's likely tied to buying different cosmetics.
The bonus content is consistent across all platforms. You're not getting anything different for buying the title on any other storefront.
There is another "Palace Edition" for the title as well, which includes more content. This costs $10 more and comes with more bonuses. The base game costs $69.99 across all platforms, including PC.
Pre-Order Need for Speed Unbound
You can now pre-order the title digitally from the following links.
Need for Speed Unbound Release Date
The title is coming to PC, Xbox Series S|X, and PS5 on December 2, 2022. Check out the reveal trailer below.
While you're here, make sure to check out our other pre-order guides for other upcoming releases, including Asterigos Curse of the Stars, New Tales from the Borderlands, and Ghostbusters: Spirits Unleashed.
What do you think of the Need for Speed Unbound Pre-Order Bonus content? Do you think it warrants an early purchase? Share your thoughts in the comments below and let us know.